A list of all motorcycle types…. from A – Z!
If you're trying to get your head around all of the different motorcycles out there, we've created one of the most helpful visual guides to bike types with pictures and some videos, in the history of the world!
Check them all out below and soak up the motorcycle goodness…
Adventure
Of course, you can argue that every bike is an adventure bike because you can pretty much have an adventure on any two-wheeler, in any environment. But the generally accepted definition of 'adventure' usually involves riding off the beaten track to places you've never been before.
Swapping the daily grind for a bit of magic, whether that's riding down the length of the Americas, hitting the Arctic Circle, schlepping across the Himalayas or heading for Siberia from central Europe.
Long travel suspension with good ground clearance is a given to soak up bumps and potholes, while a large front wheel will help get over logs, rocks and up onto river banks.
A 19-inch or 21-inch front rim can take on tough obstacles far more easily than a road-biased 17-inch wheel.
Tyres with a more off-road bias will give better grip on dirt, gravel or sand, their knobbly treads cutting into loose surfaces and mud, while wire-spoked wheels are better at absorbing shocks without damage, and are easily repaired.
Triumph's Rocket III and Yamaha's V-Mac offer an intriguing variation, sometimes dubbed the 'power cruiser'.
These offer much more power than the usual Harley-Davidson output, with the 150bhp+ 2.3litre Rocket III in particular giving hilarious performance from its gigantic three-cylinder motor.
Smoking tyres, slingshot-style acceleration, and minimal cornering clearance is what we expect from these beasties, and that pretty much sums up the power cruiser experience.
Examples of Cruiser Motorcycles: Harley-Davidson Sportster/Big Twin, Triumph Rocket III, Yamaha V-Max
The future of motorcycling? The biking world really is split down the middle on this at the moment, because electric machines are still very much in their infancy with only a few niche manufacturers, high prices, limited range and performance, and nowhere near the performance and practicality of conventional petrol-powered bikes.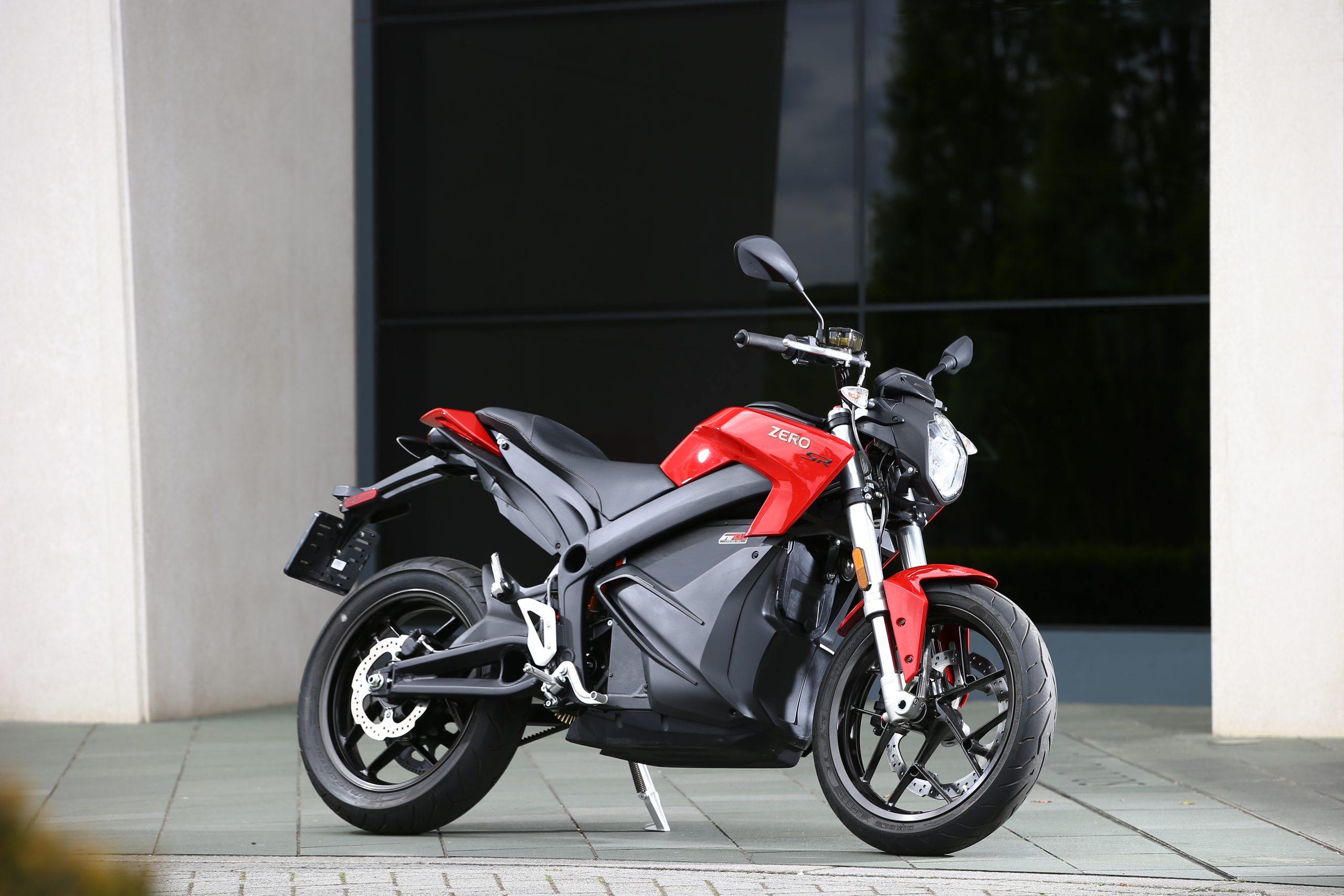 The Zero range works well, looks okay and is pushing as close as the cutting edge will allow to being a practical option.
The Alta off-road machine did some amazing work in dirtbike racing. And there are several firms making small commuting bikes, which are a good option for a sub-10 mile commute in town, where you can charge up at both ends.
Examples of Electric Motorcycles: Harley-Davidson Livewire, Zero SR/F, Vespa Electtrica
A notch down from full motocross bikes, enduro machines are for more gentle dirt action – but they're still very capable bikes.
They often have lights and road equipment fitted (since many enduro competitions use public roads to move about between sections) and it's easy to register most enduros for the road.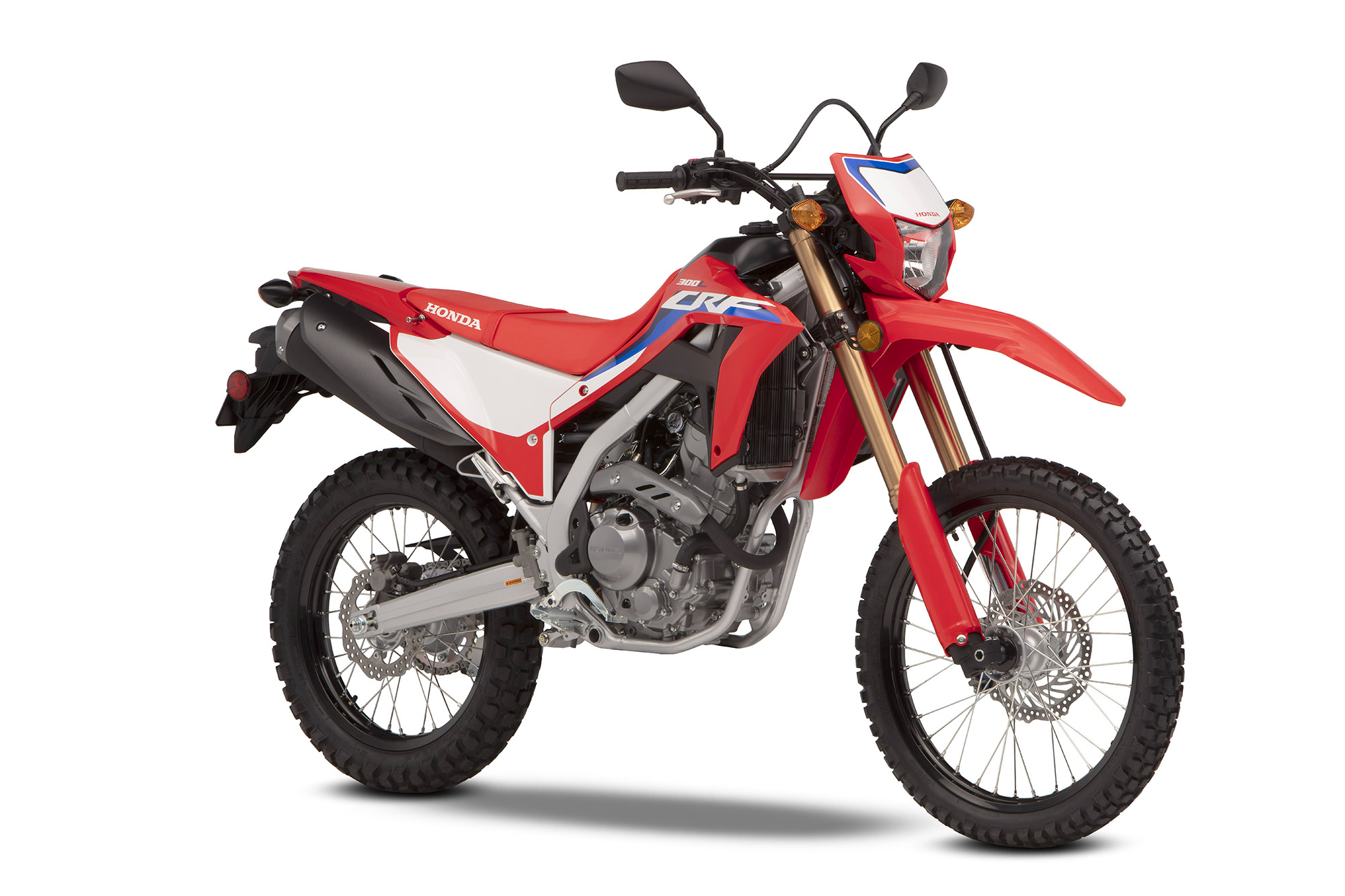 You won't want to do too many miles on one though: the accommodation is Spartan, and running a fairly highly-tuned 450 single cylinder engine at normal road speeds will wear it out in no time.
But the odd short commute on a sunny day is easily done – even more so if you make some mods to tyres, wheels, brakes and gearing.
Having a set of 'road' wheels with sticky rubber, higher gearing and a larger brake disc lets you convert an enduro bike into a supermoto, which is a genuine hoot for urban and twisty backroad use.
Examples of Enduro Motorcycles: Husqvarna 701 Enduro, KTM XC250
The maxi-scooter class is a fairly recent innovation – big-bore scoots only really appeared at the turn of the century. But they've taken off massively since, particularly in mainland Europe, where they sell by the boatload.
The idea is simple enough: take the convenience, weather protection, ease-of-use and practicality of a small, 125-200cc automatic scooter, then cranks it up with a 400cc+ engine, and corresponding chassis upgrades.
Add on a larger set of bodywork and you have all the upsides of the smaller scoots, but with three-figure top speeds, and the performance to run on motorways for much longer trips. That means 50mile+ commutes are manageable, as is two-up touring trips.
Examples of Maxi Scooters: Yamaha T-Max, Suzuki Burgman, Honda Silver Wing
The 'moped' moniker is a portmanteau word – 'mo' for motor and 'ped' for pedal. Because the original definition from the 1950s was a bike that came with an engine but also had pedals fitted, for starting, and assisting on steep hills.
The engine itself was limited to less than 50cc, and the top speed was also capped at 30mph.
Today there's no need for pedals, but the engine capacity and speed limits remain. A modern moped has a sub-50cc engine (usually 49cc), and is limited to a maximum speed of 30mph.
Those restrictions do mean that a moped can be ridden by 16-year-olds though, making it the only choice for riders who want to start out on the road as early as possible.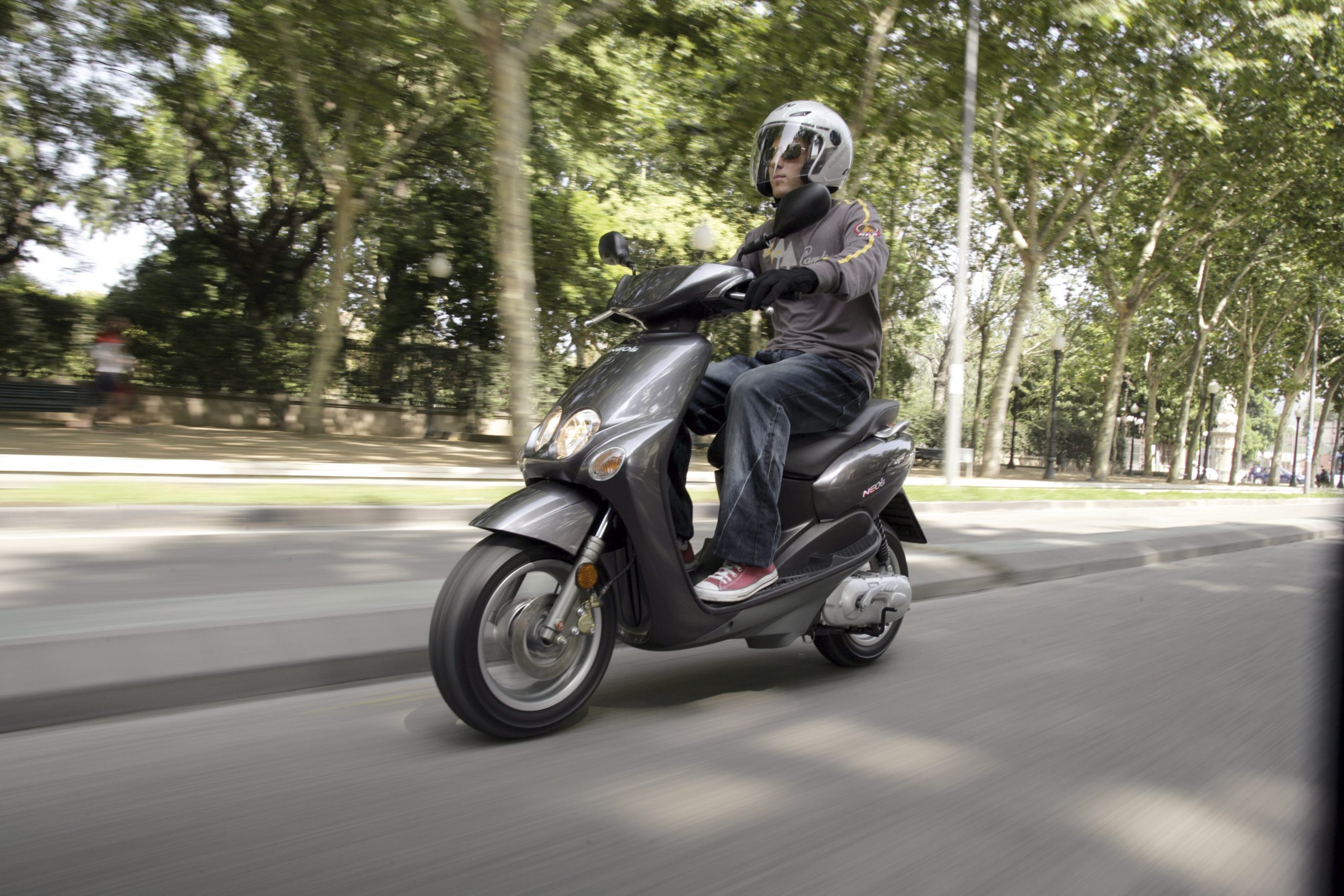 The majority of current 50cc mopeds are scooters, so they have a simple automatic transmission, small wheels, step-through chassis design and full bodywork. There are some 'proper' 50cc motorbikes though, with manual gearboxes and conventional chassis setups.
Examples of Mopeds: Peugeot Kisbee 50, Honda Vision 50
If you're serious about hardcore dirt riding, these are the bikes for you! Strictly for off-road work, most MX bikes aren't legal for road use, and are generally restricted to dedicated race tracks or private land.
Engines are almost always single-cylinder two or four-stroke setups, with high power outputs and specified class sizes – generally 125s, 250s, 400s and 450s.
These are bolted into heavy duty frames which can absorb huge levels of punishment. High jumps, whoops and crashes all put huge force into the frames, which get an incredibly harsh life.
Suspension and swingarms get similar treatment so also need to be bomb-proof. That means super-thick fork legs and tough aluminium swingarm – and the suspension components also need to be quickly and easily stripped, serviced and rebuilt to keep them up to spec.
Few machines get such a hard life, and four-stroke MX engines in particular need careful care if they're not to blow up in an explosive fashion.
Parts are 'lifed', and if you don't replace a piston, valve or con-rod at the recommended interval, it will generally fail, causing extensive damage to he rest of the engine that will cost far more to repair.
Examples of Motocross Bikes: KTM, Husqvarna, Kawasaki
This is motorcycling at its most basic and stripped down – just as its used to be when your grandad started riding.
The essence is an engine, frame, suspension and wheels – and little more. There's no windscreen or fairing to get in the way, and the riding position is simple, upright and relaxed.
Engine and chassis components are generally all on show, so designers have to take care to make things look pretty and tidy.
That means tucking away fuel hoses, electrical wires and control cables, while water-cooled engines are often styled like air-cooled lumps, with faux fins and machined cases, and radiators cunningly hidden behind frame rails or subtle covers.
The naked sector has always been popular, from the Suzuki GS and Kawasaki Z rangers from the 1970s, through to the Honda CB fours and Yamaha XJs and XSs in the 1980s then Ducati's Monster series in the 1990s and through to the present day.
You can have high performance of course: the current BMW S1000R and KTM Duke use their firms' highest-outpout engines in barely de-tuned form, and both make around 175bhp.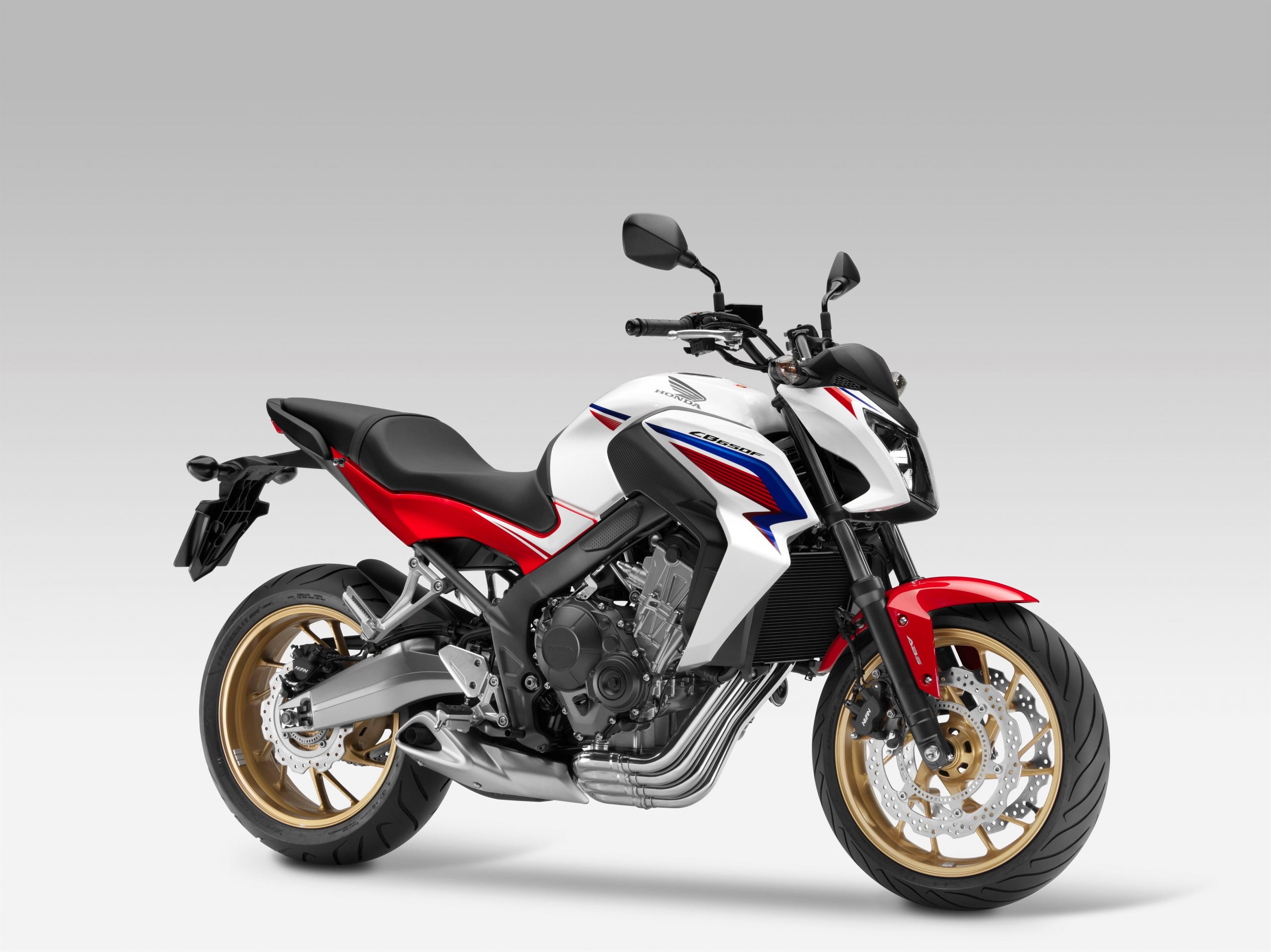 For most riders, the ideal naked roadster tends to be a little less frantic, with upper-middleweight machines like the Kawasaki Z800, Triumph Speed Triple or Yamaha MT-09 giving torquey engine performance in a light, agile chassis package.
Examples of Naked Motorcycles: KTM 790 Duke, Suzuki SV650, Kawasaki Z650, BMW S1000R
The motor scooter first appeared between the wars, combining basic motorcycle dynamics with a slick look and more accessible ergonomic design.
Leg-shields, foot-boards and a 'step-through' frame design meant commuters could ride to office jobs without getting grubby, whilst an enclosed engine and automatic (or semi-auto) transmission kept things clean and simple.
Even now, most modern scooters stick with these design cues, while adding a large underseat storage space, clean, fuel-efficient engine and safety upgrades like ABS or linked brakes.
Premium offerings like Yamaha's XMAX range or scooter from Piaggio and Vespa give reliable, cheap, easy daily transport to millions of riders across the globe.
Examples of Scooters: Piaggio, Vespa, Yamaha, Peugeot
Scrambler 
The original 'scramblers' were off-road competition machines in the 1950s and 1960s. These were some way off modern MX bikes – generally using road bike engines and frames with some extra ground clearance, high-level exhausts and knobbly tyres.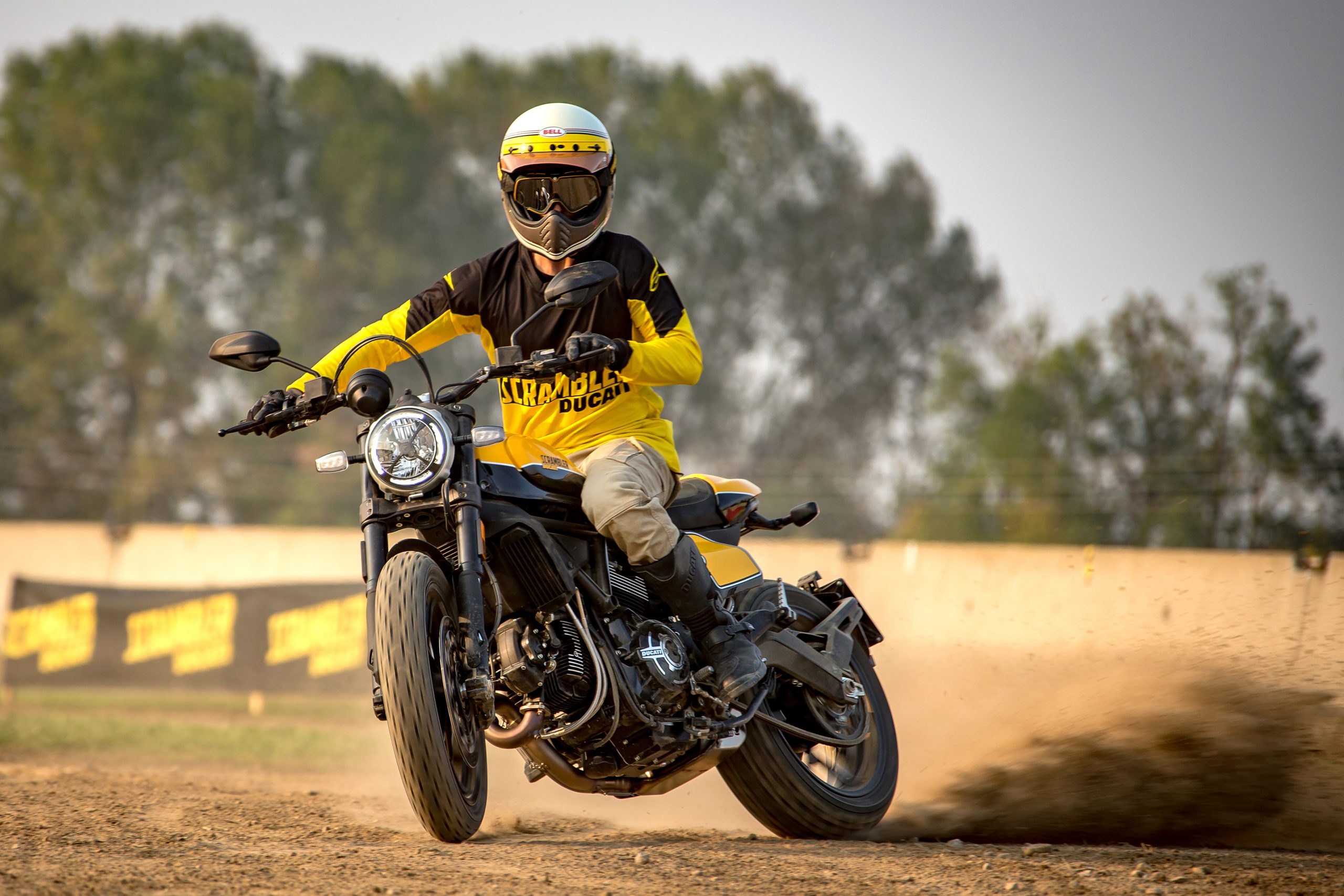 However, a modern scrambler is something rather different – a bit like a retro roadster, redesigned to look like something more capable away from the tarmac.
BMW, Triumph, Ducati and Yamaha have all built their own versions, and some of them have been successful although most of them are just a styling exercise, and if you wanted to take on much more than a fire road or gravel track, you'd be well advised to look elsewhere.
As stylish urban rides or weekend back-road blasters though, they make a lot of sense!
Examples of Scrambler Motorcycles: Ducati Scrambler, Triumph Street Scrambler
Sidecar
The original thinking behind a motorcycle and sidecar outfit was to give car-type carrying capacity to people who couldn't afford a four-wheeler.
In post-war Britain, motorcycles were much more accessible to working people than cars, so bolting on a two-man sidecar meant the typical family could go anywhere they fancied of a weekend, and even take a three-wheeled summer holiday!
By the 1960s though, cheap cars like the Austin Seven, Mini and others were gradually eroding this benefit, and sidecars are now a bit of an anachronism.
The downsides are obvious: you have almost the same width as a car so you can't filter through traffic jams, but you don't have the roof, heater and windscreen, so you can end up sitting in the rain, stuck in traffic.
The riding dynamics of a motorcycle and sidecar are also rather arcane, and require some rather weird riding techniques.
Speeding up on left-handers helps the bike turn, as the motorcycle part tries to overtake the unpowered sidecar, and slowing down on right-handers does the opposite.
On the plus side, they can't fall over, and offer a good option for riders who can't operate solo motorcycles due to illness, disability or old age. Sidecars are almost all custom-built, British firms Watsonian-Squire is one of the biggest builders, and can convert almost any bike into a sidecar outfit.
Sports bikes used to be the most popular type of motorcycle, particularly in the UK. Through the 1980s, 1990s and early 2000s, Japanese sports bikes completely dominated the sales charts, with models like the Honda CBR600, Yamaha FZR1000, Kawasaki ZX-7R and Suzuki GSX-R750 all being hugely successful.
Now they just don't sell in the same numbers, but sports bikes are still extremely common in almost all markets.
Although the definition is pretty broad, a sports bike will have a fully aerodynamic fairing, powerful engine, high-quality suspension, advanced brakes and committed riding position.
The capacity classes used to closely follow race regulations with 250, 400, 600, 750 and 1000cc machines common to all the firms. Nowadays though, racing has less influence on road sports bikes, but you can still buy sports bikes in a range of engine sizes.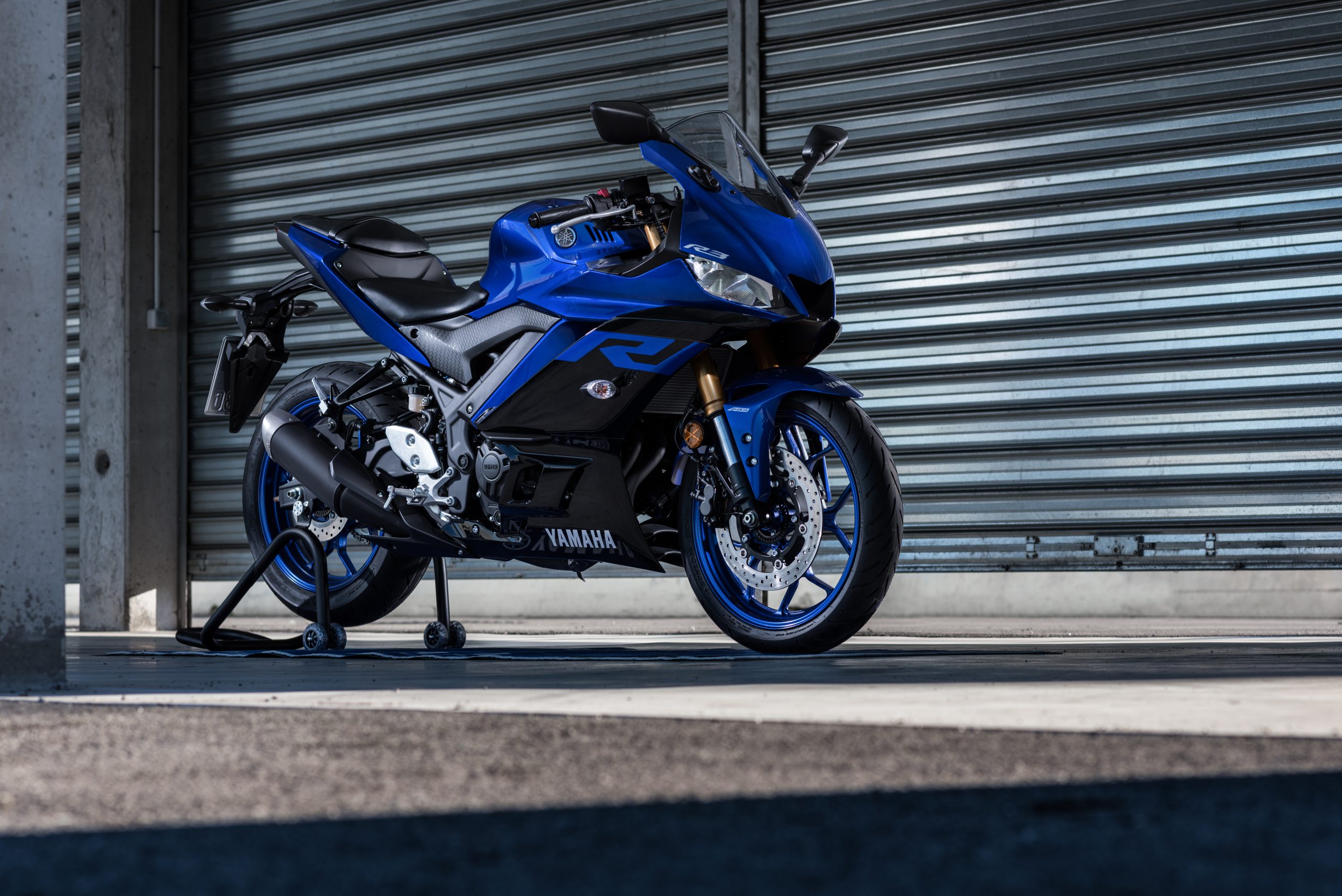 The superbike class has the highest outputs, with more than 200bhp available from the one-litre motors. BMW's S1000RR and Kawasaki's ZX-10R produce the highest outputs, with over 210bhp from each.
Meanwhile, Aprilia and Ducati have gone a step further, boring their RSV4 and Panigale V4 engines out to 1100cc, with a corresponding ten per cent power and torque increase. The Panigale V4S makes an incredible 212bhp.
These hugely powerful engines are matched by high tech chassis components and electronic rider aids. Semi-active electronically-controlled suspension, race-type brake calipers and discs, super-stiff frames and complex traction control/ ABS system are de rigeur.
Examples of Sportsbikes Motorcycles: BMW S1000RR, Kawasaki ZX-10R, Ducati Panigale V4
Sports tourer 
This is a pretty self-explanatory definition – a sports-touring bike combines elements of a sportier machine with more touring features. So you'll have the powerful engine, light weight, adjustable suspension and strong brakes of a sportbike, in a less aggressive package.
Seats are more comfy, riding positions are more upright and relaxed; windscreens and fairings give more wind and weather protection. There will also be more spacious pillion accommodation, and often some way of fitting hard luggage to the back end of the bike.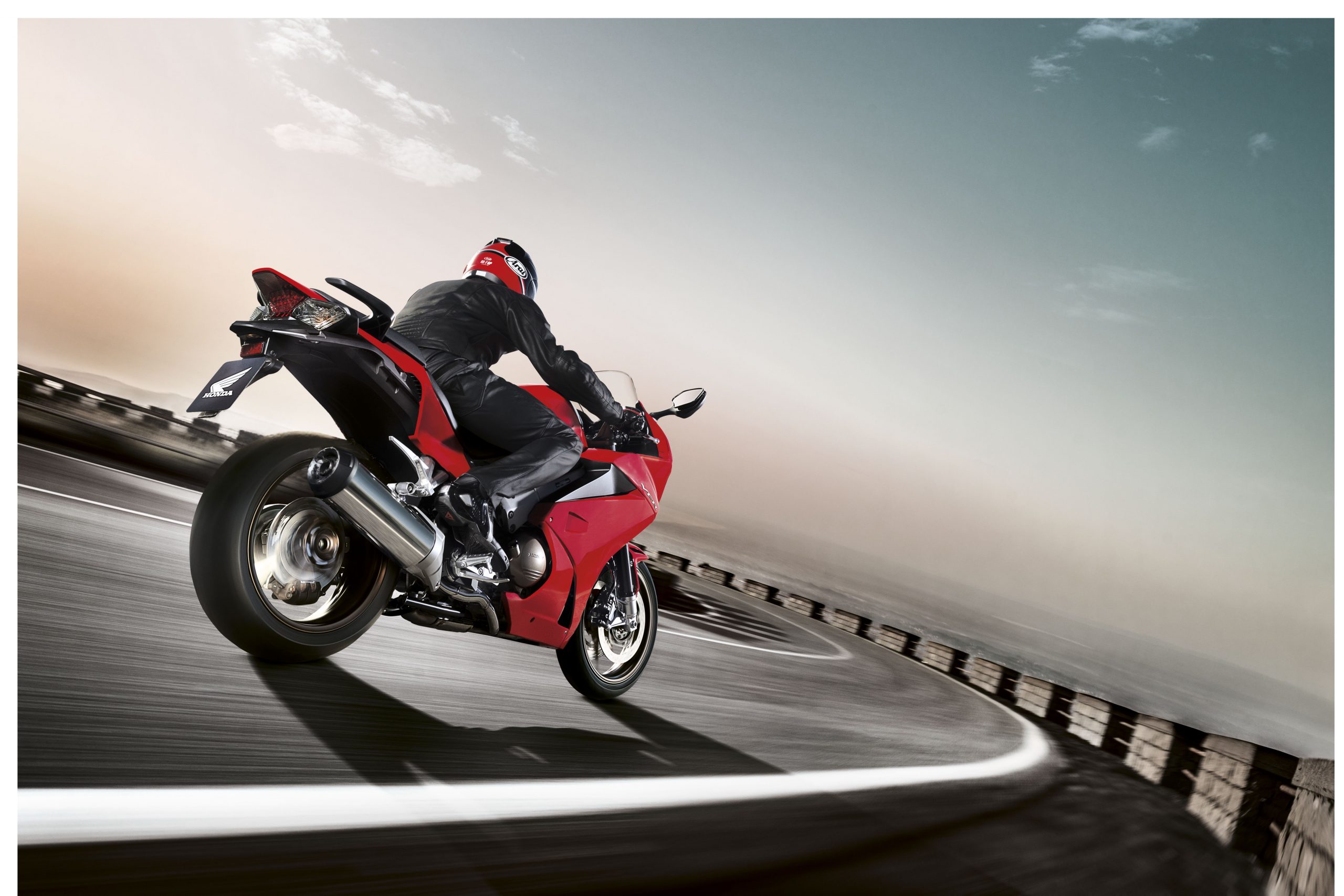 In recent years though, the sports touring class has been supplanted to some extent by the adventure class.
They have the same two-up touring abilities, in slightly taller form, and more dynamic versions like Ducati's Mulitstrada, KTM's Super Sventure and BMW's S1000 XR have performance that can match or beat many traditional sport-tourers.
Examples of Sports Tourer Motorcycles: Honda VFR800, Triumph Sprint ST, Ducati ST4, Yamaha FJR1300, BMW S1000 XR, Ducati Multistrada, KTM Super Adventure
Streetfighter 
Perhaps fittingly, the streetfighter class of bike evolved itself from the street, in a genuinely organic fashion.
When fully-faired sportsbikes appeared in the 1980s, many riders snapped them up, and rode them in the manner they were intended. Of course, the inevitable then happened – many of these plastic-faired bikes were crashed, at which point their owners learned how expensive replacement bodywork panels were.
It was not uncommon for a bike that was completely undamaged in terms of engine and chassis to be an economic write-off, simply because its plastic fairing was smashed, and replacements would cost a few thousand pounds; more than the whole bike was worth.
These owners then did what they could to get the bike road-legal and mobile again.
Basic headlights and indicators replaced fairing-mounted lighting; conventional wide handlebars replaced clip-on race bars, and the resulted Mad Max-style machine was then put back into service.
All the power and handling of a superbike, in an unfaired, wide-barred form actually proved very popular – and before long, people were building streetfighters without even going to the trouble of crashing their sportsbikes first…
The true streetfighter has arguably been replaced by the modern hyper-naked class: bikes like Yamaha MT-10 and Aprilia Tuono are basically those firms' R1 and RSV4 superbikes without plastic fairings, pre-built by the factories. Ducati also sold its own Streetfighter for a few years, based on the 848 and 1098 superbikes.
Examples of Streetfighter Motorcycles: Yamaha MT-10, Aprilia Tuono, Ducati Streetfighter
Hypersports/ unlimited sportsbike
Speed has always been a strong part of motorcycling's appeal. And the 'fastest production bike' was a prized crown in the latter part of the 20th century, before speed became more frowned upon by society.
Kawasaki was at the forefront of this, with its GPZ900R, GPZ10000RX, ZX-10 and ZZ-R1100 all holding this title in turn between 1984 and 1997.
But the other Japanese firms were massively envious, and launched their own various high-speed assaults in the late 1990s.
Honda's CBR1100XX Super Blackbird was launched in 1995, and its big-bore Fireblade engine, bolted into a long, low, sleek chassis easily bested the 175mph Kawasaki ZZ-R1100 in the top speed stakes.
It didn't keep the crown for long though: Suzuki's 1999 GSX1300R Hayabusa had more power, less drag and a genuine near 200mph top end. By then though, legislators were unimpressed, and the big bike firms bought in a voluntary top speed limit of 300kph – 186mph – from 2001.
Examples of Hypersports Motorcycles: Kawasaki GPZ900R/GPZ10000RX/ZX-10/ZZ-R11000, Honda CBR1100XX, BMW K1300, Suzuki Hayabusa
Three wheelers/ Trikes
Sidecars aside, there are a few options for three-wheeled bikes. The traditional form is the conventional trike, often DIY builds, perhaps using an old air-cooled VW engine and transmission with two wheels at the rear.
If you want a pre-built version, Harley-Davidson actually produces factory-built trikes, powered by its own V-twin engines and a bespoke rear suspension and chassis conversion.
Honda Gold Wing trike conversions are also popular, the large engine and shaft drive making a good match for a three-wheeler.
The other option is to have your two wheels out the front, aka a reverse trike. You can have this in a non-leading form, with old Morgan three-wheel cars or more modern three wheelers from the likes of Bombardier with its Can-Am Spyder.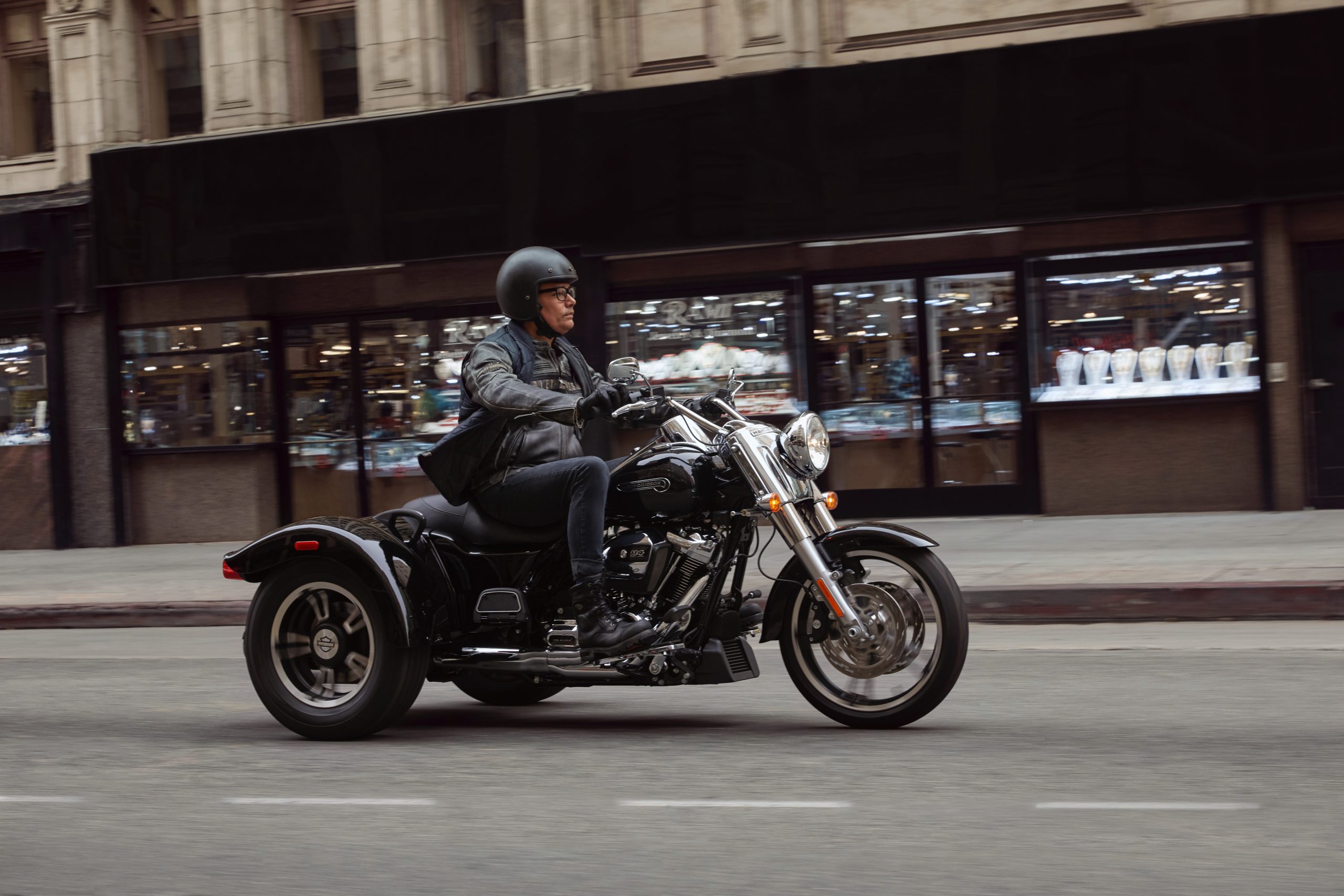 There are some new 'leaning' reverse trikes available on the market now. These come in 'scooter' or 'bike' form – Piaggio's 300 and 350cc MP3 or Peugeot's Metropolis 400 are maxi-scooter designs that use leaning, two-wheel front ends with complex locking linkages and controls.
Traditionally, a touring bike meant a big, heavyweight machine, with large-capacity engine, all-enveloping bodywork, huge luggage capacity and luxurious seating for rider and pillion.
BMW's K1600 LT, Honda's Gold Wing and Harley-Davidson's Electra Glide all fit this bill, with alternatives like Yamaha's FJR1300, Honda's Pan European and Triumph's Trophy 1200 offering a similar proposition in a slightly smaller package.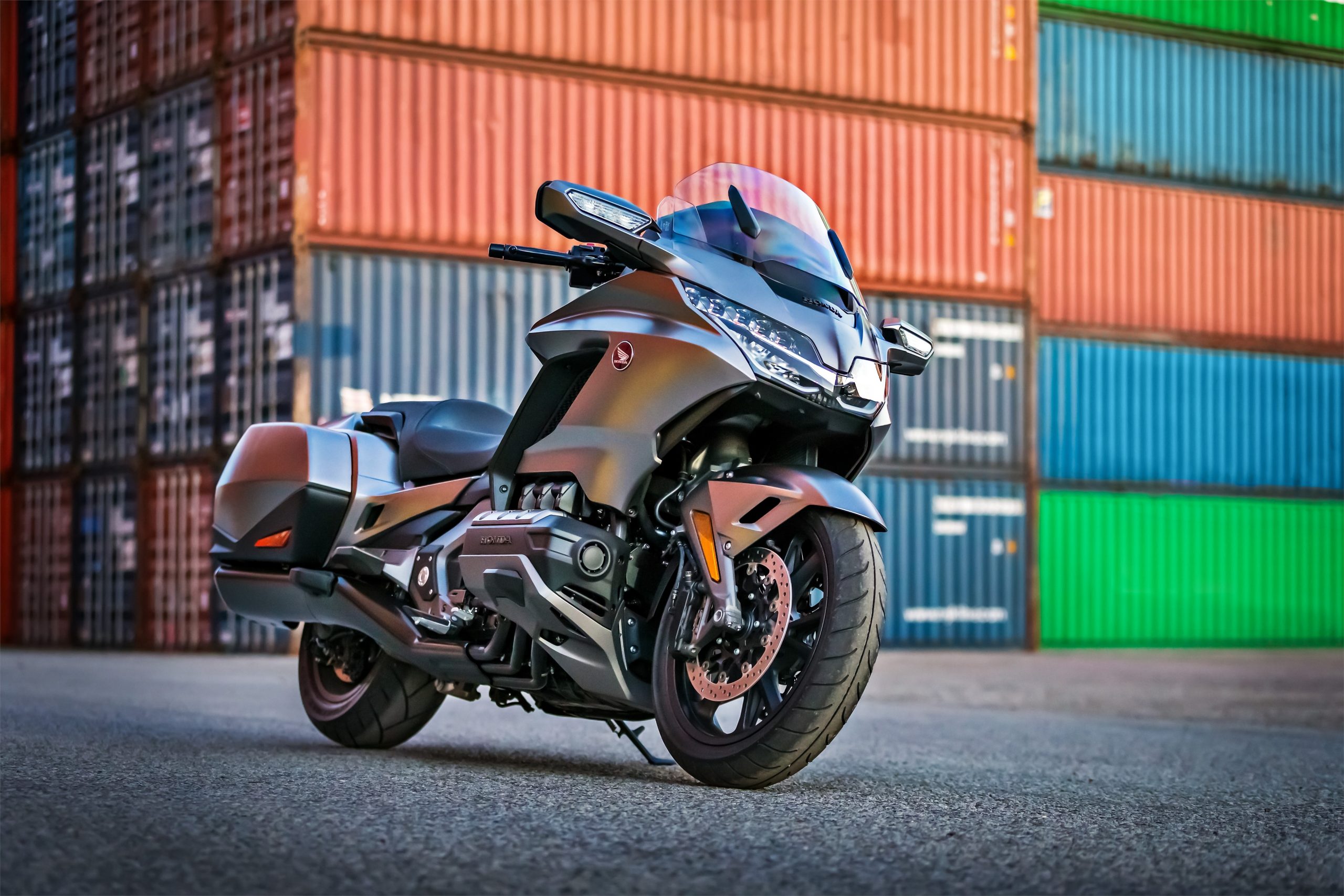 The larger 'supertourers' generally come with sound systems, built-in hard luggage and such luxuries as a reverse gear, aid-adjustable suspension, integrated intercoms and electrically heated grips and seat.
They have enormous engines, with the K1600 and Gold Wing sporting six-cylinder engines (a flat six on the Honda, and an inline six on the BMW), shaft drive and super-smooth running.
The 'smaller' tourers are still imposing machines, but they offer a much more dynamic, agile riding experience.
Indeed, the Pan European and FHR1300 are both on the edge of sport-touring levels of handling and speed, and make great mid-distance commuters as well as continent-crossing touring monsters.
As with the sport-touring class, pure touring bikes have been overshadowed in recent years by the adventure class.
The biggest variants here – the BMW R1250 GS, Triumph Tiger 1200, KTM Super Adventure 1290 – all have the power and grunt to haul two people and a load of luggage across Europe in a few days, while miniaturised tech means they can also offer heaps of luxury.
Colour LCD dashboard, integrated GPS, heated grips and seats and adjustable windscreen are all common now, and can match almost anything the full-on touring class provides.
Examples: BMW R1250 GS, Triumph Tiger 1200, KTM Super Adventure 1290, Honda Gold Wing
The simplest, broadest class of all here… The 125cc is a purely statutory creation: it's the maximum capacity which a total novice riders are restricted to when they first start riding at 17, in the UK and across Europe.
This restriction dates back to 1983: before then, learners could ride 250cc machines, with no power limit. The 1981 Transport Act cut the learner capacity limit in half to 125cc and introduced a new 9kW (12bhp) power limit, both effective from February 1983.
So any bike with a cubic capacity of less than 125cc, and peak power levels under 15bhp counts here.
There's a massive range of new machines – from scooters and budget roadsters like the Honda PCX125 or Yamaha YS125 up to mini-superbikes like the KTM RC125 or Yamaha R125 and premium super-nakeds like the Yamaha MT-125, Kawasaki Z125 or KTM 125 Duke.
Looking for something a bit cheaper? Firms like Lexmoto, AJS and Keeway sell decent quality Chinese-made 125cc, which work well, at lower costs than the mainstream Japanese or European brands.
Other Chinese options include brands like Bullitt and Mutt, who produce good-looking bikes based on far-Eastern engines and chassis, which have a bit more style too.
Examples: Honda PCX125, Yamaha MT-125, KTM 125 Duke, Mutt Mongrel 125, Bullitt Hero 125.
Now you're the master of motorbike types, take a look at our guide to motorcycle engines…