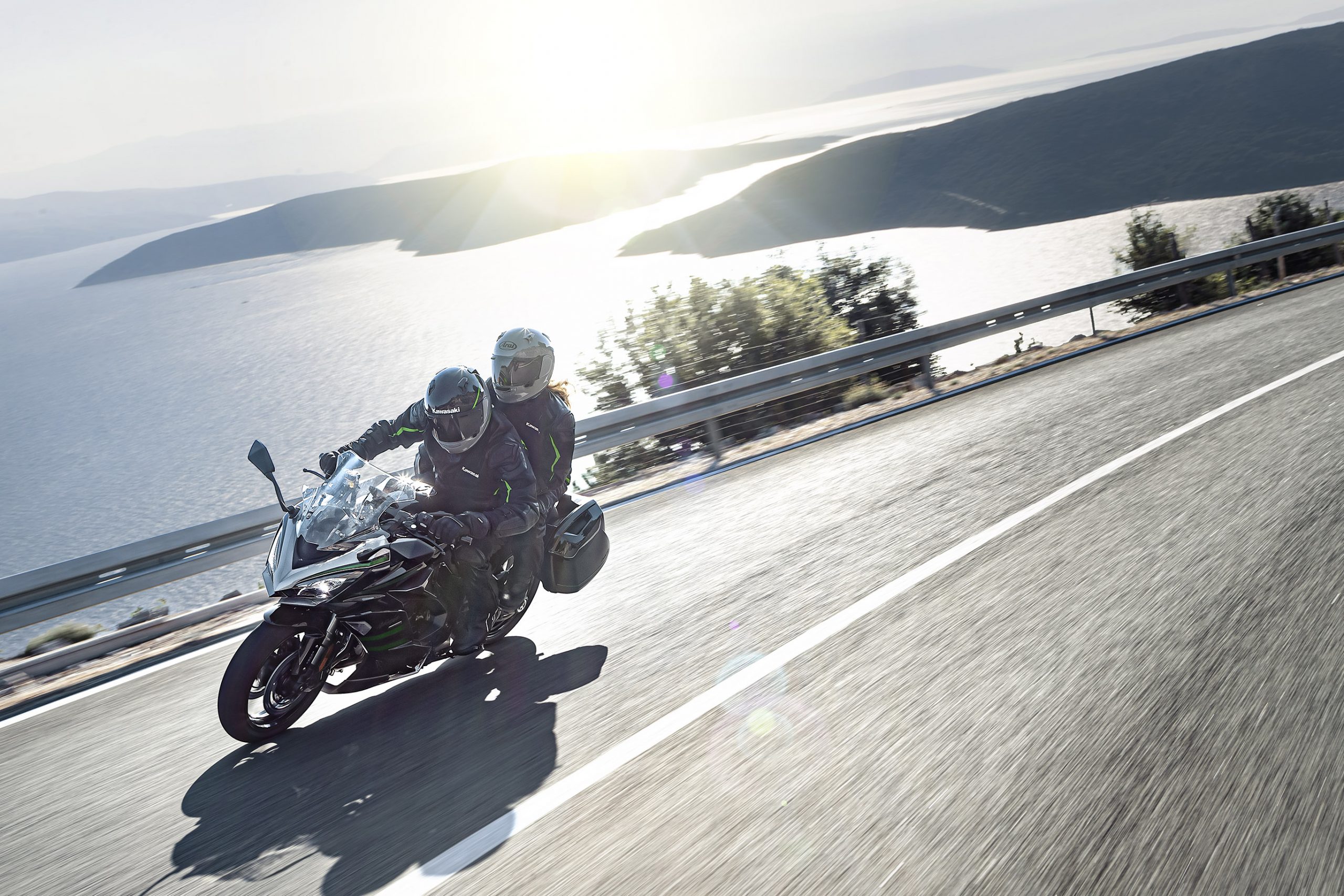 Kawasaki – powerful by name and powerful by nature. If stunning, sleek and sporty is what you're looking for, Kawasaki bikes are perfect for you. Ride your Kawasaki to work? Or do you just hop on your bike at the weekend to see the open road? Kawasaki bikes are known for their versatility and power, and that's why you'll always find an extremely proud owner at the helm of one. Whatever your preferences, there's a Kawasaki for you.
Engine types:
4-stoke vertical: 4 stroke, air-cooled, V twin with overhead valve. (FJ, FR, FS, FX series)
4-stroke horizontal: 4 stroke, liquid-cooled, V twin with overhead valve. (FD, FJ, FH series)
2-stroke vertical: 2 stroke, air-cooled, single cylinder (TJ series)
2-stroke horizontal: 2 stroke, air-cooled, single cylinder (TJ, TK series)
Model types:
Supersport touring: ZG- 1000 Concours, Concours 14, Voyager 1700
Sport: Ninja 250R, 300, 400R, 500R, 650R, ZX
Cruisers: Vulcan, Eliminator, Estrella
Dual purpose: KLR, KLX, KLE, F1TR, F2TR, J1TR
Off-road: KDX, KLX, KMX, KT, KX
It was in 1949 when the Kawasaki Company made its movement into the motorcycle industry – originally, by building engines for other bike brands, as well as engines for aircraft. It wasn't until 1954 when Kawasaki released its very own motorbike, Meihatsu, which was fitted with Kawasaki's own KB-5 engine. With the experience and knowledge of powering aircraft, it's no surprise that Kawasaki motorcycles have been getting stronger with each and every launch.
How can I save money on my Kawasaki Motorcycle Insurance?
There are plenty of ways for you to reduce the cost of your Kawasaki motorbike insurance. If you're cautious about locking your bike safely away with an alarm or immobiliser, this can help to lower costs. Keeping your bike locked indoors or in a garage overnight will also work in your favour when it comes to us comparing insurance for you.
Another great way of saving money on your Kawasaki insurance is by completing further training – this could be with either IAM, RoSPA or ERS. Taking further training shows that you're a cautious and careful rider could also help you save money on your Kawasaki insurance.
What is included in my Kawasaki Insurance policy?
Your Kawasaki motorcycle insurance provides one of three levels of cover, depending on which you choose: fully comprehensive, third party fire and theft, and third party only. This includes a 24/7 claims line should you ever need to make a claim, as well as 90 days' worth of cover across the EU – which could save you a significant sum of money if you're a regular traveller across Europe.
You can also add additional products to top up your policy, including Excess Protect, which could reduce the cost of your premium, as well as Key Protection to replace lost, stolen or damaged keys and to pay for any out-of-pocket expenses up to £1500. You can also take out Personal Accident cover, cover for your helmet and leathers (we know how expensive they can be to replace) as well as RAC cover specifically for motorbikes.
How do I get a quote for my Kawasaki motorcycle?
You can get a quote online by filling in our online quote form. Just provide us with a few details, such as security for your bike, your location and occupation, mileage, driving habits and whether you have any No Claims Discount. We'll also need to know about any convictions within the last five years.
Get a quote online or call one of our friendly advisors on 0345 872 3614.
We compare prices from leading UK motorbike insurers to find you our cheapest Kawasaki Motorcycle Insurance.
We're always here when you need us most. Claim service 24/7/365.
We send your insurance documents straight away by email. Get everything you need in minutes.
We don't leave you hanging around on the phone waiting for us to pick up.
Or
Call for a Kawasaki insurance today0345 872 3614
December 3, 2023StarStarStarStarStar
review
December 2, 2023StarStarStarStarStar
Feedback from a few friends
December 2, 2023StarStarStarStarStar
Straight forward