Looking for something to do when the racing's not on at the TT?
Although the racing is the main attraction for many of us at the Isle of Man, you do have rest days during race week in which you may find yourself looking to unwind, go behind the scenes, or see some wildlife. Our guide of Things to do in the Isle of Man offers a bit of something for everyone.
From fishing trips to motor museums, whatever it is you enjoy or are in the mood for, we'd be surprised if you didn't find it in this list. None of these suggestions are for our own profit or affiliate links, we just enjoyed the experience and we think you will too. So, what are you waiting for? Go and find your next Manx adventure!
Gallery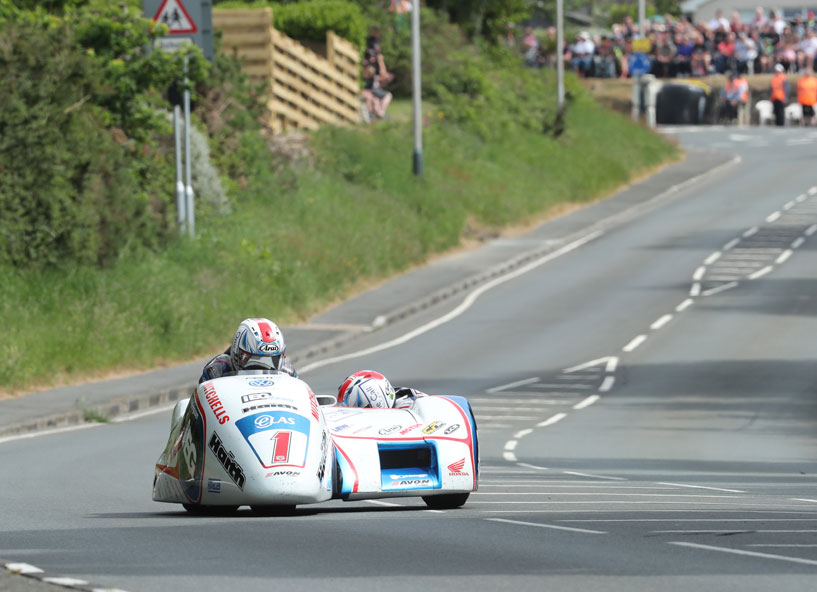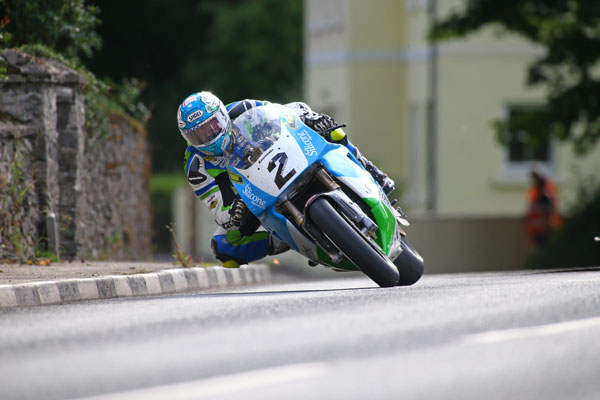 Ride the Snaefell Mountain Course
Get a taste of the TT action for yourself!
Location: Snaefell Mountain Course, Isle of Man What better way to get to know the Mountain course than riding it yourself. Despite the traffic that comes with the open roads, you can still go around the circuit and get a taste of what the racers see and feel. There really is no other course like it and we're sure you'll feel that as you start to climb the mountain and ride through the one way system over the mountain, past Creg-Ny-Baa and down to Douglas and through the grandstand.
If you're crazy enough to not be excited about the TT before this lap, we are sure you'll be in love with it after. It makes listening to race commentary and watching the highlights so much more real. You will not be alone, with other riders getting a chunk of the action to so make sure you are confident around other bikes and cars! If not, it is just as much fun going round in a car, you get more time to take it all in check out the bikes joining you around the circuit.
If you time it right, a number of photographers are road side on racing off days, ready to get a great snap of you riding around the course. You can then view the photographers' photos here and if you like what you see, purchase a photo, which makes for a perfect souvenir from the TT races. We would recommend making sure the mountain section is open when you set off as this is often closed due to weather conditions or an accident.
"If you think the Isle of man TT is dangerous. Go home, cut your lawn and leave us to it" – Guy Martin
Lap of the Billown Circuit
Small circuit, big fun!
Location: Billown Circuit, Castletown, Isle of Man Why stop there? Keep the racing fever coming and head to Castletown to do a much shorter, yet similarly thrilling lap of the Southern 100 course. Stretching over 4.25 miles it will not take you too long to do a lap, although we wouldn't recommend using racer records as a guide, they get round the course in just over two minutes!
You will quickly realise how sharp the corners are and how difficult it must be with the bikes all starting the race at the same time, unlike the TT. Like the race, the grandstand is smaller than the Isle of Man TT, however it is great to see the course in person, even if it's just before you head to the airport for your flight home, as the course is a short drive away.
As the Southern 100 is roughly a month after the TT preparations for the race have begun, which you will notice as you go around the circuit. If you choose to do a lap during the Southern 100 race week, like those at the TT, photographers are on hand to take pictures of you. These unique souvenirs can then be viewed and purchased from the FanTTtastic site here.
Gallery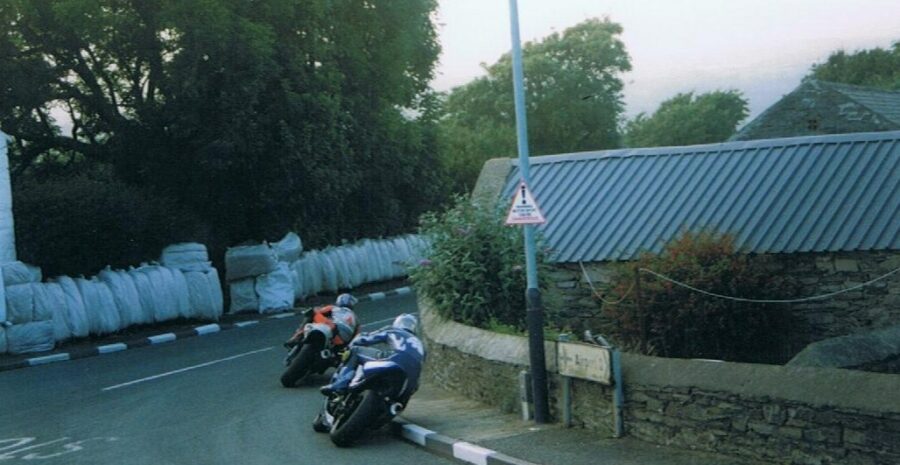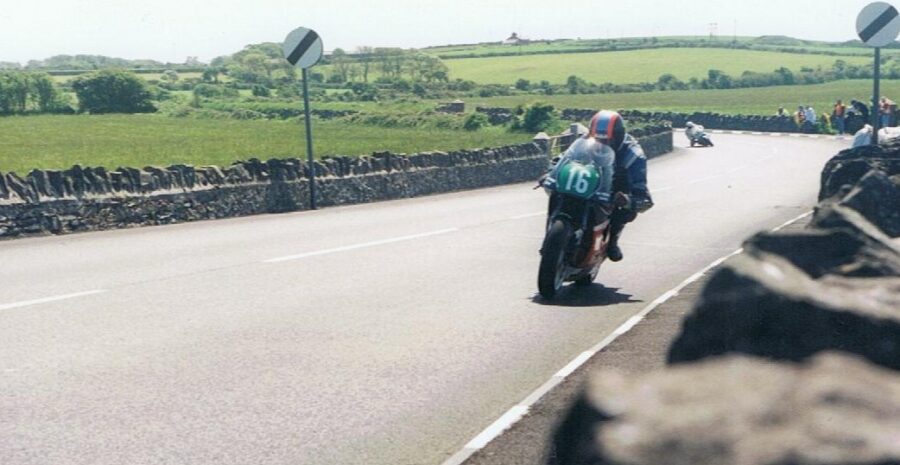 "There is a grey blur, and a green blur. I try to stay on the grey one." – Joey Dunlop
Visit Bushy's TT Village
Food, drinks and music – what's not to love?
Location: Villa Marina Gardens, Harris Promenade, Douglas, Isle of Man, IM1 2HP
Entrance fee: FREE
After a day out watching your favourite racers tear up the course, why not go and have a few drinks, watch a live band, and relax with fellow TT loving bikers at Bushy's TT Viillage. Located at the Villa Marina Gardens in Douglas, a night at Bushy's will be certain to give you a festival feeling and is the perfect location to discuss a day's racing with likeminded bikers. Accoustic acts take to the stage from 5.30pm and the headline acts usually appear at 7.30pm and 9.30pm.
Please note, there is a different schedule on the opening weekend to celebrate the start of the TT fortnight as well as Mad Sunday. On Mad Sunday Bushy's have introduces Mod Sunday, whereby the island's scooter fanatics are invited to the village to listen to some Northern Soul, Tamla Motown, 60s and 70s Soul, SKA and Reggae. This starts at midday and finishes at 7pm, a great way to spend a part of your day scooter fans!
Bushy's caters for all your drinking needs, whether it be beer, ciders, gin, wine and much, much more! As well as this, a wide variety of food is available, what better place to spend your evening at the TT?
Gallery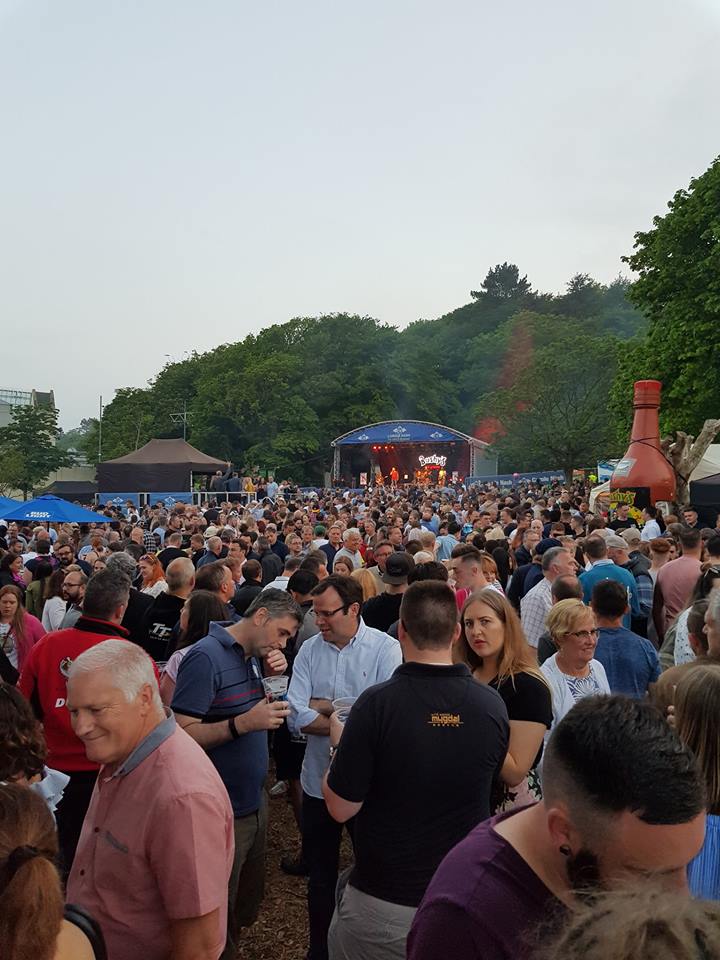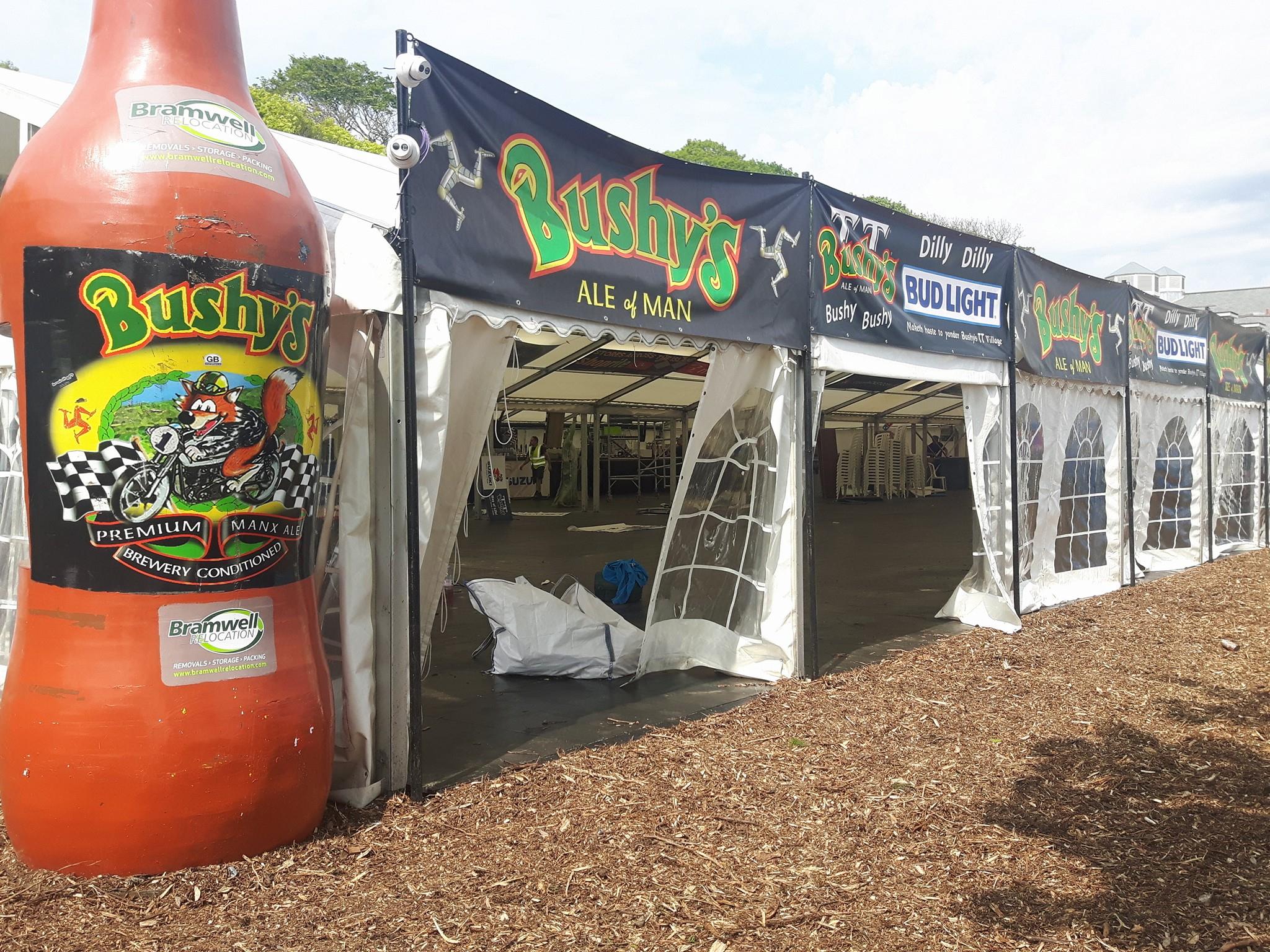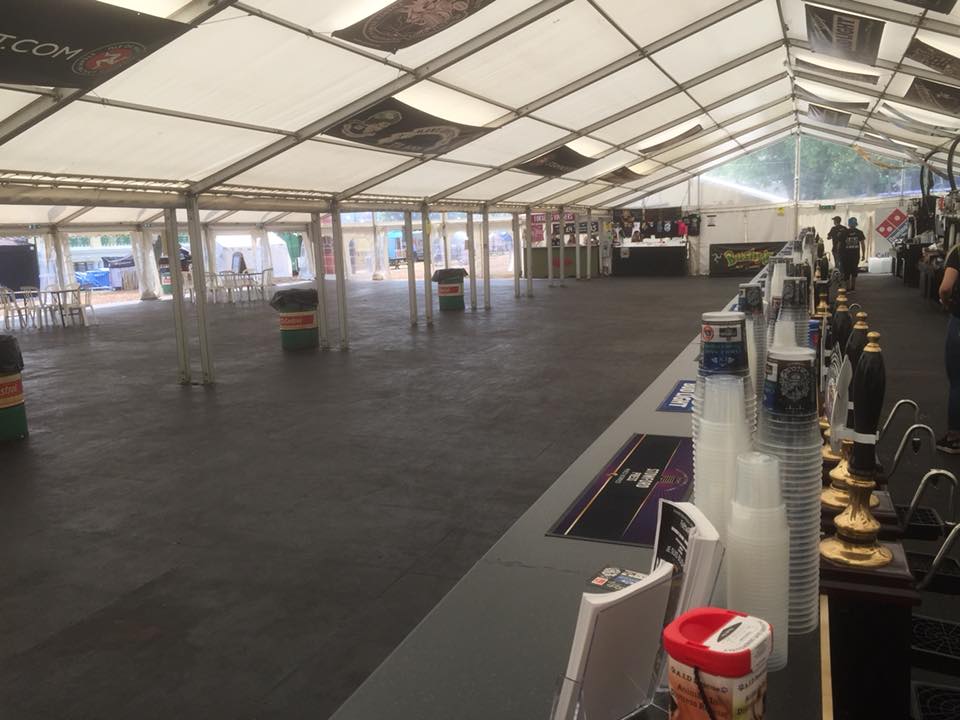 "Bushy's is the premier brewery on the Isle of Man"
Jurby Karting
Put your foot down and beat your mates!
Location: Jurby Karting, Jurby Airfield, Motodrome, Jurby, IM7 3BD, Isle of Man
Price: Individual driving sessions start from £15 for 10 minutes, challenges start from £35 for events 30 minutes upwards When you've been watching others race every other day it's quite common to catch the bug. By this we mean prove you are capable of winning a race, albeit maybe not a TT.
At Jurby Karting you are able to put your foot down and race your friends, family or other competitors on a testing, yet fun course.
The circuit stretches over 1000 metres, featuring straights which will enable you to reach high speeds as well as hair pin bends it which will put your racing technique to the test. You will be accurately timed and results will be shown on a big screen, this means you can aim to beat your previous lap records as well as your friends! There is also a race in which you can work as a team with your friends or family to attempt to record a best time as a collective and get extra points for driving well.
Whatever your choice, Jurby Karting is a great way to jump in the hot seat and get a taste for the racing action yourself, you never know, you could be the next Lewis Hamilton! If you're not that keen on karting, there is a viewing platform in order for you to get some great pictures and keep up to date with the race on the big screens.
Gallery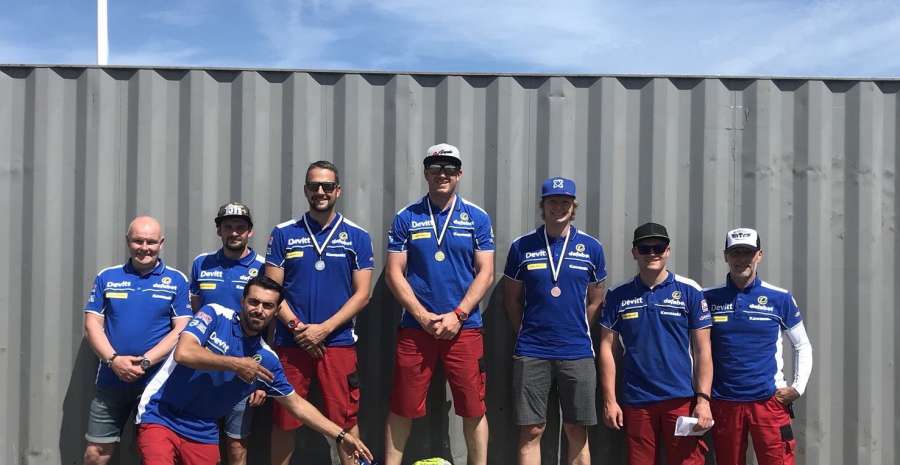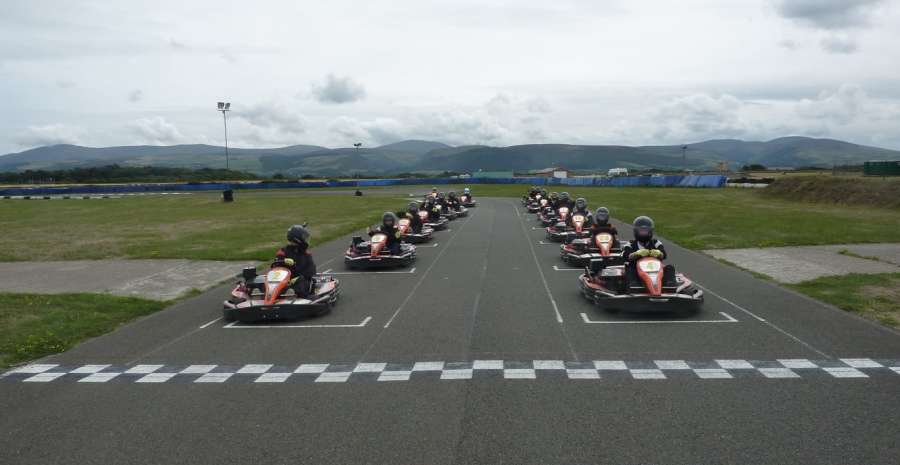 "With an outrageously quick straight and hair pin bends you are guaranteed the drive of your life."
Walk around the paddock
Take a look behind the scenes
Location: TT Grandstand, Glencrutchery Road, Douglas, Isle of Man, IM2 6DA
Entrance fee: FREE
Whether its race day or a rest day there is always plenty of life at the Isle of Man TT paddock. You will almost definitely see famous faces, with some racers opting to help out with the maintenance on their bikes. Watching the essential maintenance be carried out on these machines to make them fit for race is fascinating. It will leave you mind boggled that these machines are taken around the course at such phenomenal speeds. You will also get to enjoy the ferocious sounds of the engines being warmed up for testing and races.
The paddock is free and open to the public, so why not head down there, soak up the atmosphere and see the bikes and maybe some riders up close? Don't forget your camera as the teams and racers usually up for a picture and a chat!
If it's biking equipment or an official TT souvenir you're after, you will find these at the paddock to. Whether it be an Isle of Man TT hoodie or some new leathers you're after, the paddock's the place to be. A range of tasty food and drink is also available within the paddock.
Gallery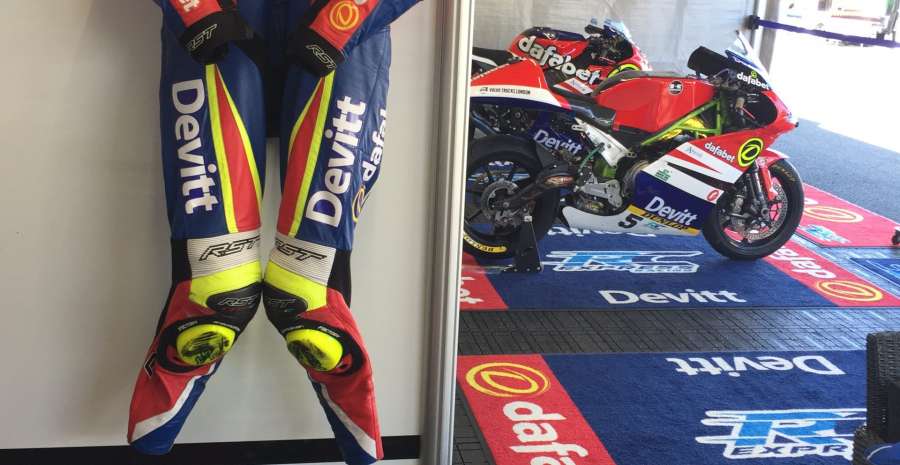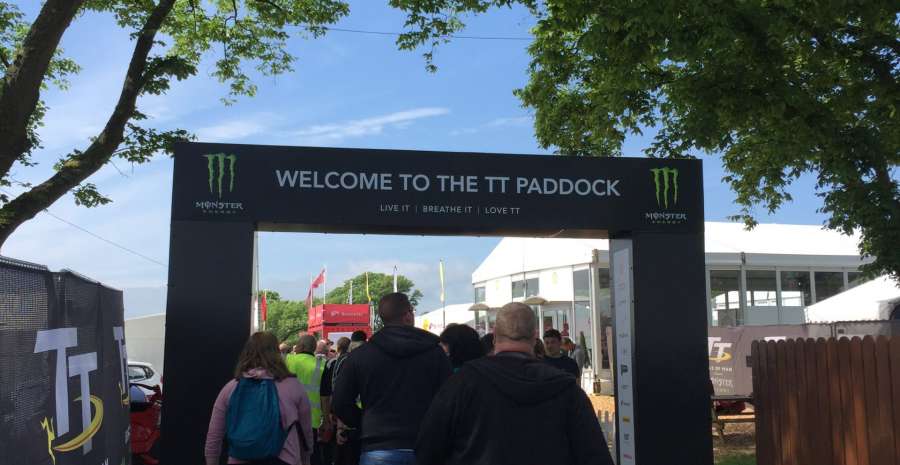 Up close and personal with legends of the road.
Manx Museum
Dive into the history of the Isle of Man…
Location: 1 Kingswood Grove, Douglas IM1 3LY, Isle of Man
Entrance fee: FREE – Donations welcome
Opening hours: Monday – Saturday 10am – 5pm, Open Sundays,  1 April 2018 – 28 March 2019 *Closed Christmas Day, Boxing Day, Tynwald Day and New Year's Day.
The Manx museum gives you a bit more of an insight into the island's history, rather than that of the TT and motorcycles. The museum in Douglas will take you through the ages of the Isle of Man's past, all 10,000 years of it! You will start in the Viking and Celtic times, with films galleries and interactive displays on hand to improve your knowledge on the history of the Isle of Man. Many Manx artefacts and treasures are on show for your viewing pleasure, including collections of Viking silver and gold and relics from all over the Island.
If theatre is your thing, you'll love the interactive gallery 'Theatreland', you are free to put on a show for your friends and family to enjoy. Maybe Performing Arts isn't for you but Art itself is, the National Art Gallery will be right up your street, featuring a fascinating collection of pieces from the island.
We understand you're at the Isle of Man for motorbikes and you may be getting withdrawal symptoms from the two wheeled machines. Well, don't worry; you will end the tour in the motorcycle section, where you will find Fogarty's bike, Hutchinson's leathers, and other famous racing items. How well do you know the Snaefell course? You can put your knowledge and riding technique to the test on the Isle of Man TT: Ride on the Edge game!
You will finish up in the souvenir shop and café, where gifts, books and refreshments sold. An hour or two well spent we think!
Gallery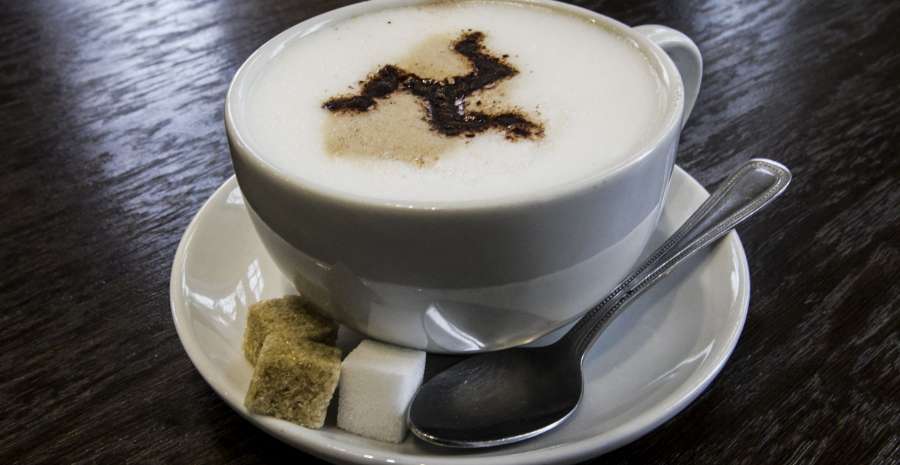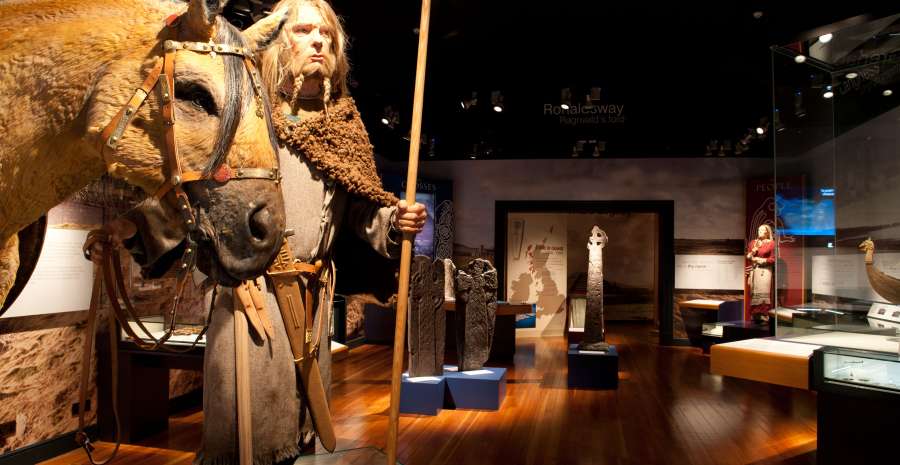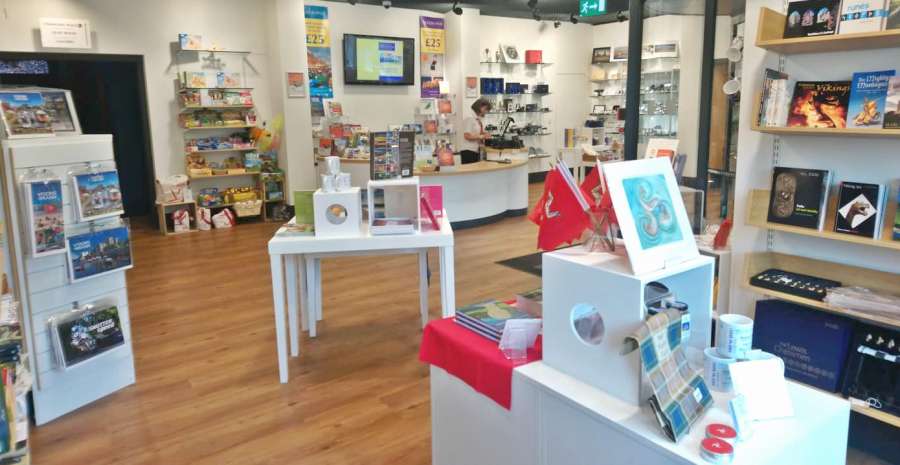 Great Laxey Wheel and Mine Trail
Lady Isabella in all her glory!
Location: Wheel Hill, Laxey, IM4 7NL
Entrance fee: Adults £8.00, Children £4.00
Opening hours: 30 Mar '18 to 4 Nov '18 – 9.30am – 5pm, 5 Nov '18 to 31 Mar '19 – Closed for winter*, 1 Apr 19 to 3 Nov '19– 9.30am – 5pm A short walk from the Laxey railway station you will find the famous Great Laxey Wheel also known as Lady Isabella. Built in 1854 by Victorian engineer Robert Casement, the world's largest surviving waterwheel of its kind is located just above Laxey in the hills. You are able to climb to the top of the Victorian wheel, enjoying wonderful views of Glen Mooar Valley and Laxey itself – great opportunities for photos!
The wheel has been described as the island's most dramatic tourist location, having served the mine for 70 years. Revolving at three revolutions per minute, the 22.1 meter tall wheel is a brilliant example of Victorian engineering. There is another great photo opportunity by the entrance to the complex, with the famous Manx triskelion featuring on the side of the wheel, making this a memento of not only the wheel, but the Isle of Man itself!
Once you have found out all there is to know about the Great Laxey Wheel; you have The Mines Trail to explore. There are two walks to enjoy, the first taking in points of industrial archaeological interests such as the T-rocker, the wheel cistern, the engine house and machine house. Please note, this walk takes around 15 minutes.
The second, steeper walk sees you wander through Glen Mooar Valley until you reach the Compressor House, taking in points of industrial archaeological interest along the way. Please note, this walk takes around 60 minutes.
Gallery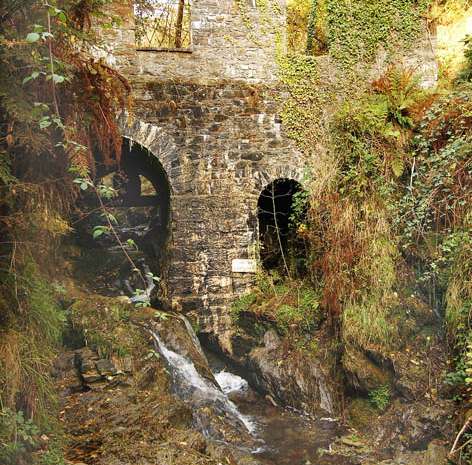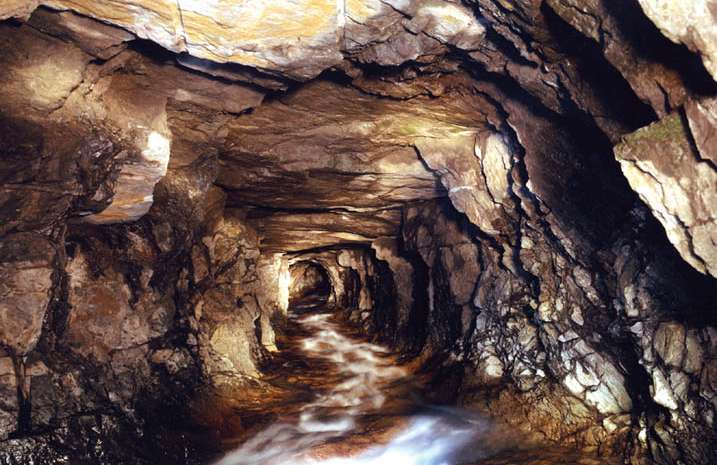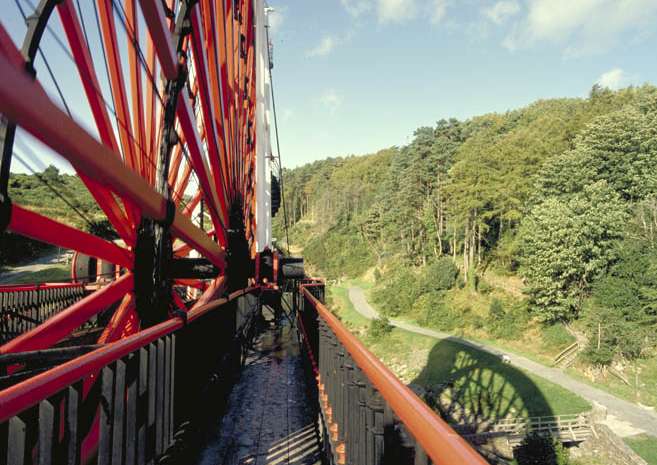 "The Island's most dramatic tourist attraction."
Point of Ayre Lighthouse
The oldest operational lighthouse on the island
Location: Point of Ayre, Isle of Man Go as far North on the Isle of Man as possible and you'll come to the Point of Ayre Lighthouse. Just 16 miles from Burrow Head in Scotland, the lighthouse is the closest you'll get to Britain whilst on the Isle of Man. A visitor centre is close by with a viewing platform that allows you to see Scotland and the Lake District. Believe it or not, at this point you are closer to Scotland than you are to Douglas!
The Point of Ayre- High Lighthouse is the oldest operational lighthouse on the Isle of Man, first being lit in 1818. It was constructed by Robert Stevenson, the grandfather of Robert Louis Stevenson the author of Treasure Island. It is situated on the shore, and stands much taller than the second lighthouse at the Point of Ayre, known as the' Winkle Light'. The 'Winkle Light', constructed in 1890 by Robert Stevenson's cousin David, is on the beach itself. It has been known that waves reach and damage the small lighthouse, with such a range between high and low tide at the Point of Ayre. This being the reason for the lighthouse base being somewhat wider than the tower itself.
The beach is the perfect place to go for stunning views on a rest-day during the TT. One of the quietest locations on the island, with great views of Cumbria and Scotland, it is also a great location to do a bit of fishing, with its considerable tidal range. Definitely the place to go to get away from the crowds!
Gallery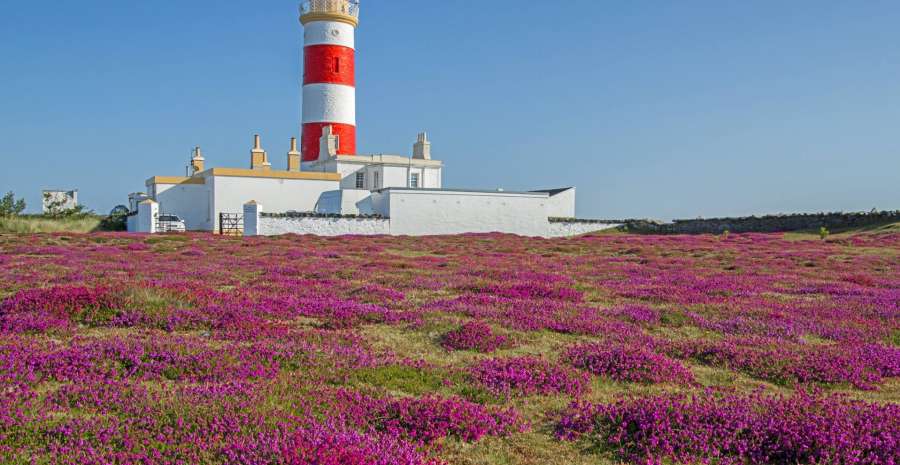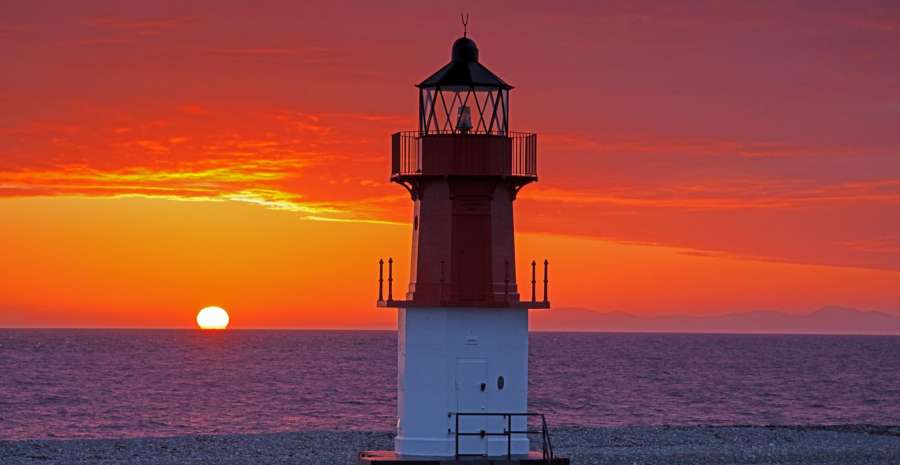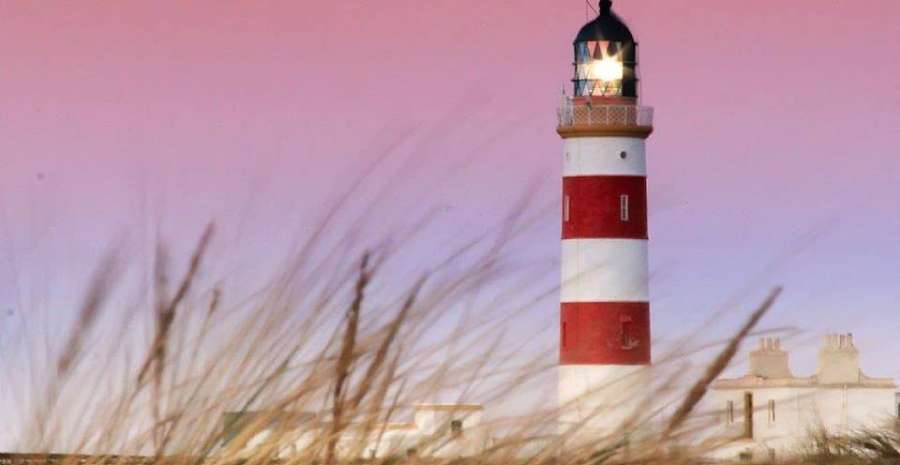 "It is lovely to visit somewhere so unspoilt."
Fairy Bridge
Do you believe?
Location: Primary A5 Port Erin to Douglas Road
How comes a small bridge on the primary A5 Port Erin to Douglas road between Santon and Malew gets so much attention? Well, with a name like that it's obvious going to turn a few heads, although there is a deeper meaning. A superstition about the bridge exists, it is said to be unlucky if you were to go over the bridge and not greet the fairies. A simple 'Good evening fairies' will suffice. This superstition emerged in the 1950s and has stuck ever since.
As riding around the course at such high speeds it is not surprising that many racers go over the bridge and greet the fairies. With so much at stake and in such a dangerous race it wouldn't hurt to have luck on your side, would it? Because of this, the bridge attracts a lot of attention from tourists and racing fans, so why not go and greet the fairies during race week and even have a picture with the famous sign?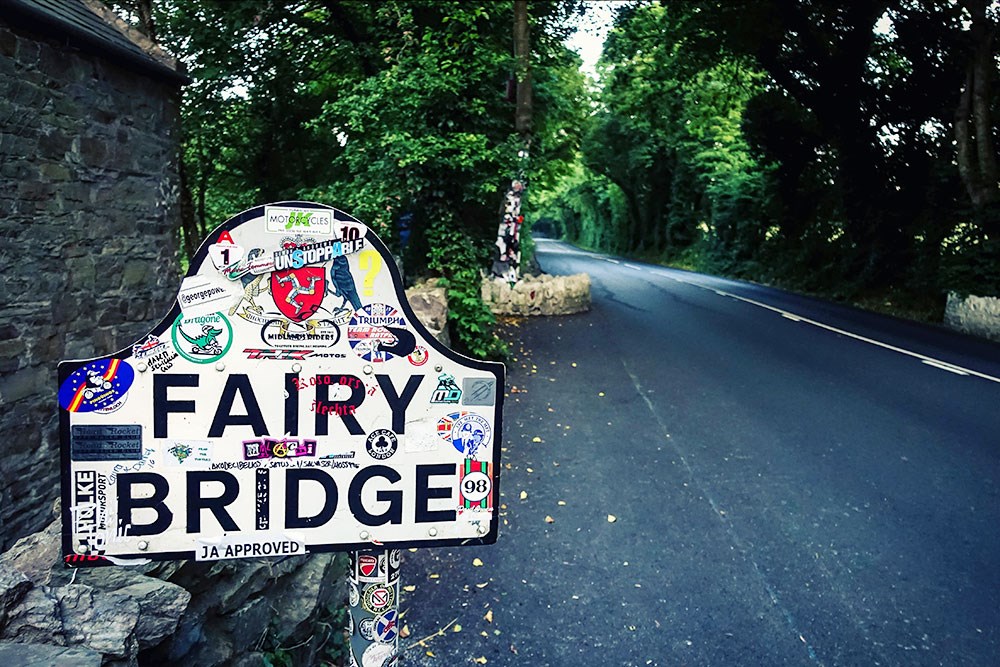 "Good evening fairies"
Isle of Man Railway trips
Historic Railways of the Isle of Man
The Isle of Man TT is all about motorcycles, from bikes being ridden around the circuit at 200mph to bikers watching, drinking and socializing at the side of the road. However, on a rest day it's sometimes nice to explore other modes of transport.
One which is part of the Isle of Man heritage is the famous trams, which have been running along the east and south coast of the island for over 100 years. Not only will you admire the amazing views, the various stops along the way are perfect to relax on the beach, have lunch in a pub or explore towns such as Ramsey and Douglas.
With four different lines you have plenty of choice as to where you start off from and where you end up. Each line has spectacular views and destinations, all coming at very little cost to ride.
Manx Electric Railway:
The stops on the Manx Electric Railway are –
RAMSEY – a coastal town in the north of the Isle of Man, famous for riders racing through before they head up the Snaefell Mountain. On a race day you can watch from famous Ramsey locations such as the Ramsey Hairpin or Parliament Square, which are favourite viewing points for many TT spectators. Your railway trip may start or finish here depending where you are staying. There are lots to see and do, with one of the biggest harbours on the island, the Millennium Way footpath and Mooragh Park means there are opportunities for walking, cycling, kayaking, and other outdoor activities. As you would expect from seaside towns, there are plenty of pubs and resturants to choose from in Ramsey, with fish and chips being a local favourite.
Belle vue
Lewaigue
Ballajora
Ballaglass
Dhoon Glen
LAXEY – The fourth largest Isle of Man Island village in the center of the Manx Electric Railway is a great stopping point to split the journey from Ramsey to Derby Castle in half. With a pub just a thirty second walk from the stop this is a great place to hop off the tram for some lunch and refreshments. That being said, there is more than enough things to see and do in order to spend a day in Laxey, with a beach, small harbour and of course the Laxey Wheel, which we talk about further on in this guide! This is also the stop you'll need to go to if you're getting the tram up to Snaefell.
South Cape
Baldrine
Groudle Glen Railway
DERBY CASTLE – At the north of Douglas, the capital and largest town on the island, lies the Derby Castle stop. This takes you on a walk along the beach until you reach attractions such as Bushy's, fairground rides and the harbour. If you was to turn right around halfway along this walk, you will eventually come to the TT paddock and grandstand, which is always full of life whether it is or isn't race day!
Gallery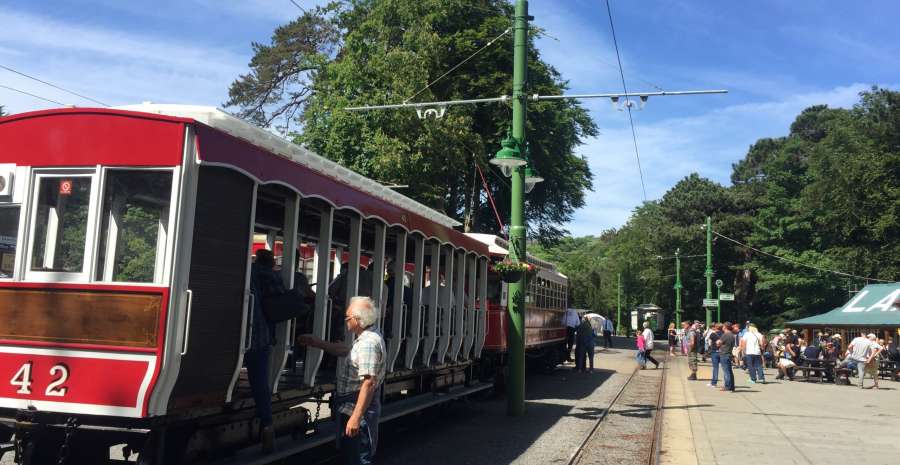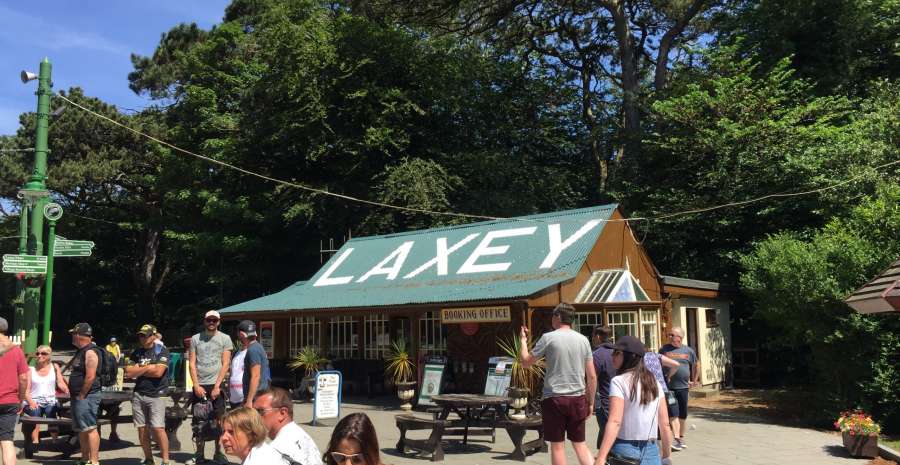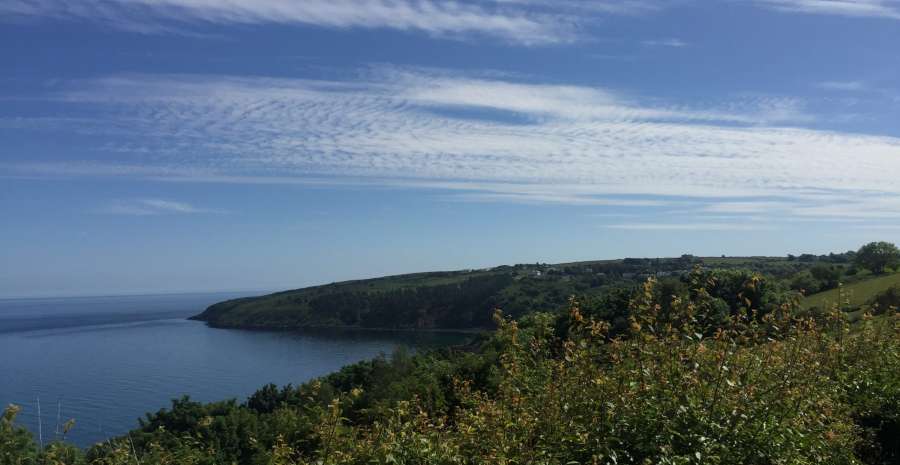 Snaefell Mountain Railway:
The stops on the Snaefell Mountain Railway are –
LAXEY
THE BUNGALOW – Another spectacular vantage point of the Isle of Man TT course where you can watch the racers tear up the mountain section. As well as this you can go and show your appreciation for TT and road racing legend Joey Dunlop at his memorial statue over-looking the course.
SNAEFELL – At the highest mountain on the Isle of Man, you will find a café, the station and a number of communication masts, not to mention the breath-taking views that come with it. On a clear day it is said you can see England, Ireland, Scotland and Wales, so try and head up there when the sun's out if you can!
Gallery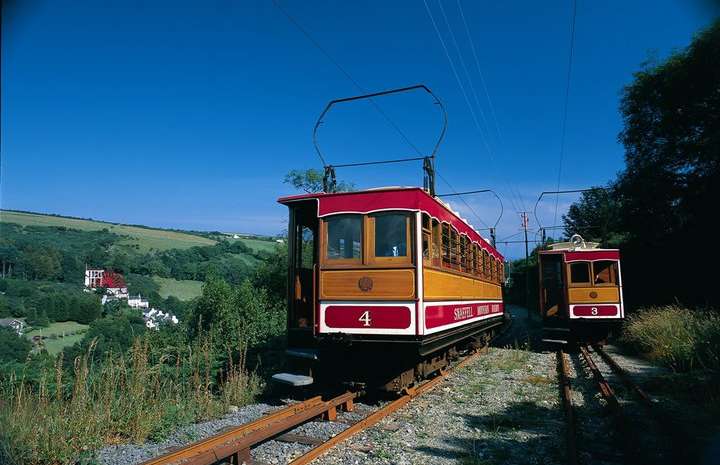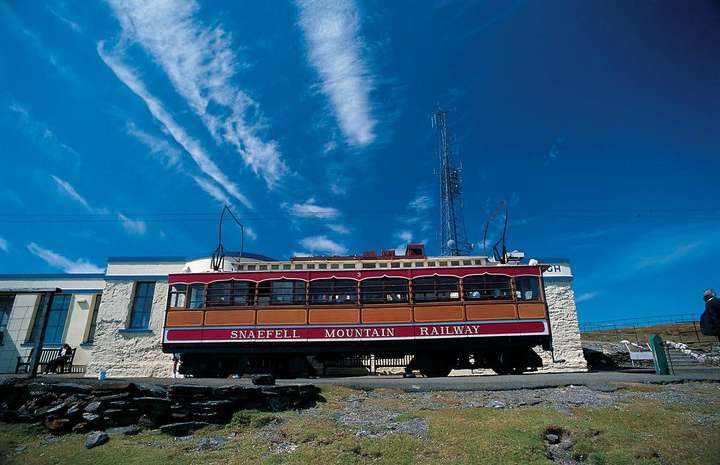 Isle of Man Steam Railway:
The stops on the Isle of Man Steam Railway are –
DOUGLAS
Port Soderick
Santon
Ballasalla
CASTLETOWN –About halfway down the IOM Steam Railway lies Castle Rushen, an iconic part of the Isle of Man's history. Castletown is another potential viewing point to watch the races on TT day!
Ballabeg
Colby
Port St. Mary
PORT ERIN – A small seaside village with a very calm feel to it, the Fish Hatchery, Milner's Tower, the Railway Museum and Victoria Square all add to the quaint yet homely feel.
Gallery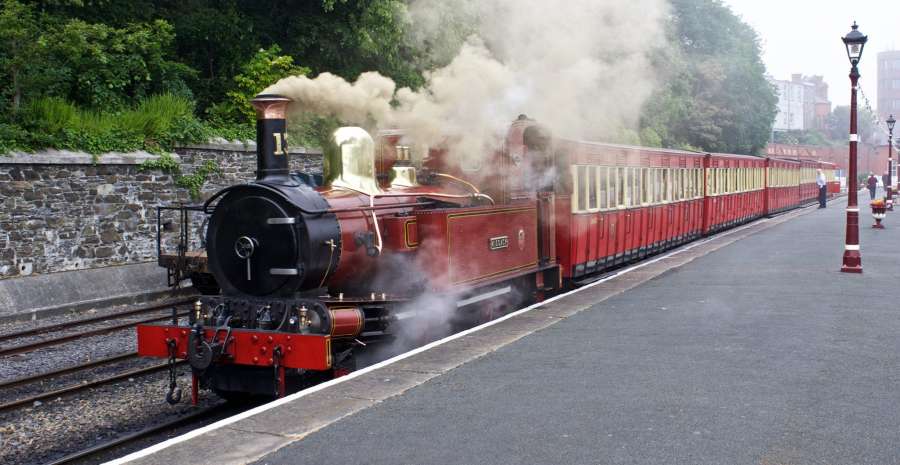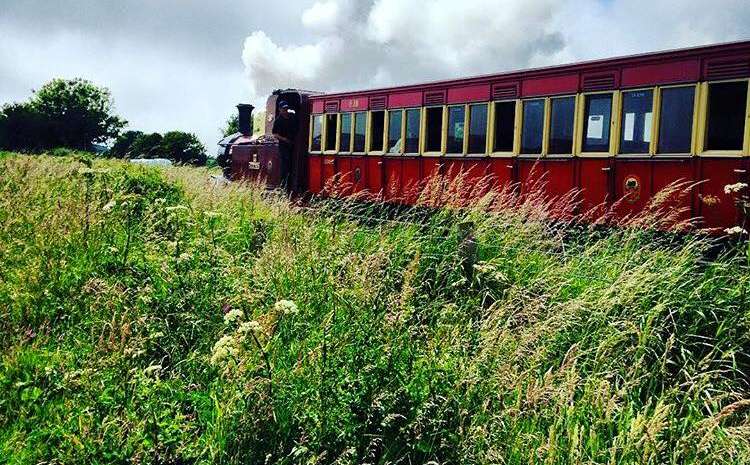 Douglas Bay Horse Tramway:
As you may have noticed from the name and the images, the Douglas Bay Horse Tramway is rather different to the other people carriers previously mentioned. The only 19th-century original horse-drawn passenger tramway in the world, runs the full length of the seafront promenades of Douglas.
The stops on the Douglas Bay Horse Tramway are –
Gallery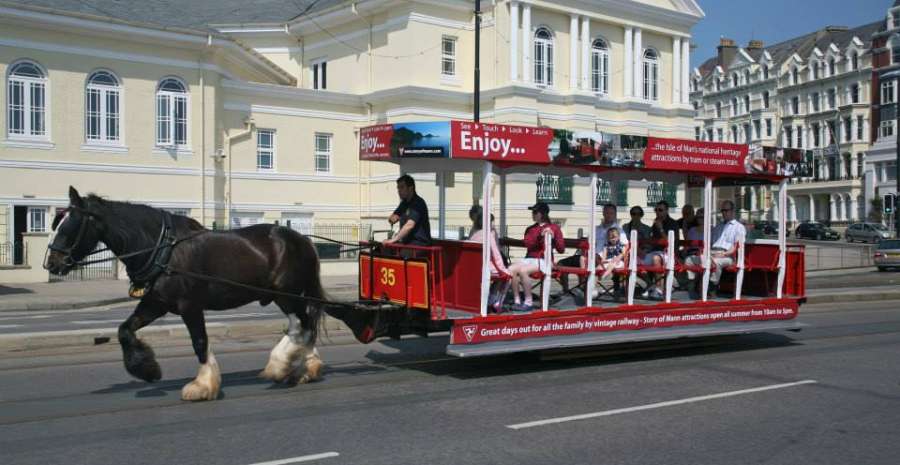 The second best way to travel… The first is on a motorbike, of course!
Visit Sir Norman's bar
Servicing handcrafted burgers, delicious flatbreads, sharing platters and great wines.
Location: The Sefton, Harris Promenade, Douglas, IM1 2RW, Isle of Man
Opening hours: 10.00am – 12.00am If you're looking for a lively bar with good food and sea views look no further than Sir Norman's on Douglas seafront. At the door you will be greeted by a statue of none other than legendary Sir Norman Wisdom himself, during race weeks it is filled with bikers and celebrities alike. Fancy some fresh air? Grab a seat outside Sir Norman's and enjoy the endless sea views of Douglas Bay and beyond.
As well as the atmosphere, the food is great to! The menu offers a variety of fish, pies, meats, steaks, flatbreads, salads and vegetarian dishes, so you'll be spoilt for choice!
There is also a great value meal deal offering any two courses and a drink for £20, you can then add a third course for just £2.50, bargain! Thirsty? It is not just traditional pints and spirits served at Sir Norman's, an extensive wine list is available with a fine selection.
Having visited Sir Norman's twice during the 2018 TT we were lucky enough to spot comedian Ross Noble and racing legends Steve Parrish and Carl Fogarty enjoying a drink. So when you visit, keep an eye out for familiar faces!
It is not only a great place to visit during the racing fortnight; Sir Norman's is the perfect pre & post theatre location with direct access to the Gaiety Theatre and Villa Marina.
Gallery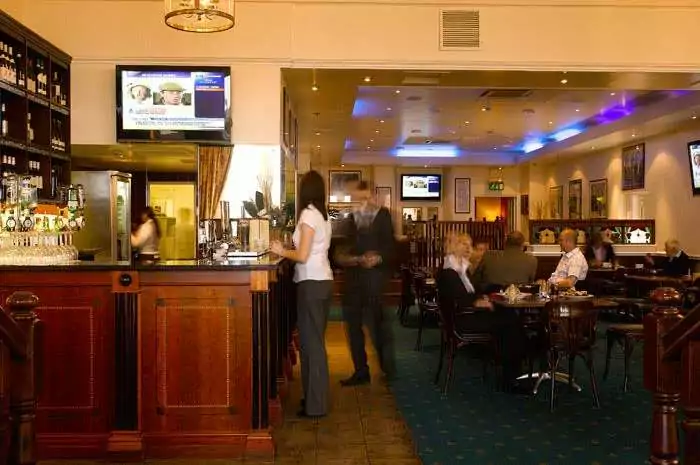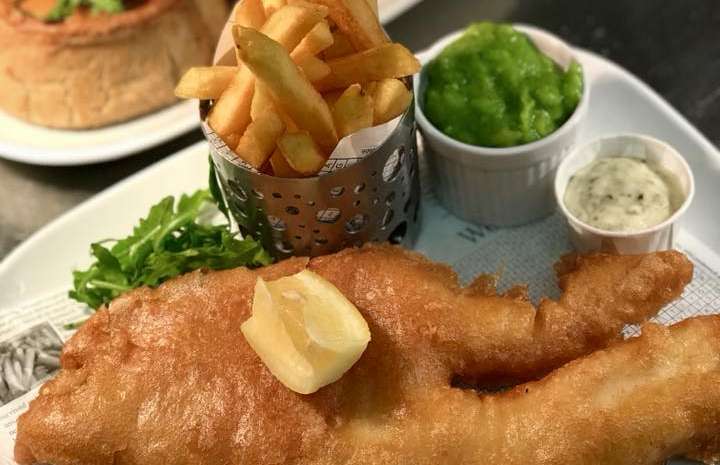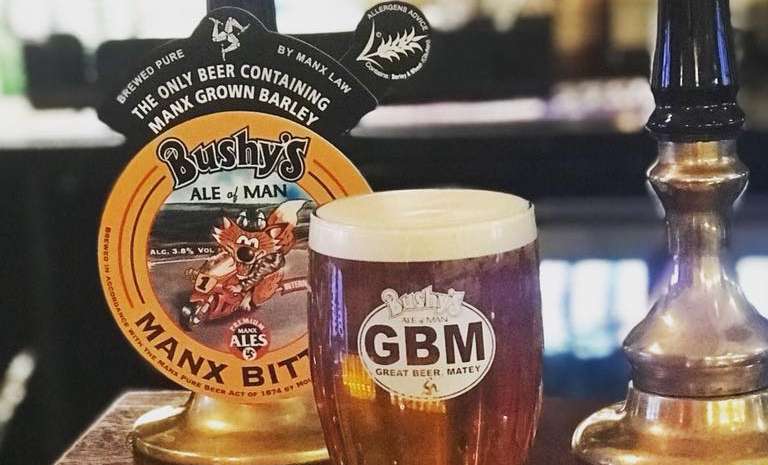 "As you get older three things happen. The first is your memory goes, and I can't remember the other two." –   Sir Norman Wisdom, OBE
Visit the Isle of Man Motor Museum
A collection of over 400 unique exhibits from around the world.
Location: Isle of Man Motor Museum, Jurby, Isle of Man, IM7 3BD
Entrance fee: Adult £12.50 each, Child £6.50 each, Concessions £11.50 each (Reduced group rates are available)
Watching the latest machinery hurtle around the Mountain Course is thrilling and somewhat mind-blowing, so on an off-day, why not go back in time and learn about the history of the great machines and see some gems of the past? The privately owned Isle of Man Motor Museum is home to over 400 vehicles in the north of the island. Not only those with two wheels are on show, vintage cars, steam cars and larger vehicles such as fire engines and hovercrafts feature in the purposely designed former RAF Jurby site.
You will find out about the history of each vehicle and how it came to end up in the Isle of Man Motor Museum. The owner of the museum is almost always on site and on hand to answer any questions you may have about the vehicles. Many vehicles were assembled by Denis and Darren Cunningham and the museum was fully funded by them.
The Cunningham Collection within the museum is not to be missed, with special family stories attached to each vehicle and each having their own story. As well as the older, vintage vehicles, modern motorbikes and those that have featured in the TT are also on show for you viewing pleasure. With many describing it as the best transport museum they have visited, this really is a petrol heads idea of heaven.
Don't worry if you're feeling peckish but aren't finished at the museum, you can take a break and go over to the Guardroom cafe and re-enter the museum to continue your visit!
Gallery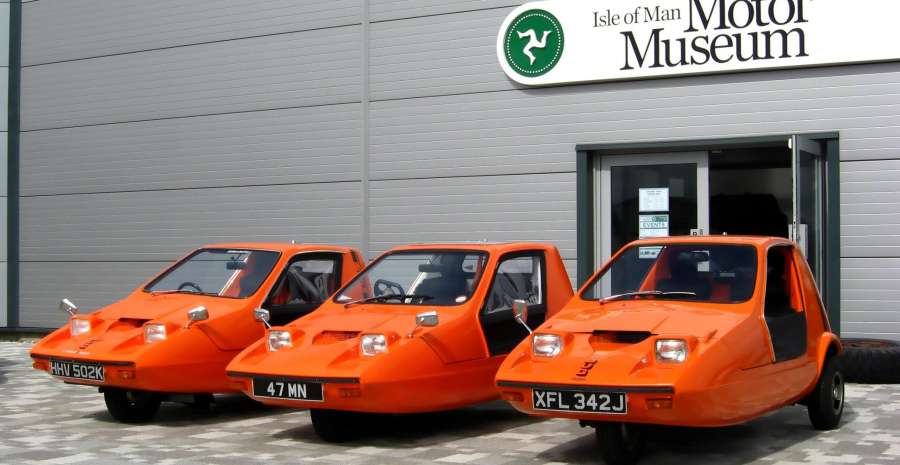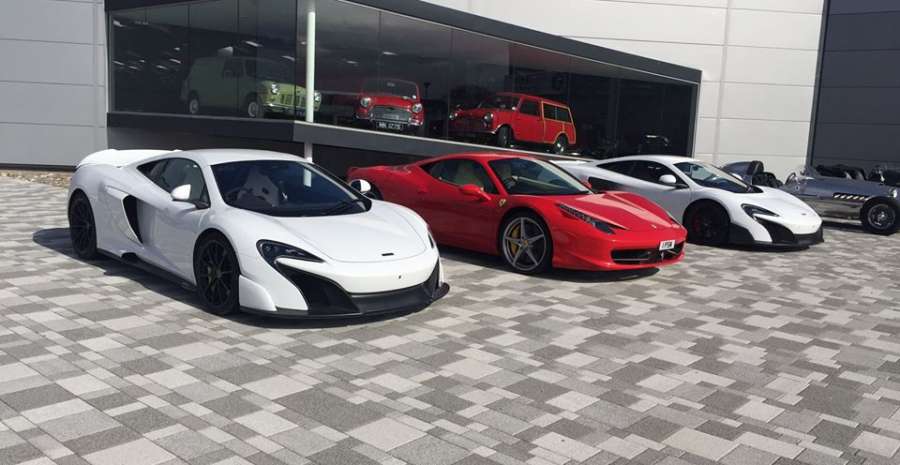 'A petrolhead's paradise.'
Hooded Ram Festival
The home of bands and bike stunts!
Location: Bottleneck Car Park, Douglas, Isle of Man, IM1 2AY
Entrance fee: Varies dependent on the night.
Located in the Bottleneck car park, the former home of the Bushy's Beer tent, the Hooded Ram Festival lasts the length of the TT fortnight and is the place to go for a cocktail of live music and motorcycle stunts. The Hooded Ram Festival plays host to local bands from around the Isle of Man, with some bigger named headline acts, such as Scouting for Girls and Fun Loving Criminal featuring at the 2018 festival.
The seafront venue has an impressive capacity of 2,800, with the price of tickets for headline nights being £27.50 and most other nights it's free to enter. It is not just great music and impressive bike skills on offer at the Hooded Ram; a state-of-the-art bar capable of pouring over 350 pints per minute is featured, meaning you'll never get thirsty!
If the TT still hasn't quite given you the motorcycle fix you're looking for, there are a number of motorcycle stunt shows on offer at the Hooded Ram Festival which will be sure to leave you gobsmacked and begging for more, check it out!
Gallery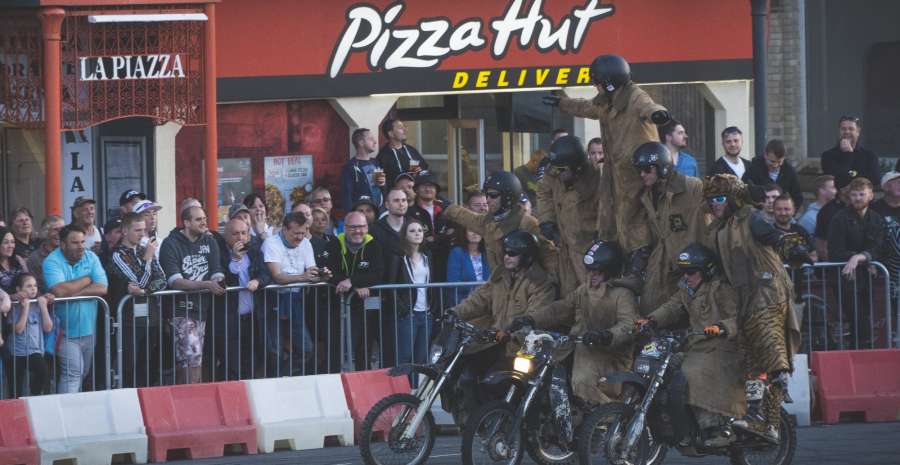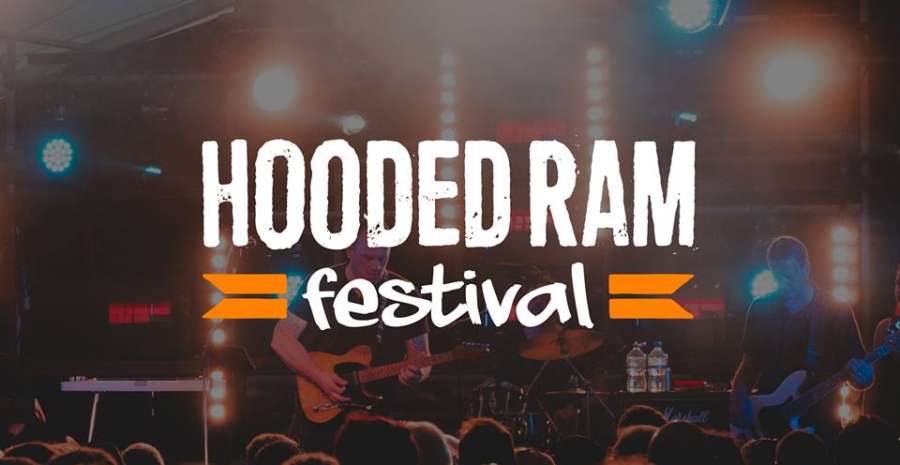 Manx Basking Shark Watch
The Isle of Man is a basking shark hotspot
Location: Southern and Southwestern coast of the Isle of Man Probably not how you expected to spend your time at the TT, although if the weather is good and the sky is clear this is a relaxing and rewarding exercise. Remarkably, the sharks are normally spotted within 1km of the shore.
There is no right place to go on the coast to guarantee to see a basking shark, although the Manx Basking Shark Watch website has reports of recent sightings and where they took place. From this data, the southern and southwestern coast of the island are giving you a good chance to see the second-largest living shark.
Places that have been recommended due to huge amounts of plankton attracting basking sharks are Niarbyl Bay past Dalby, Glen Maye, behind Peel Hill and off Peel Castle, Peel breakwater and Peel headlands.
We wouldn't let you go on the lookout for basking sharks without some pointers and tips, the prefect day for it would be a sunny day when the seas are calm between mid-May and mid-August. Things to look out for would be divers (who you'll often find admiring basking sharks), bright flashes of the sun reflecting off of shark's fins, and use binoculars to be sure it is a shark you're looking at.
We would also recommend a trip on a WiSE registered tourist boat from Port St Mary, Port Erin or Peel. Whether you are on a cliff or in a boat, seeing a shark out at sea is a wonderful experience and something you should take advantage when visiting the island, as the Isle of Man is probably the best place in the world to watch basking sharks close inshore.
Once you've spotted one (or more) head to the website to report your sighting, find out more about the sharks and watch videos from around the Isle of Man!
Gallery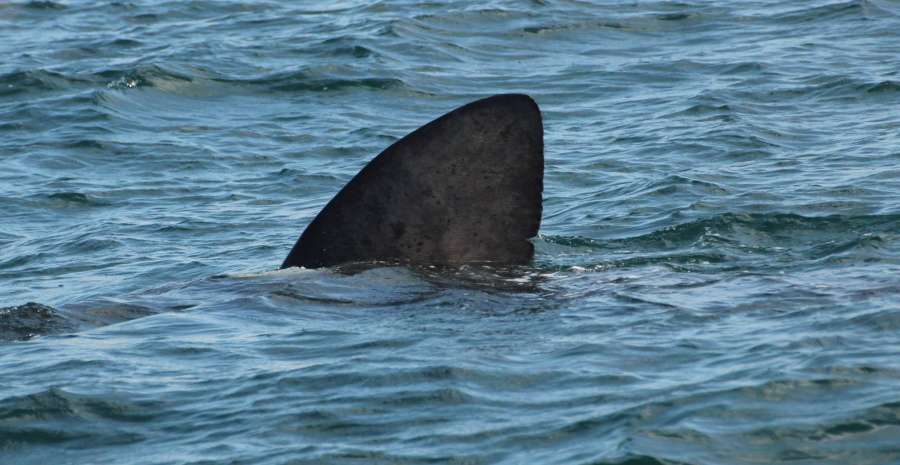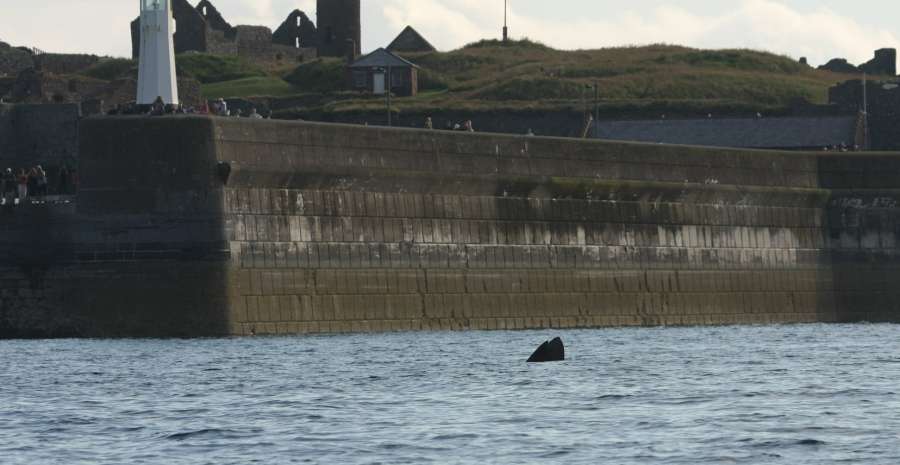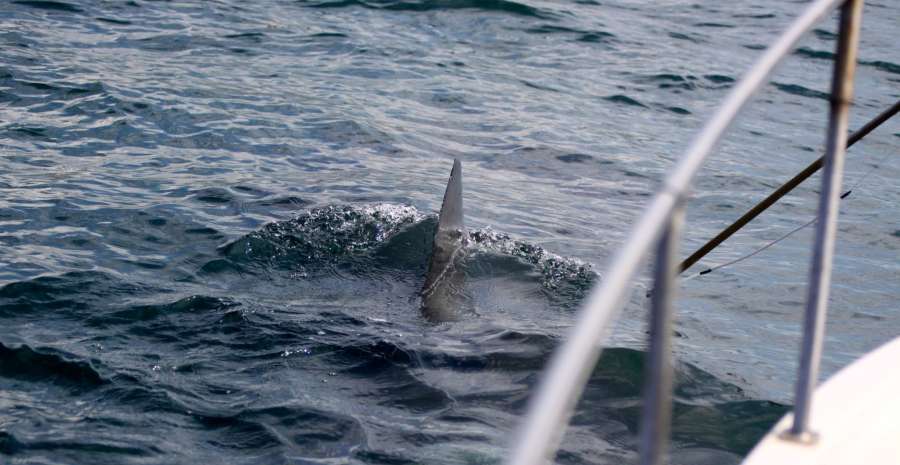 The basking shark cetorhinus maximus, is the second largest fish in the world.
Boat Trips
See the island's stunning coastline and marine wildlife.
Fancy seeing the beautiful island from a different perspective and revile in the wildlife and nature that comes with the Isle of Man? Head out on a boat trip! There are plenty of different boats and routes for you to take, all stunning and exciting in their own way. From fishing trips to wildlife tours and pleasure cruises, there is sure to be a trip which suites you.
Gemini:
Location: Port St Mary Harbour
Wildlife trip prices start from (per person): £25 for a 2hr wildlife and coastal trip and £30 for a 3hr trip Fishing prices start from (per person): 1 hr – £20, 2hrs – £25, 3hrs – £30, 4hrs – £35 (tackle hire is £5 per trip)
Date and time: Any date and both daytime and evening trips are available
Capactity: 12 passengers
Contact: Bob Taylor on 01624 832761 or 07624 483328
Email: bobgemini@manx.net
The operators of the 'Gemini' are WiSe registered and take the catamaran boat near to marine wildlife hotspots, they knows where you stand the best chance of seeing basking sharks, dolphins and Minke Whales, whilst abiding by the Shark Trusts 'Basking Shark Code of Conduct'.
The 35 foot 'Gemini' is often used for all types of trips, from fishing and admiring wildlife to coastal cruises around the Calf and photography focussed trips. The Gemini is also host to a fishing trip with a difference, if you'd consider yourself as a competitive fisherman this may just be for you. The Species Fishing Trip aboard the 'Gemini' is a competition for the most species caught by an individual, why not give it a go? As well as species fishing, the crew can take you:
Reef Fishing
Occasional Wreck Fishing
Tope trips (in season)
Get in touch with Bob using the contact details above to book your trip!
Gallery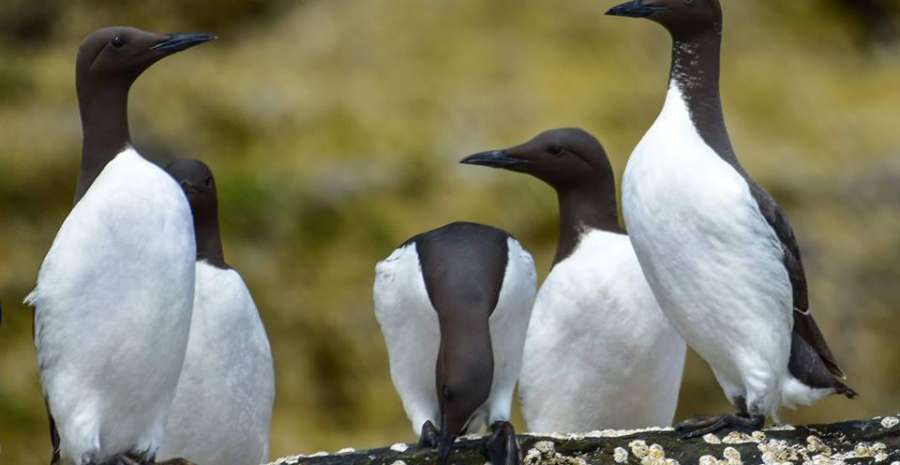 Shona:
Location: Raglan Pier, Old Breakwater Road, Port Erin, Isle of Man, IM9 6JA
2hr Calf of Man Round Trips (per person): Adult (age 10+) £20, Children £10, Infants (aged 5 and under) £5 Drop off/pick up on Calf of Man (30 minutes each way and up to 5 hours ashore depending on tides): £25 per person same day drop off and pick up (£15 for children under 10 years of age), £30 per person overnight drop off and pick up (£20 for children under 10 years of age)
Date and time: May to September
Capactity: 12 passengers
Contact: Chris on 07624 322765 or Jason on 07624 480682
Email: shonaboattrips@manx.net
Sailing from Port Erin, the "Shona" is an offshore 27 that will take you on Wildlife trips, sailings to and around the Calf of Man, sailings to Fleshwick Bay and sailings around Port Erin bay. Whilst on board you could see a great range of sea life such as seals and dolphins. The Calf of Man is a small island in the care of Manx National Heritage.
It is the perfect location for birdwatchers to visit, with a spectacular range of species of bird, including seabirds such as Manx Shearwaters, Kittiwakes, Razorbills and Shags. It is not only wildlife to be admired on board the "Shona", amazing sights such as the Drinking Dragon and Chicken Rock Lighthouse are to be admired.
Note: All trips are weather dependent and unless pre-arranged a minimum of 4 adults are required for sailings to take place. Check latest sailing information here.
Gallery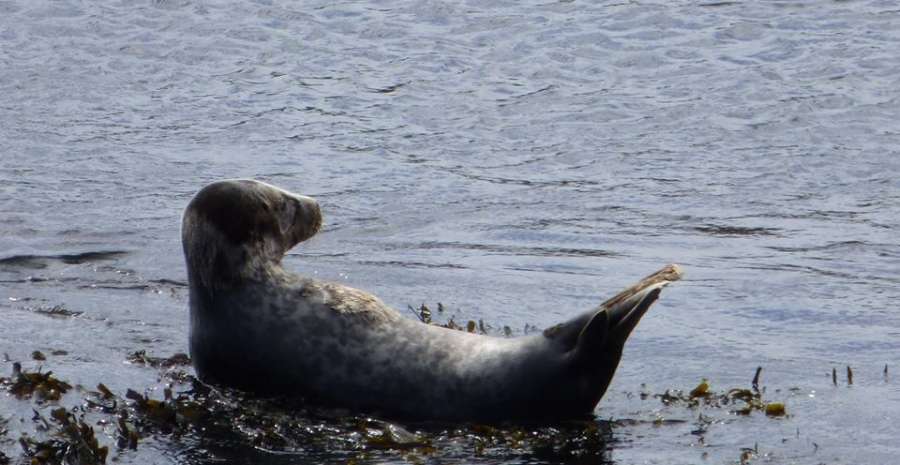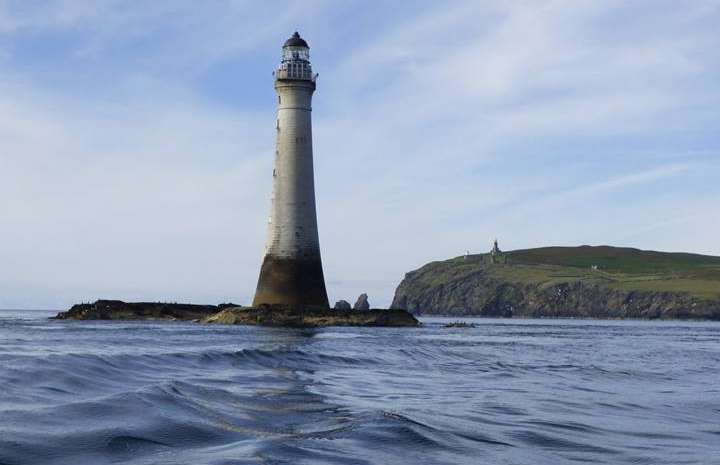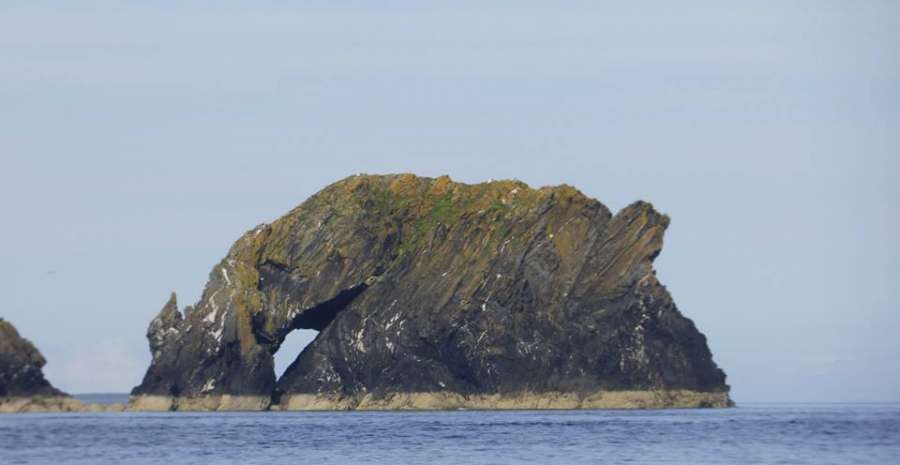 Manx Sea Life Safari:
Location: Breakwater kiosk, Peel, Isle of Man Price per 2 hour trip including lunch at kiosk: Adult £40, Childrem (up to 16 years) £20
Date and time: Any date, 11am to 1pm or 2pm to 4pm (weather permitting)
Capactity: 12 passengers
Contact: 01624 843990
Email: shonaboattrips@manx.net
Guided commentary will keep you engaged and make sure you do not miss a thing as you sail around the Island's coast, with a great view of Peel Castle and taking in the stunning caves at Niarbyl Bay. As well as the wonders of the west coast, this area is a wildlife hotspot, with seabirds, seals, dolphins and basking sharks often spotted whilst about the Manx Sea Life Safari. What's handy about the Manx Sea Life Safari is that you can go to their website, check availability and book your trip there and then. You can also get in touch directly by using the contact details above!
Gallery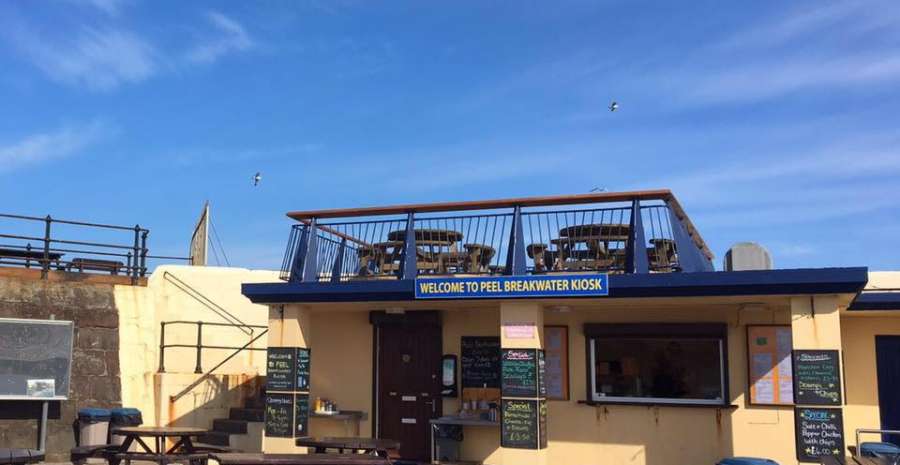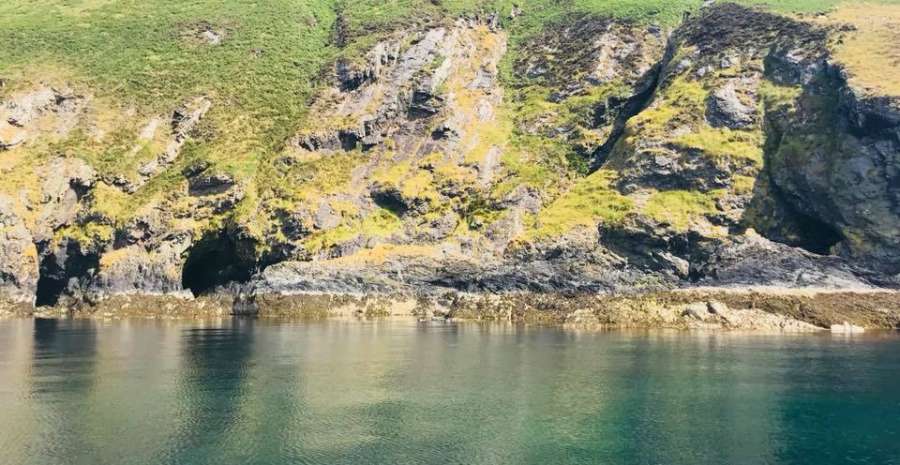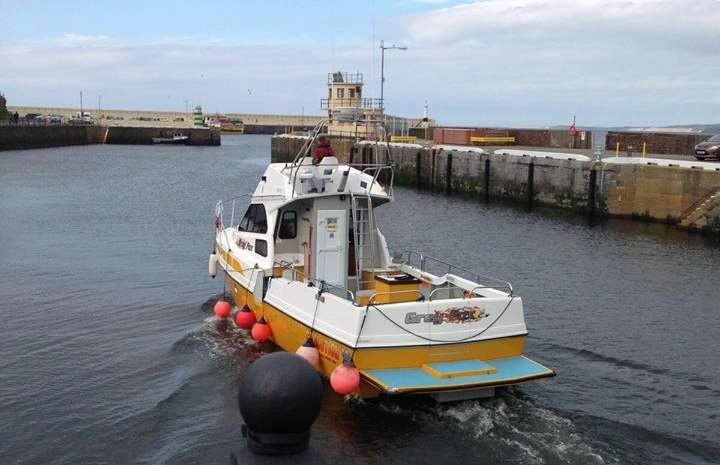 Port St Mary Boat Excursions:
Location: Inner Pier, Port St Mary, Isle of Man Dates and times: Run daily (weather permitting), check Facebook page for times and availability
Contact: 07624 490615
Price for 3 hour trip (per person): Adult £20, Children (under 10) £10
Capacity: Minimum group size 4 people and maximum group size 12 people
Travelling from Port St Mary south to the Calf of Man you are able to take in famous landmarks such as the Drinking Dragon and Sugarloaf Rock. Like the other boat trips, it is more than likely you will witness wildlife such as seabirds, seals, dolphins and basking sharks in their natural habitat.
This boat will take you to the Calf of Man, where you have two hours to get off and explore the island, checking out the famous lighthouses and wildlife that comes with the Calf of Man. The boat will then take you back to Port St Mary. Port St Mary Excursions also offer the chance to go on special fishing and bird-watching trips upon request.
Check out their Facebook page to keep up to date with what's going on and the time and availability of trips.
Gallery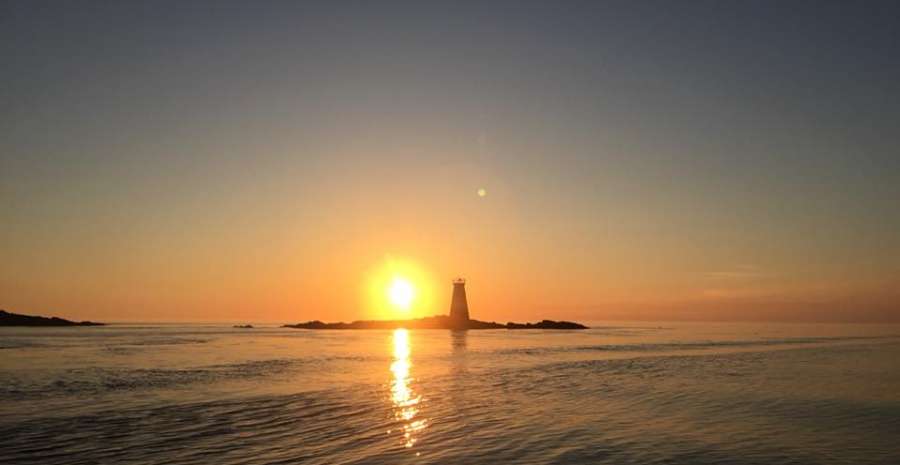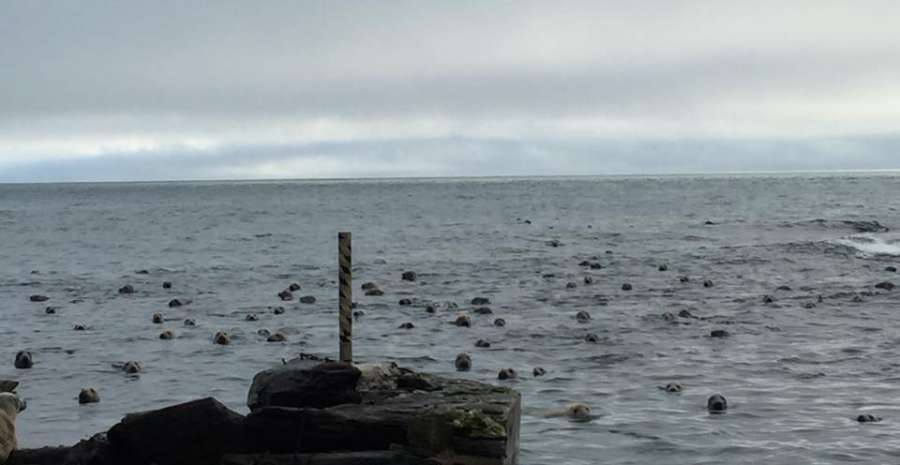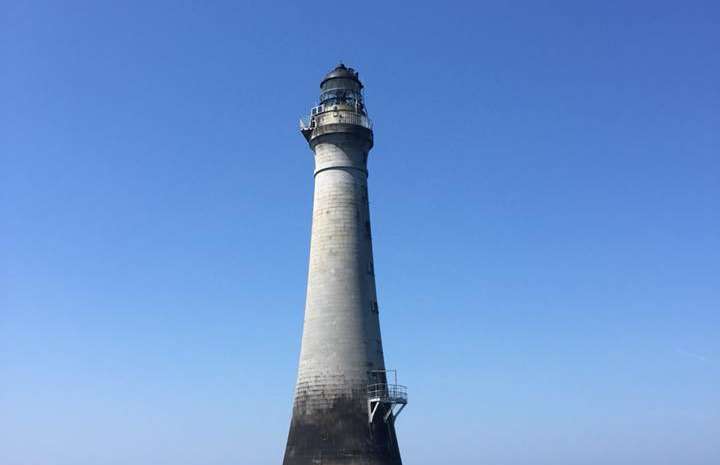 "Somewhere, beyond the sea…" – Frank Sinatra
The Trackside Bar
Trackside viewing from an open air beer-garden.
Location: TT Grandstand, Glencrutchery Road, Douglas, Isle of Man, IM2 6DA, (adjacent to Glencrutchery Road)
Open: Throughout the Isle of Man TT, Classic TT, Manx GP and Festival of Motorcycling
What's better than watching road racing at the Isle of Man? Watching the road racing at the Isle of Man at a bespoke bar structure which overlooks the course!
The Trackside bar is the perfect location to watch racers coming past the paddock, with a drink in your hand and the sun on your face. What happens when there is no racing? Don't worry about that, there is a small stage where live bands from the island perform, large TV's with race highlights being shown as well as your favourite motorcycle movies. There is a certain buzz about the place that will guarantee you have a good time!
If you fancy getting a view of the action from above, the VIP area is for you. Here you can watch the races from an upper deck which gives you a great view of the road and the grandstand. A range of premium beers, wines and spirits are sold, if you're in the mood for something a bit lighter you can always grab a soft drink or even a quality Melitta coffee. If you're feeling peckish whilst at The Trackside, Bella Pizzas are sold and come highly recommended by us here at Devitt!
Gallery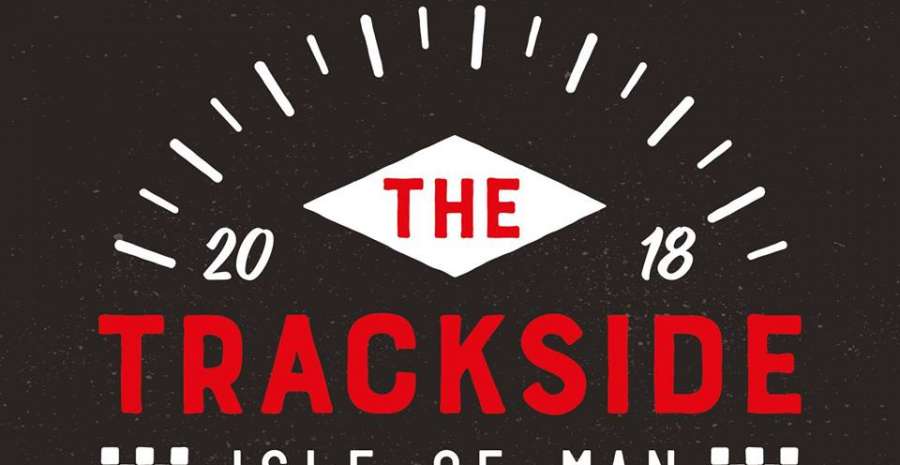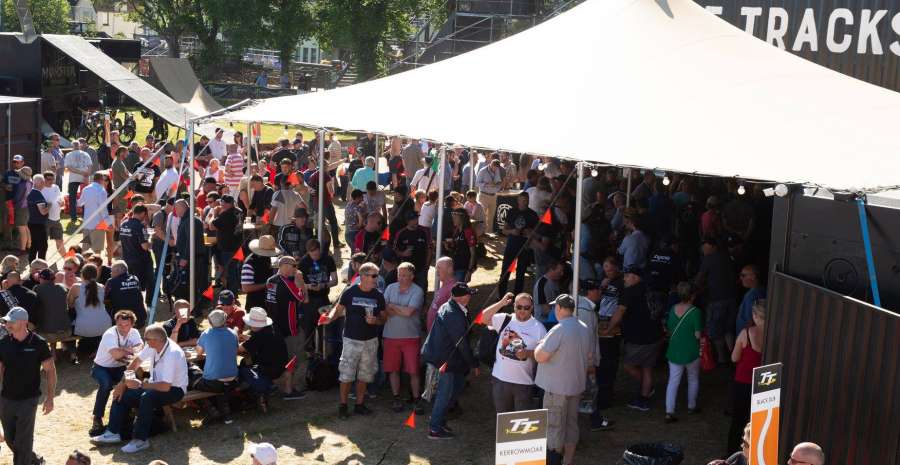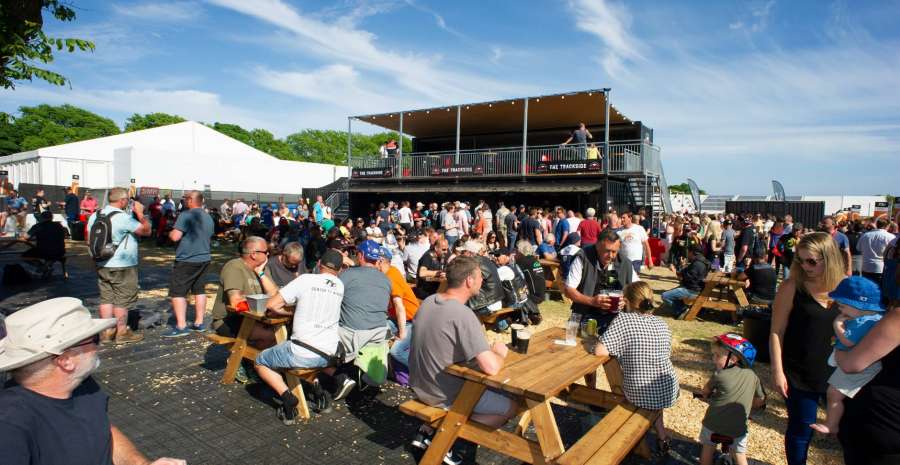 "The Trackside will become a hub of activity for race fans and will develop into a TT landmark destination in its own right."