A tale of two Scramblers 
The adventure sector and the retro sector have been perhaps the most popular bike classes in recent times.
So it doesn't take a brain the size of a planet to work out what some of the smarter firms have been up to, is it?
Yes – the retro 'Scrambler' market has exploded in the past few years, with top options from BMW, Triumph and Ducati – all using a variant on a retro roadster designs, with a slight off-road bias.
Now, much of this is a design thing – you'd get a bit stuck if you tried to take on the Foxhill motocross track on one.
But there are varying amounts of off-road ability – larger front wheels, decent ground clearance, switchable ABS – you get the idea.
TRIUMPH STREET SCRAMBLER
Timing is everything in this game, and we'd actually got the Triumph a little bit off.
We'd booked a bike from the Hinckley folks just as they were announcing a new 2019 Street Scrambler, so the 2018 bike we have on test here was just about to be superseded by a posher version (more on that later).
But when the very nice Triumph man dropped it off, I wasn't bothered at all.
It's a proper stylish little chap, with plenty to look at, from the sweet high-level twin can exhaust system, chunky sump guard and fork gaiters, to the wide bars, flat seat and big finned engine.
Rob had collected the Ducati, so I set off the next morning to meet up and head out.
The Street Scrambler is pretty basic when it comes to stuff like luggage as standard (though it apparently comes with a small rack you can swap in for the pillion seat), Mine came sans rack though, so I was a bit restricted there, and had to carry all my gear in a rucksack.
If you need to carry stuff, Triumph and the aftermarket can both provide options for racks, panniers and the like, but as stock, with the pillion seat on, just finding somewhere to hook on bungees is tricky.
Check out the Triumph Street Scrambler gallery…
Gallery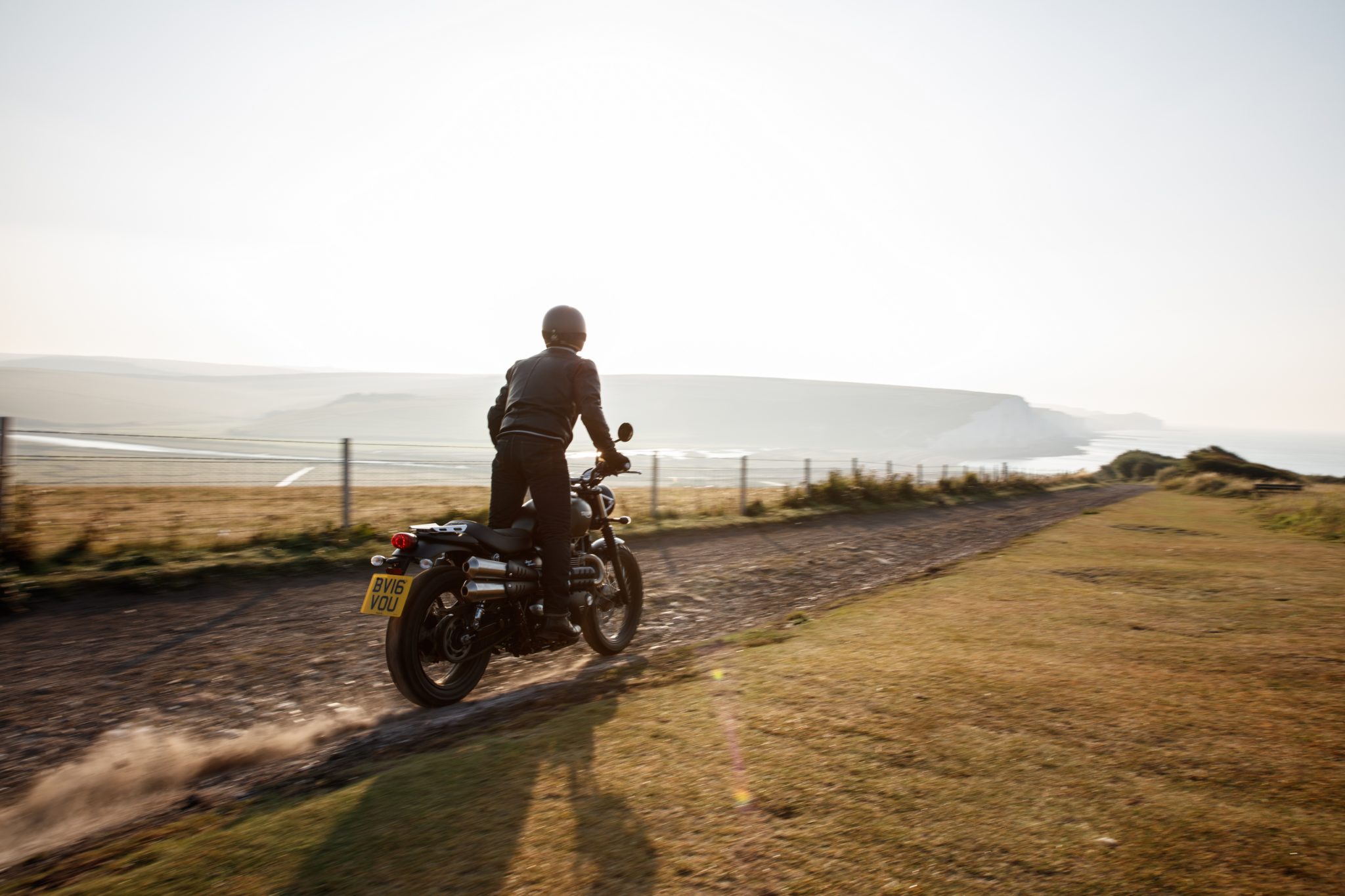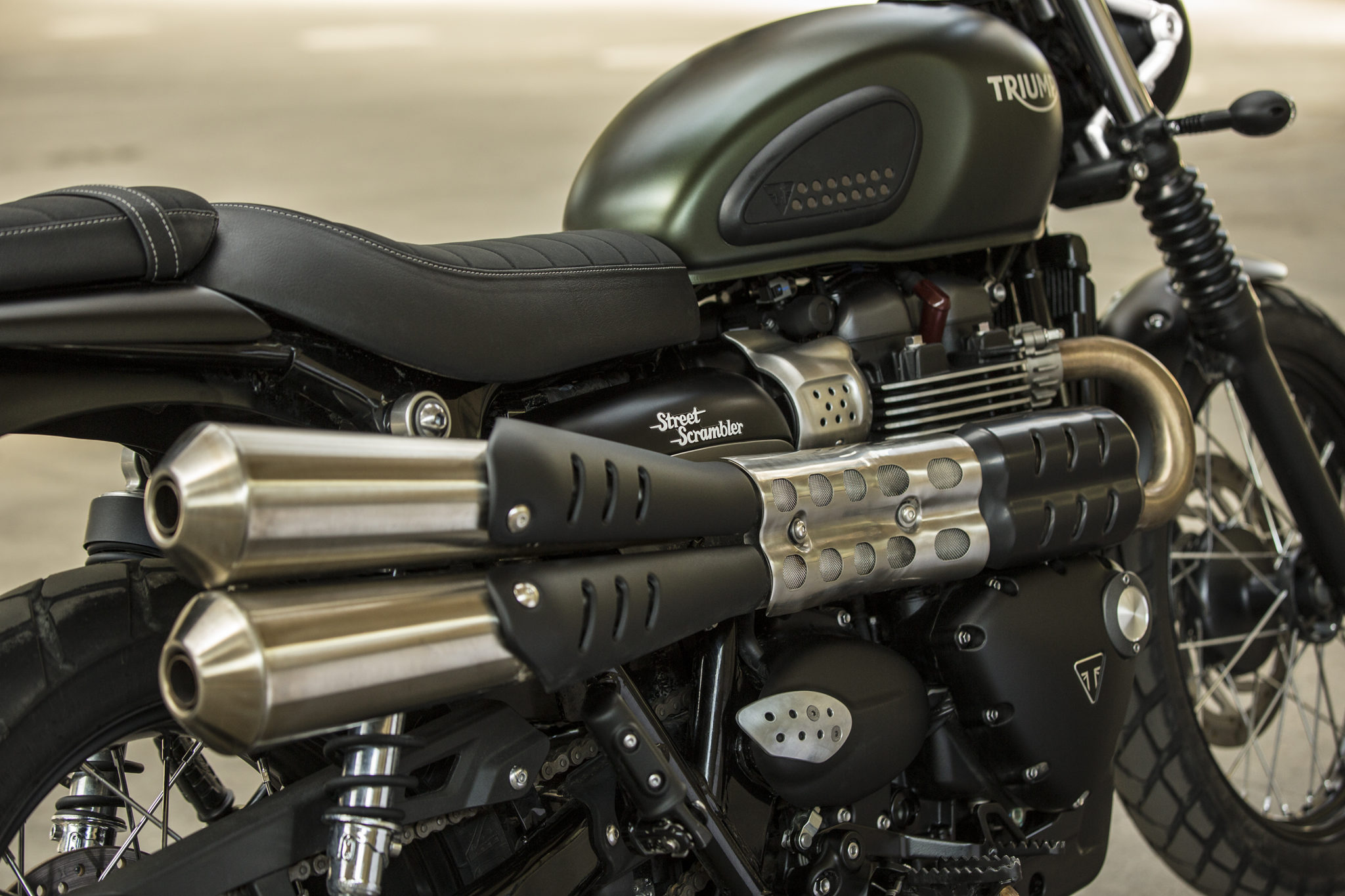 Never mind that though – what's it like to ride?
Well, the last thing I'd ridden before today was a BMW R1250 RT, so it's fair to say this is a very different experience.
The Street is a compact, solid brute, with a no-nonsense layout. The dash is minimalist, but effective enough, and the riding position is upright and relaxed, with wide bars and low seat/peg combo.
It's A Proper Motorbike, and if you put your Dad (or Grandad) on one, he'd feel right at home straight off.
I'm putting myself right at home too.
Cutting through the south London traffic to Rob's place, the Street is working really well. I'd perused the spec sheets beforehand, so knew that the power and weight figures weren't going to cause any trouser flames – 54bhp and 206kg is fairly steady stuff.
But the 900cc parallel twin motor underneath me has plenty of guts, and is a soulful beastie.
There are only five gears, and there's a very decent spread of torque, so making good progress is relaxed and easy. Even when I hit a faster stretch of dual carriageway out towards the M25, the Street coped well, thumping its way up to cruising speed in no time.
And the Street is more than up to it.
The initial good impressions of the engine are confirmed as the day goes on – despite its low peak power, it's a great little road lump.
The spread of grunt is its ace card, and that, combined with super-clean fuelling and a slick gearbox, means you get fuss-free go whenever you want it. In traffic, it's a breeze to make a gap, and on twisty back roads, it just digs in and goes.
The chassis is a good match too.
As with the engine, it's low on headlines: the suspension and brakes are from the lower end in terms of high tech and performance.
But it's more than up to that 54bhp, and the suspension is soft, yet gives good wheel control. The brakes are a bit of a disappointment: a 310mm single disc up front with a twin-piston sliding caliper is a basic spec in many ways, and while the back brake is reassuringly strong, and the ABS works well, I'd want more from the front – confirmed whenever I jump onto the Ducati.
What does work very well indeed is the rubber – the dirt-styled Metzeler Tourances are top tyres, and they never miss a beat on the cold, slick winter Tarmac.
The Metzelers no doubt contribute to the easy handling as well. The upright riding position and wide bars puts you right in control, and while the seat height is on the low side, you do get a good view through traffic too. It's simple, unthreatening and perfect for this type of bike.
In terms of tech, this 2018 Street Scrambler is a little down on the class. The ABS and traction control systems are fairly entry-level, though they are switchable, giving a nod to the 'off-road' aspirations of a Scrambler.
The speedo has a little LCD display inset that shows time, fuel level and the like, but it's far from a comprehensive cockpit. There are some neat high quality touches though: the alloy bars have a slick Triumph logo stencilled on, and I like things like the alloy headlight brackets a lot.
Parked up at lunch, the Street more than holds its own in the style stakes next to the Ducati I reckon. It's a very different look of course – more 1950s Cumbrian enduro than the 1970s Californian dirt track style of the Full Throttle.
But it's totally in keeping with the Hinckley modern classic range, and definitely has something about it…
DUCATI SCRAMBLER FULL THROTTLE 
It's probably fair to say that Ducati has had more work to do than Triumph to rustle up a 'retro' range of machinery.
Where the Hinckley factory has been churning out its modern classics since the 1995 Thunderbird, Ducati was mostly concentrating on bang-up-to-date world-class superbikes, and the naked Monster range.
But when they decided to come up with something for the classic fans, the boys and girls from Bologna did it properly, launching a whole new sub-brand – Scrambler – in 2015.
The marque takes its name from the Ducati Scrambler of the 1960s, a single-cylinder dirtbike mostly sold in the US, with a 250, 350 or 450 moto, and Ducati aims to re-create the feel of that bike with the new brand.
Check out the Ducati Scrambler Full Throttle gallery…
Gallery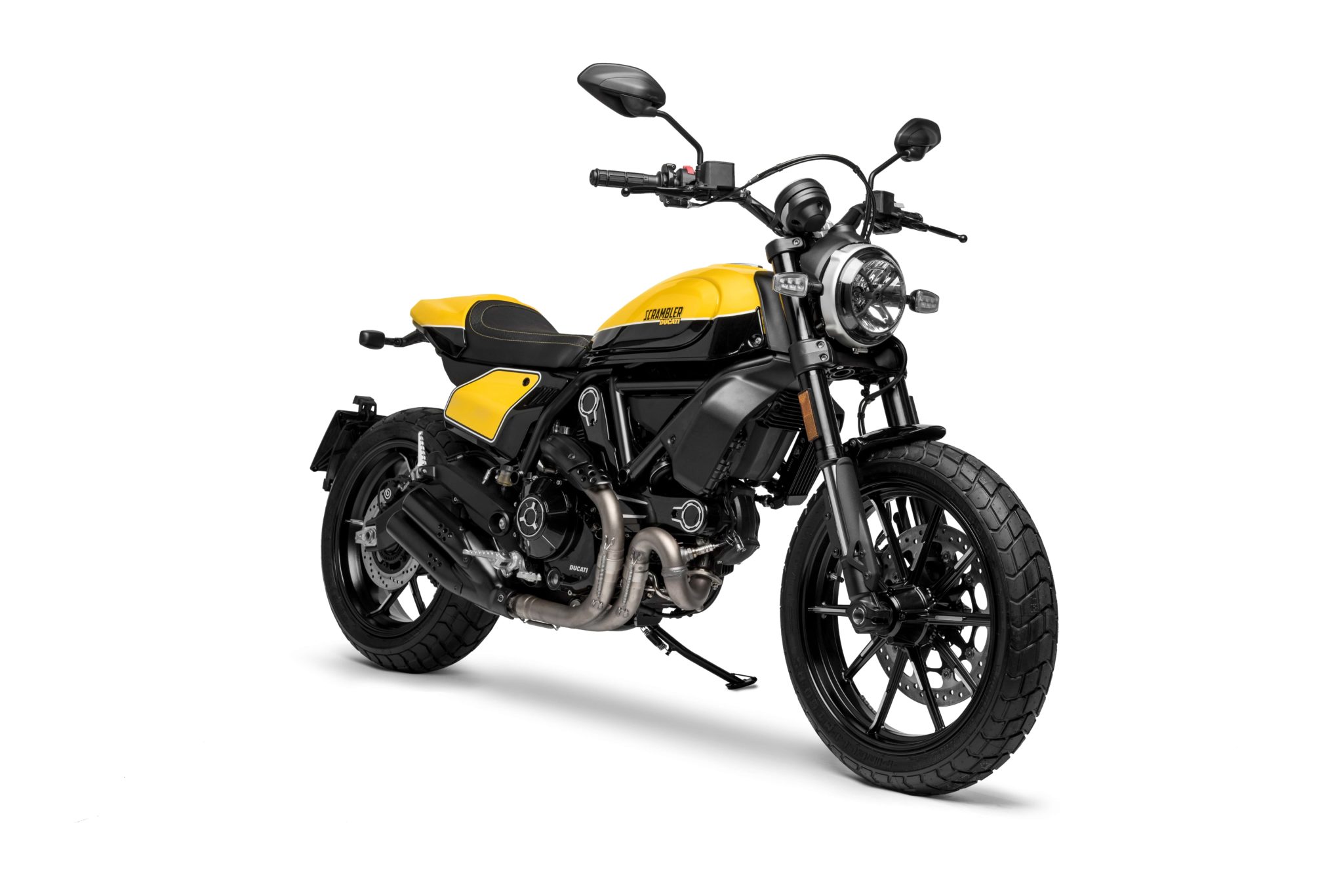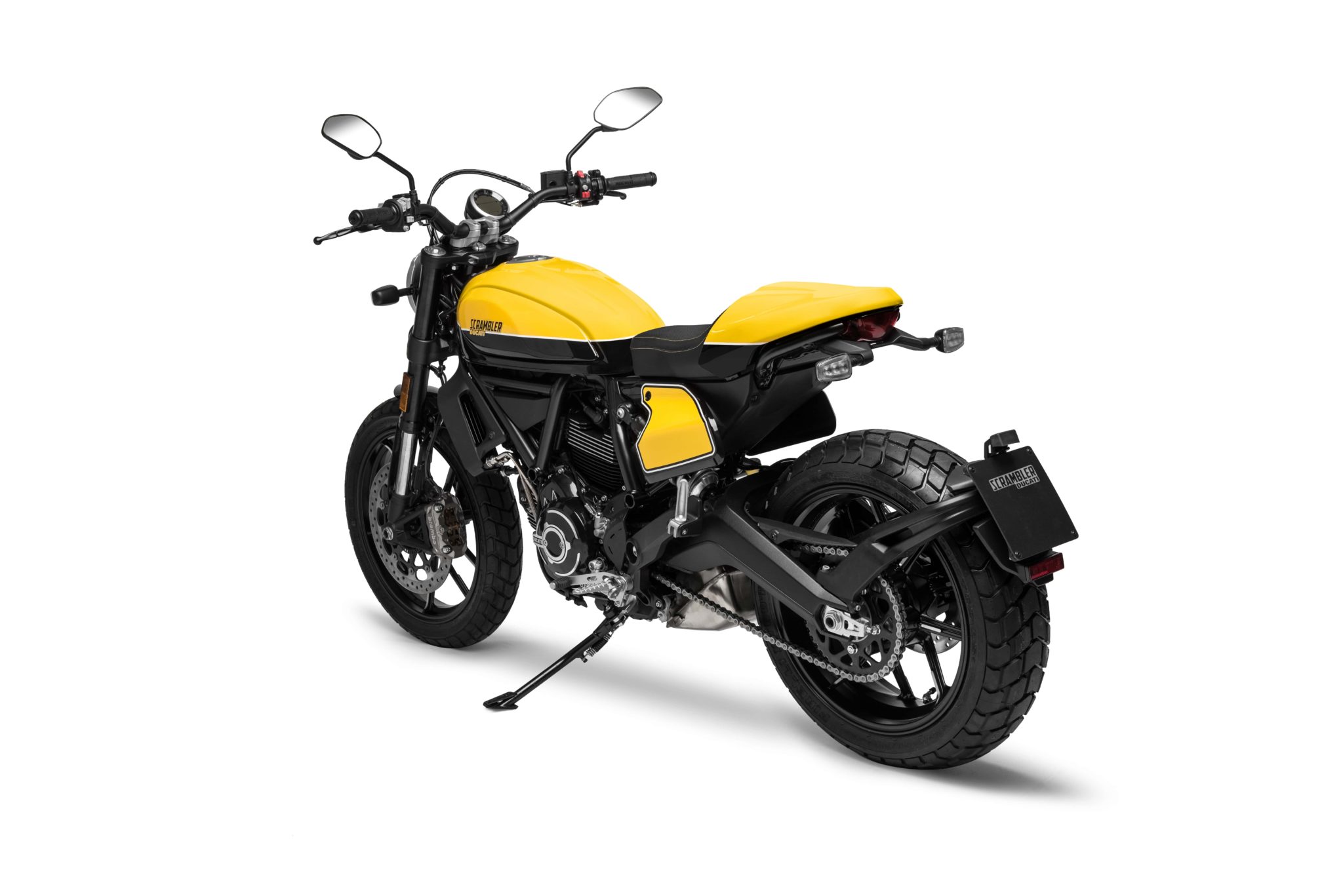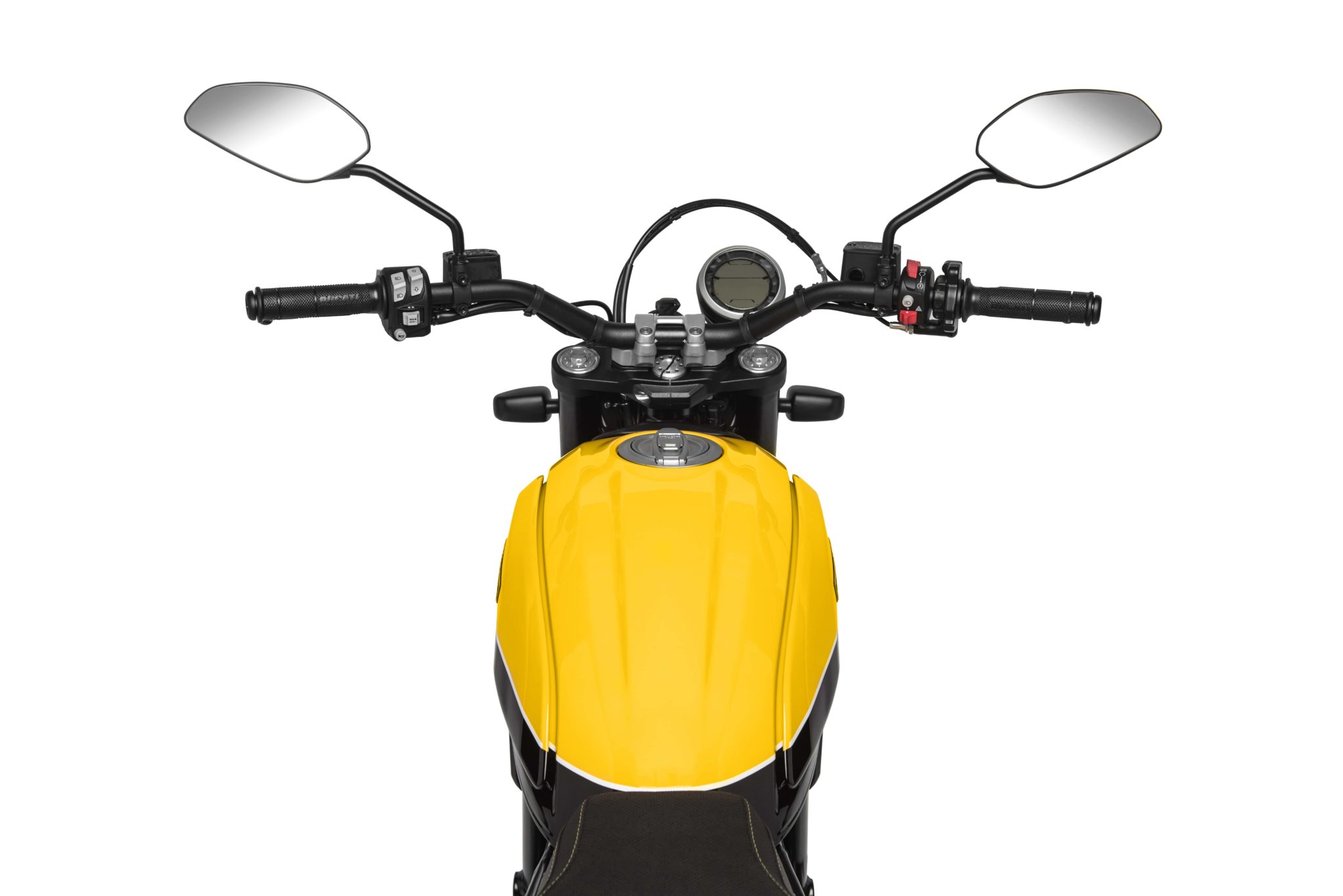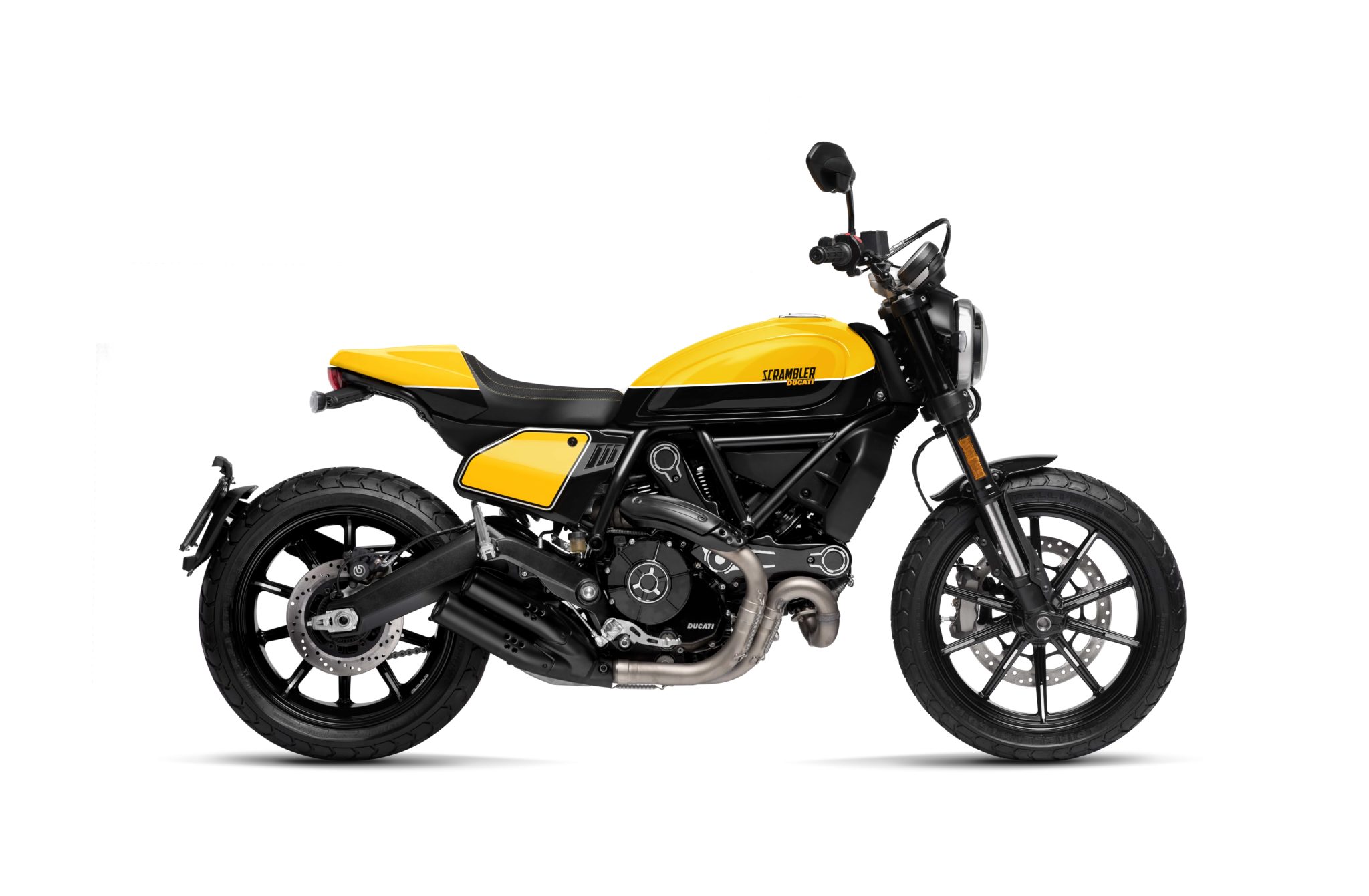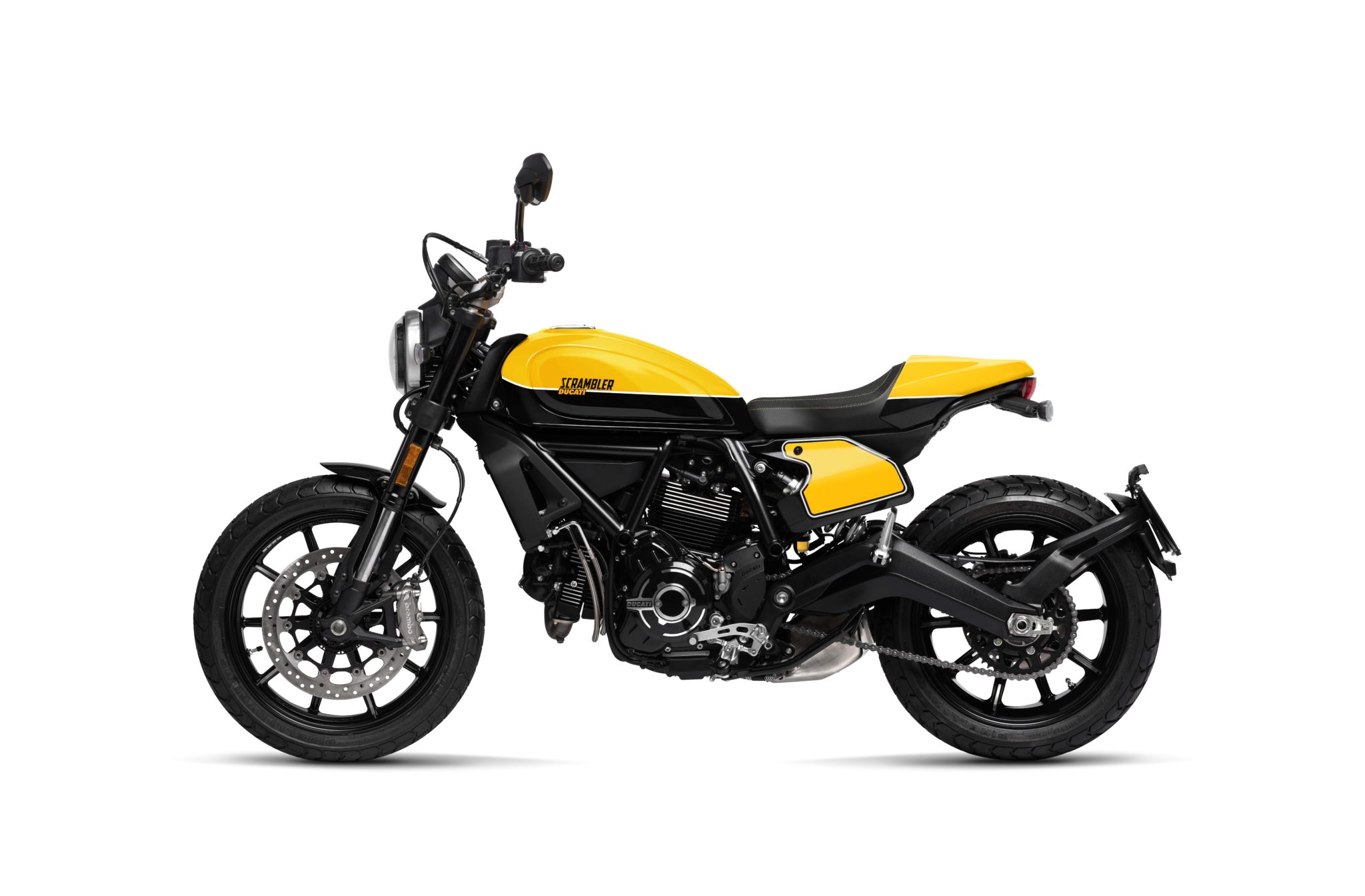 So, the Ducati Scramblers have much more of an American West Coast feel to their design and marketing. And this bright yellow Full Throttle variant before us is bang-on in terms of its styling.
It has dirt-track number plates, racing wet-style rubber, 10-spoke alloy wheels and super-shorty front mudguard. It's apparently an homage to US dirt track 'Hooligan' racer Frankie Garcia – no, me neither – but it looks amazing no matter who it's supposed to honour.
There's been a mild update to the Scrambler range for 2019 – the Full Throttle has a new hydraulic clutch, new cornering ABS, that new Garcia paintjob, race number plates and a range of other cosmetic tweaks.
Under the styling cues, it's very much based on the main Icon Scrambler model – an 803cc air-cooled two-valve desmo motor, in a steel trellis frame, making about 73bhp and weighing in just 173kg dry.
Specification stattos will have realised that this puts it well ahead of the Triumph in terms of power/weight of course, and when I first have a spin on the Ducati, that's quickly confirmed.
It's a good bit peppier in terms of acceleration, and has a more nimble feel. There's a six-speed box too, and while it's by no means a revvy motor, it feels like a little race bike compared with the steadier Triumph.
Head to head, it is a good bit faster in a straight line, but the chassis is more refined for road use too.
The suspension is a notch up the food chain, with an upside-down front fork and a proper monoshock rear, plus a slick gull-arm aluminium swingarm.
Ditto the brakes: a four-piston radial mount Brembo caliper up front is proper sportsbike fare, and there's another Brembo unit at the back too. Add in the stiff-yet-light steel tube trellis frame, light alloy wheels and excellent Pirelli MT60 RS rubber, and you get a very accomplished sporty road chassis.
It matches the perky engine for agility, gives more feedback in a bend, and can be ridden quite hard, when you're in the mood.
The Scrambler's equipment also tops the Triumph.
For 2019, the ABS system is a more advanced cornering setup, with a proper Inertial Measurement Unit advising the ECU, and giving a more advanced brake safety net. Up front, the single clock is actually a full LCD display, with more info on show, and easier navigation via the switchgear.
As a day-to-day ride, the Scrambler isn't a lot more practical than the Triumph.
Without some add-on luggage or a rear rack, there's not much space on the abbreviated tail unit for a tailpack or the like. And the Scrambler's fuel tank side panels will make a tank bag fiddly too.
There's little in the way of wind protection either of course – but Ducati will gladly sell you a very neat looking flyscreen.
If you can cope with just a rucksack though, it would be a very slick urban commuter.
The V-twin motor makes it a narrow bugger for traffic busting, and there's more than enough instant grunt to make great progress.
The riding position has an echo of a proper dirt-tracker, with low seat, wide bars and medium-level pegs and you feel comfy, relaxed, but right in charge of what's going on.
The front brake is strong and progressive (though I always want two discs on anything bigger than a 125…) while the Pirelli rubber is very grippy in these marginal winter conditions, and feels like it will look after you no matter what.
So – the Full Throttle has more power, is lighter, comes with a sharper chassis and better kit. It must be a lot more expensive, right?
Well no – it's only a few hundred quid more. It's not often that the Ducati option is the one with better value for money, but with the Scrambler range, the Italians have definitely packed in a lot of kit for the cash.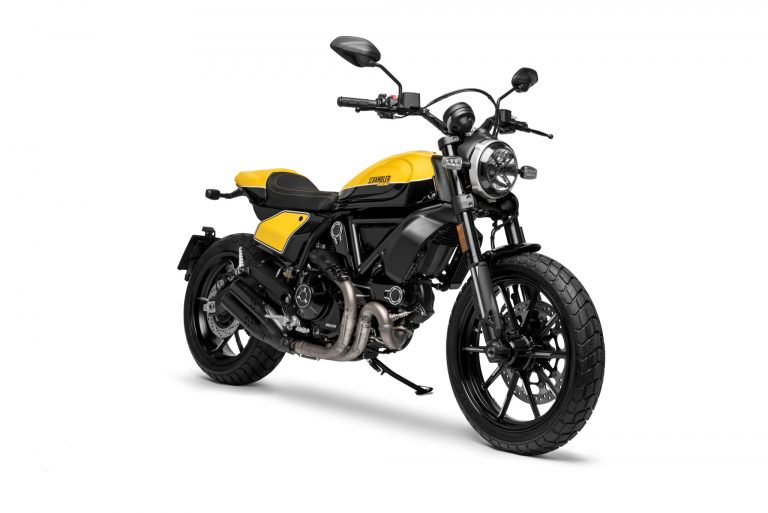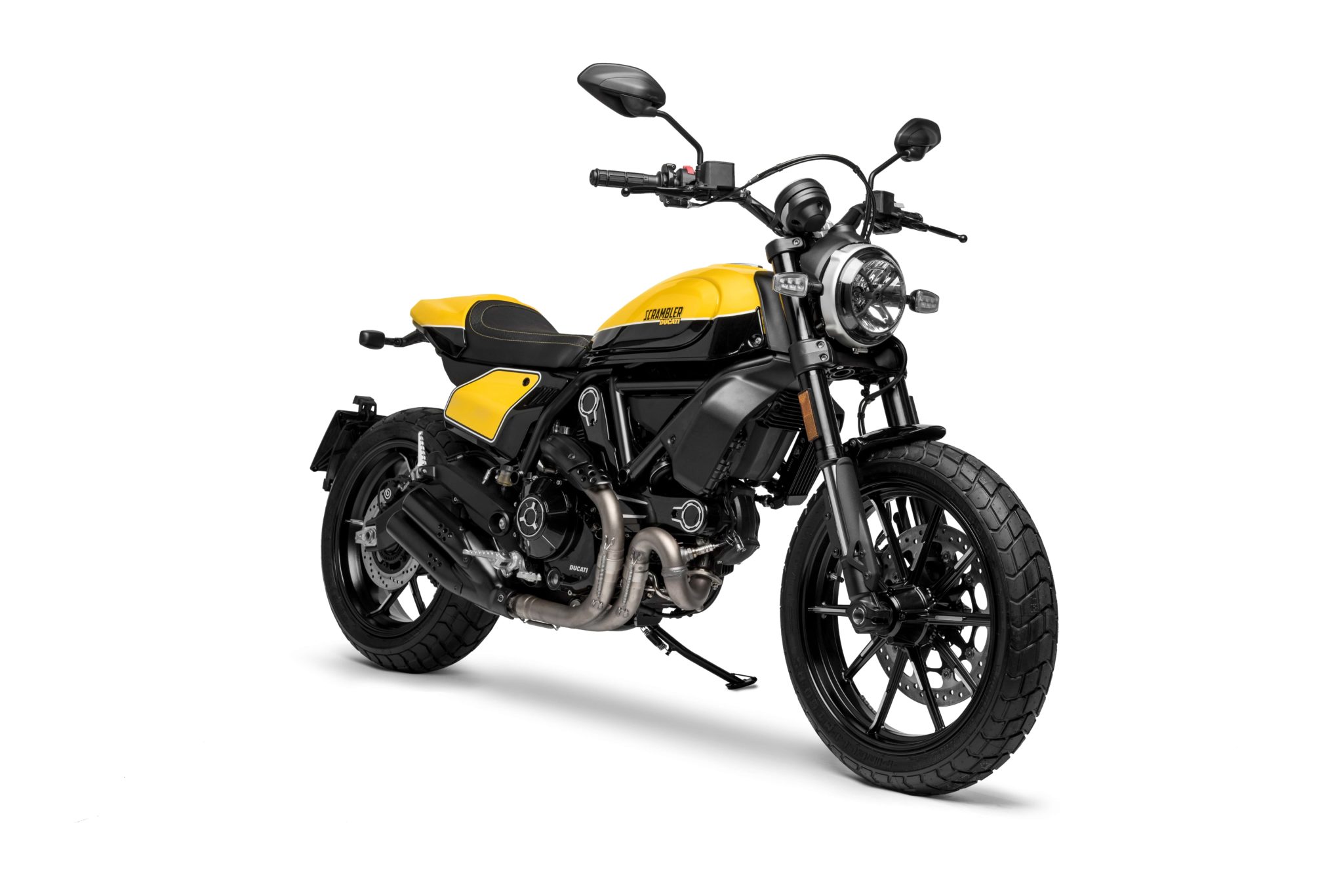 THE SCRAMBLER VERDICT
Both these bikes were great fun on our few days riding around Surrey.
Neither will give the madness of a proper sportsbike of course, neither would be much use on a 3,000 mile two-up European tour.
But as quirky, stylish roadsters, for urban commuting and Sunday fun runs, they've got a lot to offer.
And in terms of build quality, design, plus that 'pride of ownership' thing, I'd be more than happy to open my garage door and see either of them in there.
You have to say that the Ducati is a much stronger performer though. The classic desmodromic V-twin engine is a bit on the elderly side in this two-valve air-cooled form, but it's got a very satisfying tune here.
And the low overall weight lets you make a lot from its 73bhp.
The chassis is capable, the equipment high, and it's a pretty little thing too.
On the other hand, the Triumph definitely out-performs its spec-sheet.
The five-speed box and grunty tune works a lot better than you might think, and it's satisfying to wring its neck when you have to as well.
You could upgrade the front brake and maybe fit some different rear shocks, and tickle up the chassis performance a little, add a fruity pipe, and a sprinkle of accessories from the Hinckley catalogue, and you'd have a right little weapon.
It's probably the weight which counts against it most though – maybe the Hinckley engineers should have worked on shaving kilos off the physically-large parallel twin engine earlier in its development cycle.
The Ducati V-twin motor and trellis frame design have their (ancient!) roots in proper performance machinery, which maybe shines through in the bike's minimal mass.
There is a twist though – the 2019 Street Scrambler.
A look at the press kit for the latest version reveals a fix for a few of the niggles.
It's now got a four-piston Brembo caliper up front with a bigger 310mm disc, mounted on a new cartridge damping fork. It's lost eight kilos. And a retuned motor puts out another ten bhp. It's still 25kg and ten bhp short of the Ducati Scrambler – but  will be far closer in performance terms.
Does that mean we have to go and do this test all over again later in the year then? I honestly wouldn't complain about that at all…