CLASH OF THE TEUTONS
Welcome to our 2019 adventure bike test – and we've gone properly Germanic with this one. Yes, it's Munich, Bavaria taking on Mattighofen, Austria in a big-bore Clash of the Teutons. We've got the latest 2019 variant of BMW's boxer-powered GS – the R1250 GS – going head-to-head with KTM's V-twin Super Adventure 1290 S.
A pair of 1200cc+ water-cooled V-twins with stacks of tech and stacks of horsepower, in stacked, touring-friendly dirtbike-styled chassis, they're the peak of the current crop of high-performance adventure bikes. And we're spending a couple of weeks on them both, around the highways and indeed byways of SE England, getting to know their foibles, and working out which we reckon should capture your PCP payments this year.
BMW R1250 GS
Where do you start when trying to sum up the success of this bike? It's fair to say that the GS has become an icon, a symbol, a near-absolute semiotic summary of an entire sector of motorcycling. From niche roots as a full-on Paris-Dakar race bike, it's evolved into a properly sorted on/off road bike, that says 'adventure bike' in the same way a Land Rover says '4X4 vehicle', a Rolls-Royce says 'plutocracy transport', or a Porsche says 'midlife crisis'. For good, or for ill, this curiously-laid-out motorbike defines the class, and has seen off any number of more conventional competitors over the decades.
Because there's no doubt this is a weird bike, on paper at least. If someone came out with this as a brand-new-for-2020 bike, it would be laughed out of court. A flat-twin, with the huge cylinder heads poking out each side? 1,254cc? Shaft drive? Swingarm front suspension? On a dirt bike? Come on.
Fact is, BMW has stuck to its guns with this bike. And like Porsche with its flat-six, rear-engined 911, the Bavarian engineers have refined those unlikely components to an extremely high level, and made them all work together, producing a whole which is far more than the summed parts.
Starting with the engine, which is the main upgrade for 2019, there's a capacity increase of course, up from the 1200's 1,170cc to 1,254cc. But BMW's also premiered a new variable valve system, dubbed Shiftcam, which uses a pair of cam profiles to optimise the valve action for low and high-speed running. At low speeds, the cam used has less lift and duration, which improves torque in the bottom part of the rev range, then as the tacho picks up, the system slides a high-speed cam into position, adding more lift and duration needed for peak-rpm torque and power. It's a cunning setup, and works a treat on the road, giving urgent, instant drive all through the rev range.
I first rode the new engine last December on the R1250 GS Adventure launch in Spain, and it's as good in Surrey as it was in Andalusia. Crack the throttle open in first gear, and you'll be grateful you left the traction control on (plot twist: this bike really needs the electronic aids…) as the front wheel lifts and you're catapulted towards the horizon.
Ridden in isolation, the GS feels genuinely quick for a big ADV machine. It's only when Rob and I do some roll-ons on the motorway that it becomes clear how much stronger the KTM is. It's only 20-odd bhp and 11kg on paper, but it's men against boys stuff on Tarmac – the big orange Super Adventure leaps ahead in third, fourth and fifth gear from 50mph, and only just keeps in touch in sixth gear, for a short while.
The chassis feels good too. Okay, you're always aware of the mass, but it hides its quarter-tonne weight well, most of the time. The unique combination of Telelever front end suspension and Paralever rear setup is unusual at first if you're used to conventional forks and chain drive rear swingarm, but once you adapt, it all works a treat. The electronic suspension on our test bike is a genuine boon on a machine like this: you can have the long-travel, bump-absorbing motion needed off-road, then it all tightens up on the road, so you don't have the weaves or wobbles you'd get with soft suspension on high-speed bends and the like.
That's not the only electronic help: there's a full suite of rider aids: proper IMU traction and ABS, plus handy stuff like a hillstart function on the brakes: tug the lever a little harder at a standstill and the brakes lock on, releasing automatically when you start to pull away. The full-colour dashboard is excellent, with the menu button and controller wheel on the left handlebar making menu navigation a breeze. The test bike had tyre pressure monitoring, which is always handy, telematics with the SOS function, so you can call for help at the push of a button, and full Bluetooth integration with your phone. There's also a quickshifter, which is a bit hit-and-miss, especially on downshifts.
This is the most 'road' biased version of a GS you can get, with no wire-spoked rims, knobbly rubber or Enduro Pro offroad modes. So while it could be pressed into some dirt action, it's happier on the Tarmac, much like me. We rode it down a very gentle byway, and it was fine, but for my limited dirt skills, I'd not want to try too much harder on this big bus. Plenty of folk do though, and if you're set on having a proper off-road adventure on it, the new GS has ample potential for sure.
It's the overall capability of the GS which really appeals to me though. Every time I got on it, I felt totally looked after, as if I could take on any journey – whether it was an urban jaunt across town, or a continent-crushing odyssey to the ends of the Earth. Rob wasn't so much of a fan – he was sold on the high-performance adrenaline-fuelled antics of the superbike-powered KTM instead. But for me, the big Beemer ticks a load of boxes – and would be the one parked up in my garage if I had to choose.
BMW R1250 GS gallery…
Gallery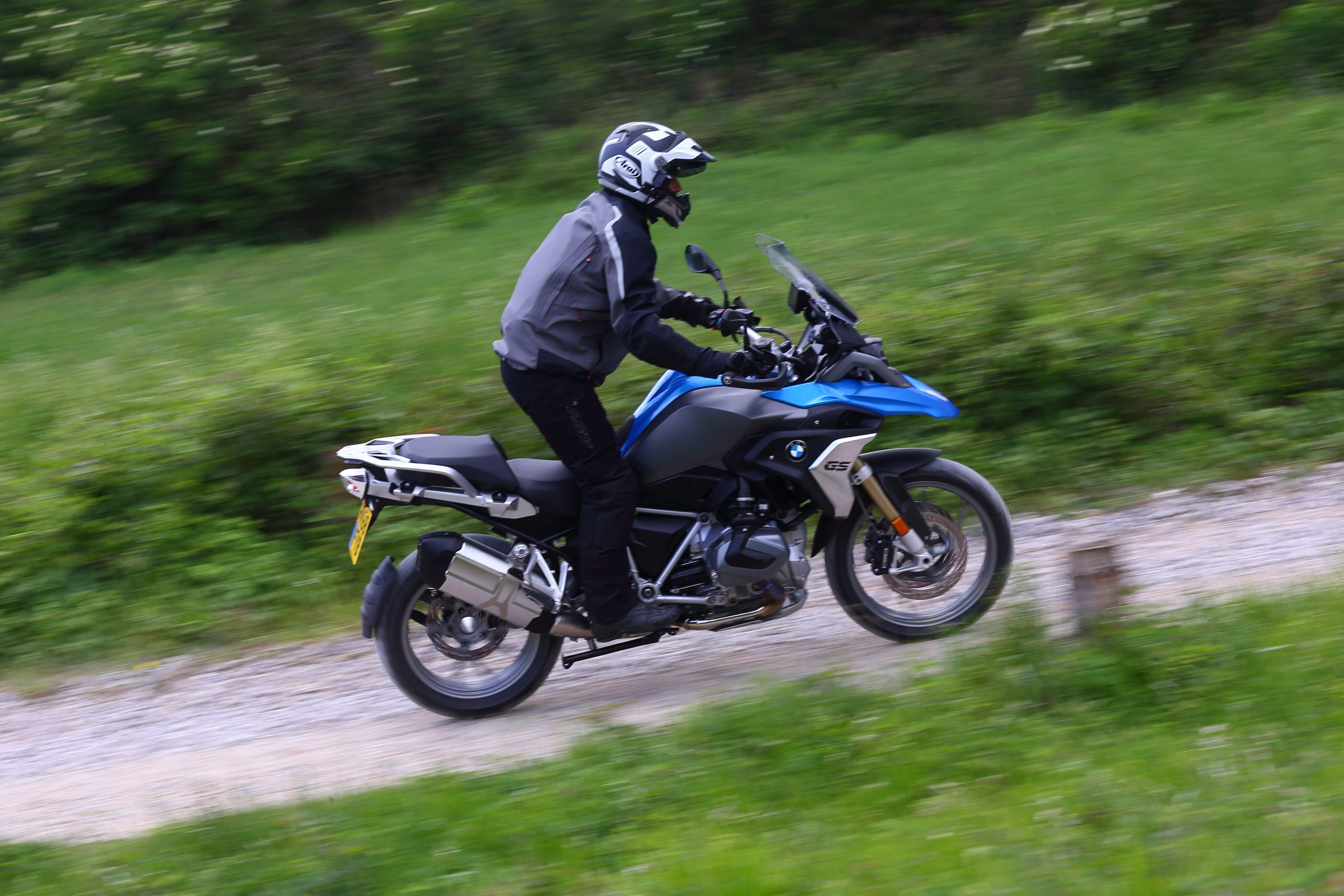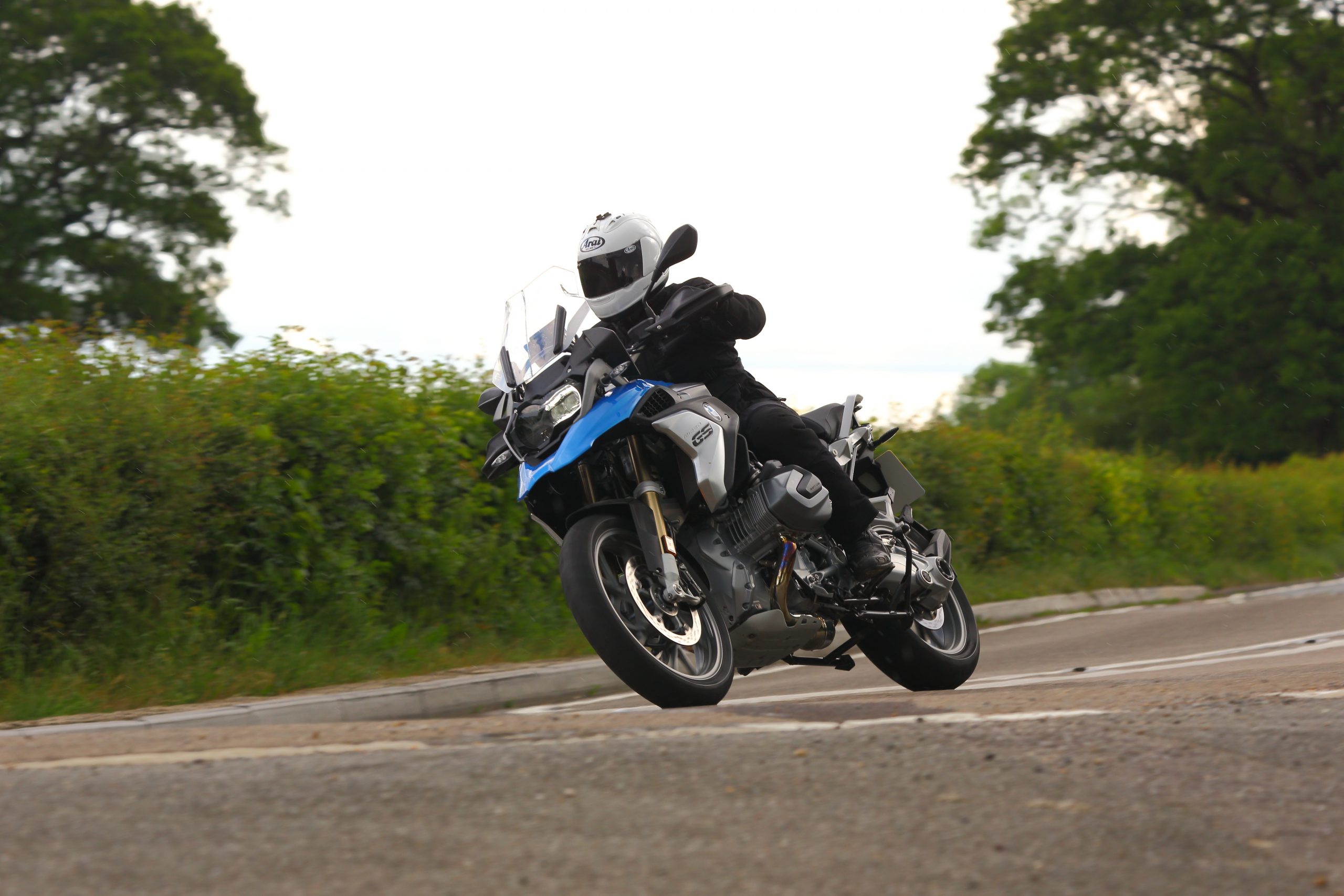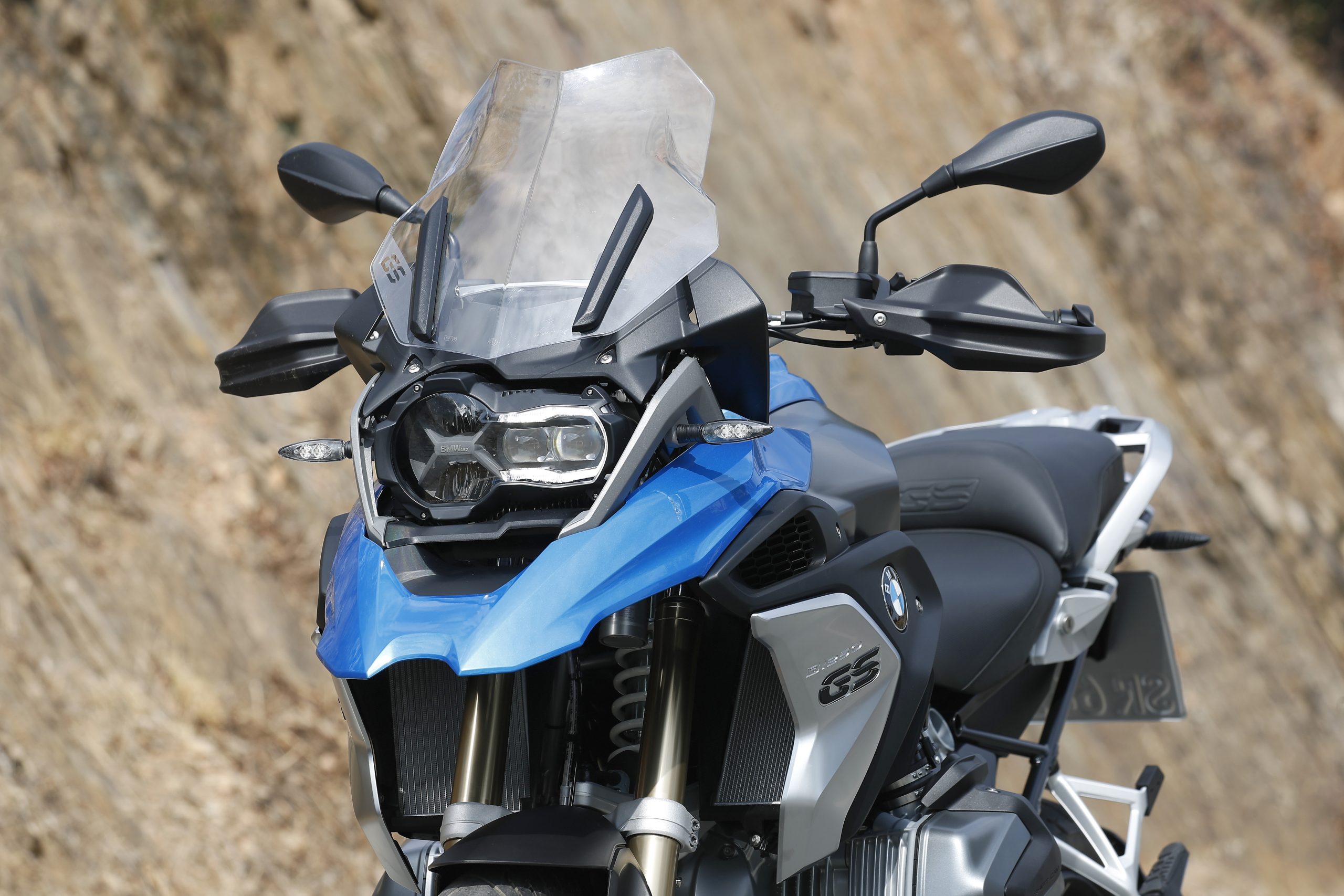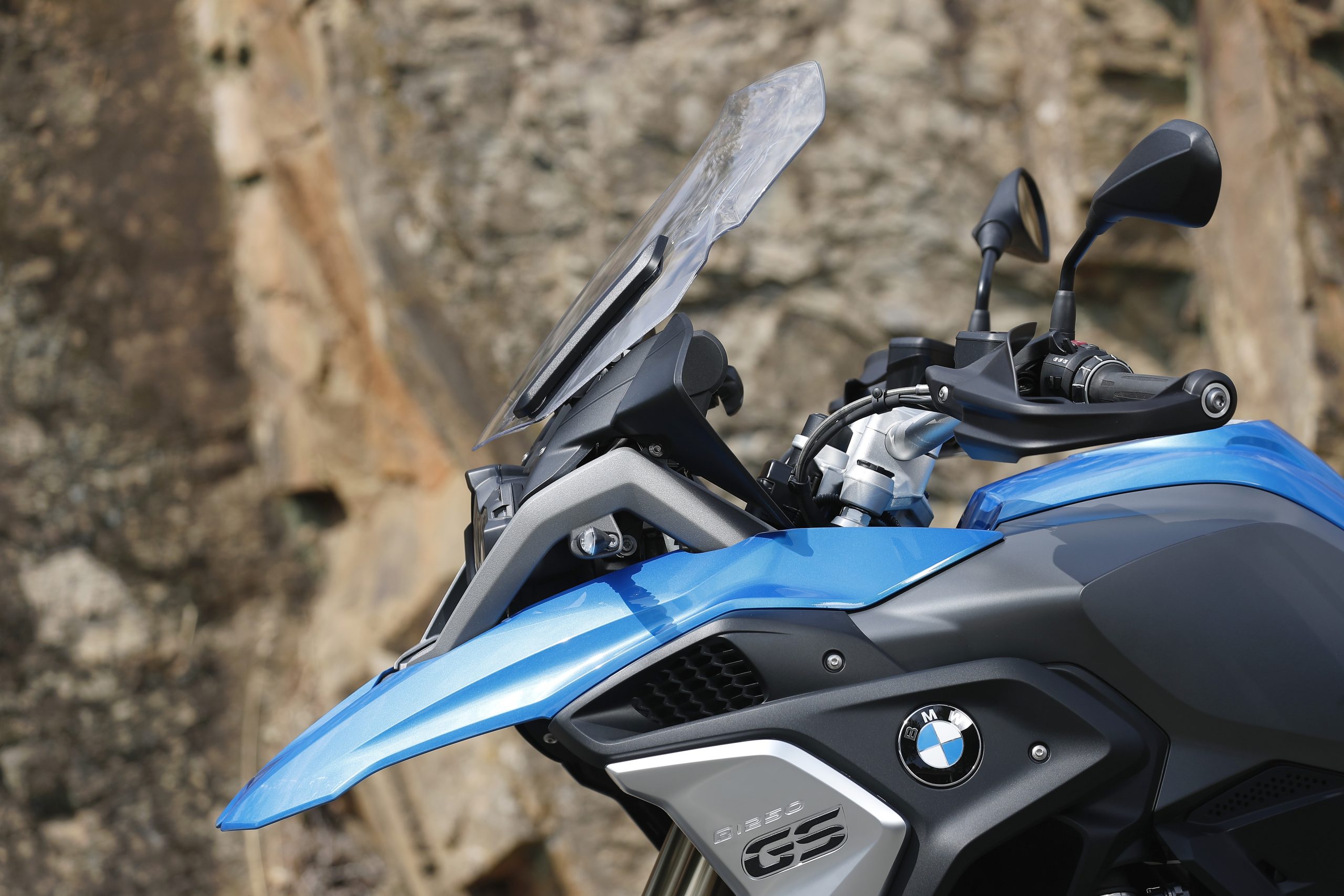 KTM 1290 Super Adventure S
The test-winner was beyond doubt for me in the end. Lighter, faster and better-handling than the BMW, the far more modern KTM more than edged the bike that was once the benchmark in this class. Sure, the GS is still a great bike, but the game has moved on and BMW hasn't kept up. If you want a bike that can go anywhere, and can adapt to suit every type of road and every style of riding, KTM's mighty Super Adventure S should definitely be on your list of bikes to test ride this summer.
If there's one thing KTM can't be accused of, it's bottling it when it came to giving the 1290 Adventure the kind of performance figures that sportsbike riders would have been boasting about just a few years ago. Sure, the Austrian firm has knocked the edge off the raucous Super Duke R motor (160bhp vs 174bhp) but the power delivery from the torquey 1,301cc V-twin motor still wants to raise the front wheel everywhere, if you select sports mode and wind it on hard. The excellent quickshifter helps keep the engine on song and coaxes the front wheel skyward through the first three gears.
As much as the motor will go bonkers when you want it to, it's also incredibly easy to ride. Short-shift through the box and surf the 140 Newton-metres of torque and the big Katoom will happily cruise in the lower end of its rev-range, the excellent fuelling keeping things smooth and composed. At motorway speeds or tootling round town, the big twin's flexibility makes it a joy to ride. And in roll-on tests through the gears, it absolutely smoked the venerable BMW…
KTM owns WP Suspension so it's no surprise that the bike is blessed with high quality suspension components. Years of experience of off-road racing, with a fair amount of success on the tarmac, means the range of settings is broad enough to suit the bike's various roles. Electronically adjustable, each setting is very different. Off-road softens the whole bike off but without compromising the damping too much. Even skipping over hard-packed ripples and loose gravel the bike felt controlled while flicking between 'sports' and 'comfort' makes tangible and welcome changes to the damping and spring preload to suit your journey and the spirit in which you intend to ride it. The KTM is up for a hoon or can cosset you in long-range comfort at the press of a button — no adventure bike has better suspension.
If you're going all-out with the most powerful motor and the best suspension in class then it makes sense to opt for the best brakes too. Equipped with Brembo calipers chomping down on twin 320mm rotors, bringing the 238 kg Austrian to a swift halt is seldom an issue. There's plenty of feel through the lever and those quality forks, while the ABS works well without being too obtrusive. It can be switched to off-road mode but better still, it can be switched off — absolutely vital for riding off-road where skids aren't just for kids.
The lazy nature of a V-twin engine with bags of low-down torque makes for a great touring or adventure bike. But they're not without their problems. Vibrations through the footpegs and bars can get wearing after a while — though KTM has managed to isolate much of this buzz to the point where it's virtually unnoticeable.
The riding position is as upright as it gets and the lofty perch gives great visibility over the traffic. It's good news for shorter riders too, as the seat height doesn't tell the full story — the saddle is also relatively narrow so achieving touchdown isn't as hard as you might imagine. Switchgear is thoughtfully placed for the average-sized hand and both levers are easily adjustable for span and reach.
Wind protection is good with the adjustable screen working for riders of varying heights. It's not perfect, and finding the best position always seemed a bit of a compromise between wind noise and visibility but we're nit-picking — make no mistake, this bike is all-day comfortable.
The Super Adventure S is packed with electronics. All the usual rider aids apply: lean angle sensitive traction control (MTC) that delivers modern sportsbike levels of assistance rather than the crude, obtrusive TC so often used on this type of bike. There's even an off-road traction control setting that works OK on the loose stuff though we'd still be inclined to switch it off altogether. Handy for the novice or the nervous but ultimately takes away a lot of the fun for the more experienced rider.
The ABS can be adjusted to suit conditions too, or, as we'd recommend for off-road use, can be turned off completely. Cruise control comes in handy for those long stints on the motorway but I have to admit, I'm easily impressed and enjoyed the self-cancelling indicators (late Eighties Yamaha FJ1200 anyone?) as much as anything. It even has leaning cornering lights, which you can see working on the video if you watch carefully.
The TFT dash is ultra-clear and easy to read while navigating the various menus and sub menus for all the various engine, suspension and brake settings is super-intuitive. Far easier to use than BMW's slightly idiosyncratic thumb wheel/switch that takes a little more getting used to and is frustrating until you do.
KTM 1290 Super Adventure S gallery…
Gallery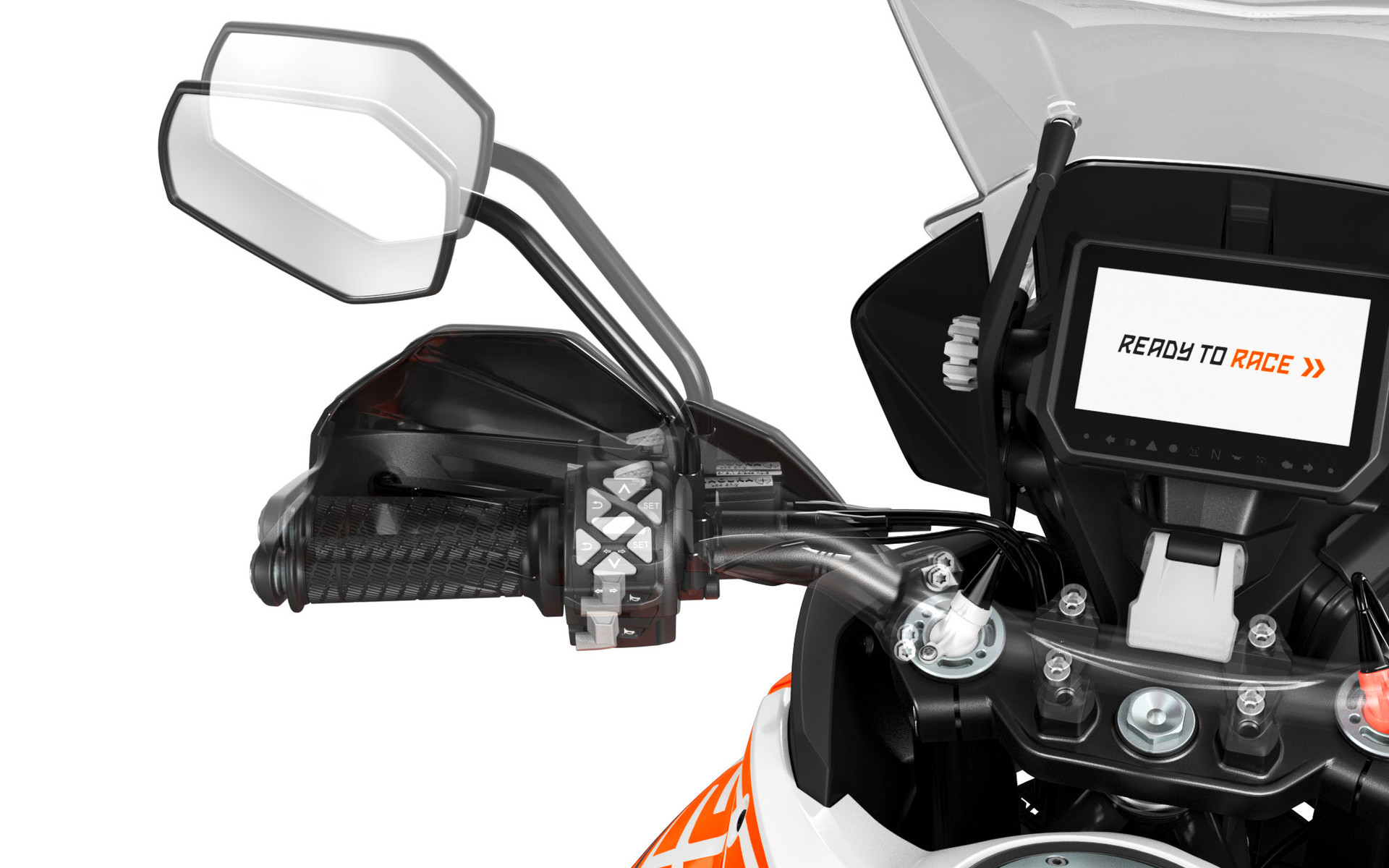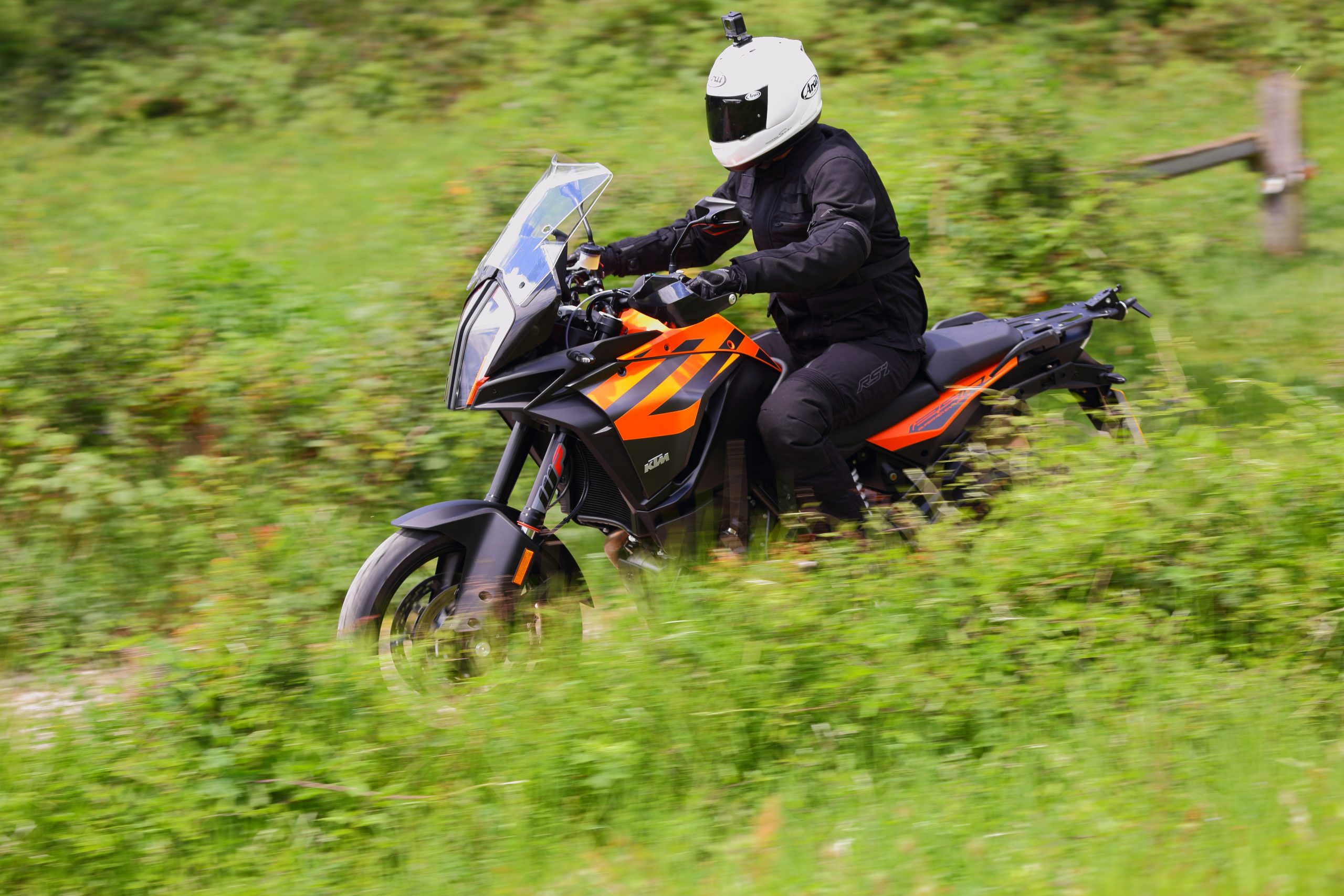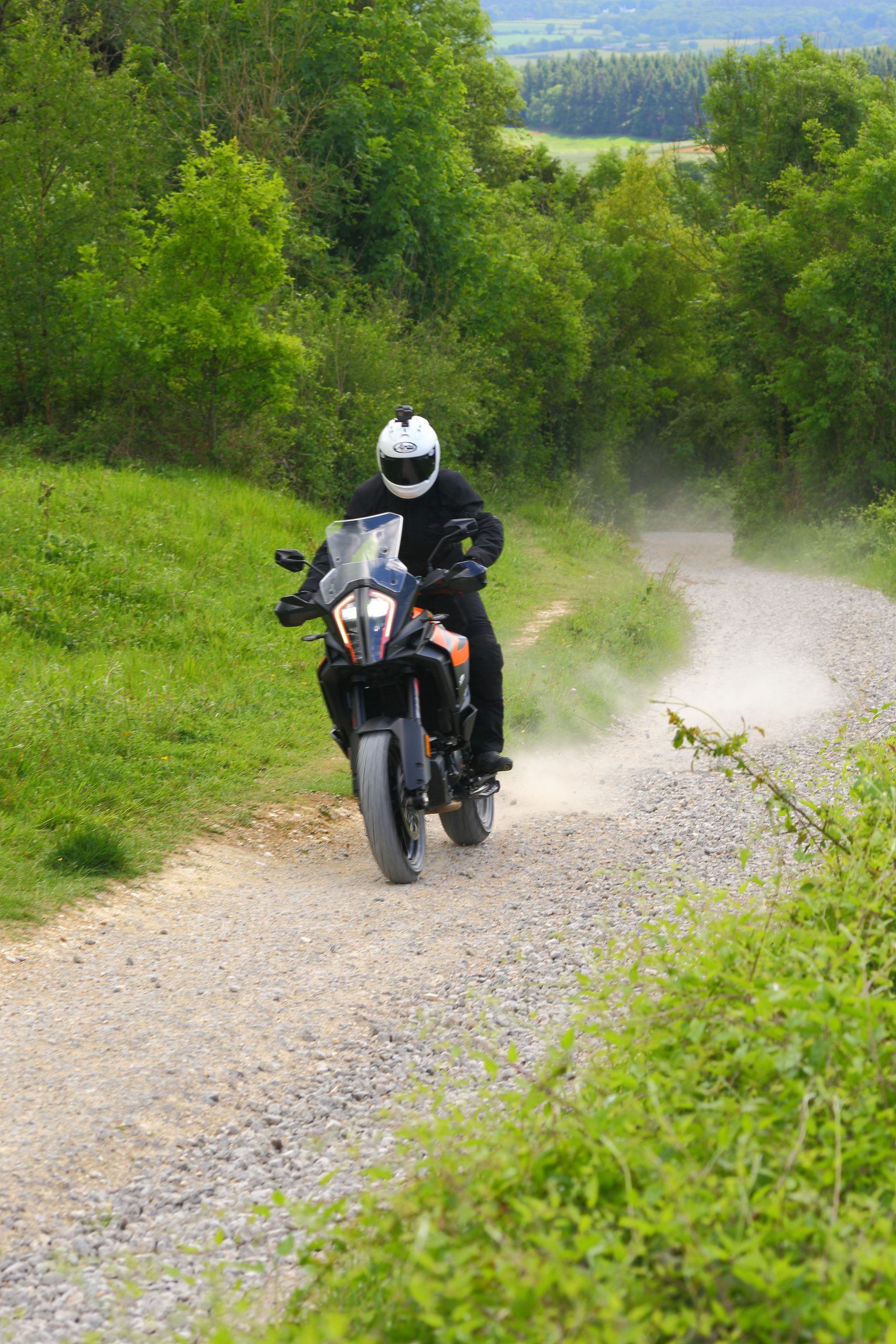 BMW R1250 GS vs KTM 1290 Super Advenutre S: The Verdict
Stating the obvious here, since each bike got one vote from the test crew, but it's a little hard to pick an overall winner from these two. That's partly because they're both so good, and partly because they have slightly different focuses. But that does mean we can give you a steer on which one is more likely to fit your needs.
First up, the KTM is definitely the high-octane option. It's quicker, lighter and nimbler, thanks to the conventional forks and chain drive, which cut mass and increase agility. And the engine is nuts, putting out power and torque which would have won superbike races not so long ago. Brembo brakes, excellent fit and finish, and a solid electronic aids package rounds off a very strong offering indeed.
The BMW is every bit as satisfying though. It's got more than ample performance for most riders, but feels slightly more suited to the long run. The ShiftCam motor is a cracker, with loads of grunt all round, and a fabulous exhaust note even with the stock pipe. The bodywork feels more protective, and the maintenance-free shaft drive will be a boon on longer adventures. BMW's electronics package is strong, especially with some of the add-ons specified, and while both firms have huge accessory ranges, the BMW's offerings are a little more comprehensive.
Performance heads will lean towards the 1290 then, while two-up distance addicts might find the GS a better fit. But it's so close, we'd definitely suggest booking a test ride on both…
BMW R1250 GS Spec:
Price: 'From £13,415'
Engine: 8v boxer flat twin, DOHC, variable valves, liquid cooled, 1,254cc
Bore x stroke: 102.5×76
Compression ratio: 12.5:1
Max power (measured at tyre): 136bhp@7,750rpm
Max Torque (measured at tyre): 106ft lb@6,250rpm
Transmission: six speed gearbox, wet slipper clutch, shaft drive
Frame: two-part subframes, engine as stressed-member
Front suspension: BMW Telelever monoshock, 37mm stanchions, electronic suspension adjust option
Rear suspension: Paralever single-sided swingarm, monoshock, fully adjustable, electronic adjust options
Brakes: Dual 305mm discs, four-piston Hayes calipers (front), 276mm disc, twin-piston Brembo caliper (rear), Motorrad ABS, optional ABS Pro
Wheels/tyres: Tubeless cast aluminium/Michelin Anakee III, 120/70 19 front, 170/60 17 rear
Rake/trail: 25.5°/99.6mm
Wheelbase: 1,525mm
Kerb weight (fully fueled): 249kg
Fuel capacity: 20 litres (4.4 gallons)
Rider Aids: BMW traction control, rider power modes, hill start assist. Optional electronic suspension, ABS Pro, up/down quickshifter, keyless ignition and fuel cap
KTM 1290 Super Adventure S Spec:
Price: from £15,199
Engine: DOHC 8v, 75° V-twin, l/c, 1,301cc
Bore x stroke: 108 x 71mm
Carburation: Keihin fuel injection, 52mm throttle bodies, ride-by-wire
Max power (claimed): 158hp @8,750rpm
Max torque (claimed): 140nm @ 6,750rpm
Transmission: six-speed gearbox, hydraulic wet slipper clutch, chain drive
Frame: Steel tube
Front suspension: 48mm WP USD fork, electronic adjustment
Rear suspension: aluminium swingarm, WP semi-active monoshock, electronic adjustment
Brakes: twin 320mm discs, four-piston radially-mounted Brembo calipers (front), 267mm disc, twin-piston caliper (rear), ABS.
Wheels/tyres: Die-cast alloy, Pirelli Scorpion Trail II, 120/70 19 front, 170/60 17 rear
Steering head angle: 64°
Wheelbase: 1,560mm
Kerb weight: 238 kg
Fuel capacity: 23 litres
Rider Aids: KTM MTC IMU traction control & ABS, power modes, hill start assist. semi-active electronic suspension, quickshifter, keyless ignition and fuel cap