Absence – it makes the heart grow fonder. Or so they say. And since it's been quite a while since I last slung a leg over a Moto Guzzi, I should be deeply in love with this bike before I even collect it from Guzzi UK's lockup at Silverstone…
There's been a bit of a buzz about Guzzi in the last few years, for sure. I've been in a couple of dealerships in London recently which specialise in the air-cooled Italian V-twins, and there was plenty of positive noises from them. There's something about the venerable brand – it dates back to 1921 – and its range of neat retro-roadsters which is bang on the money for these weird times. The dealers I spoke to couldn't get enough of them to satisfy demand.
Of course, everyone loves a traditional bike these days – and if it has genuine class and heritage behind it, so much the better. The more you discover about Guzzi, the more evocative its story becomes – its roots in Italy's inter-war period, fantastic racing history, the factory on Lake Como, a V-8 race bike – and even *a frickin' wind tunnel*, built in the 1950s when the big Japanese bike firms were scratching about making clip-on 50cc engines for bicycles.
So for a switched-on bike rider in the 2010s, looking for a retro ride with authenticity and style, Guzzi ticks a lot of boxes. Especially now, with the huge Piaggio Group as its parent, providing the financial muscle and corporate backup to match the mythology. Because it's fair to say Guzzi lost its way a bit in the latter part of the 20th century. It flirted with financial disaster and receivership, was owned by the De Tomaso group for a while, and drifted without any serious investment in its model range, or new engines.
That was bad at the time – but it does mean the firm's image is now solidly based around its original, unique engine design. No-one else has seriously used a transverse V-twin (Honda's CX500 of the 1970s is one of the few mainstream attempts), and its lack of innovation has earned it a Harley-Davidson style silver lining in the shape of a massively characterful motor – an engine which can only be from a Guzzi.
All of this has been running through my mind on the run up to Silverstone, but it's all swept aside when I see the V85 TT parked up. It's smaller than I imagined, and is very different from the firm's last adventure machine, the enormous Stelvio 1200. That was a 270kg behemoth, with an eight-gallon fuel tank, aimed at the BMW R1200 GS. This is a far less scary proposition.
Speaking of scary, I'd arrived here on a 175bhp Aprilia Tuono RSV4 1100 Factory – so of course I'm expecting a very different vibe on the way home. It's far more relaxed, obviously, but there's still a stack of fun. The run from Silverstone to the M40 is a road very well-travelled, and the fifteen mile series of roundabouts, short dual carriageway straights, slip roads and nadgery off-camber curves is far more entertaining that you might think.
Gallery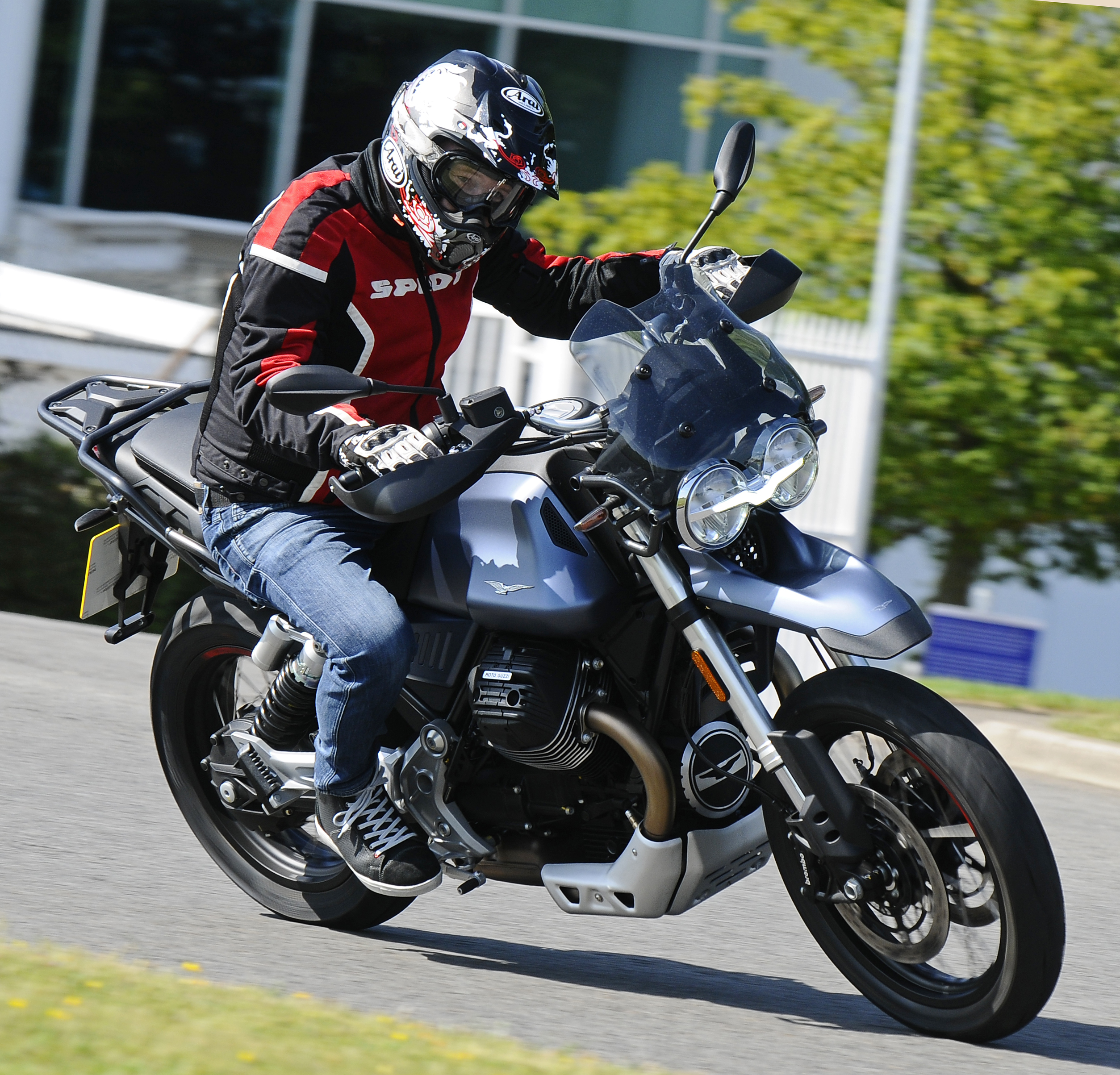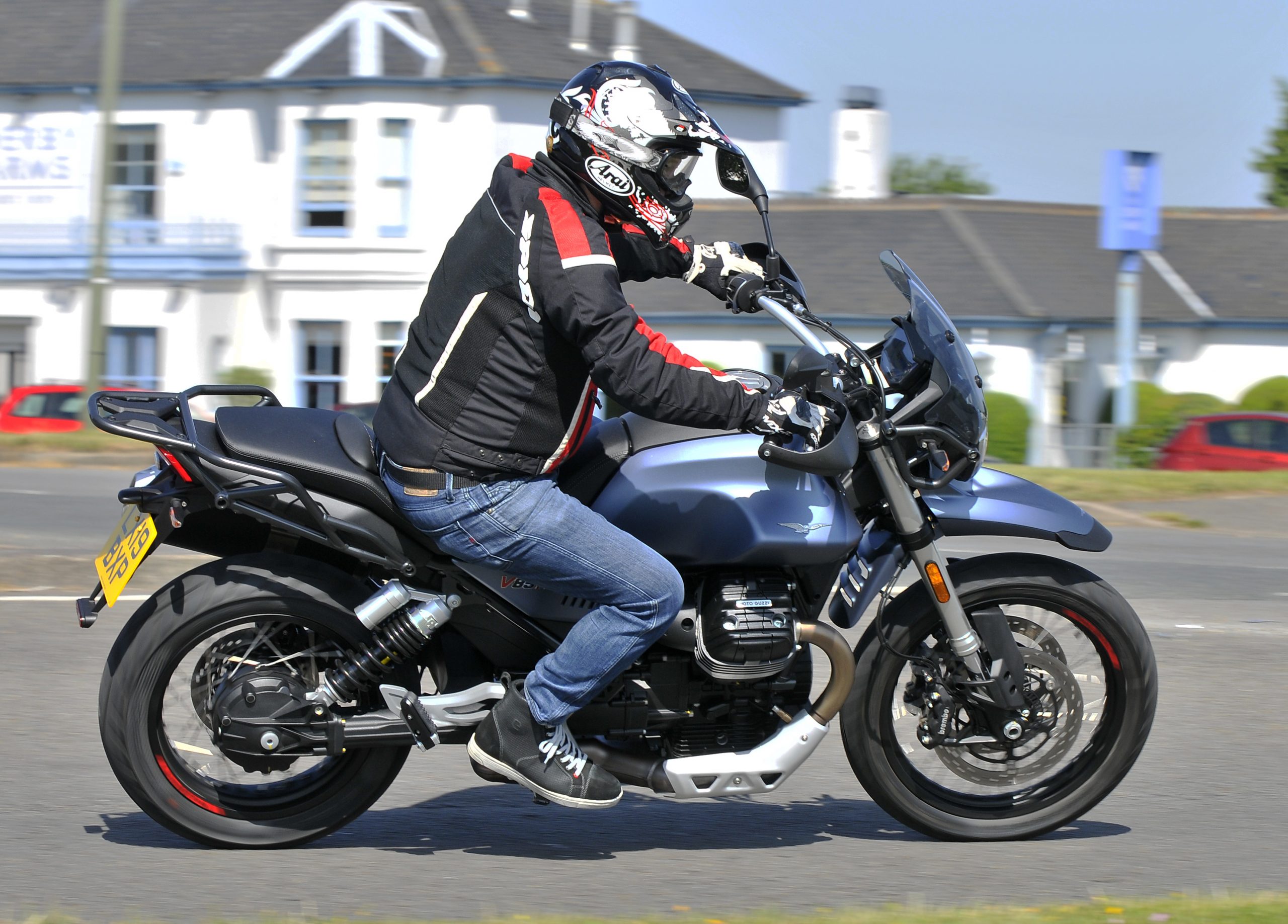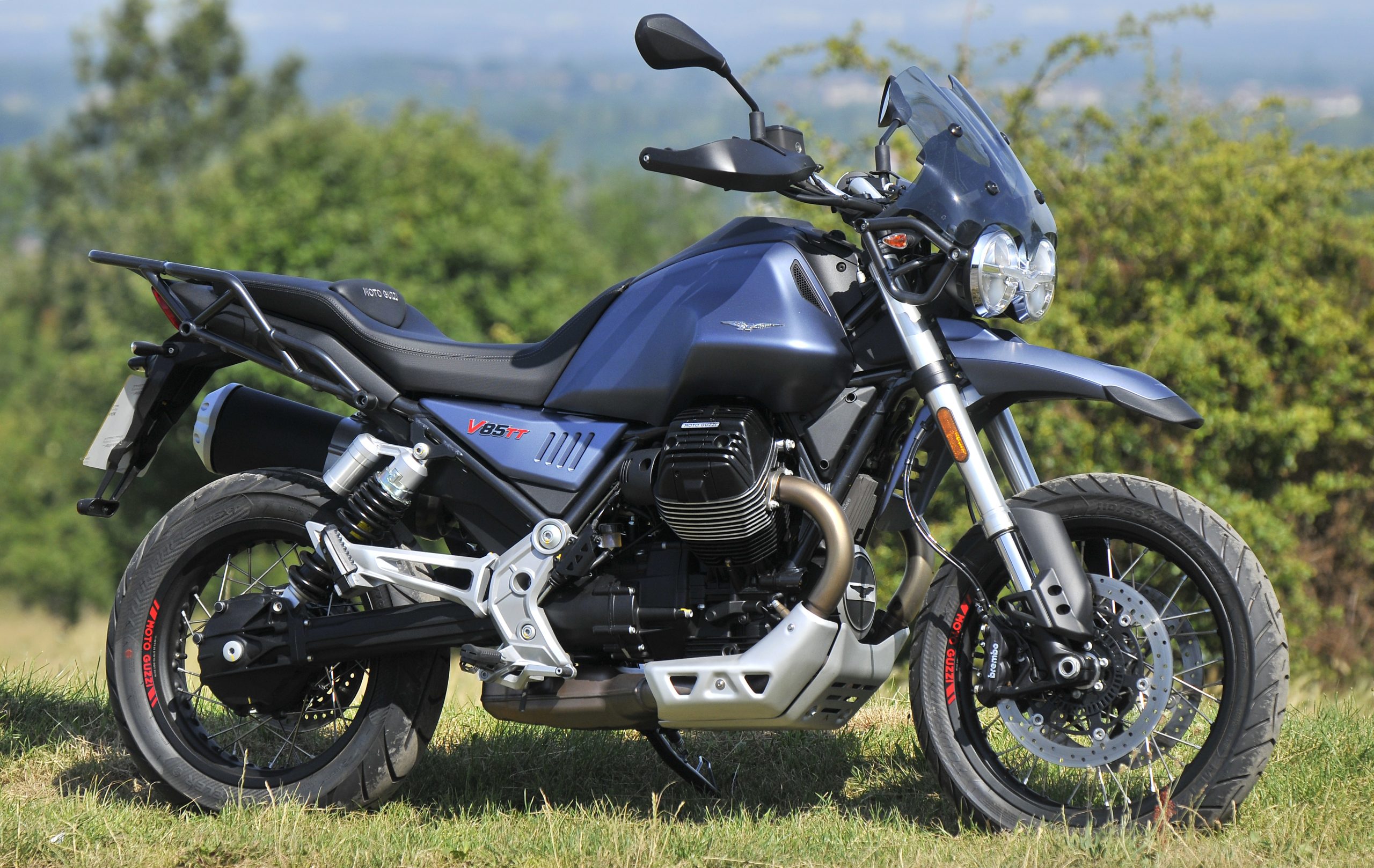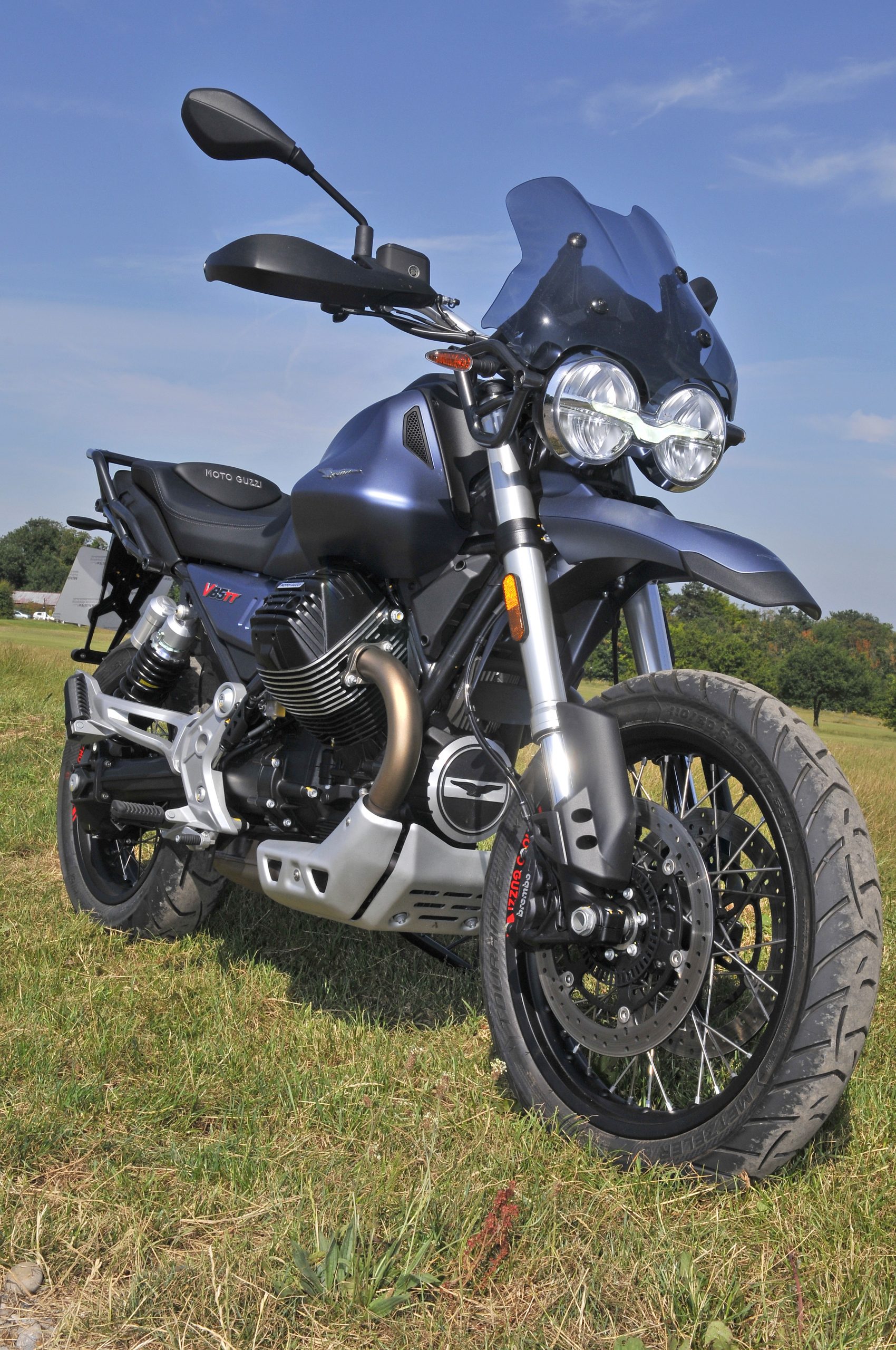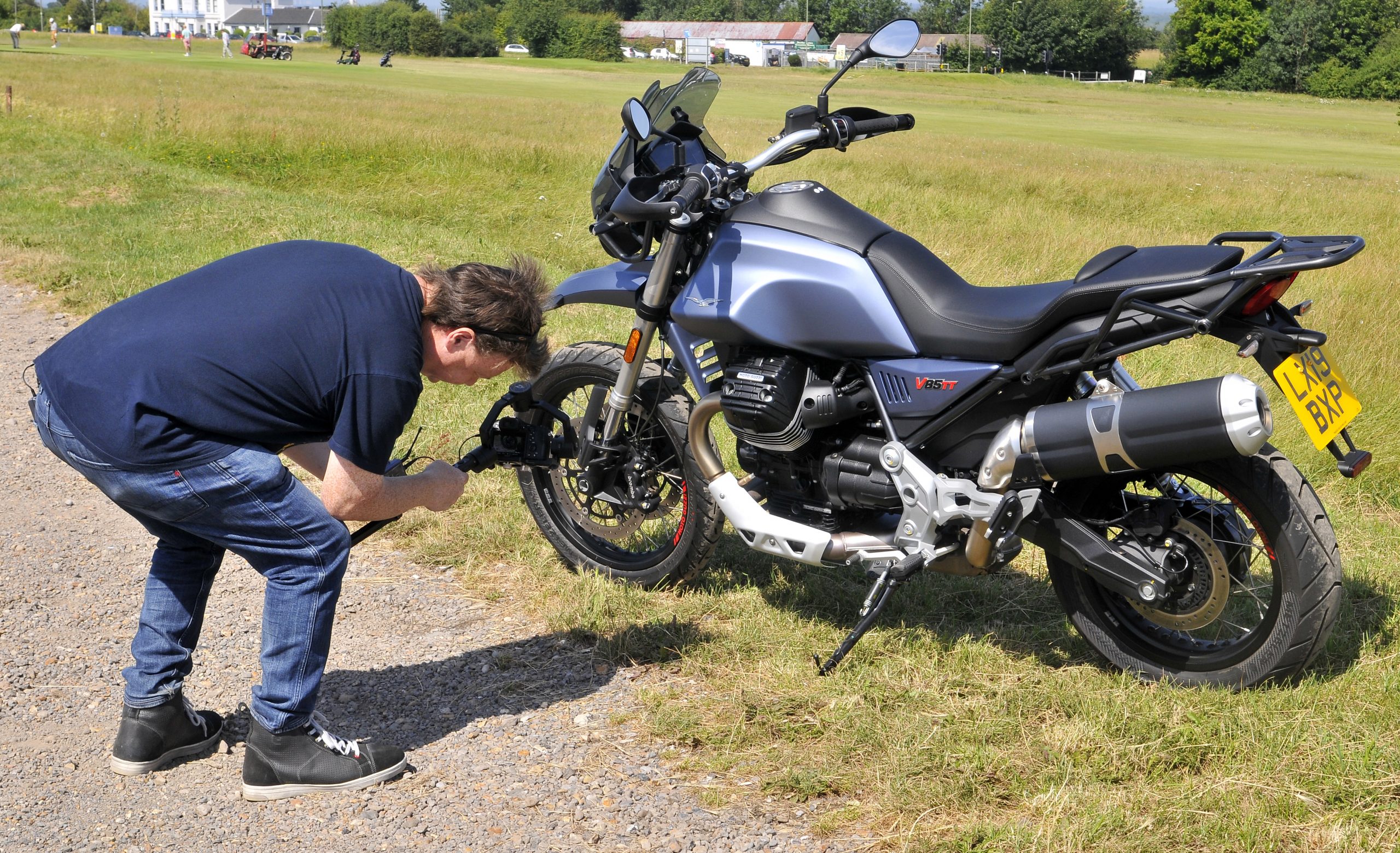 And the little Guzzi is a hoot. Sure, there's not a surfeit of power from the engine – especially since this one has only done a couple of hundred miles. I fret a little about the mechanical cruelty of thrapping a tight motor up towards the red line – but then I tell myself those modern engineering techniques mean you don't need to worry so much, and some extra revs will help the loosening-up process along nicely.
The air-cooled two-valve pushrod V-twin feels like it has a slightly surprising tune at first. I was expecting loads of low-down urge and not much up top, but it's far more balanced than that. There's decent midrange, and you definitely don't have a crazy top-end rev-rush, but it's certainly not got the feel of a low-tech, low-rev plugger either. Cruising at British motorway speeds is fine, and it's happy enough, even when you start to see three figures on the dash.
Guzzi's taken the base engine from its V9 cruiser, and given it a bit of a tune-up for a solid lump of extra power and torque. Titanium inlet valves and a lighter crank/conrod setup means more revs, and that, plus a heap of other top-end mods give an extra 25bhp over the cruiser: an impressive grunt upgrade. Eighty-ish bhp from an 853cc twin isn't mind-blowing stuff these days of course, but it's by no means a poor output. And with a fairly light wet weight of 209kg, the V85 TT power-to-weight ratio isn't bad at all.
There's much more to this little Guzzi than the engine though. The brakes are ace, proper 320mm twin discs up front, with four-piston radial Brembo calipers. The only excuse these days for lame brakes is that the company wanted to save the money, and fitted lesser components. But Guzzi has resisted that temptation, throwing on the good stuff here, and I applaud them for that. Combined with a decent adjustable USD fork, plus excellent Metzeler Tourance Next rubber, and you get a solid, reassuring front end package that gives good feedback on the road. Wide bars put you right in control, and if you need to hustle the little V85 through some bends, it doesn't complain at all.
I'm at the M40 now, and I drop the hair-on-fire act which is no doubt a continuation of the Tuono Experience, and settle down for a nice pootle down the best motorway in England. Lightly policed, generally free of jams, and with none of that Smart Motorway stupidity, there's no better way to munch some miles heading towards London, and I get the chance to check out the V85 in more depth. I'd bolted my phone holder onto the bars and plugged it into the Guzzi's USB socket before leaving, which was quick and easy. This test bike doesn't have the optional Bluetooth connectivity though, so I can't link my phone to the neat colour dash (the very definition of a first world problem, I know…)
Gallery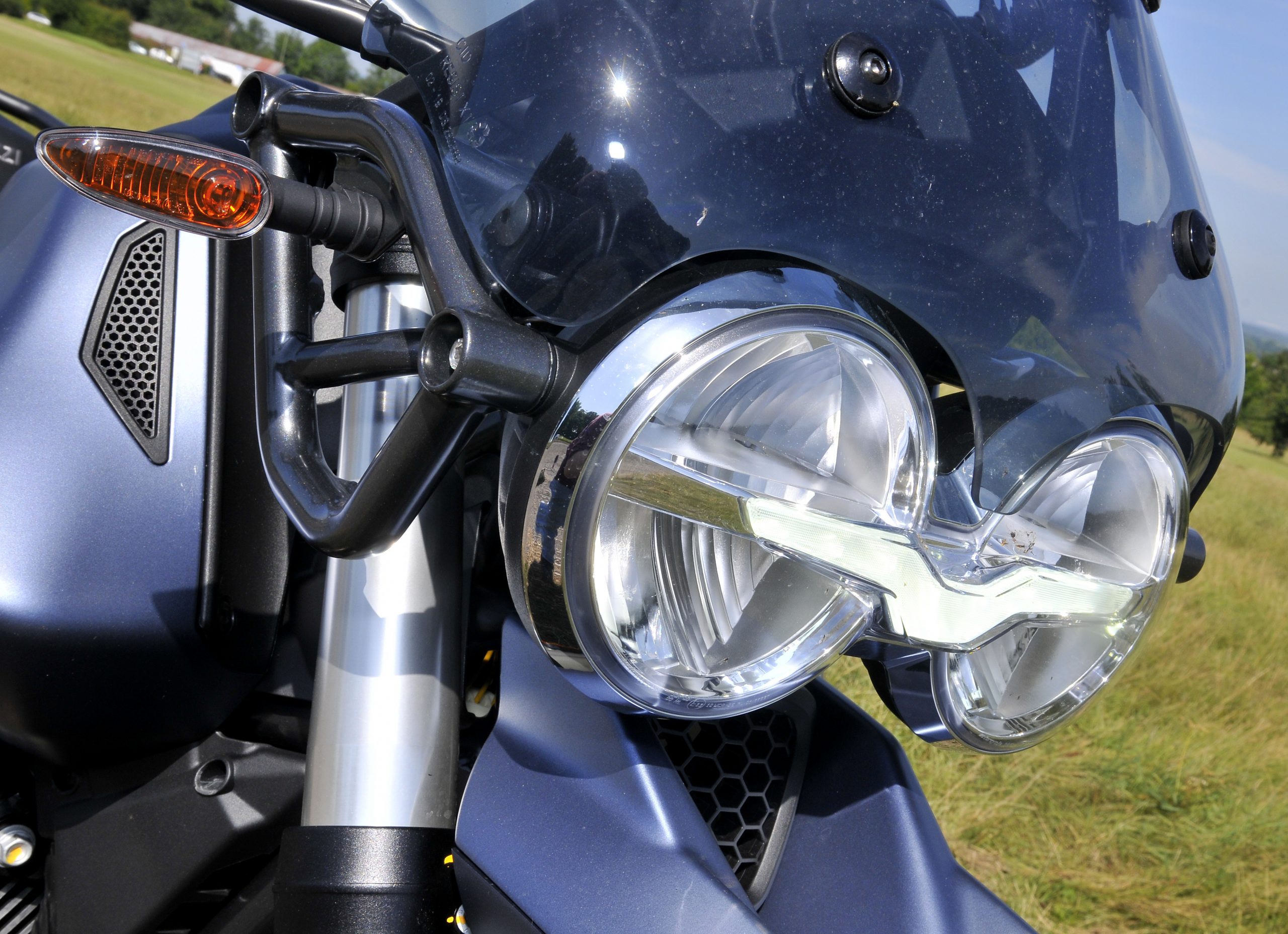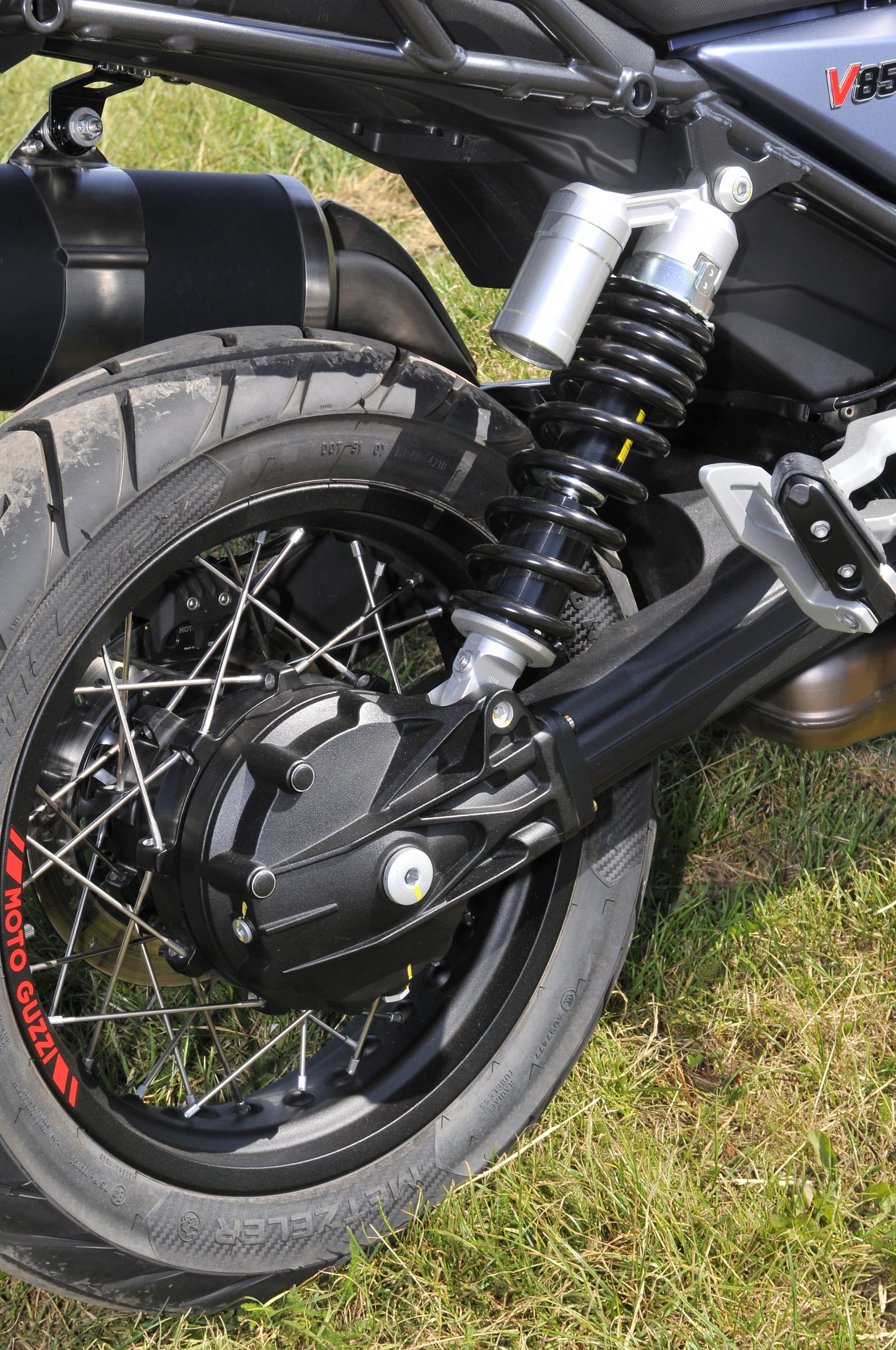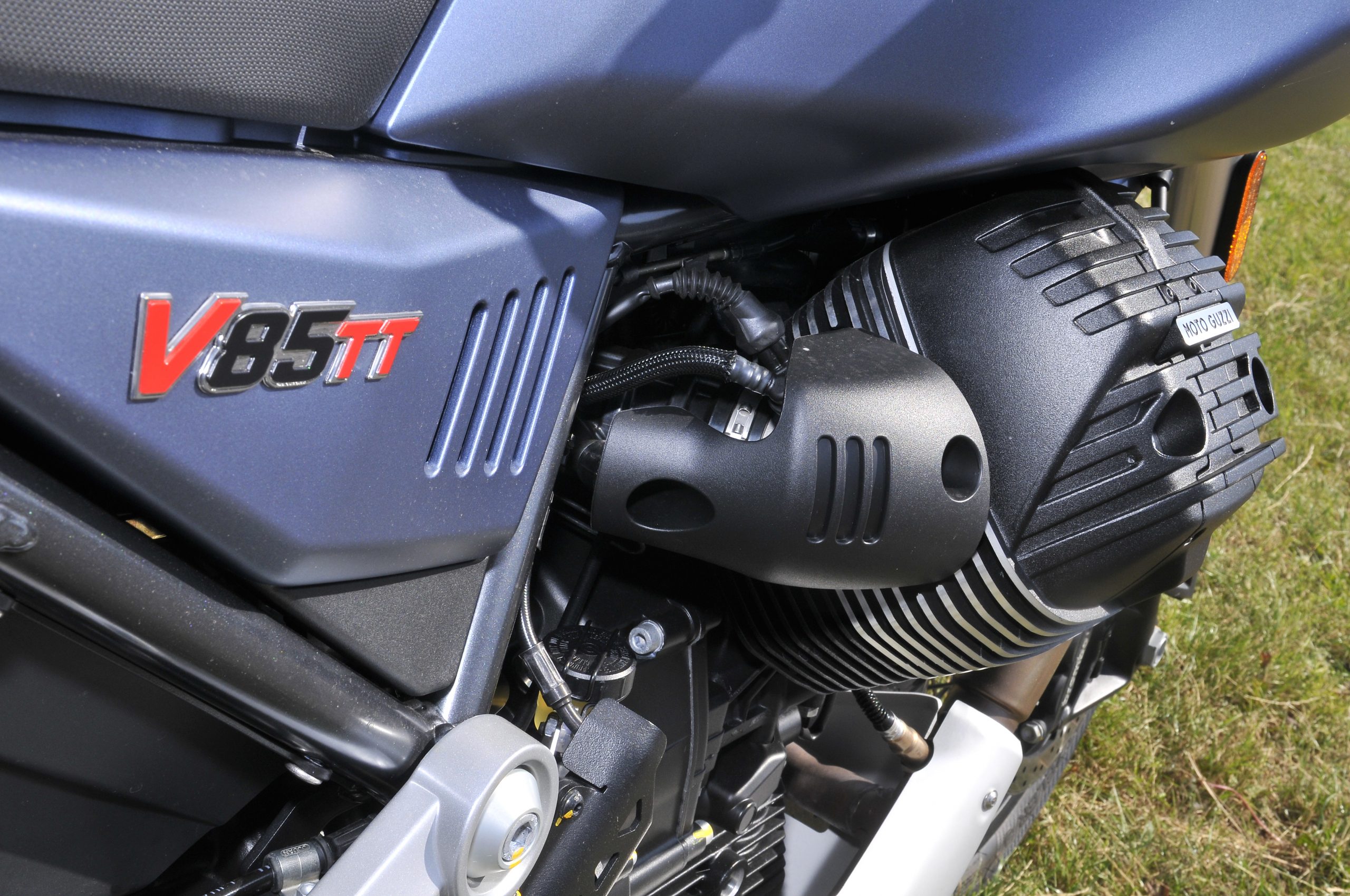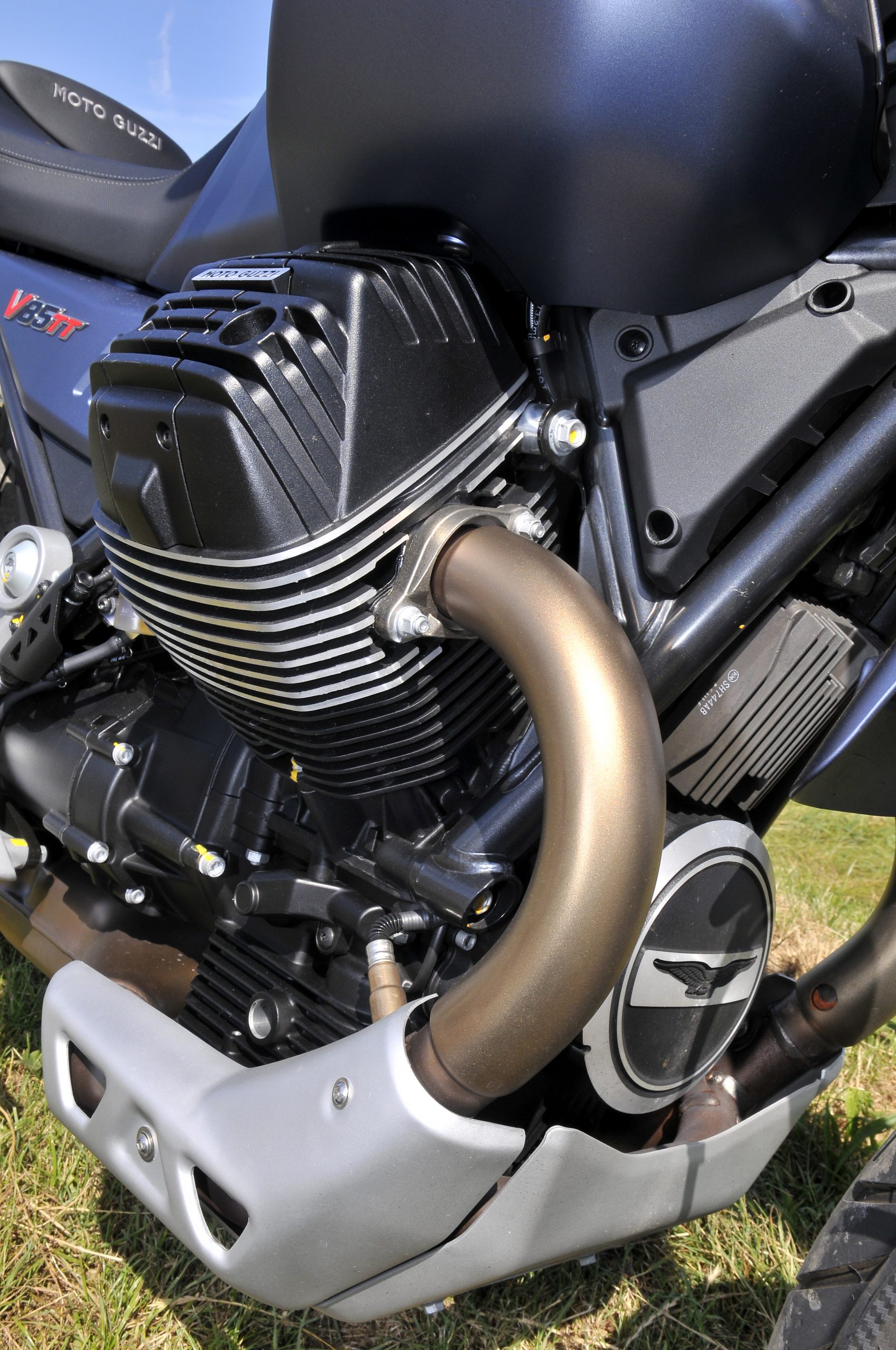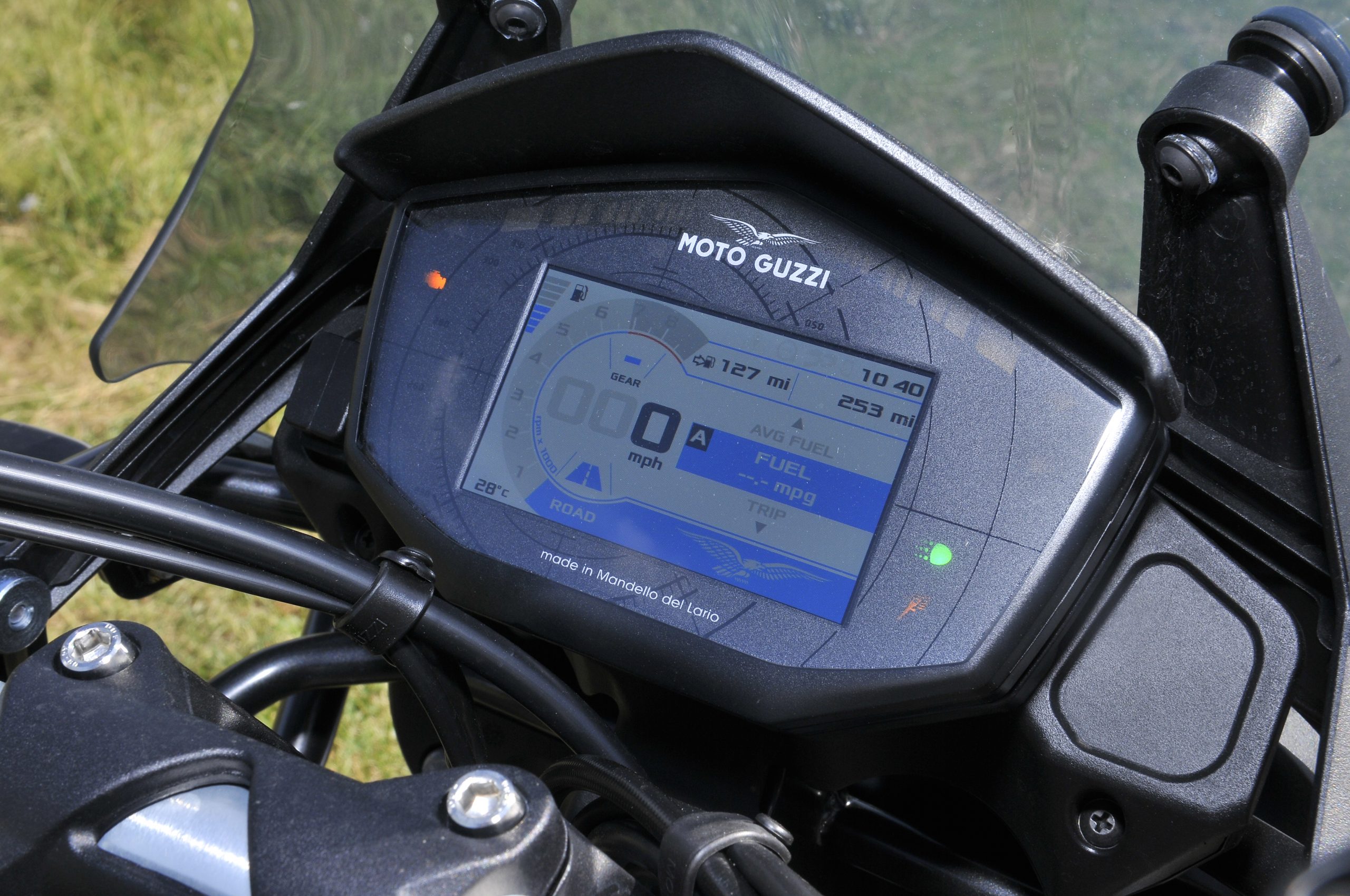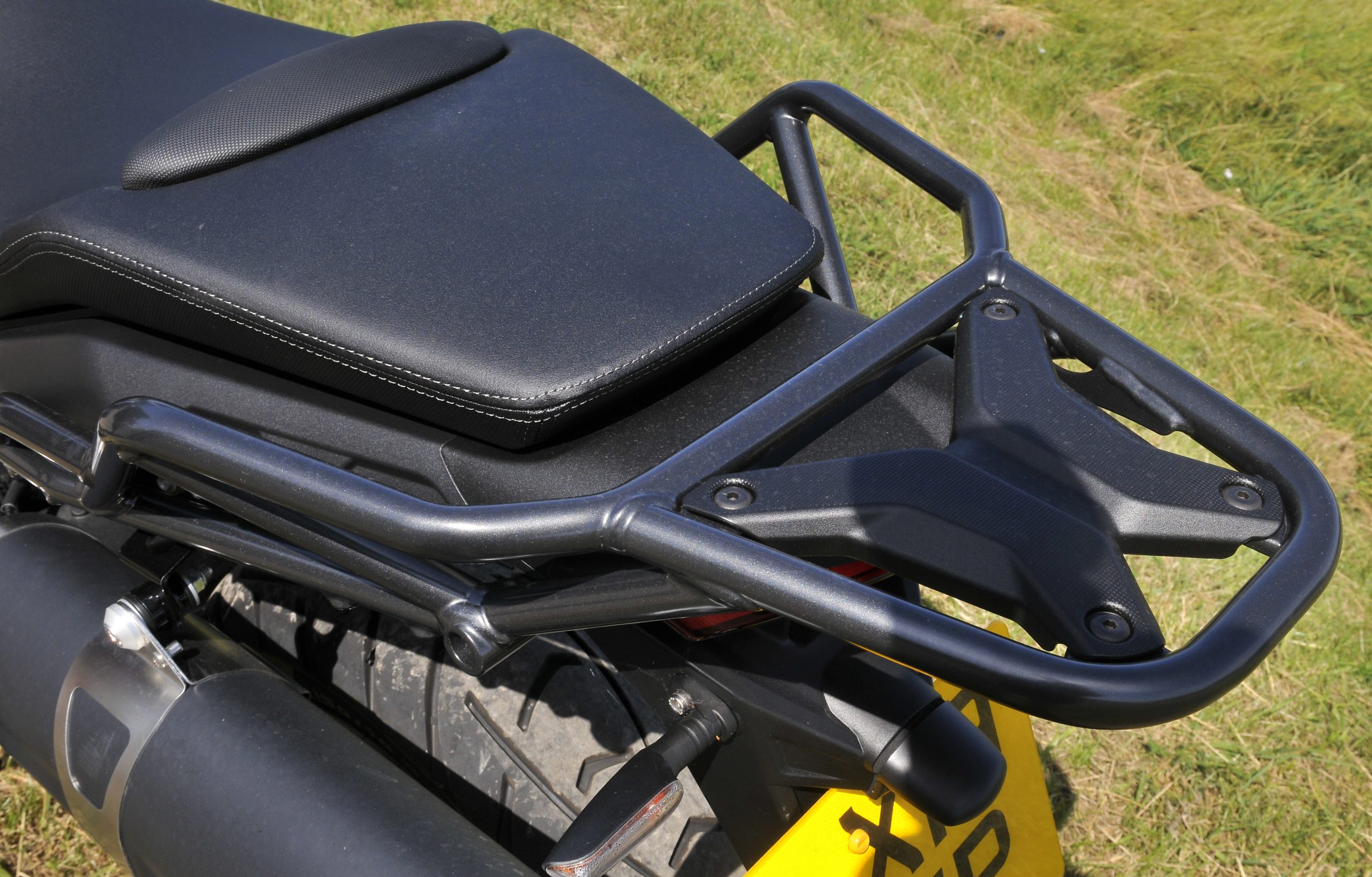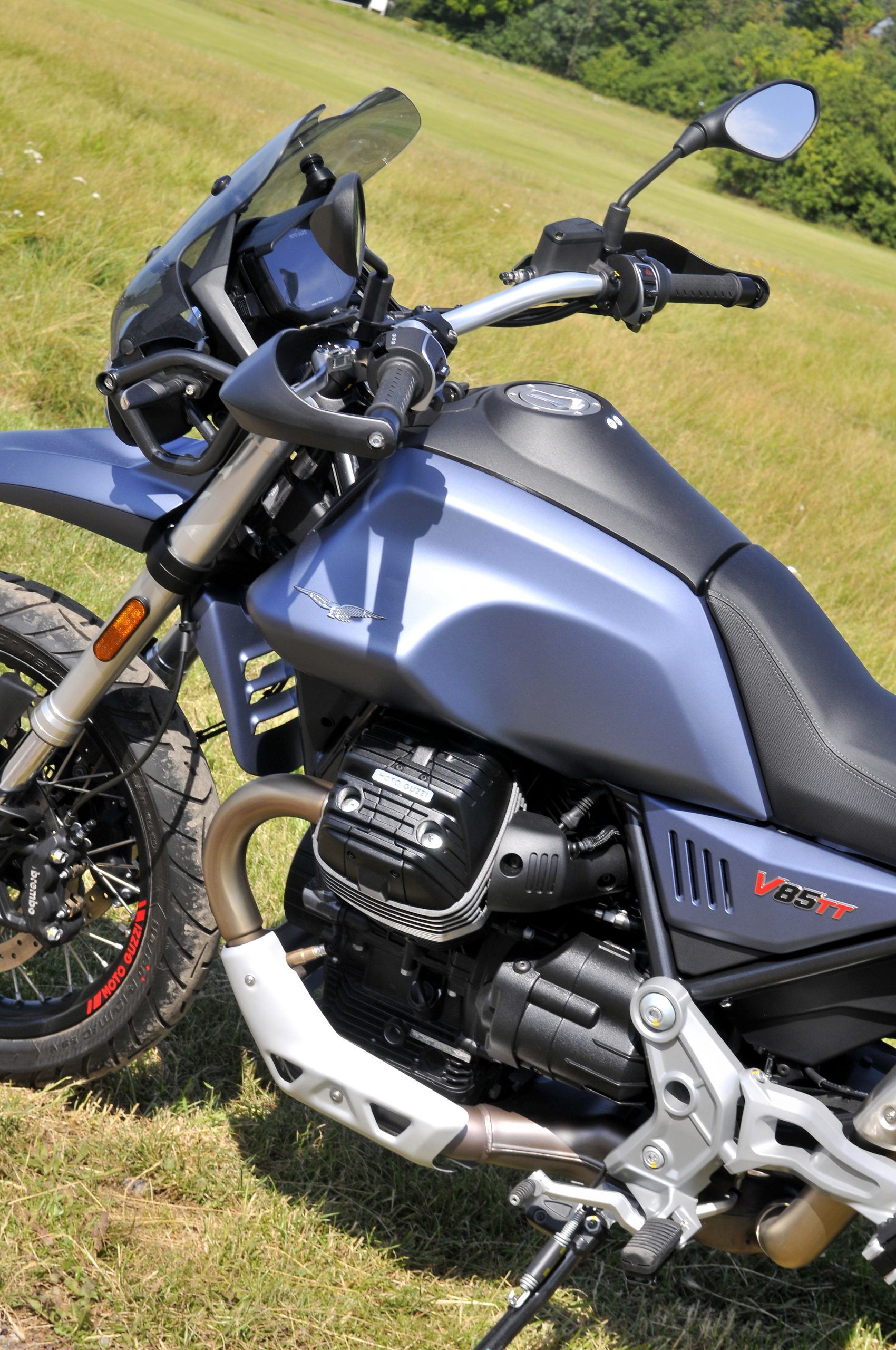 That dash suits the rest of the bike perfectly – a little understated, but works well. You can access all the info you need, including the enormous fuel range (the TT has a 23 litre fuel tank, which is A Good Thing I reckon), consumption, and all the usual functions. You can also flick through the different rider power modes (road, rain and off-road), and activate the cruise control, which is a positive boon on a mild motorway schlepp like today's. Flick the button to activate, select your speed to best suit the limits and your mood, and you can kick back and relax. The switches themselves are a little unusual too – neat chrome outlines around the main controls add a touch of class, and while the killswitch and hidden starter button are a bit confusing at first, it all works well enough. Like the Guzzi tank badges and the slick 'eagle' shaped LED running light on the headlamp unit, it shows that the factory has put in a bit of extra thought and effort, rather than just bolting on standard generic parts from Far East suppliers.
The windscreen is a little abbreviated, and I'd like a taller option for bigger miles and bigger speeds I think. It's actually adjustable, but only at a standstill with tools, so not super-convenient. The bodywork is a little on the minimal side overall in fact, so if you're looking for something with loads of wind and weather protection, you might be disappointed. The seat and riding position will please most folk though – the seat isn't too high for even my stumpy pins, and I found it more than comfy enough for a couple of 120+ mile runs.
Over the next week or so, I really bond with the V85 TT. It's eminently practical, with the fuel range, shaft drive, and relaxed, comfortable riding position all playing their part. Urban work is a breeze, with the compact dimensions, good low-down running and ace turning circle making traffic slicing easy. I give it a bit more of a hustle when doing some cornering pics, and even with the 19-inch front wheel and semi-knobbly tyres, it feels stable and planted even when you start decking the pegs out. Now, TT stands for 'Tutto Terrano' – Italian for all terrain. I didn't manage to tackle any off-road riding on this test, but I reckon it would have fairly basic dirt abilities, depending on the tyres you fit. It's not massively heavy, and the low centre of gravity and good slow-speed handling will help. There's no close-fitting front mudguard, and reasonable suspension travel as well – so it'll be able to pootle about on fire roads and the like with ease.
Gallery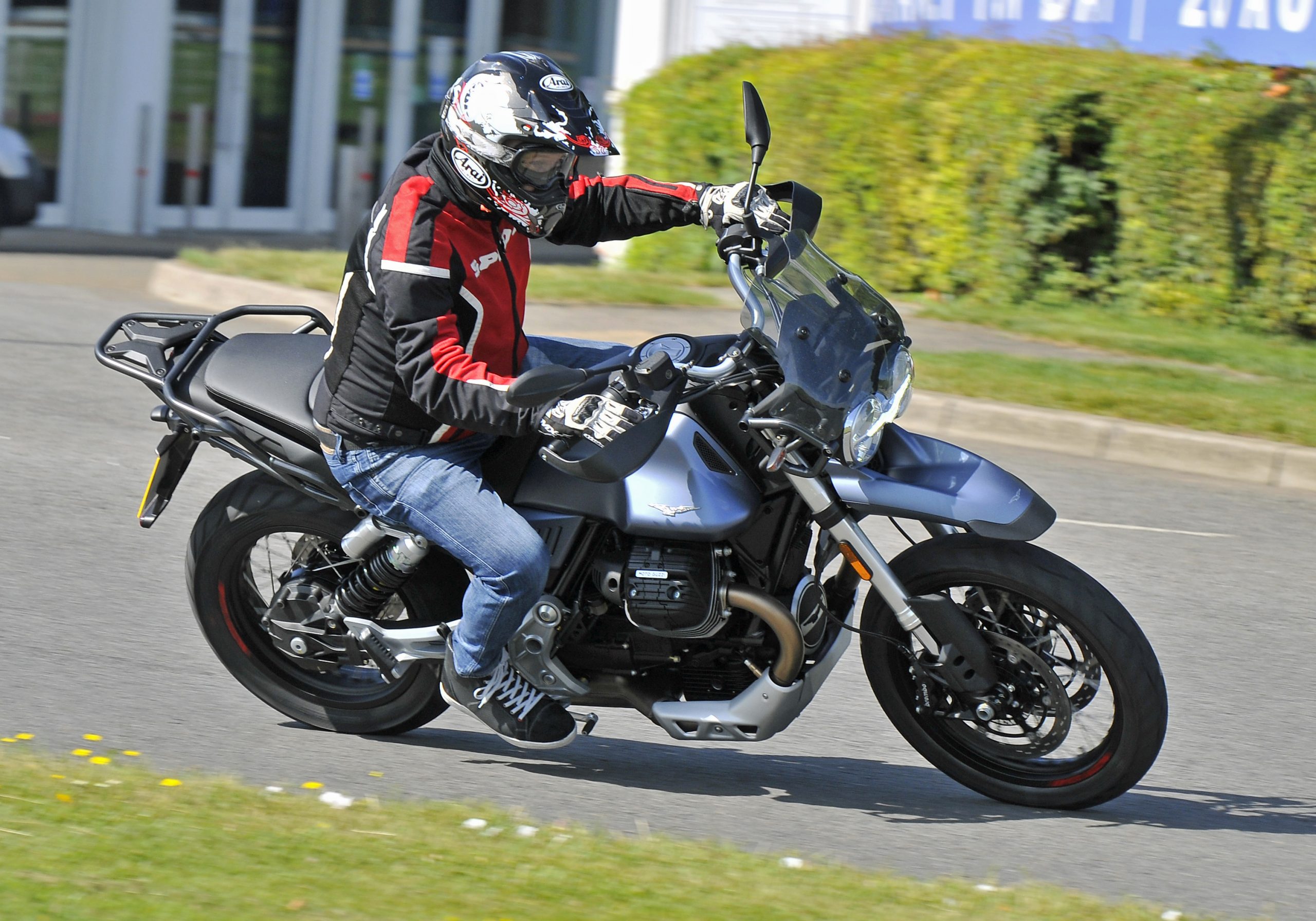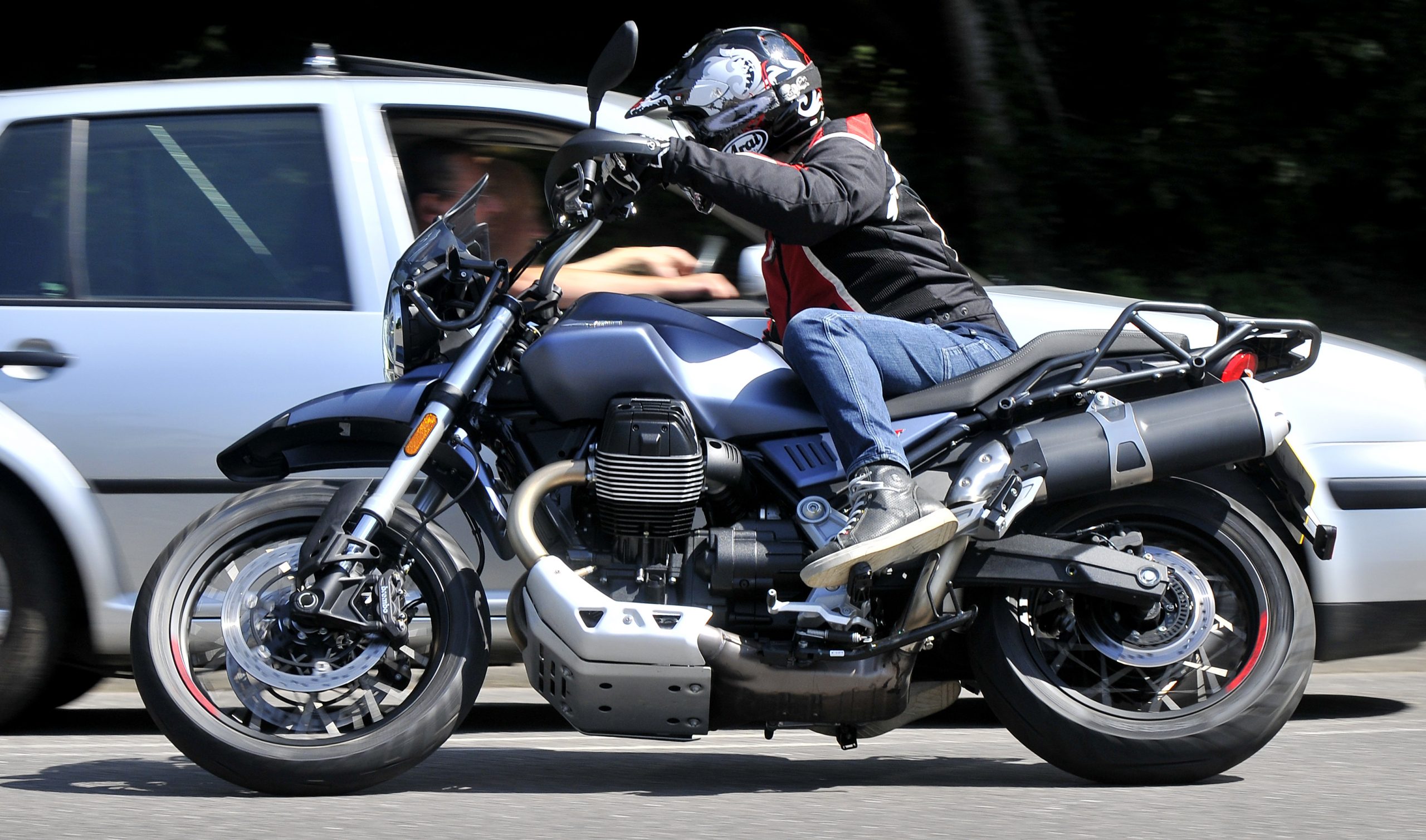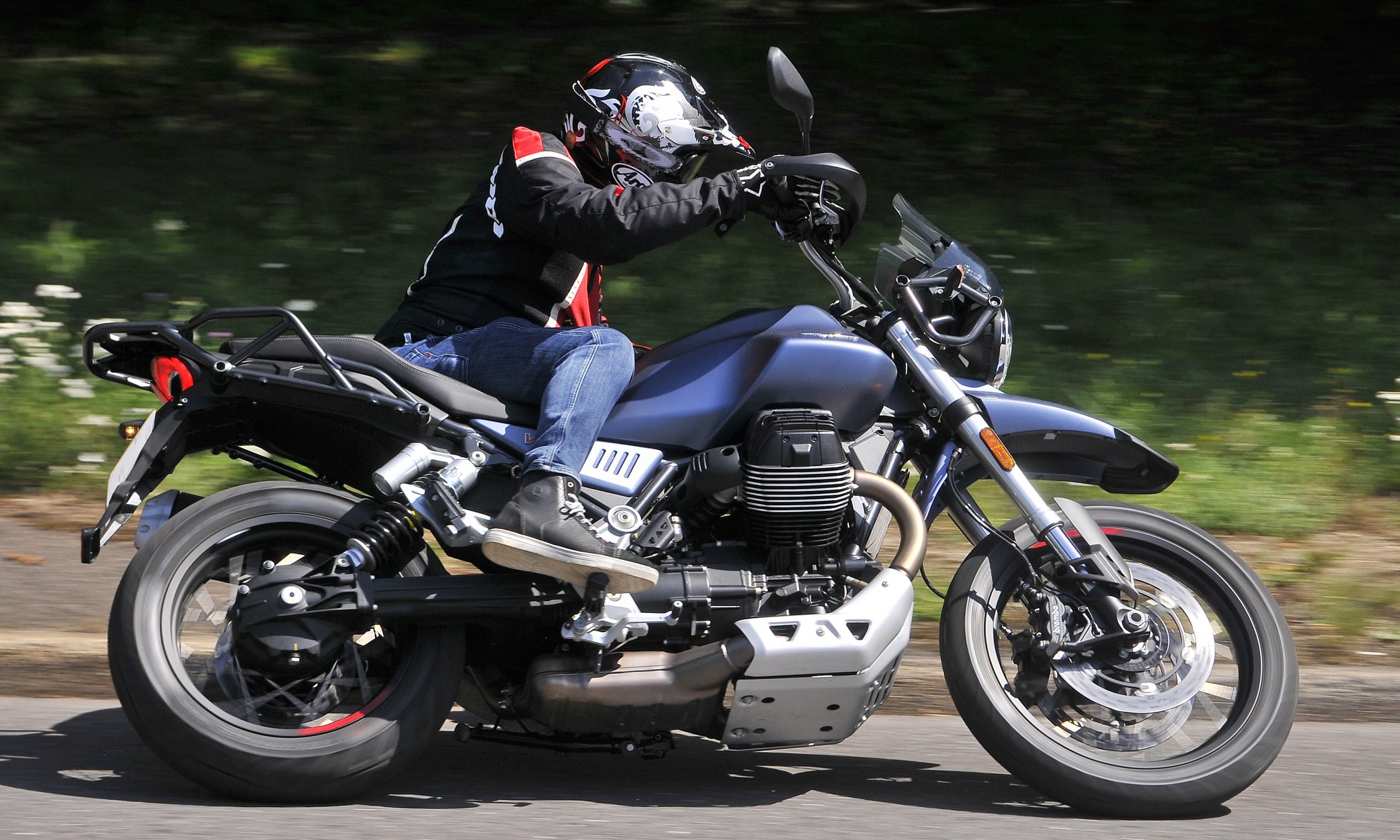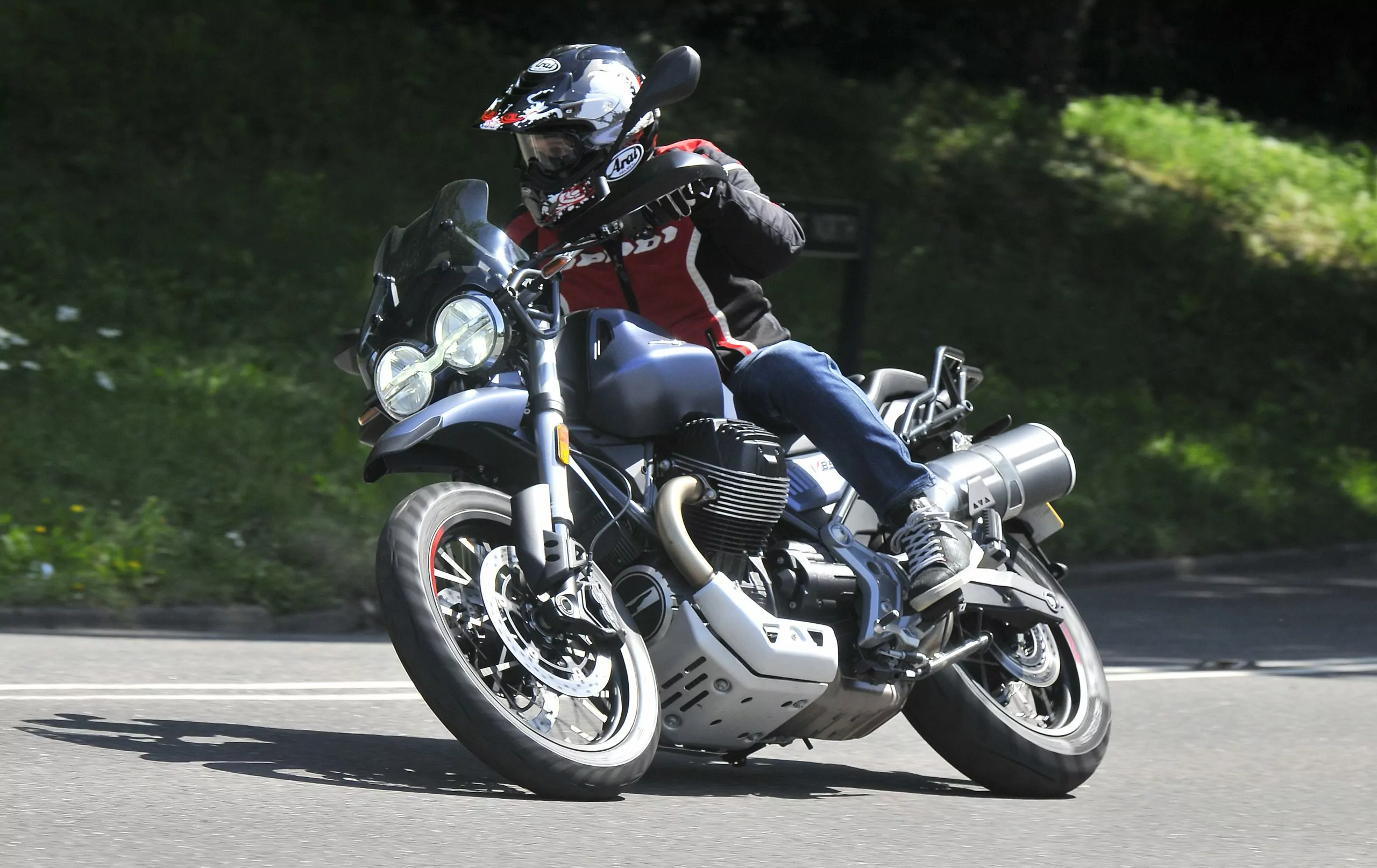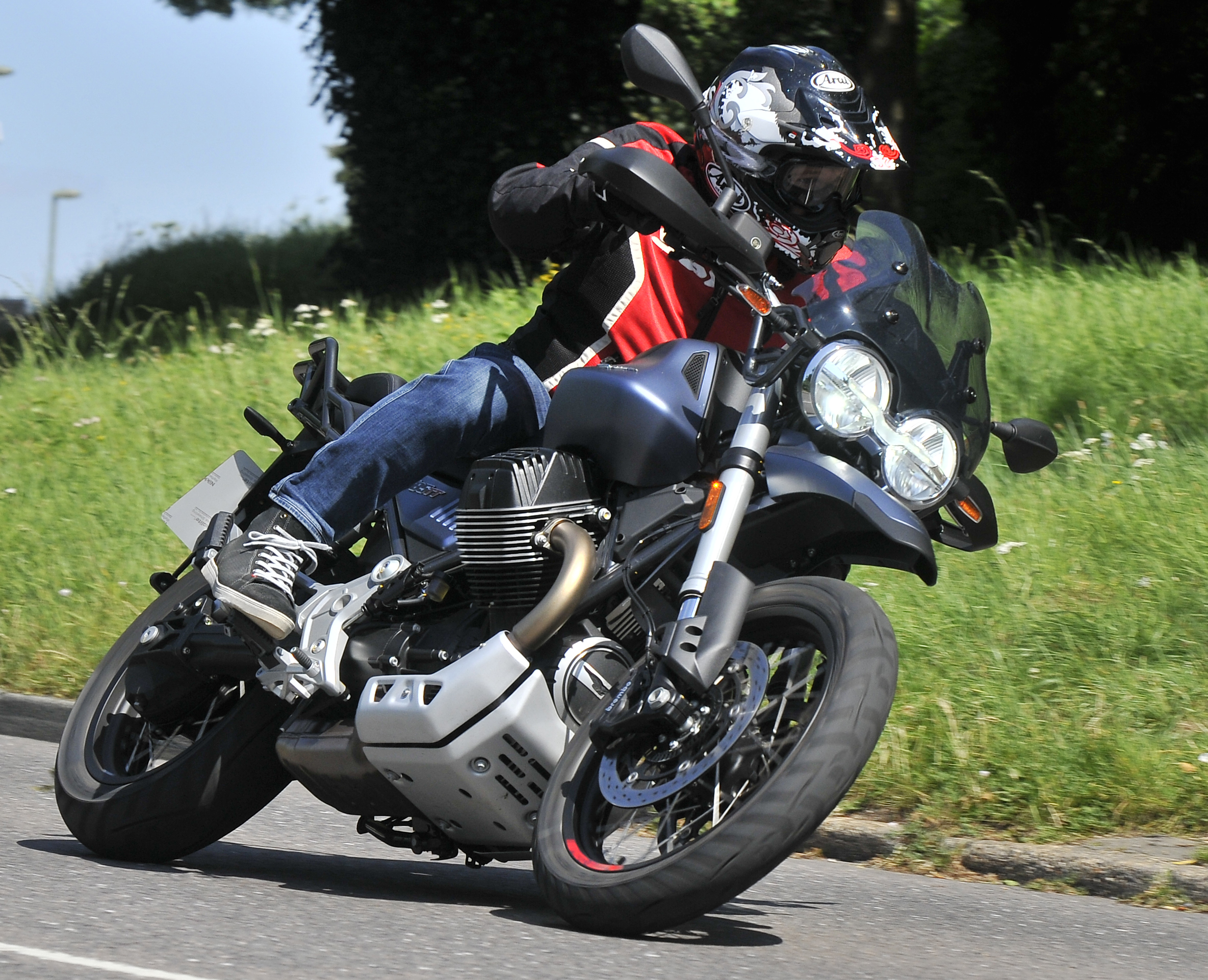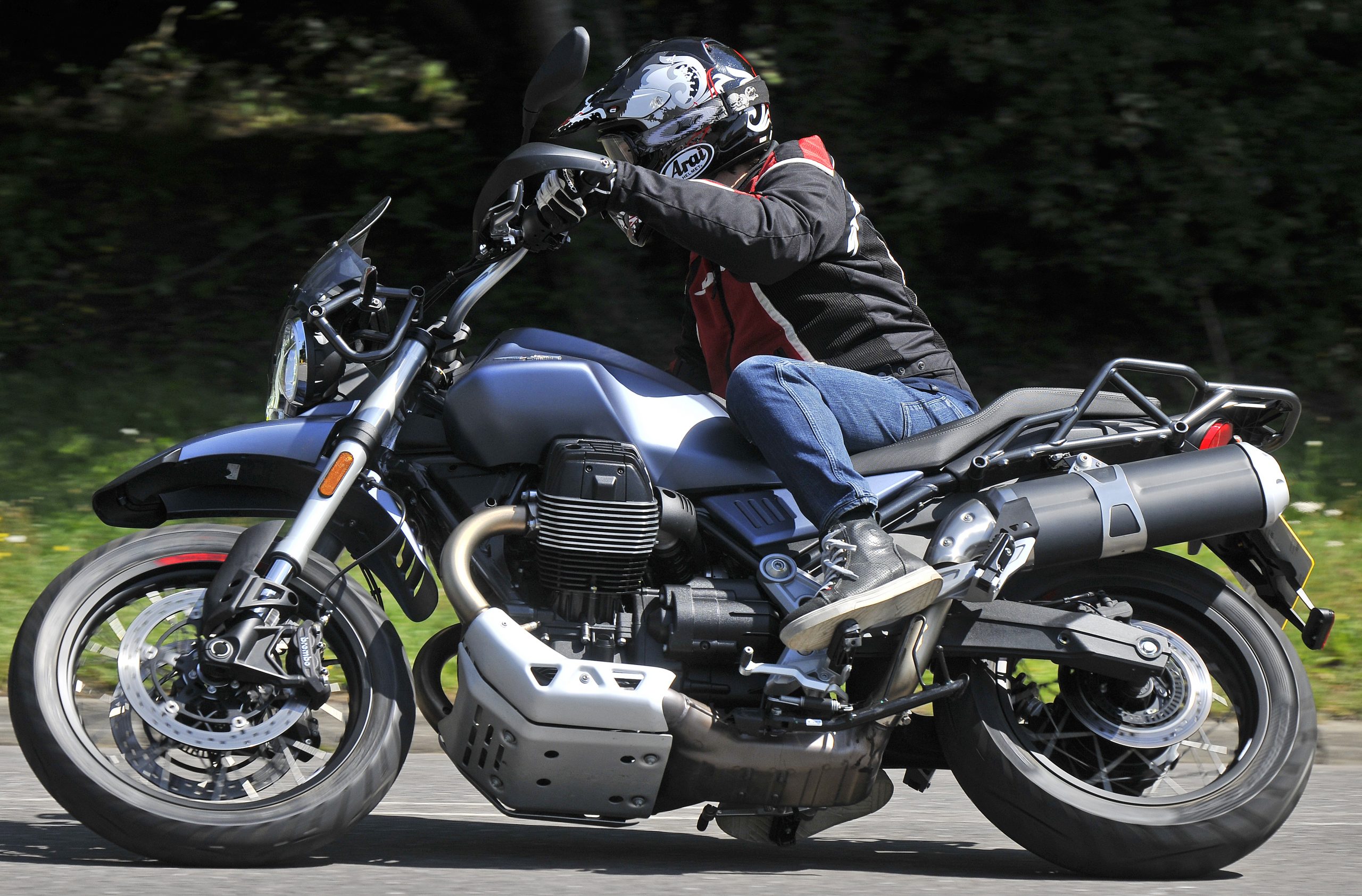 The suspension is spot-on for this kind of bike – there's a decent compromise between being soft enough with the longer travel needed on an adventure bike, yet firm enough for good performance on the road. Both ends have preload and rebound adjusters, so you can have a bit of a twiddle to suit pillion and luggage changes, should the need arise. Those brakes and the Metzeler tyres continue to impress, and if Guzzi had fitted a top box to this test bike, I might have forgotten to take it back…
It's not perfect though. For the money, you can pick up a BMW F750 or F850 GS, and the 850 in particular is a more accomplished bike with more power and tech. But that's not so much a criticism as a recognition that Guzzi's 'retro enduro' TT is in a slightly different game here. The Mandello massive is selling something with a little bit more in terms of style, heritage and panache than the thumpingly efficient Beemer. The V85 TT – especially in the more striking red and red/yellow paint schemes – is a much better looking machine, and will stand out far more when parked up in the Bike Shed arches.
Sounds like the sort of thing your heart might grow fond of? Well, you'd best get yourself down to the Guzzi dealer sharpish. From what we hear, the V85 TT is striking a chord with plenty of riders out there, and there's already a bit of a queue to get hold of one, particularly if you want the more popular colours.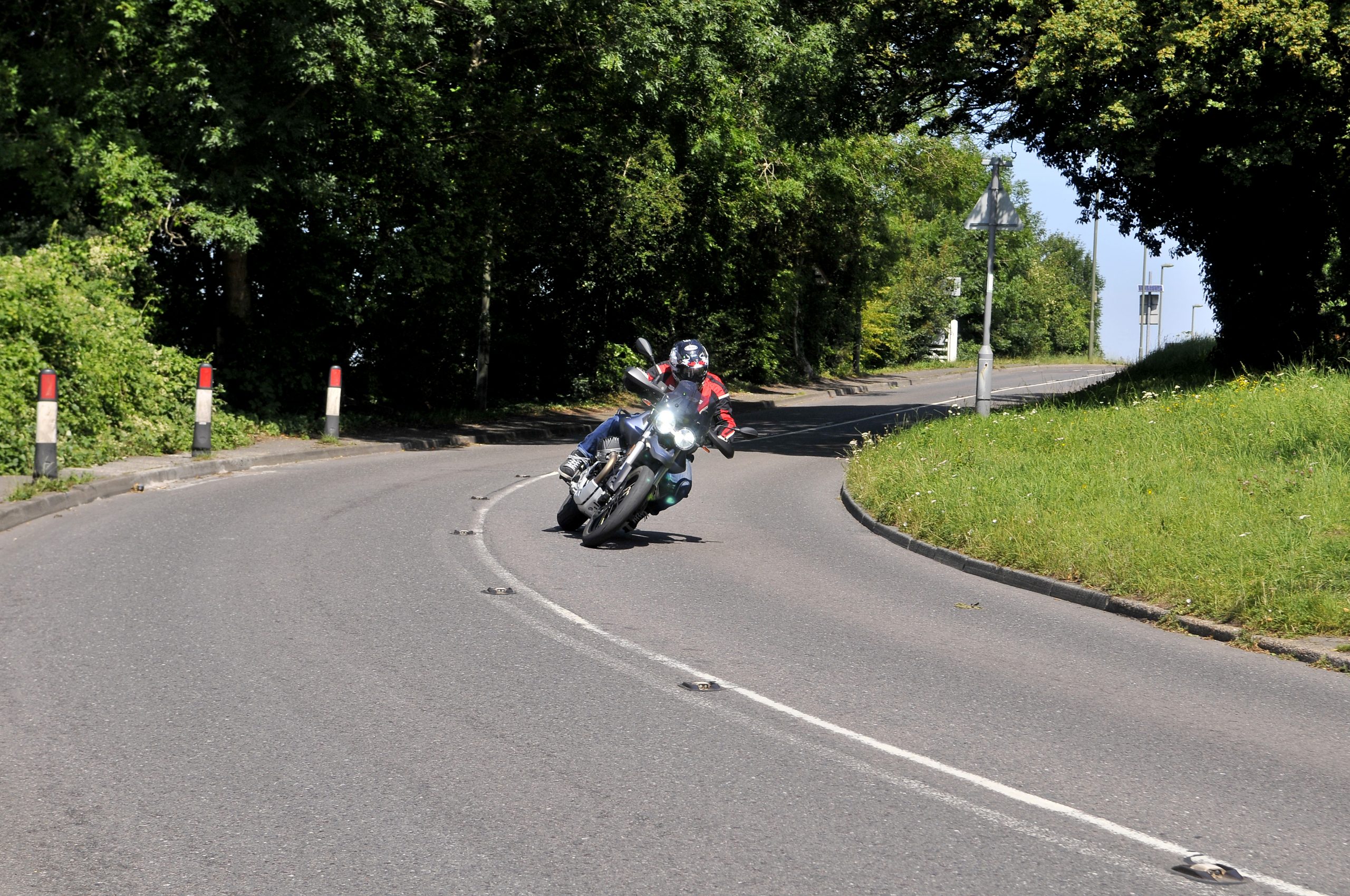 ENGINE
The basics are low-tech here – the traditional Moto Guzzi air-cooled V-twin, with the cylinders arranged across the frame. This gives good cooling and plenty of access to the top ends for servicing, but makes the engine wider than an parallel twin or a fore-and-aft V-twin. It's better than a BMW Boxer here though…
The transverse layout is perfect for shaft drive: the crankshaft is parallel to the final drive line, so you don't need to transmit the power through 90 degrees, saving some friction losses.
The valves are operated by pushrods, so the cams are low down in the crankcases rather than in the heads. This makes the heads smaller and cheaper, but does restrict revs and top end power production. Guzzi has added a dollop of tech to the old layout in the form of lighter titanium inlet valves and light alloy valvetrain parts, and together with a lighter crank, conrods and pistons, this lets it rev a bit higher.
FRAME
Simple steel tube backbone/semi-cradle design, with an aluminium box-section dual-sided swingarm, and shaft drive integrated into the arm. There's no complex linkage to isolate the shaft drive forces as you get on BMW's Paralever setup, but that didn't bother the V85 TT at all.
SUSPENSION
41mm USD front fork is a little unusual – it has both preload and rebound damping adjusters on one leg only. It works well though, as does the chunky rear monoshock. There's no rising rate linkage – it's just bolted onto one side of the swingarm, which saves weight and complexity.
BRAKES
Fairly high-end spec here – a pair of Brembo four-piston radial calipers and 320mm discs up front, rather than the cheaper sliding calipers you often get on adventure bikes. There's also a Continental ABS setup, which can be switched off in the 'offroad' mode.
ELECTRONICS
Ride-by-wire fuel injection uses a single 52mm throttle body and valve for both cylinders, and allows cruise control and traction control functions to be easily added. LCD dash uses a colour TFT panel, and there's an optional Bluetooth connection ECU to link your phone to the bike.
ACCESSORIES
There are three factory accessory packs: touring, sport and urban. Touring has a larger windscreen, three-box hard luggage, centre stand, LED lights, engine bars and the Bluetooth ECU. Sport comes with a titanium and carbon Arrow exhaust can, Öhlins suspension, engine bars and folding mirrors. Finally, the Urban adds smaller panniers, centre stand, an alarm system and the Bluetooth ECU.
You can buy all these add-ons separately, and there are also soft luggage, comfy seats, shorty levers and a heap of other options too.
SPECS
Price: from £10,899
Engine: OHV 4v 90° transverse V-twin, a/c, 853cc
Bore x stroke: 84x77mm
Compression ratio: 10.5:1
Carburation: ride-by-wire fuel injection, single 52mm throttle body
Max power (claimed) 80hp@7,750rpm
Max torque (claimed) 59ft lb@5,000rpm
Transmission: six-speed gearbox, dry single plate clutch, shaft final drive
Frame: Steel tube semi-cradle
Front suspension: 41mm USD fork, preload and rebound adjustable
Rear suspension: aluminium swingarm, single shock, preload and rebound adjustable
Brakes: Dual 320mm discs, four-piston Brembo radial calipers (front), 260mm disc, twin-piston caliper (rear), Continental ABS.
Wheels/tyres: wire spoked alloy rims /Metzeler Tourance Next with inner tubes, 110/80 19 front, 150/70 17 rear
Rake/trail: 28°/128mm
Wheelbase: 1,530mm
Kerb weight : 229kg (90 per cent fuelled)
Fuel capacity: 23 litres
Equipment: switchable ABS, switchable traction control, three rider power modes, LED lights, colour LCD dash, Bluetooth connectivity option, USB socket, adjustable windscreen