I'M generally a fan of 'going large'. Whether it's a slice of pizza, a Jack Daniels and diet Coke, or a power-boosting engine tune, I generally plump for the hefty option. But it's not always necessarily the best decision (as my GP reminds me at checkups). A 16-inch pizza and a litre of JD is always a good idea at the time, but will eventually catch up with you…
More power and torque is almost always a good idea too, as far as I'm concerned. The growth of engine capacities and higher power outputs seems relentless, with 215bhp superbikes topping the charts, and even 'middleweight' machines have crept up in size of late, from 600s to 700s, 800s, and beyond.
Adventure bikes are also expanding. The undoubted class leader – the GS version of BMW's R-series Boxer twin – has grown from the original R80 G/S via a 1000, an 1100, 1150 and a 1200 to the current 1250 version. And that applies to the smaller F-series too. It started out as a single-cylinder F650 (the 'Funduro') of the early 1990s, through to the various parallel twin F700 and F800 versions, up to the current 750 and 850 variants. BMW launched the F850 GS last year, and for 2019, it's released the Adventure version we have here, all set for a couple of weeks of early summer fun. Woo.
I pick the bike up from BMW HQ in Farnborough, so the first impressions are gained in its corporate multi-storey car park. This bike has keyless ignition, which I've just about got my head around, so a simple push of the button, and the lovely colour dash explodes into life. It's an excellent display, and links into the BMW Navigator GPS, plus has a Bluetooth connection to your phone, and brings motorcycling right into the present. It's been a bugbear of mine up until quite recently that I can have a £50 Android tablet with a big colour touch screen, but a £15k motorbike generally comes with a monochrome LCD display and clockwork dials…
I strap my phone holder onto the bars, plop my Arai on my bonce, and jump on. The seat is high, but not nastily so, and I can get one foot down easily enough (I'm on the stumpy side; 5'8", with a 29" inside leg). A push of the starter, and the new-for-2018 parallel twin motor kicks into life. BMW's fitted an Akrapovic can to this one, but it's still road legal of course, so there's no meaty roar, just a civilised thrum. Into first, and we're off, waved out by the very nice BMW security man.
Gallery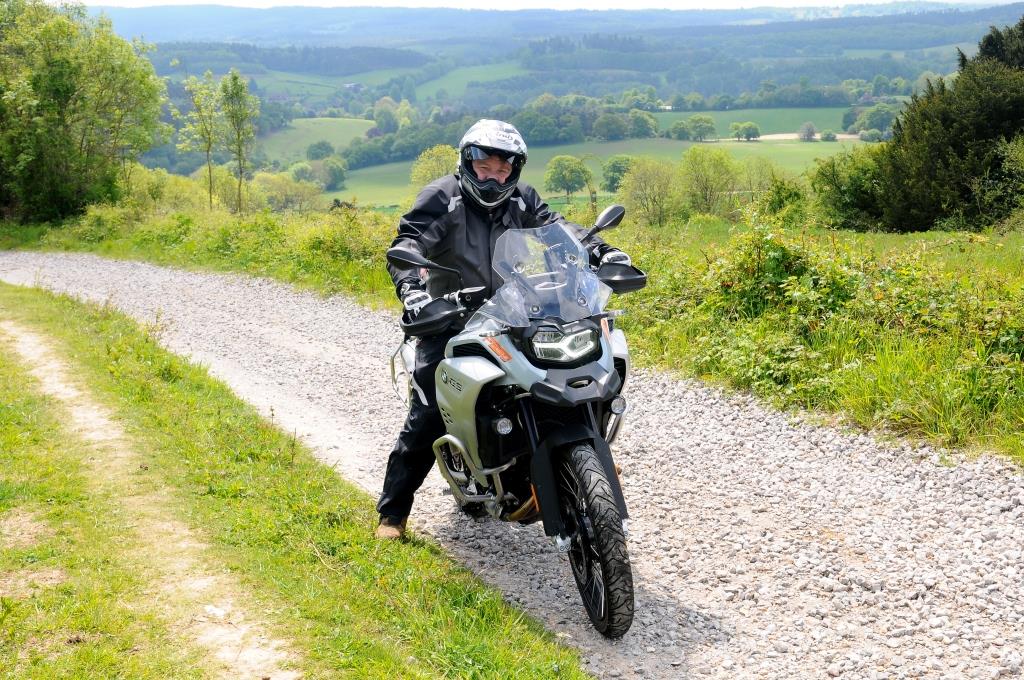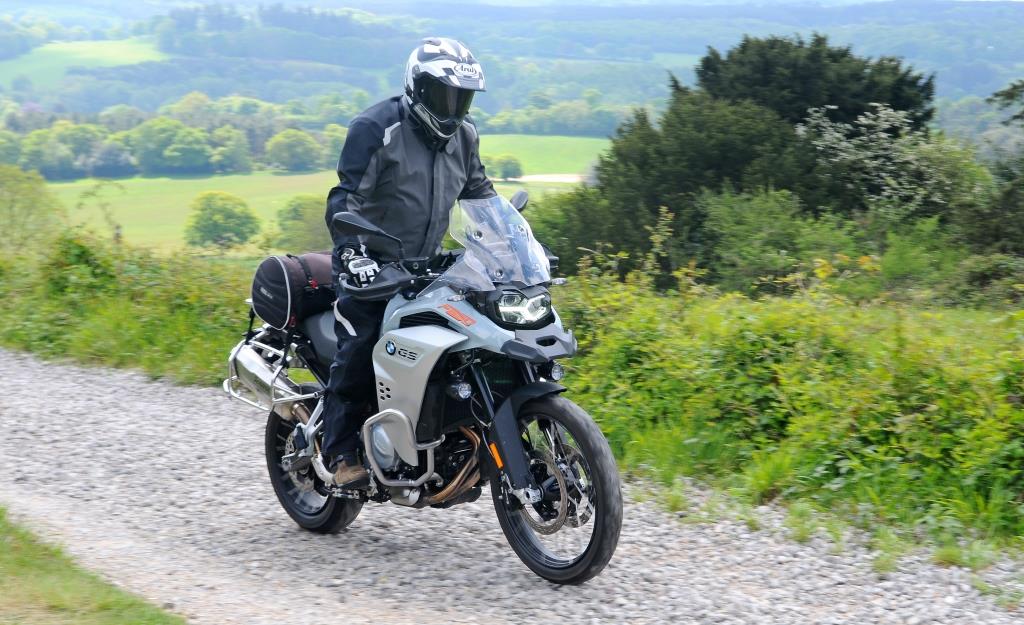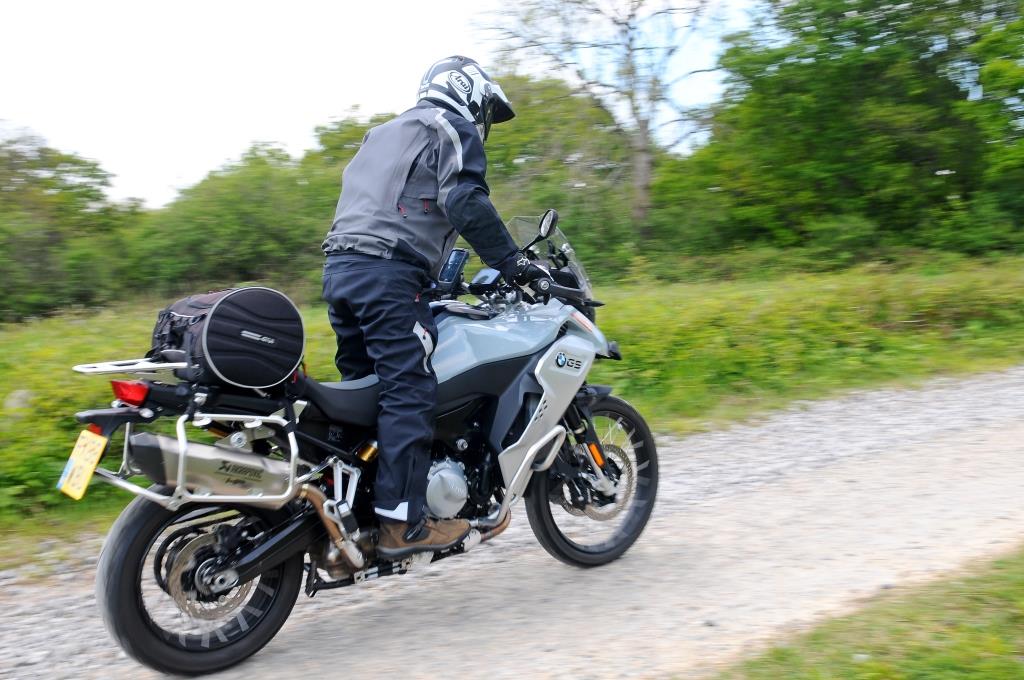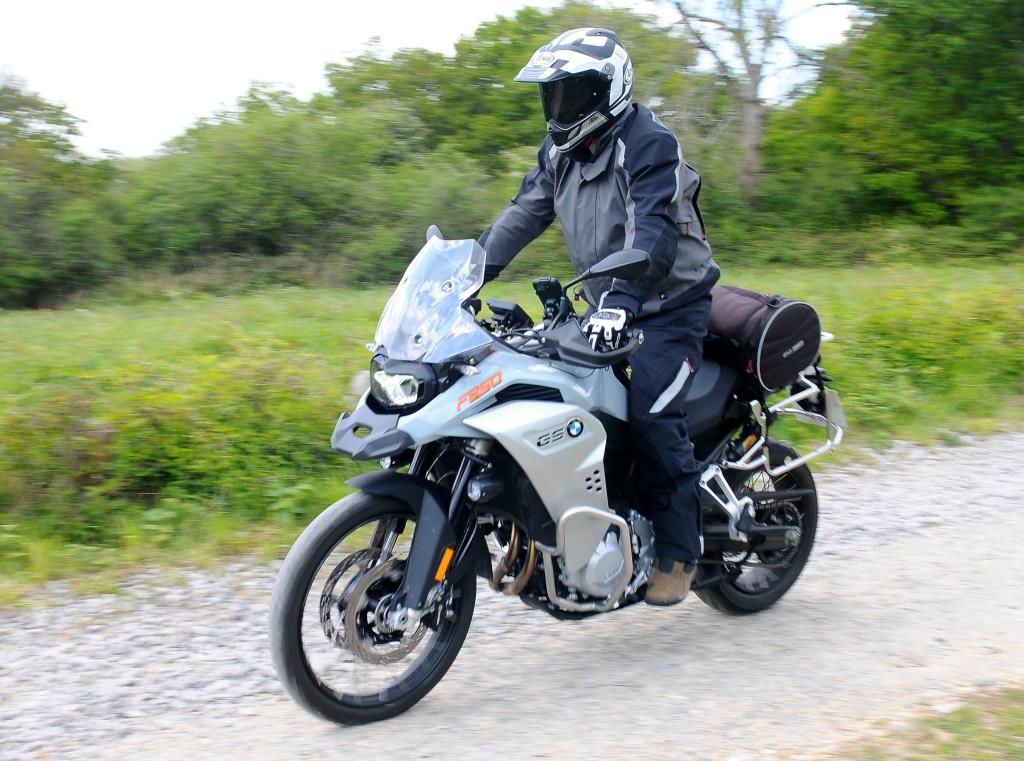 There's a bit of twisty dual carriageway, then we're onto the M3 for a steady cruise back to London. The accommodation is swish indeed – this is a very comfy place to be, and there's plenty of toys to fiddle with. The dash has an info mode which displays stuff like tyre pressures, with separate trip computer screens, and it's easy to navigate with the rotary wheel controller on the left twistgrip. The excellent Garmin-supplied sat-nav is easy to use, and with the cruise control set just over the average speed camera limit, I'm relaxing into the 850 GSA nicely. I've got thin enduro gloves on, so click the hot grips onto '1', and the only mild complaint is that the screen is a little on the short side for me, even with the adjuster in the high position.
Away from the executive car-spec dash and gizmos, the rest of the bike is working well too. The suspension is plush and civilised in the current 'Dynamic' road mode, and the engine is smooth and responsive, with excellent fuelling. It doesn't feel massively strong though – although 95bhp is a decent level of power, I'm clicking down a gear or two for rapid motorway overtakes. That reveals another gripe; the quickshifter and overall gearchange isn't as slick as I'd like. It takes a hefty boot up to change with the shifter, and downshifts are occasionally reluctant too.
Gallery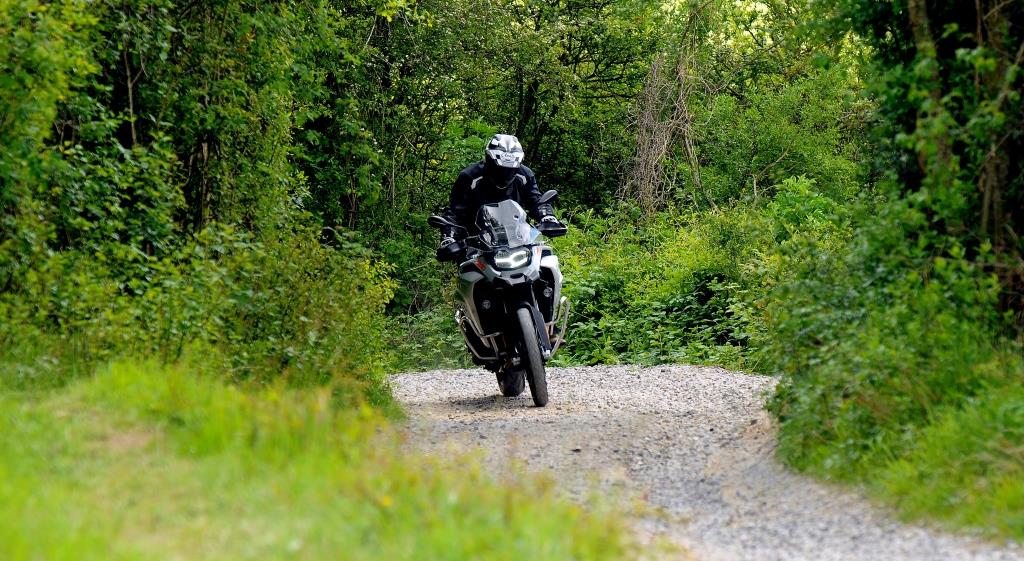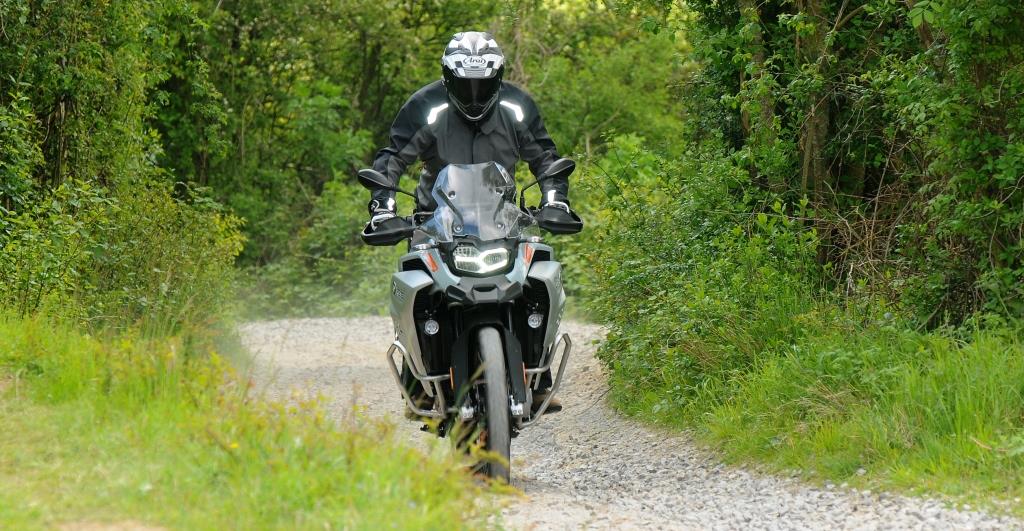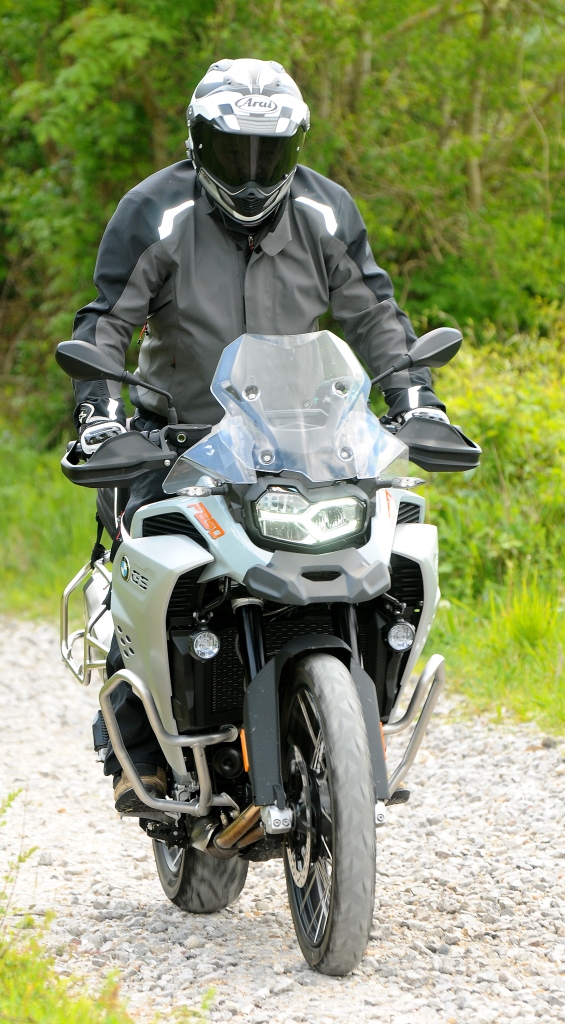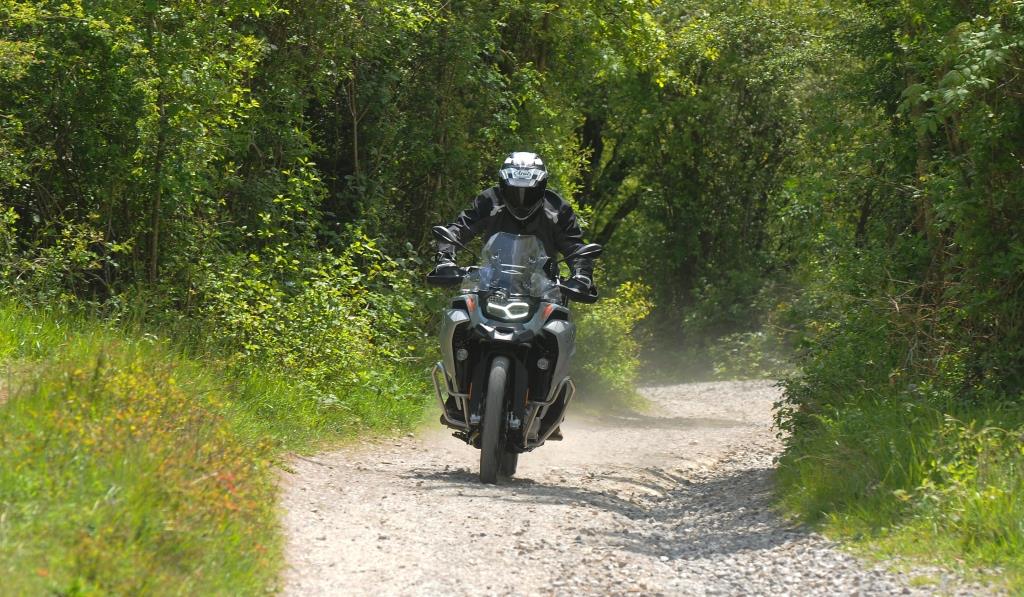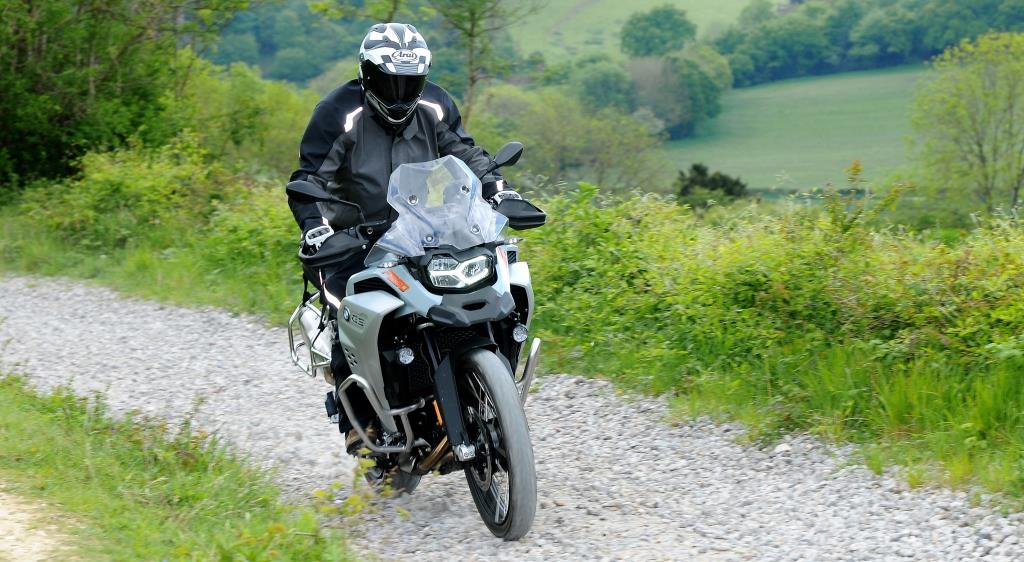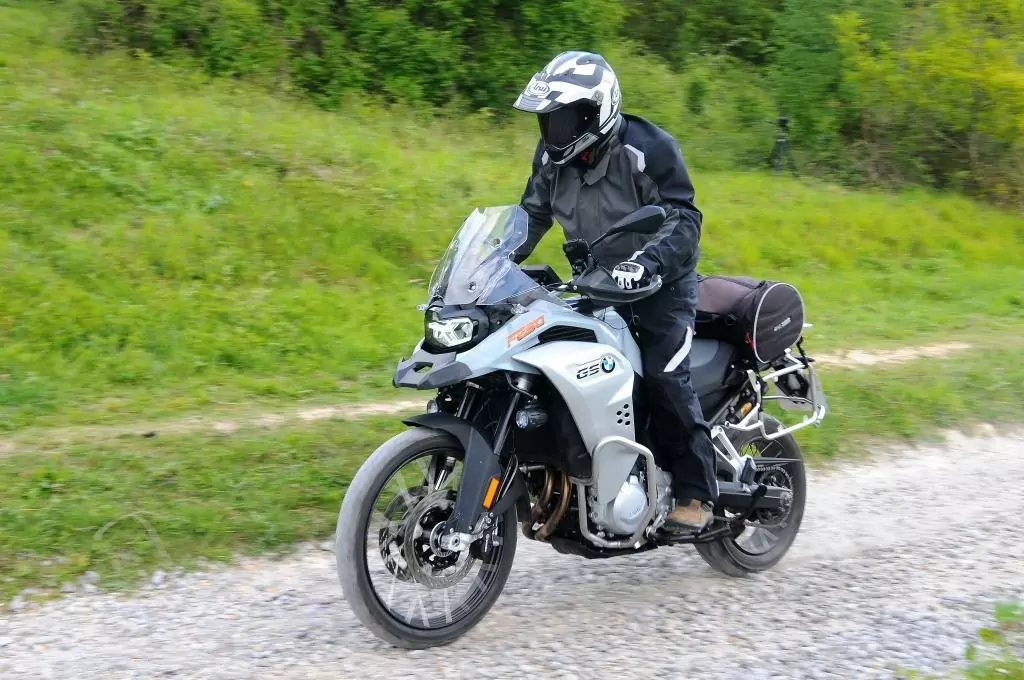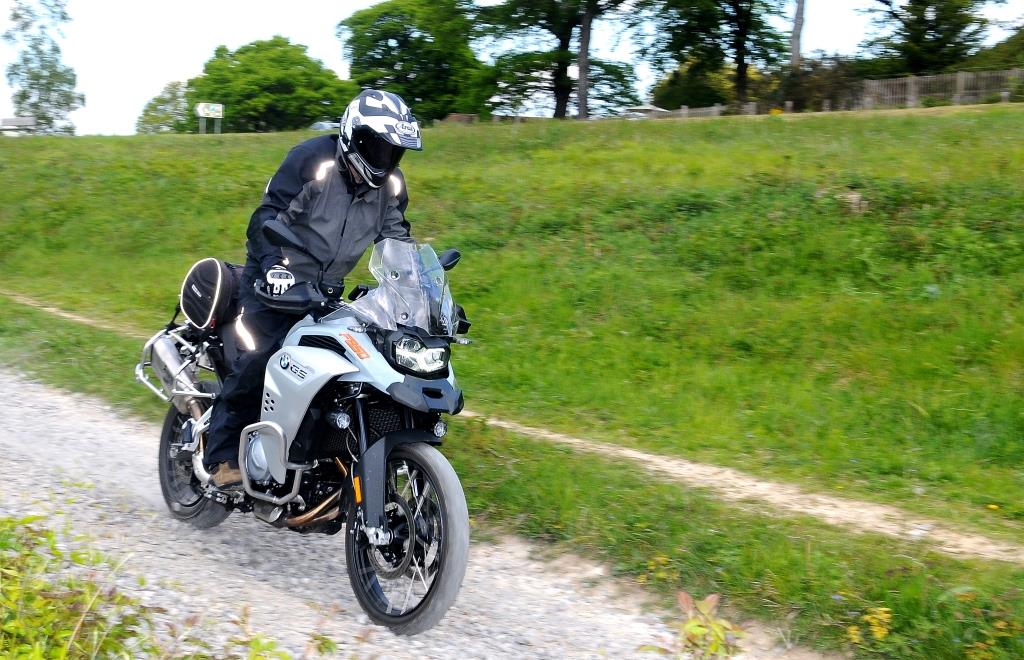 Off the M3, along the M25 and up the A3 into town, and the 850 continues to waft me along with ease. One test of a proper adventure touring bike is if you feel like you could keep going for a thousand miles, and I've definitely got that feeling today – although I'm not quite hitting four figures on the odometer today…
Over the next week or so, the 850 is my daily driver, and is pressed into action for a number of jobs. I pop up to north Buckinghamshire for a press event, and again, the GSA is a consummate motorway mile muncher, beating the Google Maps ETA on my phone by a massive margin, even on a Friday morning M25 schlepp.
Gallery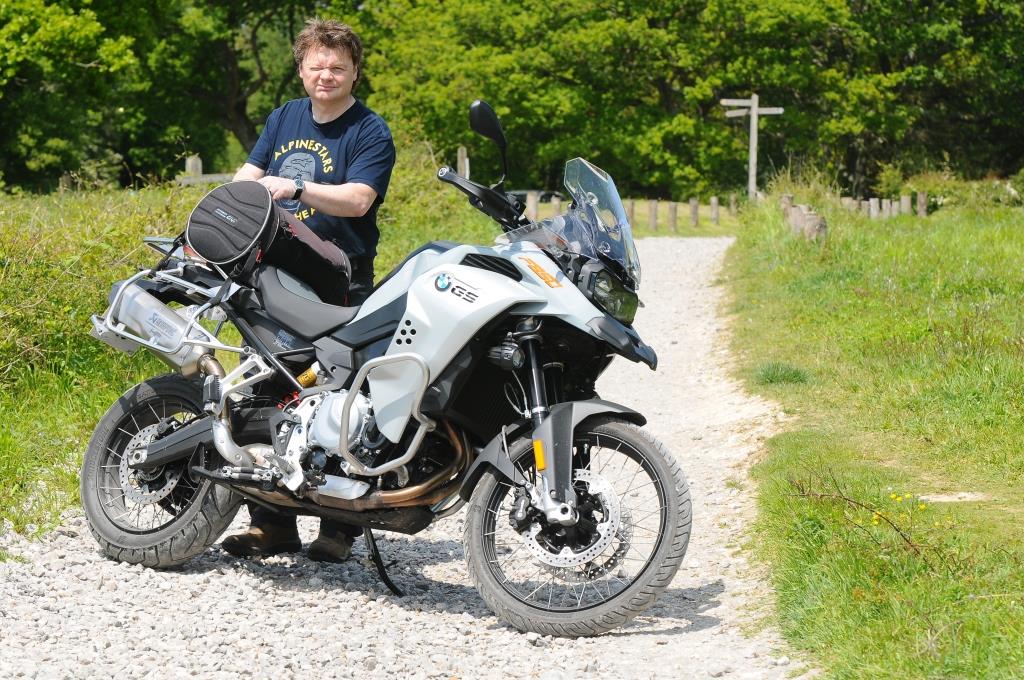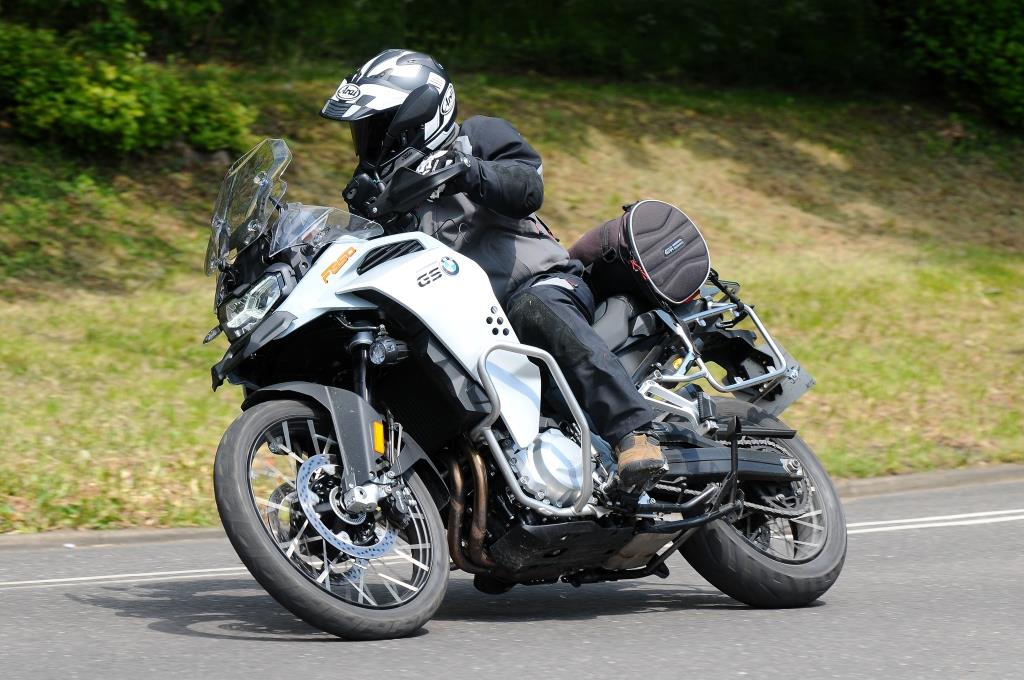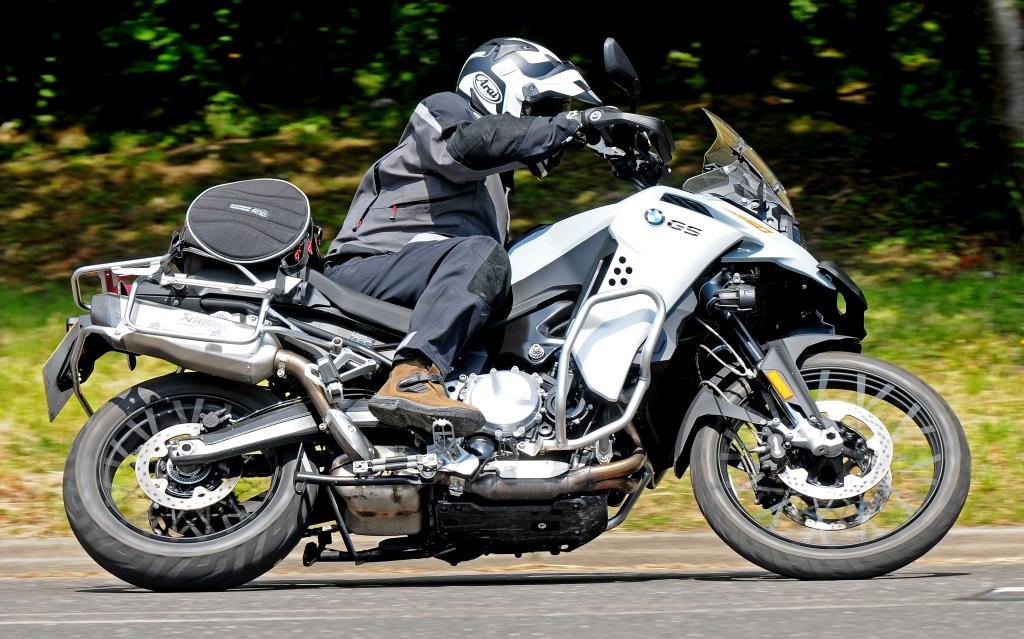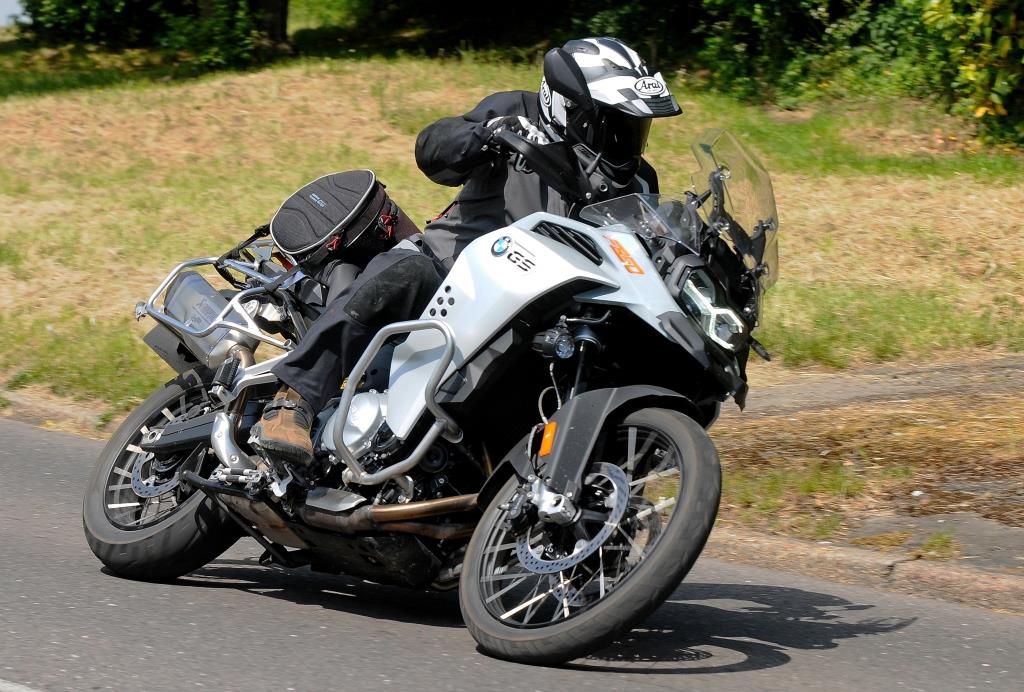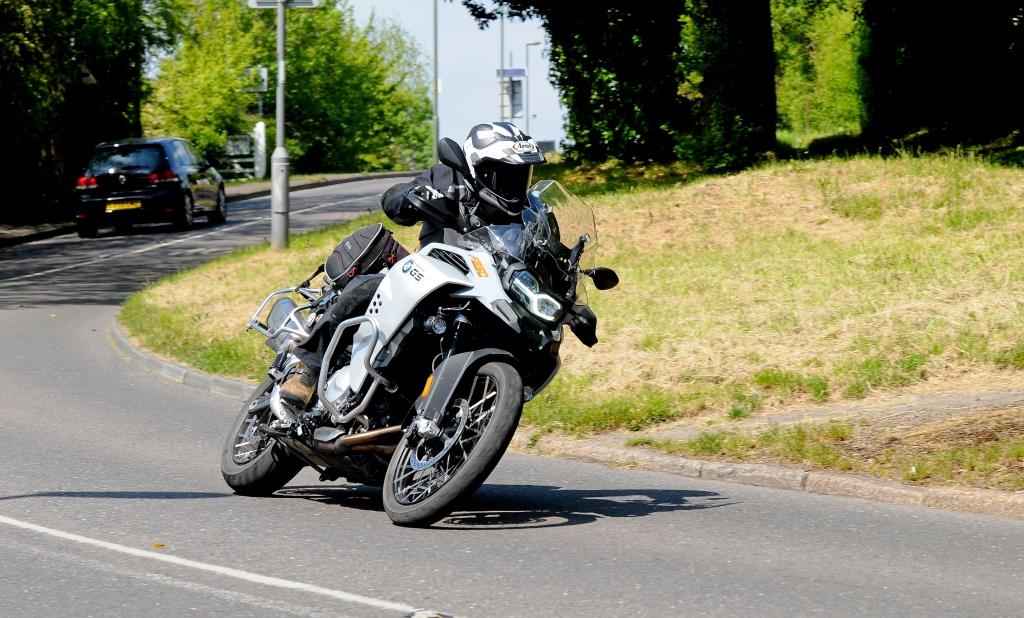 Away from the motorways, it's a pleasure on fast, sweeping A-roads, with a real 'in command' feel to the chassis. The steering is positive thanks to the wide bars, the riding position sets you up high above the traffic for good vision, and the electronic suspension does a good job on varying road surfaces too. It's not perfect though – I'm not totally in love with the front brakes, and would like a proper pair of four-piston radial calipers in place of the dual twin-piston sliding jobs on there. I know 'offroad' bikes tend to get this sort of brake setup, but Honda's Africa Twin has a pair of proper calipers, and for the amount of road work one of these will do, I'd like better stoppers please. If it was mine, I'd also switch to some more road-biased tyres. The Bridgestone A41 adventure tyres are very good, but I'd prefer added asphalt ability over mild dirt dexterity…
When the roads get a bit nadgery though, the 850 Adventure does show its size a bit. Fully fuelled, it's a hefty beast, with a kerb weight of 244kg. Obviously a chunk of that is down to having the extra fuel on board (which I do love), but the mass does move it up a level in the sense of its size. You might well have plumped for an F650 or F800 in the past as a much smaller GS option – but this 850 GS Adventure is a bigger beast, with the good and bad that comes with that.
Gallery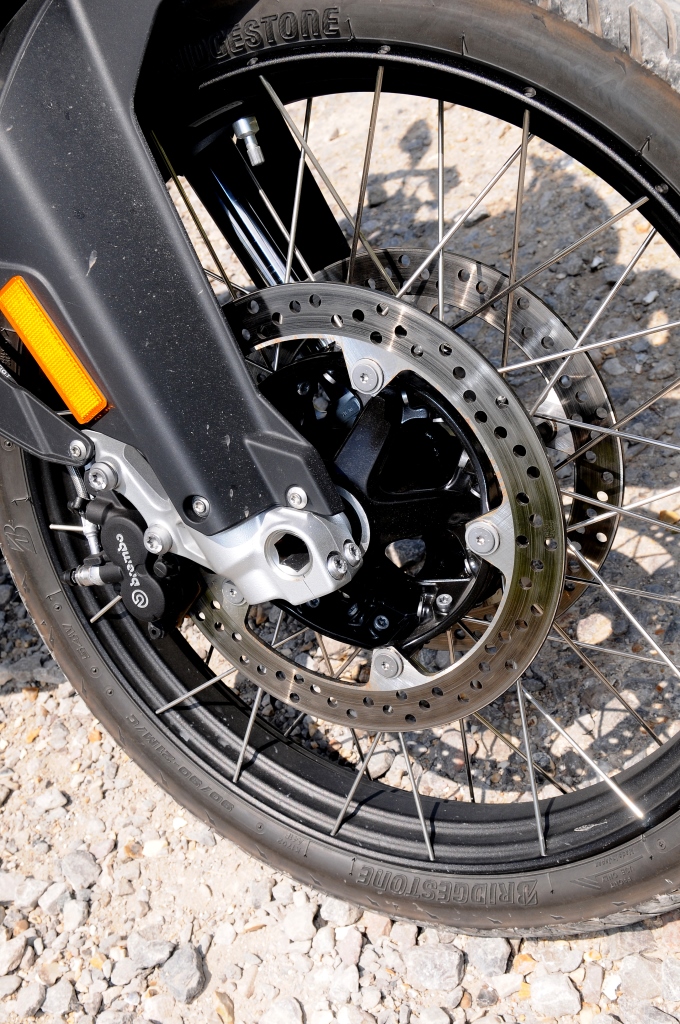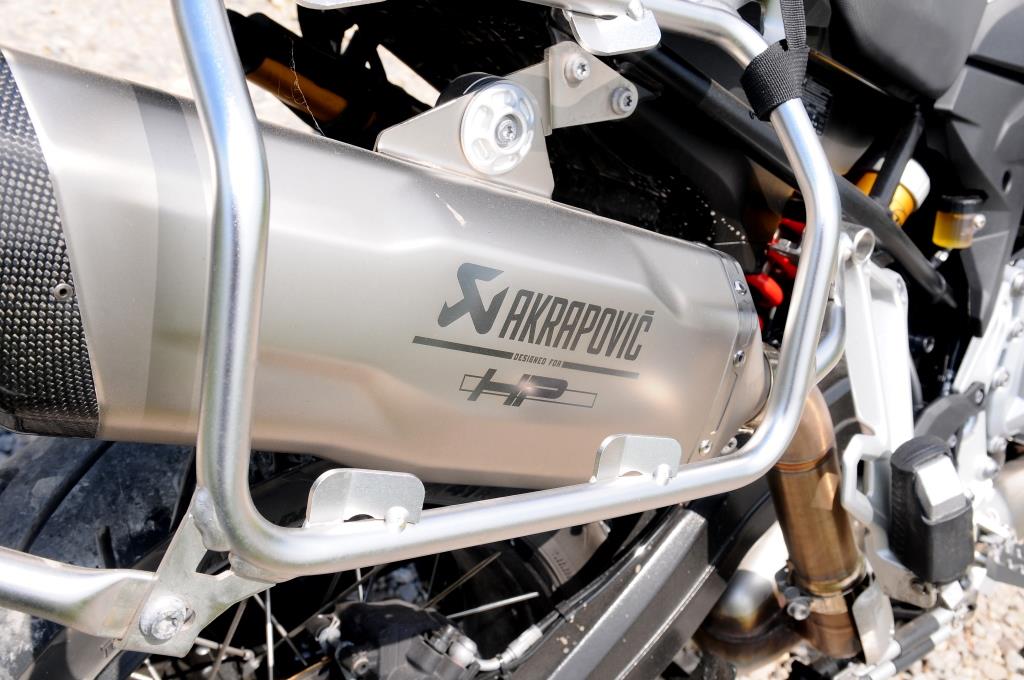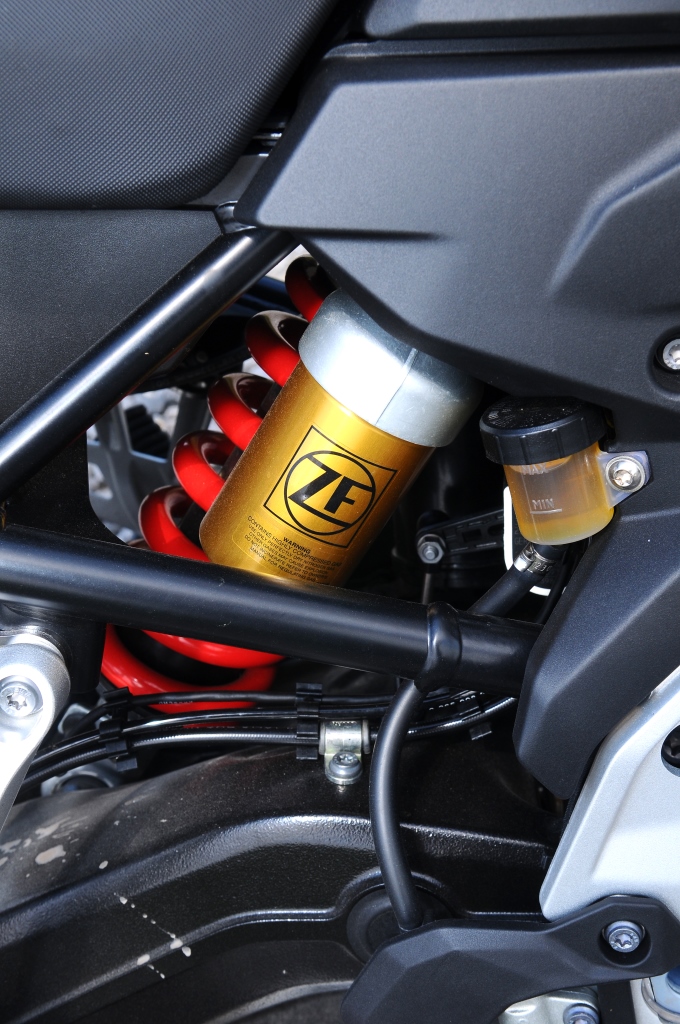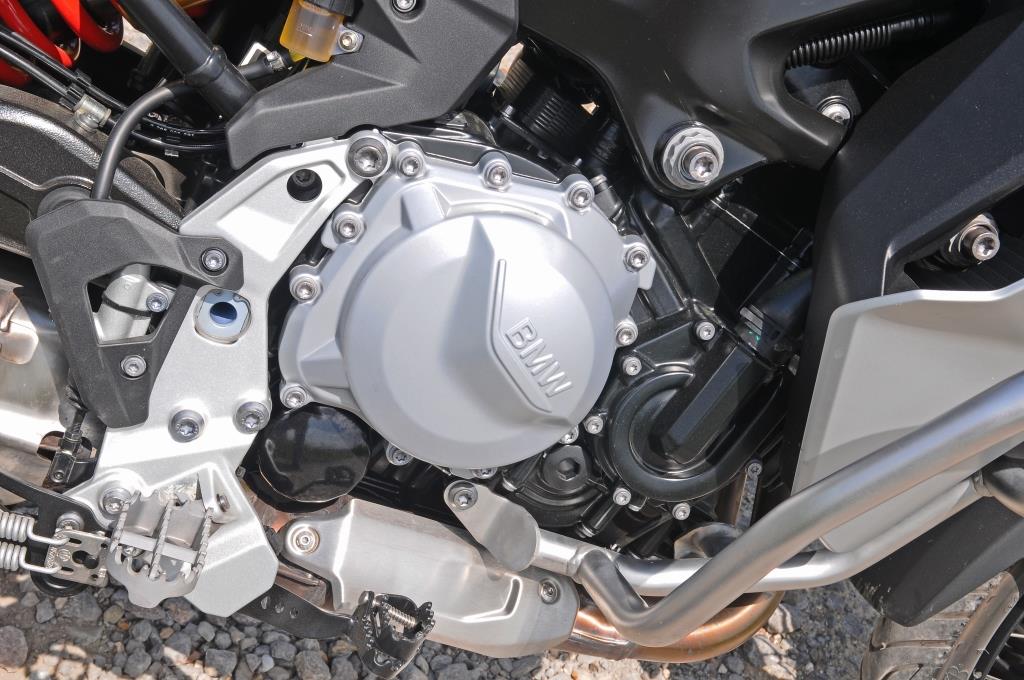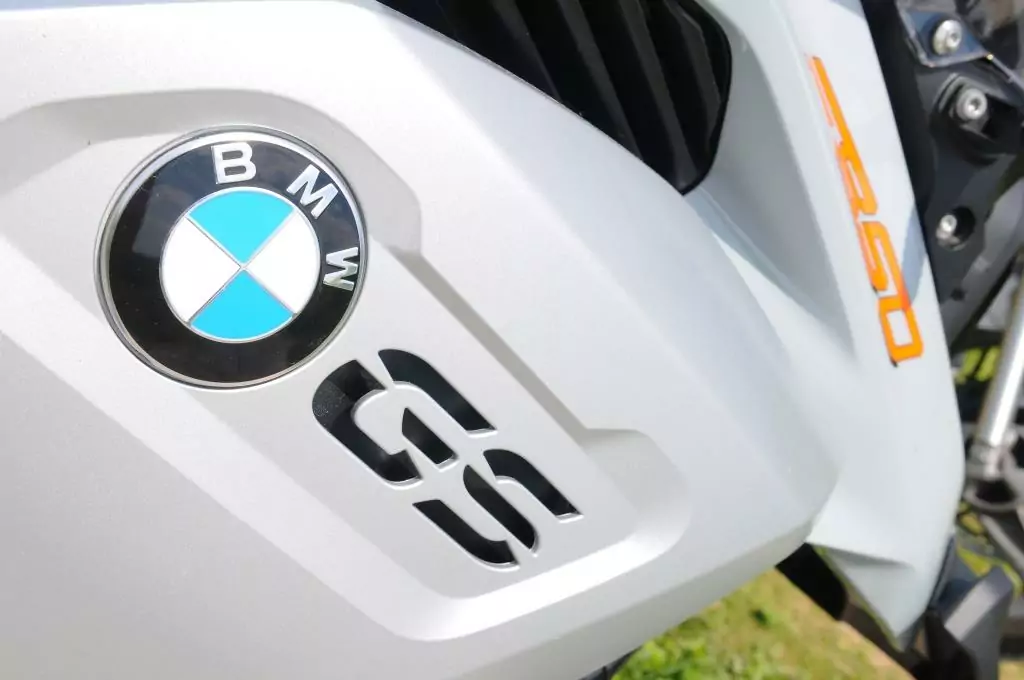 Finally, I venture onto a little bit of off-roading for some pics and video. Just a local 'byway open to all traffic', nothing too hairy, and I was immediately grateful for that decision. The 850 copes fine with the rocky, gravelly byway, but the weight makes it a bit of a handful. Unless you're really good off-road, manhandling this 240kg beastie about is hard work once things get rougher. I found myself on a bit of a steep slope, trying to turn round for pics, and the slightly tall seating and top-heavy weight caused some consternation… Okay, the engine bars offer plenty of protection, but this is too nice a bike to start tossing down a gravelly trail, plus in the summer heat, I'd probably have a mild heart attack if I had to pick the bugger up.
My time with the 850 was over, though my sadness at taking it back to BMW HQ was partially assuaged by the 1250 GS I was collecting in its place, woo. I really liked the suspension the handling, the accommodation, the kit list and the styling of the 850 Adventure. The engine is perfectly decent for 95 per cent of the time, as are the brakes, though the gearchange remained a bit 'meh' throughout the test for me.
The size is my main concern though. While adding the power, the kit and the capability over the previous bike, the 'middleweight' 850 has expanded in size, mass and cost, with the attendant downsides. Parked up next to a full-bore R1250 GS, I was sort of left wondering why you wouldn't just plump for the big one, for the sake of a couple of grand extra. As a committed fan of 'going large' whenever possible – I think I'd be very tempted to do just that…
F850 GS Adventure differences compared with the F850 GS
There are a few crucial differences, including an eight litre fuel tank expansion, up to 23 litres from 15 on the base 850 GS. The fork and rear shock have more travel, the bodywork is larger with more weather protection, and there are hefty stainless engine bars and a rear rack.
Engine
The same all-new engine as used in the F850 GS, and there's nothing particularly outlandish in here. The unique 'rocking beam' balance system of the old F800 has gone, replaced by a pair of conventional balancer shafts on this new 853cc parallel-twin motor, there's a 270-degree crank throw for that cross-plane sound and feel and rocker-arms for the eight valves in the DOHC head. Plus, a new transmission design moves the final drive to the left hand side from the 800 GS' right side layout.
Suspension
ZF USD forks and rear monoshock, with an optional electronic suspension adjustment (ESA) setup.
Brakes
Twin 305mm discs up front, with dual-piston sliding calipers from Brembo. BMW ABS as standard, and there's IMU-aided cornering ABS Pro as an option. All switchable for offroad use.
Electronics/Accessories
Usual massive range of BMW options, some of which, like electronic suspension, have to be specced on the bike from the factory. The keyless ignition is growing on us, cruise control, hot grips, colour dash and sat-nav are all really useful, and there's loads of luggage and other kit options. None of it is super-cheap, but if you have the cash (or the credit score)  you really can design the ultimate luxury distance machine.
SPECS
Price: from £10,600 (circa £15,000 with options as tested)
Engine: DOHC 8v, parallel twin, l/c, 853cc
Bore x stroke: 84x77mm
Compression ratio: 12.7:1
Carburation: fuel injection, ride-by-wire
Max power (claimed) 95hp@8,250rpm
Max torque (claimed) 68ft lb@6,250rpm
Transmission: six speed gearbox, wet slipper clutch, chain drive
Frame: Steel tube
Front suspension: 43mm USD fork, electronic adjustment
Rear suspension: aluminium swingarm, ZF monoshock, electronic adjustment
Brakes: twin 305mm discs, twin-piston Brembo sliding calipers (front), 265mm disc, single-piston caliper (rear), cornering ABS.
Wheels/tyres: wire spoked/Bridgestone A41, 90/90 21 front, 150/70 17 rear
Rake/trail: 28°/124.6mm
Wheelbase: 1,593mm
Kerb weight: 244kg (fully fuelled)
Fuel capacity: 23 litres
Equipment as tested: IMU-based ABS and Traction control Pro, quickshifter, cruise control, electronic-adjust suspension, tyre pressure monitor, colour TFT dash, Navigator GPS, Akrapovic HP can, heated grips, keyless ignition, LED spotlights, centre stand, manual adjust screen.
853cc twin, 95bhp – same as the base 850 GS. 244kg kerb weight
Brembo brakes – sliding calipers
ZF suspension
From 10600
bigger 23 litre from 15 l tank suspension engine guard hand guards topbox rack more fairing
Basic BMW Motorrad ABS/Automatic Stability Control (ASC)
Adjustable Touring Windscreen
Adjustable Brake, Footbrakes and Gearshift Lever
Enduro Footrests
Slipper Clutch
Riding Modes Pro – Dynamic and Enduro Pro
12V Power Socket
LED Headlight LED Rearlight
Options on this bike:
Various package – Electronic suspension keyless, hot grips, tyre pressure monitor, centre stand, cruise, pannier rails, DTC, ABS pro, quickshifter Fog lights, colour dash, SOS button – nearer 15k
SO that's the spec – what's it like? Spent the past week or so, on all sorts of roads, round town, motorway, fast a roads, and a teeny bit of offroad on a local Byway.
Firstly – very luxurious and well appointed. Really feels like it could take you a long way in comfort with ease. Stuff like dash, electronics, big tank, weather protection, hot grips etc etc
Engine – 95bhp is good – spoiled to want more. But it's a teeny bit flat at the top end. Gearbox is a bit stiff and shifter isn't amazing.
Chassis – ESA is good – adjustable to suit different riding, so very compliant on bumps, but tighter on roads. Bridgestone A41 tyres good on road, but not much offroad skillz by the look of them.
Brakes – a bit weak. Fine off-road obvs, but on the road, they're a bit lacking. It's a big heavy bike at end of day – 244kg fuelled up – wow.
That weight shows on the offroad too. Turning round on a narrow, hilly byway was a faff – top heavy, tall, and lot of mass.
So – a good-looking, serious piece of machinery, that's a good level down from a 1250GS (268kg) Standard 1250 GS is only 5kg heavier…
Not an off-roader unless you have massive skillz and very powerful biceps to pick it up again when ye drop it. But fine for mild fire roads and the like, with the right tyres.
On road – some big competitors. Africa Twin is a little less powerful (93bhp) but torquier, lighter 232kg kerb weight (stocker, AS is same weight), arguably better off-road skills. Proper brakes, less cool kit.
Tiger 800 – less power and torque but feels gruntier than that. Bit lighter, decent equipment.