WE LIVE in strange times for sure. But it's good to know that some things can still be relied on. Like Yamaha's latest Ténéré model being an excellent, hardcore dirt-hungry adventure bike, with the skills to match its aggressive offroad styling.
The Ténéré name first appeared in 1984 on the XT600Z Ténéré, a road-going homage to the firm's various attempts on the Paris-Dakar rally, first organised in 1978. Ténéré is actually a region of the Sahara desert, which formed a stage of the original Paris-Dakar, so a fairly apt name for a genuine off-roader. It made 46bhp from its single cylinder OHC air-cooled engine, and the original version was kickstart only – so proper hardcore riders only needed to apply!
Yamaha's released a number of upgrades on the original Ténéré concept in the 36 years since, including the parallel twin XTZ750 Super Ténéré, upgraded XT660 version with water-cooling, and the latest XTZ1200 Super Ténéré with enormous parallel twin motor, shaft drive and an ocean of torque.
And now we have this Ténéré 700, the latest addition to the family. It's replaced the old 660 single, using the modern lightweight parallel twin motor used in the excellent MT-07 roadster and Tracer 700 road-biased adventure tourer. But that motor is bolted into an even more hardcore chassis package, aimed squarely at offroad antics.
Now, I'm a big fan of the MT-07, and had a ball on the launch of the latest version in 2018. So I was proper keen to check the Ténéré 700 out. But when the top techs at Yamaha UK wheeled our test bike out, I was a bit taken aback – because it's properly tall. The seat height is a hefty 875mm as standard (there are a few official lowering options available), and my stumpy pins were trembling at the prospect of hoisting myself aboard…
It all went swimmingly though, and I'm soon astride the tall beastie, waving at the Yamaha guys and sailing off down Woking High Street. This bike has been fitted with optional high-handlebar risers, for easier handling off-road, so it really does feel like I'm floating above the Surrey hoi polloi in their little low-slung cars, and I'm up in the air, mixing with coach and lorry drivers instead. I have to hoist myself over to one side to get a foot down at each set of lights of course, but the commendably-narrow seat, plus the Ténéré's moderate all-up weight (205kg wet), is a big help.
Once you're on the move, the seat height is of little concern, on the road at least.
That MT-07 engine has been essentially unchanged apart from lower final drive gearing, so you get the same punchy drive from the 270-degree parallel twin and its offset firing order. Fuelling is good, though there's a tiny amount of on-off snatch at higher revs when trickling through traffic. The clutch and gearchange are light and snicky, while there's a pleasing rort in the rider's seat, from the airbox under the tank and the large single silencer.
The chassis is the big deal here though. Starting with the riding position, it's tall and commanding as we said earlier, and those wiiiiiiiide handlebars give loads of leverage. The rally-style LCD dash has a trick vertical layout, and the small windscreen and top fairing give reasonable protection at motorway speeds.
The brakes look a bit weedy compared with Yamaha's usual roadbike stoppers, with offroad-style wave discs and sliding two-piston calipers rather than the excellent four-piston units used on the MT-07. They're decent Brembo-branded calipers though, and work well on the road. That also applies to the tyres: Pirelli Scorpion Rally hoops on a 21-inch front wheel look pretty chunky, but they actually offer loads of grip on the asphalt.
The solid capability on-road continues into the suspension too. Long-travel USD dirtbike forks can sometimes feel soft and soggy as standard on the road, but these are actually commendably firm and controlled. They're adjustable too, as is the rear shock, so you can fiddle till your heart's content and find a setting that suits your needs. They might not be the super-fancy WP units you get on KTM's (much pricier) 790 Adventure, say, but they offer pretty solid performance at this price point.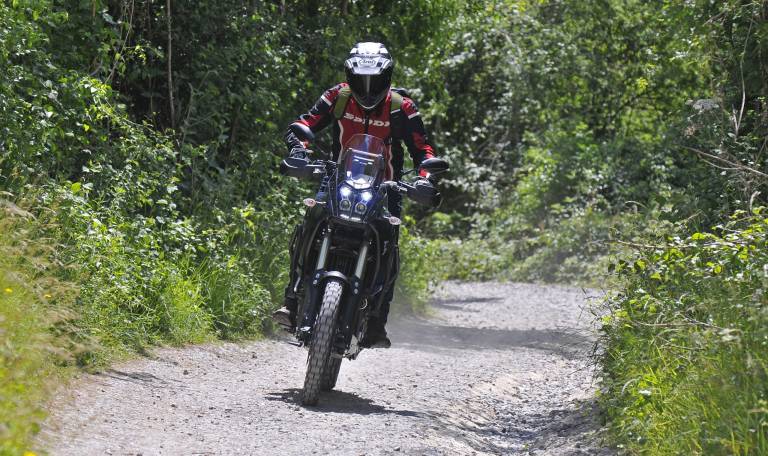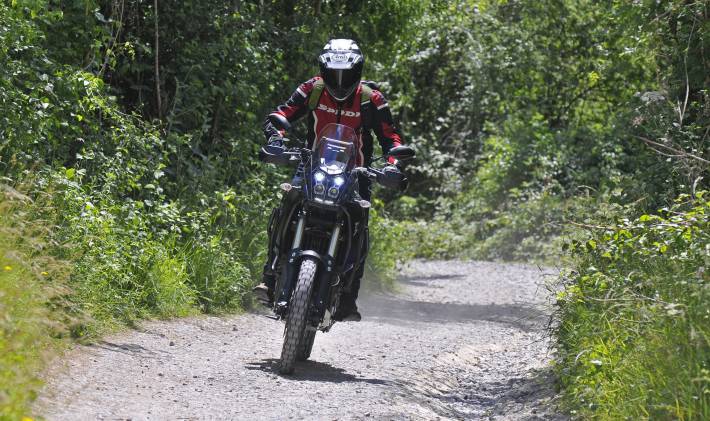 I'm not much of an off-road man, but I did take the Ténéré onto some of the local green lanes and byways round the Surrey Hills area. These are spot-on for my basic skill level, but the Ténéré definitely felt like it could cope with much more in terms of the dirty stuff. The Pirelli rubber did well (though it was pretty dry when we went out testing), the suspension continued to impress, and the 'Offroad' setting which turns off the ABS is also a sign of how serious Yamaha has taken the Ténéré's trail performance.
There's ample ground clearance, and the weight feels manageable, but the big downside for me was the tall seat. I'm a long way up if I feel like I want to dab down a steadying foot, and that affected my confidence a bit. The official Yamaha lower seat option (a 20mm drop), plus the proper suspension linkage lowering kit (18mm drop) the firm offers would have helped me out here I reckon, and is well worth investigating if you're not a hefty six-footer.
So – the Ténéré as standard was a bit imposing for my 5ft 8in stumpy-legged frame, and made my tentative off-roading a bit trickier than I'd hoped.  On the road however, that was much less important, and I really enjoyed riding the Ténéré there.
If I'm being a bit picky, I'd like more in terms of function on the dashboard – the basic fuel gauge is okay, but I always prefer a 'miles remaining' readout nowadays. The ABS is a decent setup too, but there's no traction or rider power modes – not that those are so important with the flexible 73bhp parallel twin motor. And for most of my town-based riding life, the Tracer 700 or MT-07 would probably be a better choice, most of the time.
But the Ténéré definitely has something about it which really grabs the eye. The four-light LED headlamp looks strikingly hardcore, while the (optional) crashbars and tall profile underline the serious nature of this beastie. It's a little like looking at a superbike bristling with track-ready hardware, and it helps to lift the Ténéré above the pack, even standing still.
And that's always important – even if you've got absolutely no intention to get anywhere near the Ténéré region of the Sahara Desert…
Gallery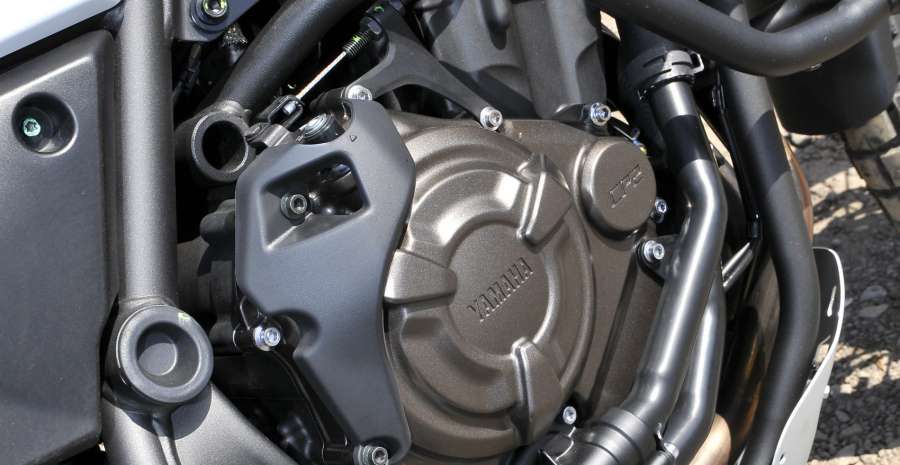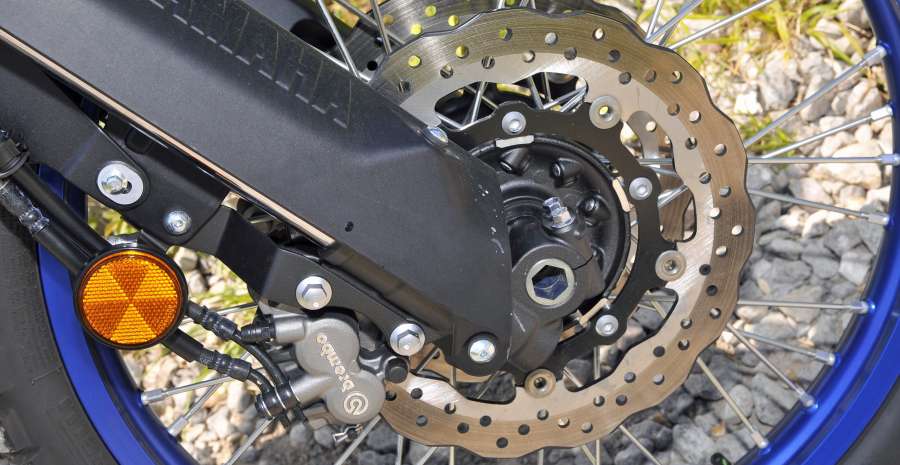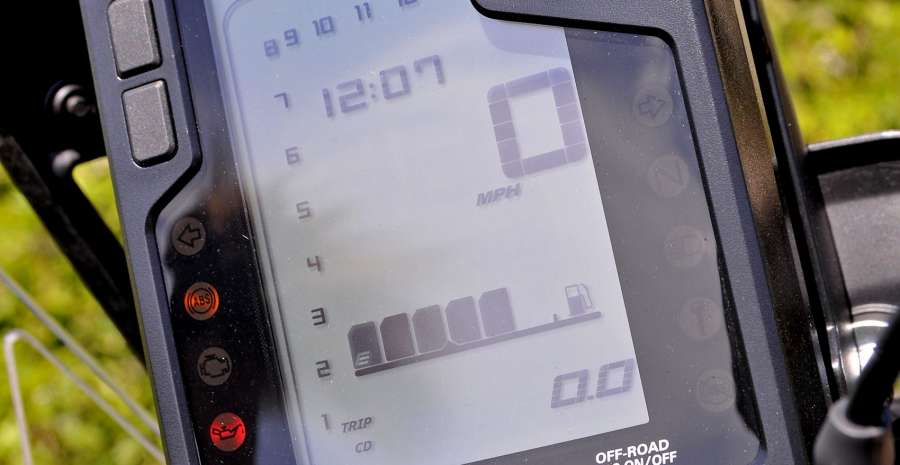 SPECS
Price: from £9,147
Engine: 8v parallel twin, DOHC, liquid cooled, 689cc
Bore x stroke: 80×68.6mm
Compression ratio: 11.5:1
Max power (claimed) 73bhp@9,000rpm
Max Torque (claimed) 50ft lb@6,500rpm
Transmission: six speed gearbox, wet clutch, chain drive
Frame: steel tube backbone
Front suspension: 43mm fully adjustable USD fork
Rear suspension: aluminium box-section swingarm, fully-adjustable monoshock
Brakes: dual 282mm discs, twin-piston sliding calipers (front), 245mm disc, single-piston caliper (rear), switchable ABS.
Wheels/tyres: wire spoked/Pirelli Scorpion Rally, 90/90 21 front, 150/70 18 rear
Rake/trail: 27°/105 mm
Wheelbase: 1,590mm
Kerb weight: 205kg
Fuel capacity: 16 litres
Rider Aids: switchable ABS.
TECH HIGHLIGHTS
Engine
The excellent 689cc parallel twin lump from the MT-07 and Tracer gets another run out here, with minimal changes – just altered final drive gearing and unspecified fuel injection tweaks. No bad thing – it's a great engine in all its applications.
Frame
Tough, simple cheap steel tubing is a better plan for a bike that can be hammered hard off road than lighter, less tough aluminium.
Suspension
Hardcore offroad riders might find the limits of the 43mm front forks, but for most mortals, it will all be fine. You get full adjustment all round, which is impressive at the price, but it's not super-high-end stuff like you get on the (much pricier) 'R' version of the KTM Adventure 790, say. Yamaha will sell you an official Öhlins rear shock upgrade for £1,160 though, should you feel the need!
Brakes
A pair of twin-piston sliding Brembo calipers up front work well – but these are offroad-biased brakes so less powerful than the four-piston stoppers used on Yamaha's roadbikes. The ABS system can be switched off completely for advanced dirt riding skillz.
Fairing
Screen is non-adjustable, and there's a 12v power socket mounted in the cockpit next to the smart vertical monochrome LCD dashboard.