Yamaha's mini-sportsbike has been revamped for 2019. But how does this second generation R3 go? We went to Valencia in Spain to find out, on road and track.
The death of the sportsbike has been well documented in recent years. The growth of adventure and naked machinery, together with a host of changes to laws, speed cameras, and an aging biker population has slashed sales of head-down, bum-up sports machines.
That's the conventional wisdom – and of course, there's something in it. The formerly-dominant 600 class is almost as dead as Monty Python's legendary parrot. And while the litre superbike class is still extremely sexy in a number of ways, the sales figures are a fraction of what they used to be.
But if you look outside these classes, you'll maybe see something else. The 300 supersport class has appeared from nowhere, starting out as an entry-level commuter-type sector, with machinery that occupies the top end of the market in developing Asian nations. A selection of 250-400 singles and twins, with supersport styling and sporty chassis, have sprung up – Kawasaki's Ninja 250/300/400, Honda's CBR250/300 and Suzuki's GSX250 ranges.
And, of course, Yamaha's R25 and R3 – the latest variation of which we're riding today in Valencia. Like its competitors, the R3 straddles two stools. In those developing markets, it's a top-end machine, aspirational yet mainstream, similar to something like a Honda CBR600F was in the UK in the 1990s – a strong performer, that also does a great job day-to-day.
Gallery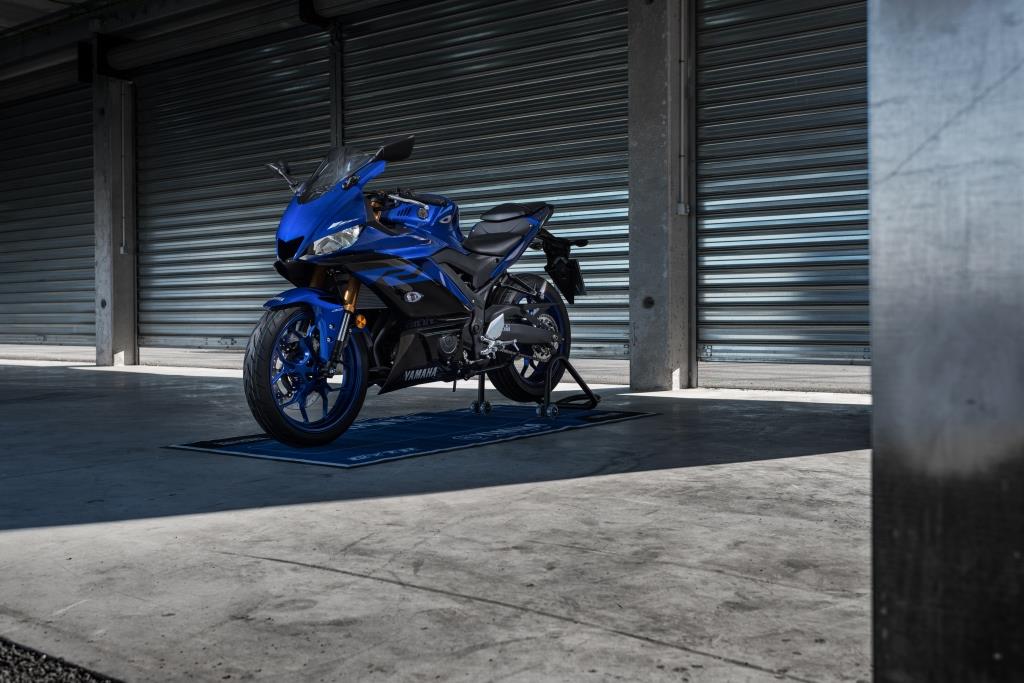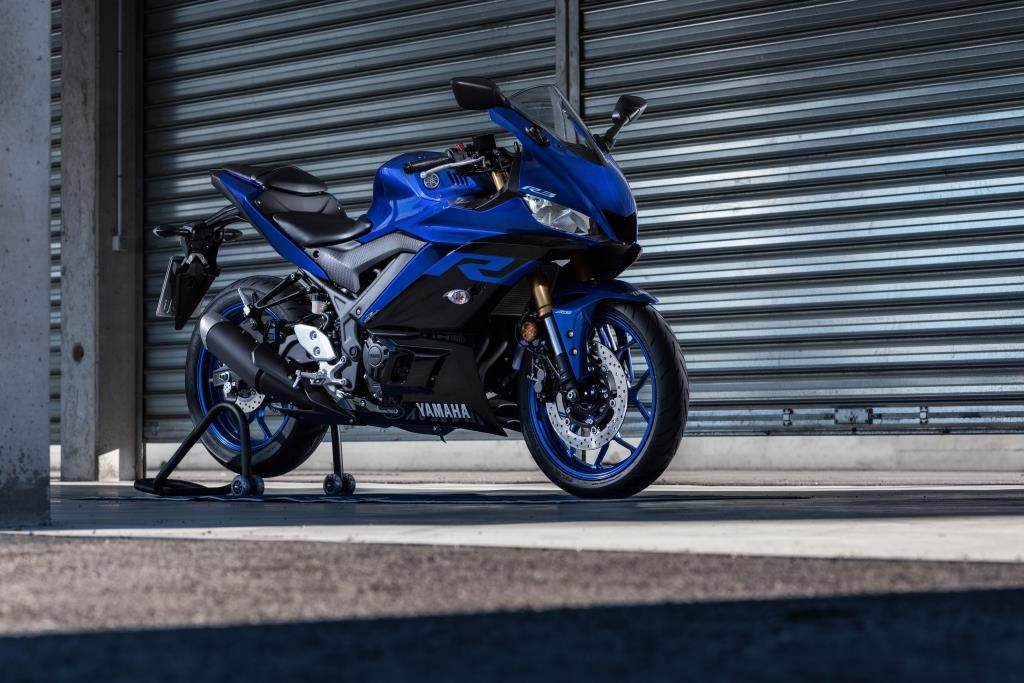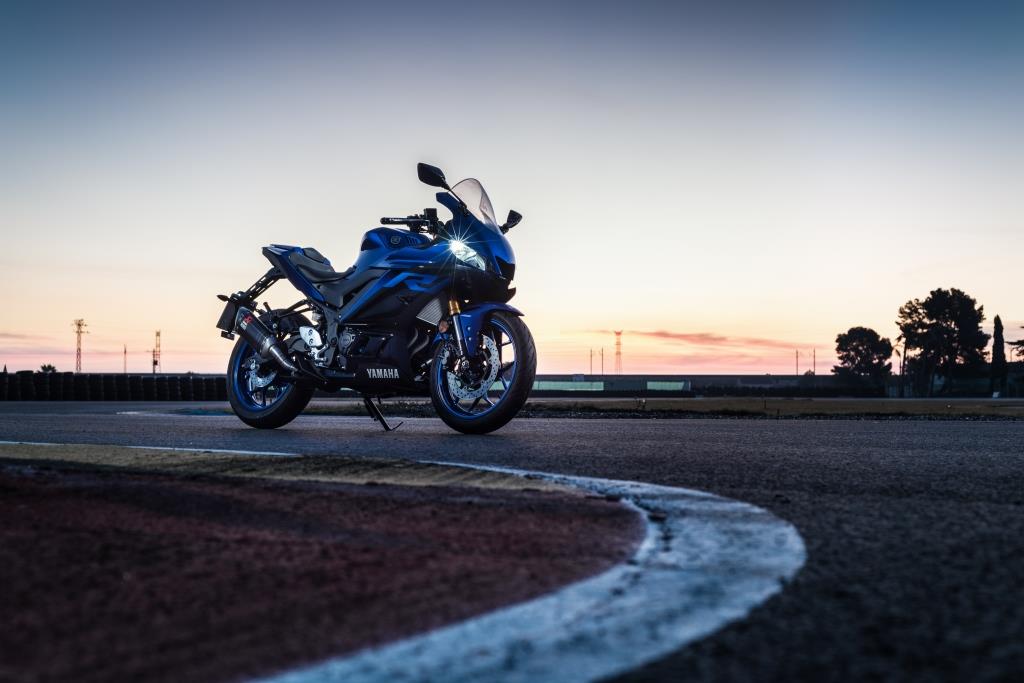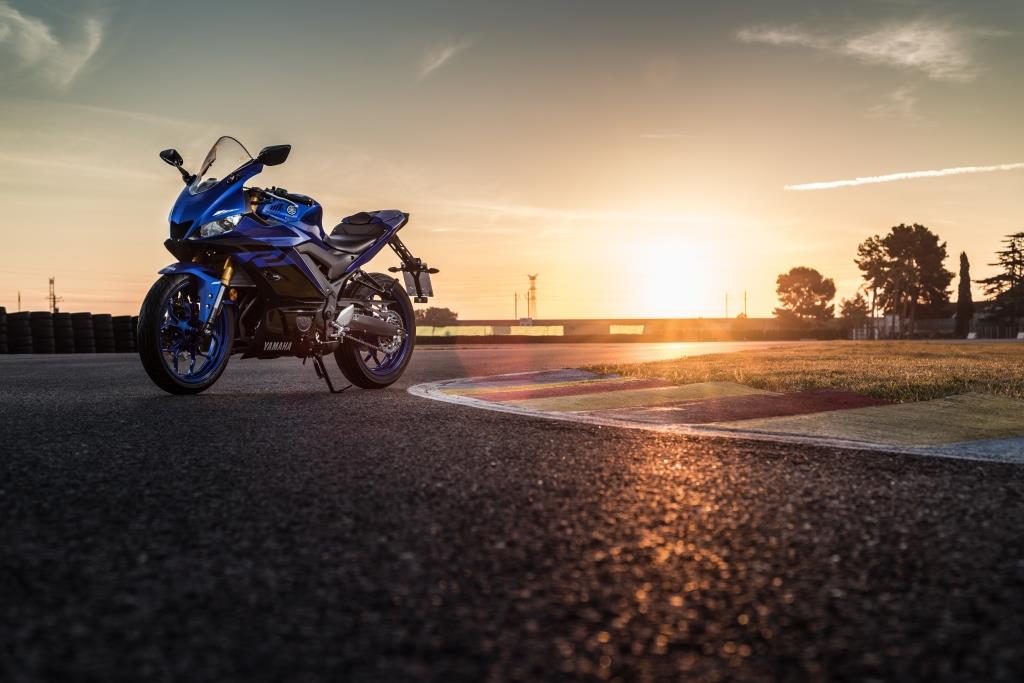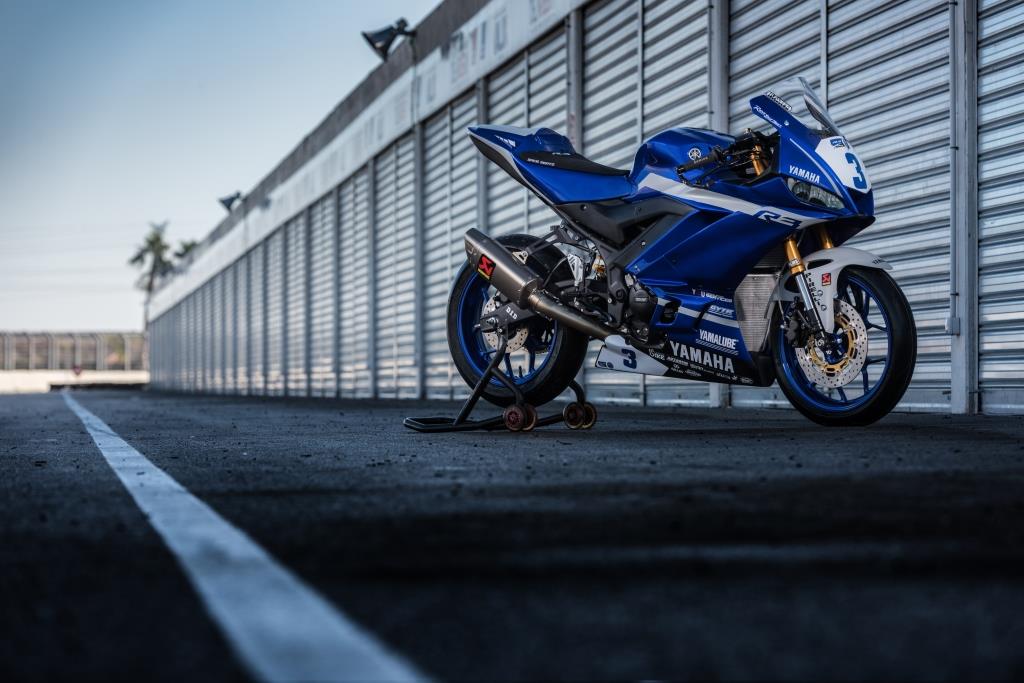 In Europe and the US though, it's got a slightly different role. Of course, it makes a great choice for novice riders, looking for a first 'big' bike after passing the test. Being A2 compliant, it's a sensible move up through the licensing regimes, and offers a well-placed stepping stone from the 125cc learner world and on to the likes of Yamaha's MT-07 or Kawasaki's Ninja 650. But it also offers a lightweight, fun option to more experienced riders – either those looking for low running costs, or alternatively, older riders who want to get away from big, heavy, tall machinery that strains elderly sinews.
Yamaha's got a tough job on its hands then, keeping all these customers happy. The first generation R3 was solid enough, but there were a few criticisms of the chassis setup and overall style. So for this second generation design, the tuning fork folks have worked hard on the chassis, styling and usability. The suspension is completely revamped, with a new 37mm USD front fork and a new rear monoshock, both from KYB, with stiffer springing and damping all round. The riding position is racier, with more weight over the front and lower bars. The bodywork is more aerodynamic, with a nine per cent cut in drag, giving a 5mph increase in top speed – now claimed at around 118mph. Nice.
Yamaha's finished the revamp off with some nice chassis parts – an all-new LCD dashboard, a neat M1-style top yoke, with lightening cutouts, LED headlights, and a MotoGP-style ram-air intake.
Gallery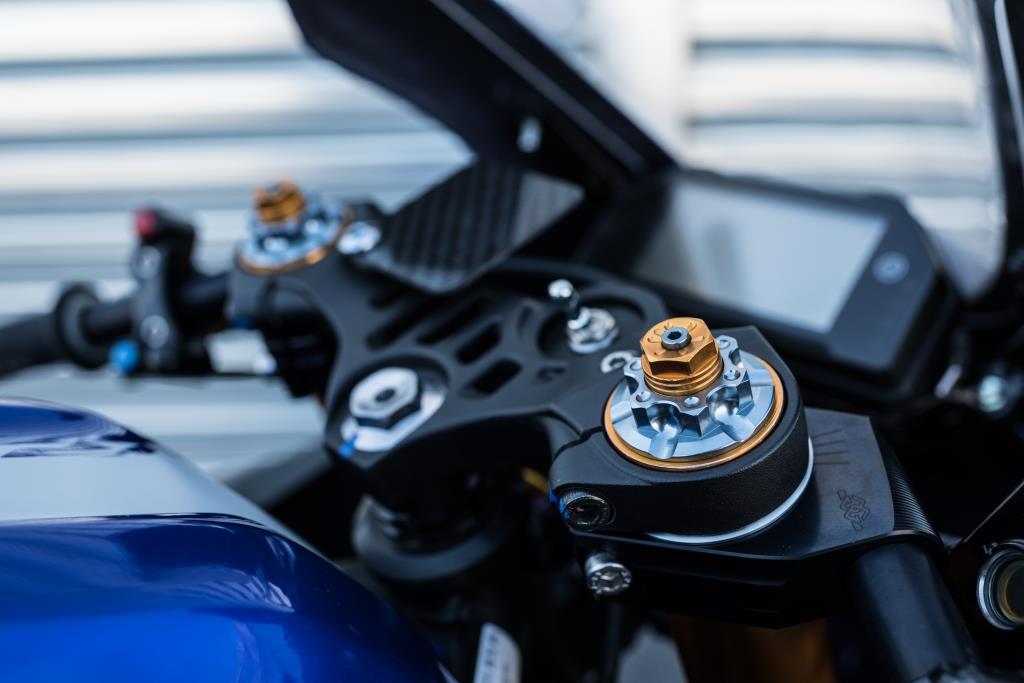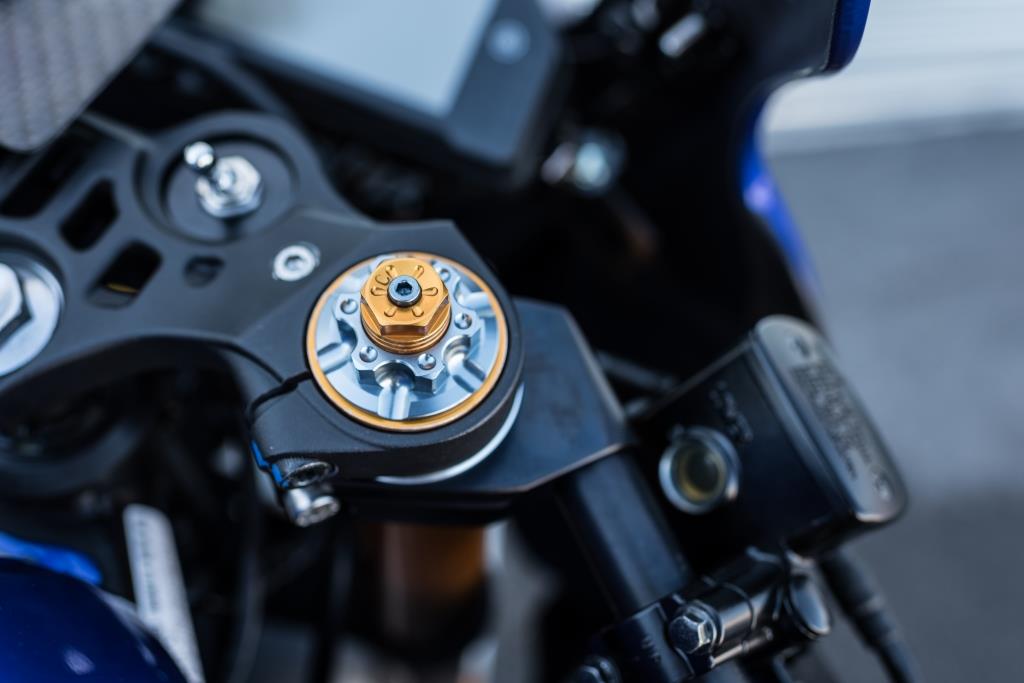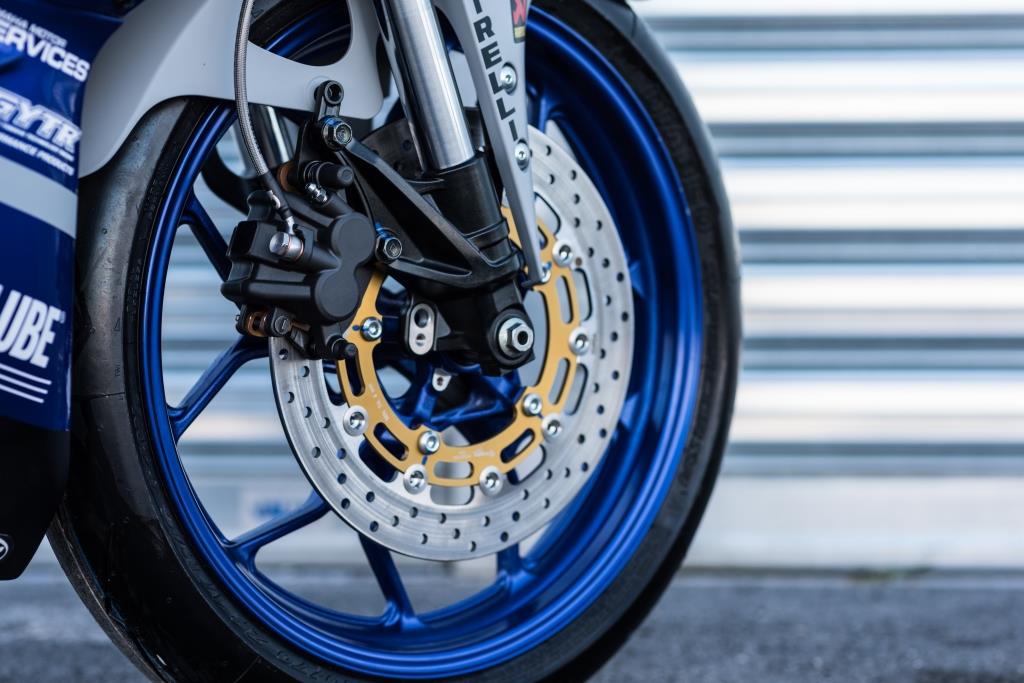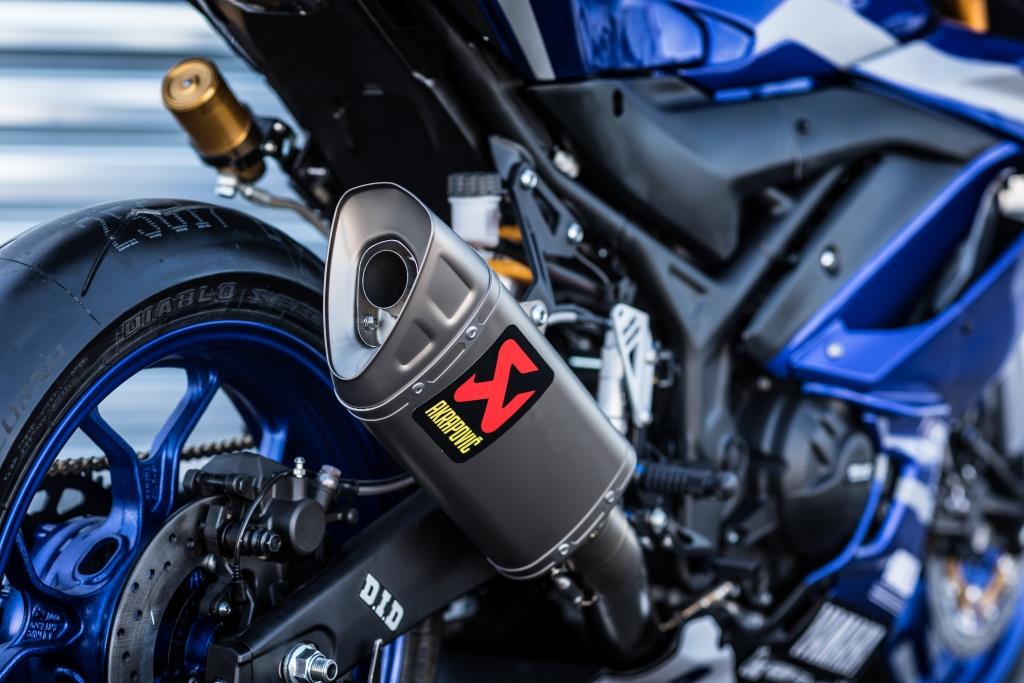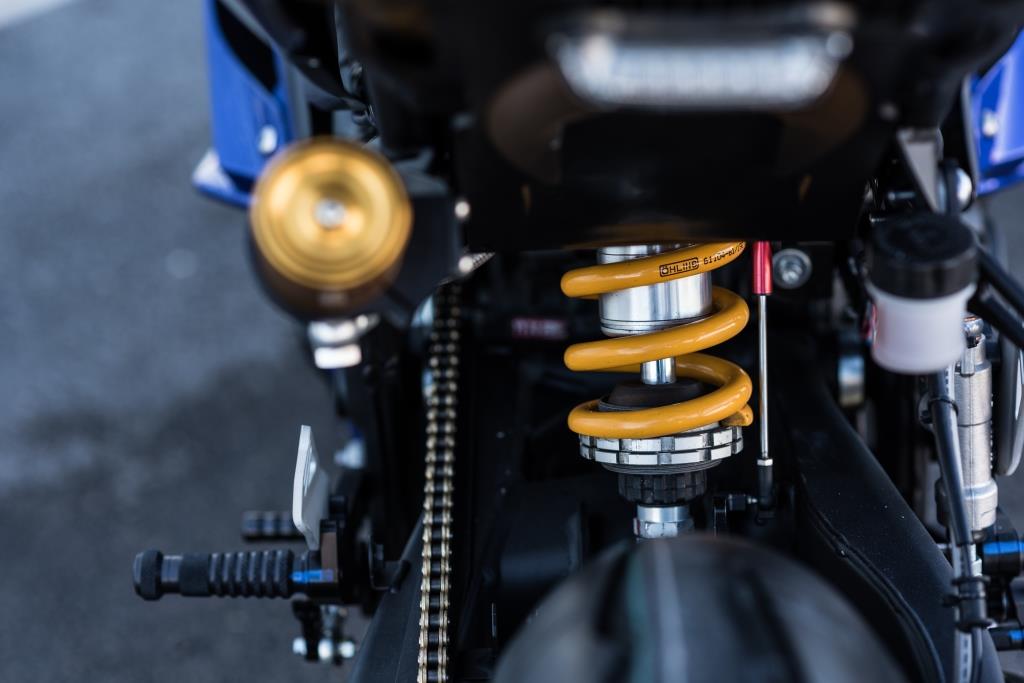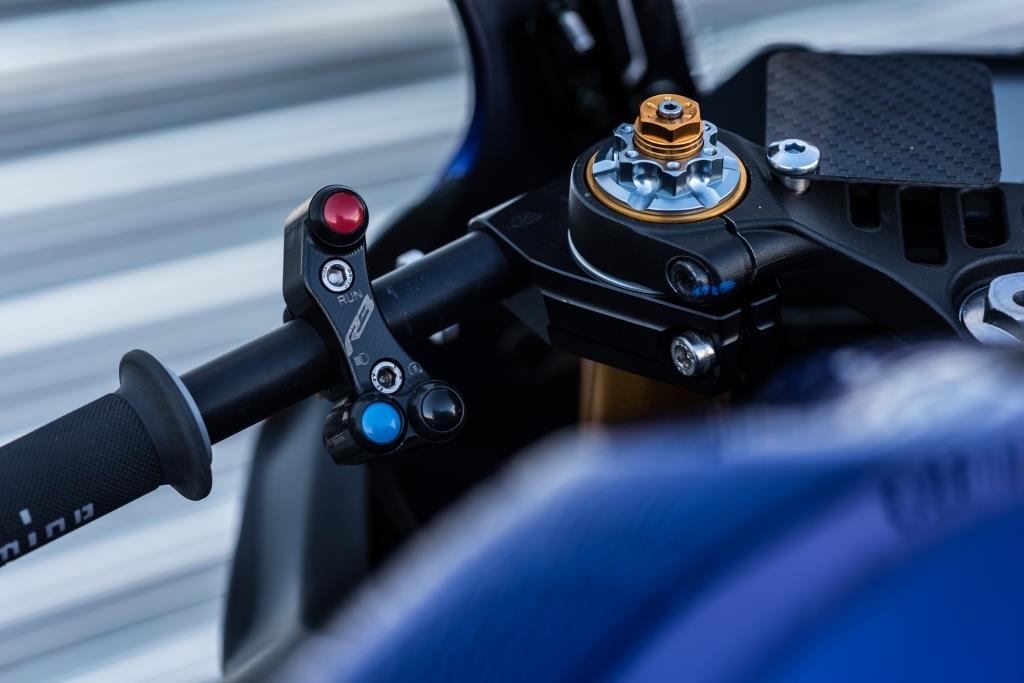 On the roads around Valencia, the little Yam is a load of fun. Of course, with just 42bhp on tap, you have to work pretty hard to make quick progress. That's refreshing these days, when most folk are used to big-bore, high-horsepower engines. Even something like the Yamaha MT-07 has plenty of power and torque, and is easy to ride fairly swiftly. Here though, if you miss a gearchange, or drift off for a moment you quickly lose momentum.
So it's a very engaging ride, especially when the roads tighten up on the mountain roads towards Dos Aguas. The Dunlop GPR300 tyres are great, working far better than their commuter specification would suggest, and when we stop for a coffee, they've got a decent bit of warmth in them. Steering is light and agile as you'd expect of course, but the R3 is also commendably stable at speed. The mythical 'big bike feel' is always the aim with small-bore machinery, and Yamaha's managed it here I reckon.
There is a 'but' though. The front brake is a bit on the lame side, with a basic twin-piston sliding caliper that needs a hefty squeeze when you want to stop in a hurry. Yamaha's normally very good with brakes – its Monobloc calipers are a bit of an institution, dating back to the 1990s Thundercat and Fazer 600, so it's a shame they've not paid more attention here. A better pad and disc will improve matters in the aftermarket, but I'd like a stronger setup as stock.
Gallery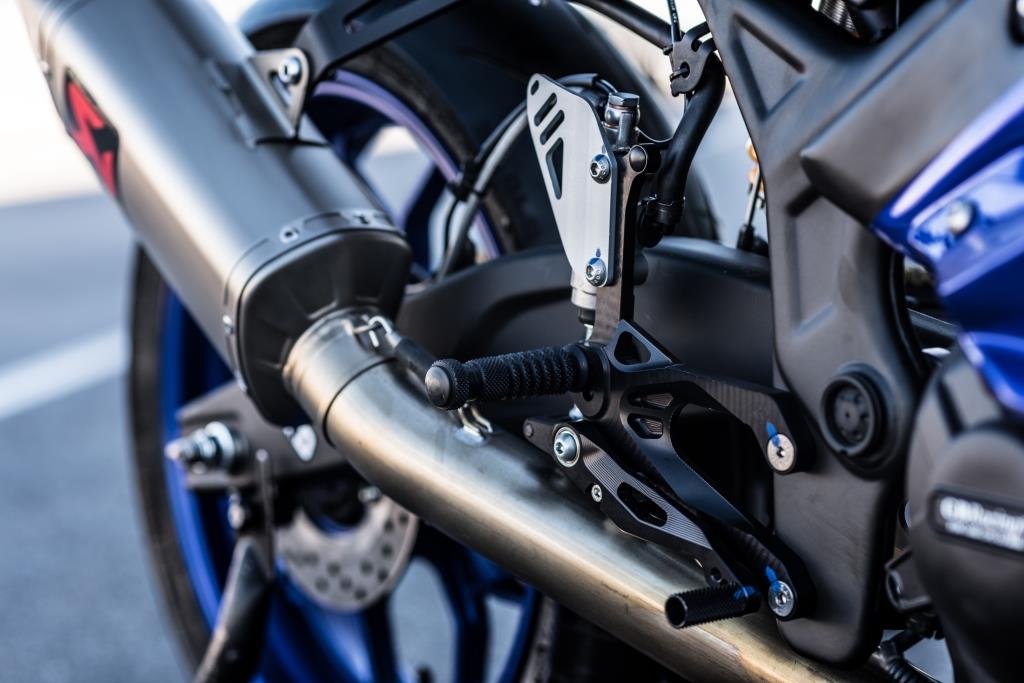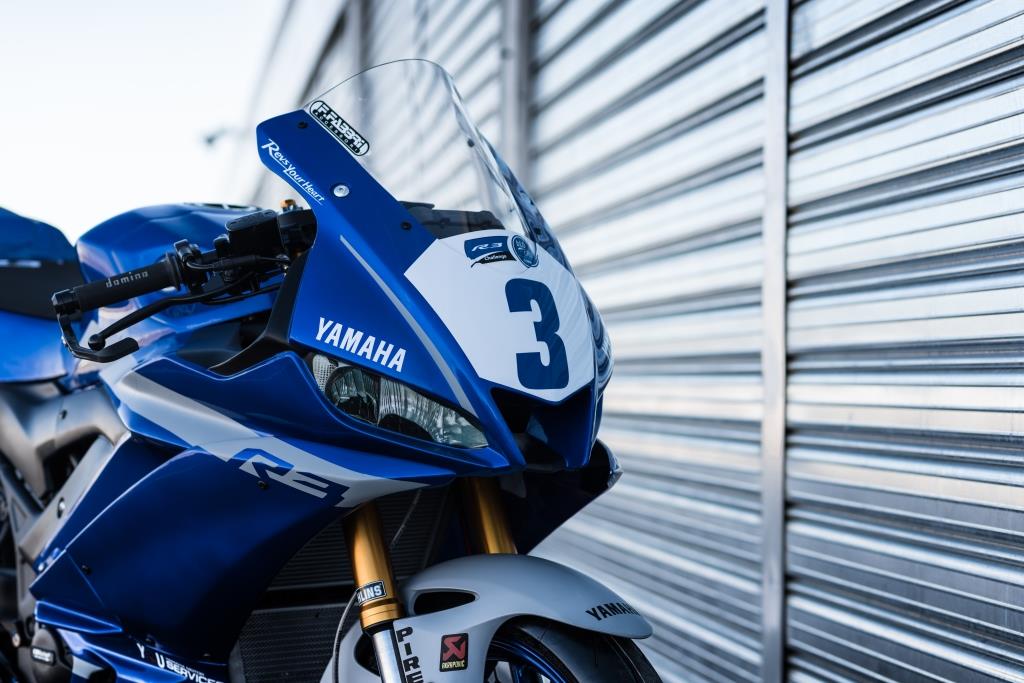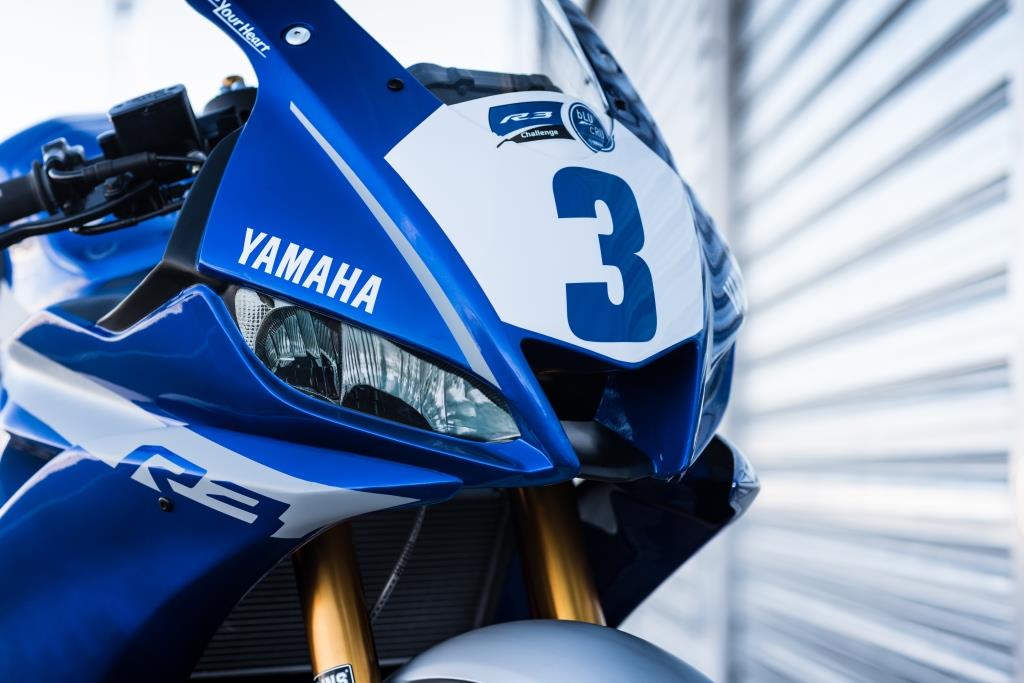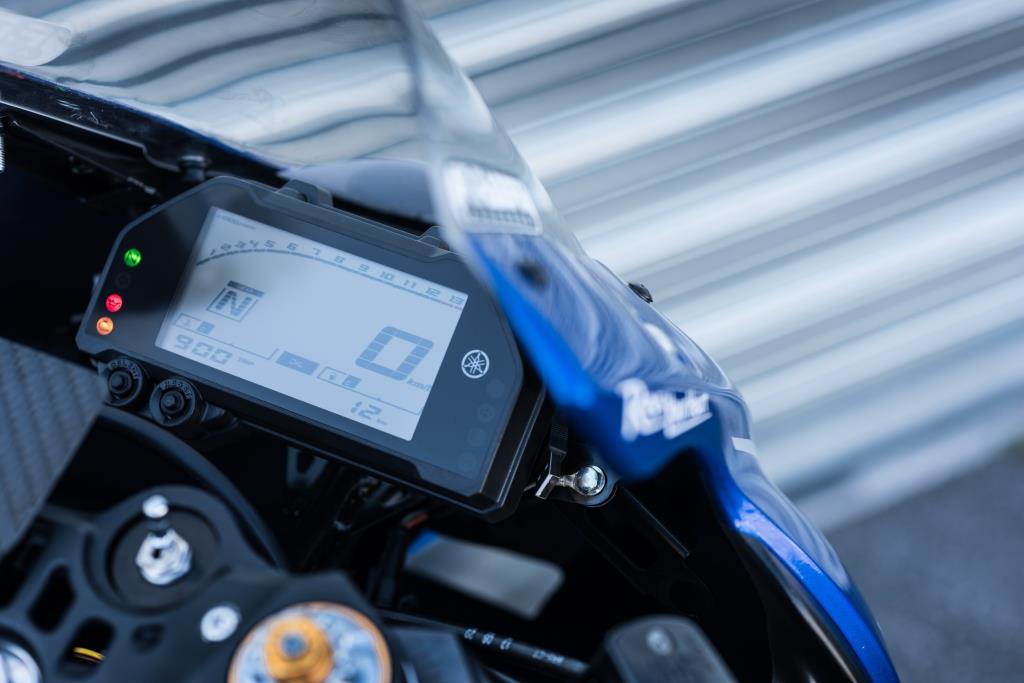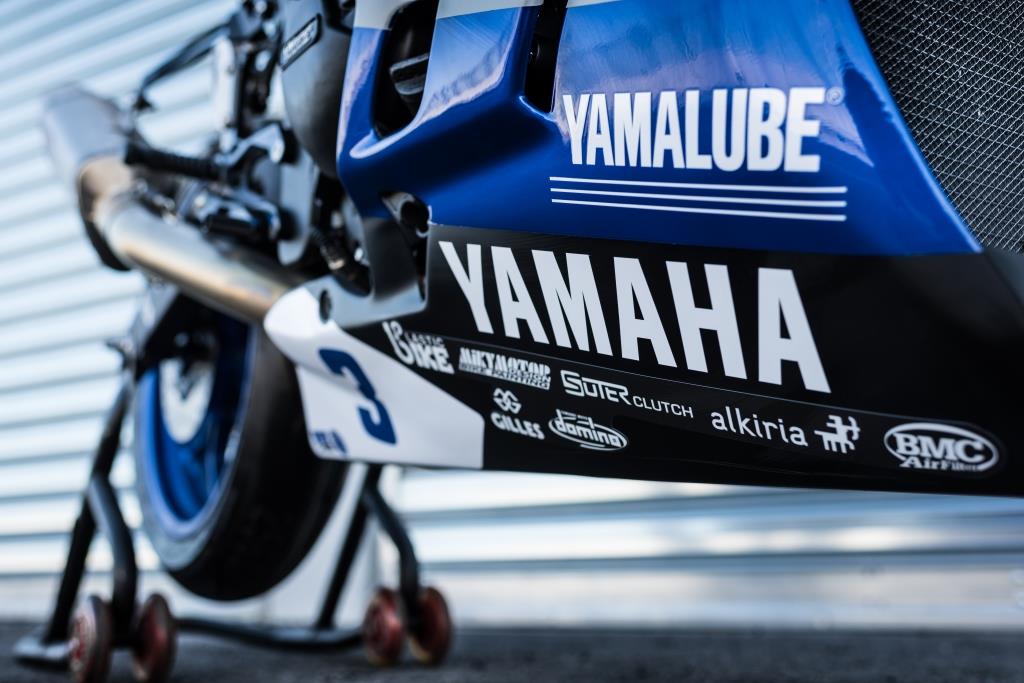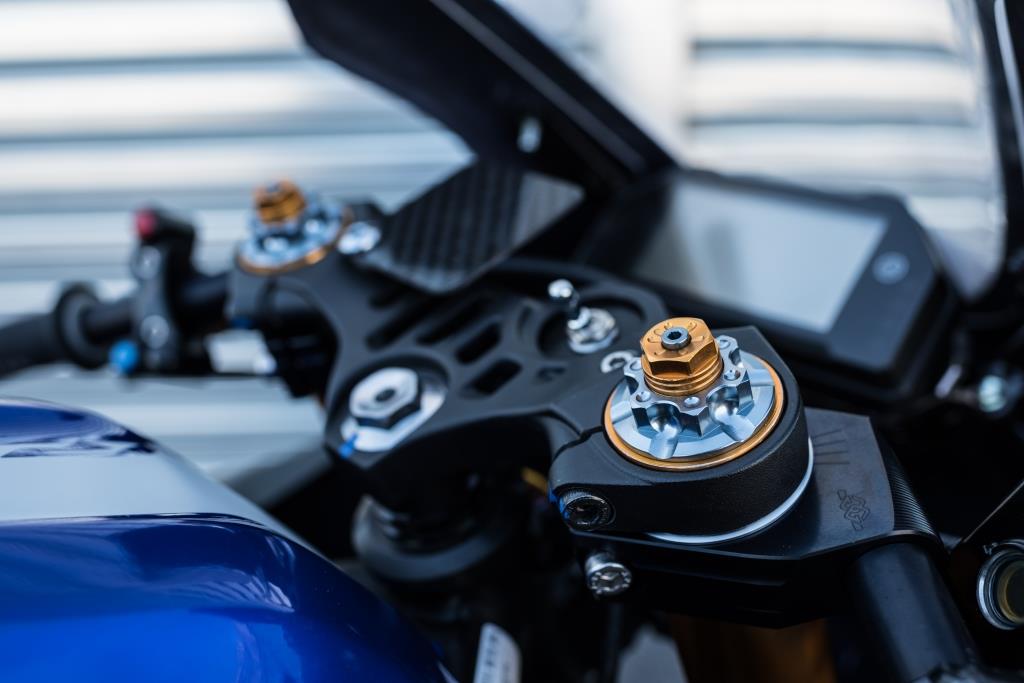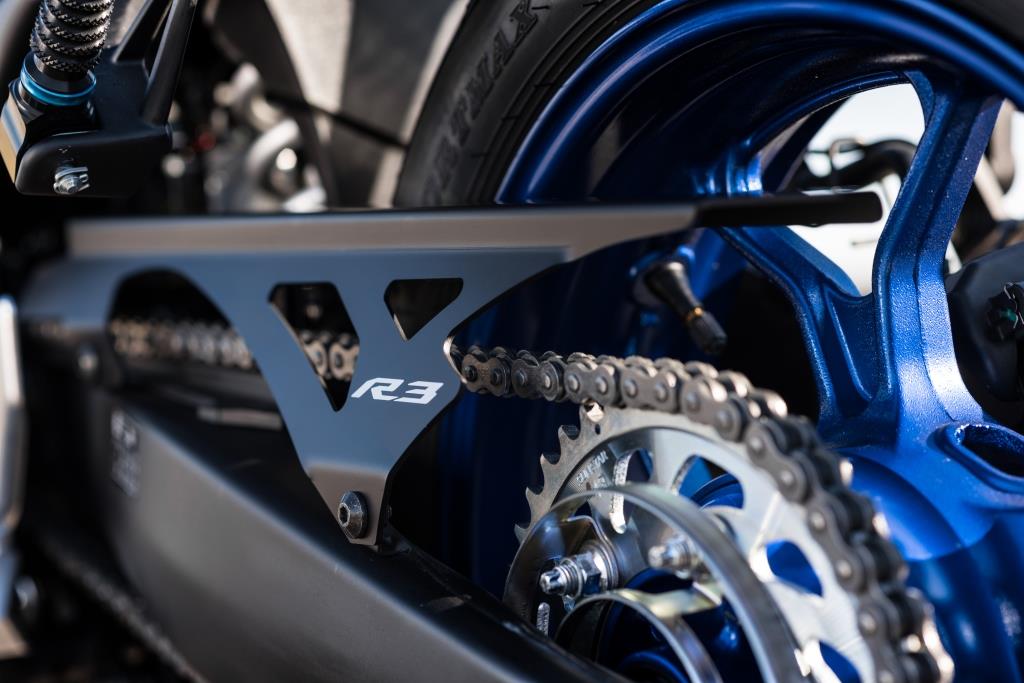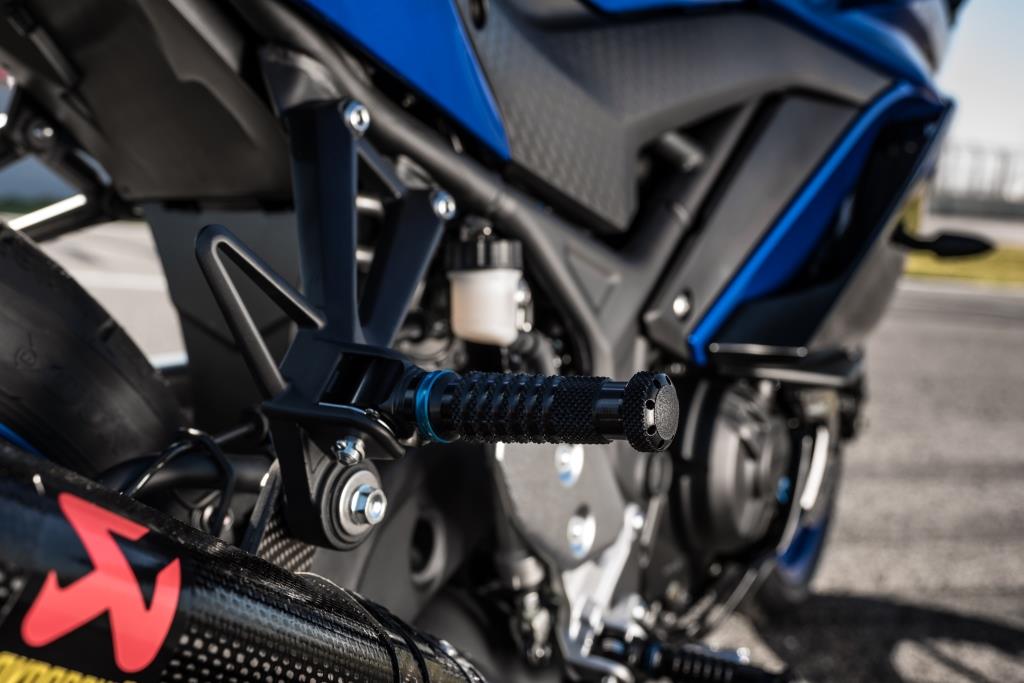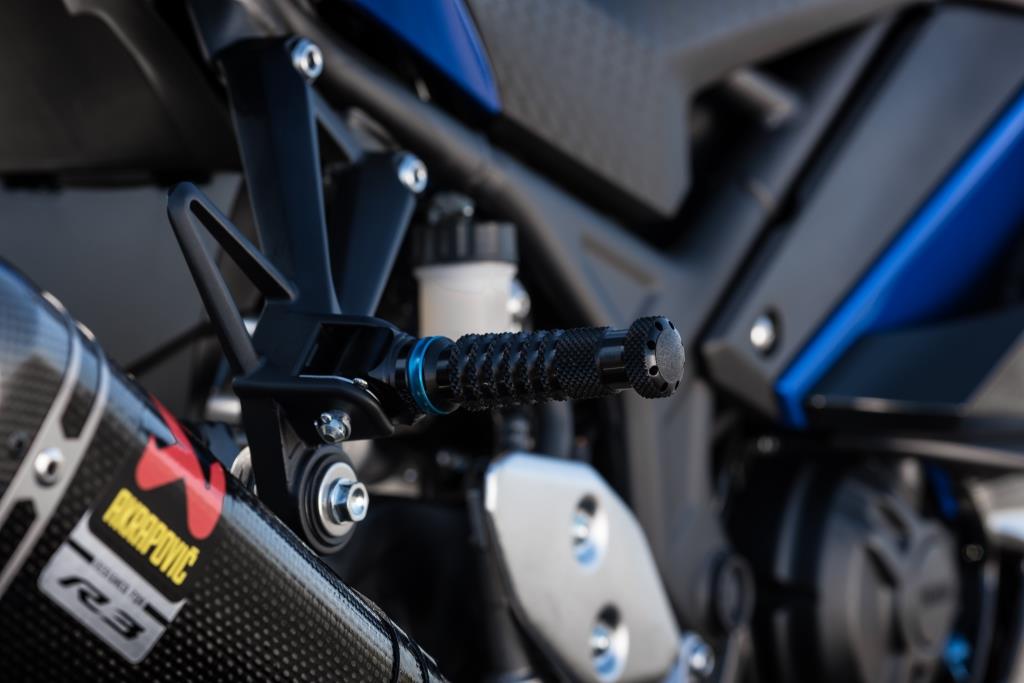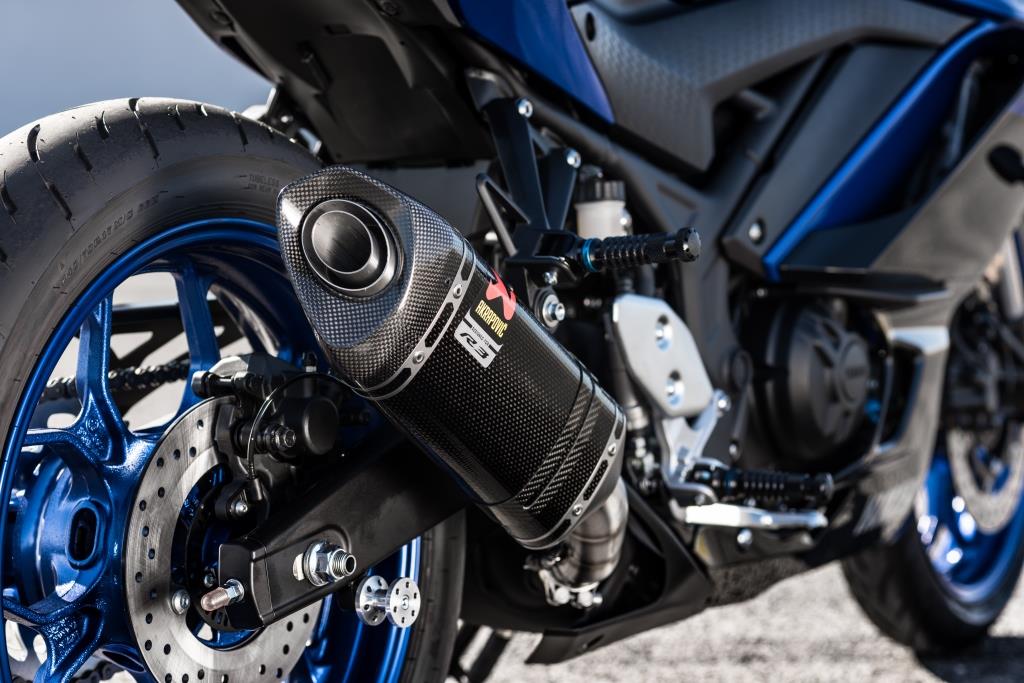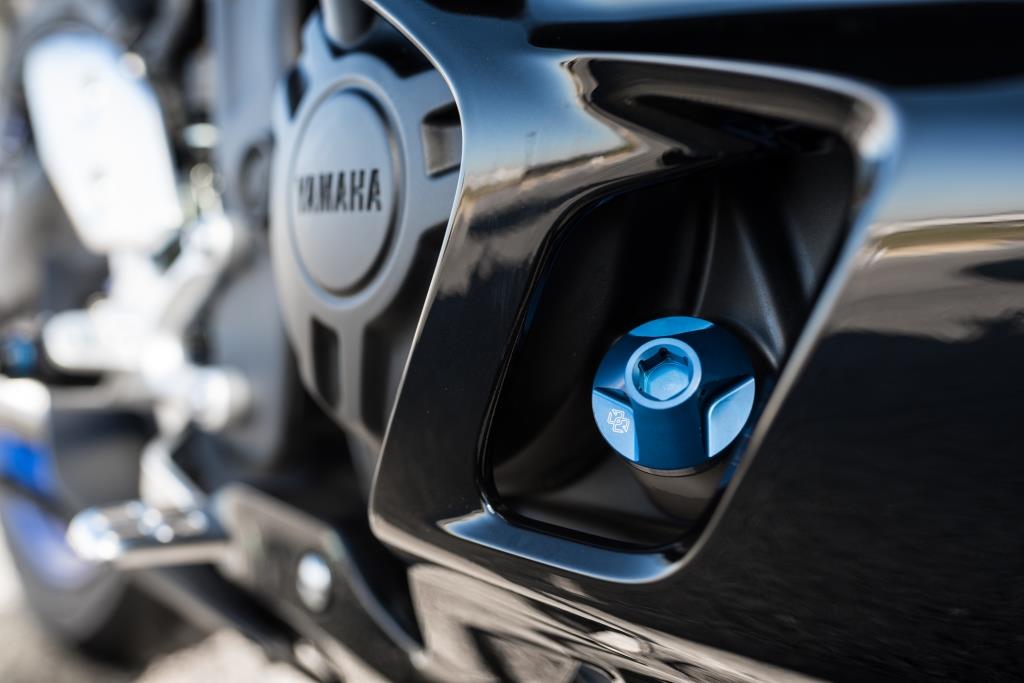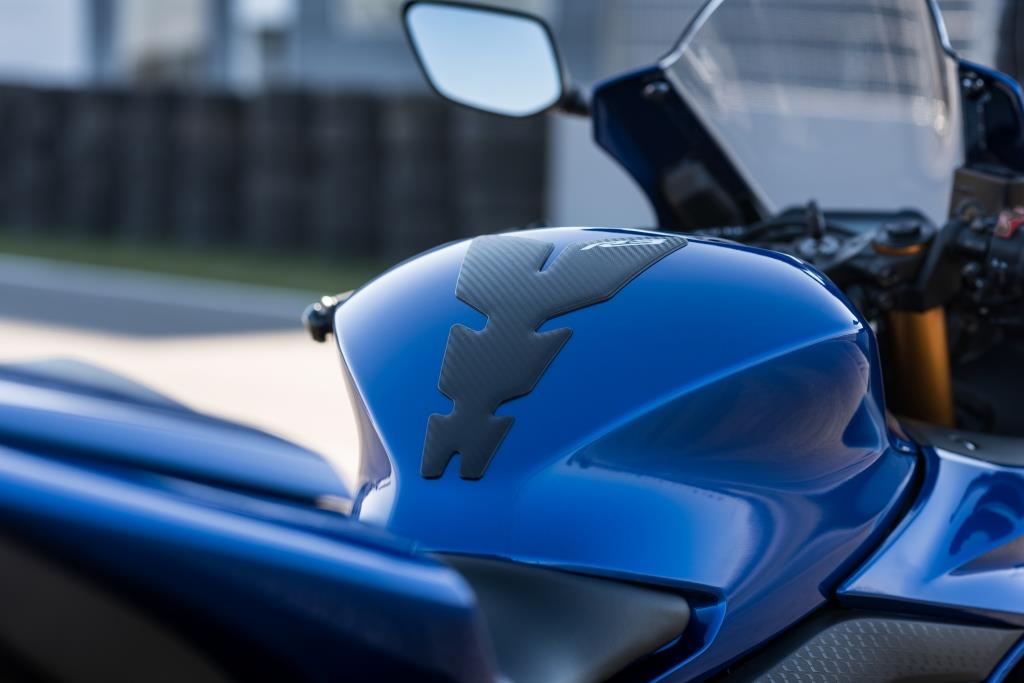 We've arrived at the track for a few afternoon sessions now. Yamaha's booked the Circuit de la Ribera go-kart track, and it's a pretty impressive spot. The main layout is 2.2km long, with a 400m straight, and plenty of technical bends. As it turns out, it's the perfect size for the R3, and we have a ball straight away. The stock R3 is a little short on ground clearance, and the road suspension is a bit bouncy when you start pushing. Despite that, and the underwhelming brakes, I'm loving the way it goes round here though. Again, you need to be right on the ball in terms of gear changes, and accuracy with turn-in points and braking markers. But it's really rewarding when you get it right.
Yamaha's got another treat in store though. It's brought along three race-kitted 300SSP machines for us to try out, and I'm next up for a spin on one. These look really impressive – there's an engine race kit that boost power to 49bhp, and a chassis overhaul that includes Öhlins suspension, Brembo brakes, Pirelli Supercorsa rubber and much steeper steering geometry.
I've not ridden a proddie race bike which feels so different from its stock counterpart. Where the standard R3 is soft and friendly, the SSP machine is hard-edged and angry. It's high, skinny, and slammed on its nose, with a finicky, twitchy feel at first. The harder you push, the better it gets, but the problem seems to be a setup aimed at 15-year-old racers who weigh about half what I do, and who care about nothing except getting the thing on its ear and winning… The Brembo disc, pads and master cylinder combo makes a massive difference to the brakes, even with the stock caliper, and the little SSP machine stops far harder. The engine is also a big upgrade, with much stronger performance. But at the end of the session, I still felt like the stock bike was easier for me to get around on. Ideally, I think I'd want the engine, brakes, tyres and suspension of the race bike, with the setup and more relaxed riding position of the stocker.
Gallery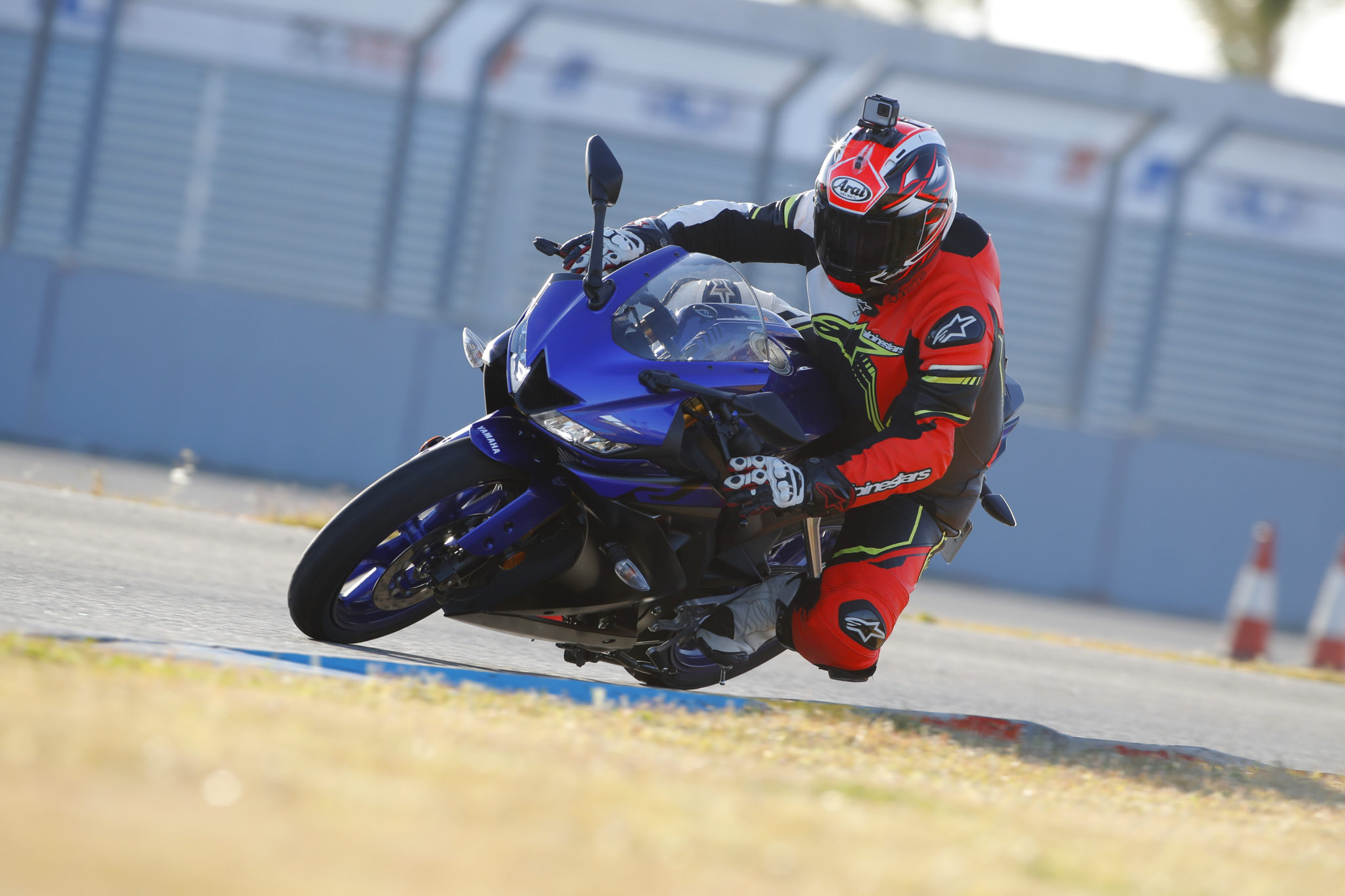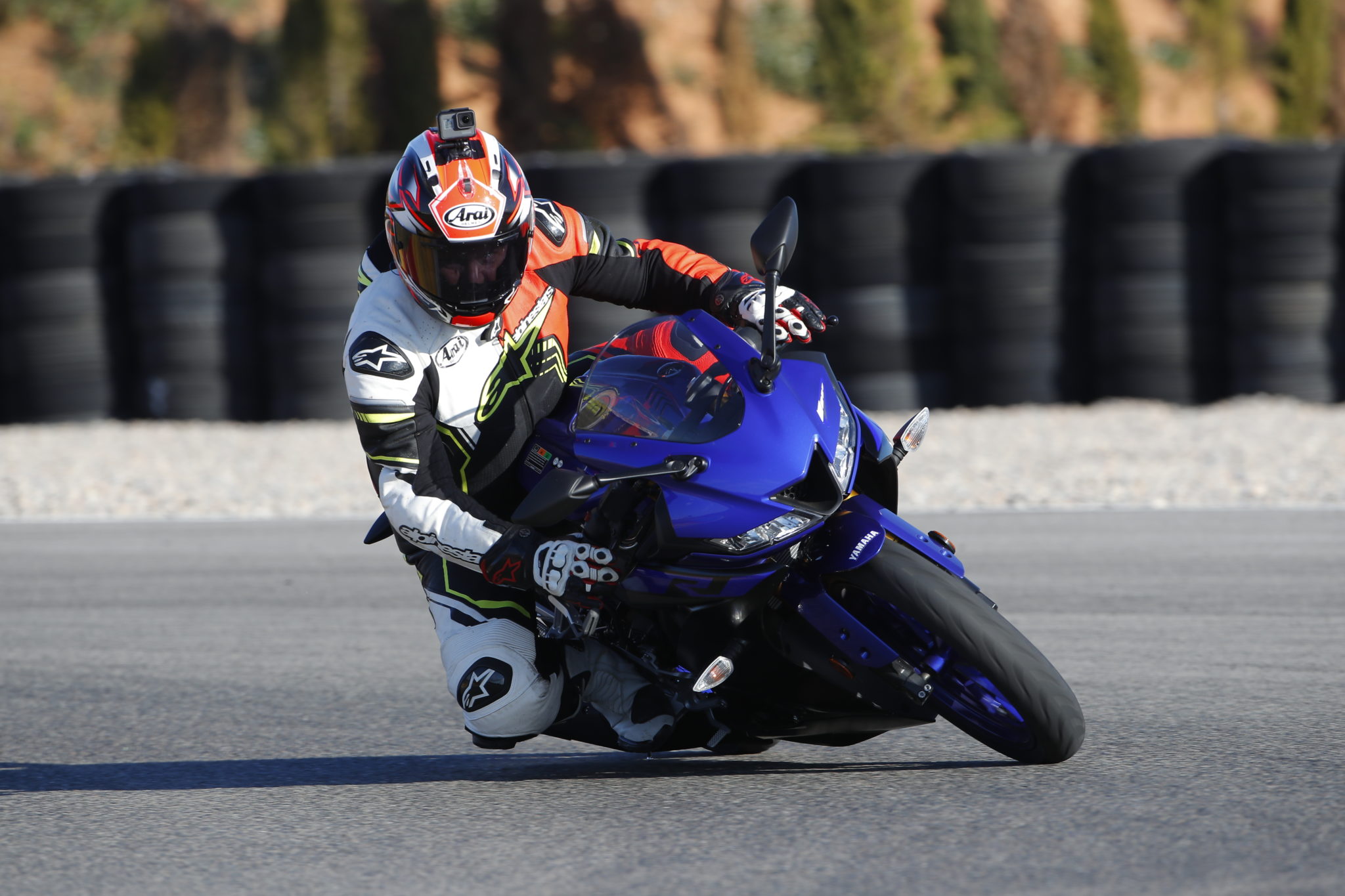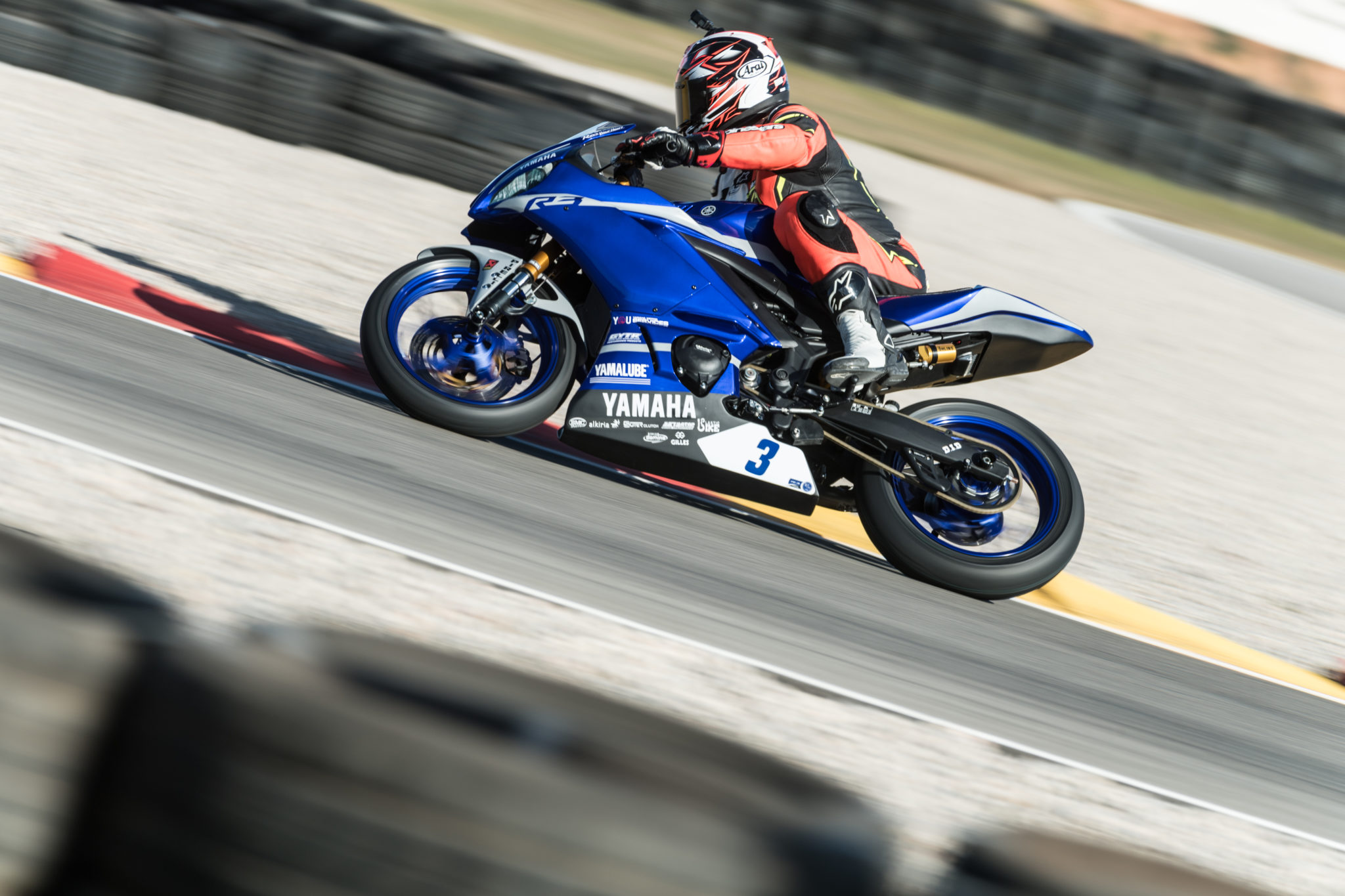 We're done at the track, and it's time to head back to Valencia. We take in some faster dual carriageway, and a bit of judicious slipstreaming shows that Yamaha's right about the new, higher top end. You're more than able to keep up with motorway traffic, and if you had a 25 mile commute each day with some faster roads on it, the R3 would be spot-on I reckon. The LCD dash is clear and easy to use, the mirrors are great, and the riding position is comfy enough for longer jaunts.
Back at the hotel, and I'm definitely impressed with the new R3. Compared with the rest of the market, Kawasaki's Ninja 400 offers a bit more in terms of power from its (78cc larger) engine, but the R3 isn't far off in real conditions. If you're dead set on performance, then I'd look to upgrade the front brake – but that aside, the new bike would make a great sporty all-rounder, and will cope with commuting, Sunday blasts and the odd trackday with aplomb. Sportsbikes dead? Just try telling an R3 owner that…
Engine
Yamaha's not changed the engine for 2019, so we have a 321cc parallel twin with eight valves, DOHC head, liquid cooling and 68×44.1mm bore and stroke. Peak power output is around 42bhp.
Frame
A simple steel tube 'diamond' type design is cheap to make, stiff enough and not too heavy.
Suspension
This is where most of the 2019 improvements come from – a 'proper' 37mm upside-down front fork with instead of the old right-way-up 41mm parts. There's still no adjustment, but the damping and springing is all new.
Brakes
There's a rather basic twin-piston sliding caliper up front, biting on a 298mm disc, which is a little disappointing. A pad and disc upgrade, plus a performance steel hose will make a big difference and is well worth considering.
Fairing
The other main change for this year. Yamaha's added an 'M1-style' air intake, and new LED lighting all round, which is a sound upgrade. Aerodynamics are improved, with a nine per cent cut in drag, giving a claimed top speed of around 190kph (118mph).
Cockpit
The dashboard is also new for 2019, and uses a decent-spec monochrome LCD display. There's a bar tacho, gear indicator, shift light, clock and proper fuel gauge.
Design and quality
Yamaha produces the R3 in its Indonesian factory, and has given it a pretty decent build quality. The only minuses come from the basic front brake master cylinder and lever, and the front brake caliper. Bodywork and chassis jewellery like the top yoke, fuel cap and mirrors are nicely done.
R3 Specs
Price: £5,299
Engine: 8v parallel twin, DOHC, liquid cooled, 321cc
Bore x stroke: 68×44.1mm
Compression ratio: 11.2:1
Max power (claimed) 42bhp@10,750rpm
Max Torque (claimed) 22ft lb@9,000rpm
Transmission: six speed gearbox, wet slipper assist clutch, chain drive
Frame: steel tube diamond type
Front suspension: 37mm USD KYB fork
Rear suspension: Aluminium swingarm, KYB monoshock
Brakes: 298mm disc, twin-piston sliding caliper (front), 220mm disc, single-piston caliper (rear), ABS.
Wheels/tyres: Cast aluminium/Dunlop GPR300T, 110/70 17 front, 140/70 17 rear
Rake/trail: 25°/95mm
Wheelbase: 1,380mm
Kerb weight (fully fuelled): 169kg
Fuel capacity: 14 litres
Rider Aids: ABS.