It's easy to think that sportsbikes have become a bit irrelevant these days. The sales figures for adventure and naked bikes have taken over the market. Lots of models have disappeared – indeed, entire classes of sportsbike have fallen off the radar completely (litre twins and 750cc fours are now extinct).
But as I arrive at Estoril – Portugal's top-notch F1 circuit near Lisbon – sportsbikes suddenly seem very important indeed. BMW's put a lot of work into its new litre superbike, and is obviously making a big fuss. The premier motorcycle racing classes are all sportsbikes of course – compared with MotoGP, WSBK and BSB, hardly anyone watches something like the Dakar Rally. And with a brand new Aprilia RSV4 1100 being launched in a couple of weeks, Ducati's Panigale V4R topping WSBK at the first round, and MotoGP kicking off with a new Triumph-powered class in Moto2, great things are clearly still happening in the sportsbike world.
The chance of great things happening this morning looks scant at the moment though. Estoril in March is not the time and place for guaranteed sunshine, and it's all looking decidedly damp. Soaked in fact – low clouds are hanging over the track, mist and drizzle are obscuring the main straight, and from pit lane, you can't even see turn one clearly. Hmmm.
So there's plenty of time to have another look at the new bike over a fine Portuguese coffee. There are a load of them all parked up in a line, shod with Bridgestone W01 racing wet tyres (yay!), in BMW's Motorsport paint scheme. They're also all 'M-Package' bikes, meaning they have carbon fibre wheels, electronic semi-active suspension, lightweight lithium battery, adjustable swingarm pivot and ride height and, best of all, the 'Race Pro' electronic rider aids package.
Under the slick bodywork (we do like the new symmetrical LED headlights and smooth top fairing shape) is an all-new lighter, smaller engine, with a trick variable valve system. ECU-controlled movable cams provide two different profiles for low- and high-rpm running, promising a wider spread of power, lower emissions, and improved efficiency. Nice.
So – top-end digital rider aids, smart electronic suspension, a wider spread of torque and power, and racing wets. Is that enough to deal with the frankly horrendous Atlantic storm conditions which are blasting Estoril today? We're about to find out.
First session is a few steady sighting laps behind BMW's very nice German racer Lucy Glockner. She's having a great time, grinning her head off inside her HJC lid as she beckons us out of pit lane and into the mizzle and fog. I've been round Estoril a few times in the past, so it all falls into place fairly quickly. There are a few changes in elevation, a great flat-out kink in the back straight, a fab super-long final bend, and a really crappy uphill chicane. It's a great mix in the dry, but today, there are puddles of standing water, small rivulets running down the slopes, and I'm also cursed by a misting visor (I have a fresh Pinlock insert in my bag, which I foolishly forgot to fit before this first session…)
Gallery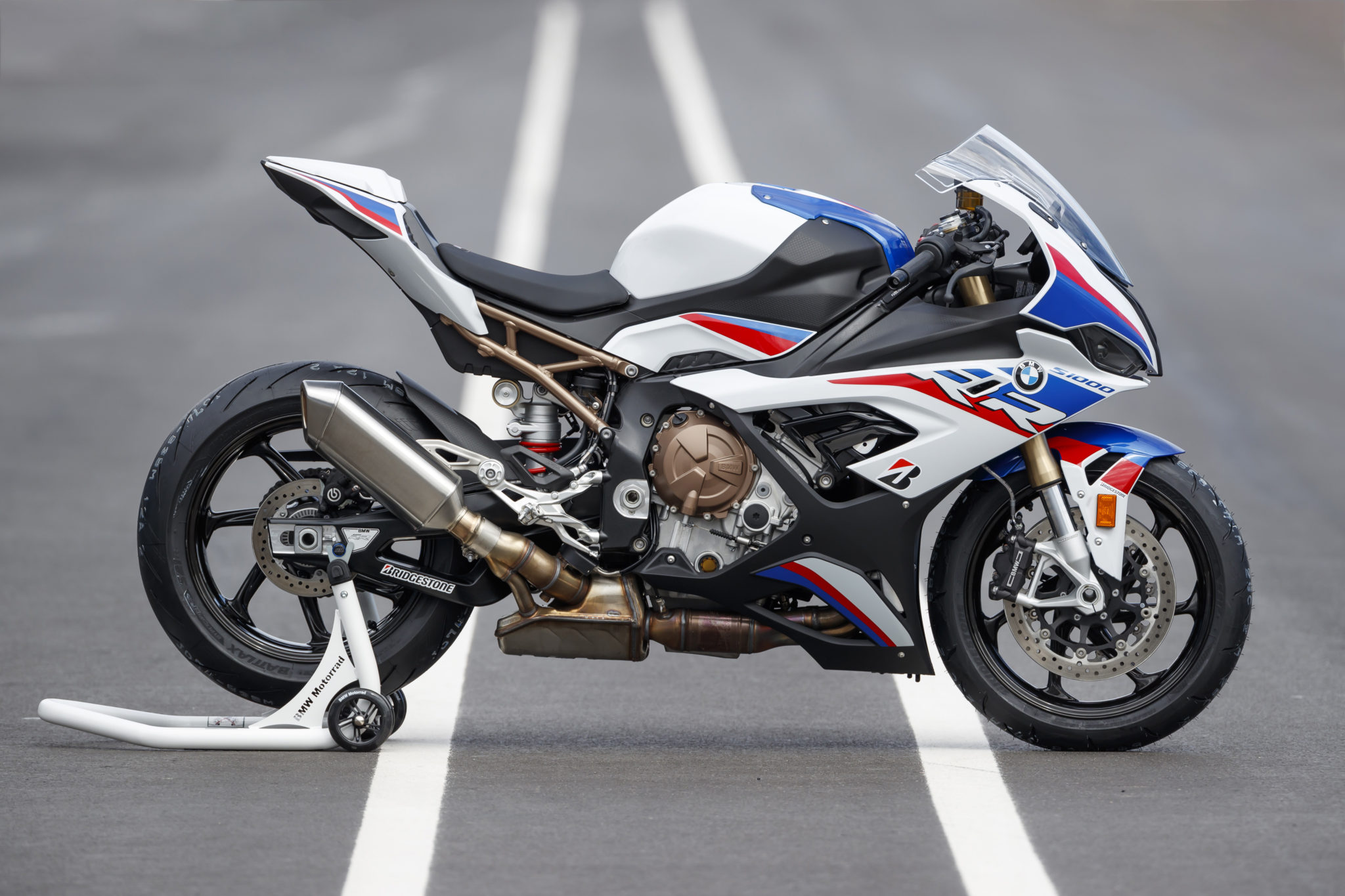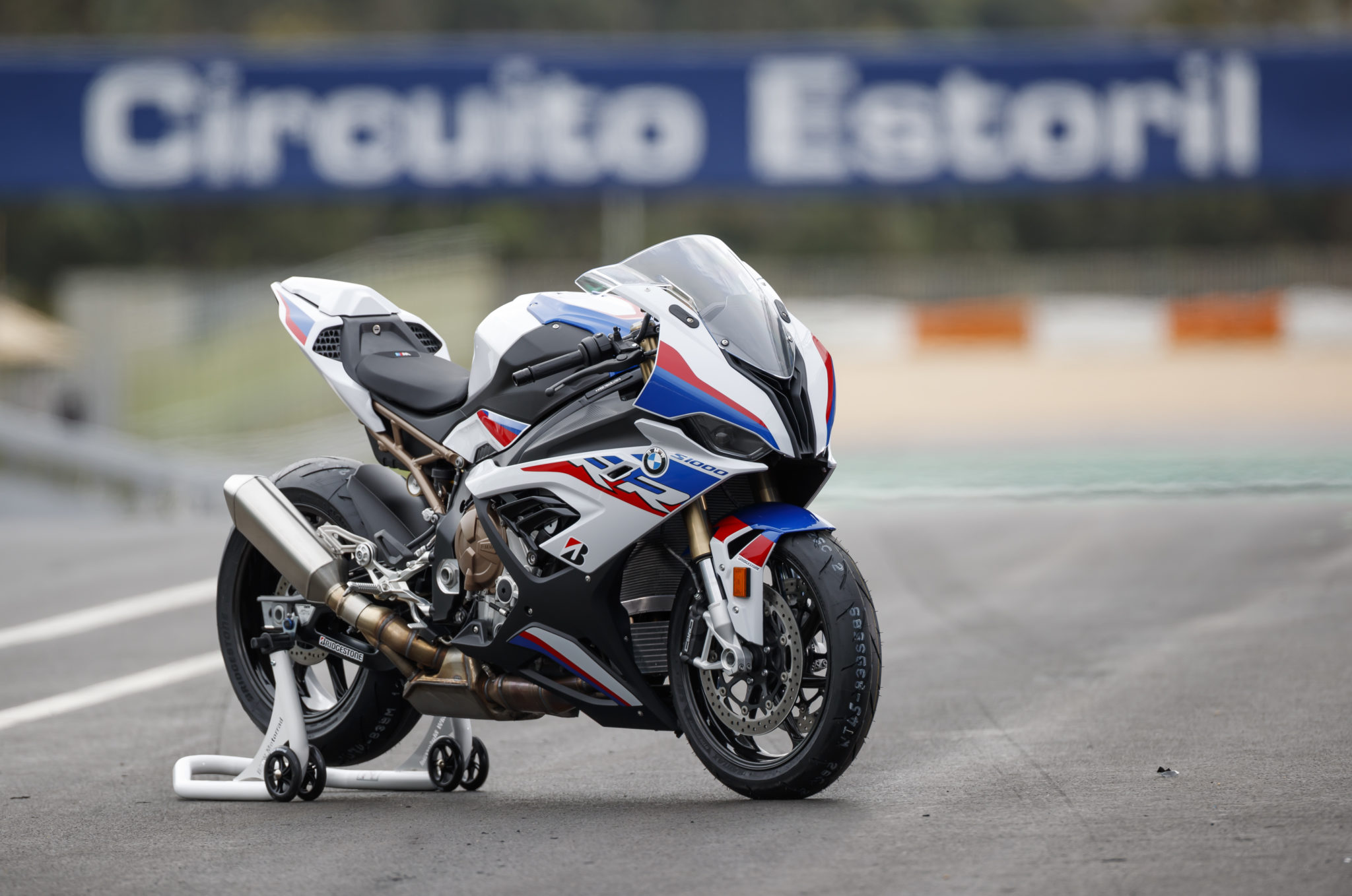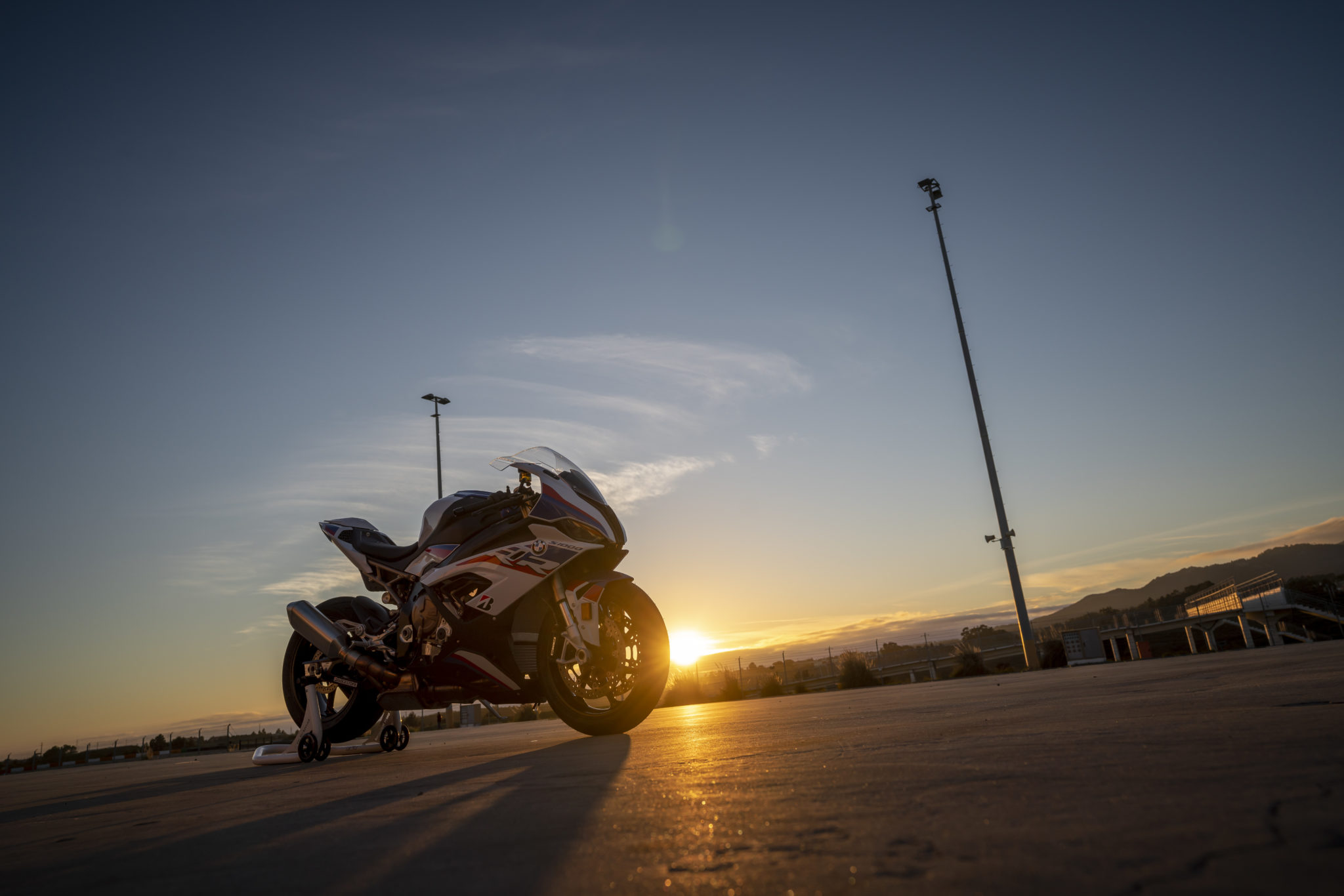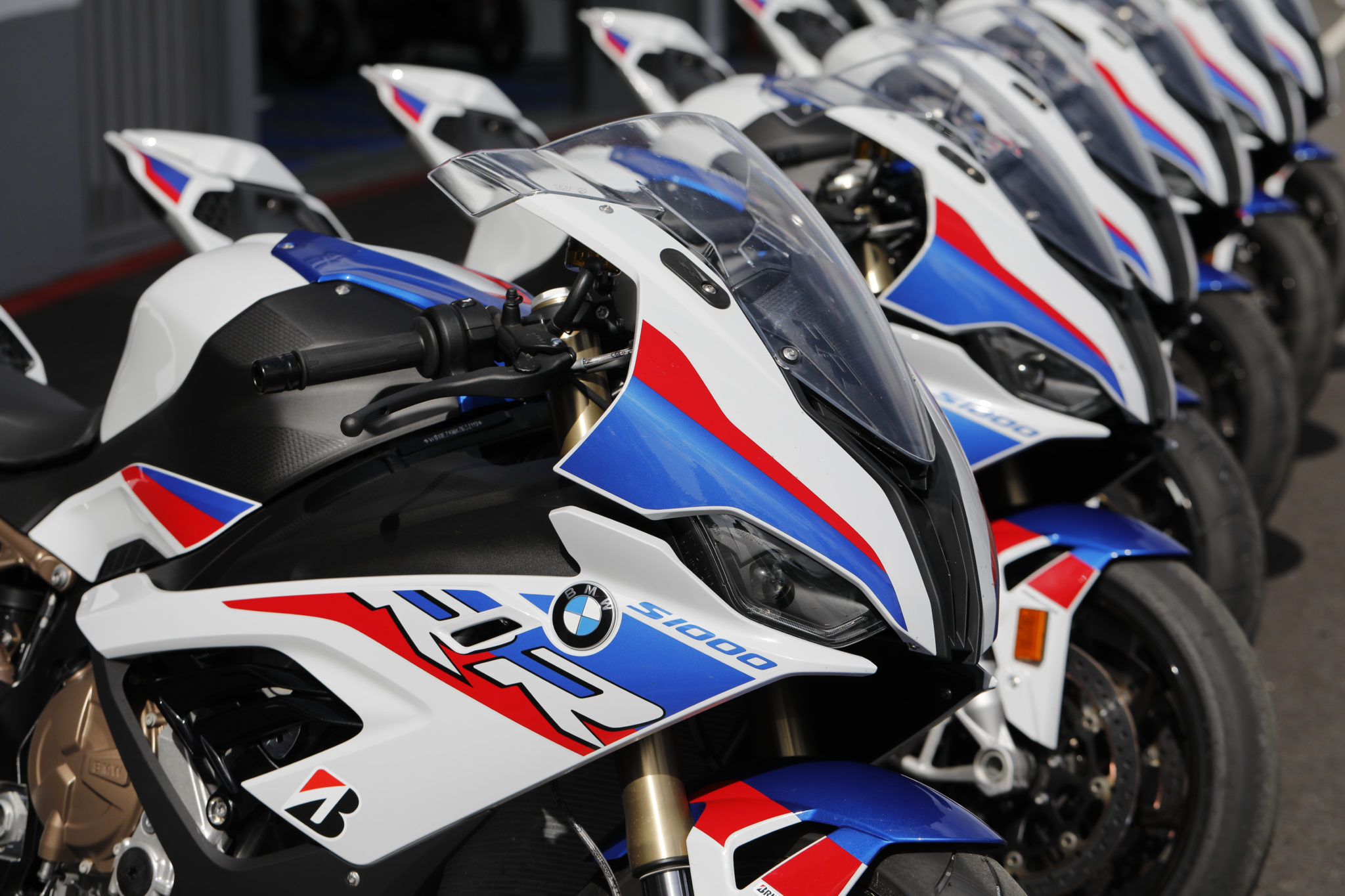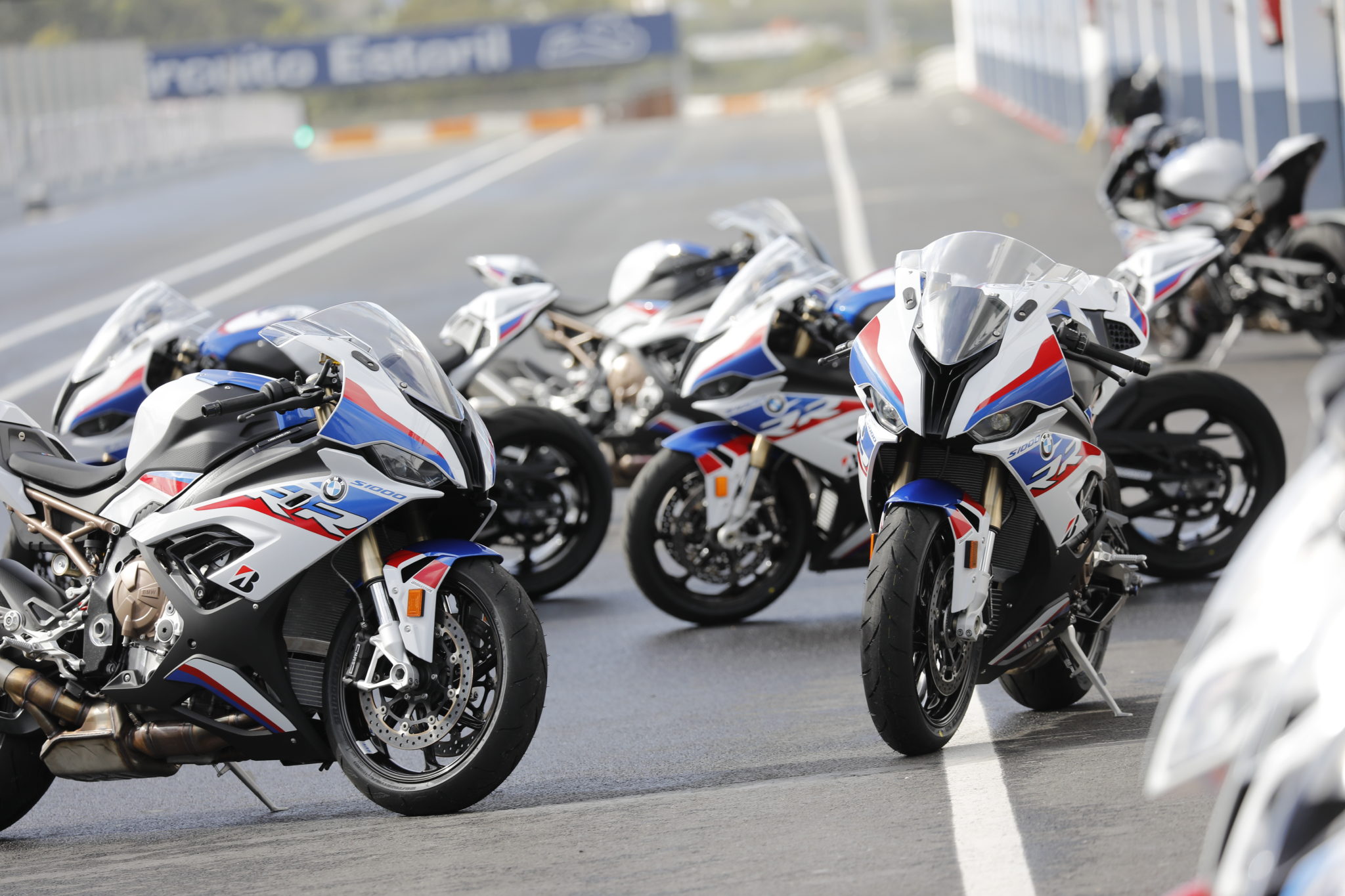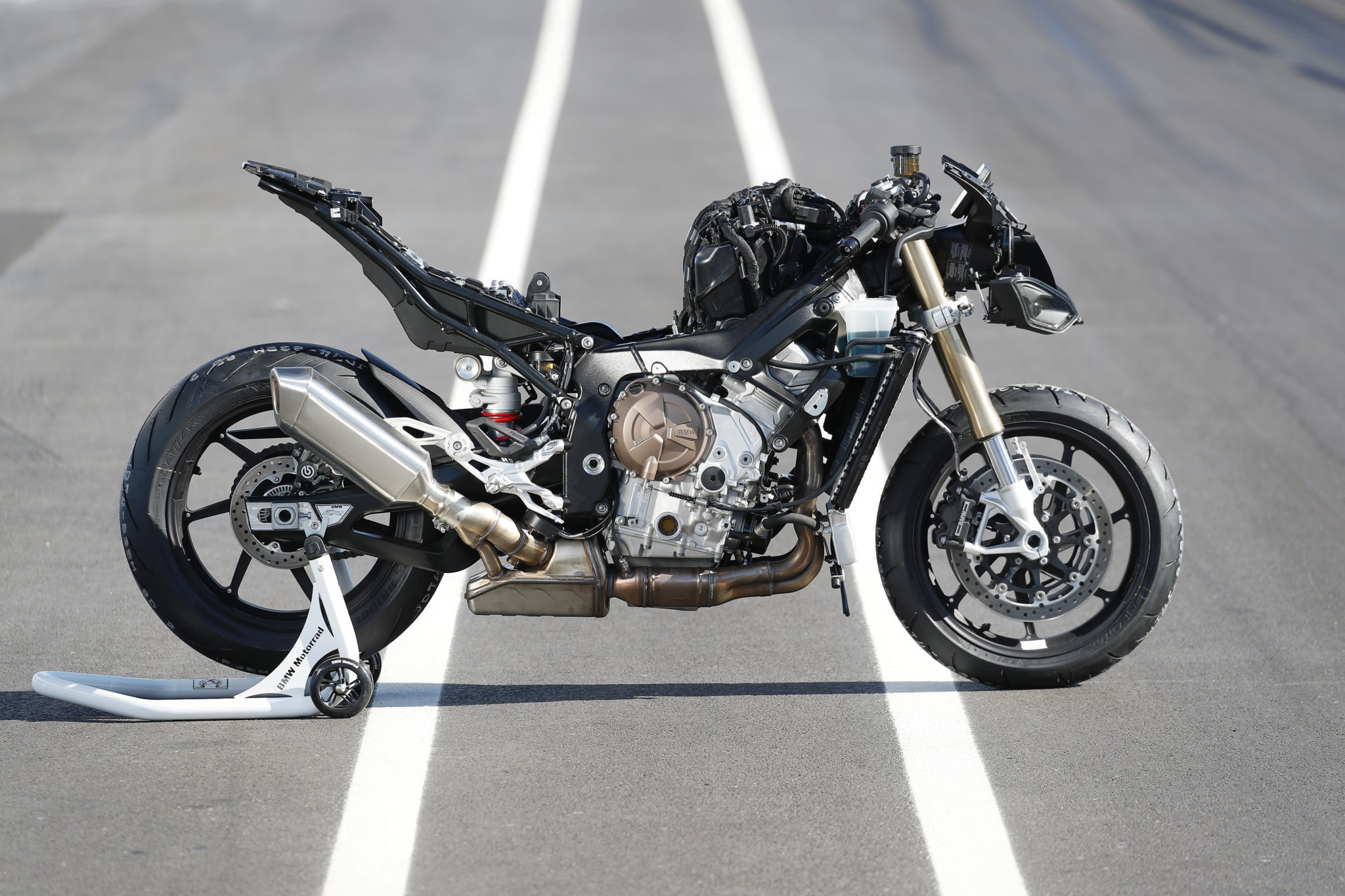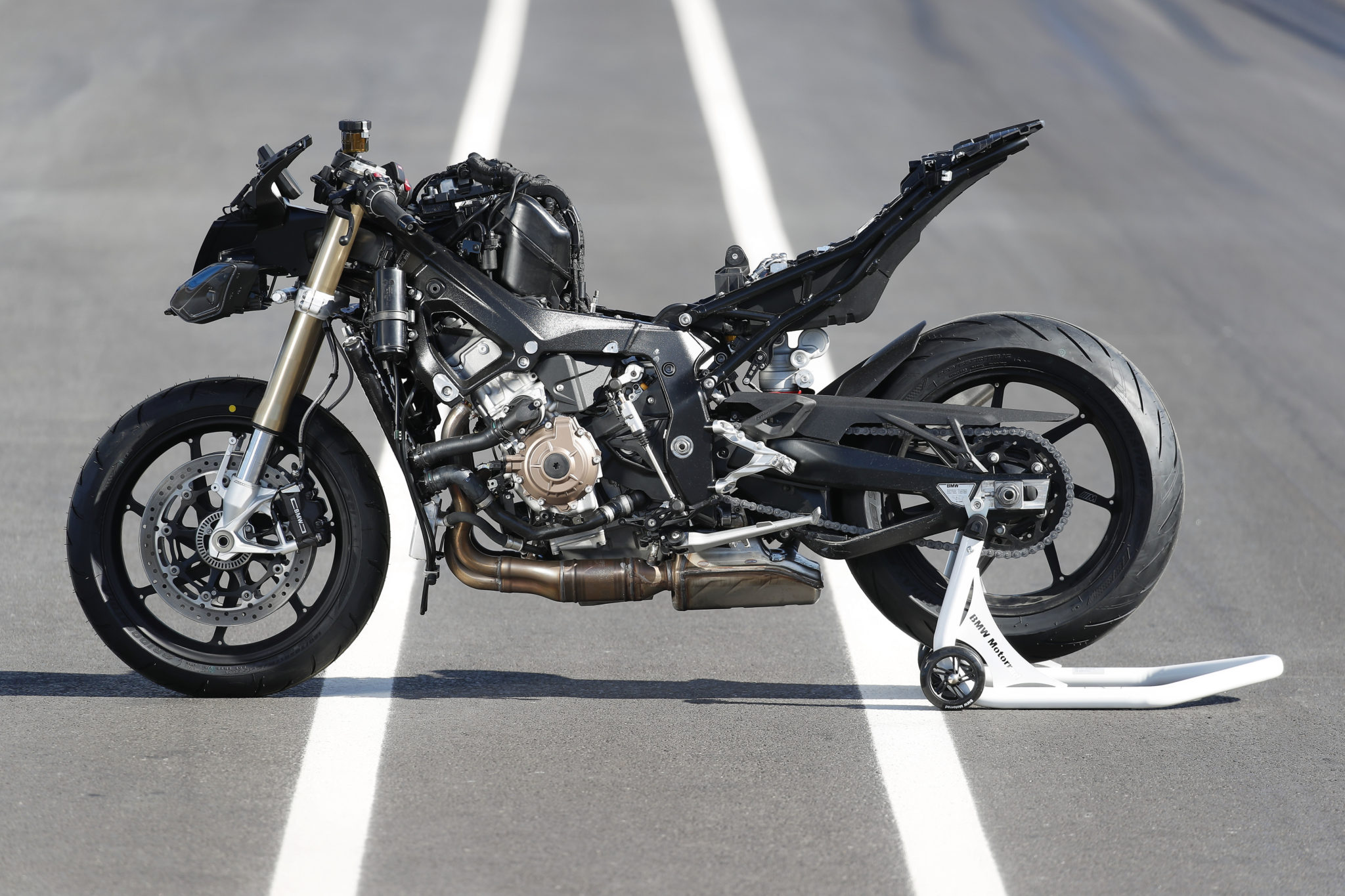 Luckily, Lucy's going steady, and the S1000RR is also making life easy. The riding position is good; the pegs are a teeny bit high for my creaking joints, but not horribly so. I'm in a commanding, comfy position, and the huge colour LCD dash is super-clear and easy to access. The techs have set up the rider modes according to the inputs from Glockner and some other BMW test riders, so we have a mix of settings to suit the rain and the wet tyres. The suspension is softened off a fair chunk compared with dry track settings, the wheelie and traction control are turned up too – but we have full power and throttle response. It's a large, comfy safety net, and means I can concentrate on re-learning the way round here, lifting my visor to clear the fog and keeping out of the massive spray hosing off Lucy's rear Bridgestone down every straight, without worrying about losing grip from either end.
I get one more semi-session before lunch: following a car for some static photo tracking, and my heart genuinely sinks halfway round. The rain has come back on, properly heavy, the BMW cameraman's SUV tyres are jet-washing me with spray every time I get near the car, the poor snapper is frantically trying to keep his lens dry, and it's all a bit rubbish. Crap.
A spot of lunch generally sorts most things out though, and after some pasta and a very nice Portuguese custard tart, there's a hint of brightness in the sky. Woo. I go out for one more video tracking session with Lucy G on a camera bike, and by my next riding slot there's a semi-dry (less-soaking really) line.
Now we can have a proper go. The wets are more than up to these conditions, and I quickly have the confidence to push braking points back, lean over a bit more, and get on the gas sooner. The S1000 feels really capable now – there's amazing power everywhere, with stacks of grunt out of slower bends, and huge top end on the straights. The fuelling is spot-on here, and I can pick my way round the patchy dampness exactly how I want, dialling in just the right amount of gas as I go. The softer DDC suspension settings mean the bike moves around a little on the faster sections, but there's nothing disconcerting about that at all, and I'm having a ball now.
Gallery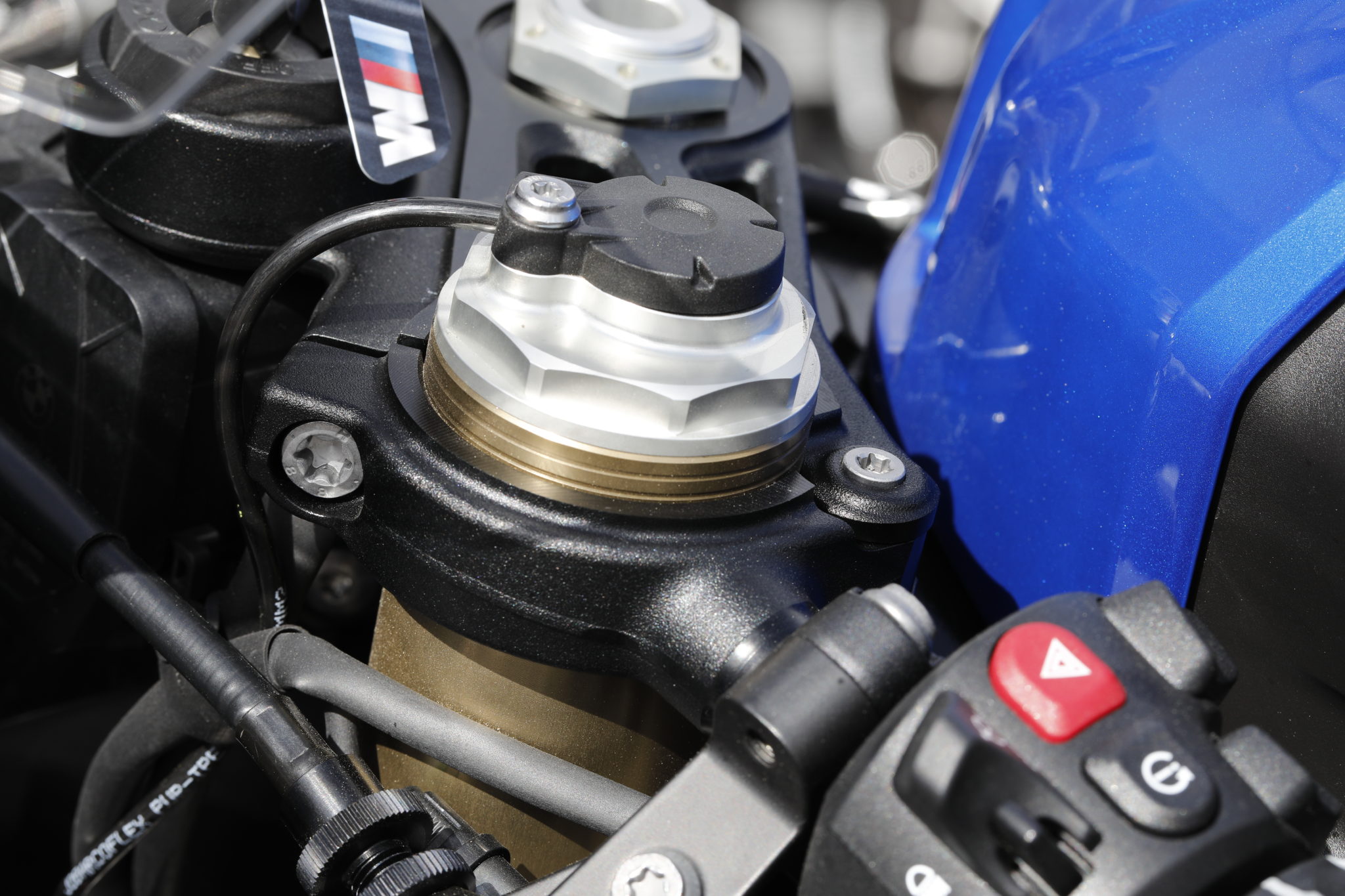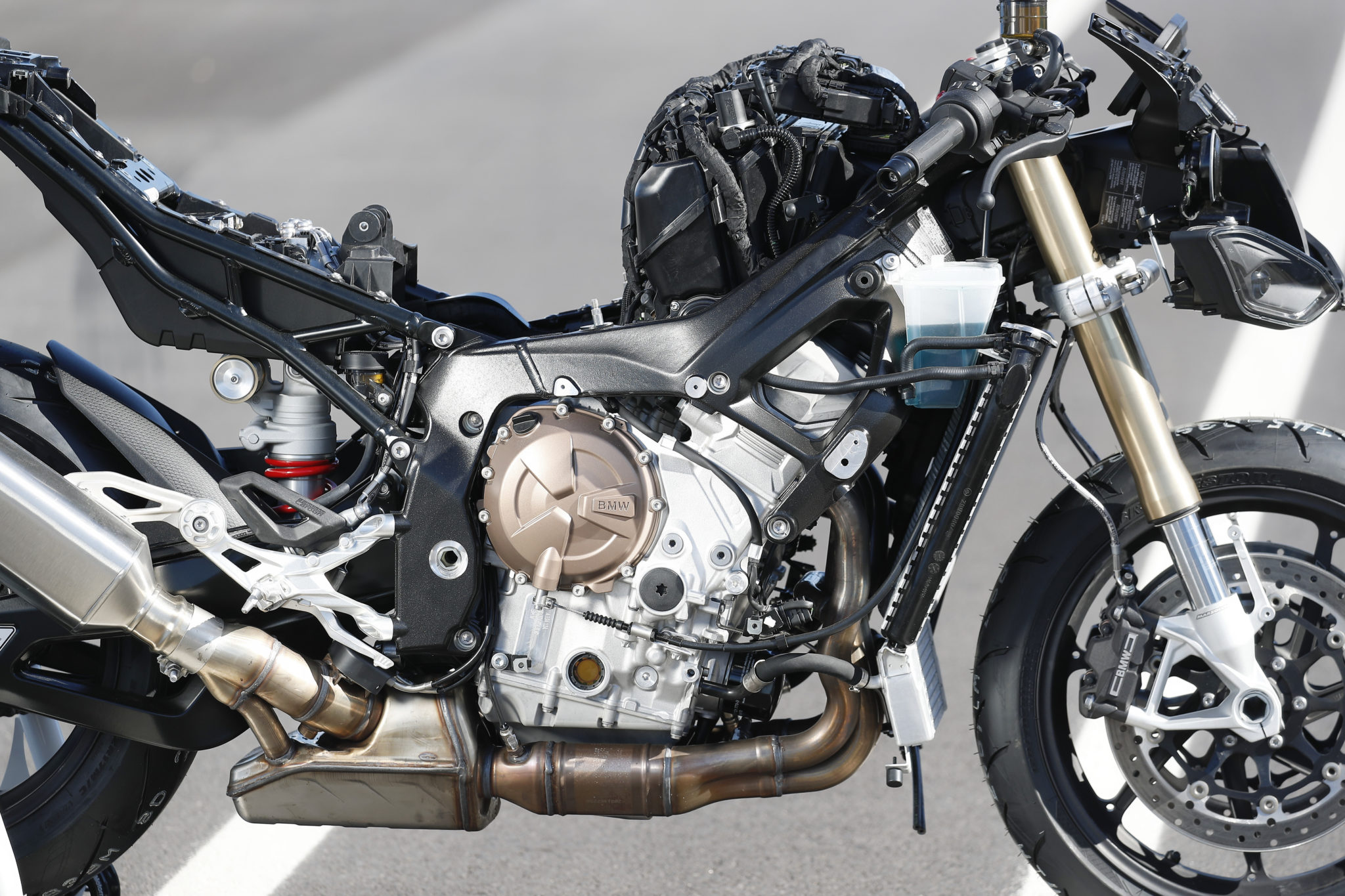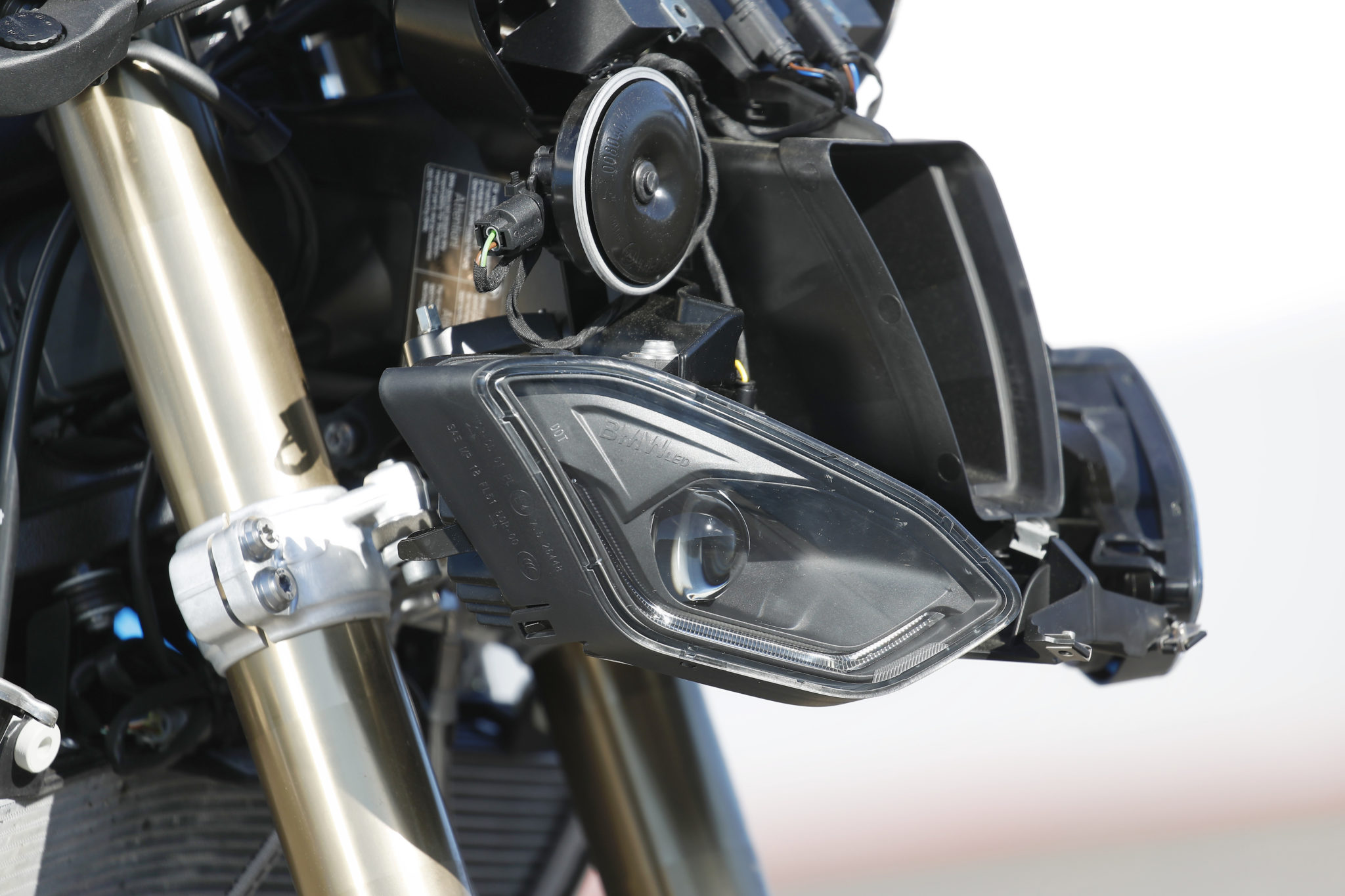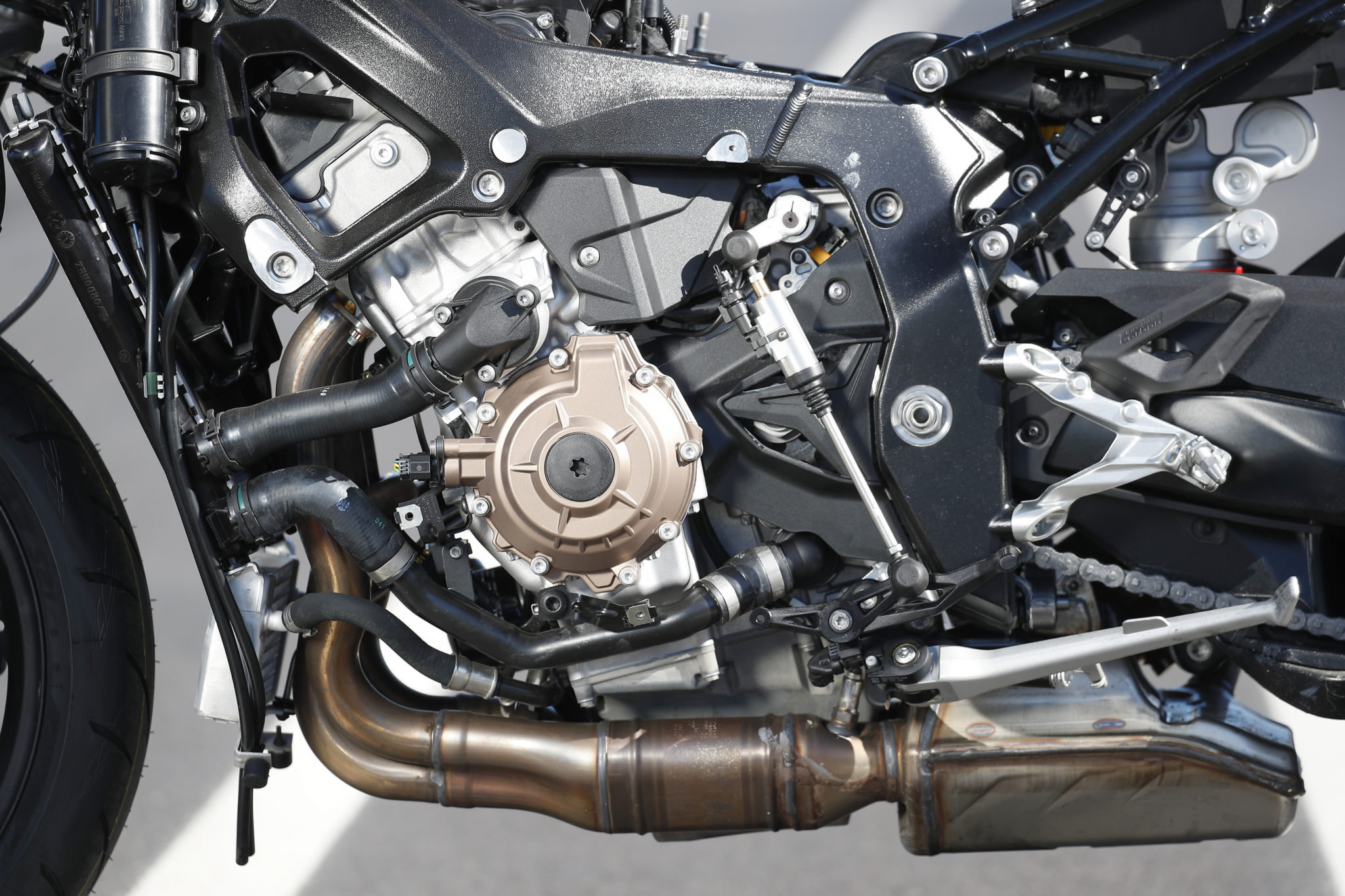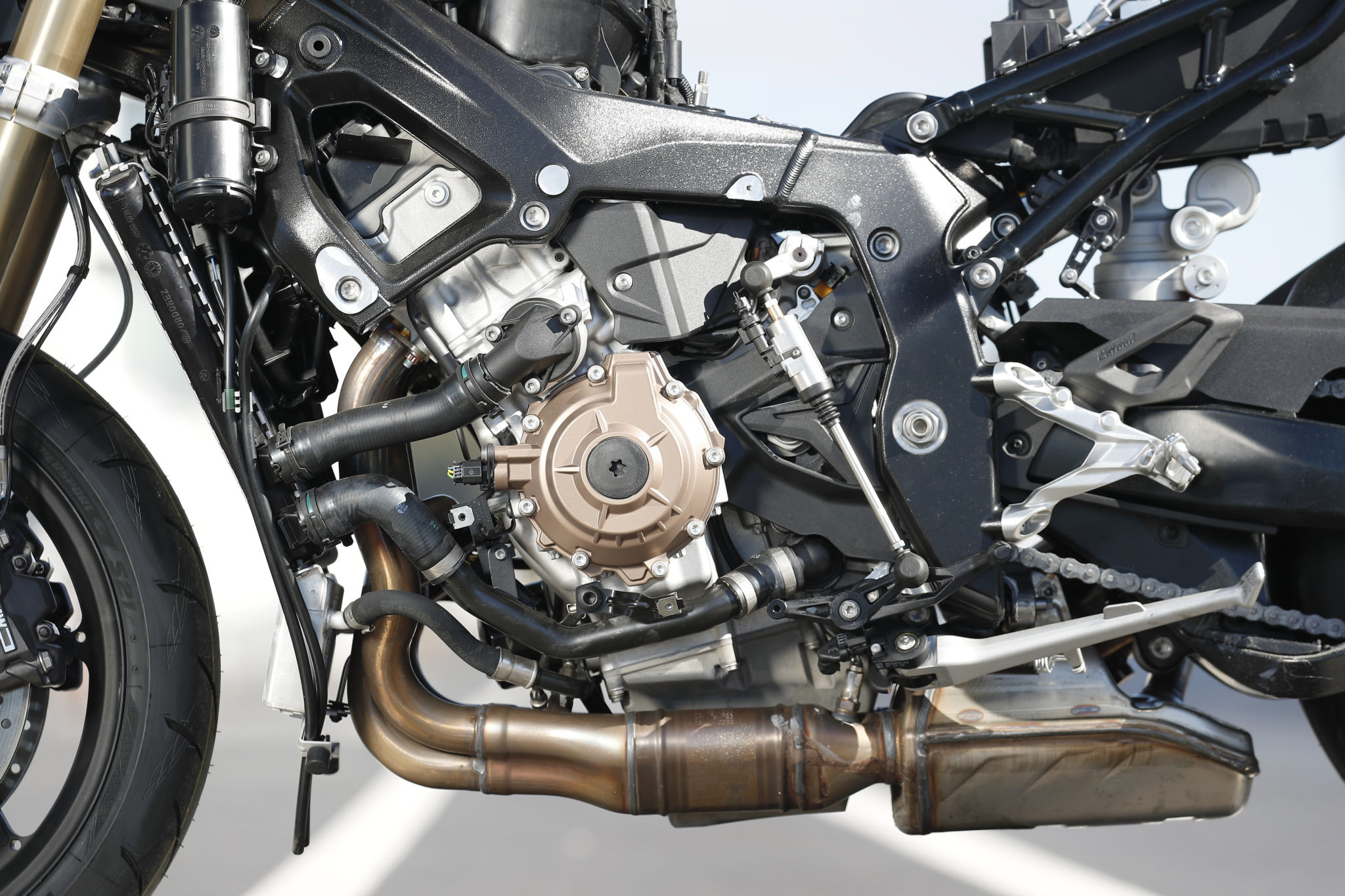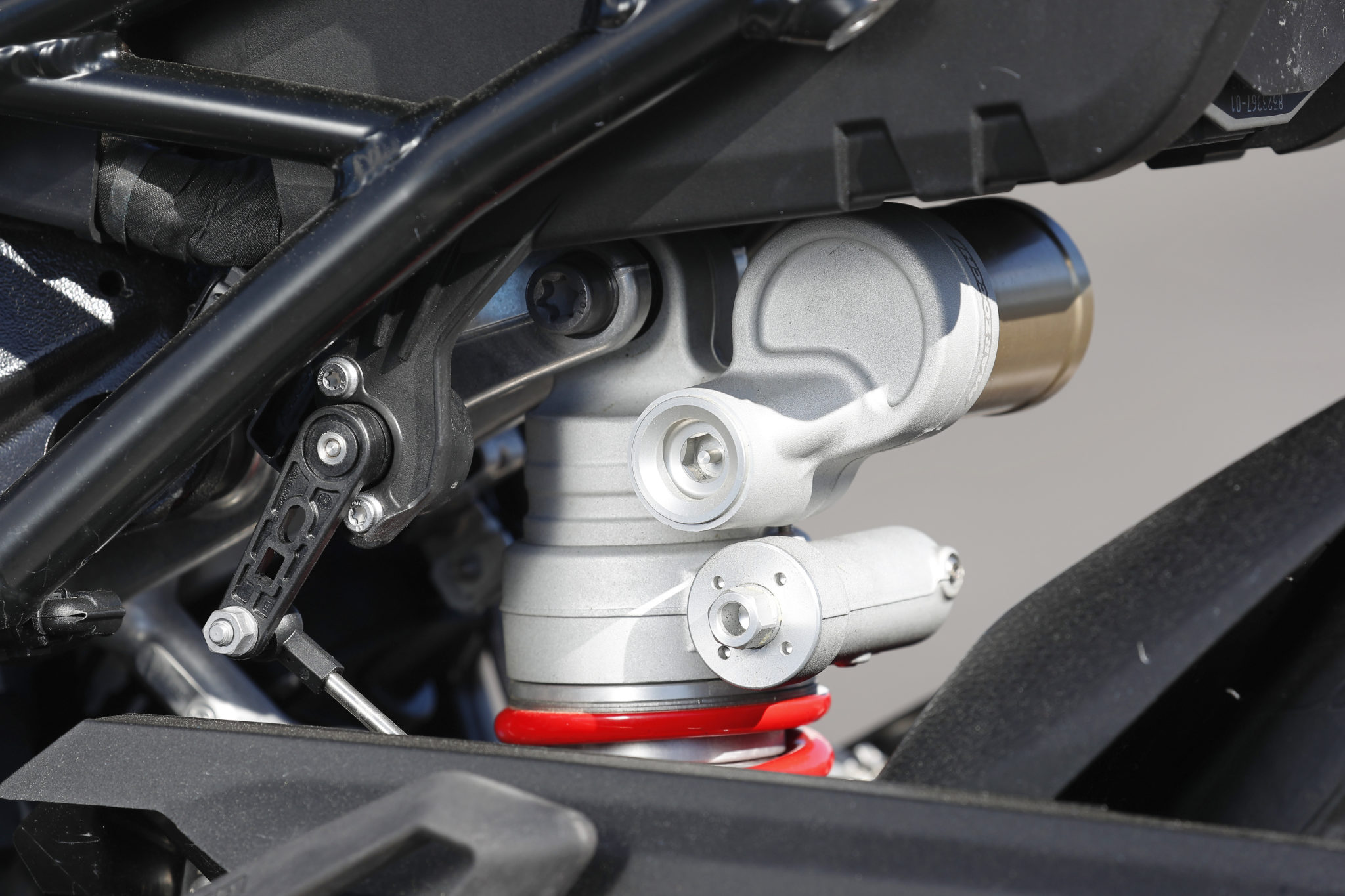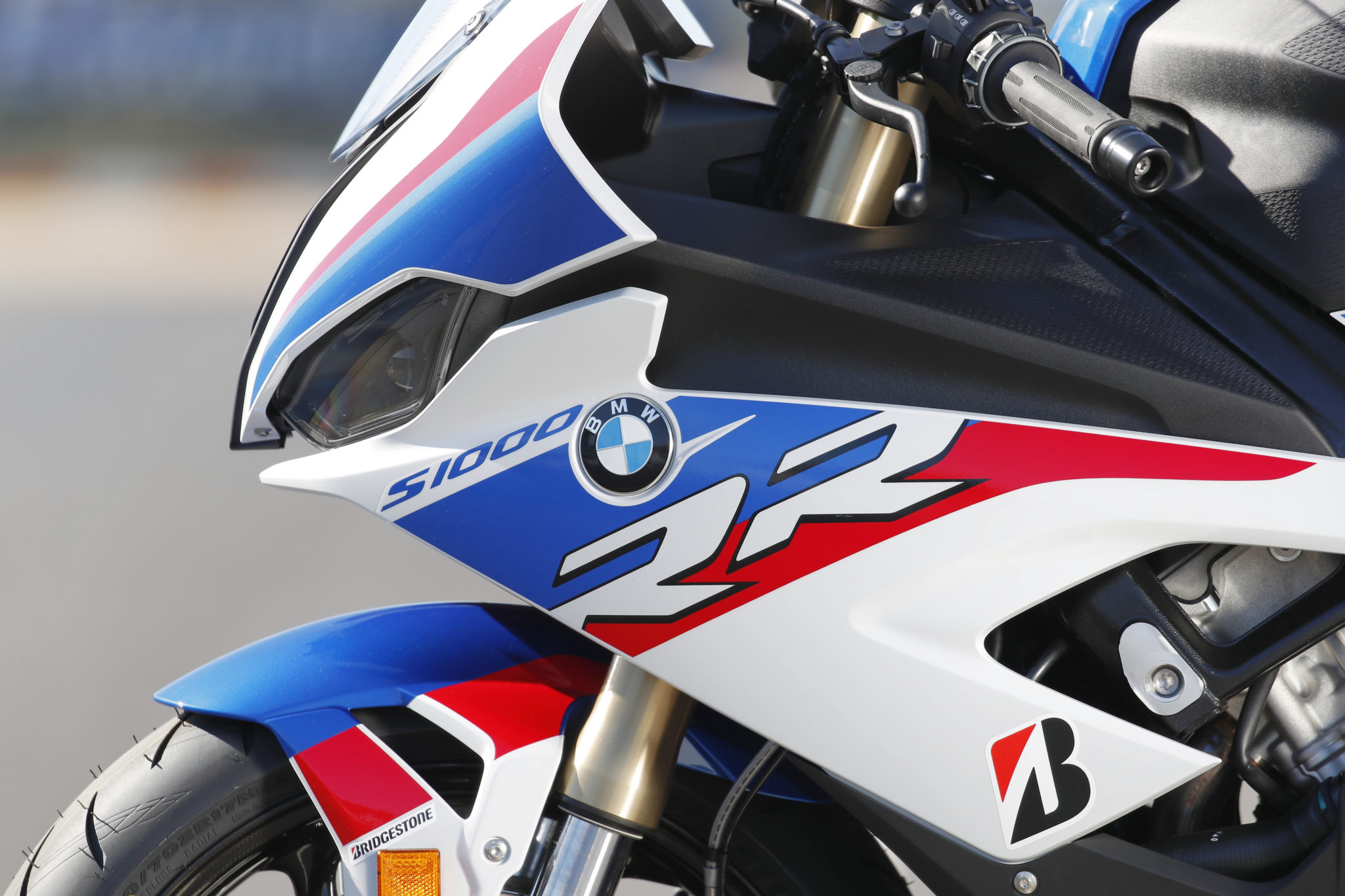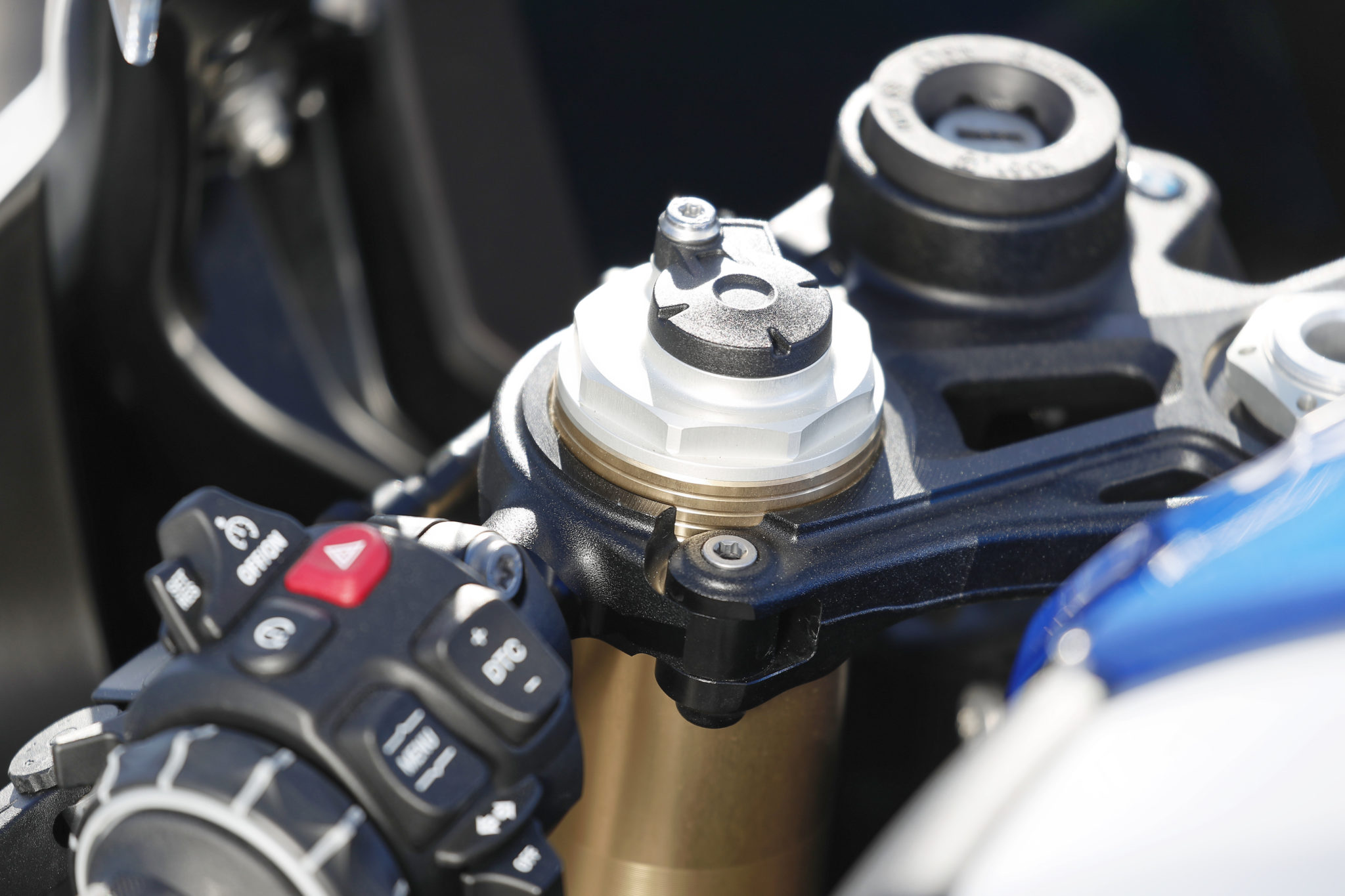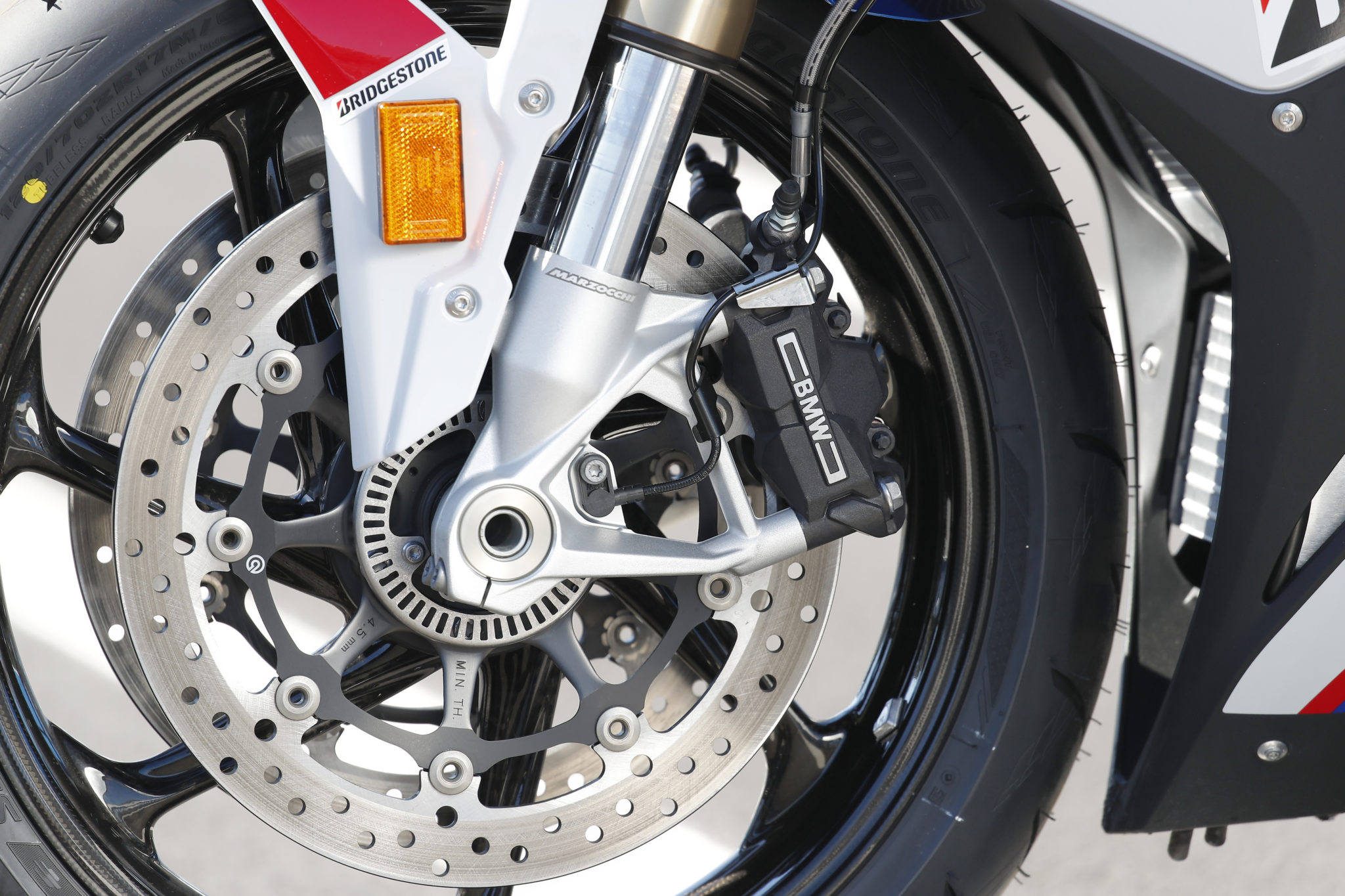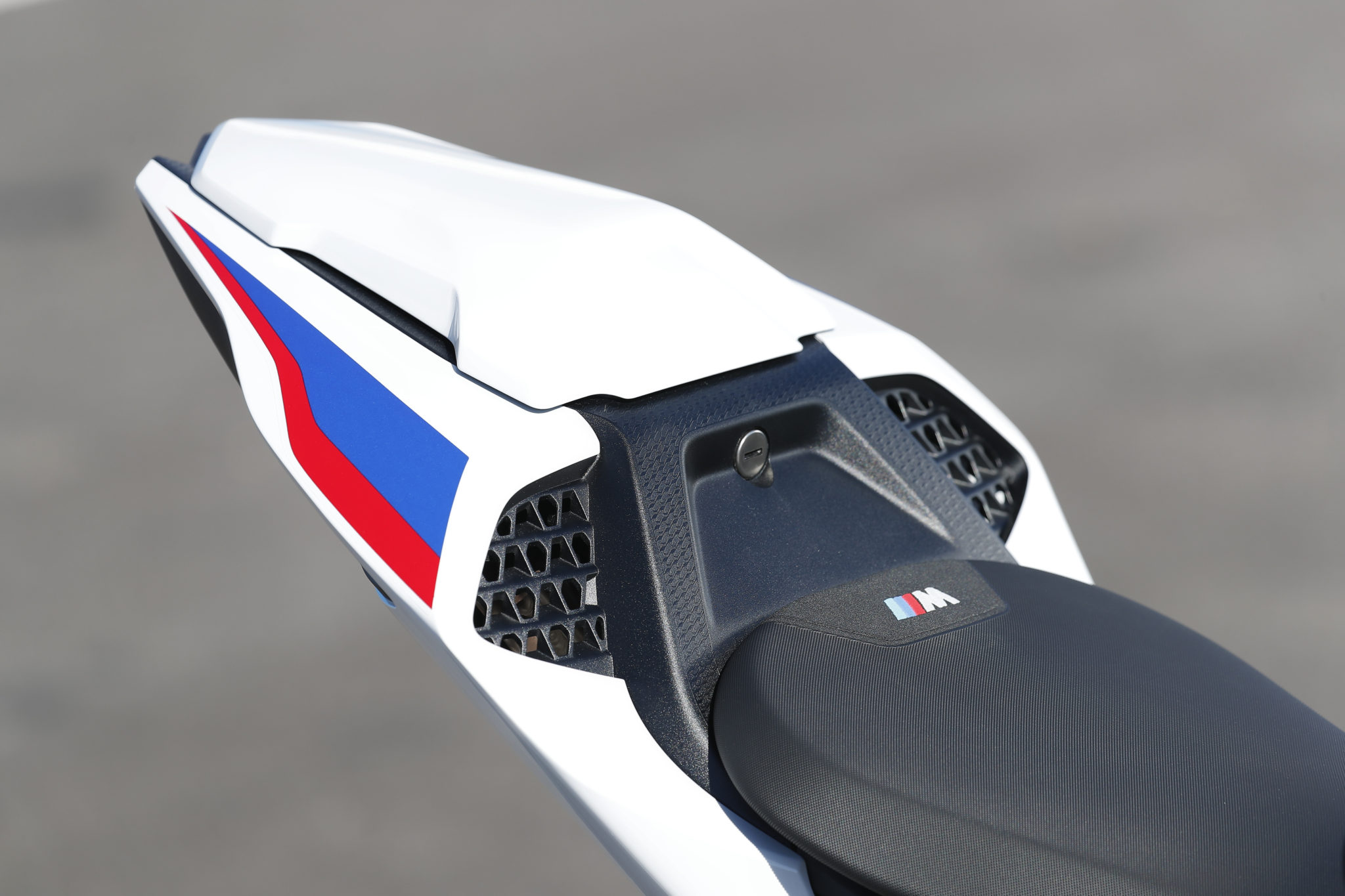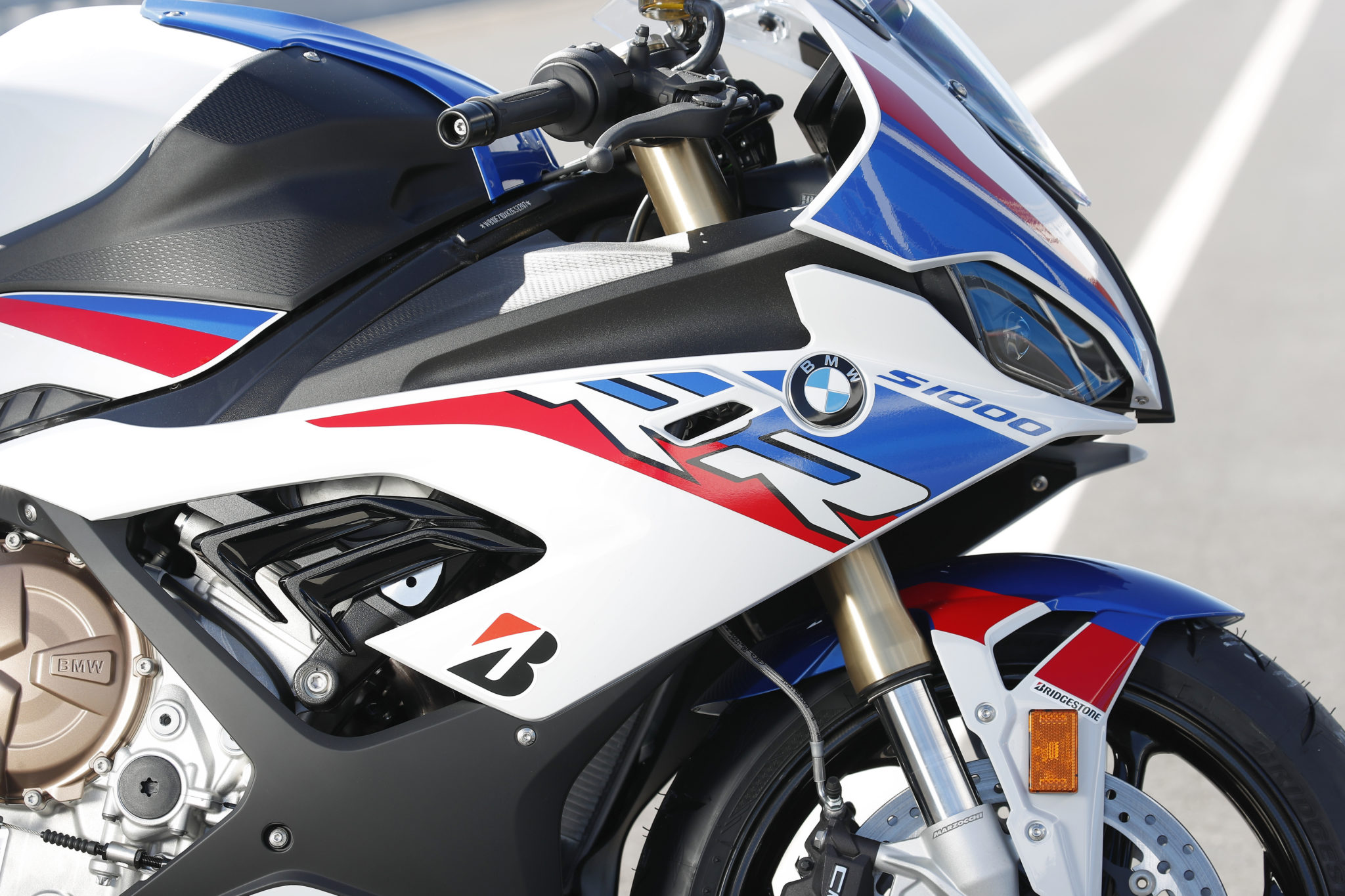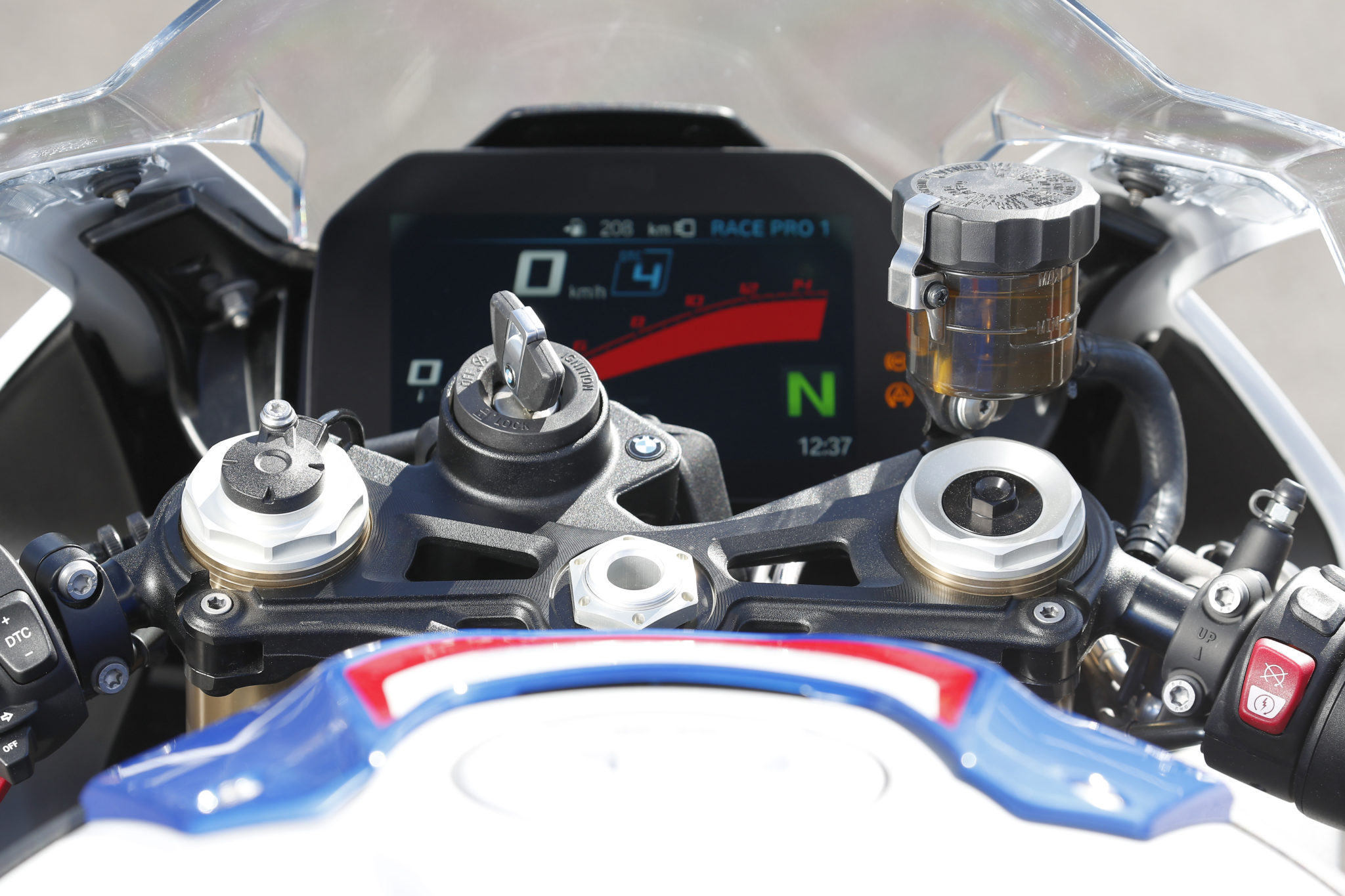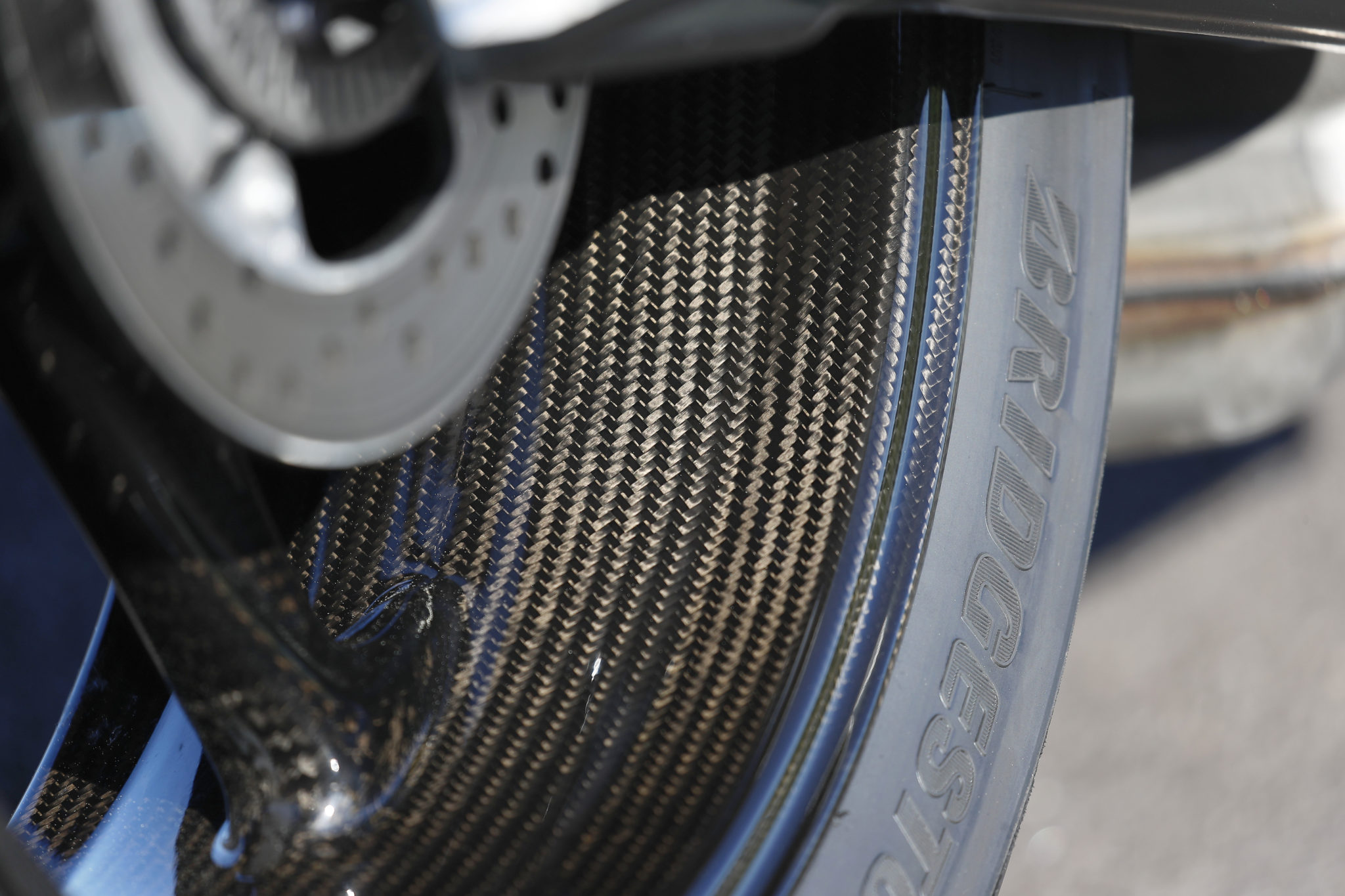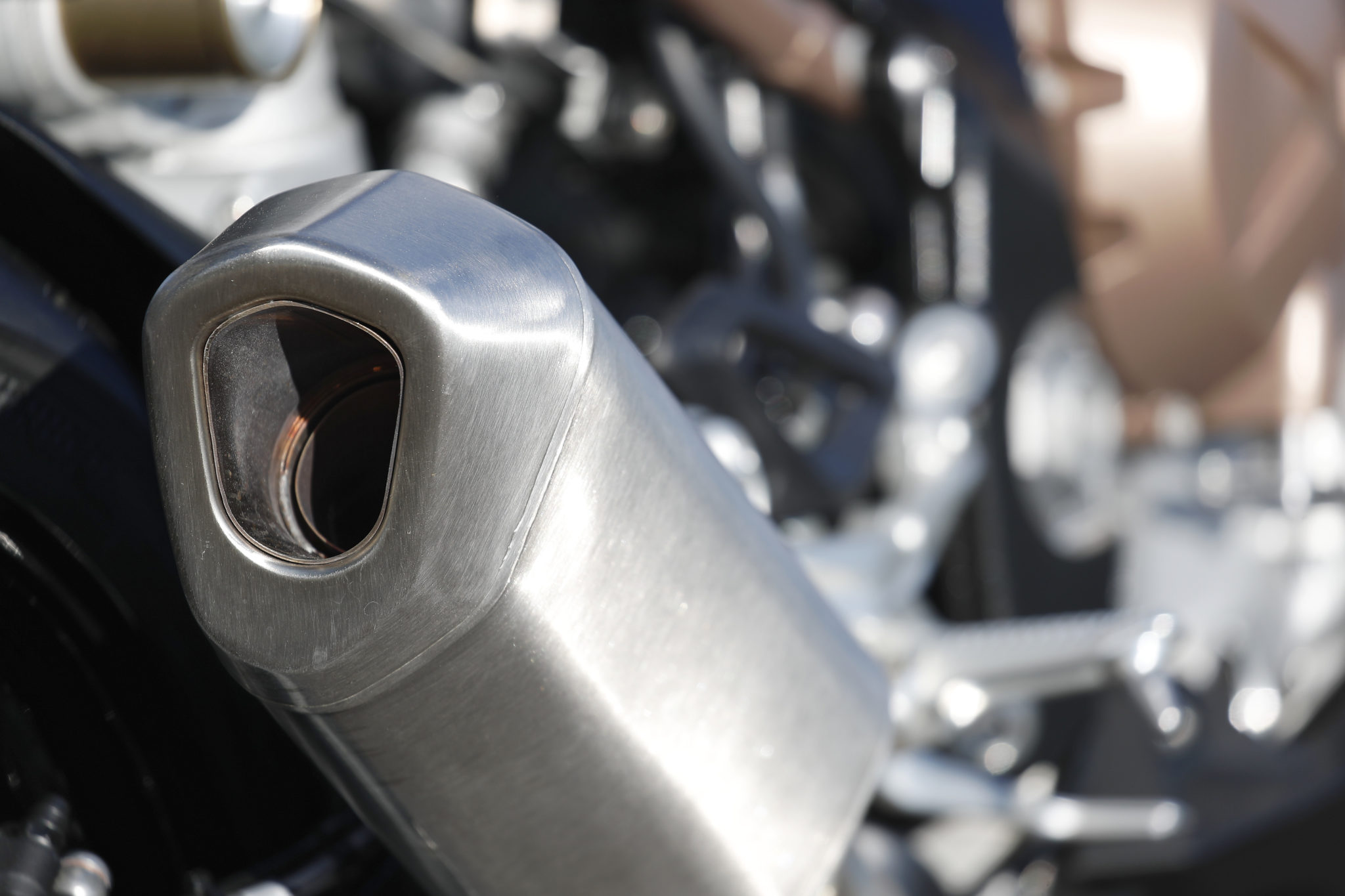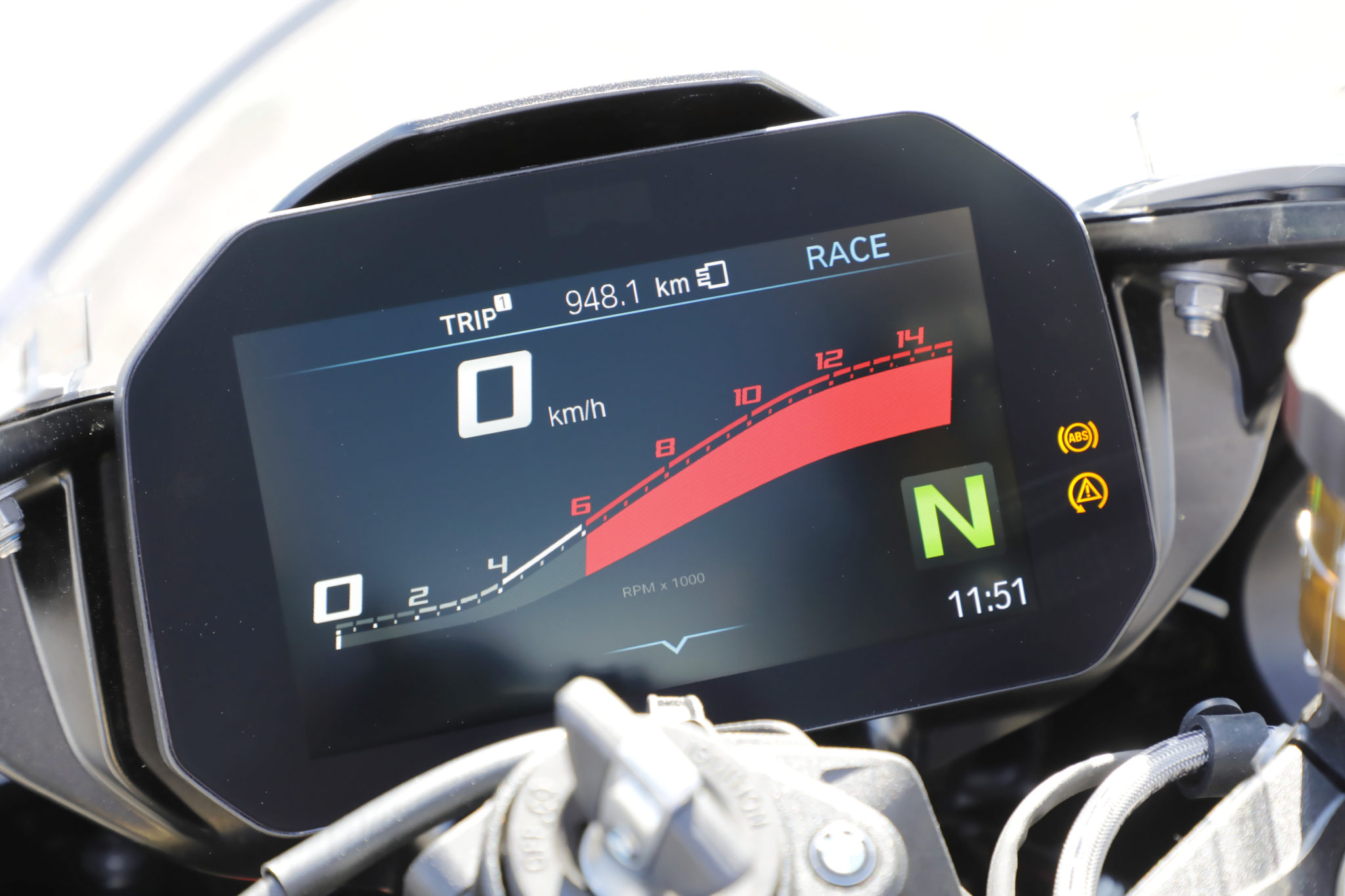 I've got a few favourite spots here today on the S1000RR. First is the end of the main straight, where I make a little involuntary yelp the first time I slam on the brakes from 260kph+, on a wet track. The very idea of braking hard is so counter-intuitive, it spins my head at first. But the combination of the ace wet rubber and that ABS safety net encourages me to slam those Hayes calipers on harder each time, yelping and giggling like a loon inside my Arai.
Next is the flat-out kink on the back straight – this takes a deep breath, a short-shift up into fourth gear, hold your nerve and slam through the mega-fast right hander, carefully skirting the puddles and painted lines at the edge of the asphalt. Then, hard on the throttle, charging down the rest of the straight at 250kph before another hard braking zone into the next left-hander.
Finally, the last bend is a flat-stick corker. A right hander that goes on forever, letting you settle in, tucked down, kneeslider scaffing along the track surface at big speed. Something going wrong here doesn't bear thinking about, so I try not to, while pushing harder each lap…
Those are the good bits – but they throw the crap bit into sharp relief too. That would be the uphill chicane, which is a bit of a faff in the dry, but in the current conditions, it's a proper misery. Even trundling around at near-walking pace, it feels like you could slip off at any moment – nasty.
There's one more riding session, which is much like this one, only a bit quicker, but then there's a new hurdle to overcome. The track is much drier now, which is good, but that also means the wet tyres are starting to suffer. There's no time for the techs to change the tyres, so the Bridgestone man drops some air out of the rears (counter-intuitively, this lets the blocks squeeze together more in the contact patch, reducing tread movement, apparently), and sends us out. "Finish them off!" he yells, pointing at the poor wets, like a Bond villain telling his henchmen to machine-gun all the good guys to death.
Gallery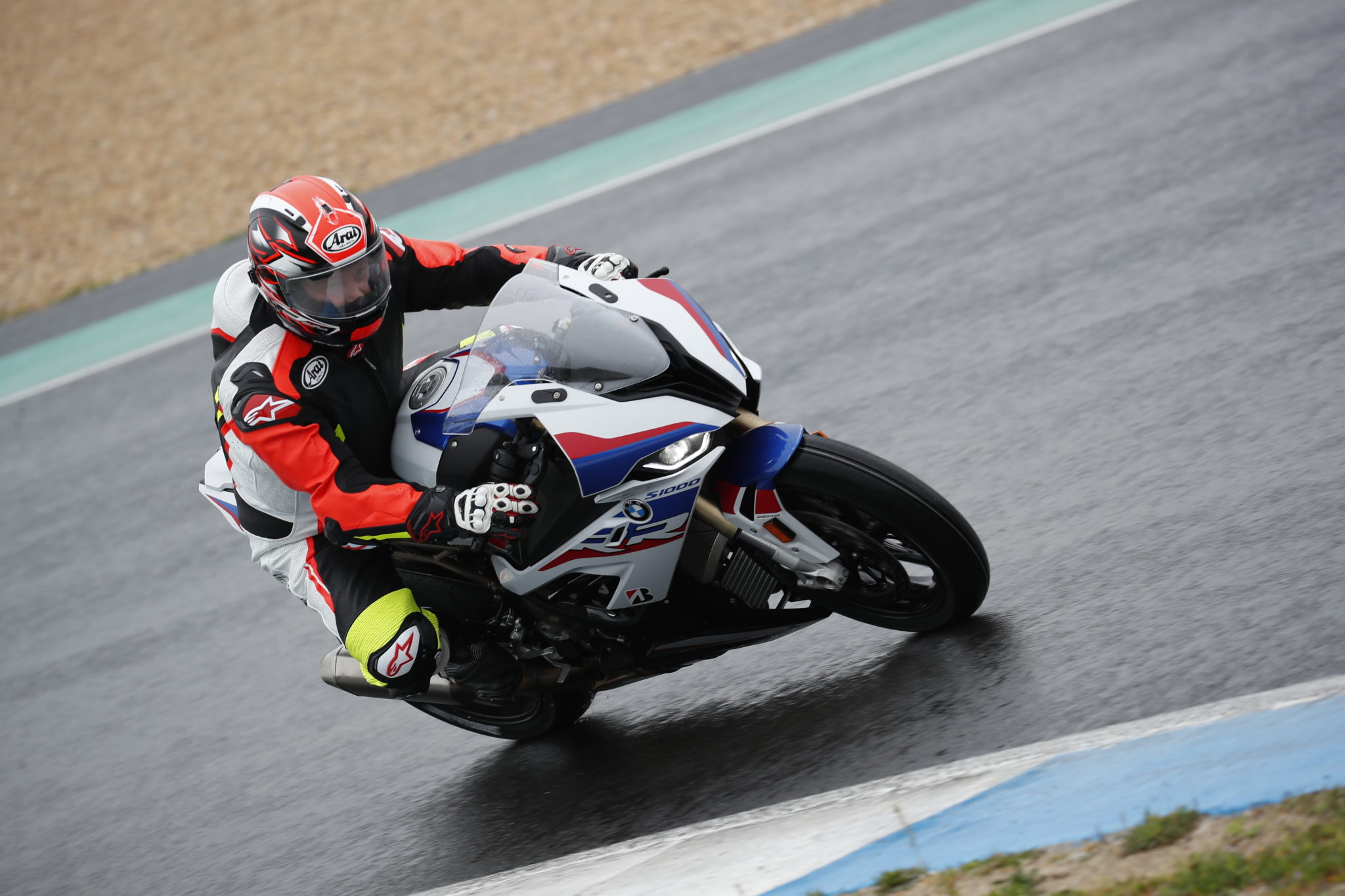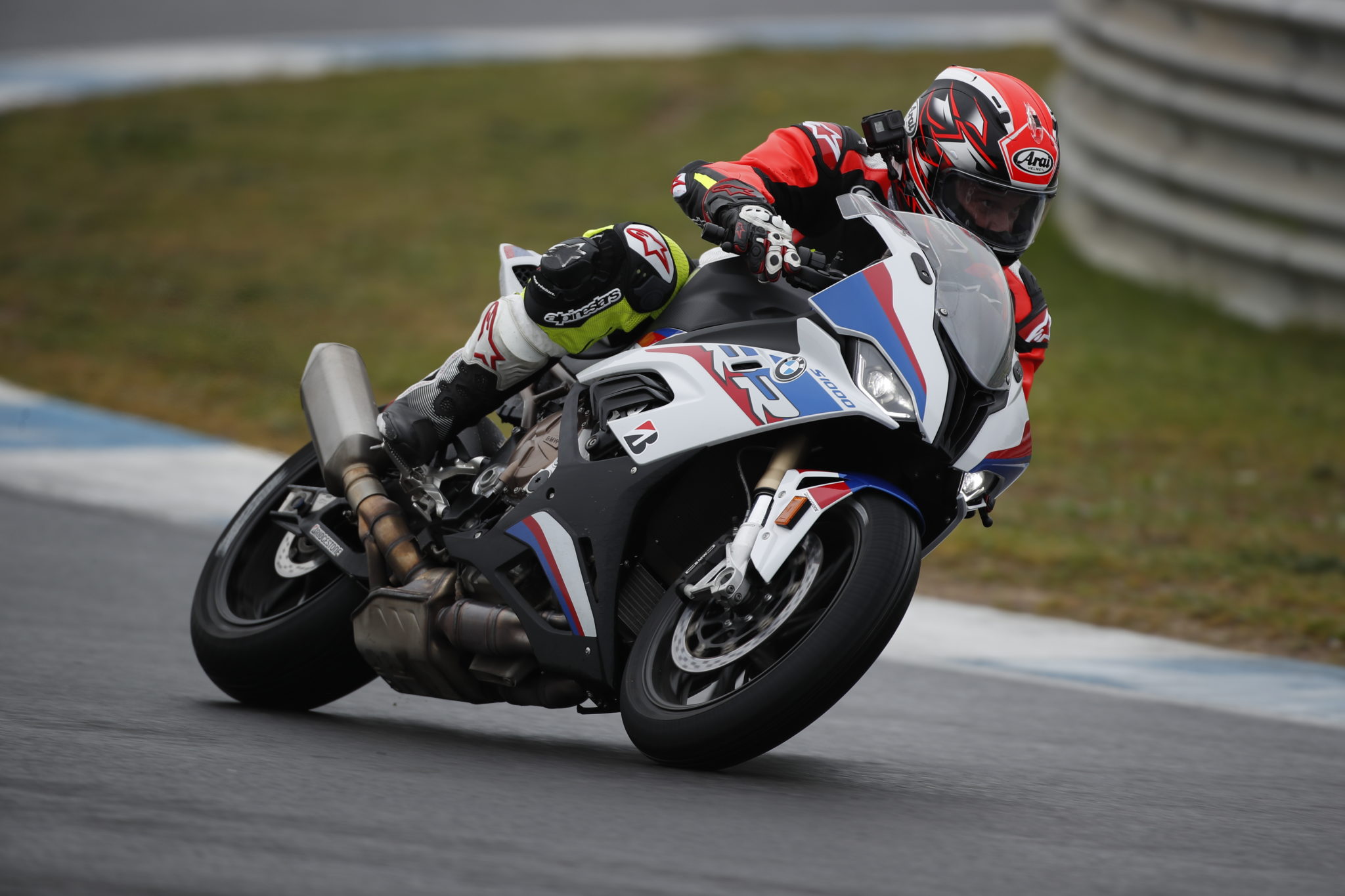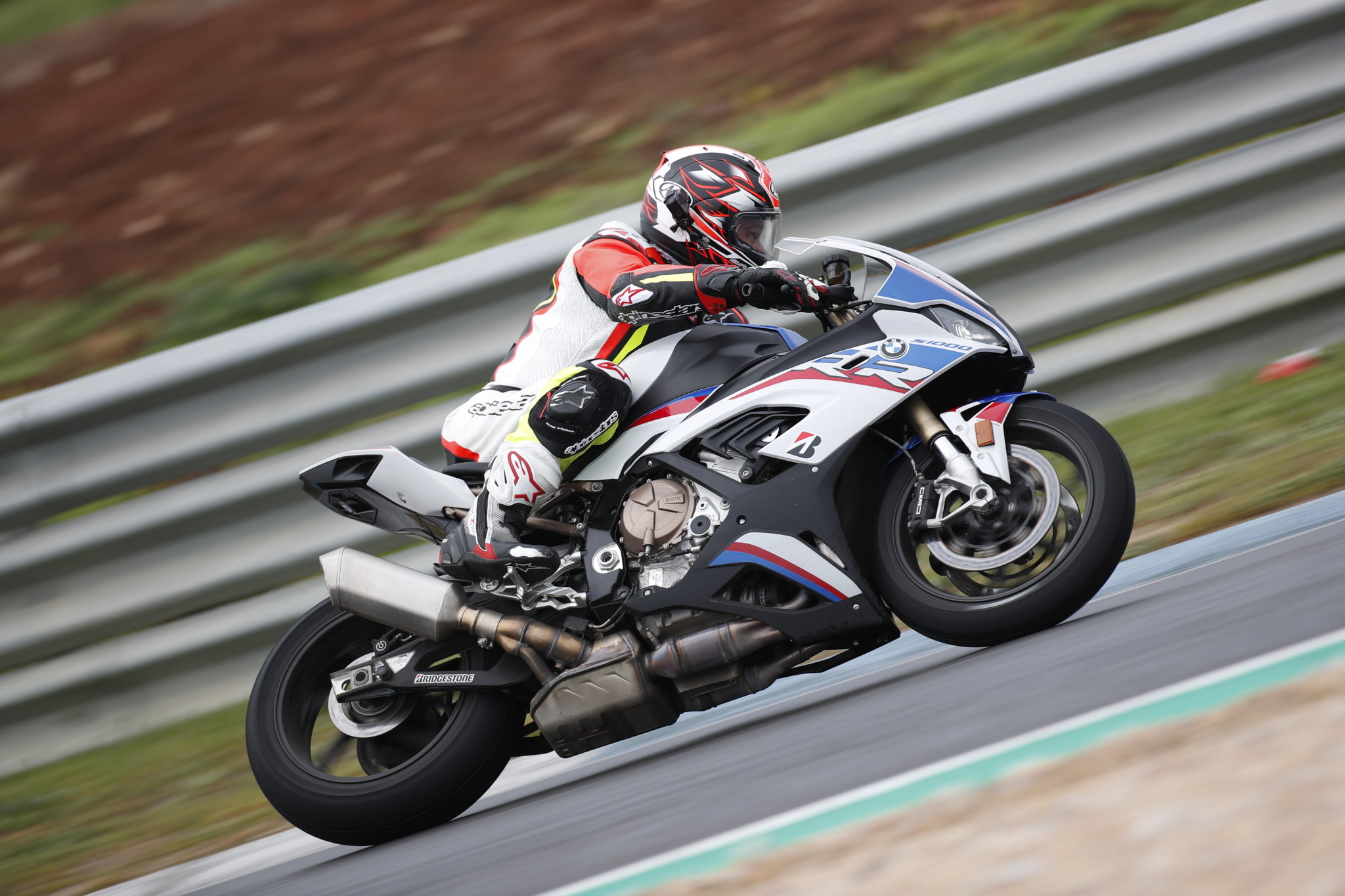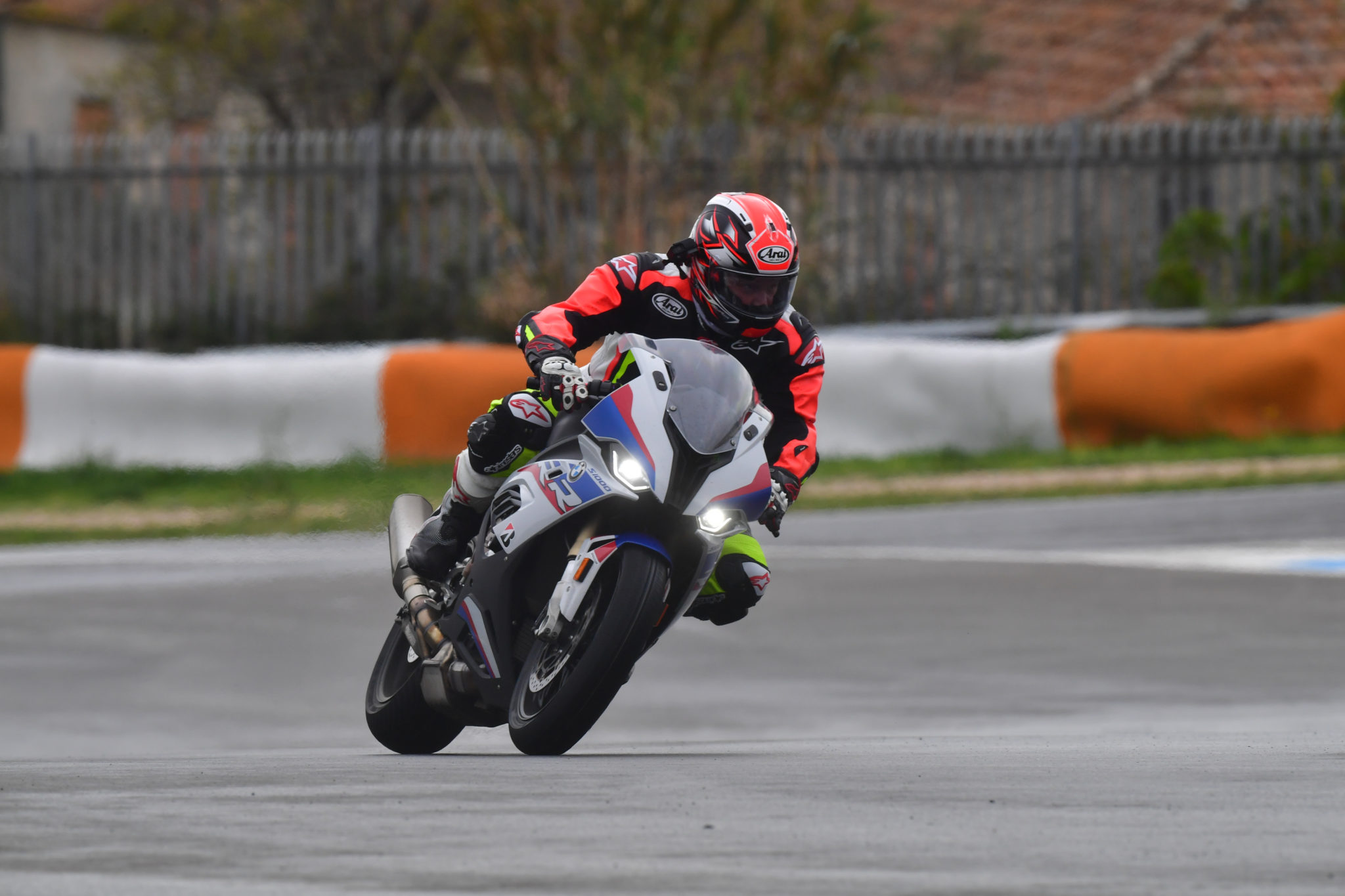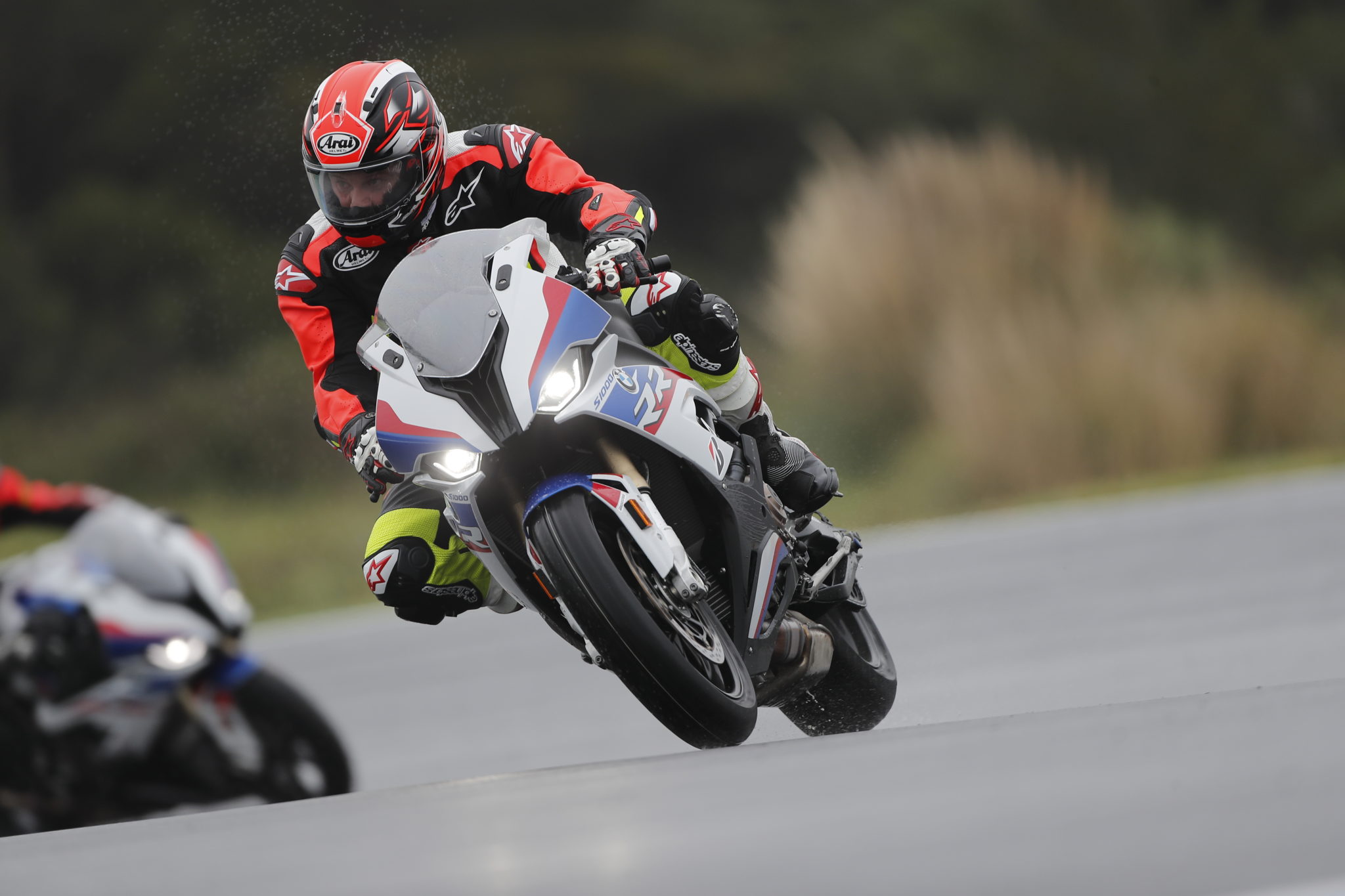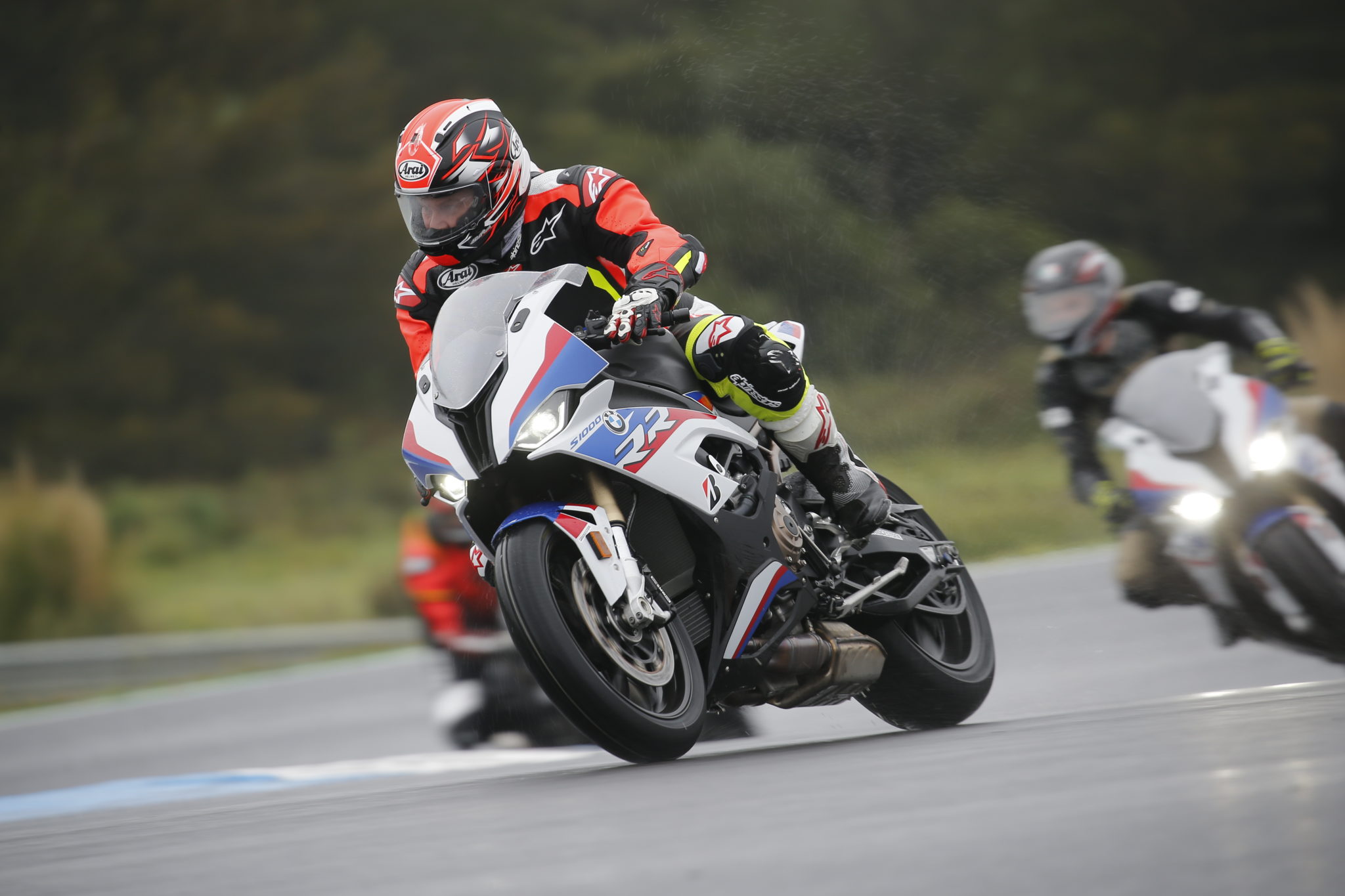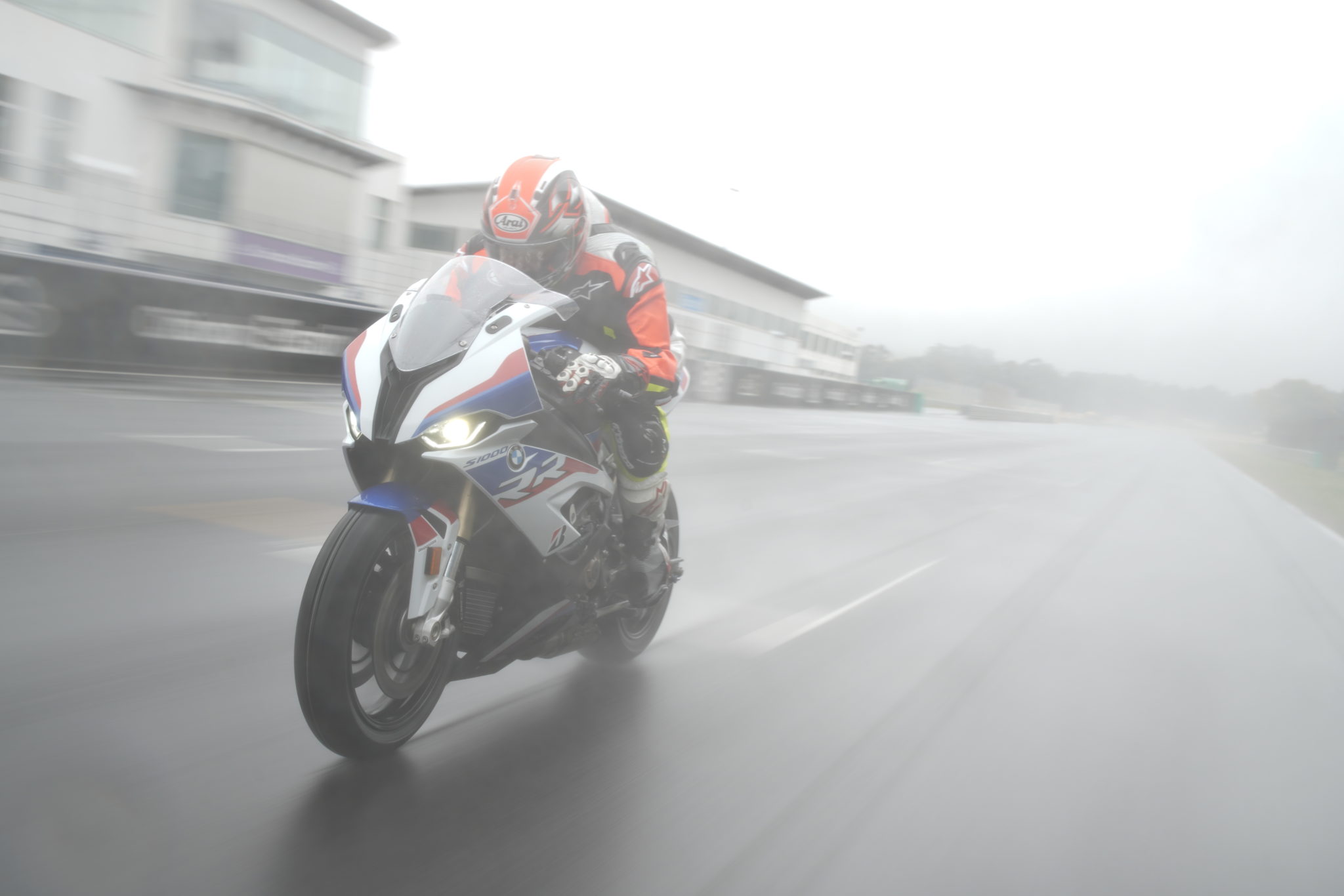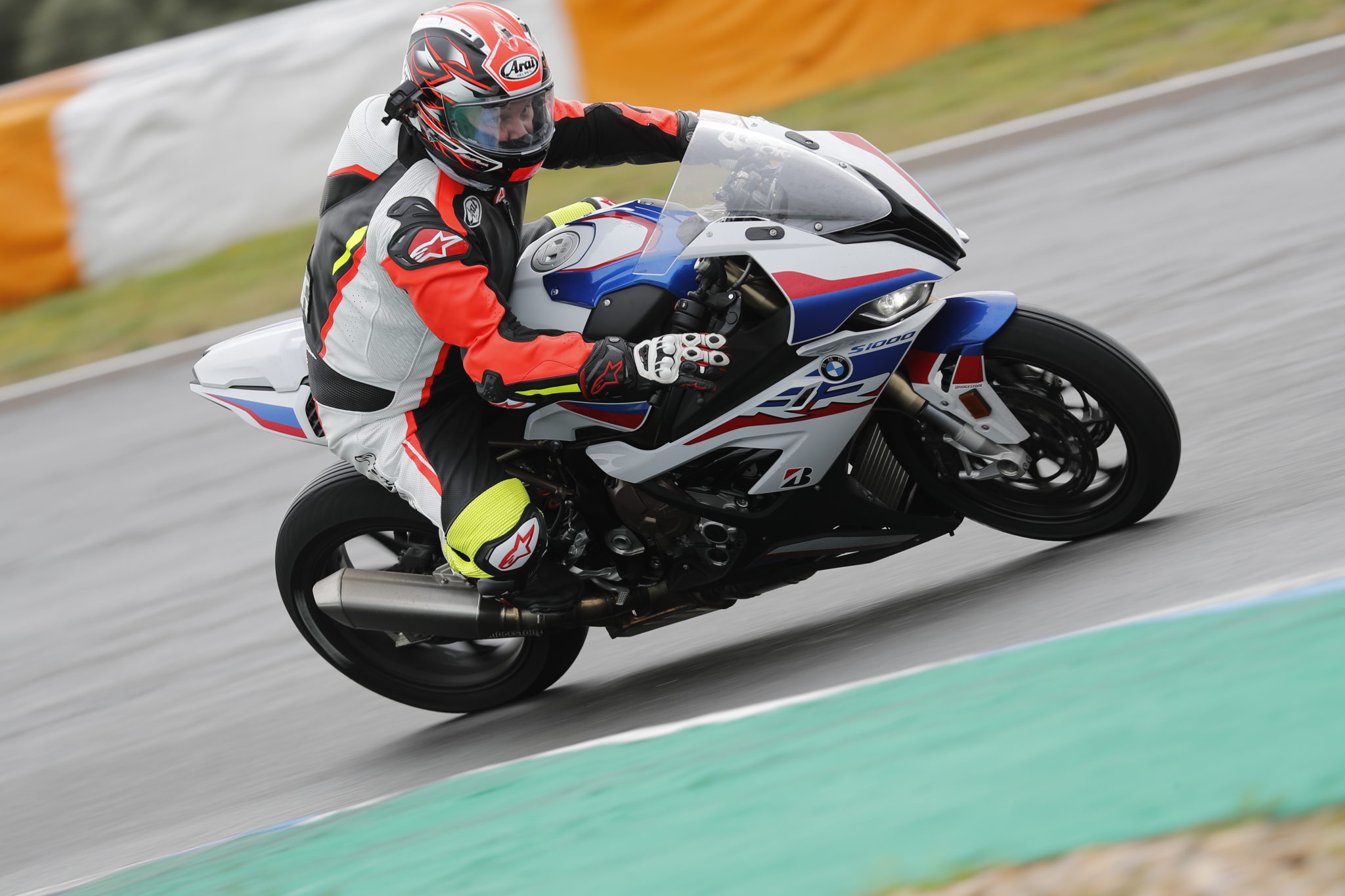 So we do our best – but things are turning into a bit of a lottery. There's still the odd wet patch out here, and if you drift off line, things get wobbly. But even on the dry line, the tyres feel done, and after one big slide from the rear, I get the message. I could maybe tweak the traction on the fly as a workaround, but realistically, the day is done, and I pull in to the pits as the final chequered flag waves.
Has today been irrelevant in terms of sizing up the S1000RR then? Not at all – though we'll need some time on warm dry asphalt to make the ultimate all-round judgement. The weather broke just long enough for a couple of decent track sessions though, and the rest of the time, the new Beemer showed it can deal with sub-optimal conditions very nicely indeed. The new engine is a corker – strong, with a beefy midrange, and excellent throttle response. It hoovered up Estoril's straights like a City banker hoovering up marching powder in a Canary Wharf toilet; and while it might not best the 1100 Italian V-fours in a straight BHP fight, it feels like it would have a good old go. The chassis is forgiving and easy to access – and the electronic suspension will expand usability on road and track.
The new Hayes brakes worked well for me on the day – though one other rider complained they had some bad brake fade – and the ABS was a fabulous aid in the changeable weather. Together with the rest of the rider aids package, it's a beguiling offering in terms of usable, customisable tech, that makes a big difference to how and when you can ride. It's no exaggeration to say that ten years ago, I'd maybe not have ventured out on a litre sportsbike in the conditions we had early on at Estoril. But BMW's added enough tech safety nets to make it a not-insane choice.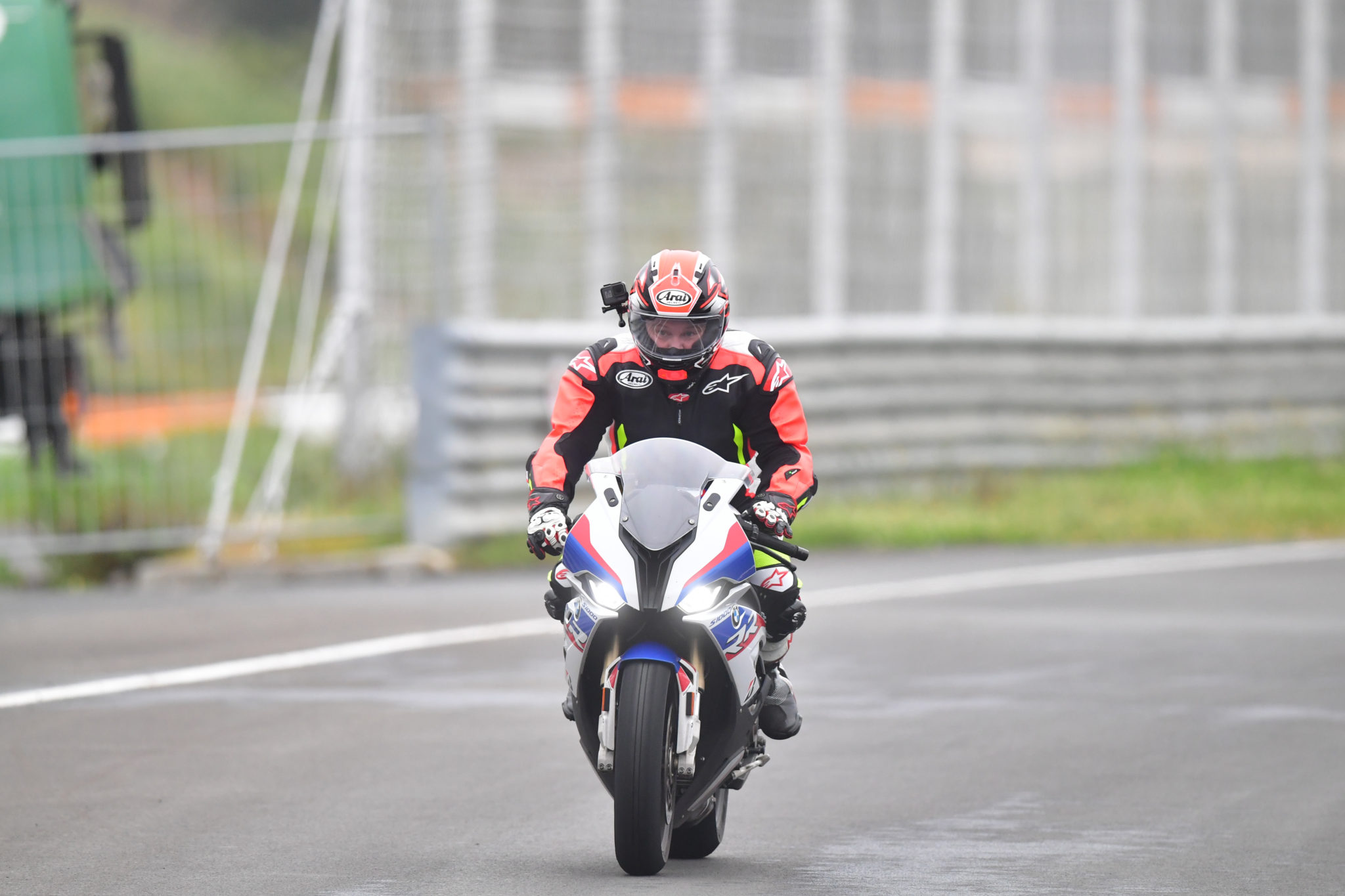 Finally, the new bike is strong on value too. It sounds mad, but the £19k M-Package bike is almost a bargain – those super-light carbon wheels in particular, plus all the other spec makes it a stonking deal. And with the base bike just over £15k, the price of access to planet S-Thou is very tempting indeed. A 207bhp superbike, jammed with tech and performance, that's also well-priced and super-relevant? You read it here first…
ENGINE
Lots of changes here: it's pretty much an all-new engine. It's lost 4kg in weight and is 12mm narrower – but the major change is the Shiftcam variable intake valve system. This sounds complex, but when you see it in front of you (they have a stripped down head here) it's actually fairly simple. If you've seen how a motorbike gearbox works, that helps – the same idea that slides selector forks from side to side in the transmission moves cam shafts here. Sliding outer camshafts move axially along a splined inner drive shaft, and bring one of two cam profiles into play, one for low-down performance, one for peak power. The cams are moved by a clever solenoid pin system, located in spiral grooves on the sliding shaft. When the ECU pushes one pin out, it engages in the groove, and as the shaft turns, slides the cam profile along. To change back, it pulls out that pin, and pushes another down, to engage grooves the other direction, moving the shaft back again.
Having the choice of two cam profiles depending on engine speed gives a big boost in low-down and midrange power, better fuel economy and reduced emissions. Is it as strong as an 1100cc engine? Not quite – but it's getting there.
The 16 valves are all titanium, and the larger intake valves are ten percent lighter thanks to hollow shafts. Added to the new teeny-tiny 8-gramme DLC-coated finger tappets, this means a sky-high new rev limit – up from 14,200 revs to 14,600rpm.
FRAME
All-new cast aluminium design, which uses the engine more as a stressed member, which saves weight (down 1.3kg) and has carefully designed 'tuned' flex, for improved rigidity and handling. The new swingarm is a factory-looking underslung design, and longer than before at a devilish 606.6mm. If you spring for the £19k M-Package bike, you also get an adjustable swingarm pivot, and ride height adjustment, which will help you get the optimum setup for your regular Sunday blast to the seaside, no doubt!
SUSPENSION
The base bike has perfectly decent-looking no-brand suspension, while the M-Package machine has BMW's DDC semi-active electronic kit (also an option on a base bike if you spec it while buying). The rear shock is now mounted in a 'floating' layout, meaning it's not attached to the main frame, but is held within the swingarm and linkage).The fork is a new 45mm USD design.
On the DDC electronic setup, the ECU-controlled semi-active damping is linked to the overall rider modes. The shock electronics are more advanced than before, and can now be tweaked by aftermarket suspension specialists. The internal shim stacks can be modified to work alongside the electronic systems – before, you couldn't do that.
BRAKES
The old Brembo front brake system has been swapped for a new setup by Hayes – an American firm better known for its mountain bike and Harley brakes (BMW also did this on the R1250 range for 2019). They wear BMW branding, and look good, with a solid, four-piston radial-mount design, and a Nissin master cylinder. They worked well on this launch, although the wet conditions didn't push them too hard. The BMW race ABS was excellent at a drenched Estoril, the extra safety net giving huge confidence when hauling it down at the end of the straights.
WHEELS/TYRES
On the base model S1000RR, you get cast alloy rims which weigh 1.6kg less in total than the old bike's wheels. The M Package swaps these for even lighter M-Sport carbon wheels, similar to those on the HP4 Race.
ELECTRONICS
At the heart of a very advanced setup is a six-axis IMU brain, that measures what the bike is doing hundreds of times a second, It's accessed via BMW's twistgrip controller, plus a huge colour TFT LCD dash. There's cornering ABS, plus a new separate wheelie and traction control system. So you can have separate limits for wheelies and traction, keeping the safety net of TC when leant over in a bend, while still being able to do wheelies while upright. We also get launch control, pitlane limiter, cruise control, up/down blipping quickshifter, wheelie assistant, and hill-start control on the ABS (a harder tug on the front lever locks the brake on to stop you running backwards down a hill).
The 'M' and 'Sport' packages add 'Pro' riding modes, that adds three additional 'Race Pro' customisable riding modes, plus engine brake control adjustment.
VERSIONS
BMW only provided M-Package bikes to ride on the launch, which have electronic suspension, carbon wheels, a 2kg lighter lithium battery, special M seat, Motorsport paint job, and a chassis kit that adds ride height and swingarm pivot adjustment, as well as the full electronics package.
You can buy a 'Sport' package in the UK, which adds electronic suspension, Pro riding modes, cruise control, tyre pressure system, hill start control. The standard S1000RR comes with dynamic traction control, race ABS, and the four base riding modes – rain, road, dynamic, race.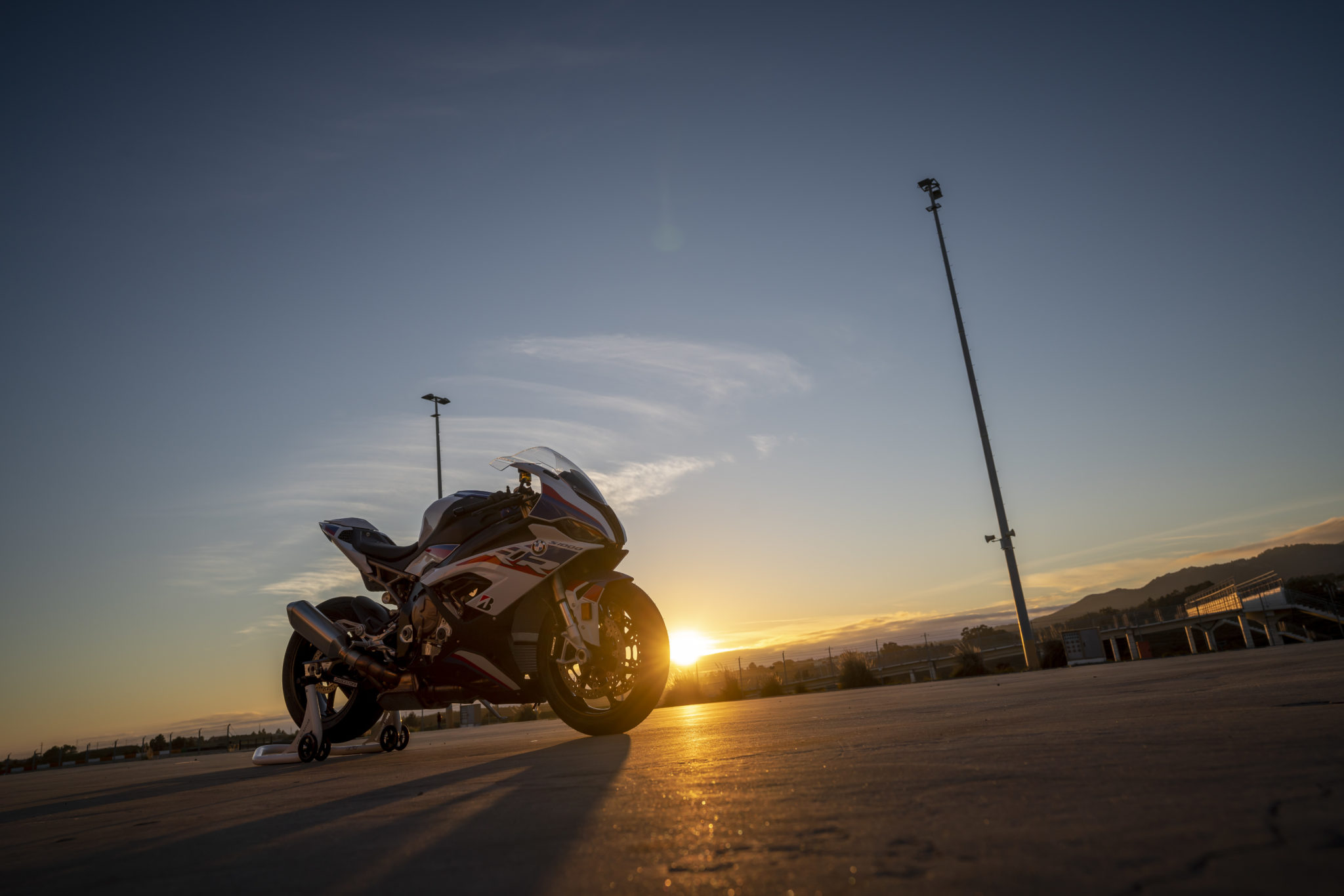 SPECS
Price: £15,290 (base model), £16,700 (Sport variant) £19,315 (with M-Package)
Engine: DOHC 16v, inline-four, l/c, 999cc
Bore x stroke: 80×49.7mm
Compression ratio: 13.3:1
Max power (claimed): 207bhp@13,500rpm
Max torque (claimed): 96ft lb@10,500rpm
Transmission: six speed gearbox, wet slipper assist clutch, chain drive
Frame: cast aluminium twin-beam (adjustable swingarm pivot on M-Package)
Front suspension: 45mm USD fork, fully adjustable (optional DDC electronic suspension system)
Rear suspension: aluminium underslung swingarm, fully adjustable vertical free-floating monoshock (optional DDC electronic suspension system)
Brakes: twin 320mm discs, four-piston Hayes radial calipers (front), 220mm disc, single-piston caliper (rear), cornering ABS.
Wheels/tyres: cast aluminium (carbon fibre on M-Package)/Bridgestone S21, 120/70 17 front, 190/55 17 rear
Rake/trail: 23.1°/93.9mm
Wheelbase: 1,441mm
Kerb weight: 197kg (standard) 193.5kg (M Package)
Fuel capacity: 16.5 litres
Equipment: IMU-based traction control and cornering ABS, cruise control, four rider modes (seven on M-Package), 6.5" TFT colour dash, optional electronic semi-active DDC suspension, integrated rider modes with suspension, up/down quickshifter, hot grips