DUCATI PANIGALE V4 OVERVIEW
Life's all about compromise. Balance. Getting a good mix. Whether it's something as vital as your work/life balance, or more basic matters like the food you eat, there's always trade-offs that have to be made. You need to work long hours to earn the cash to feed your kids. But you also need to make time to spend with them. Eating pie and chips every day will keep your taste buds happy, but your expanding gut and the odd heart attack will spoil the mood a bit.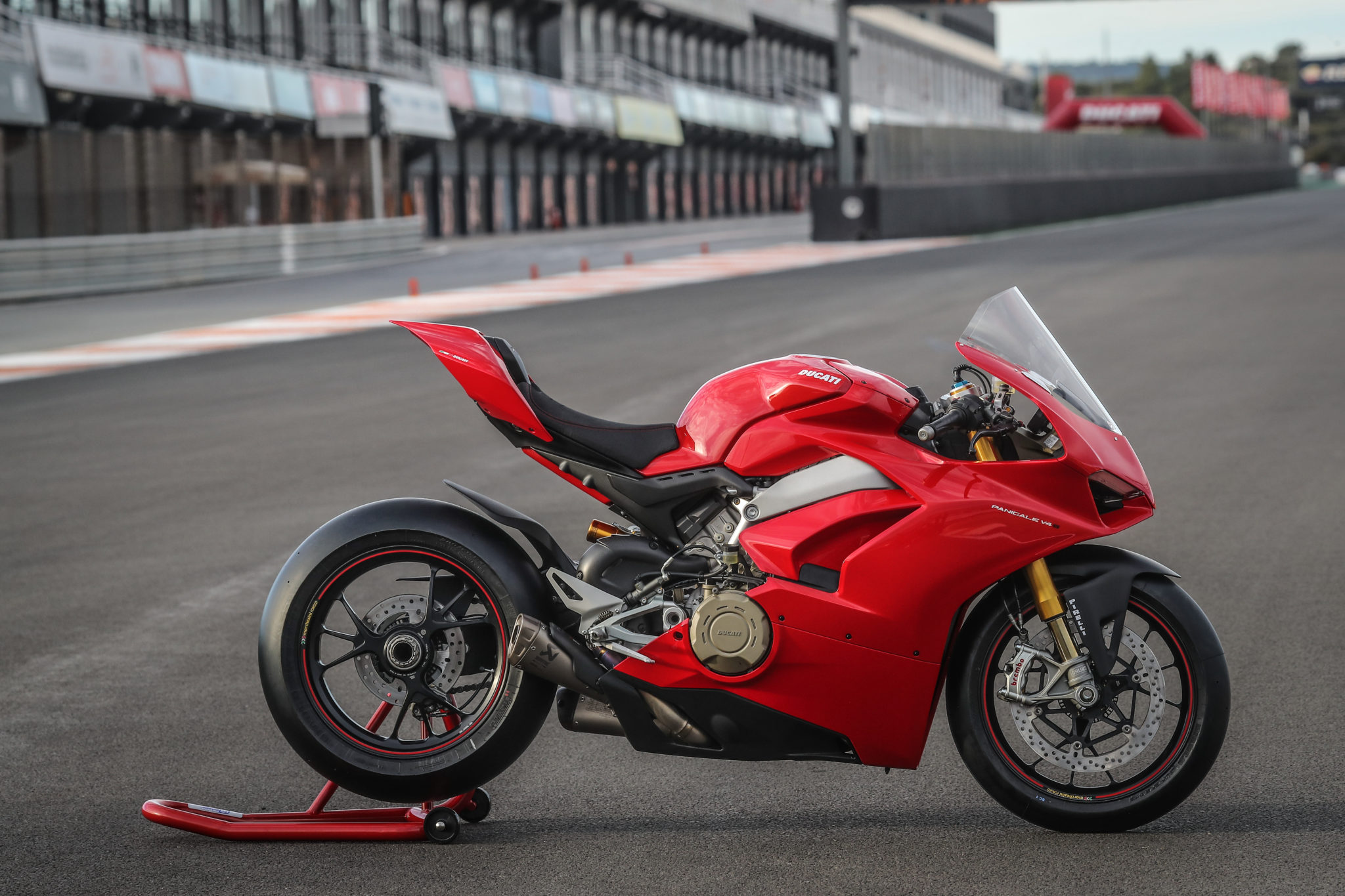 Ducati was in danger of losing the balance in its superbikes. The compromises inherent in sticking to its trademark V-twin engine layout were getting bigger every year, along with the capacity of its various big twins. While the race world limited them to 'just' 1,198cc, the Panigale road bike was nudging 1,300cc, as engineers tried to match the power output of nutter inline-fours like Kawasaki's ZX-10R and BMW's S1000RR.
The physics are simple: four-cylinder bikes have more piston and valve area, and smaller, lighter pistons. That lets them rev easily to 14,000rpm and beyond, which makes enormous power. Meanwhile, Ducati was having to work heavy overtime to make a pair of 650cc cylinders and pistons that could generate over 100bhp each.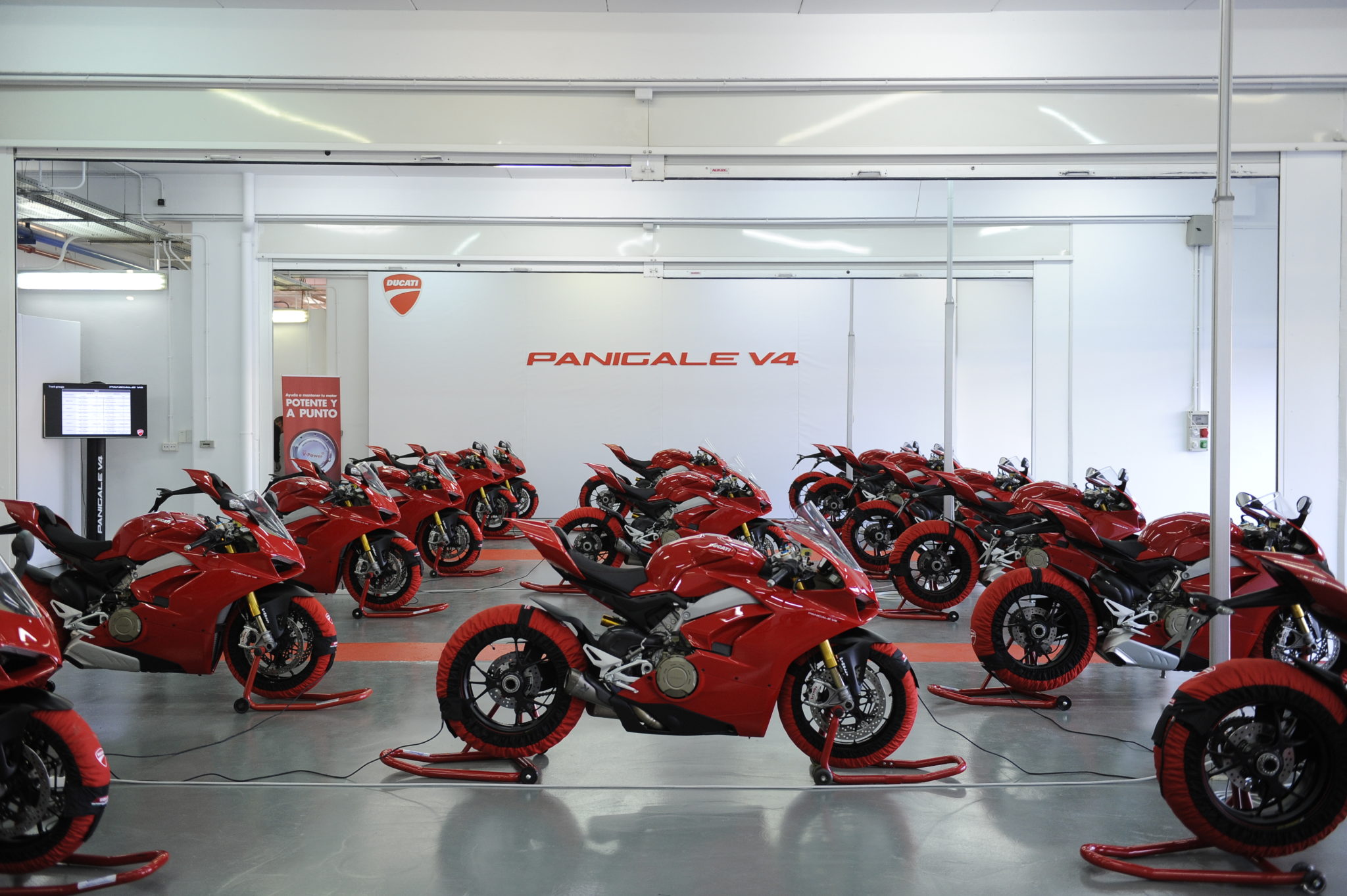 Something had to give – and it was the holy V-twin layout. The firm's switched to four pots for 2018 – and we're here in Valencia to try its next generation superbike  – the Panigale V4. The bike was launched at the Milan show last year, so we should all be fairly familiar with the basics. An 1,100cc 90° V-four puts out over 210bhp, in an all-new chassis with a novel cast ally front frame section, single-sided swingarm, and an electronics package which could probably earn you a grand a week if you set it up as a Bitcoin mining rig.
The styling isn't a million miles away from the old Panigale – and the chassis jewellery is also fairly typical for Ducati, albeit in latest, updated form. On the V4 S we're riding today, that means Ohlins electronic suspension, new Brembo Stylema four-pot monobloc calipers, and forged Marchesini rims. Oh, and all-new Pirelli Super Corsa SP rubber, with the first appearance of a 200/60 section rear hoop on a road bike.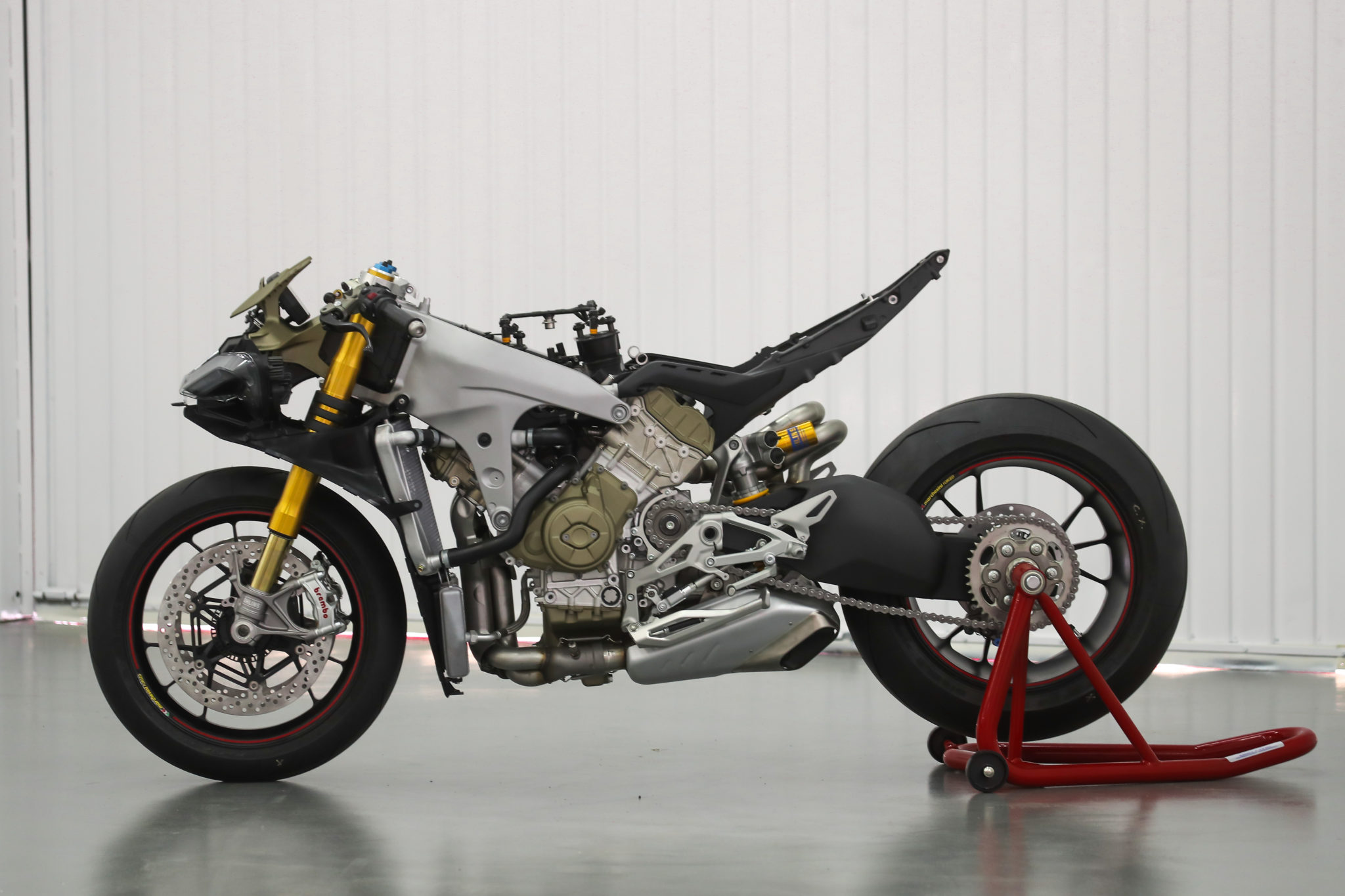 Let's get on then eh? I've been round the Valencia MotoGP track plenty of times in the past – but not for a while. So I'm keen to refresh my memory in the early warmup session. What I do remember is that it's a fairly tight, technical track, with none of the massive booming straights and triple-digit sweeping corners you get on bigger tracks. Has Ducati made a mistake, launching a 214bhp rocketship on a track maybe better suited to a supersport bike?
First impressions are good for the Bologna massive. The V4 is easy as pie to get going on: a good, comfy riding position, massive new colour LCD dash that's easier than ever to get on with. Even the mirrors seem to be actually usable as devices to see what's going on behind you. Whatever next?
Gallery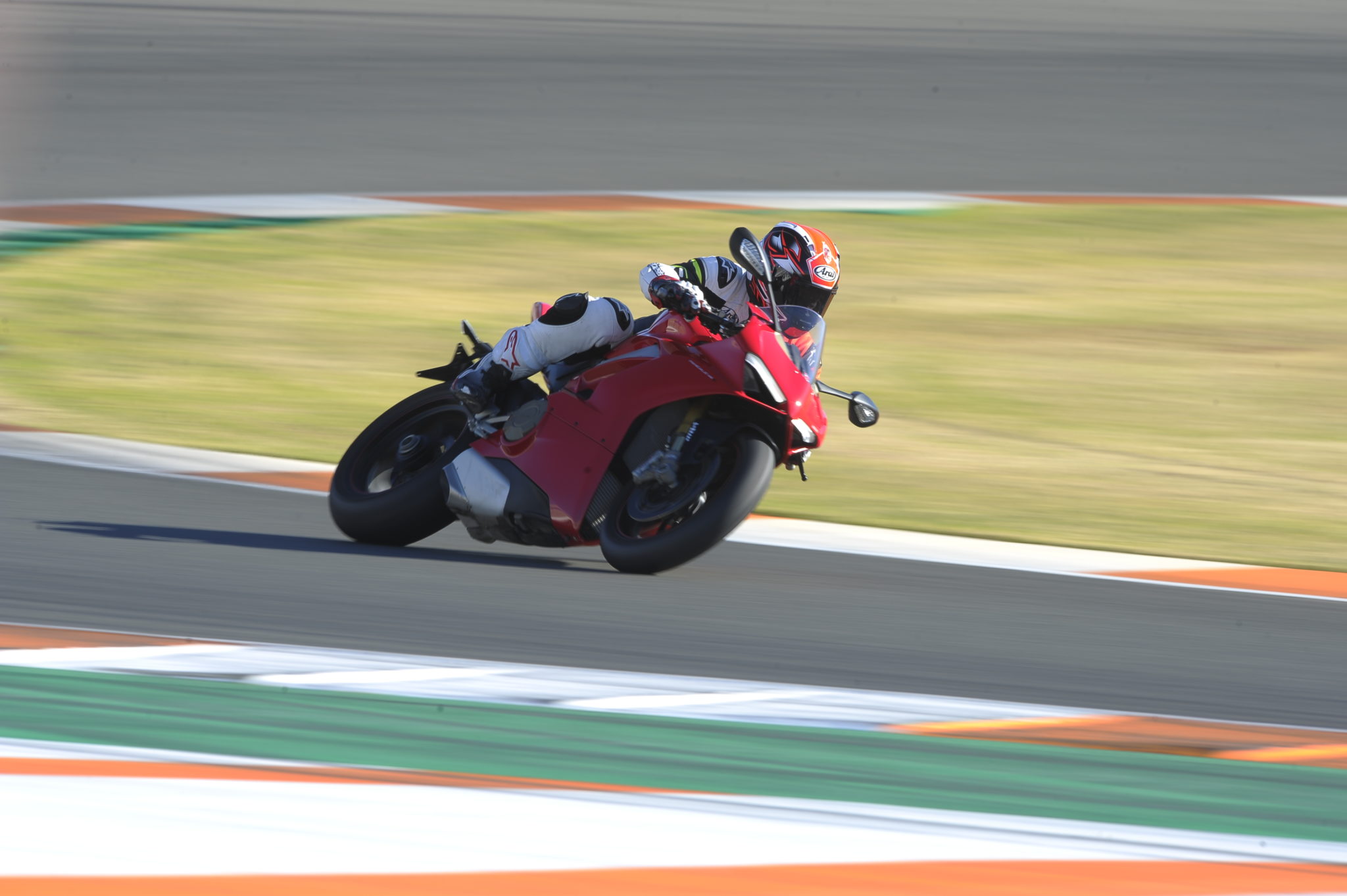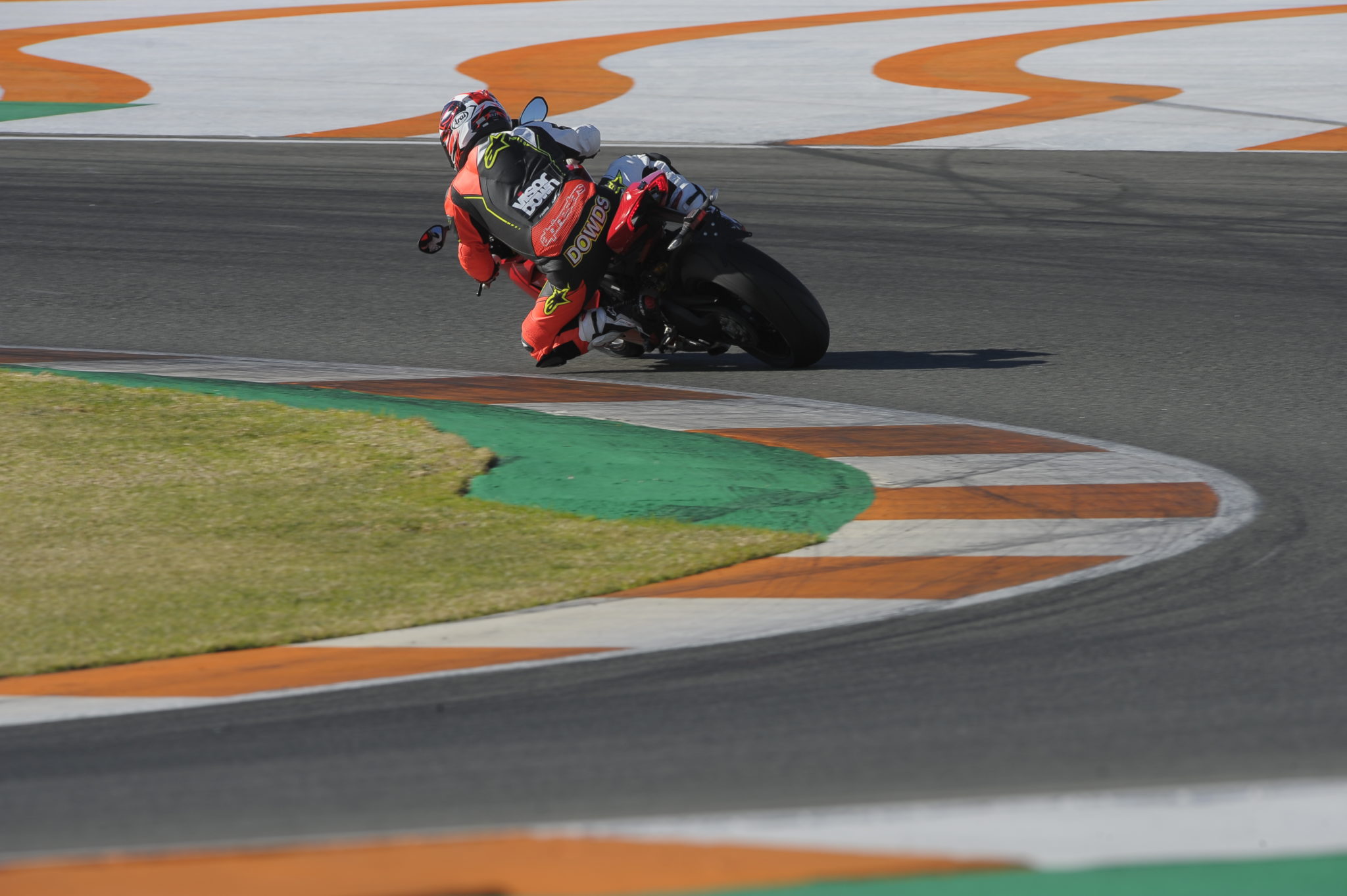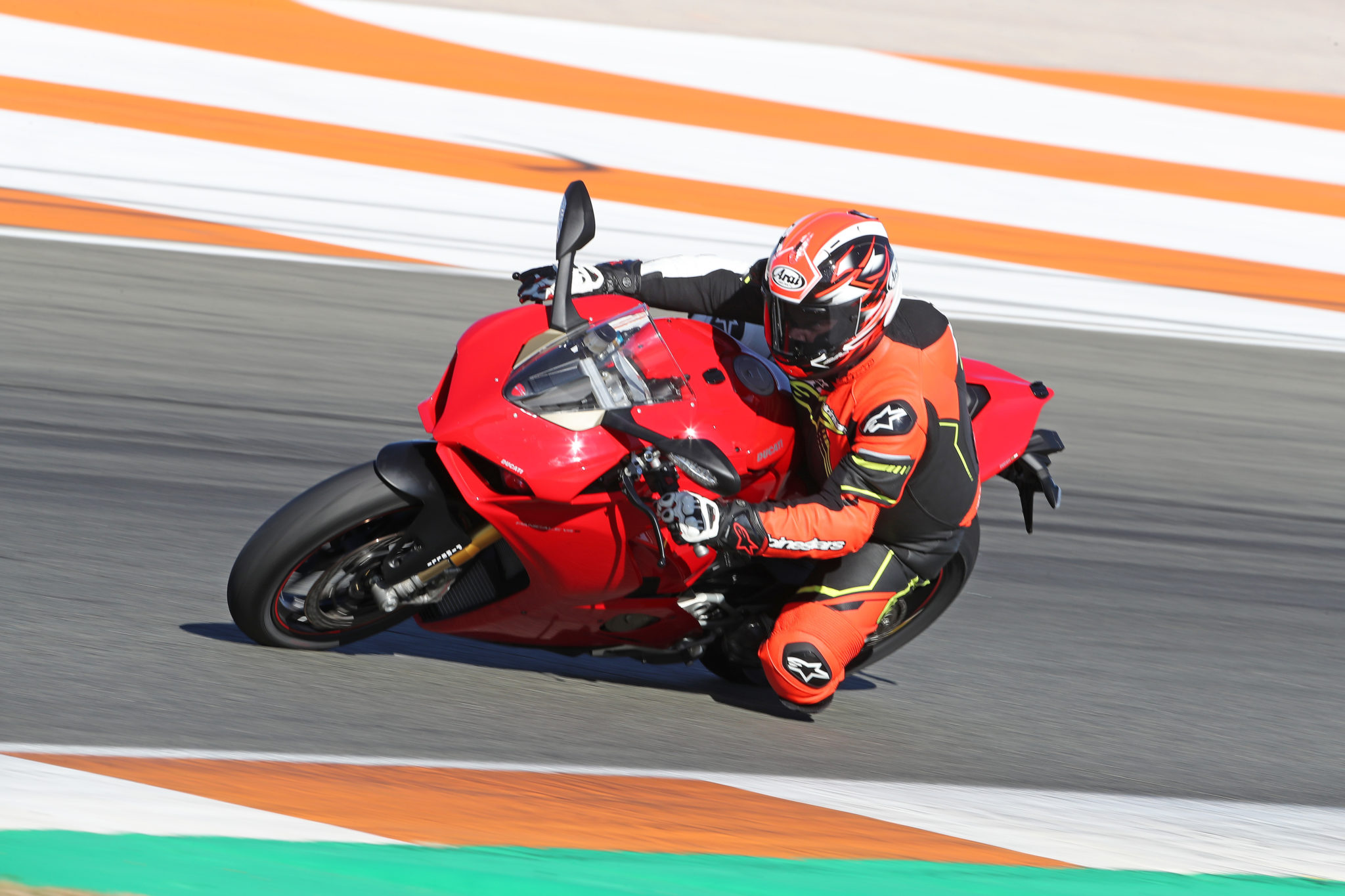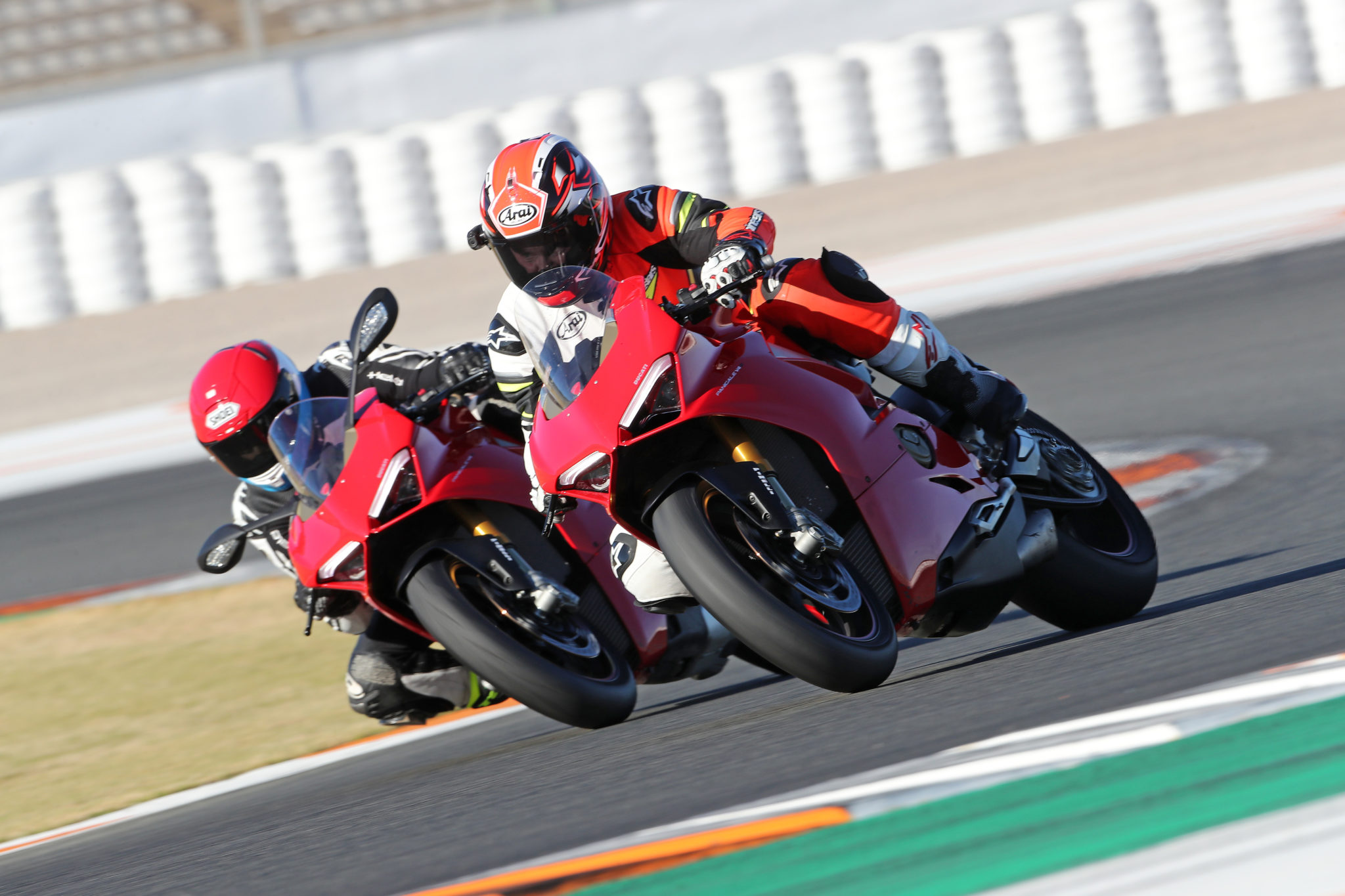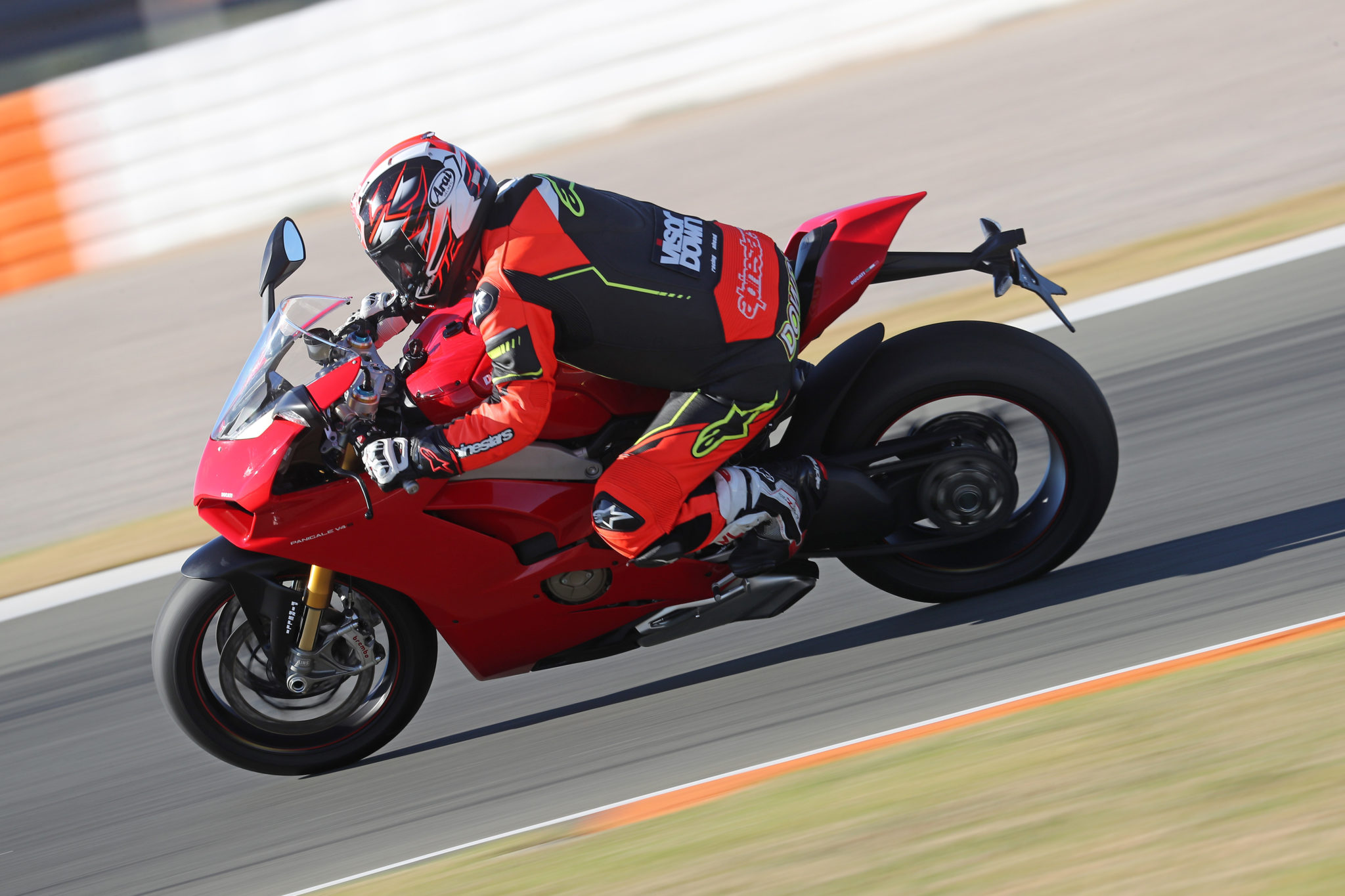 Out on track, things just keep getting better. The engine is getting a lot of attention, and it's shining already. The 1,103cc capacity looks like a bit of a cheek on the face of it – adding ten per cent more bangs than the competition is obviously going to help a lot. But Ducati's only going down the path taken by the likes of Kawasaki with its ZX-636R in the past.
The engineers told us they wanted to make an engine that gave the same strong, torquey feel as Ducati's big twins, while giving the strong top-end power offered by the fours. Bumping the capacity lets them do that, with the obvious downside of not being eligible for superbike racing. The firm will have to homologate a 999cc version for Chaz Davies and the Corse team – just as Kawasaki had to make a 599cc ZX-6R in the mid-2000s.
Rules and cheek aside, the new lump is properly astounding. The capacity, together with the 'twin-pulse' firing order give hammer-blow grunt down low, and it fires you out of Valencia's slower second gear bends like an angry, blood red howitzer. The power just keeps building though, and where a big twin might start to wheeze a little, the four-cylinder nature takes over, and a heady rort yowls out of the airbox below you.
Monstrous power – but not at all intimidating. The engineers told us they'd worked hard to make the performance accessible on the new bike, and it's worked a treat. The throttle response is clean, crisp and progressive, and you feel as if you're in total control – even without considering the electronic safety nets of traction control, anti-wheelie, and rear wheel slide control (!)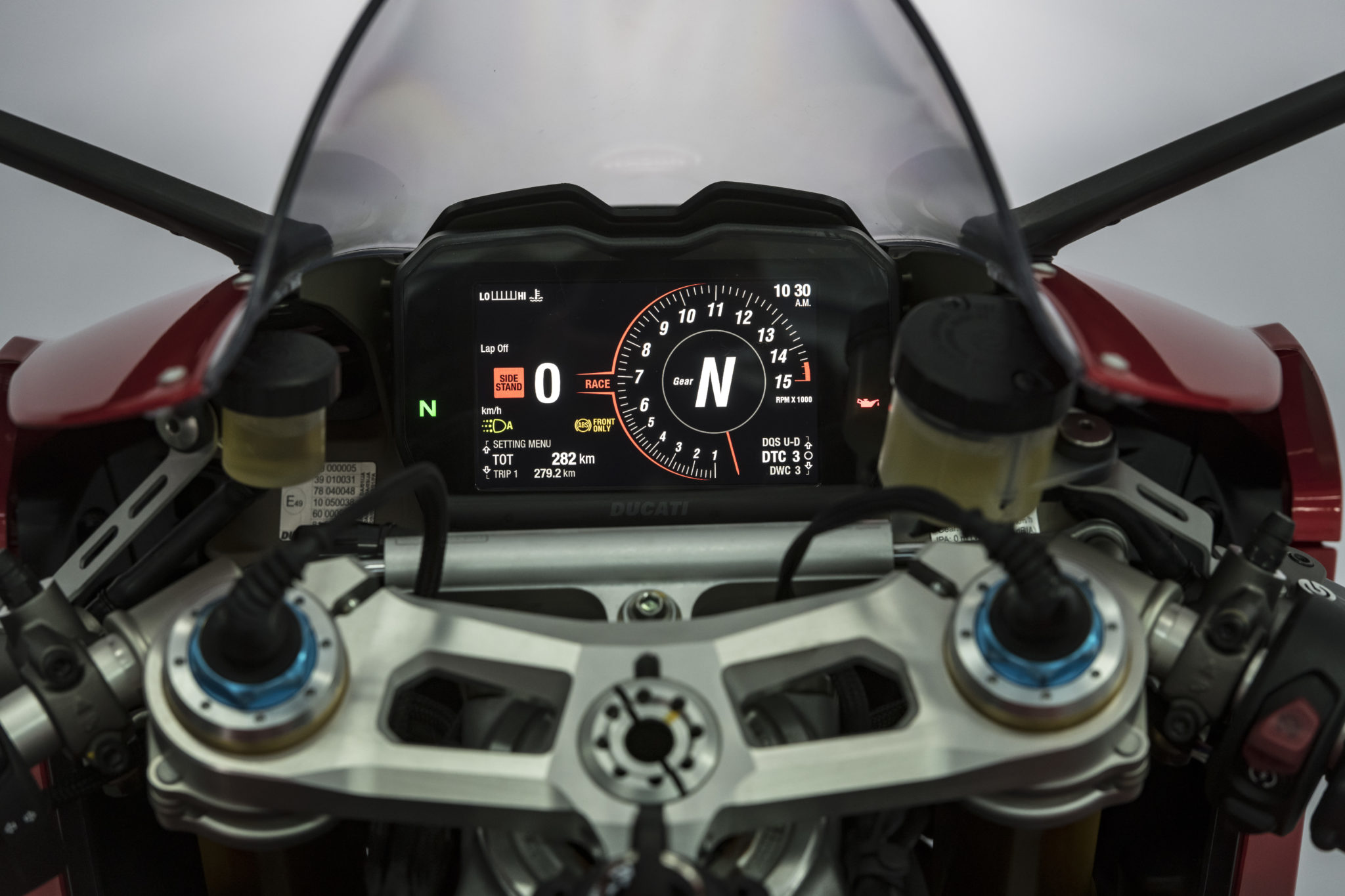 The chassis is more than up to the power too, and is really manageable round Valencia's tricksy infield. The wheelbase is a bit longer than you might expect from a superbike (two inches more than a GSX-R1000), which may be helping stability under power, but it's real agile too, thanks perhaps to the 174kg dry mass.
There's a bit of a flap when I come onto the main straight, and I need to back off once or twice after clipping the kerbing at pitlane entrance – but the thing does have 214bhp, so we'll probably excuse it the odd headshake in the hands of a cackhanded journo… While we're moaning, the quickshifter was mostly ace, but I did miss a couple of upchanges on the straight. More miles hammered into the selector forks might help of course – we were the first day on the press launch and our bikes had just been run in.
That's probably it on the criticism front though – a sticky gearchange at times, and some mild slapping when hard on the gas (which could well be tweaked out with the amazing Öhlins electronic suspension system). Everything else – the brakes, the tyres, the electronics package, the power – is incredible. A genuine level-up in terms of superbike performance.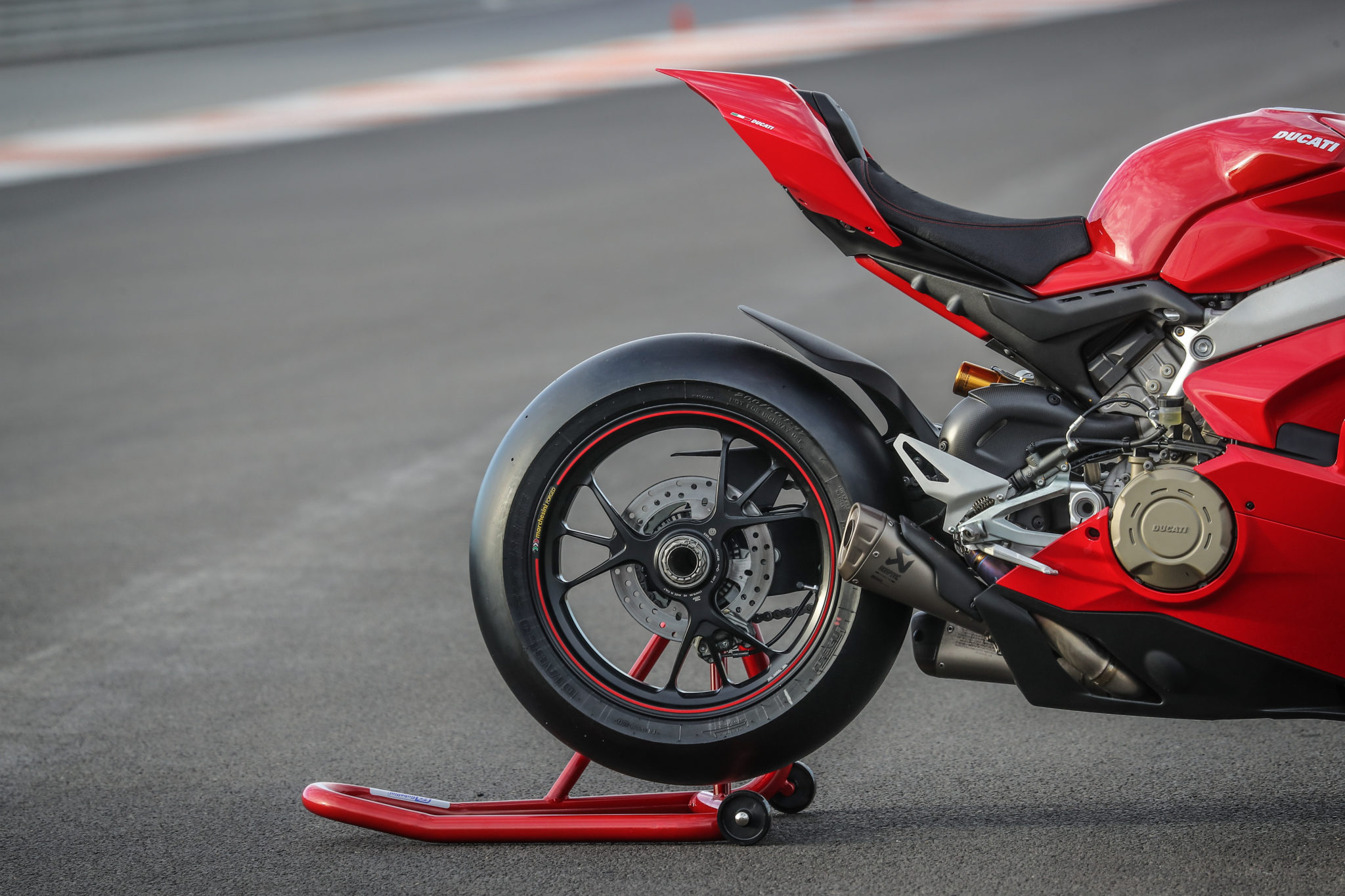 There's one last treat in store though. Ducati's brought along  some accesorised bikes, with the official £3,500 (+VAT) titanium Akrapovic race exhaust system, full remap of power, traction etc – and a pair of Pirelli SC1 Superbike slicks. Eek. The pipe adds 12bhp and drops 7kg, and sounds like the proverbial Arclight strike. The denizens of Cheste were ducking for cover and looking for B52 shadows as I boomed out of pitlane for a last, super-intense session. The pipe makes a big difference (as you'd hope for the price) not only to peak power but also to the torque.
The motor now feels like a 1200 four rather than an 1100, and you feel you can hold a higher gear through several of the bends. The slicks, of course, make maybe an even bigger difference, the grip simply mind-bending. You feel utterly locked into the asphalt in every bend, as if you've got a Scalextric slot rather than just a tenuous patch of rubber on tarmac. No matter how far you try to lean, it's never enough, and the already-stratospheric limits of this bike are taken fully orbital.
Ducati Panigale V4 Gallery
Gallery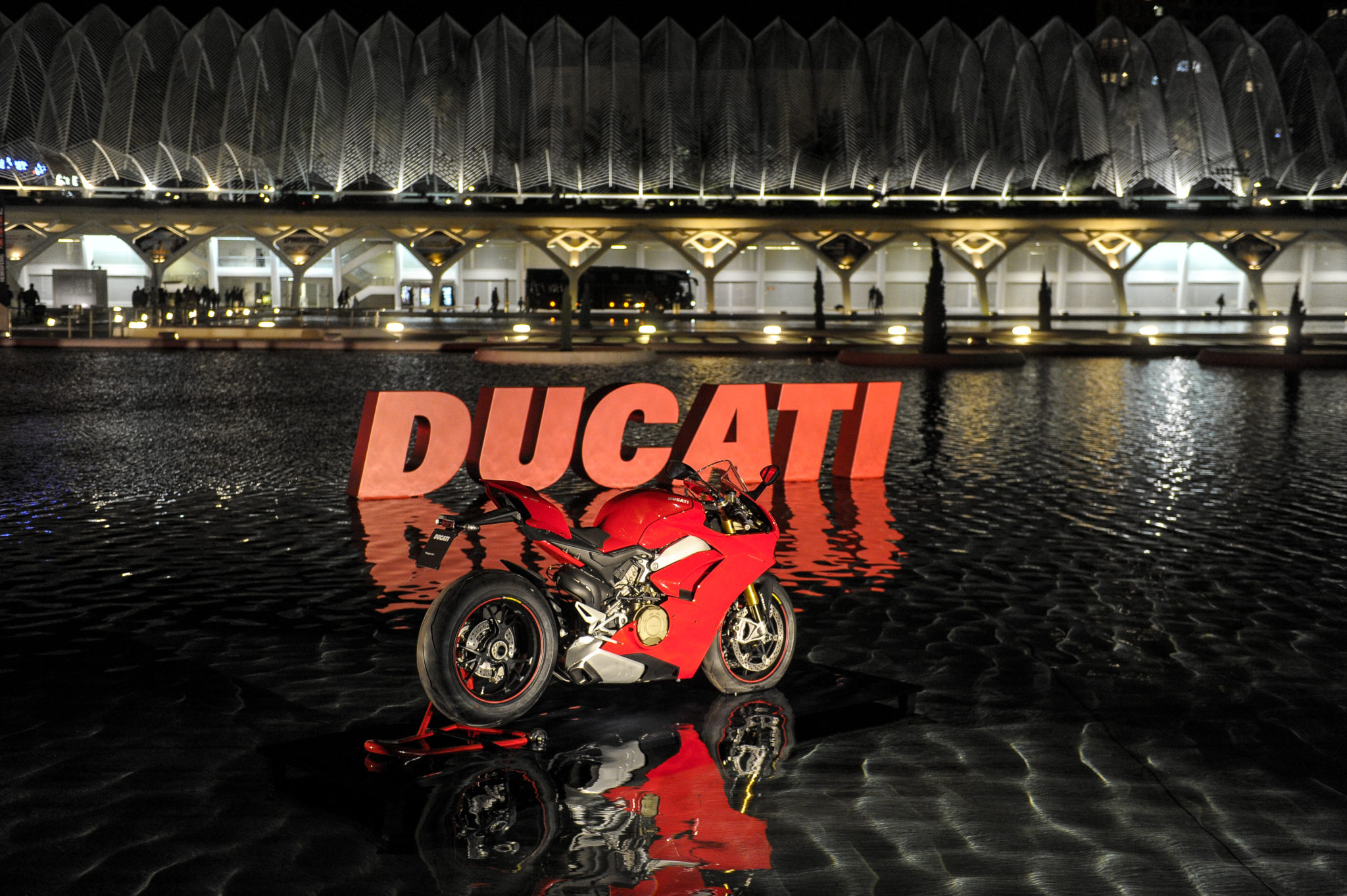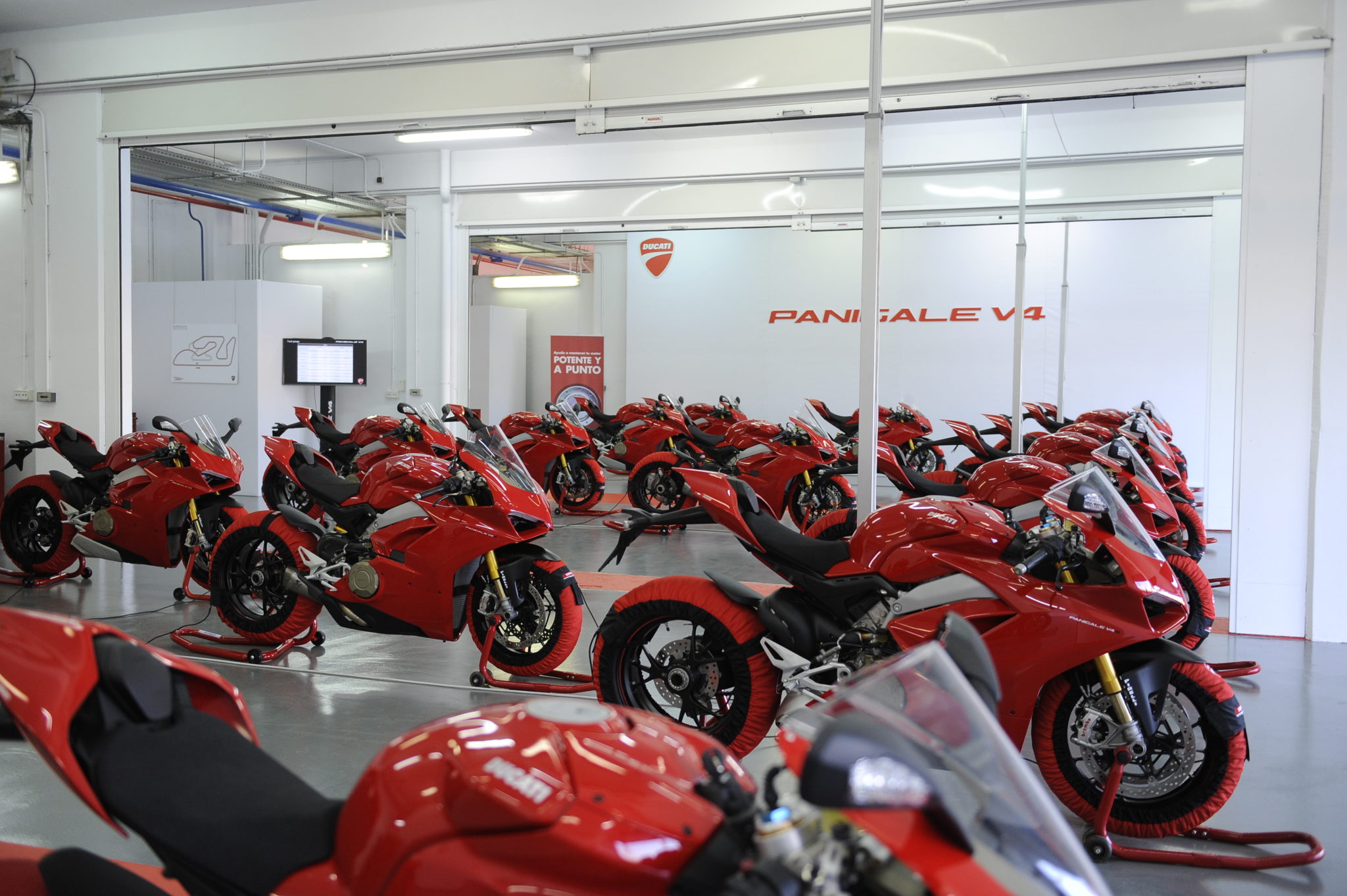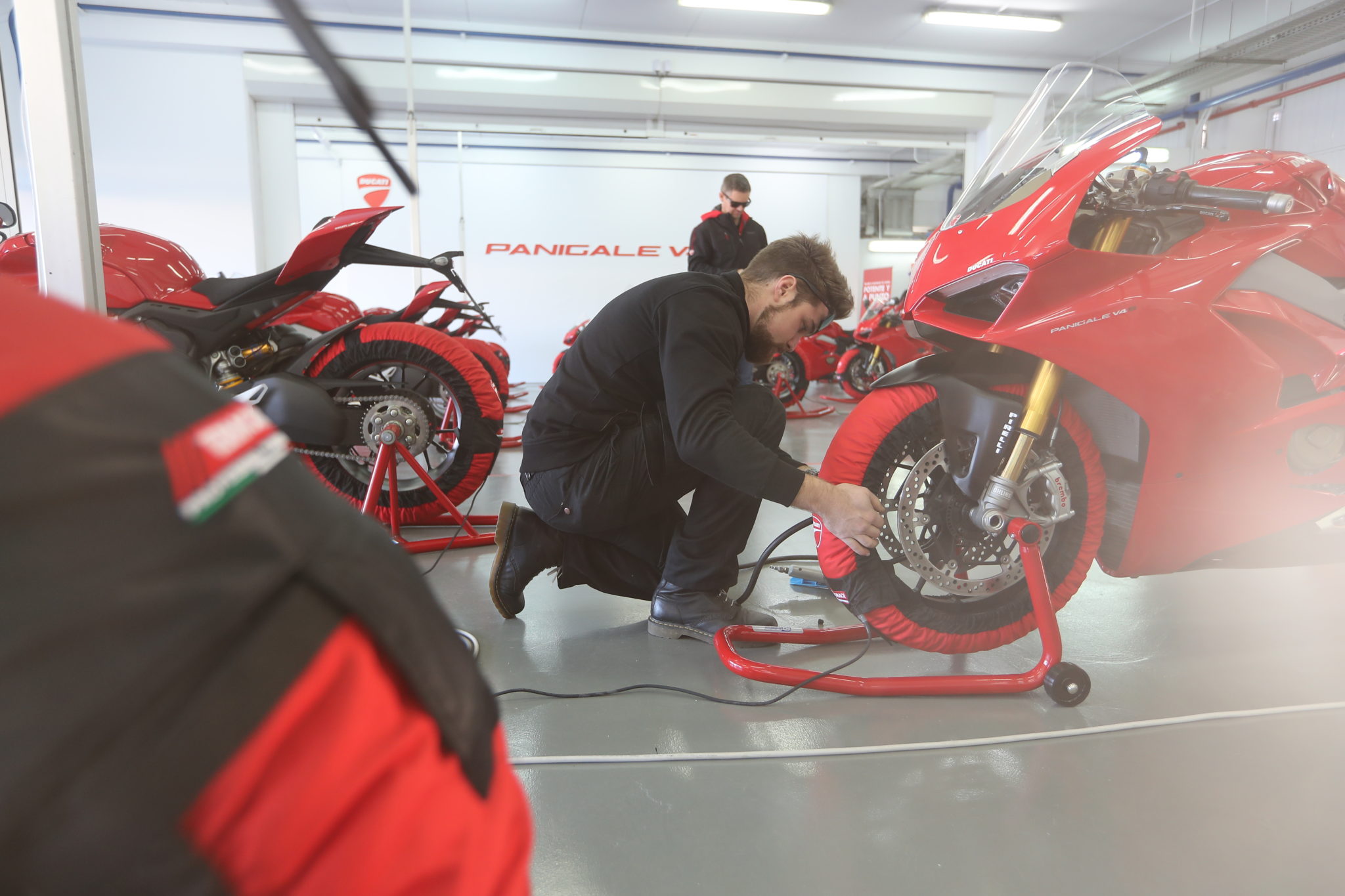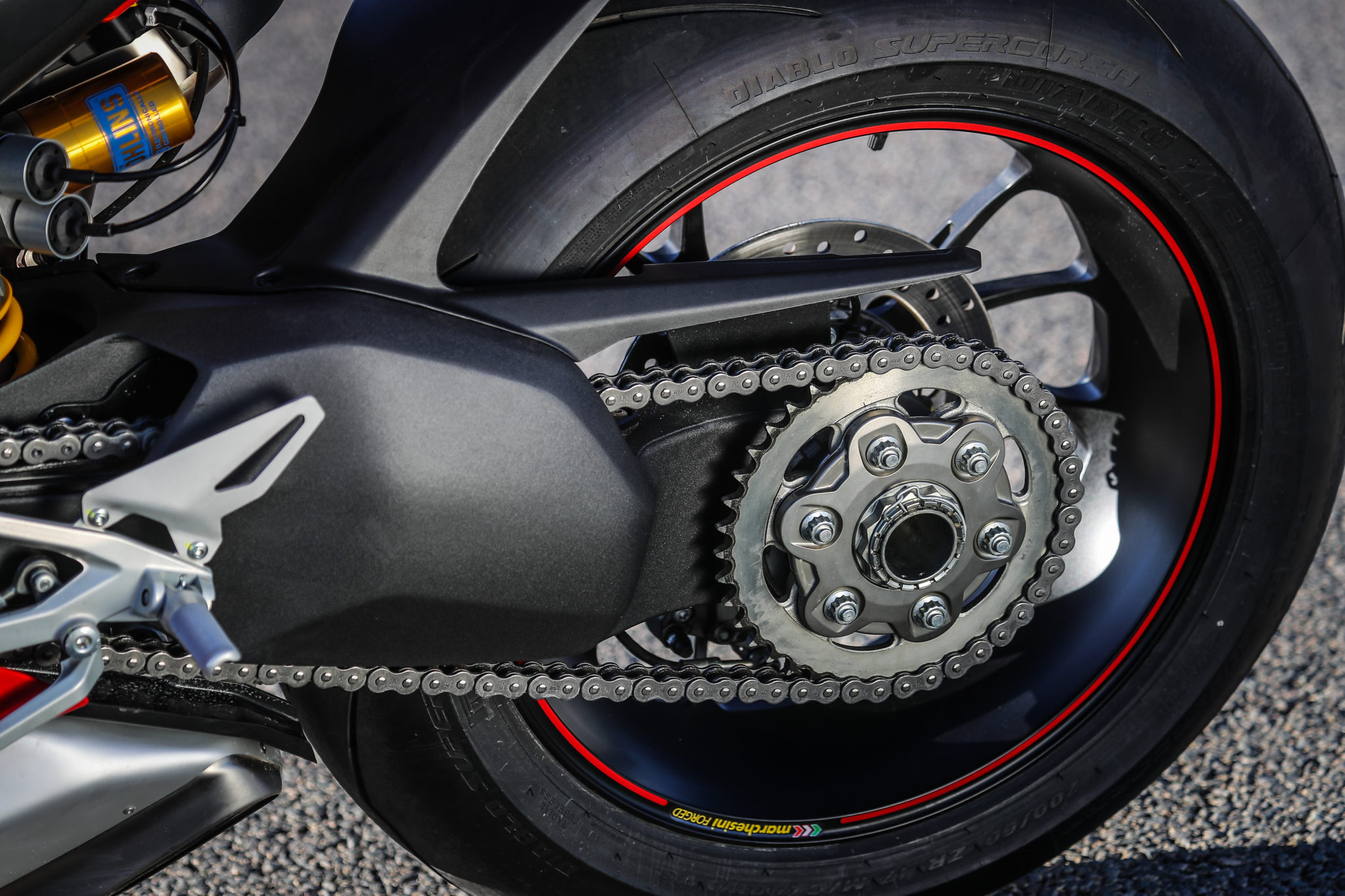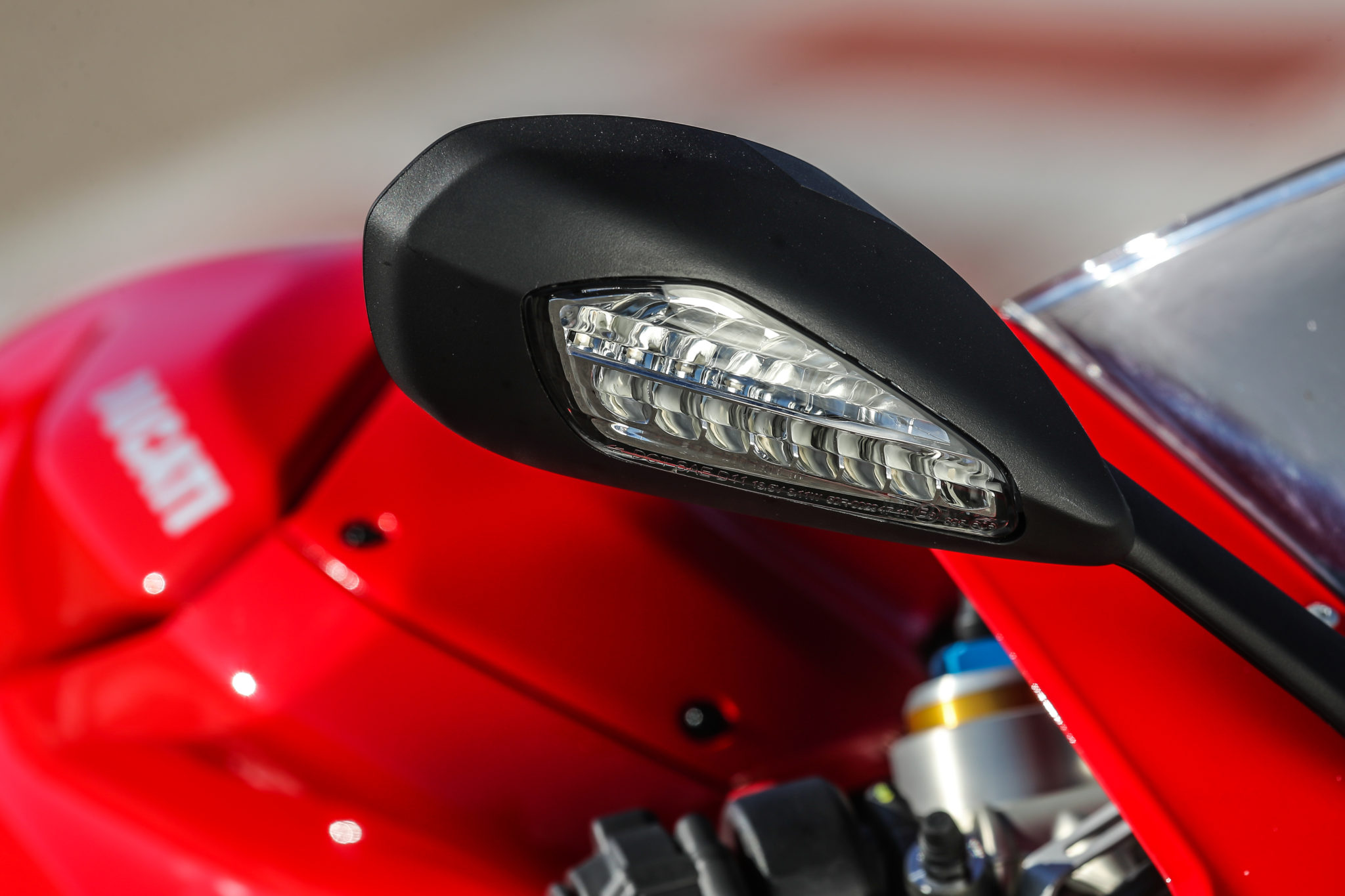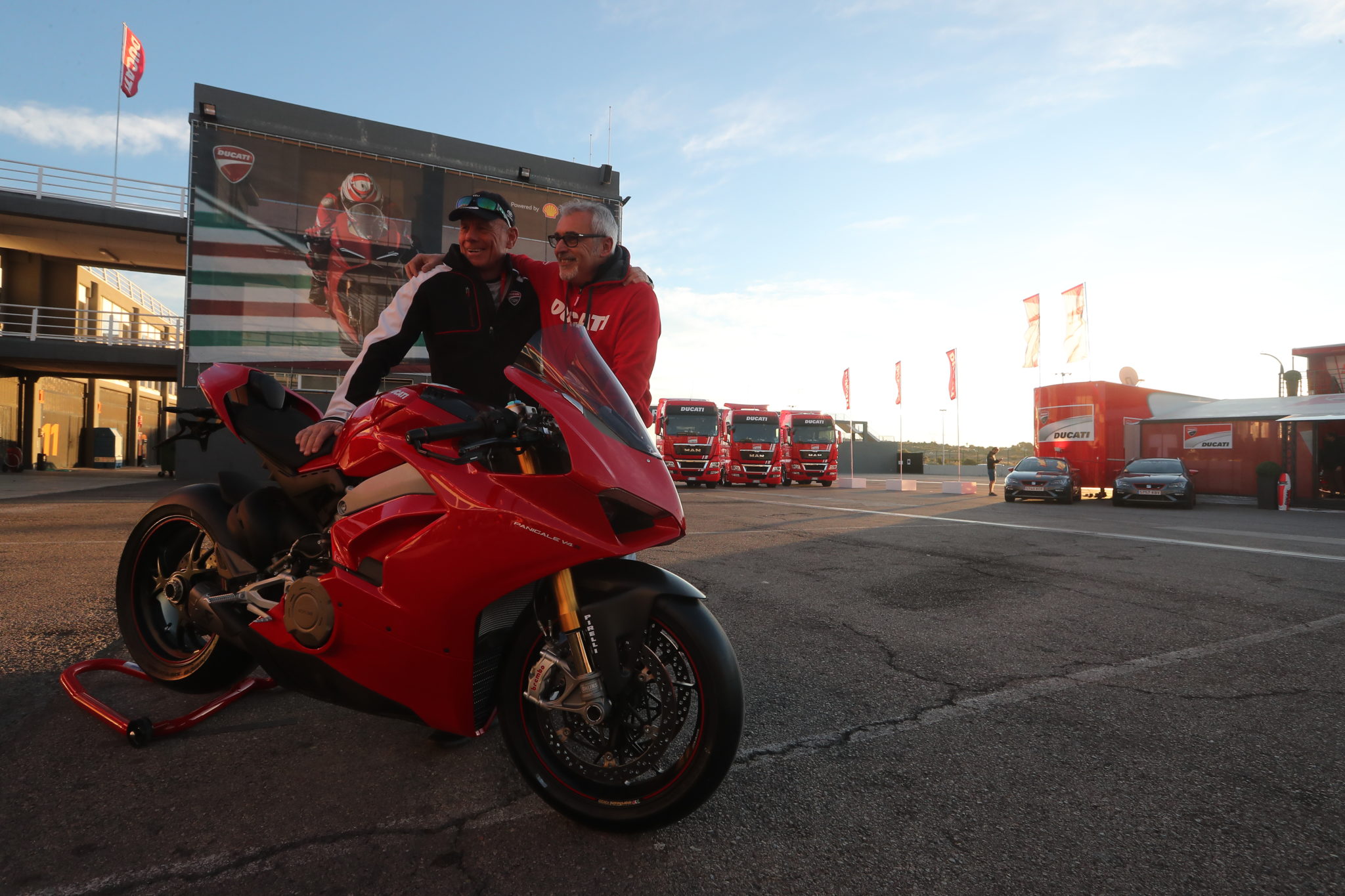 The day is done now, and I'm struggling a little to see any compromises here. Ducati has taken its superbike project by the scruff of the neck, and made the changes needed to build a potential world-beater. The price is high, of course (although the base model isn't much more than an SP Fireblade), and there is that extra 104cc which may disturb OCD purists in the litre class. For the rest of us, it's a genius move, which has made one of the most amazing superbikes we've ever seen. I can't wait to try this beastie up against the rest of the class…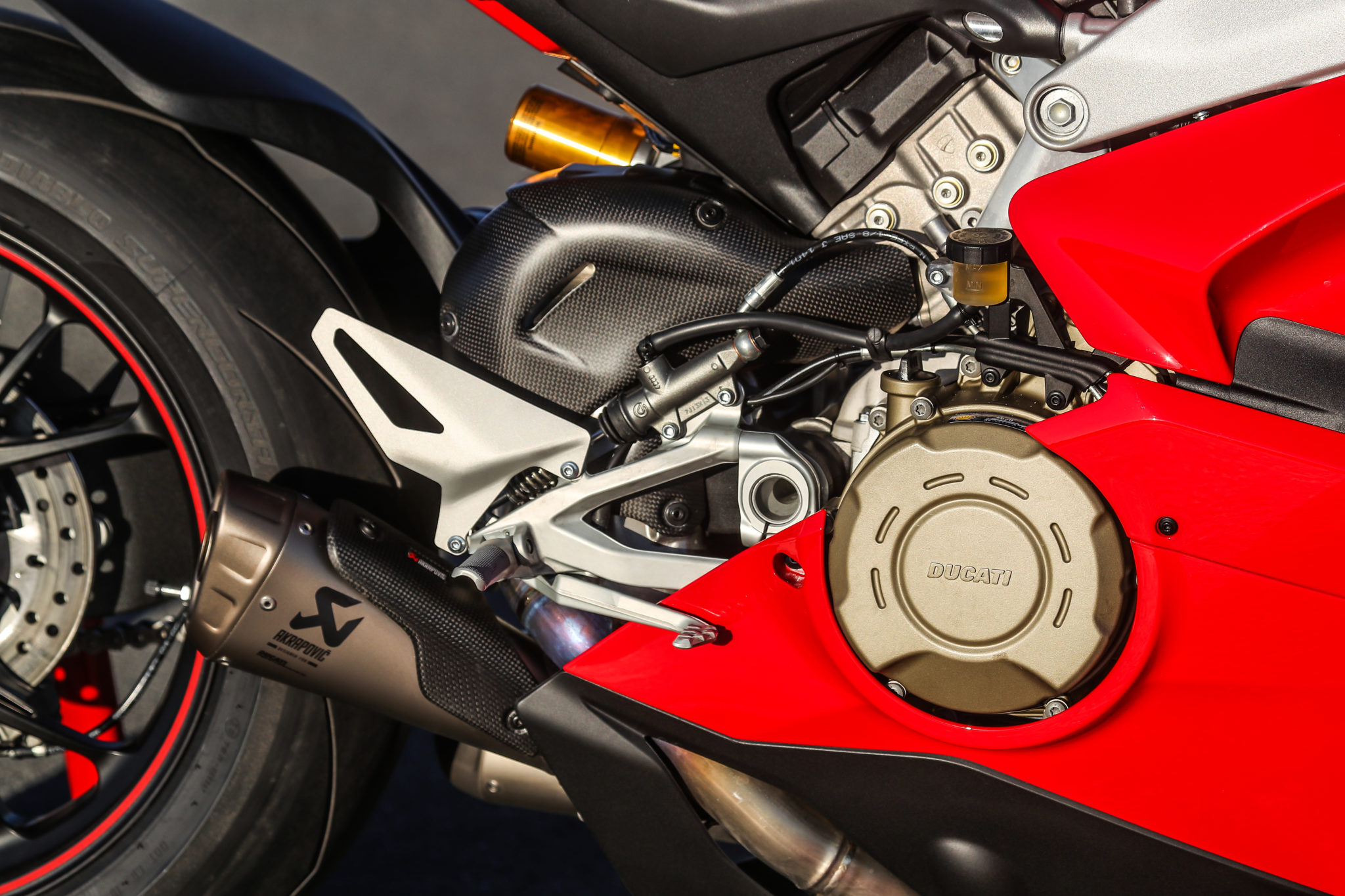 DUCATI PANIGALE V4 SPEC
Engine: 16v desmodromic 90° V-four, DOHC, liquid cooled, 1,103cc
Bore x stroke: 81×53.5
Compression ratio: 14:1
Max power (claimed) 214bhp@13,000rpm
Max Torque (claimed) 91.5ft lb@10,000rpm
Transmission: six speed, slipper clutch, chain drive
Frame: cast aluminium front subframe, engine as stressed member
Front suspension: 43mm NIX30 Ohlins forks, electronically controlled
Rear suspension: TTX36 Ohlins monoshock, electronically controlled
Brakes: Dual 330mm discs, four-piston Brembo Stylema calipers (front), 245mm disc, twin-piston caliper (rear), Bosch cornering ABS
Wheels/tyres: Forged aluminium/Pirelli Super Corsa SP, 120/70 17 front, 200/60 17 rear
Rake/trail: 24.5°/100mm
Wheelbase: 1,469mm
Kerb weight (claimed, kerb weight): 195kg, (174kg dry)
Fuel capacity: 16 litres
Rider Aids: Cornering ABS, traction control, wheelie control, electronic suspension (on S), engine brake control, up/down quickshifter.
Prices – V4S (tested) £24.035 V4 £19,390