'May you live in interesting times' goes the old (possibly apocryphal) Chinese curse. It's pretty simple to understand of course – when events in the world are a bit boring, times are generally good. 'Exciting' things like wars, political crises and natural disasters make things more interesting of course, but they're also pretty crap to live through.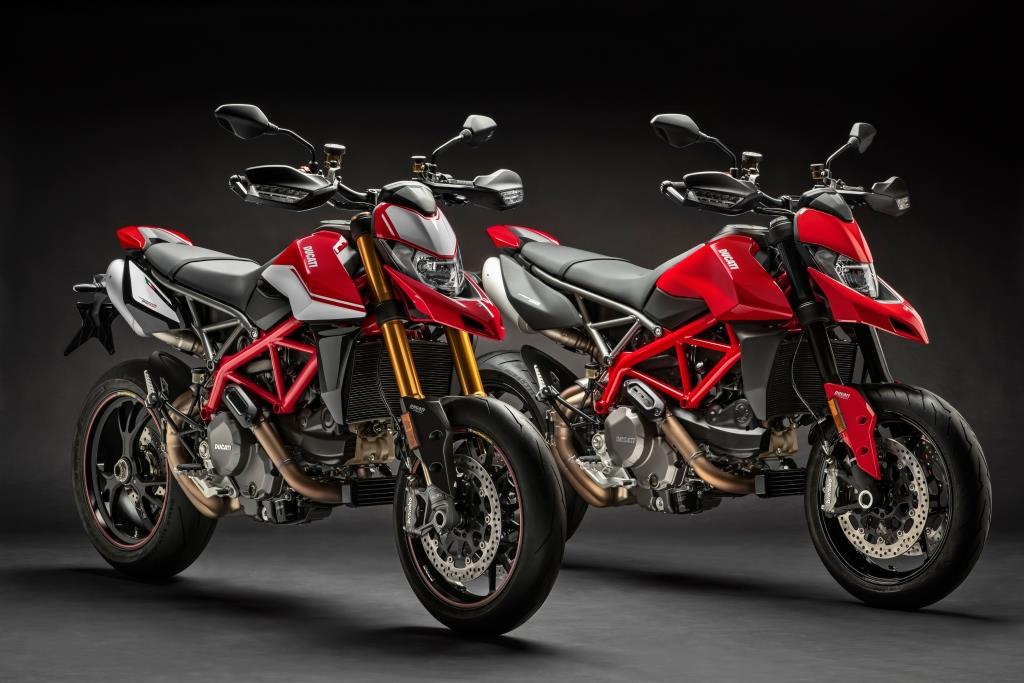 It's probably fair to say that we're living in some fairly exciting times right now. So with that in mind, perhaps we need to ride interesting bikes – like the new Ducati 950 Hypermotard. It's the latest incarnation of the model first launched in 2007, and is Bologna's take on the 'supermotard' bikes which have been doing the rounds for a few decades now. The original supermotards came from France (technically, supermotos – a supermotard is the rider of a supermoto…) although there's some suggestion that they were around in the US beforehand. Wherever they came from, the recipe was simple: a big-bore dirtbike, preferably a 500cc two-stroke or a 650+cc four-stroke, with 17" road race wheels, tyres and brakes. The long travel suspension, tall chassis and dirtbike power/throttle response/gearing made them wild old things to ride, especially on a medium-sized go-kart track or the like.
We're at a medium-sized go-kart track today – the Maspalomas circuit in Gran Canaria. And while the bike in front of me in the paddock wears the 'motard' moniker, it's some way off those original machines. In fact, the 2019 Ducati Hypermotard is a bit of a marvel, packed with bleeding-edge tech, putting out 114bhp, and weighing just 176kg dry. The motor is a 937cc desmo V-twin (shared with the current Ducati Supersport) rather than a beefy single, but the tall suspension, minimal bodywork, flat seat and wide bars all echo the typical 'motard style. We've got a morning on track riding the posh SP version with Öhlins suspension and forged wheels, before taking the base Hypermotard 950 on the roads this afternoon. Let's go…
Gallery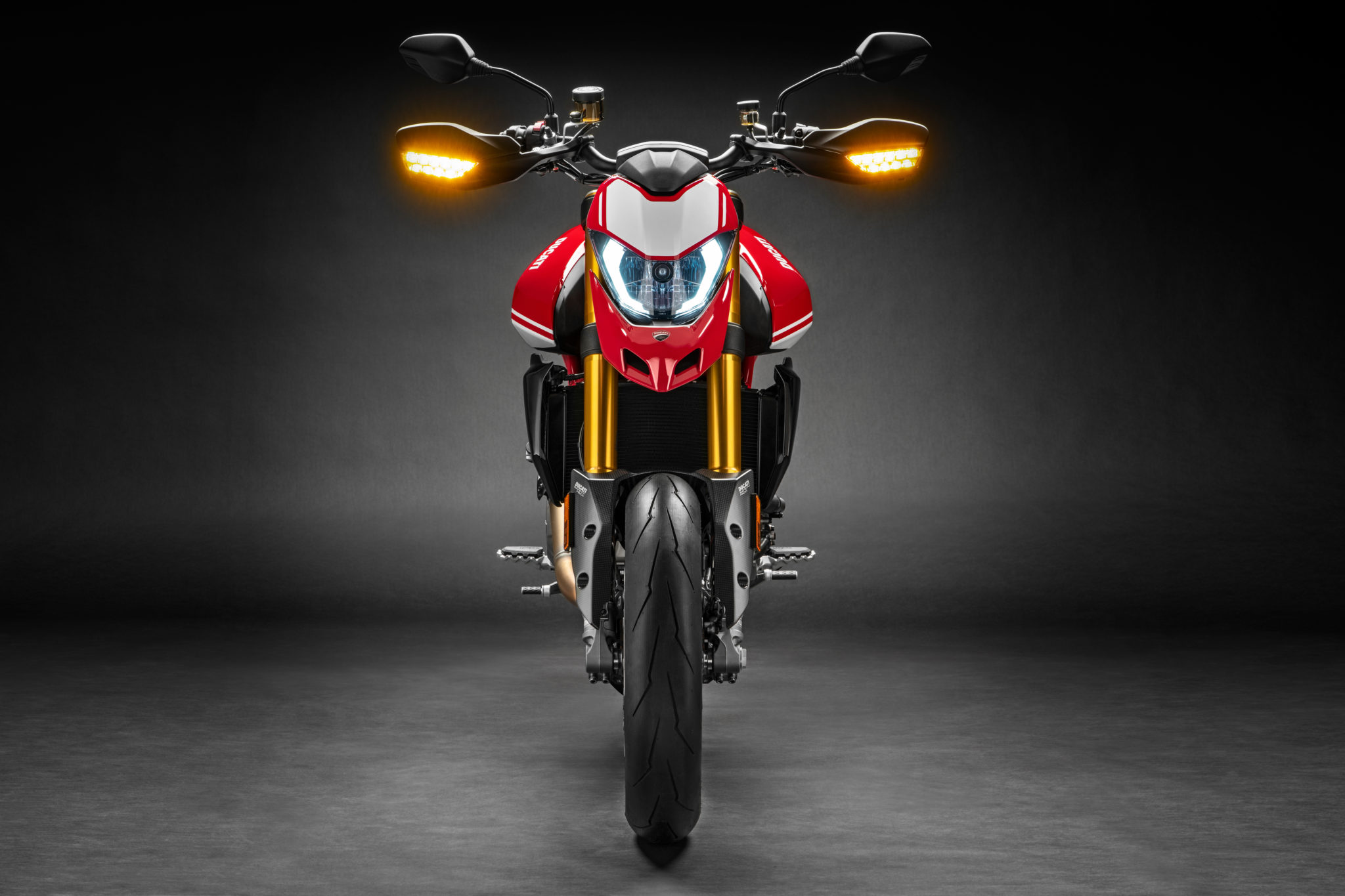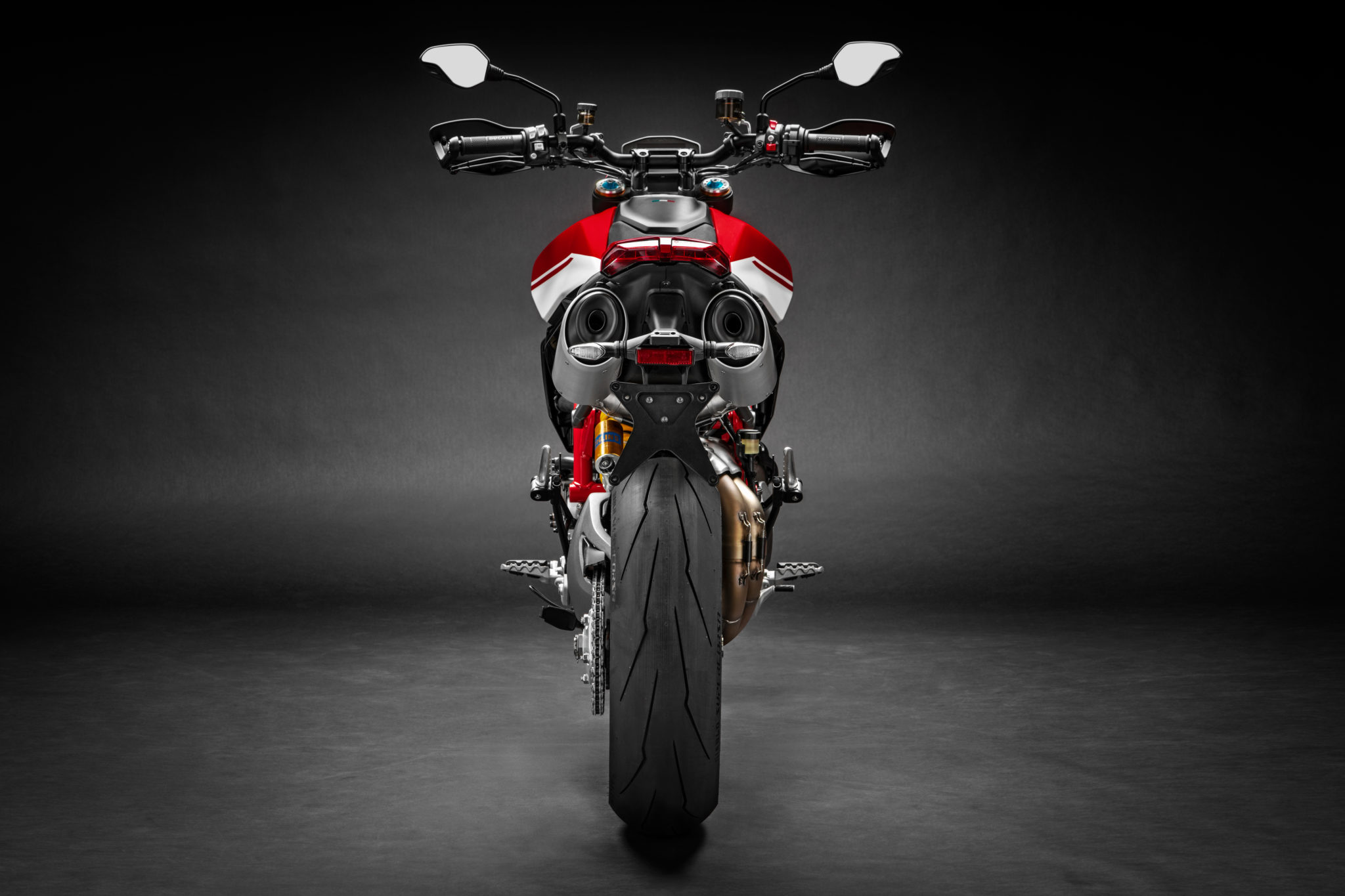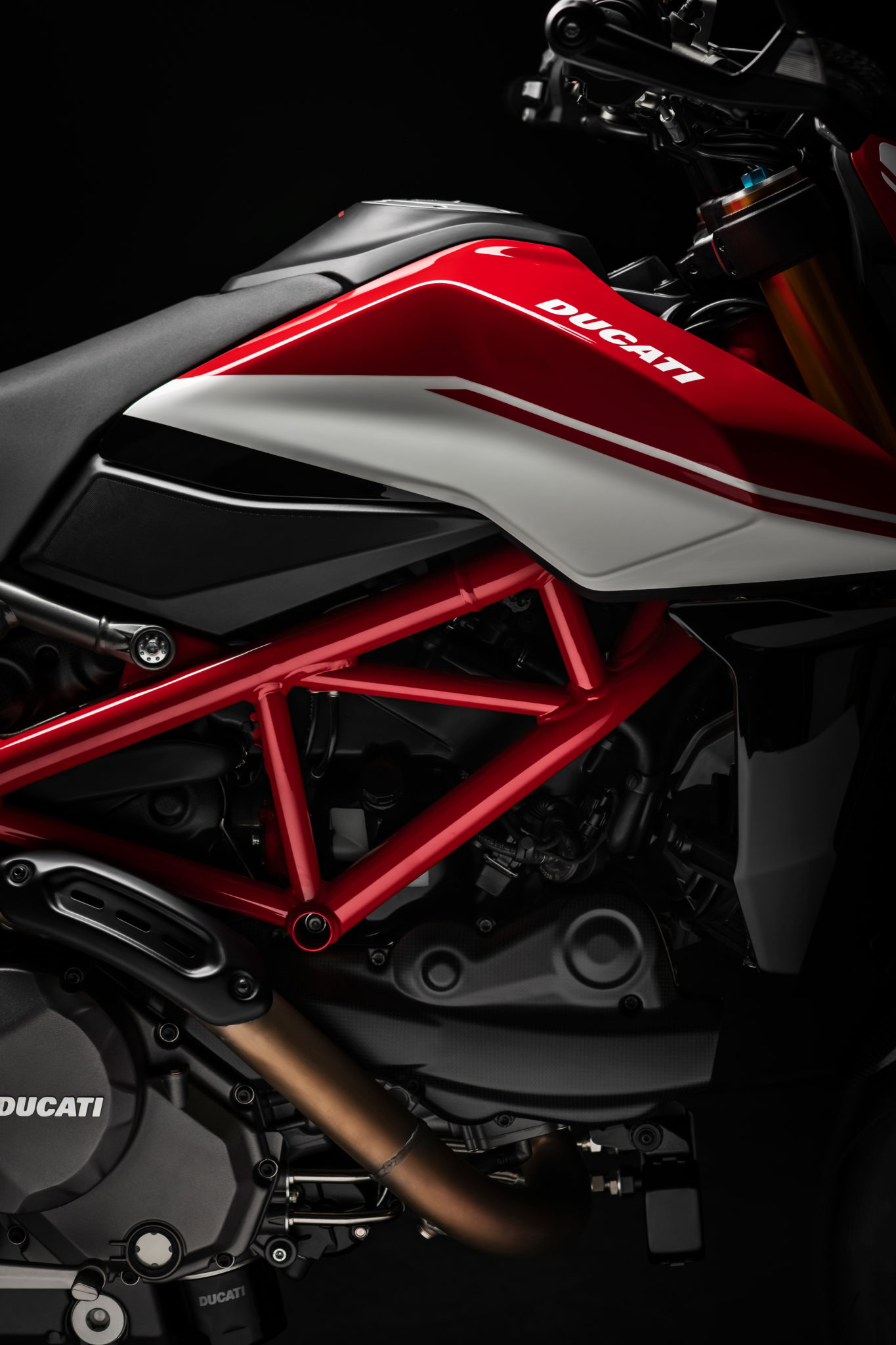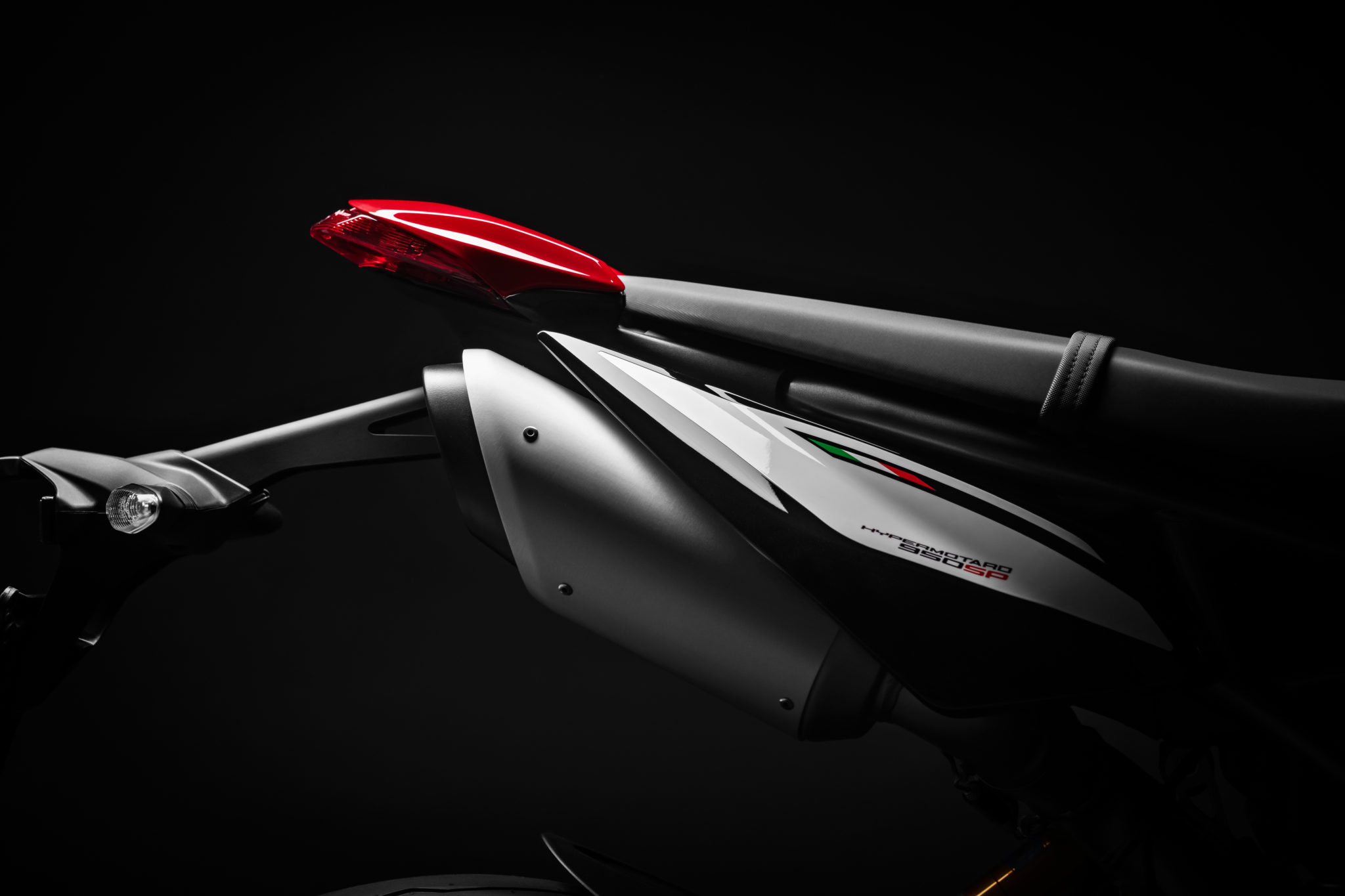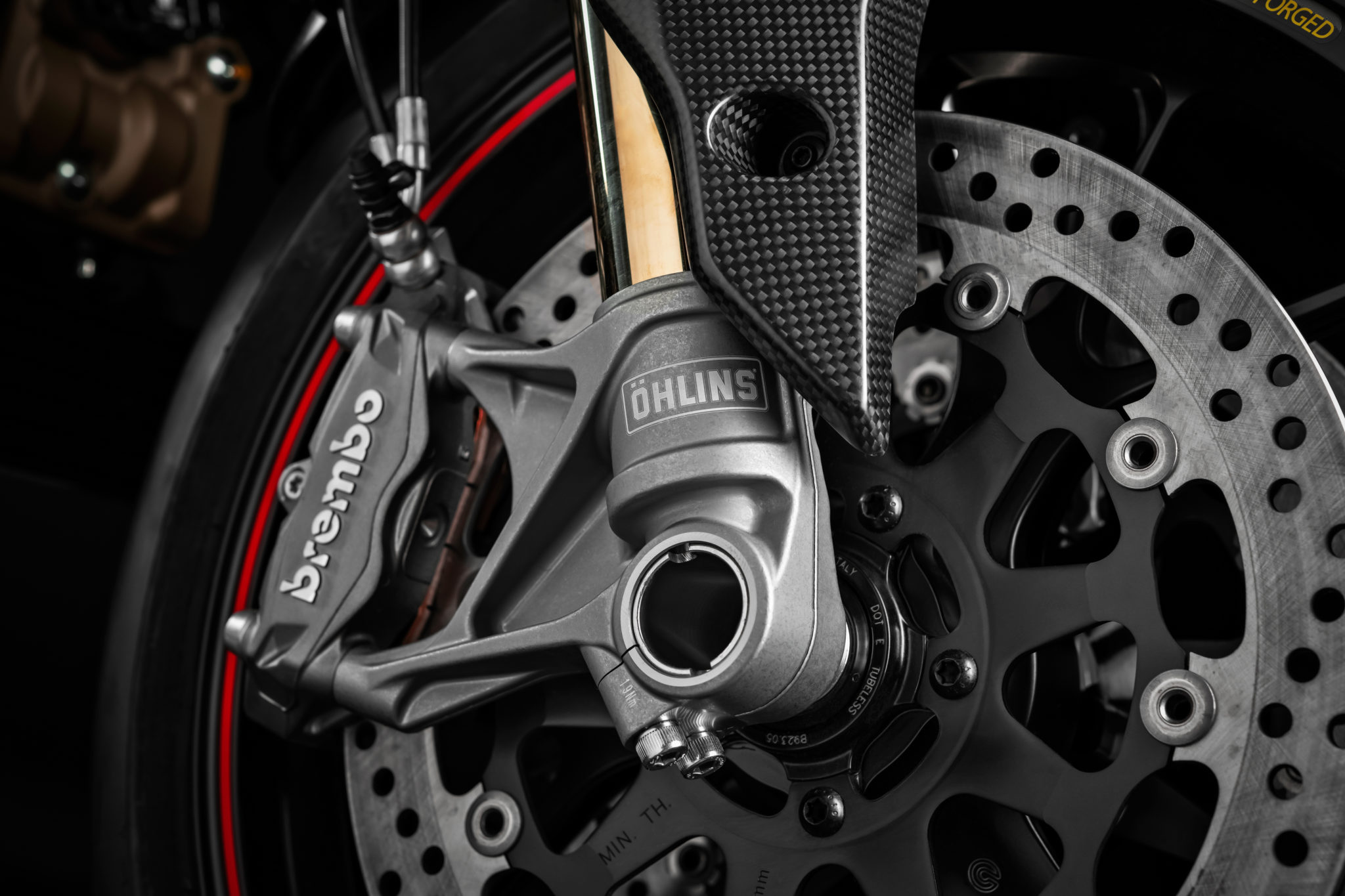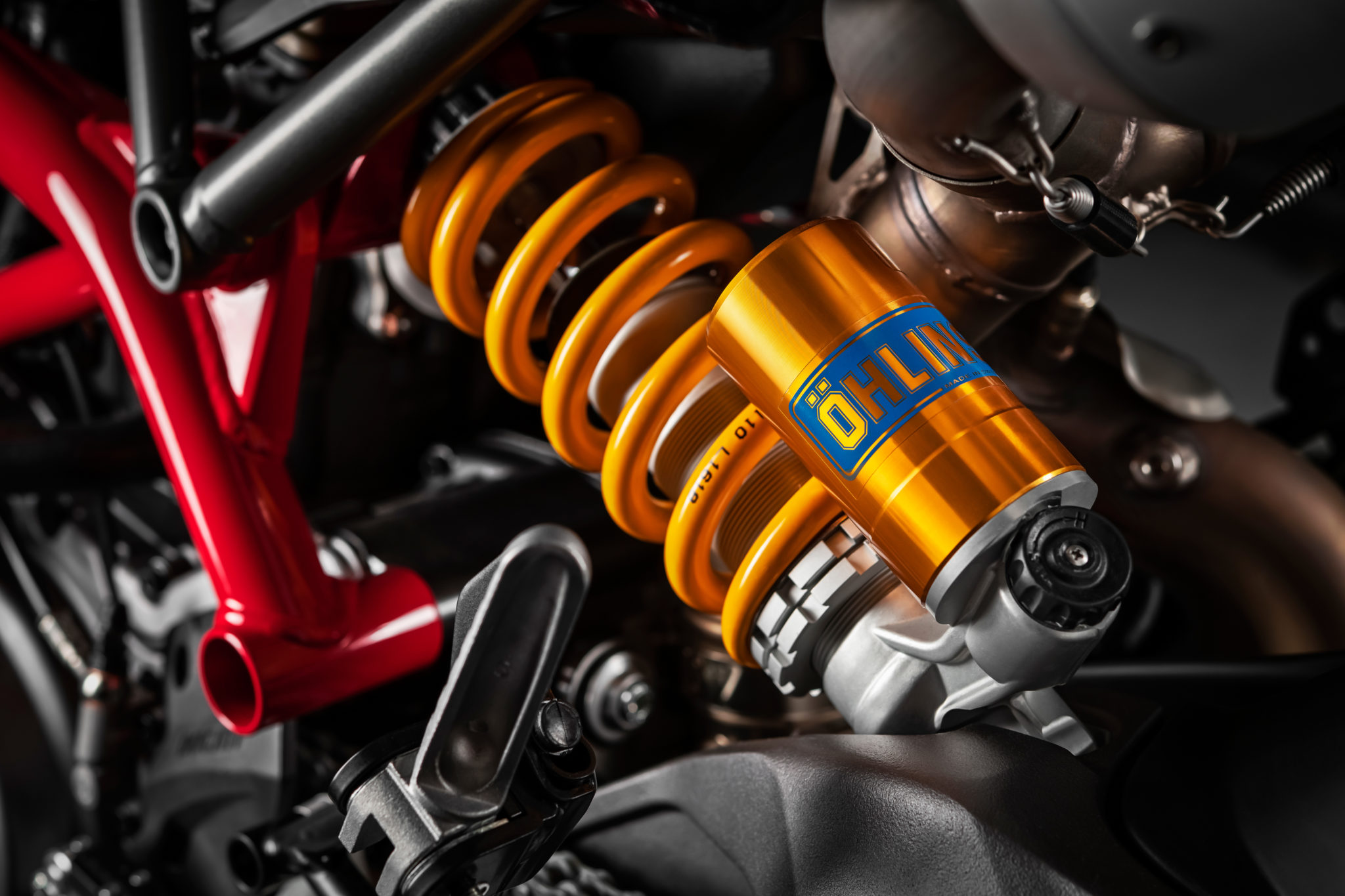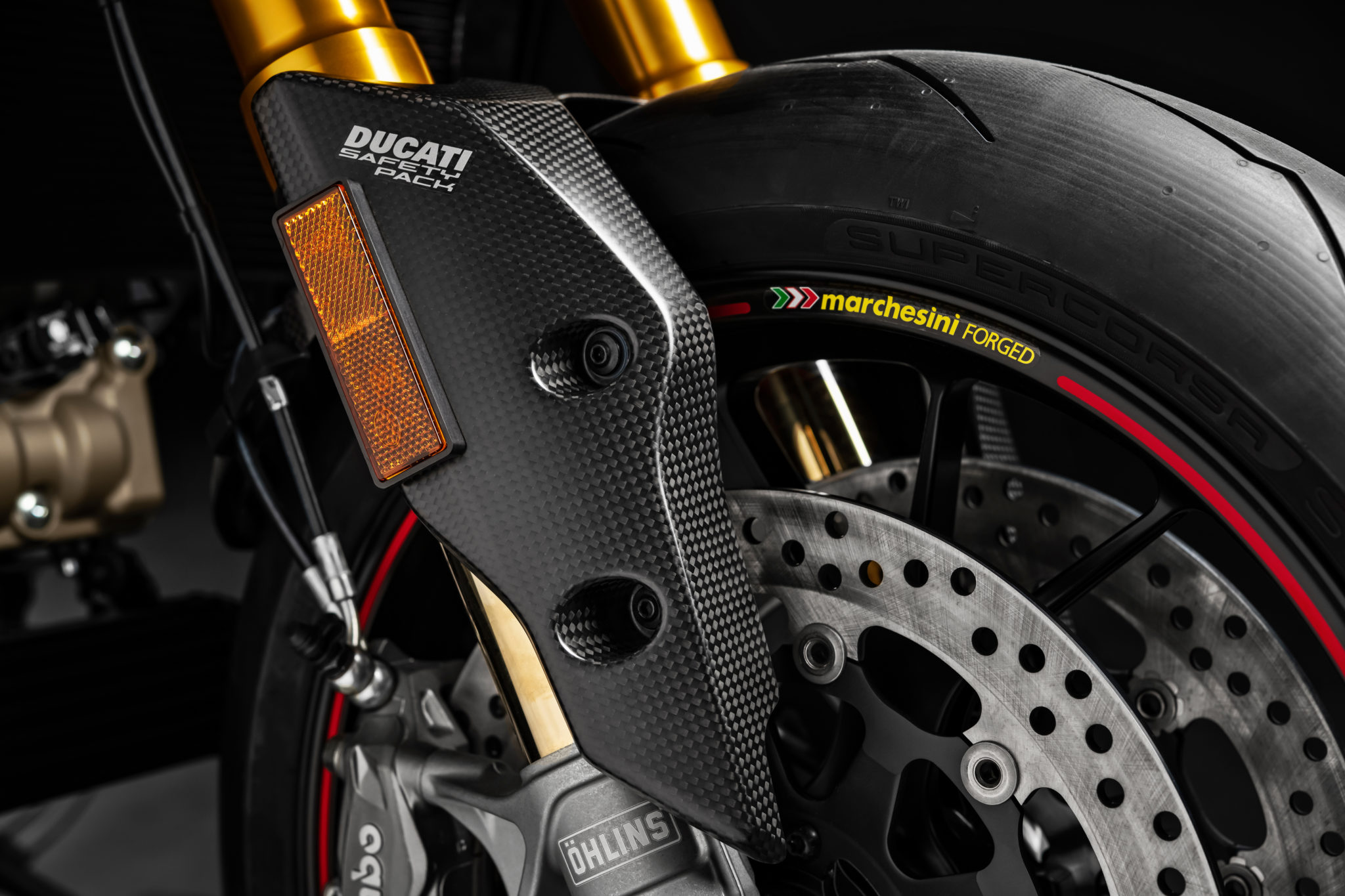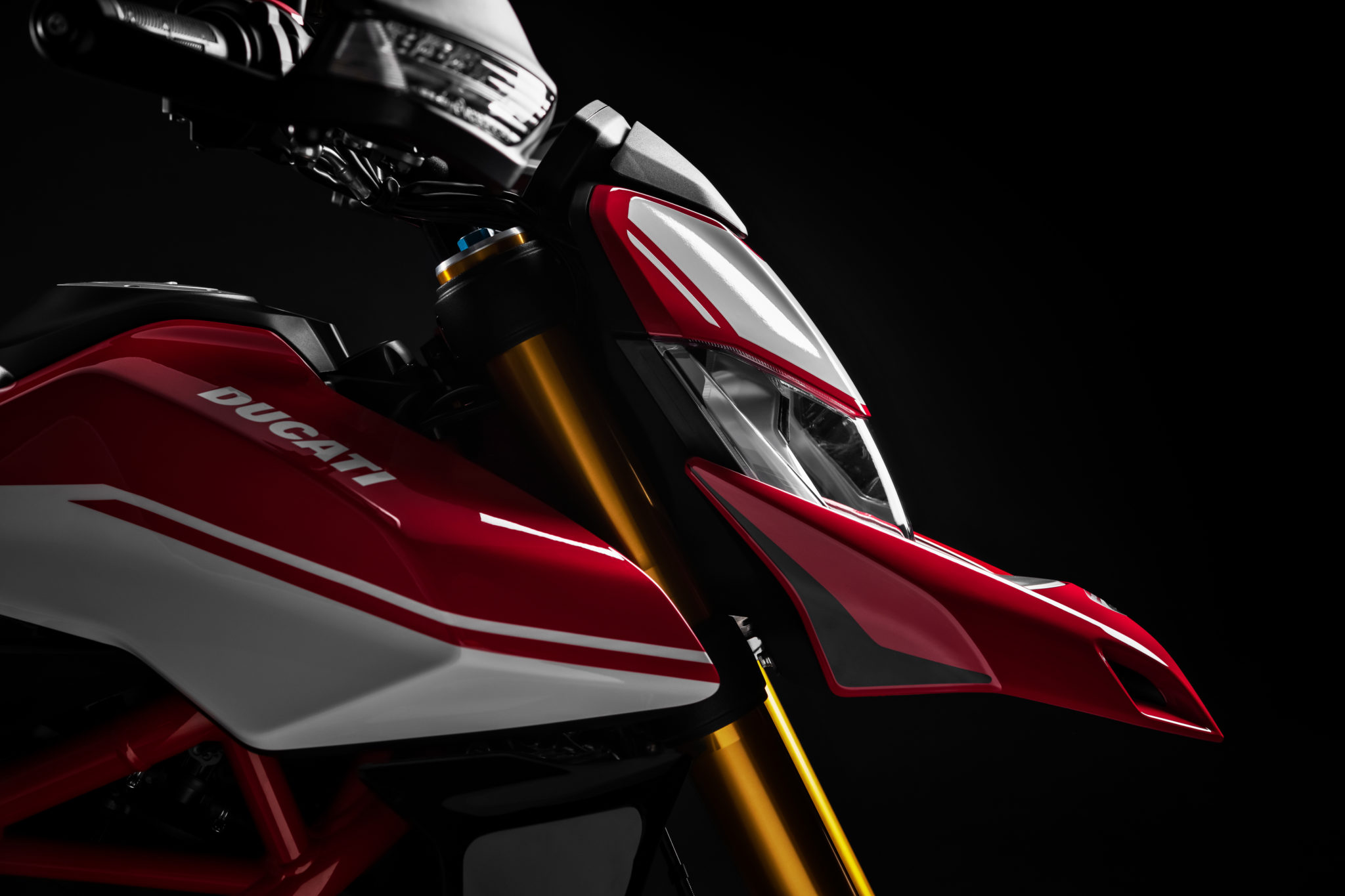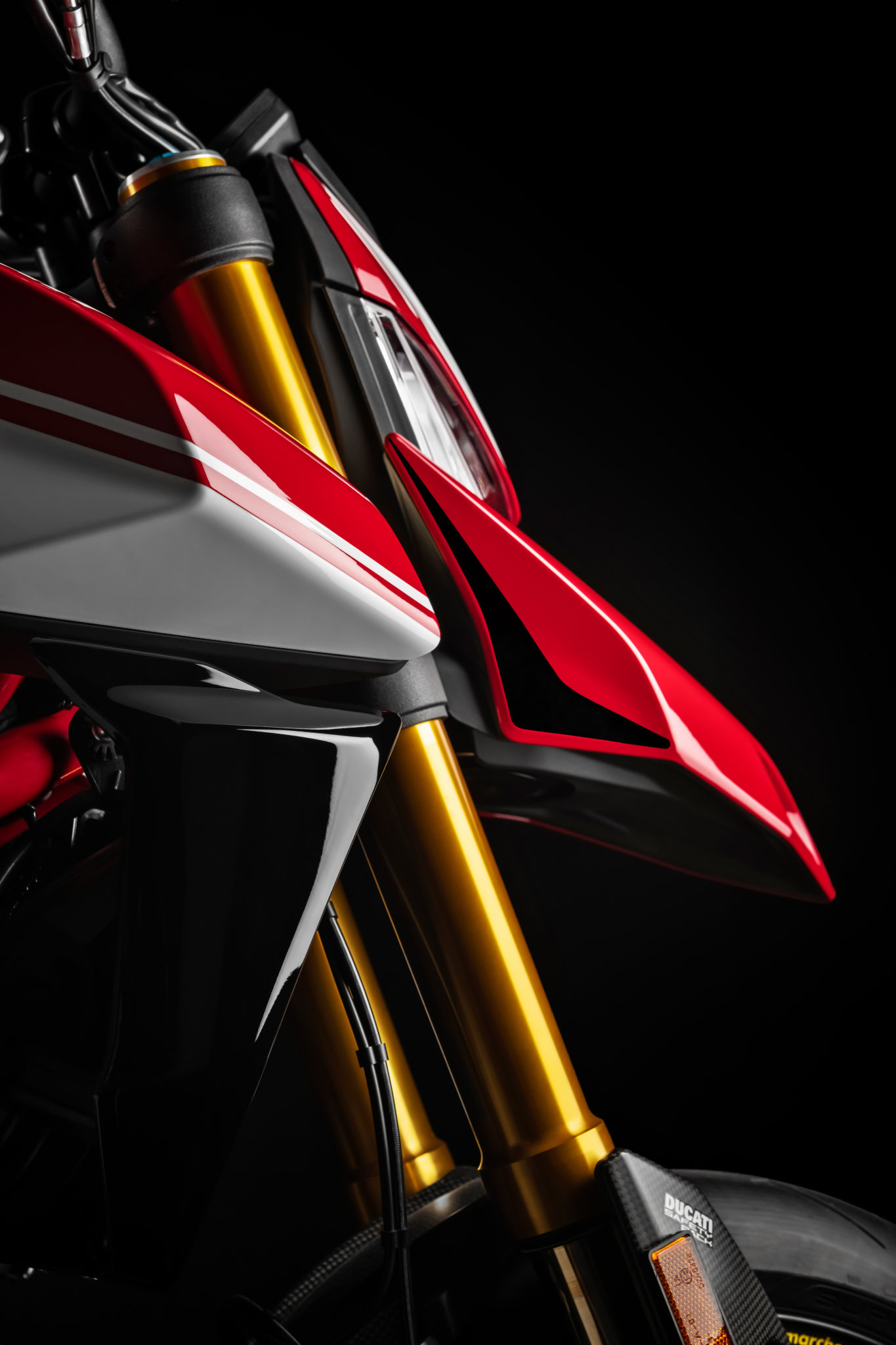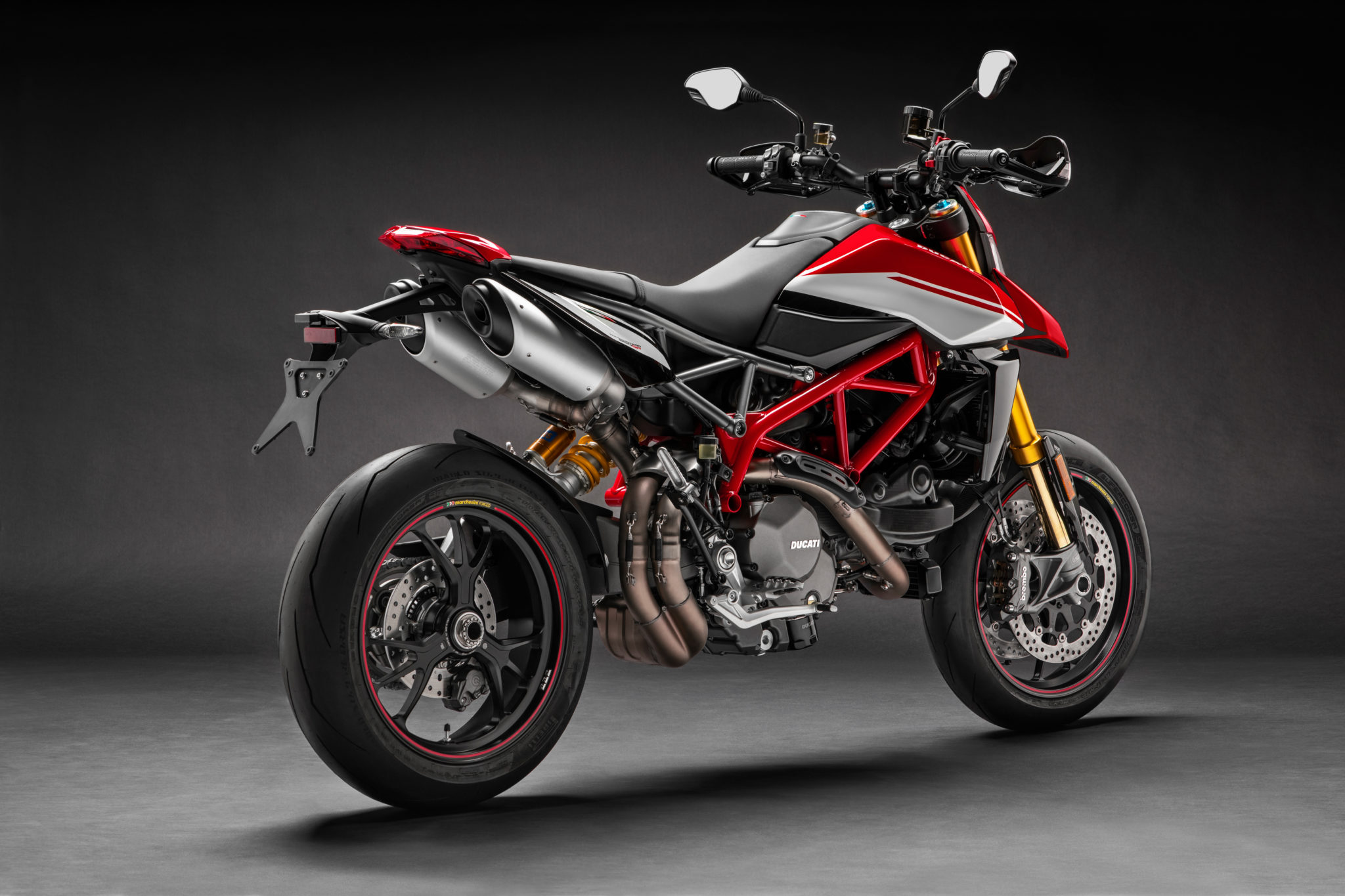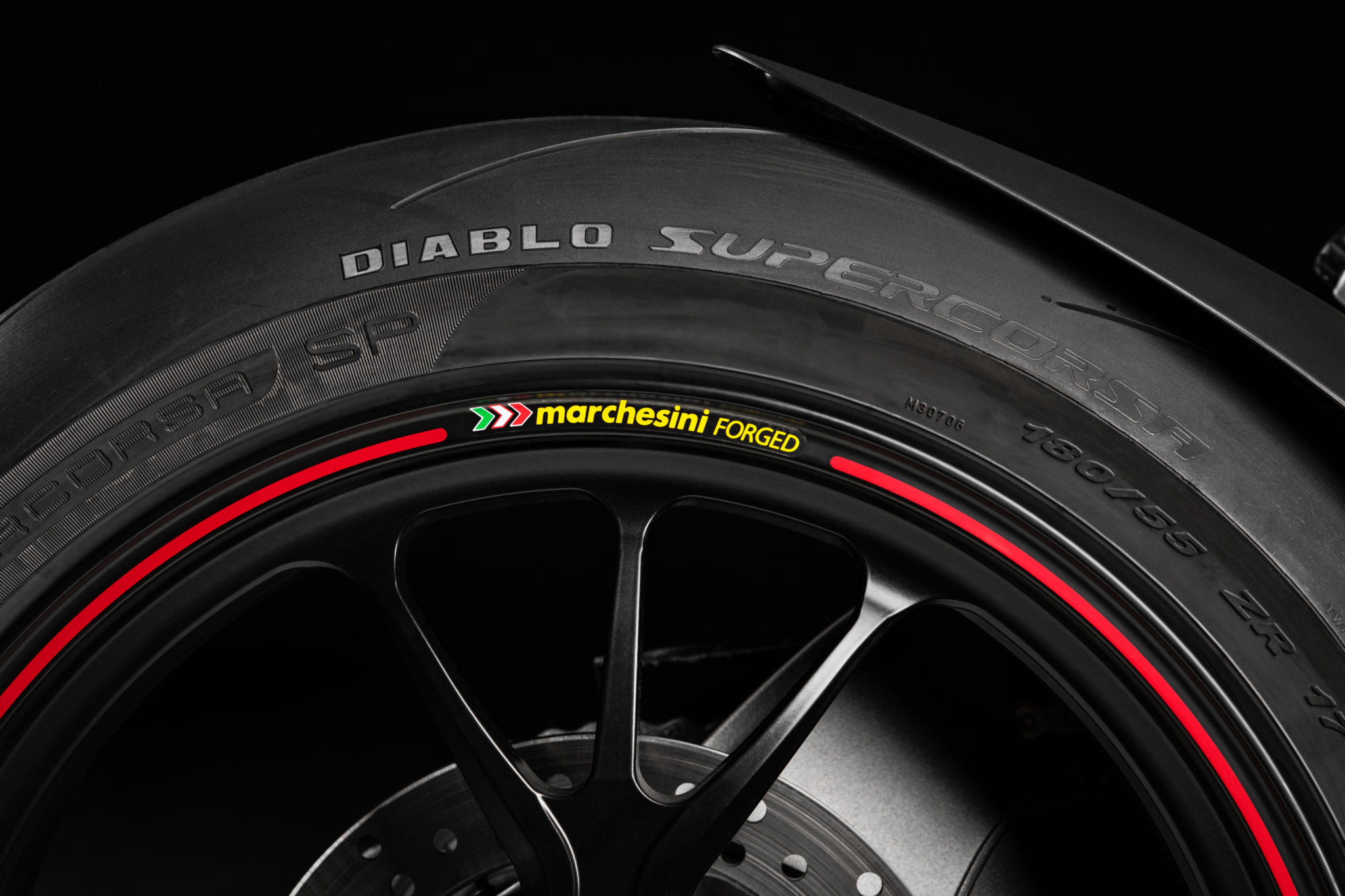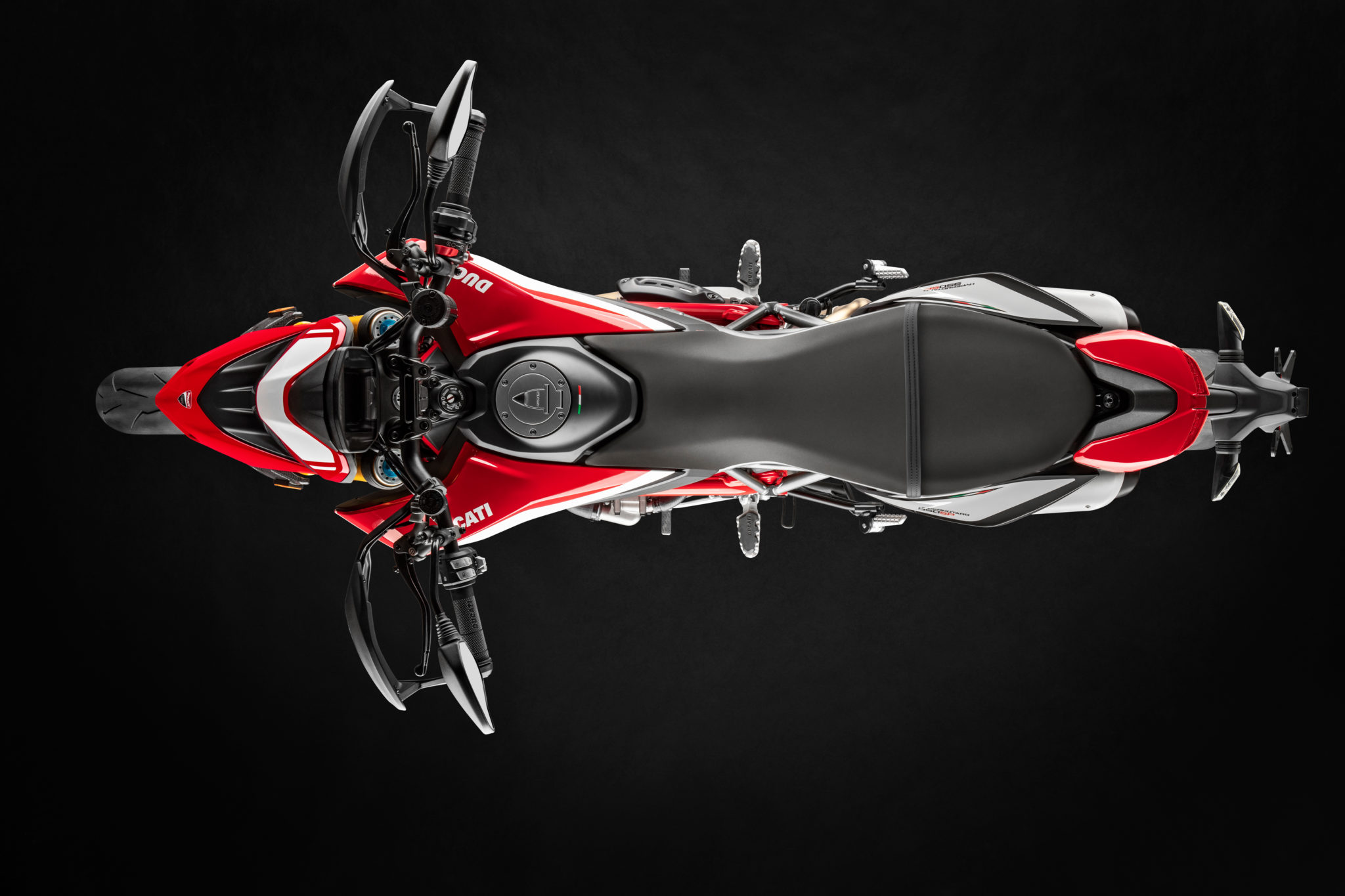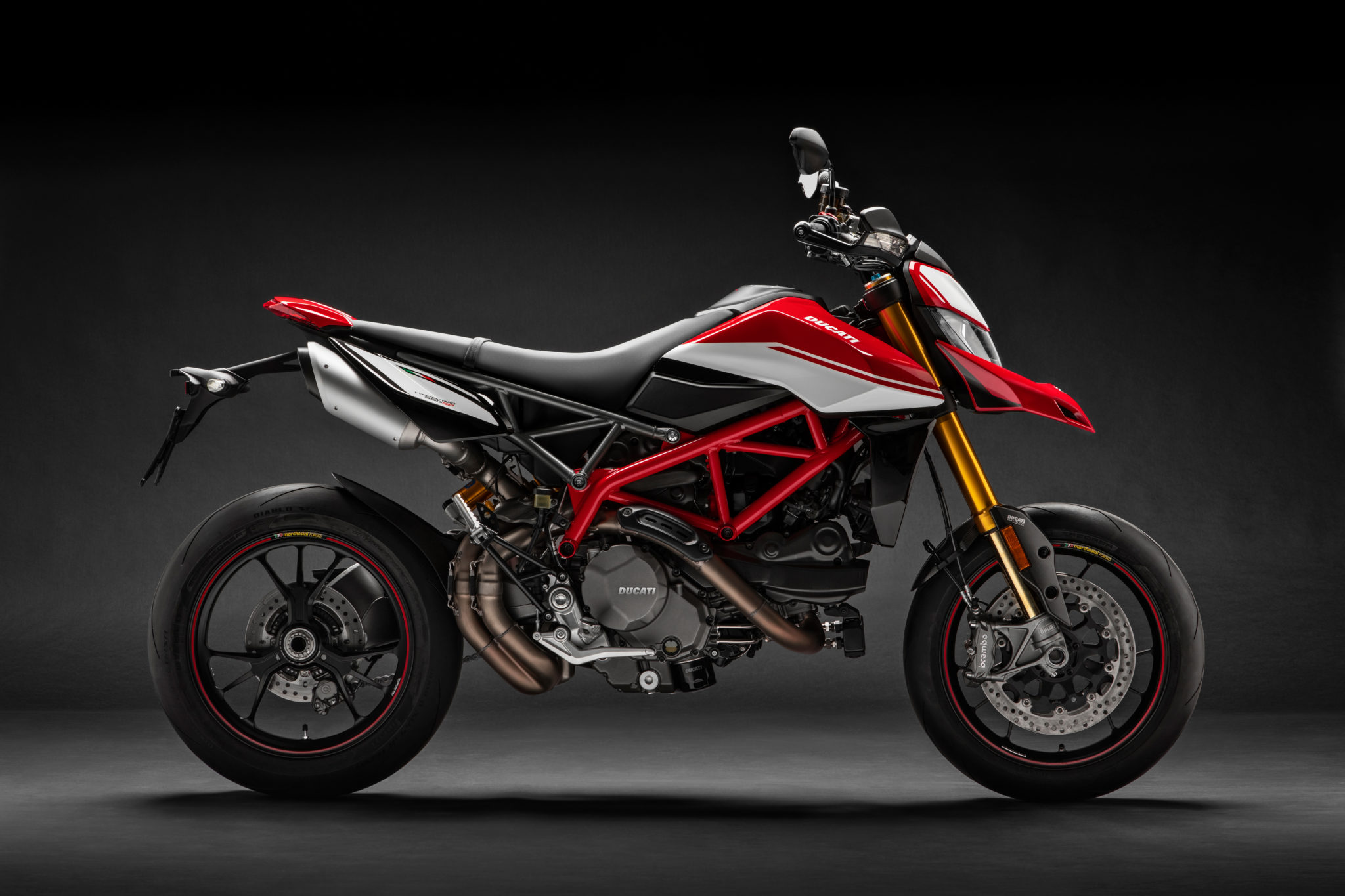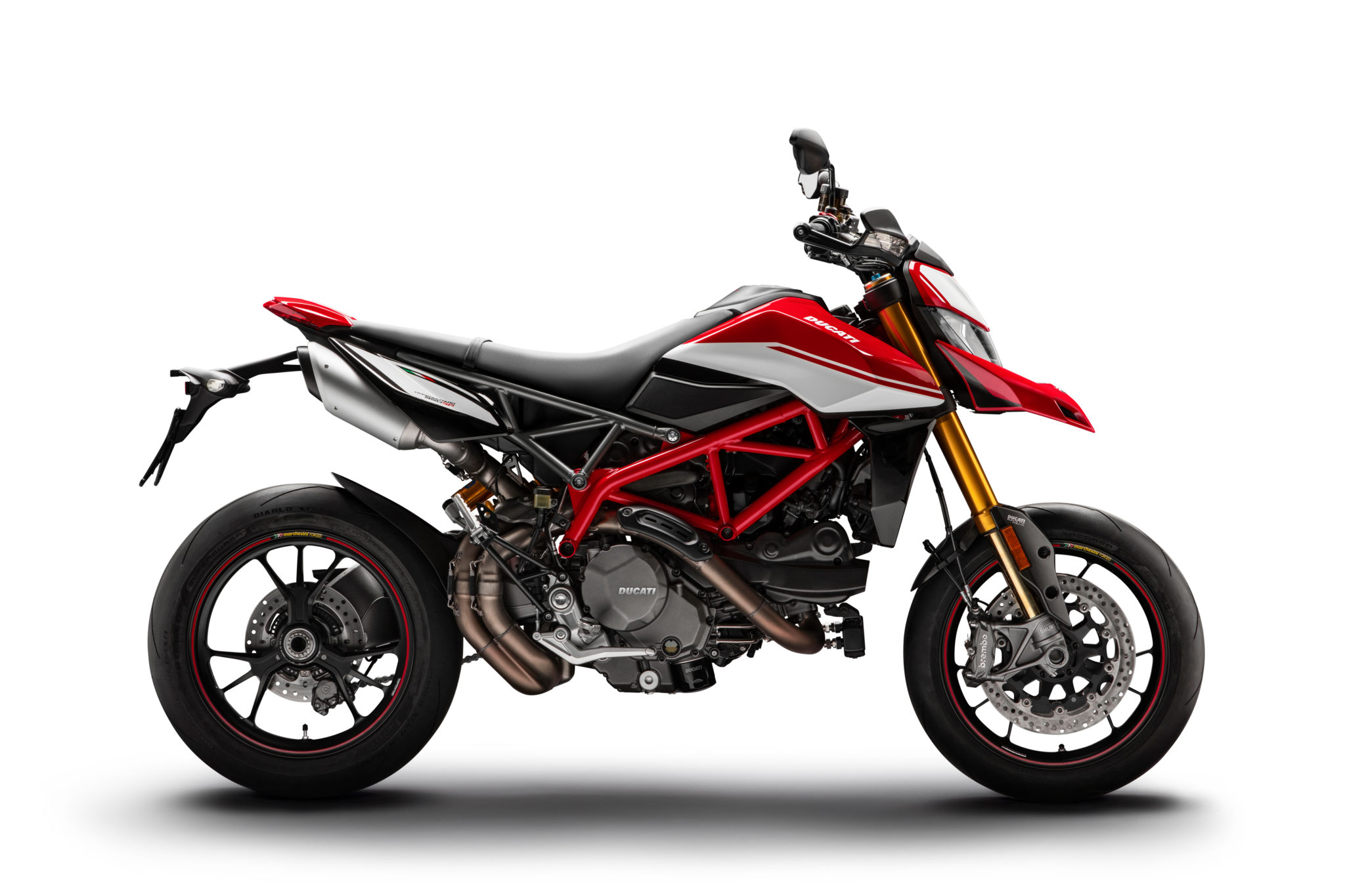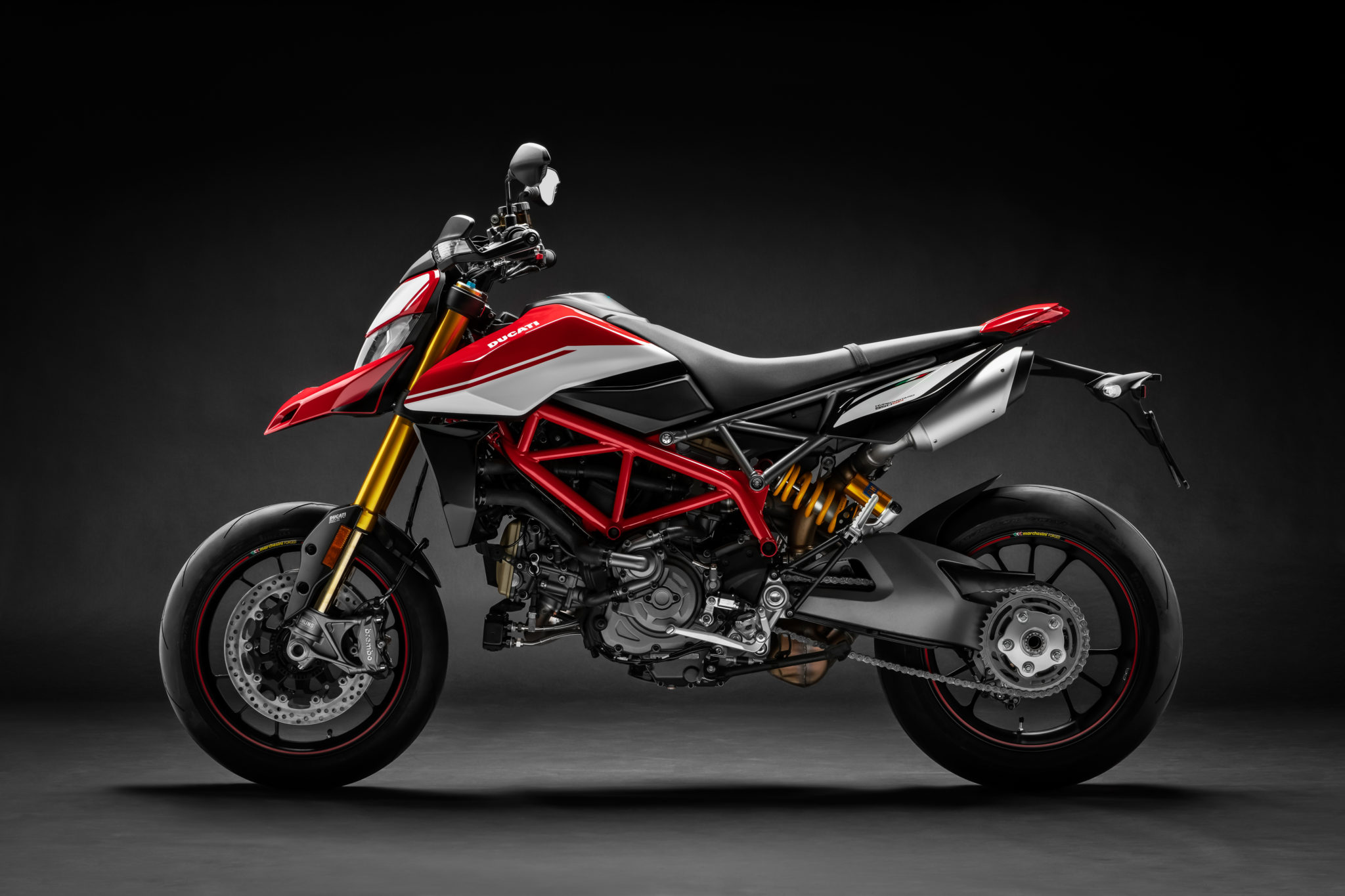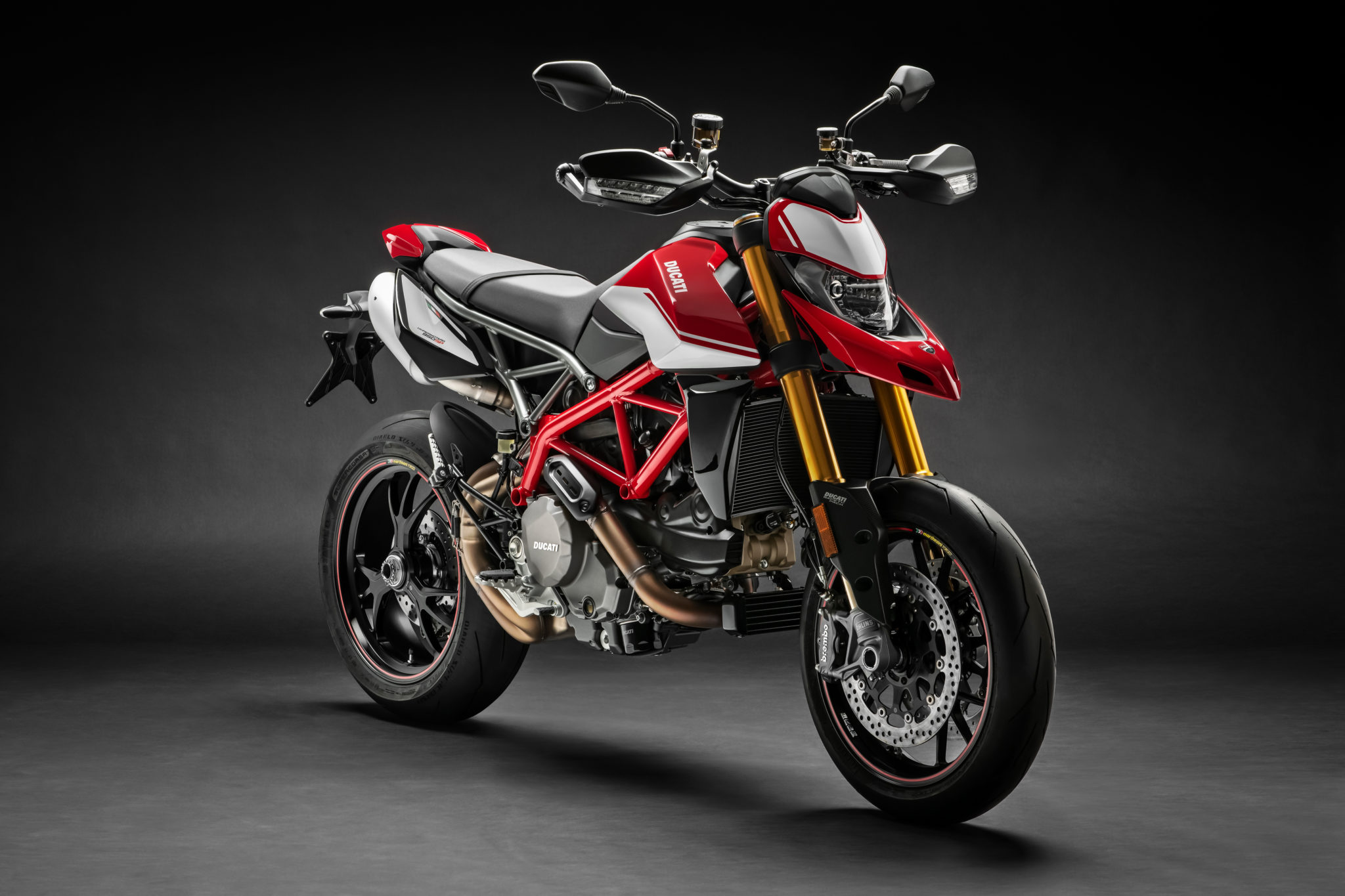 First impressions are of a very tall bike. The SP is 20mm taller than the stock bike, and while Ducati says a new narrower frame means the effective seat height is lower on the 2019 bike, it's still got me on tiptoes, with one bum cheek off the seat. The motor starts with a raucous rumble through the optional two-into-one Termignoni race pipes fitted for the track sessions, and the new colour LCD dash shows the extensive rider aids settings. That's one of the big updates for this year – Ducati's fitted a six-axis IMU-based suite of safety nets – wheelie control, traction control, cornering ABS, and a rear wheel slide-by-brake setup, as well as three-way customisable power modes. Together with the updated engine (up 4bhp from the previous Hypermotard 939), less mass (down 4kg on the 939), and new suspension, that's the majority of the performance changes for the 950.
And it's definitely worked wonders. I rode the 939 on its launch, and it was an impressive machine – but the 950 has moved it on a big old step. Out of pit lane, the engine is punchy and sharp, catapulting you up to turn one like a mediaeval trebuchet. Once you get there, the new Brembo four-piston calipers haul you down again, before the wide bars and agile handling lets you throw it into the bend hard. The Pirelli Supercorsa SP rubber has astounding grip on the warm Canarian asphalt, and while the pegs deck out a bit sooner than you might expect, the whole cornering experience is addictively hilarious.
Gallery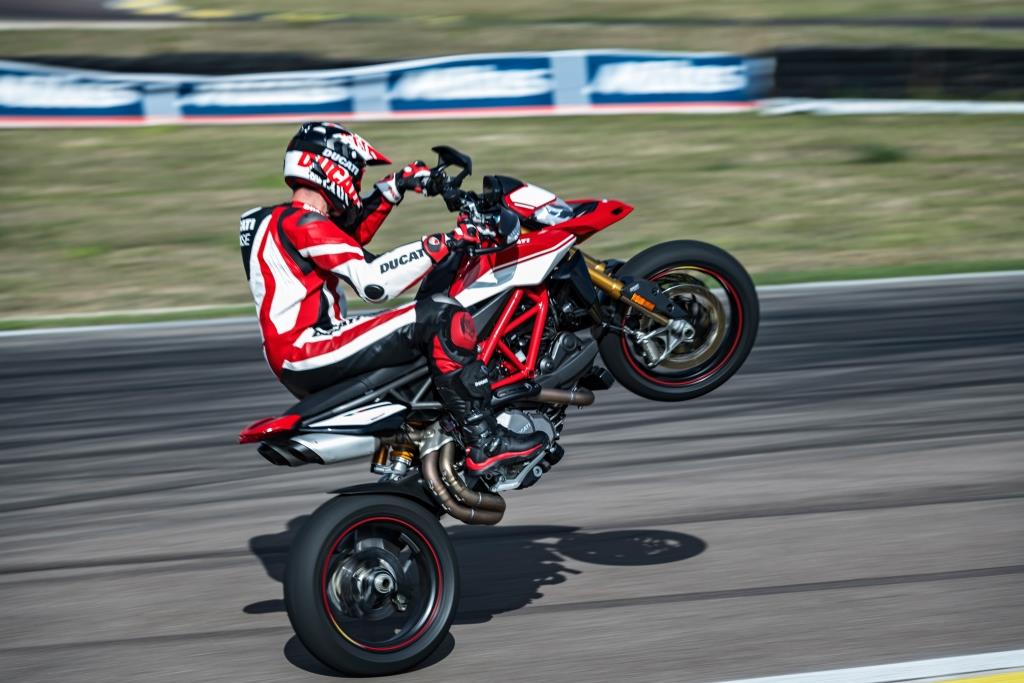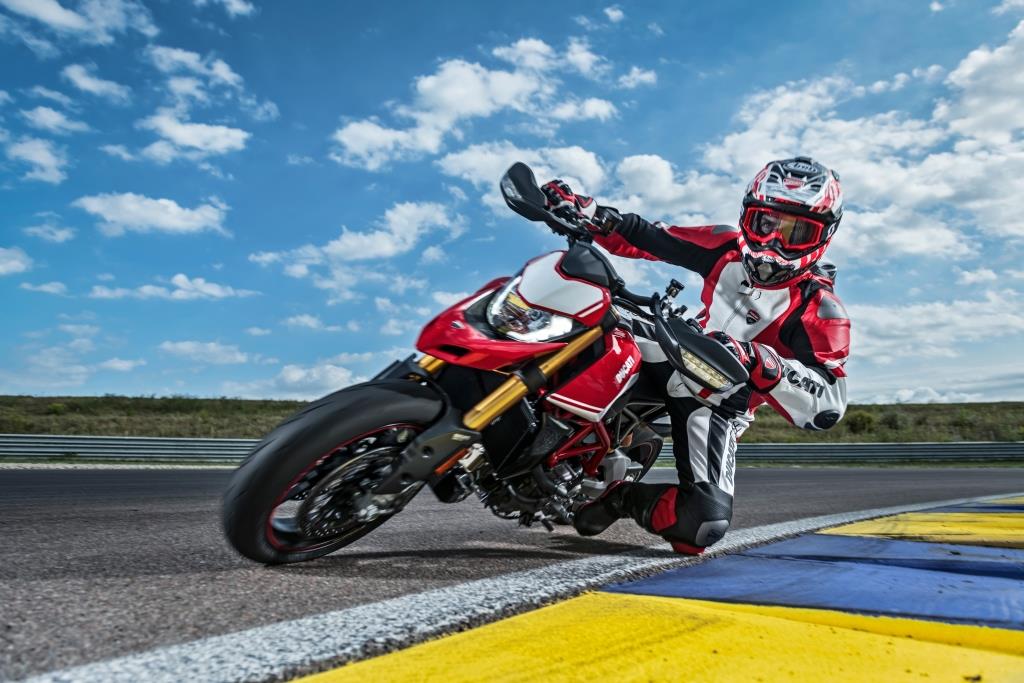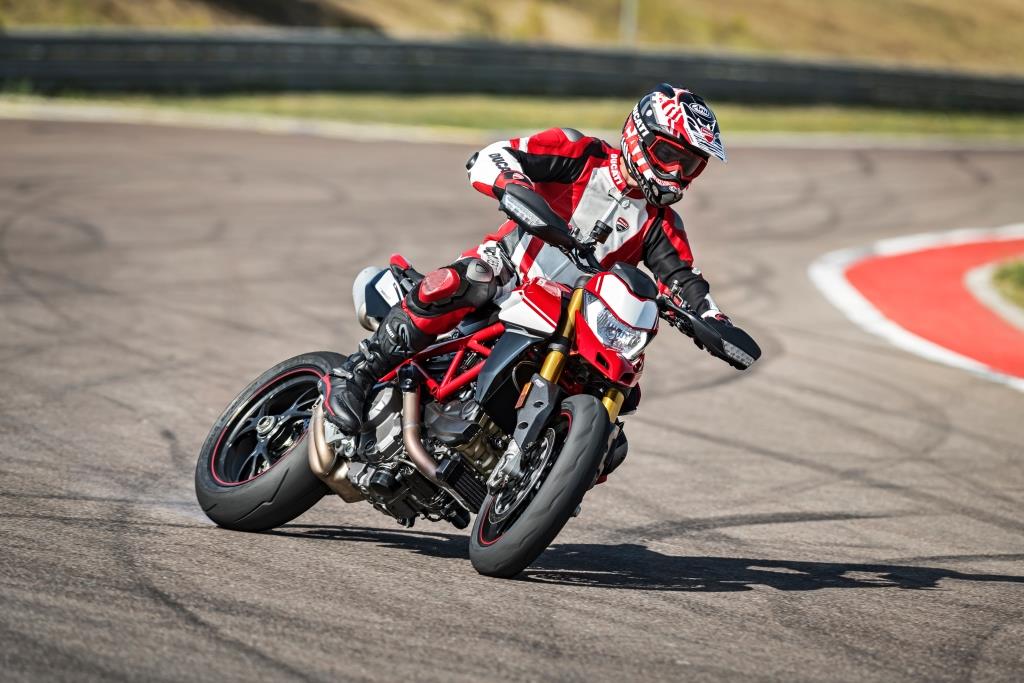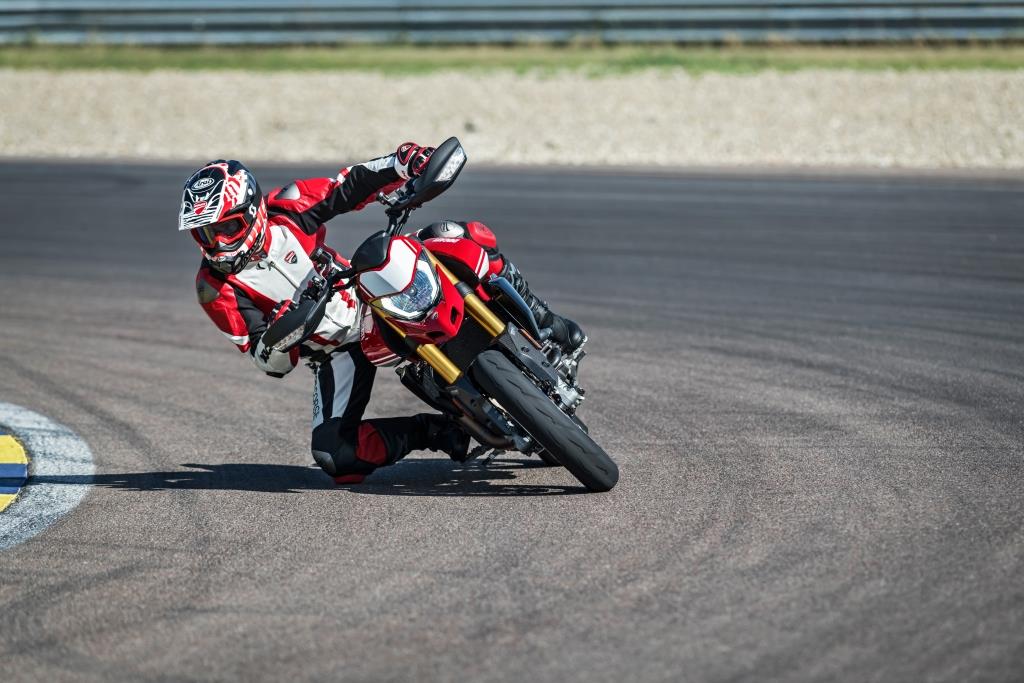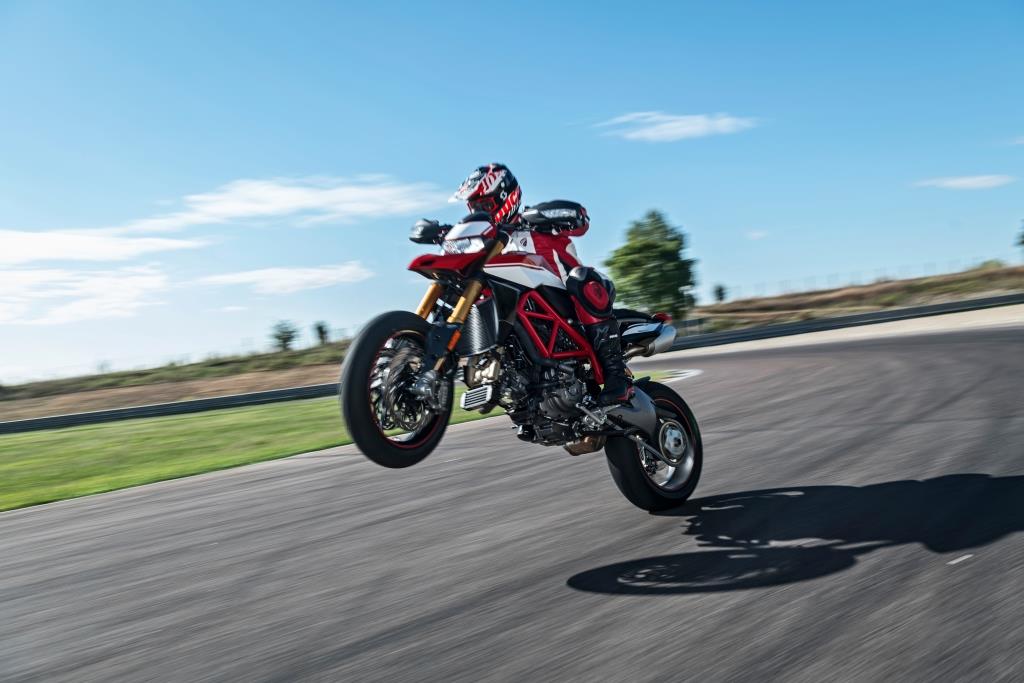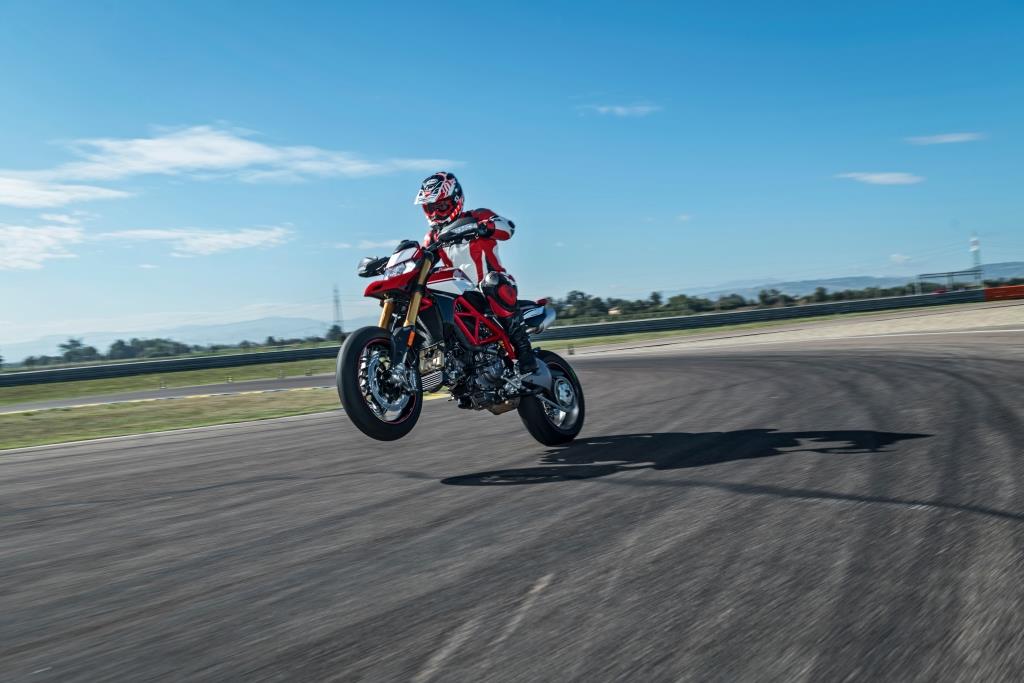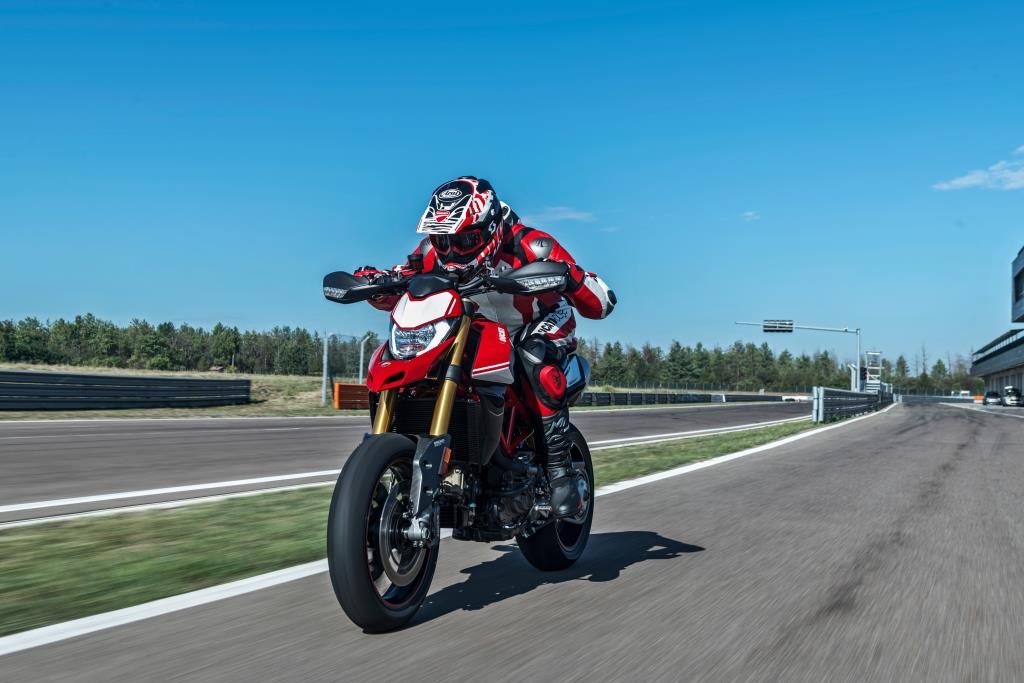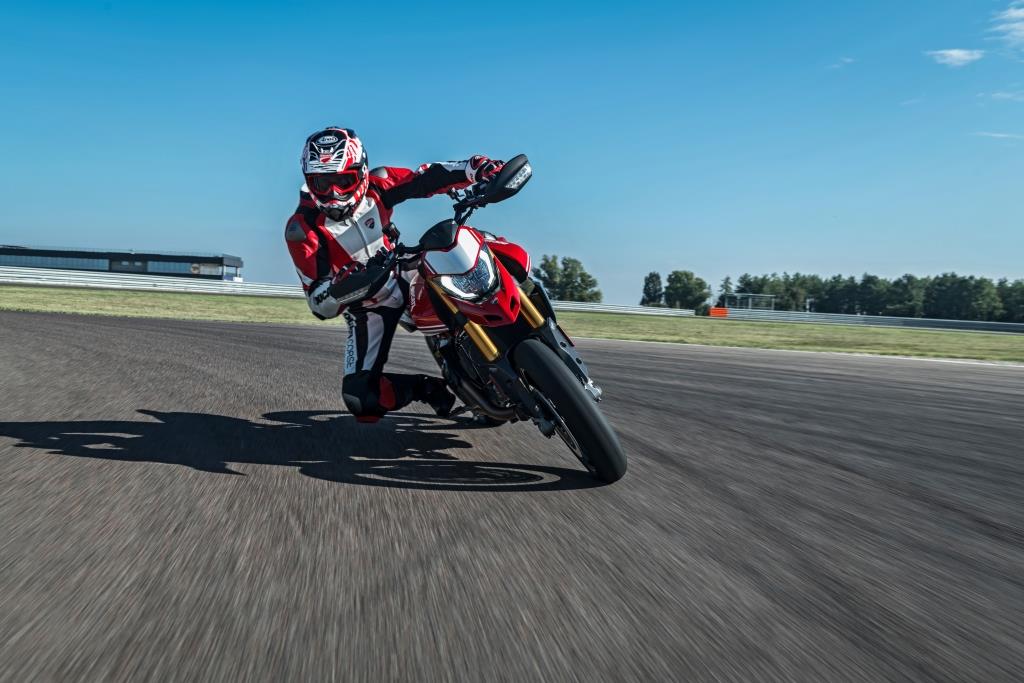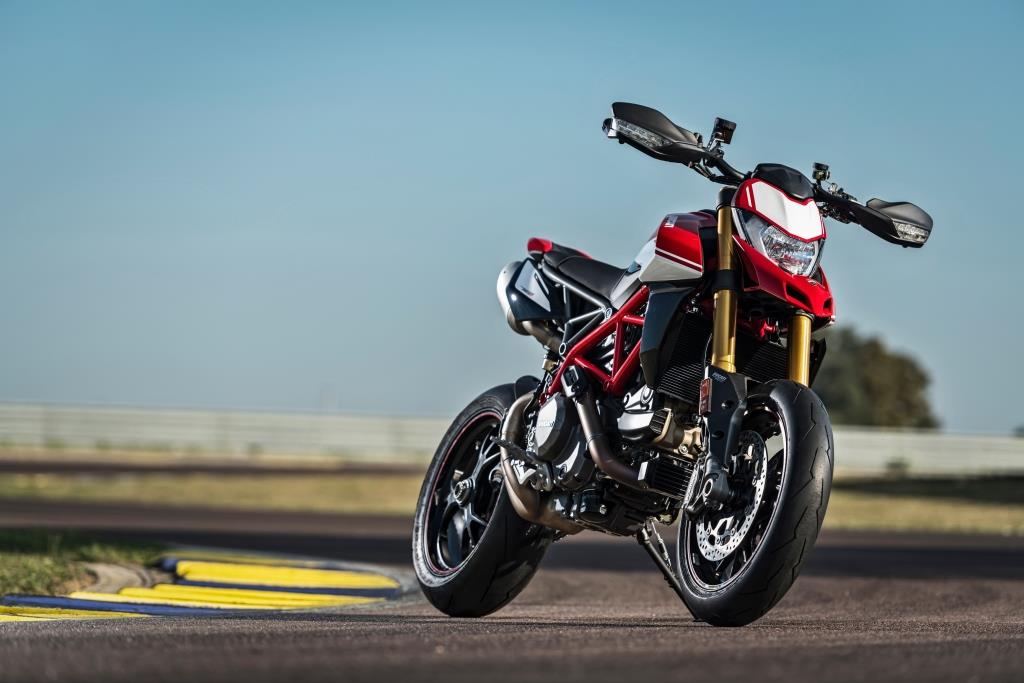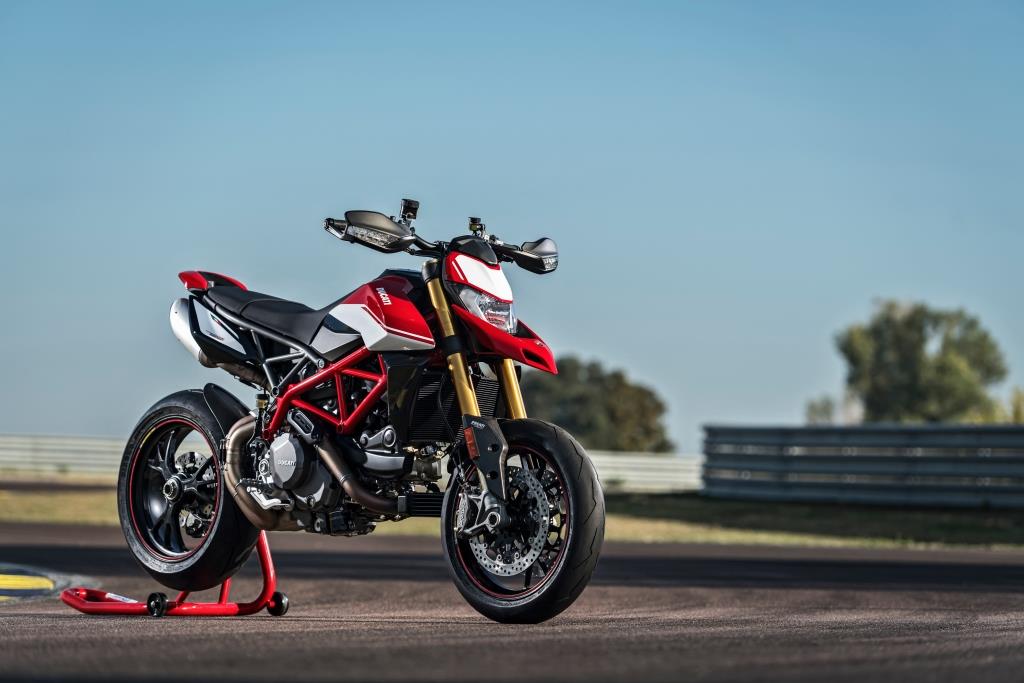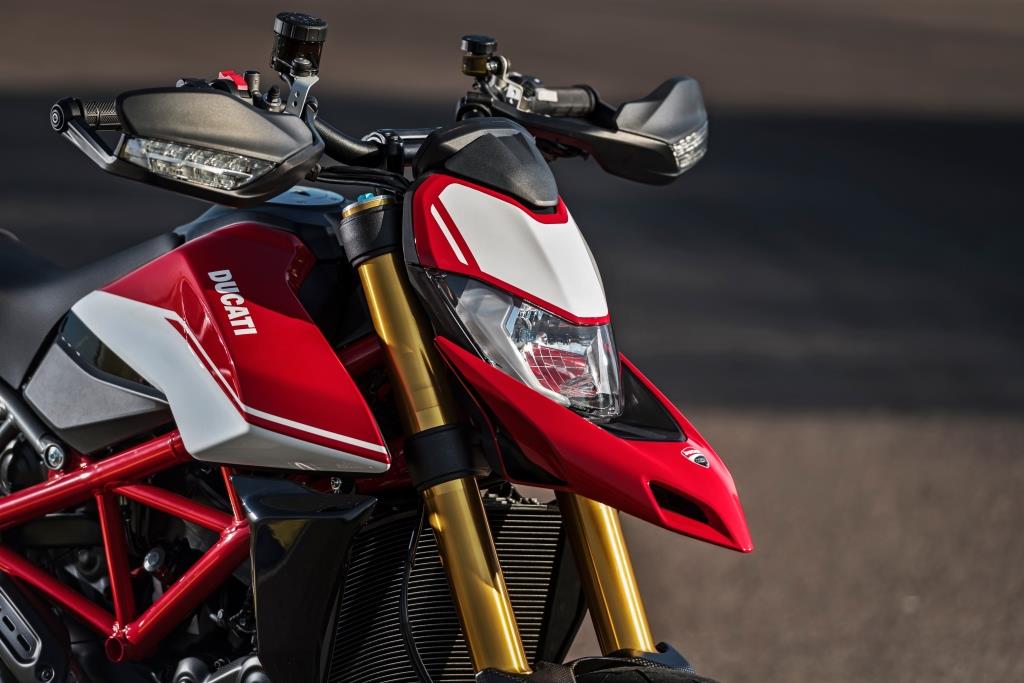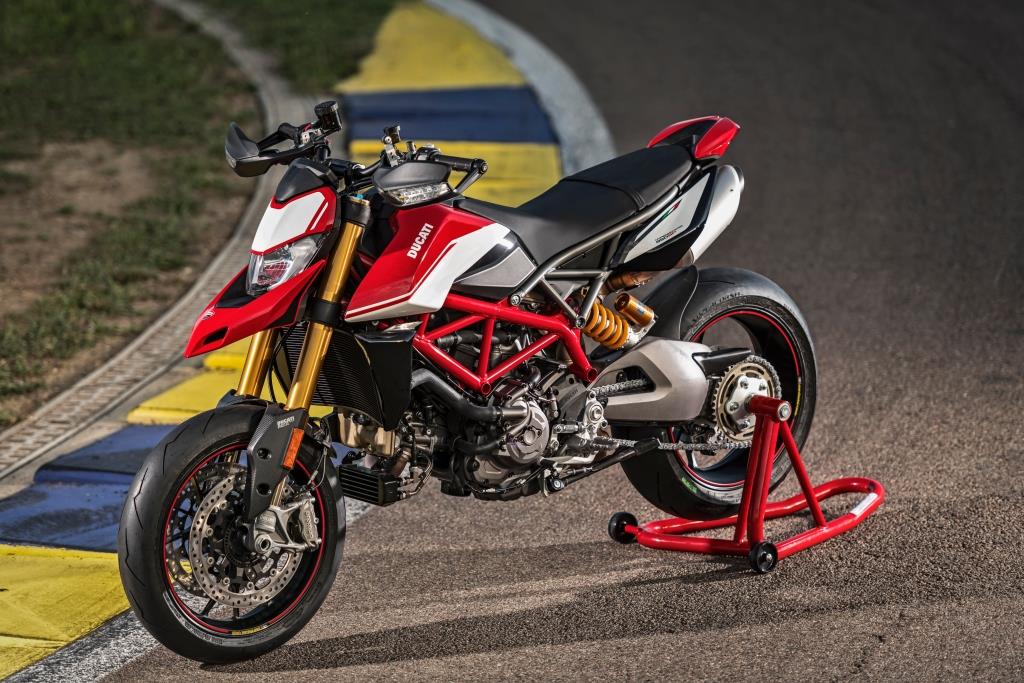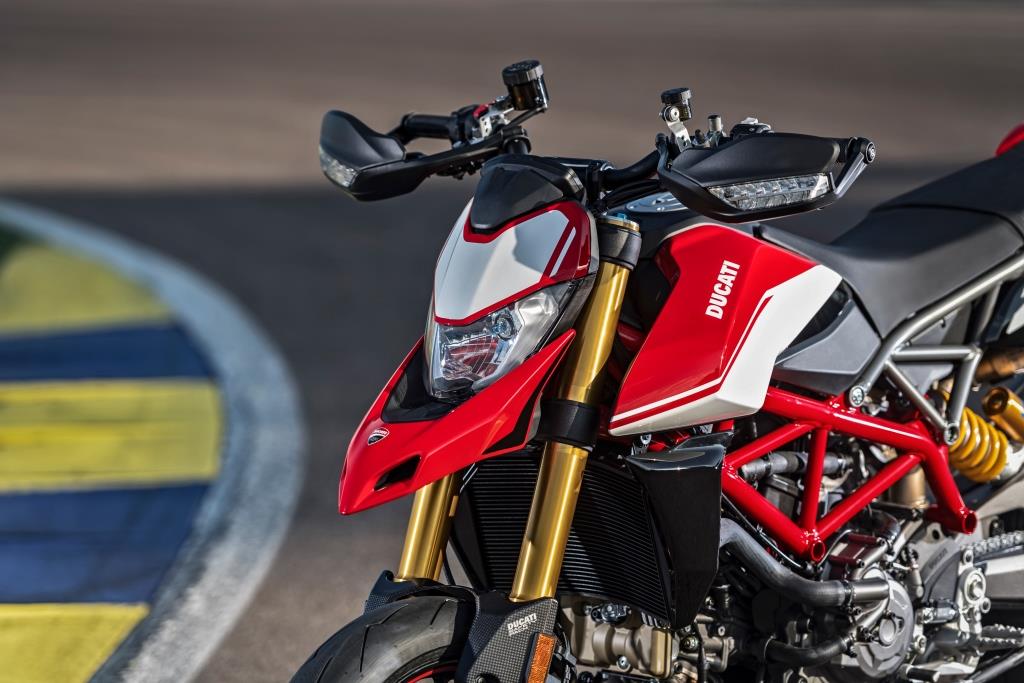 As is everything else on this bike, on this track. I spend the first couple of sessions trying to go 'quick' in the normal way, and it all goes well enough. The Öhlins suspension is firm yet communicative, those tyres lock into the tarmac like kneeslider Velcro, and the engine has massive, grunty delivery all the way through the rev range. Indeed, the torque curve is so flat, you can pick two or even three gears through some bends. There are a couple of chicanes on the track layout we're using, and they are incredible fun – slamming onto one knee and footpeg, then flicking up and over onto the other knee and peg, skrawping your way through two opposite bends right after another. Hilarious, giggle-out-loud stuff.
I gradually turn down the rider aids as the morning goes on: the traction control seems almost superfluous for these tyres in these conditions, but the wheelie control is a different matter. I go from '3' to '1', and it's still working away, trying desperately to keep the front Pirelli on the deck. That lowest setting is good – you can lift the front wheel on the way out of a bend very nicely indeed.
But it still feels a little intrusive at times, so for my final session, I turn the wheelie control off altogether. That's a decision I very nearly regret within fifty yards, as I nearly flip the thing seconds after leaving pit lane. Like Ducati's Monster 1200S, the wheelie control does a lot more than you realise to keep things sane, and once it's turned off, the Hypermotard 950 shows an even crazier side. The front lifts like one of those old 500 two-stroke MX bikes, and if you're not right on top of things, you'll be staring at the top yoke.
Gallery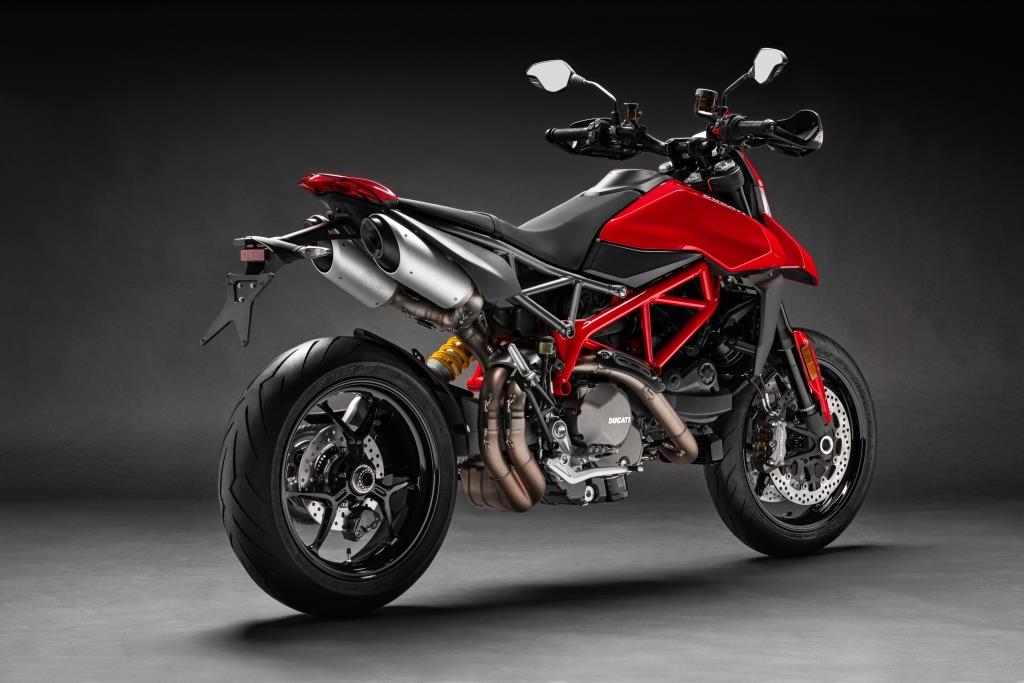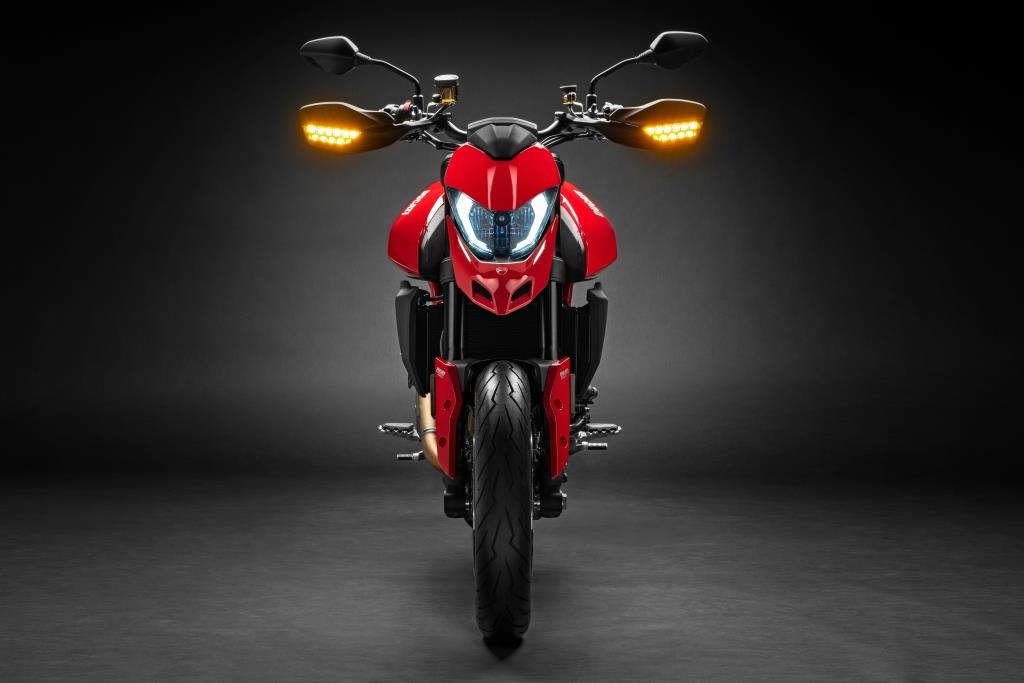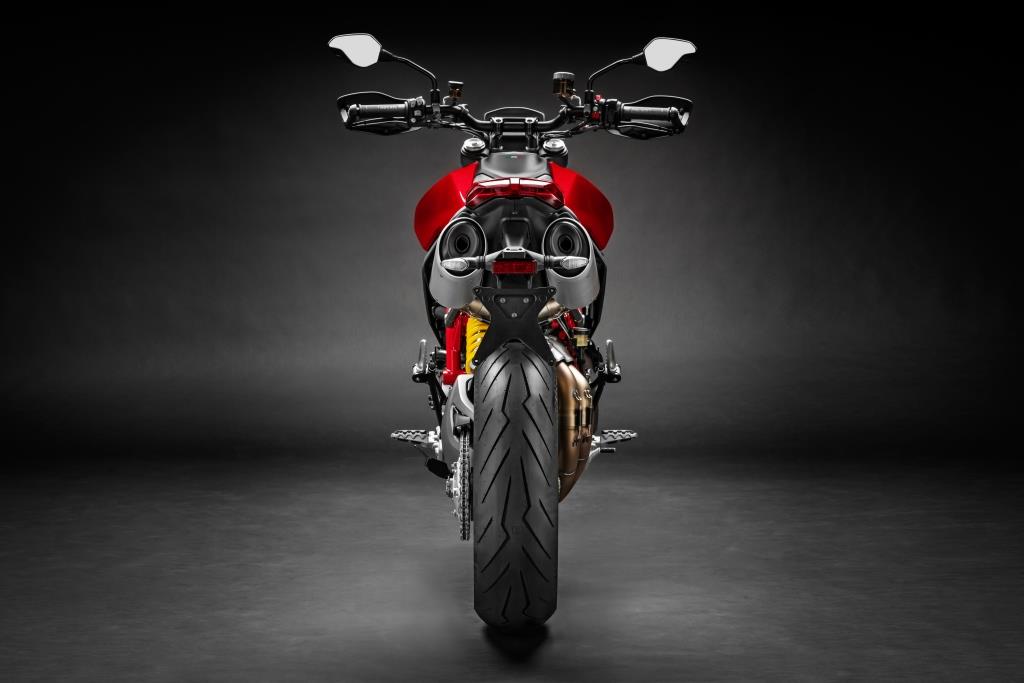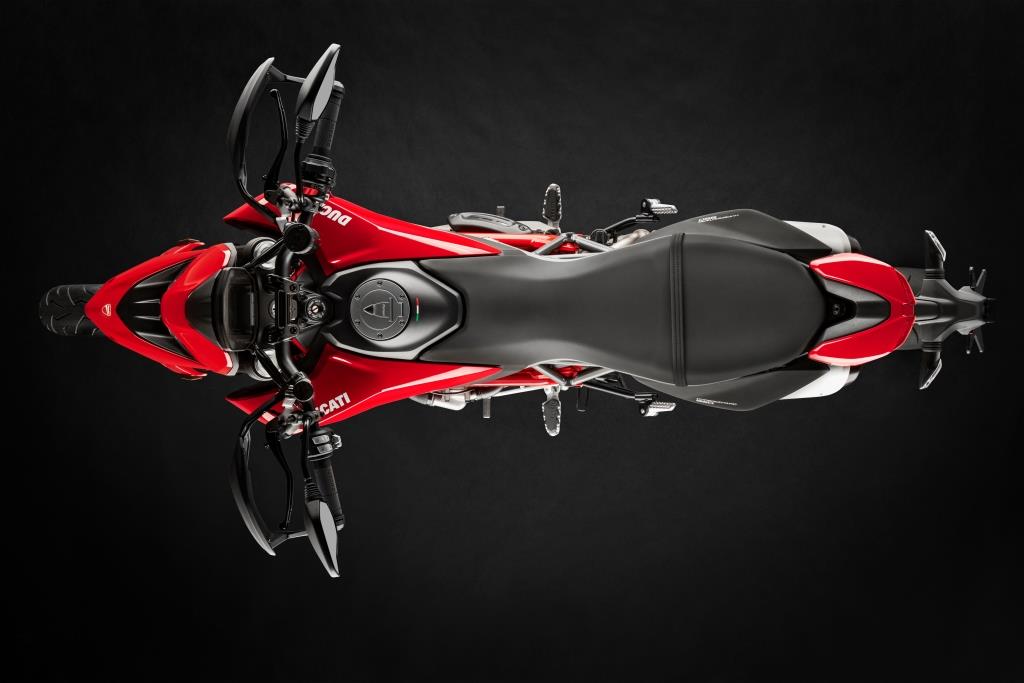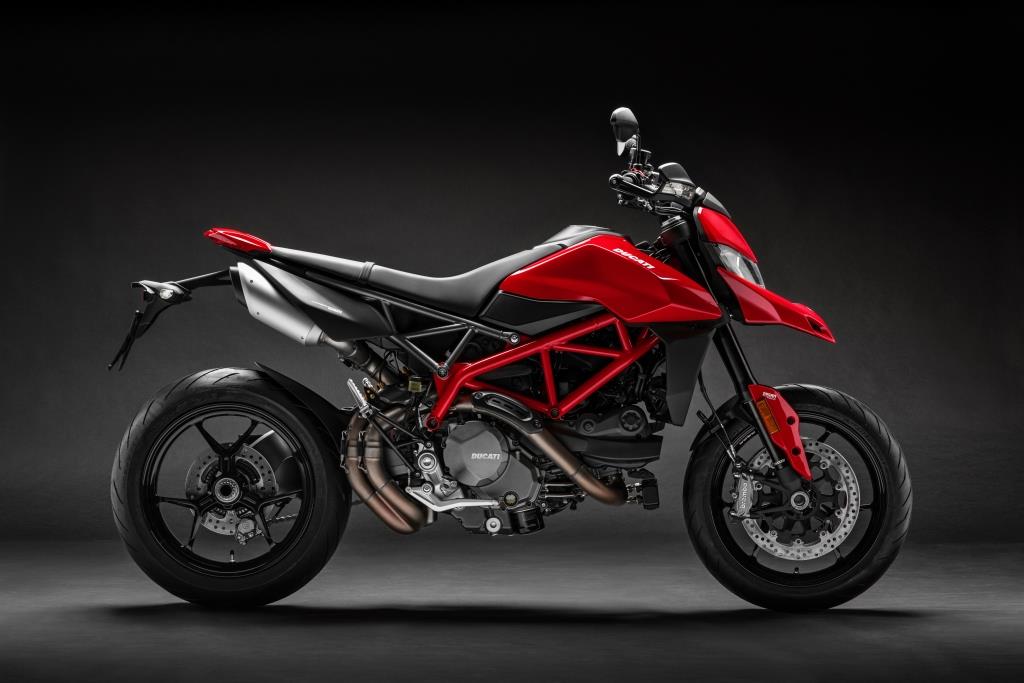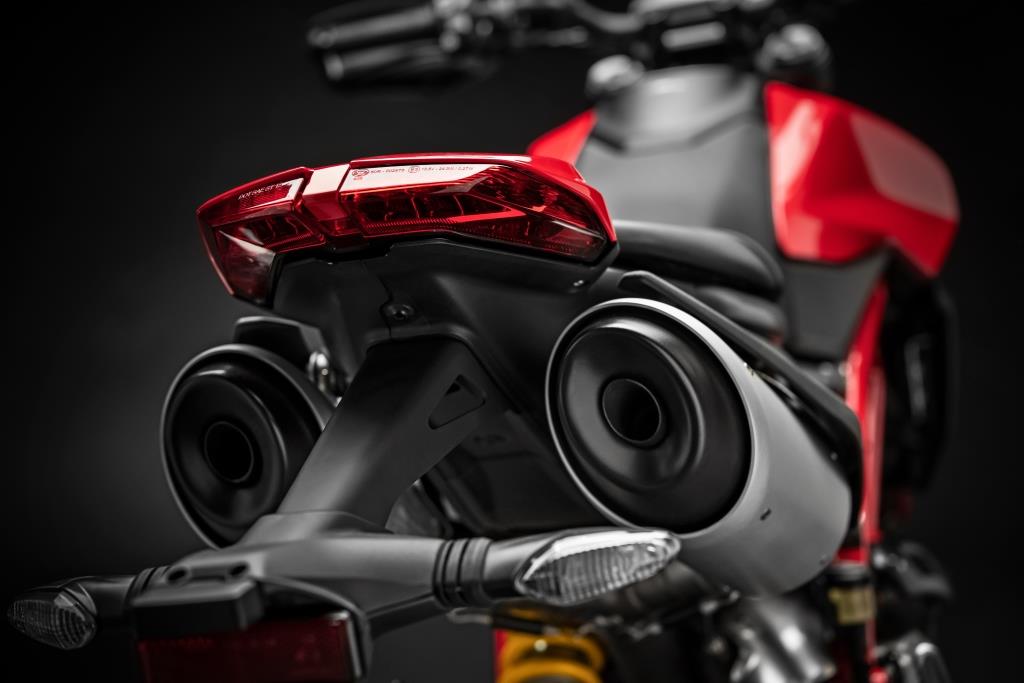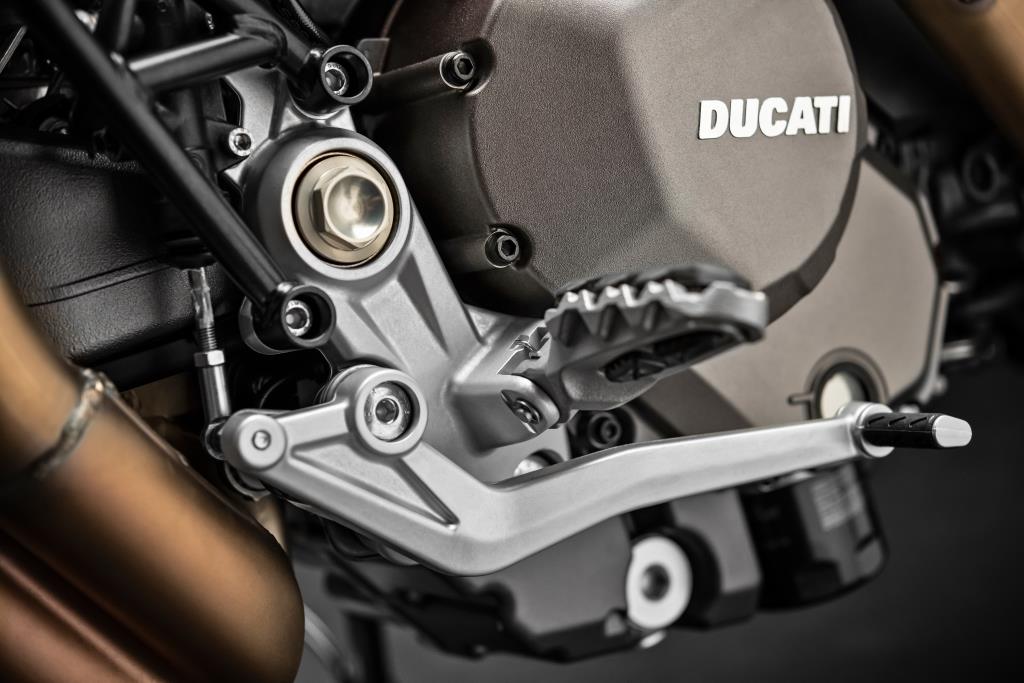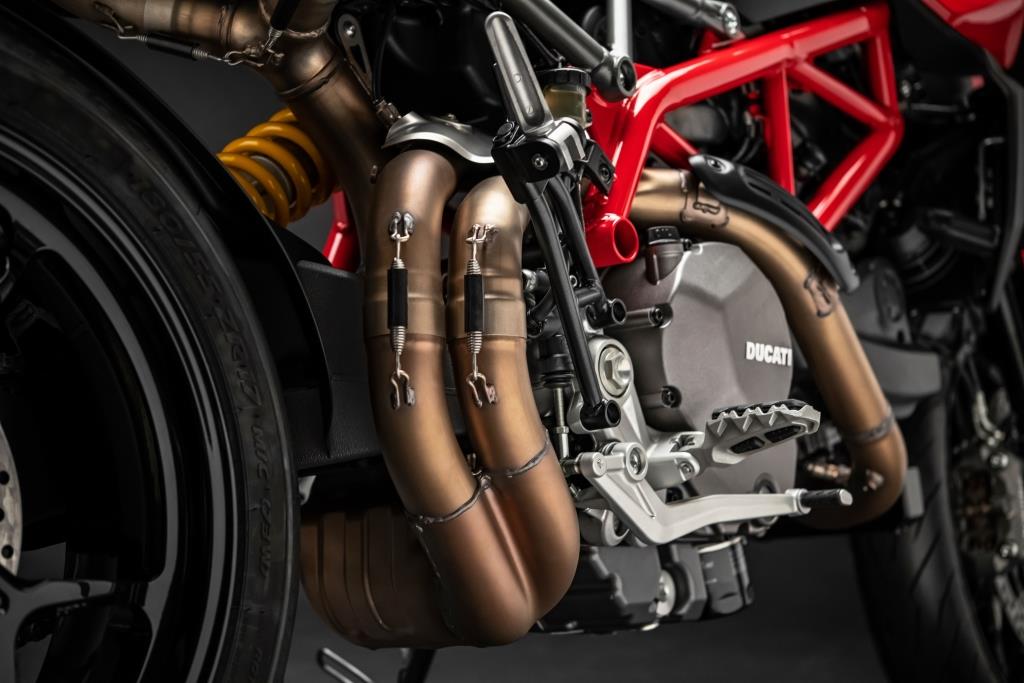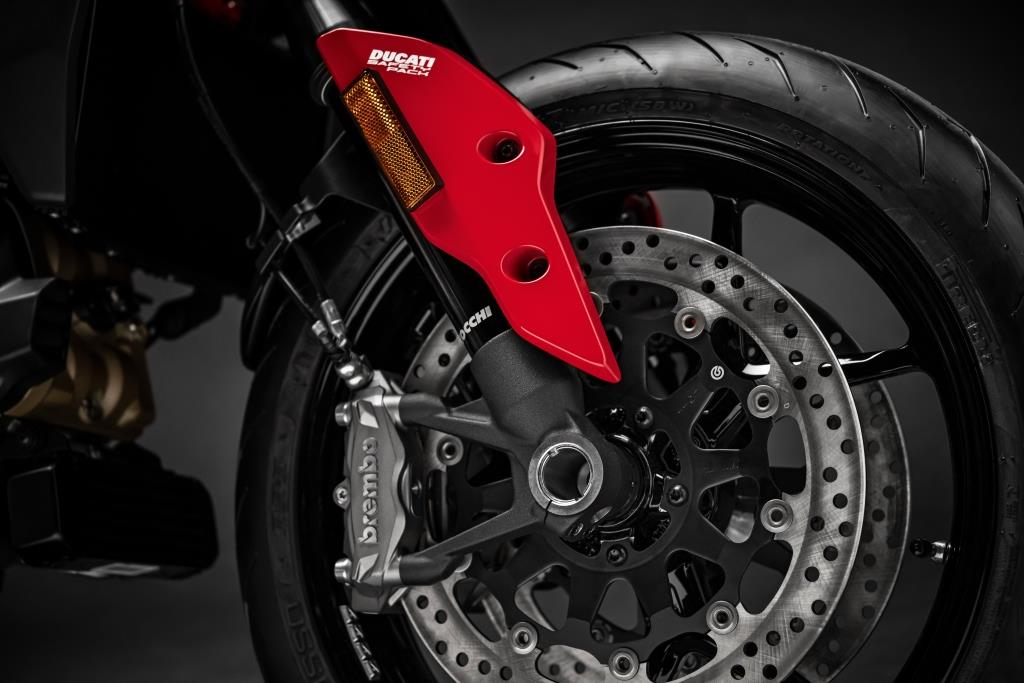 Suitably chastened, I spend the final session just dicking about – and what a bike to do it on. I don't think I've had as much fun on a bike in an age; slamming it on its ear round bends, hoiking the front up down the short straights, banging down the gears on the excellent auto-blipping quickshifter, hauling on the brick-wall brakes. It's pure, distilled lunacy on two wheels – and I'm loving every minute.
The chequered flag's out though, and it's time for lunch, before changing into something more comfortable, and heading out for a couple of hours on the roads. We're riding the base 950 now, which still has a pretty strong spec list. It has the same engine, rider aids, colour dash and brakes as the SP, but with lower-spec suspension, wheels and tyres – and no quickshifter (though it's a £615 option). The seat height is also lower, thanks to the suspension, which is a boon for the stumpy-limbed like me.
The suspension is still pretty trick though. It's fully adjustable at both ends, and the Marzocchi forks use aluminium inner stanchion tubes rather than conventional steel parts, to save weight. On the twisty back roads heading up to Gran Canaria's mountainous interior, the damping and springing is impressive, with excellent wheel control and no wallowing in a bend. The brakes are as good on the road as they were on the track, as is the engine. You can punch your way out of slower hairpins with aplomb, and it's got decent top-end urge too.
Gallery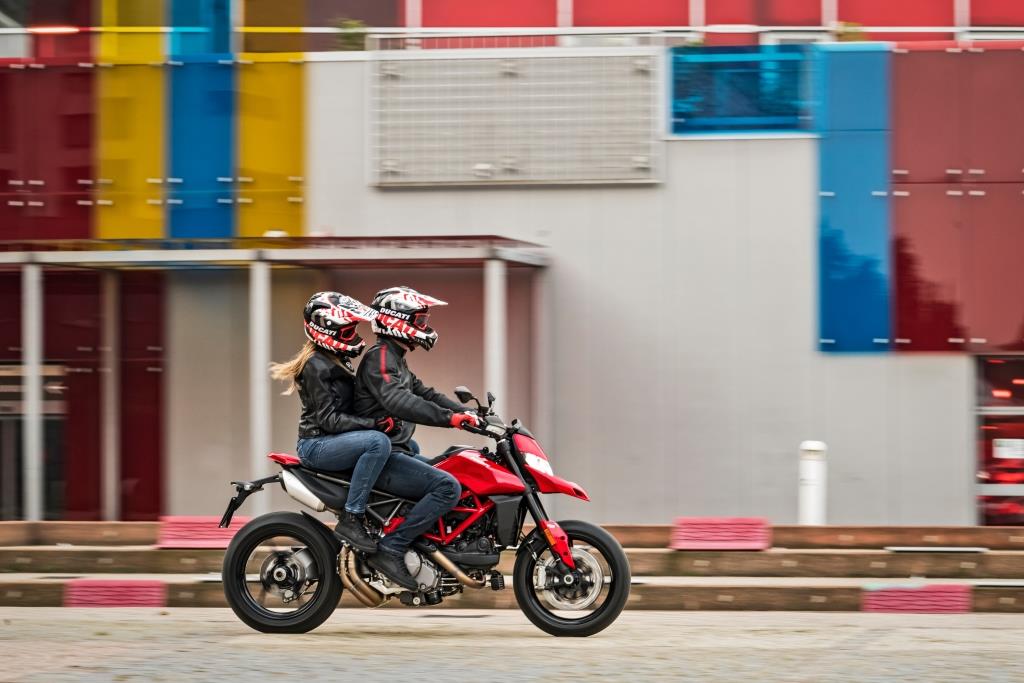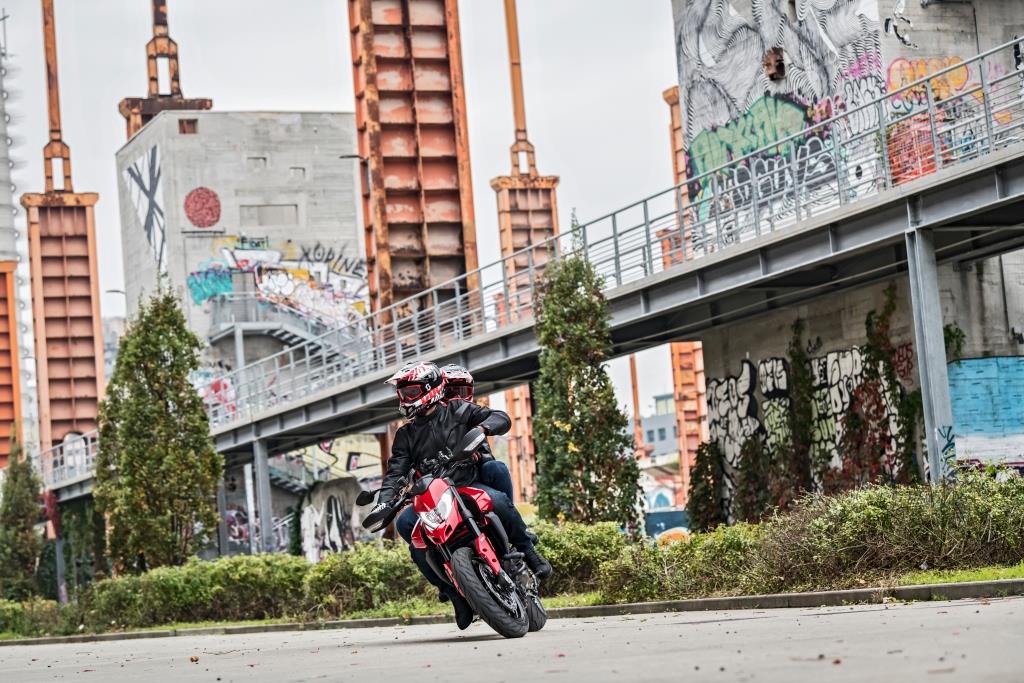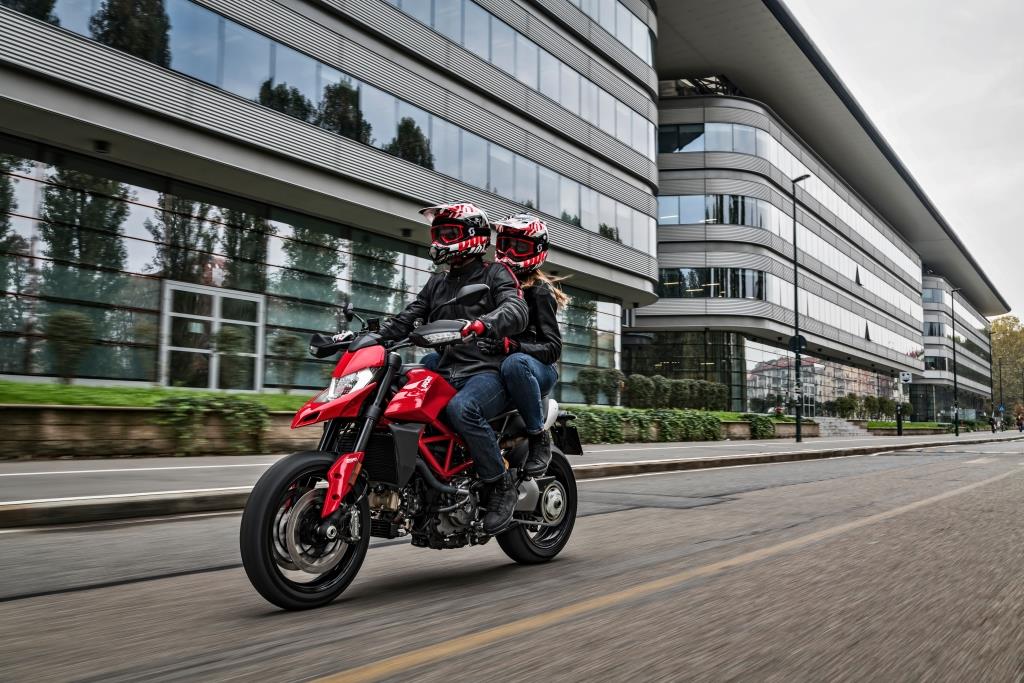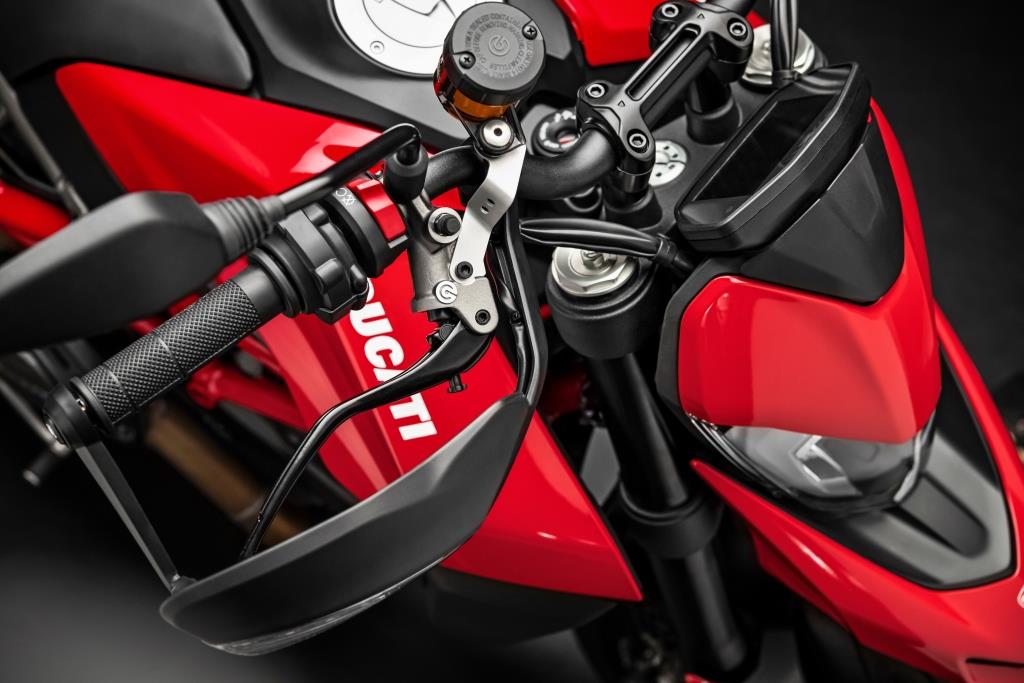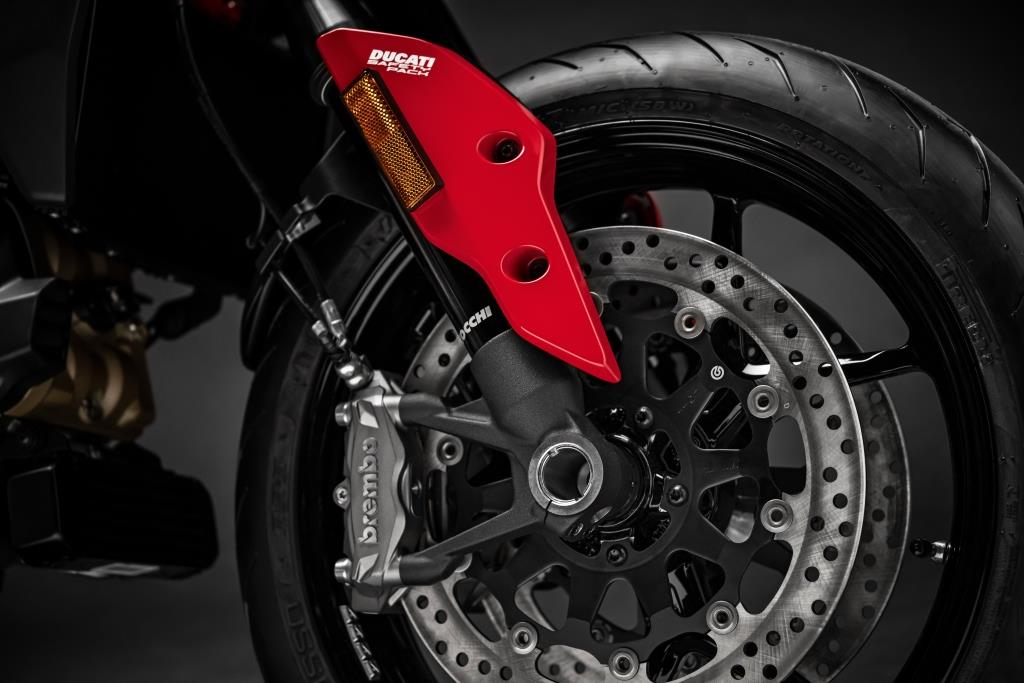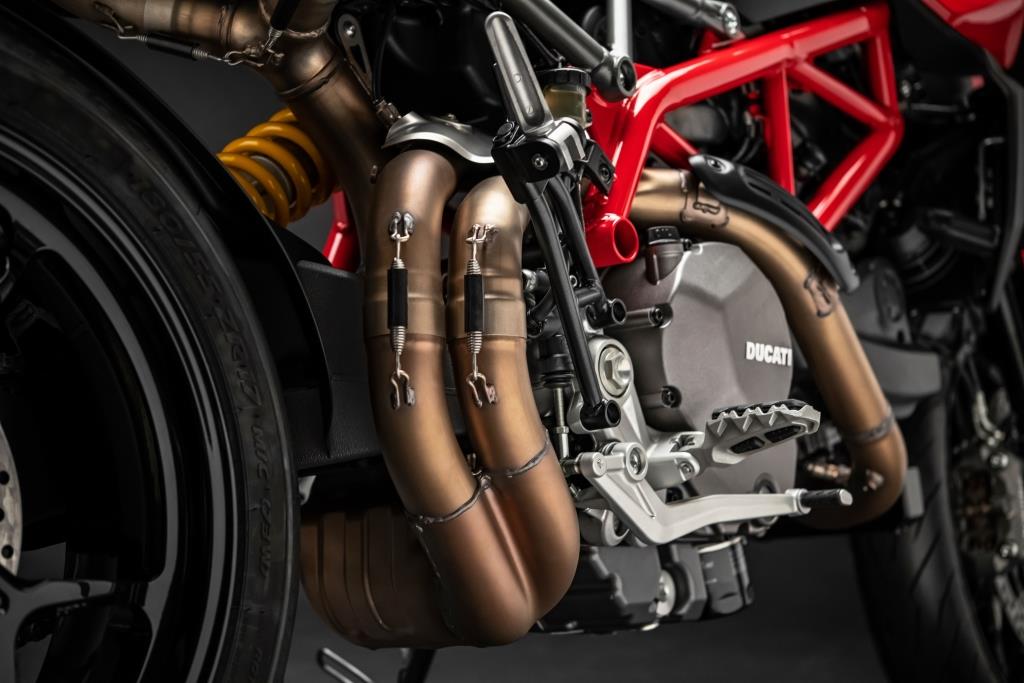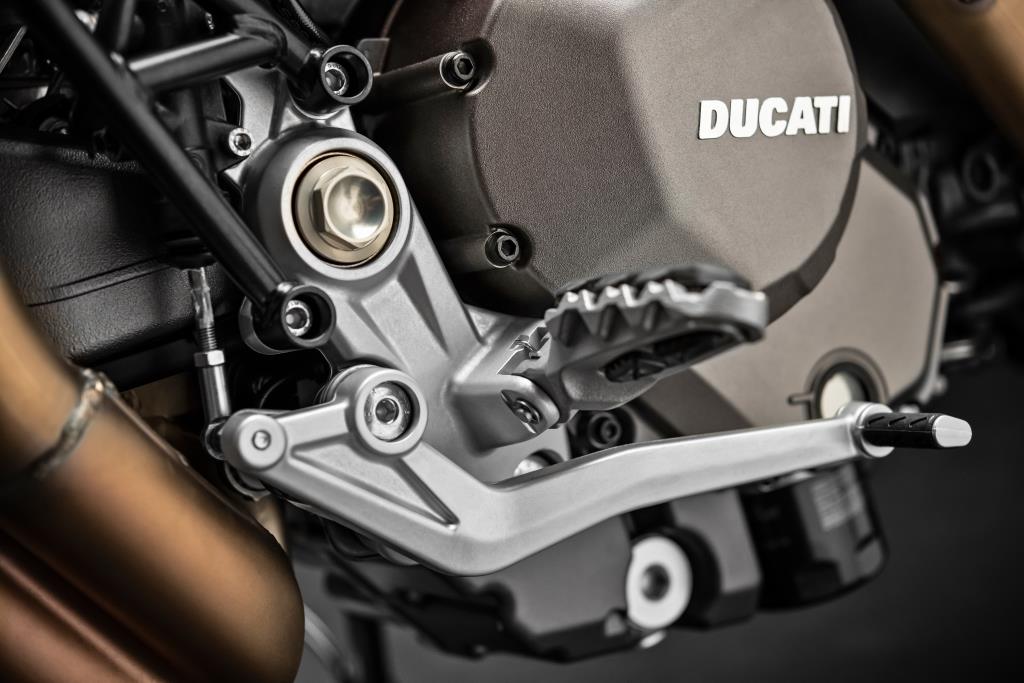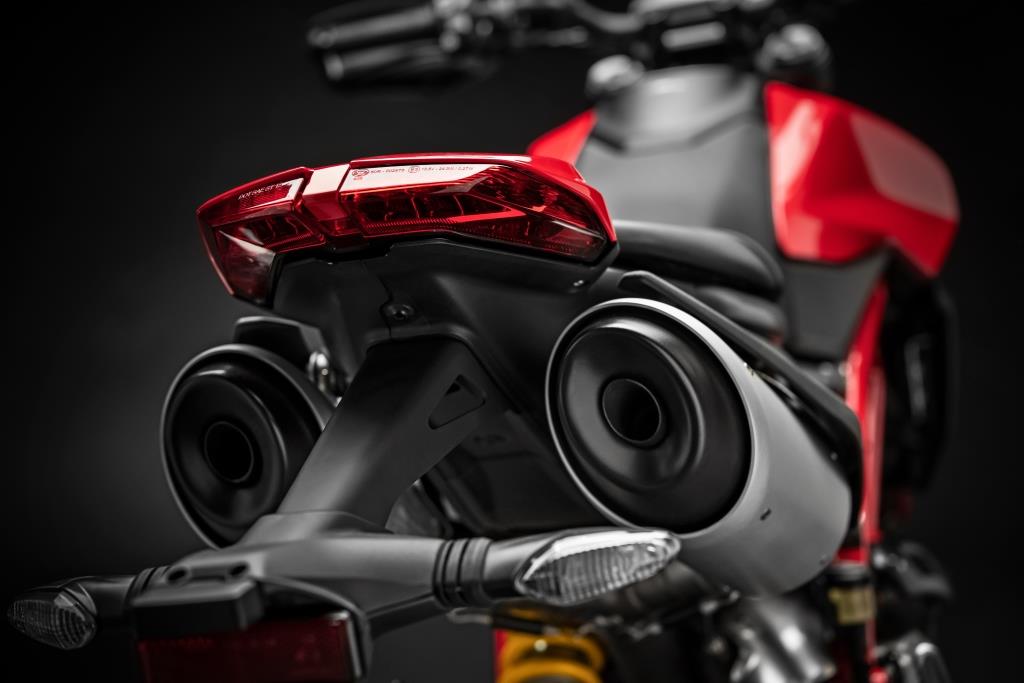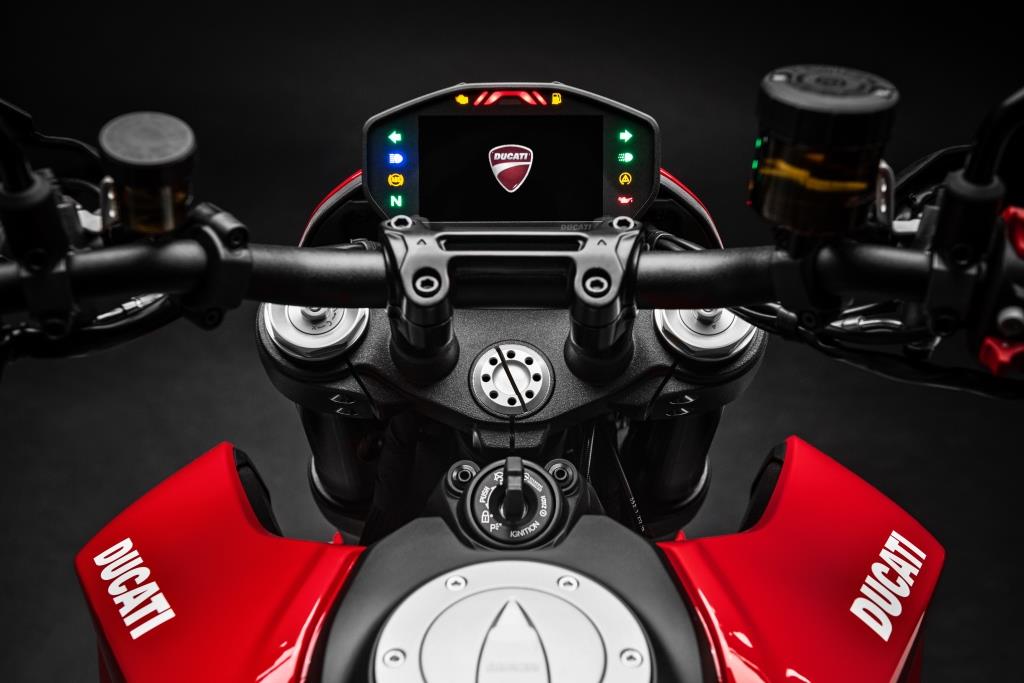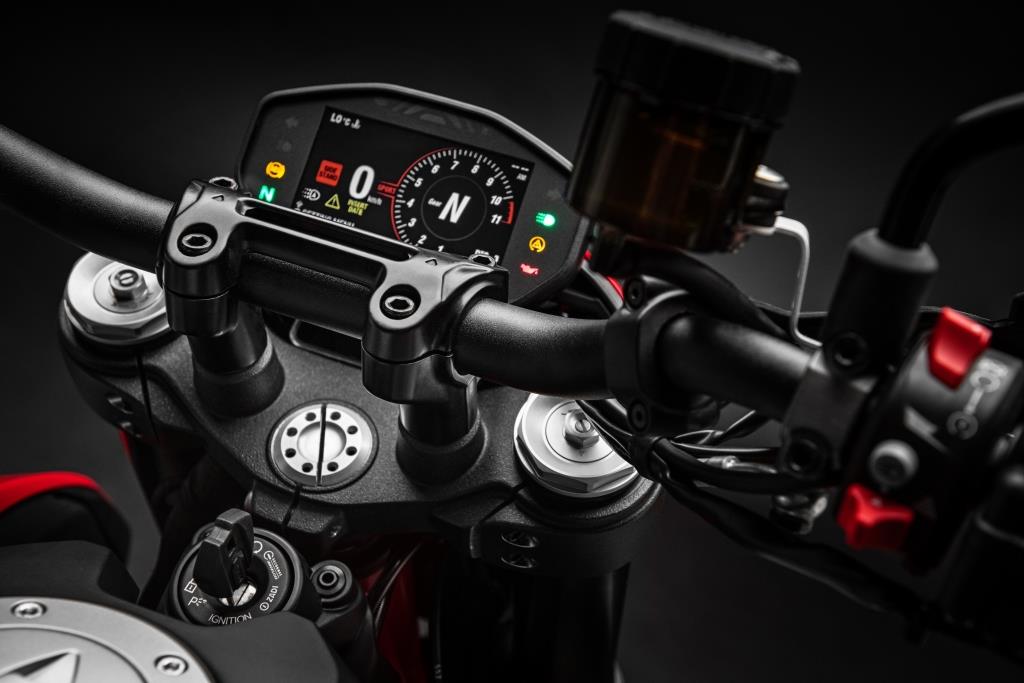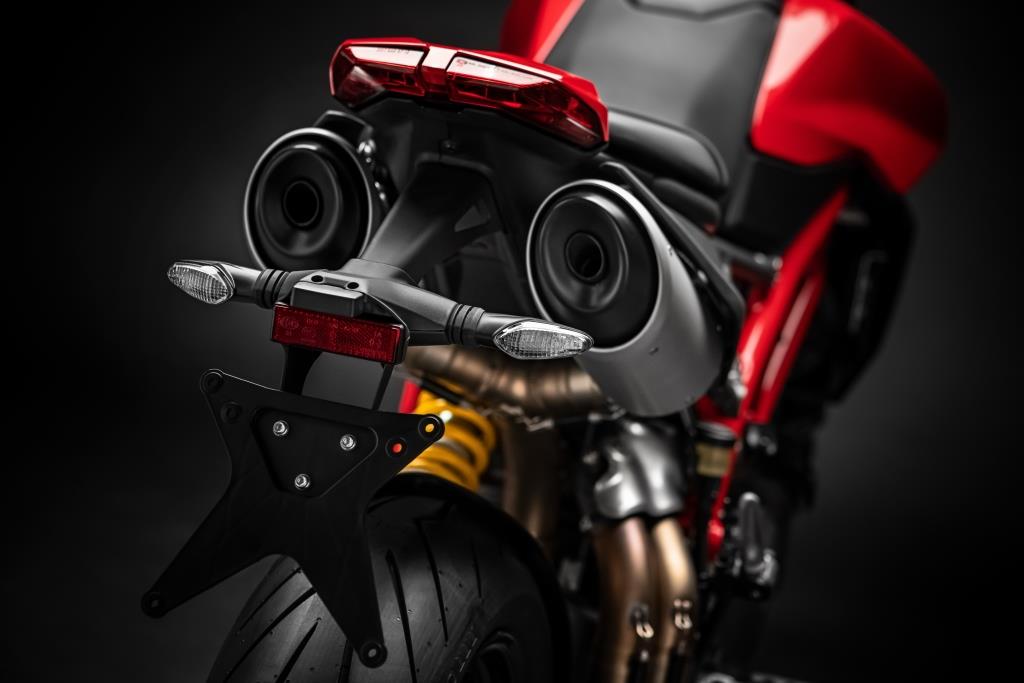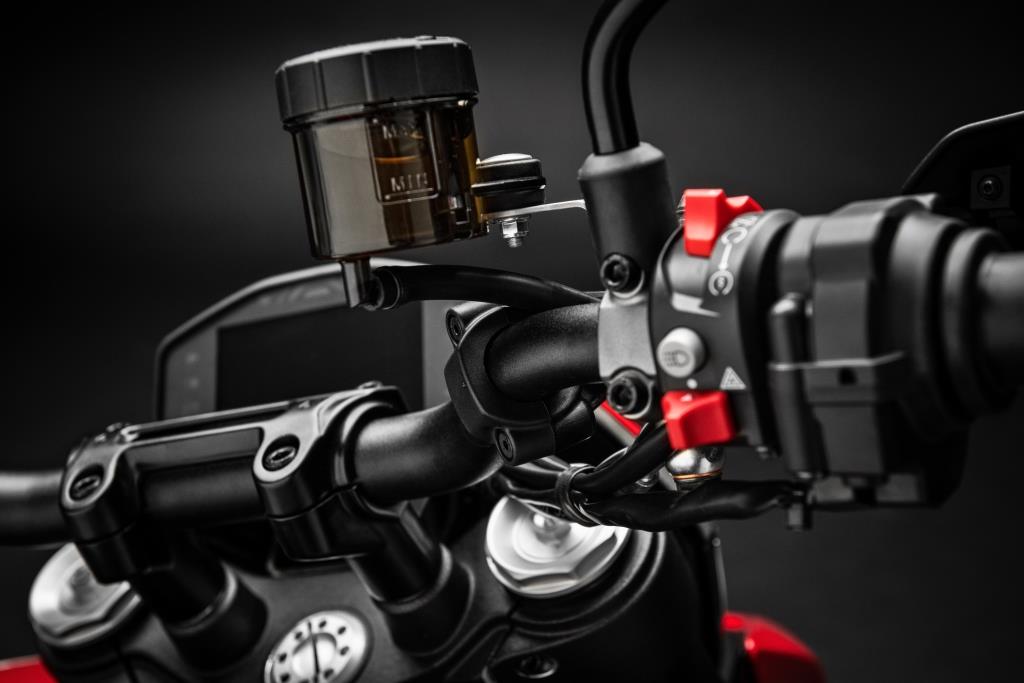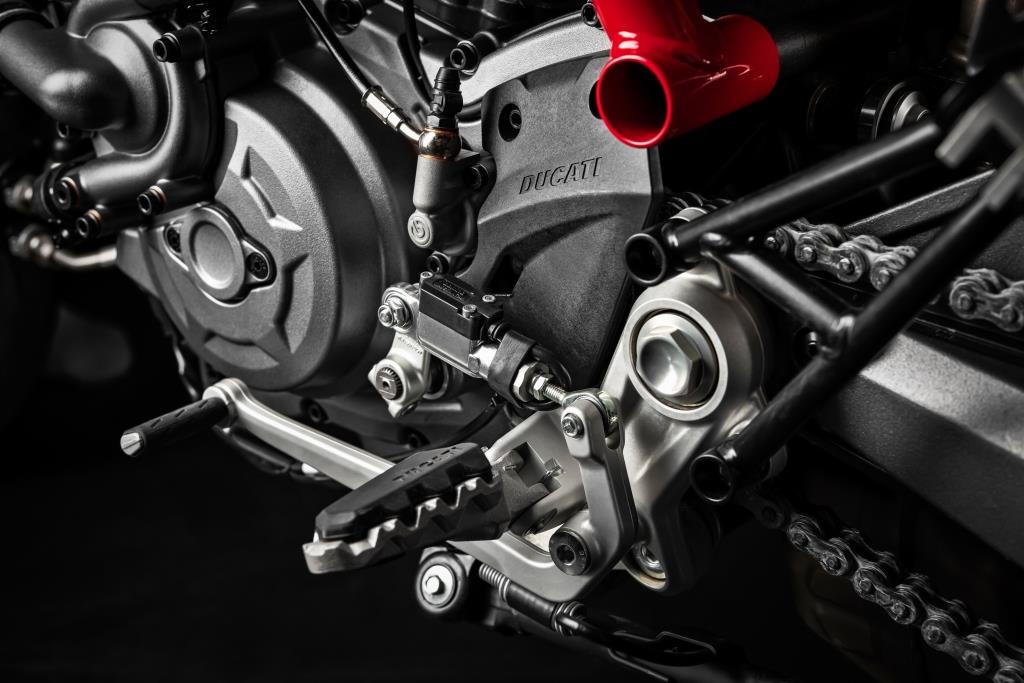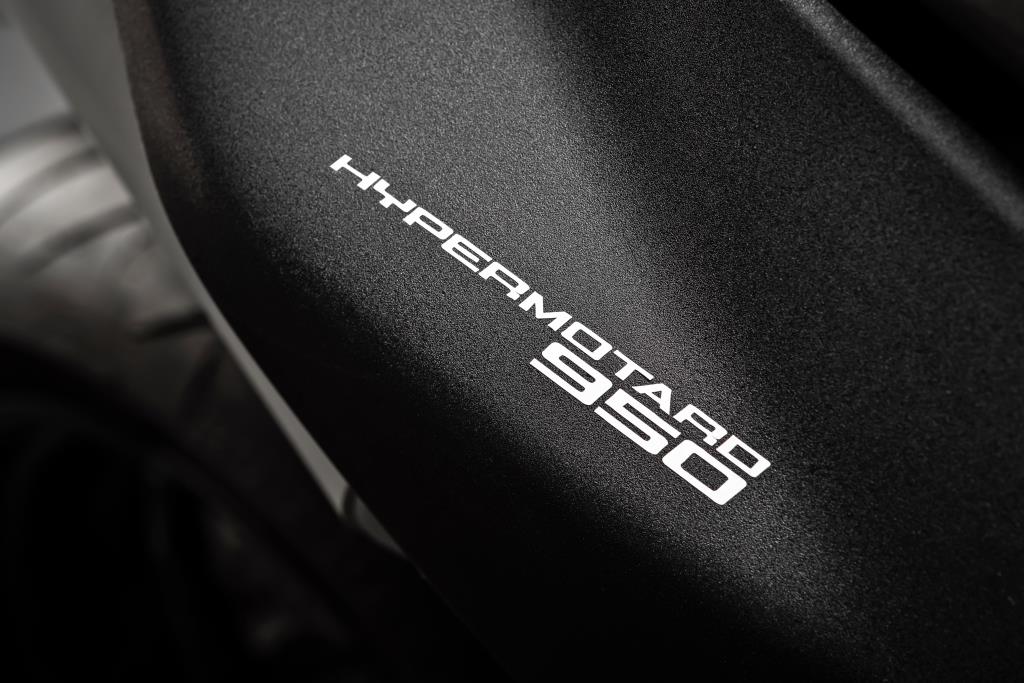 The gearbox is the only minor gripe. On track earlier, I missed more than a couple of changes, and was ready to blame the quickshifter sensitivity. But I'm still missing gear shifts on the road, with no shifter, so I'm wondering if the lever could do with some adjustment. I've got big size 45 feet, so some tweaking might do the trick. The test bikes are also quite fresh – only a few hundred kilometres on the clocks – so the gearchange might improve as it beds in too.
The only other criticism is down to the focus of the Hypermotard. We drift onto some dual carriageway roads for the last part of the road ride, and the Hypermotard is a bit of a chore there. You've got almost zero wind protection of course, and though there are small handguards and optional factory heated grips, it'll be a miserable place on a cold wet Tuesday morning commute in Staffordshire. The fuel capacity is modest, just 14.5 litres, and that flash LCD dashboard is missing a fuel gauge and range remaining readout.
So – the new Hypermotard 950 is one of the most exciting new bikes out there. And if you're looking to make your riding life a bit more interesting for 2019, it should definitely be on your shortlist…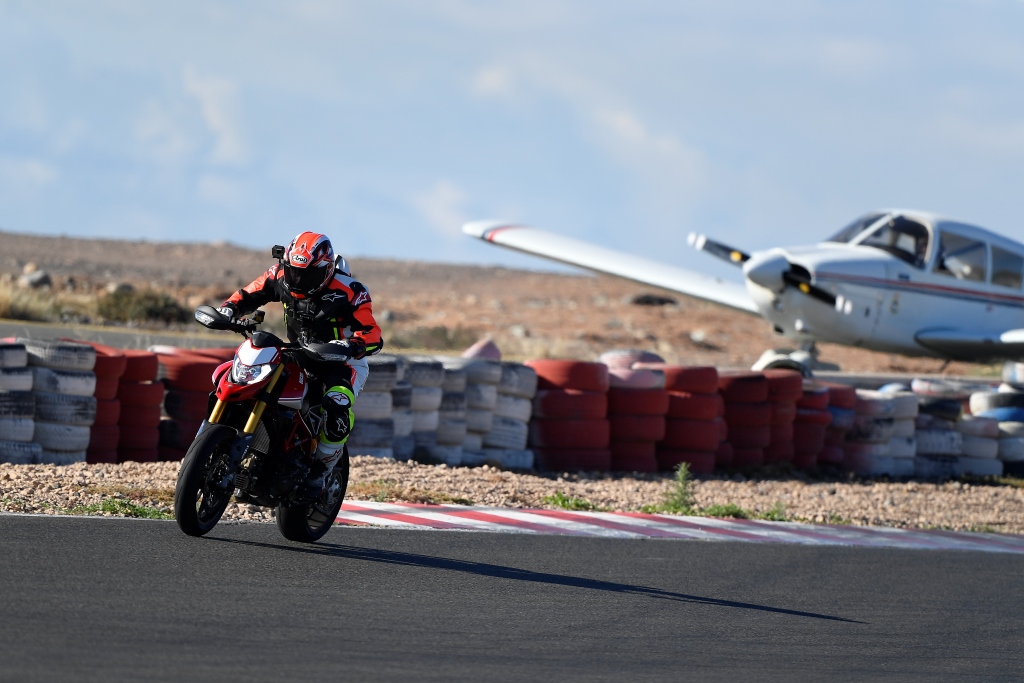 TECH BOXOUTS:
ENGINE
Billed as a new engine, but it's almost identical to the 937cc 'Testastretta 11°' motor used in Ducati's Supersport. Changes from the previous Hypermotard 939 include new higher-compression pistons, bigger 53mm ride-by-wire throttle bodies, a new exhaust cam profile, and magnesium cam covers. The engine makes 4bhp more power and weighs 1.5kg less than the 939's lump.
EXHAUST
We get a new underseat dual-silencer setup, and twin exhaust up-pipes behind the rider's right heel – designed to look like the original 916 exhaust.
There are a few accessory pipe options – a pair of slip-on homologated Termignoni cans, or a full race Termignoni two-into-one system, which is what we used on the track SP bikes.
FRAME
Ducati's revised the steel tube trellis frame – they now get different tube wall thicknesses, to reduce weight by a kilo while retaining the same stiffness.
The frame profile is also narrower at the seat area, reducing the 'arch' your legs have to make to reach the floor. Ducati says that cuts 25mm off the 'perceived' seat height compared with the older bike. Both bikes are still on the tall side though – the SP particularly so.
RIDER AIDS
This is one of the major upgrades over the old 939 Hypermotard – the 950 and SP both get a top-end six-axis IMU-operated set of 'Evo' aids, including wheelie control, traction control, cornering ABS, and 'slide by brake' ABS for the rear which lets you get sideways by up to 10° on the back brake going into a bend. The auto-blipping u/d quickshifter is standard on the SP, but costs £615 as an accessory on the 950.
There's also a new V4-style full colour 4.3" LCD dash, though there's no fuel gauge or range readout. The Hyper has three riding modes – sport, touring, urban, which are fully adjustable – so you can alter power output/throttle response, and wheelie/traction/ABS settings for each mode to suit yourself.
SUSPENSION
The 950 rides on very cool-looking Marzocchi front forks which have a black DLC coating on the lightweight aluminium stanchions. These save half a kilo over conventional chromed steel stanchions. The Marzocchis are fully adjustable, and are matched to a full-adjustable Sachs rear shock.
Ducati's ratcheted up the suspension spec for the SP – Öhlins 48mm forks and shock, both fully-adjustable, and our bikes wore an optional £615 Öhlins steering damper. The suspension changes are responsible for the taller seat height as well as firmer damping and more racey styling.
WHEELS
Natty cast aluminium three-spokers on the 950, posh lightweight forged aluminium 'W-spoke' Marchesinis on the SP.
BRAKES
Both bikes use Brembo cast monobloc four-piston radial-mount calipers on dual 320mm discs, with aluminium disc carriers. Slick Brembo radial master cylinders for brake and clutch.
TYRES
Sporty Italian rubber for the sporty Italian bike: Diablo Rosso III on the 950, Supercorsa SP v3 on the SP.
SPECS
Price: £10,995/£14,295 [SP]
Engine: Desmodromic 90° V-twin, 8V, DOHC, 937cc, liquid cooled
Bore x stroke: 94×67.5mm
Compression ratio: 13.3:1
Max power (claimed) 114bhp@9,000rpm
Max torque (claimed) 71ft lb@7,250rpm
Transmission: six-speed gearbox, wet slipper/assist clutch, chain drive
Frame: steel tube trellis-type
Front suspension: 45mm Marzocchi fully adjustable USD fork [SP: 48mm Öhlins fully-adjustable USD fork)
Rear suspension: single-sided swingarm, fully-adjustable Sachs monoshock [SP: fully-adjustable Öhlins monoshock)
Brakes: dual 320mm disc, four-piston radial Brembo calipers (front), 245mm disc, twin-piston caliper (rear), Bosch cornering ABS.
Wheels/tyres: Cast aluminium/Pirelli Diablo Rosso III [SP: forged Marchesini aluminium/Pirelli Super Corsa SP v3] 120/70 17 front, 180/55 17 rear
Rake/trail: 25°/104mm
Wheelbase: 1,493mm [SP: 1,498mm]
Dry weight: 178kg [SP: 176kg]
Fuel capacity: 14.5 litres
Rider Aids: Bosch six-axis IMU, Ducati wheelie control, traction control, cornering ABS, three rider modes (all customisable), underseat USB socket. SP has up/down blipping quickshifter as stock – £615 option on the base 950.