A Japanese brand of motorcycles manufactured by the Motorcycle & Engine division of Kawasaki Heavy Industries, Kawasaki vehicles are made in plants in the USA, Thailand, Indonesia, Philippines and Japan.
Kawasaki is active in motorsports racing, and has won numerous racing accolades around the world.
A brief history
Founded in 1896 by Shozo Kawasaki, the Kawasaki Company started out as a place to build steel ships.  It wasn't until 1949 that the brand turned their attention towards the motorcycling industry, and began producing engines suitable for motorcycles.
Kawasaki's first motorbike Meihatsu had Kawasaki's KB-5 engine and came out in 1954.  By 1956, a superior model of the Meihatsu was introduced and the Kawasaki logo was stamped onto the engine side cover.
Six years on, in 1962, Kawasaki bought another leading motorcycle manufacturing company in Japan called Meguro Motorcycles.  As Meguro had been in operation for around 30 years, this acquisition strengthened the production and standing of Kawasaki.
With their production plant up and running, Kawasaki came out with the 650cc W1 model in 1966.  Although it wasn't a huge success, it brought Kawasaki more attention from the public.  Subsequent efforts with lighter bikes, the 250cc A1 Samurai and the 350cc A7 Avenger were more fruitful.
When the 500cc H1 model was released in 1969, Kawasaki finally became known as a big player in the motorcycle market.  It started exporting to the US market in the early 1980s and also won motorsports competitions such as the FIM World Road Racing 125cc Championship and Isle of Man TT in that period.  Its most significant win was the Le mans 24-Hour Race in 1983, in which the ZXR-7 had participated in that race.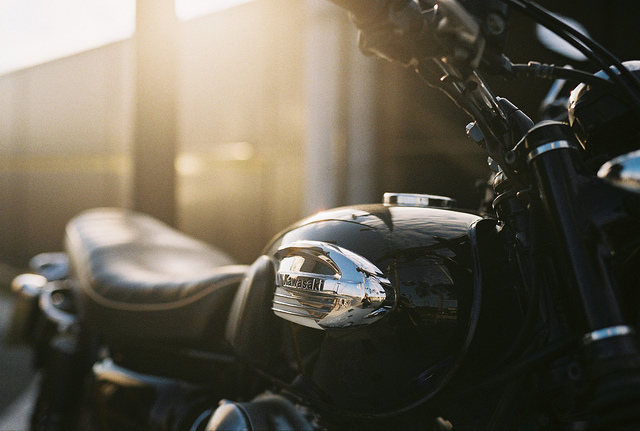 Popular models
Kawasaki Z1000SX, 2014: An extremely well-received model, the Z1000SX is fast, effective, stylishly understated and comes reasonably priced.  It features 1,043cc four-stroke liquid-cooled engine and an aluminium twin tube type frame.
Price new: £9,199
Price used: £7,495
Licence type required:  A
Kawasaki ER-6N, 2014:  Popular in the UK and Europe, the ER-6N is small, thin and easy to ride.  Coupled with good looks, this model attracts younger and women riders.  It features 649cc four-stroke, liquid-cooled, 8v parallel twin engine.
Price new: £5,899
Price used: £4,200
Licence type required:  A
Sponsorships
Kawasaki Heavy Industries undertake numerous activities to fulfil its corporate social responsibilities.  It donated funds to a variety of charitable activities, provided supported for disaster relief across the globe as well as operate a range of voluntary programs such as the corporate museum and Kawasaki Good Times World.
Reviews
In 2008, the Kawasaki Versys was given the Motorcycle of the Year Award by Motorcyclist Magazine and Best in Class "Allrounder class" award by Motor Cycle News.
In 2008 and 2009, the Kawasaki 1400GTR was awarded the best touring bike in Motorcyclist magazine Motorcycle of the Year awards.  It also received the best sport-touring bike accolade by Cycle World magazine in the same years.  In 2011, it won the Sport Tourer Shootout against the Honda VFR1200F, BMW K1300S and Triumph Sprint GT.