Triumph Sprint GT 1050 Bike Overview
The Triumph Sprint GT (Grand Touring) is a pillion friendly bike with a longer swingarm and steel subframe. This makes is far more stable than previous models. It also has lower seat height as well as a more comfortable pillion seat.
Triumph claims that you get 200 miles between fuel stops with this bike.  We tend to agree although the engine is a little grunty at times. This bike is great for weekend trips with lots of baggage. It's also comfortable which makes a real difference.
The suspension on this bike is softly damped and steering is agile enough. The new fuel injection on this bike as well as new ignition settings make the bike manageable when fully loaded. You'll feel confident and stable on this machine.
The ABS works well on this machine and the cockpit is functional as well as modern. You won't find any fancy power mode settings or traction control, which might disappoint some.
The Triumph name harks reliability with this bike. You won't be disappointed with this machine or the re-sale value, either.
Check out the Triumph Sprint GT in action…
Triumph Sprint GT 1050 Bike Spec
Capacity

1050cc

Top speed

160mph

Weight

268kg

Average fuel consumption

48mpg

Seat height

815mm

Engine

Liquid cooled, DOHC, four stroke
Triumph Sprint GT 1050 Bike Insurance
Triumph Sprint GT 1050 Bike Gallery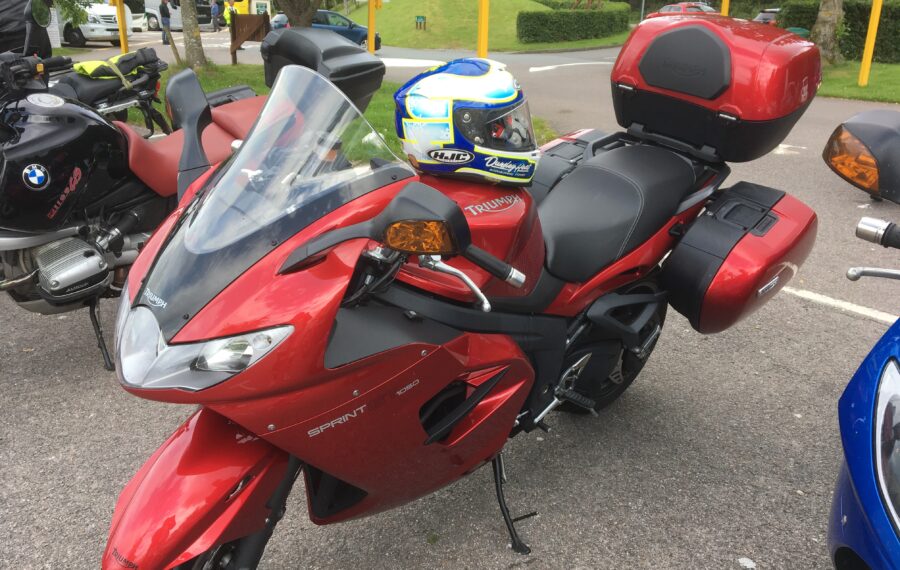 Owner Reviews
Pros
Riding comfort and power torque plenty of luggage room
Cons
start making it again
Read More
Comfort4 out of 5 stars
Its very good for touring comfortable loads of torque 150 miles before your bum needs some exercise
Build Quality5 out of 5 stars
Build quality very good never broken down and never had any issues with the bike
Brake5 out of 5 stars
Brakes are great stops as and when you want it to
Ride Quality4 out of 5 stars
Rides very well for a big bike very smooth quite heavy but you dont feel this once you are riding corners well for a big bike never had any issues
Engine5 out of 5 stars
Engine is great loads of torque just open it up down have to change down and it goes
Running Cost5 out of 5 stars
Don't really keep running costs does 150 miles on a tank of fuel about 38mpg at at the speed limits
Pros
Can't fault it at the price paid -£9000 Considered the Tiger 1050 and this would have been £1800 dearer with same kit spec
Read More
Ride Quality4 out of 5 stars
I find steering & ride fine, though other folk moan about the extended swing arm
Engine5 out of 5 stars
It's a triple - love it
Running Cost4 out of 5 stars
I have no complaints
Build Quality4 out of 5 stars
The usual screw threads seizing up - the mirror glass screws and front mudguard fixings
Brake5 out of 5 stars
Very rarely get the rear ABS activating, never been able to get the front wheel ABS to kick in (yet). Occasionally in heavy rain, the ABS light comes on, but spray the sensors with brake cleaner and solves the problem.
Pros
Engine and looks, great all day bike enough power to have fun and when loaded with panniers and box great to go touring.
Cons
Adjustable pegs and bars to fine tune riding position.
Read More
Ride Quality5 out of 5 stars
Smooth and stable , can be a little top heavy at slow speeds and cornering a definite movement required to make it drop in , quite a long bike so very stable in a straight line a little slow into corners.
Engine5 out of 5 stars
Just awesome very flexible at low speed then really kicks in at 6k , loverly crackle on the exhaust on the over run , I have a carbon Trident exhaust, very nice.
Running Cost5 out of 5 stars
Great on fuel 230 – 250 miles out of a tank. Insurance was good.
Build Quality5 out of 5 stars
Mine is still like new, paint is great, no rattling from any fairings.
Brake5 out of 5 stars
Quite powerful, not used the ABS yet , rear is good and strong.