CHINA – IT'S THE NEW WORKSHOP OF THE WORLD, AND THE MAJORITY OF THE STUFF IN OUR HOUSES IS MADE THERE.
But we've not seen the same dominance for Chinese motorcycles here in the UK. The majority of 250cc+ machines you see on British roads are still Japanese or European brands – though many of the bikes are actually manufactured in developing countries.
Firms like Honda and KTM have strong links to India, Triumph has moved much production to Thailand, and many factories in places like the Philippines and Indonesia produce small-bore, practical machines for their own giant domestic markets, while also exporting parts and bikes for the British biker.
It's a complicated story in the large-capacity bike sector then. But Chinese factories have been doing a roaring trade in the budget and small-capacity markets.
Of course, they have to look after the mind-blowingly huge home market first – with 1.4 billion people, China can support a huge industry without putting anything at all on a container ship.
But that industry has plenty of spare capacity – and like Apple does with its iPhone, there are European firms like Bullit, Mutt and Keeway  who design and market their own branded machinery, which is made in China by massive factories at far lower cost than could be done in Europe.
So – what's on offer in terms of Chinese-made machines here in the UK? Let's have a look.
CFMoto 650 NK TT
Think you can only get small-capacity bikes from Chinese firms? Think again!
The CFMoto range includes a selection of 650cc bikes, using a parallel-twin engine design, similar to Kawasaki's long-running ER-6, that puts out around 60bhp.
It's a modern design, with liquid-cooling, Bosch fuel injection, and an eight-valve head, and is fully Euro 4 emissions compliant.
The motor is bolted into a sharp-looking chassis, with a steel tube frame, monoshock rear suspension, a proper Continental ABS setup and twin front discs. Metzeler tyres are spot-on for this type of bike, and the overall spec is high, with LED lighting and digital dashboard.
It's priced well for the spec at around £4,800, making it a real budget alternative to pricier mainstream brand options.
Lexmoto LXR380
Lexmoto is one of the great success stories in the UK bike trade. It's been importing and selling its own range of Chinese-built bikes for more than a decade, and its great value commuter-spec machinery is never far from the top of the sales charts.
The firm is expanding upwards though, and the new LXR380 is its biggest bike yet. It uses a 378cc liquid-cooled parallel twin engine wrapped up inside a really trick-looking supersports chassis.
There's an upside-down front fork, monoshock rear suspension, twin wave disc front brakes and a full aerodynamic fairing. It uses sporty tyre sizes too – so you can easily upgrade to stickier aftermarket rubber if you feel the need.
Performance is decent – 40bhp from the motor – and it weighs in at just 192kg ready-to-ride. Add in the low price of just £3,700, and it's a seriously tempting option.
Gallery
AJS Isaba 125
AJS is one of the great names in British biking, and built some superb machines in the early 20th century, even winning the 1930 Lightweight TT with Jimmy Guthrie. Later on, it was absorbed by Norton Villiers, but famous bikes like the AJS 'Porcupine' have ensured legendary status for the brand.
Now, AJS bikes are still sold by a UK firm, but they're made in China, with a decent range of solid commuter-spec 50 and 125cc scooters and bikes. This Isaba scrambler is the firm's latest model, and gives a sharp retro urban scrambler makeover to the typical 125 roadster package.
The design is dominated by the chunky rear monoshock, complete with yellow painted spring, while the Isaba also boasts USD front forks, combined braking system and smart LED lighting. Add in a decent dealer network and a great low price of around £2,500, and you can see the attraction.
Like most Chinese 125s, it's a little down on outright power, making just 11bhp. But it's only got 136kg dry mass to shove around, so will be perky enough around town.
It's also great on fuel and running costs – but we'd definitely try to avoid motorways and fast A roads…
Gallery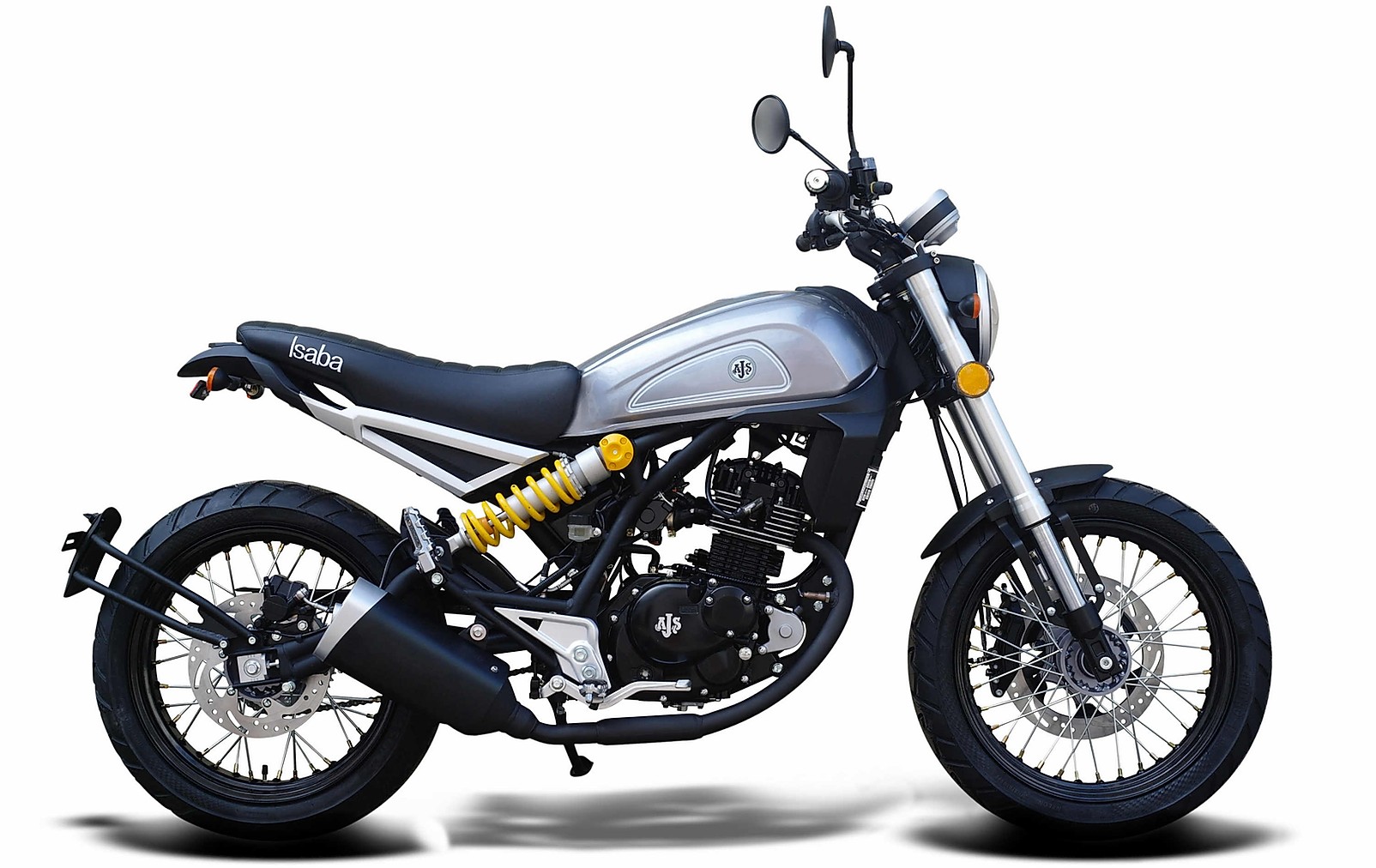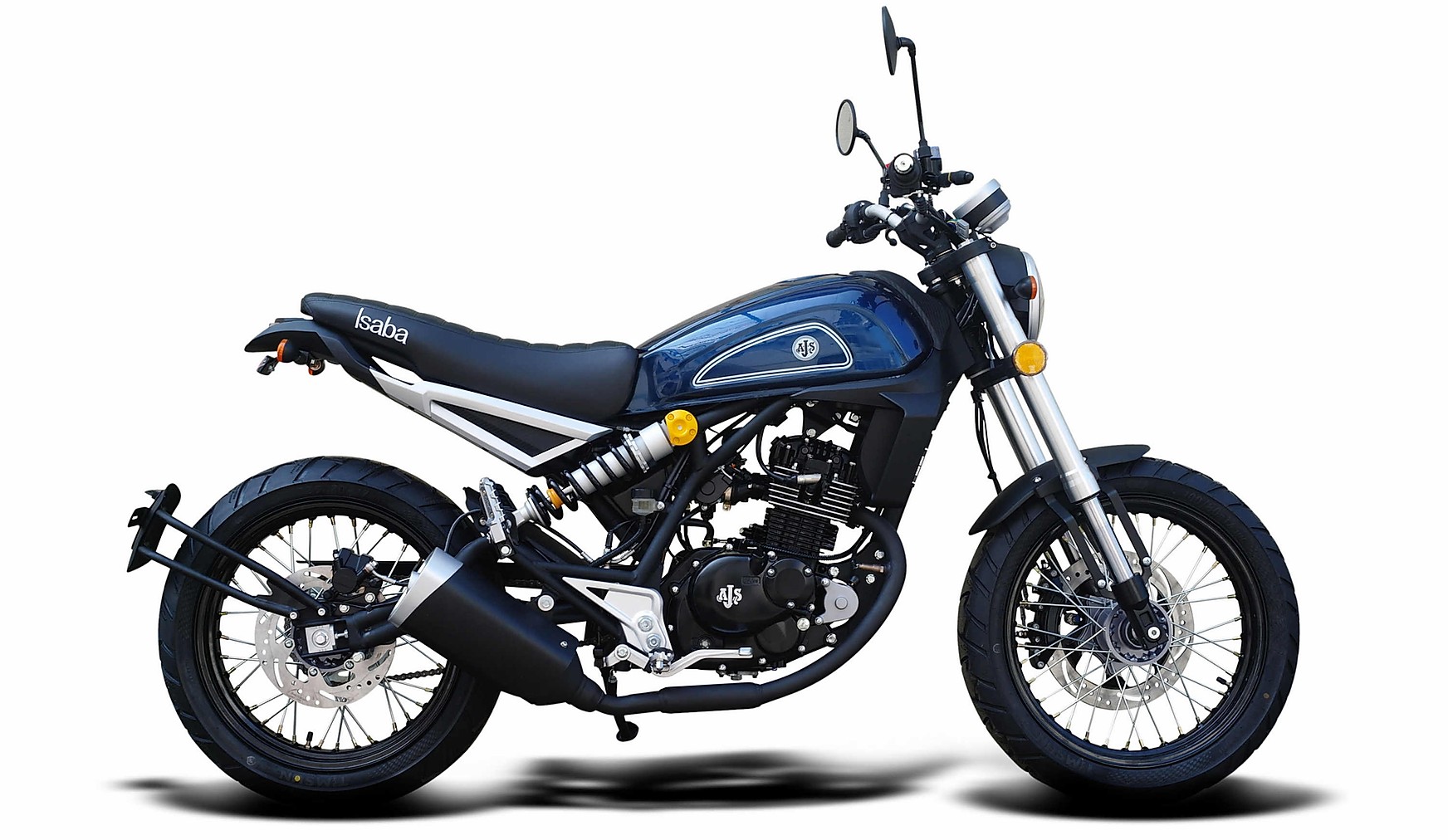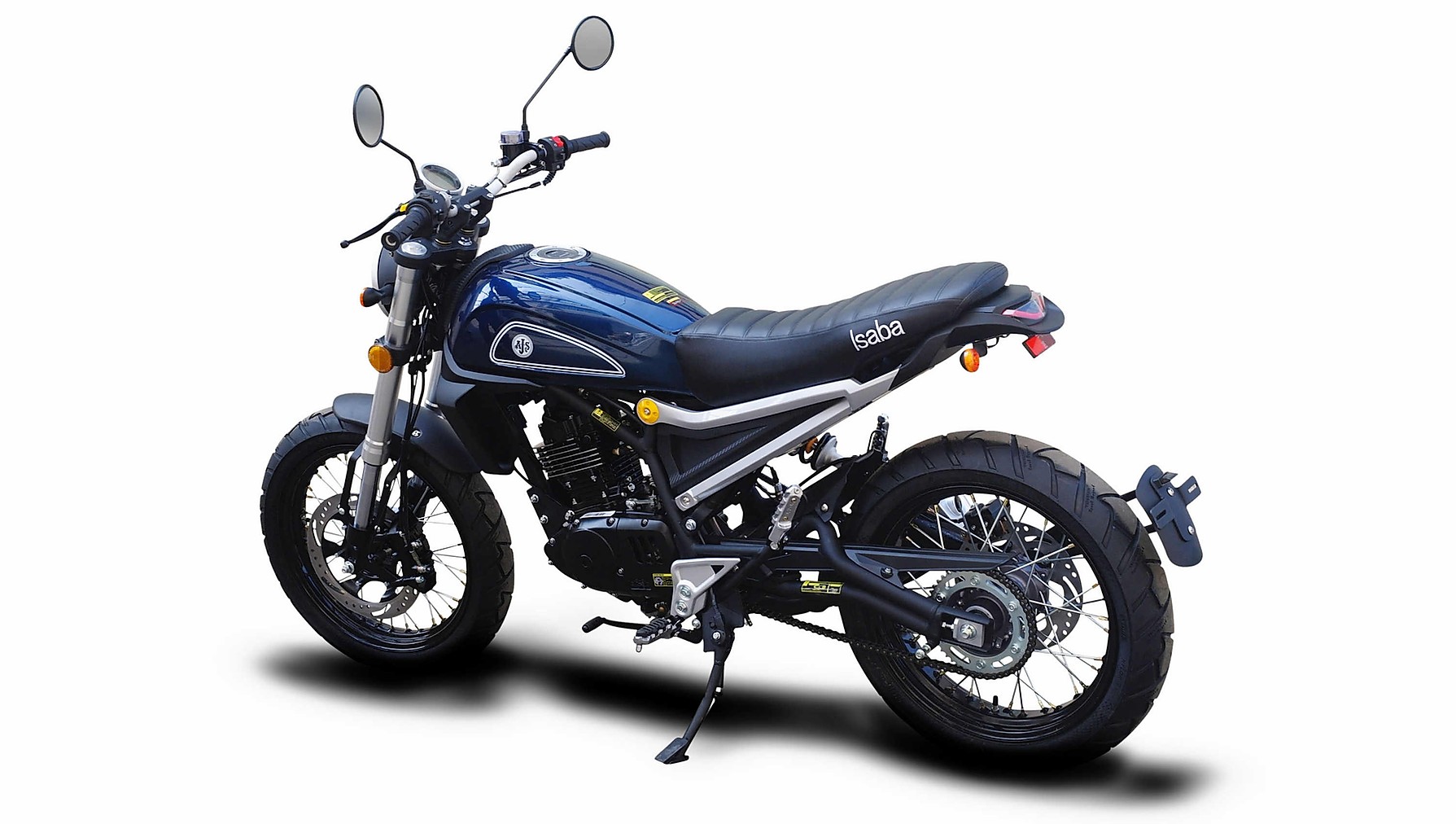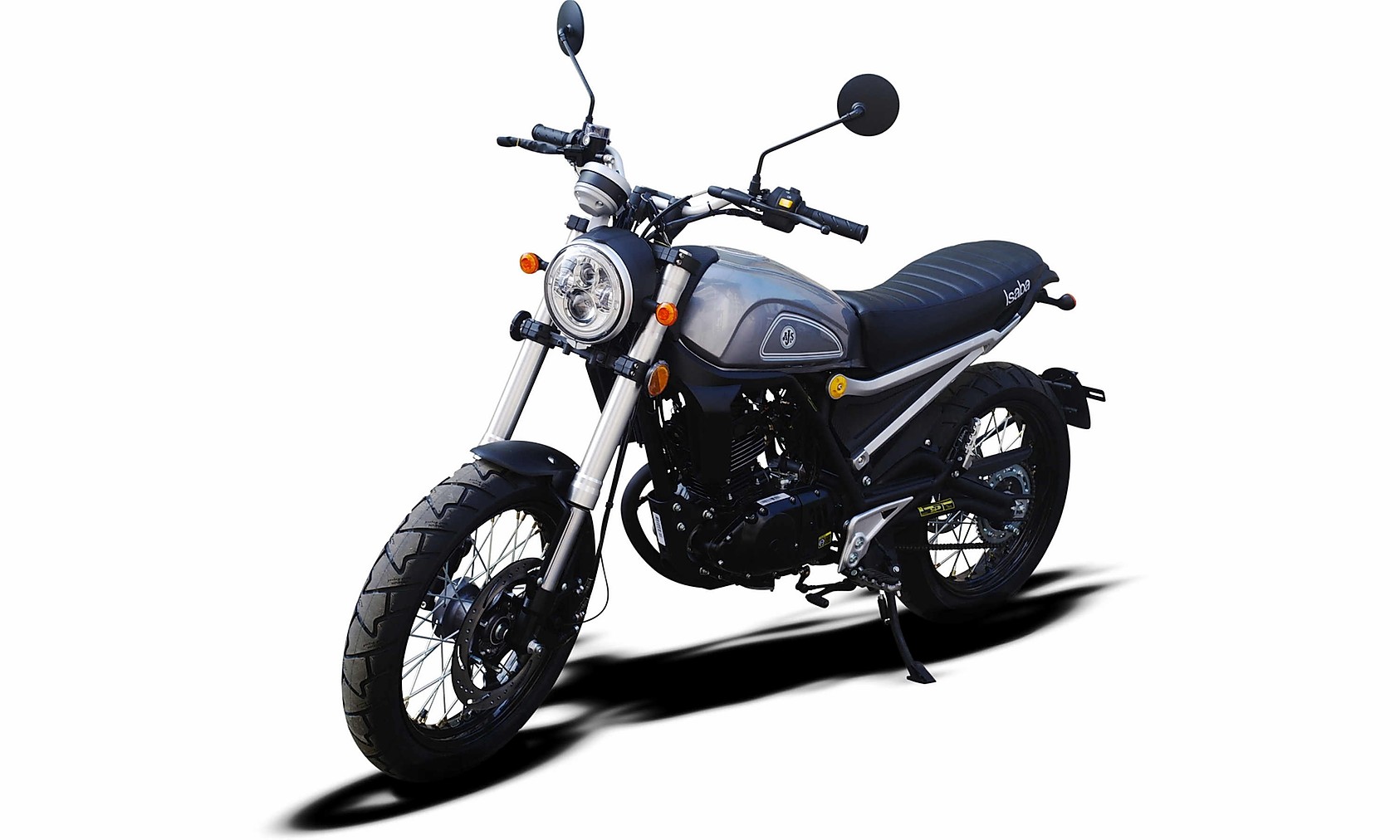 Bullit Hero 125
A mini urban-scrambler with heaps of style and a tempting price tag (around £2500) – what's not to like?
The Hero is designed in Belgium by the Bullit folks, but produced in China, with a straightforward steel tube frame, air-cooled 125cc four-stroke engine and offroad-styled running gear.
The basics are fairly, er, basic – the engine only has five gears, and puts out a fair bit less than the maximum allowed 15bhp for a learner legal machine – just 11.5bhp.
On the other hand, it's a copy of an old Suzuki engine design, so should be super-reliable mechanically, and has great fuel consumption. Long-travel suspension is on the bouncy side, and the brakes have a linked setup rather than a more pricey ABS safety net.
On the road, it's definitely on the slow side compared with some fancier Japanese options, and the knobbly offroad-style tyres give slightly vague steering.
But none of that is really the point: the Hero is about looking sharp on a budget. Little touches like the Supertrapp-style exhaust silencer, race number-plate-style sidepanels, and the slick paint jobs really lift the Hero above the rest of the Chinese pack.
Parked up, especially in the white/red/blue Martini Racing or Gulf paint job, it really looks like a cracking little bike – and that's half the battle surely…
Gallery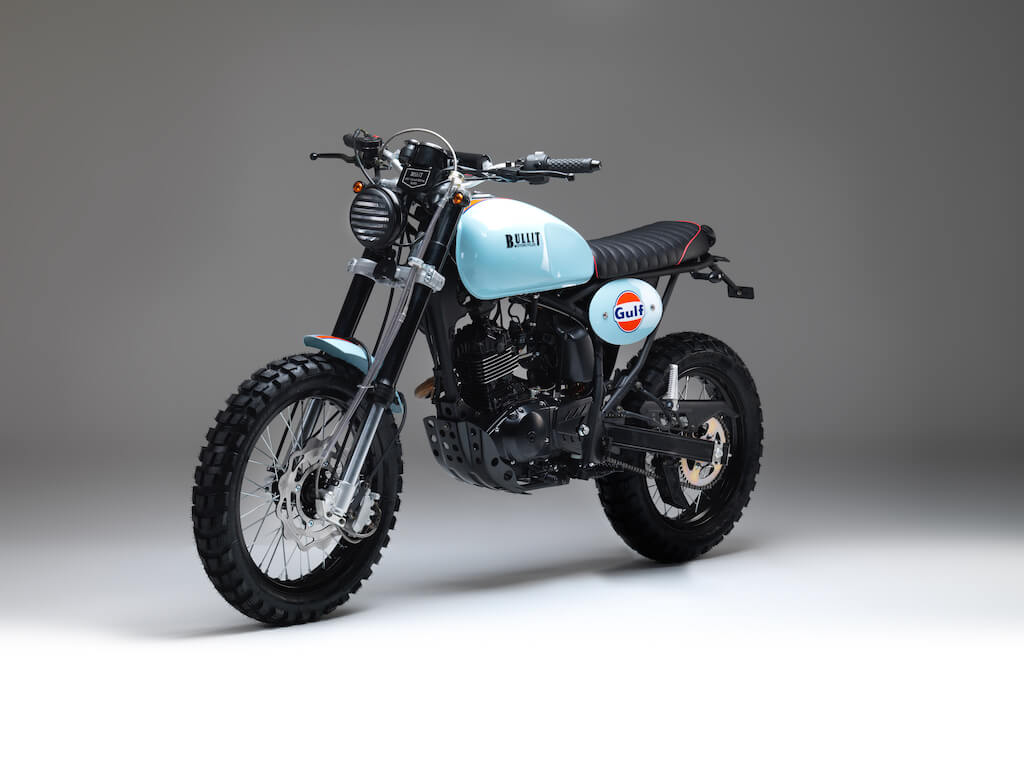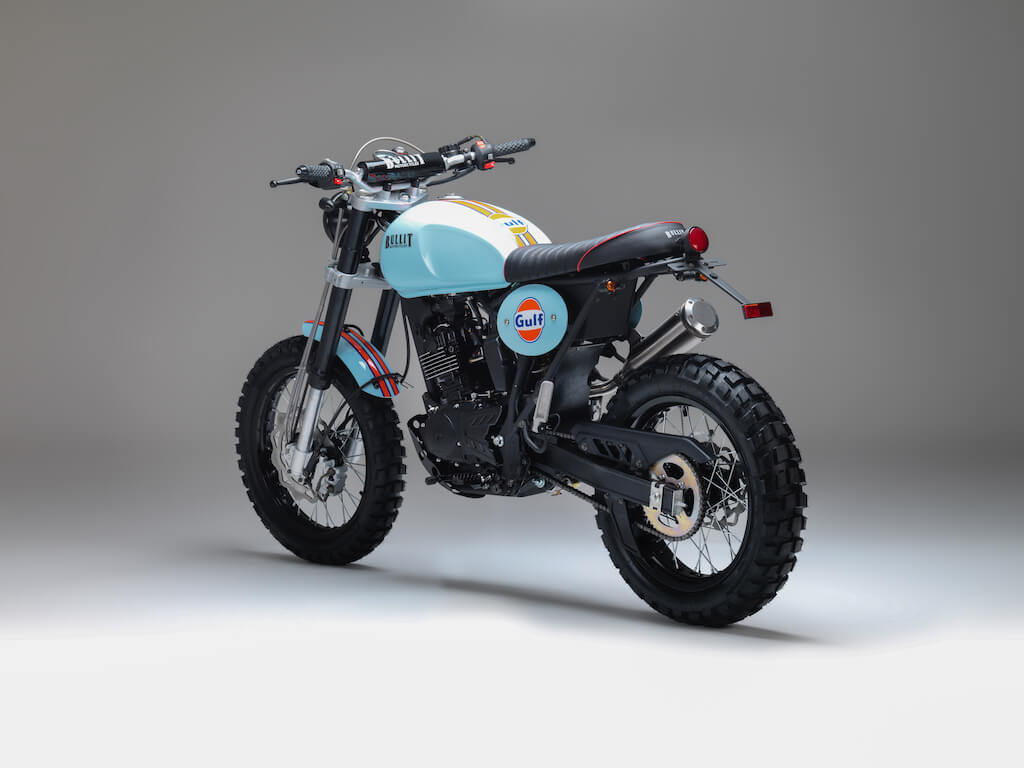 Mutt Mastiff 250
Another brand which pens its own designs in Europe and builds them in China, Mutt has been making a name for itself in the cool retro hipster market for a while now.
Based in Birmingham, it sells a range of 125 and 250 roadsters, which look spot-on for the Shoreditch scene, but are also really practical and easy to get on with.
The firm reckons its small-bore bikes are perfect for urban riders – they're cheaper to run and insure, and bike thieves are more likely to be targeting £20k BMW GSes and Ducati Panigales than £2k urban roadsters.
Amazingly, Mutt is also re-exporting its bikes and setting up an international dealer network – so it's helping to rekindle the British bike trade from Small Heath, the heart of the post-WW2 industry.
The Mastiff 250 is a classic Mutt design. It's based on a simple, reliable, economical four-stroke single engine, with air-cooling, making 21bhp. That only has to shove along 130kg dry mass, so the Mastiff is much pokier than a 125. The chassis is just as simple – steel tube frame, twin-shock rear swingarm and gaiter-equipped front forks.
It's the styling that really hits the mark though – Mutt has given the Mastiff a proper factory custom 'brat' feel, with high-profile balloon-style 18" tyres, wire-spoked wheels, slick paint and lashings of quality metalwork – castings, machined covers, neat alloys.
The high spec and design bumps the price up a little – but at £4,250, it's still good value.
Zontes T310
Small-capacity adventure bikes are definitely on the up, with bikes like the BMW G310 GS, Kawasaki Versys 300 and Suzuki V-Strom appearing in recent years.
The combination of A2 licence power outputs, slick adventure styling and mild offroad abilities in a smaller, more manageable package, has strong appeal to many riders.
And in the Zontes T310, there's a good value Chinese option too. It's based around the firm's single-cylinder 312cc engine, which has a very modern water-cooled design. The DOHC, four-valve head dry-sump motor puts out around 34bhp, has a balance shaft for smoothness and lives in a solidly-specced chassis package. There's a sweet braced swingarm, Bosch switchable ABS, alloy rims and sharp-looking bodywork.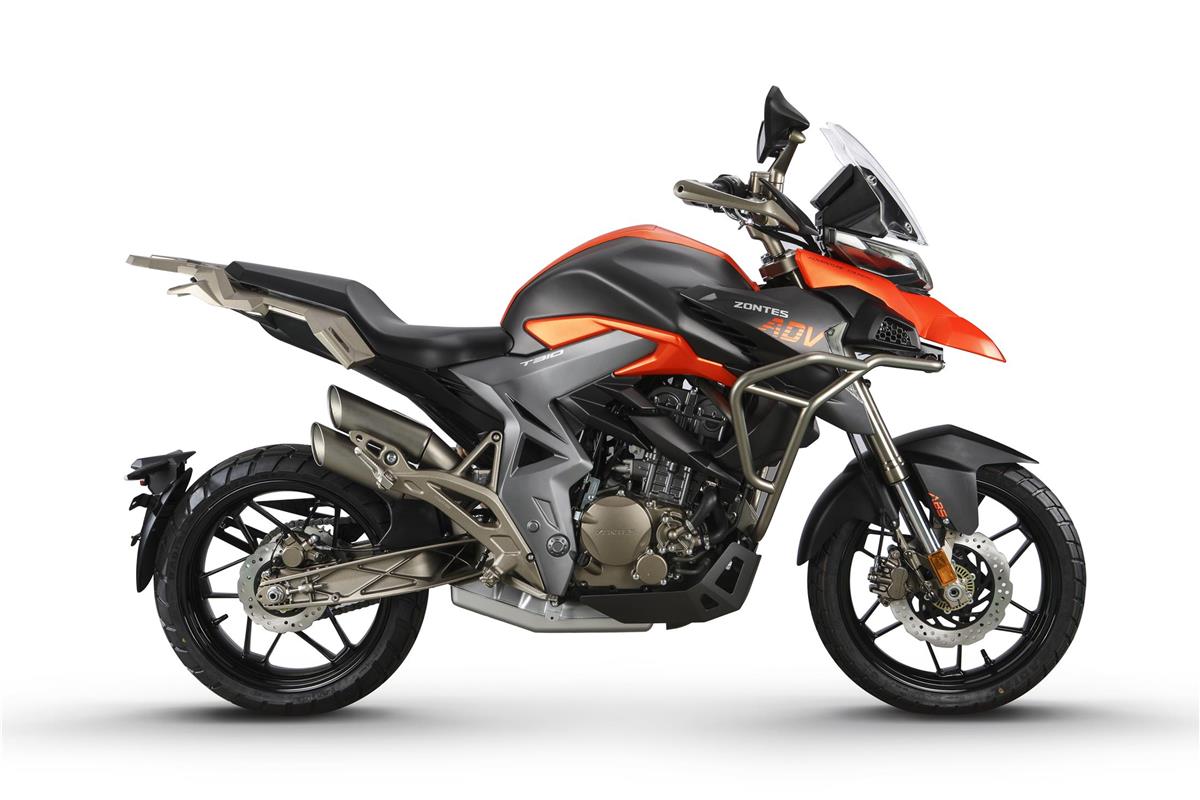 The electronics package is also impressive: two rider power modes, keyless ignition and fuel cap, lightweight lithium battery, LCD dash and electrically-adjustable screen. All-up weight is under 160kg, giving sprightly performance and easy handling.
It's a great spec for the price: around £4k, and a grand or so less than the big-brand competition.
On the downside, dealer backup is less widespread than BMW or the like, and you'll have to hunt harder for aftermarket accessories and parts. But if you can live with that, the T310 is well worth a look.
Gallery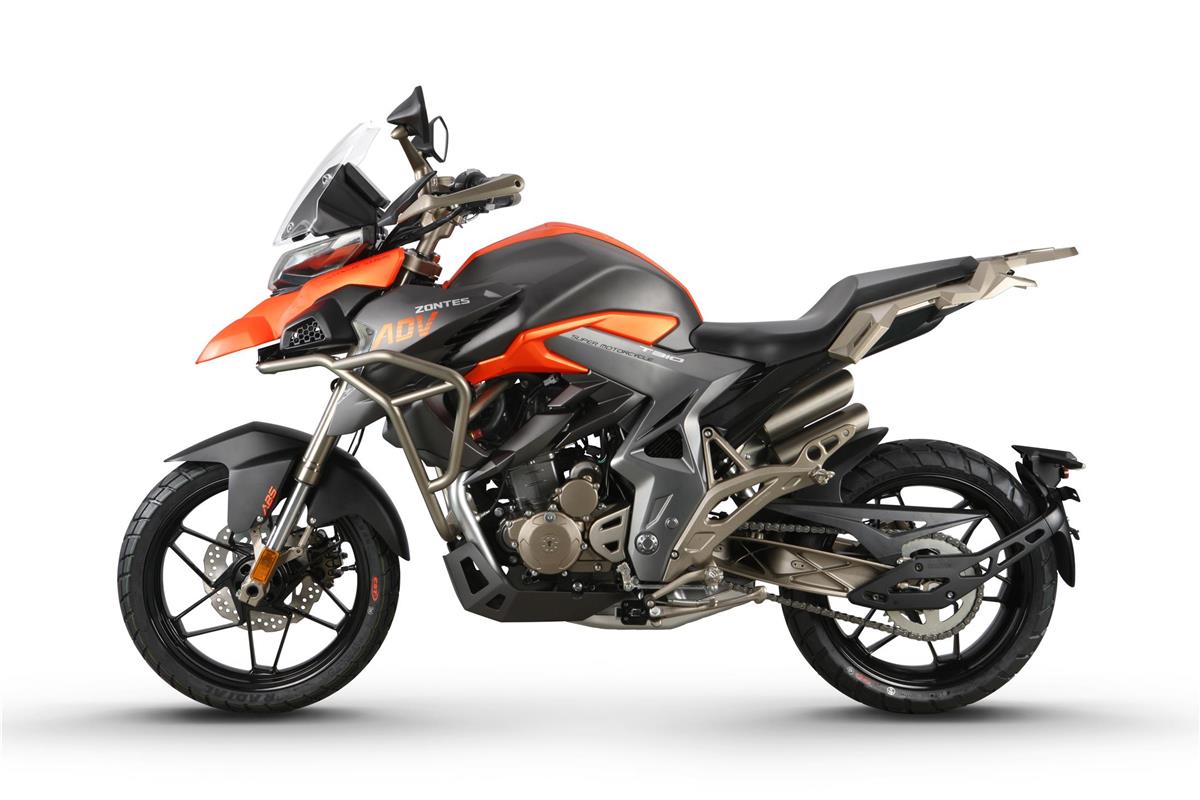 Herald Café 125
Based in Cambridgeshire, Herald is another firm which is importing bikes to its own spec from China, and offers 125, 250 and 400 class machinery.
It's also working towards producing its own bikes in the UK, and currently designs and produces many of its own in-house parts to upgrade the imported bikes.
The Café 125 is a good-looking, no-fuss little roadster, with a simple air-cooled 125cc single cylinder engine with five-speed gearbox in a twin-shock, steel-framed chassis. You get conventional forks and a single disc brake up front, and the brakes have a combined setup for safety.
Slick white-faced tacho and speedo, plus LED lighting and Racetek adjustable suspension raises the spec above the crowd, while the classic-styled 12-litre tank is finished in fetching red paint.
Power is just 10bhp – but the super-skinny 126kg dry mass makes the most of that, and makes the Café 125 super-easy to get on with around town.
That's where we'd stick to riding the Café though – motorways and fast A-roads will be a chore with the small-bore performance. Economy will be excellent though: fuel consumption and running costs will both be super-low – it's well-priced too, at just £2,500.
Gallery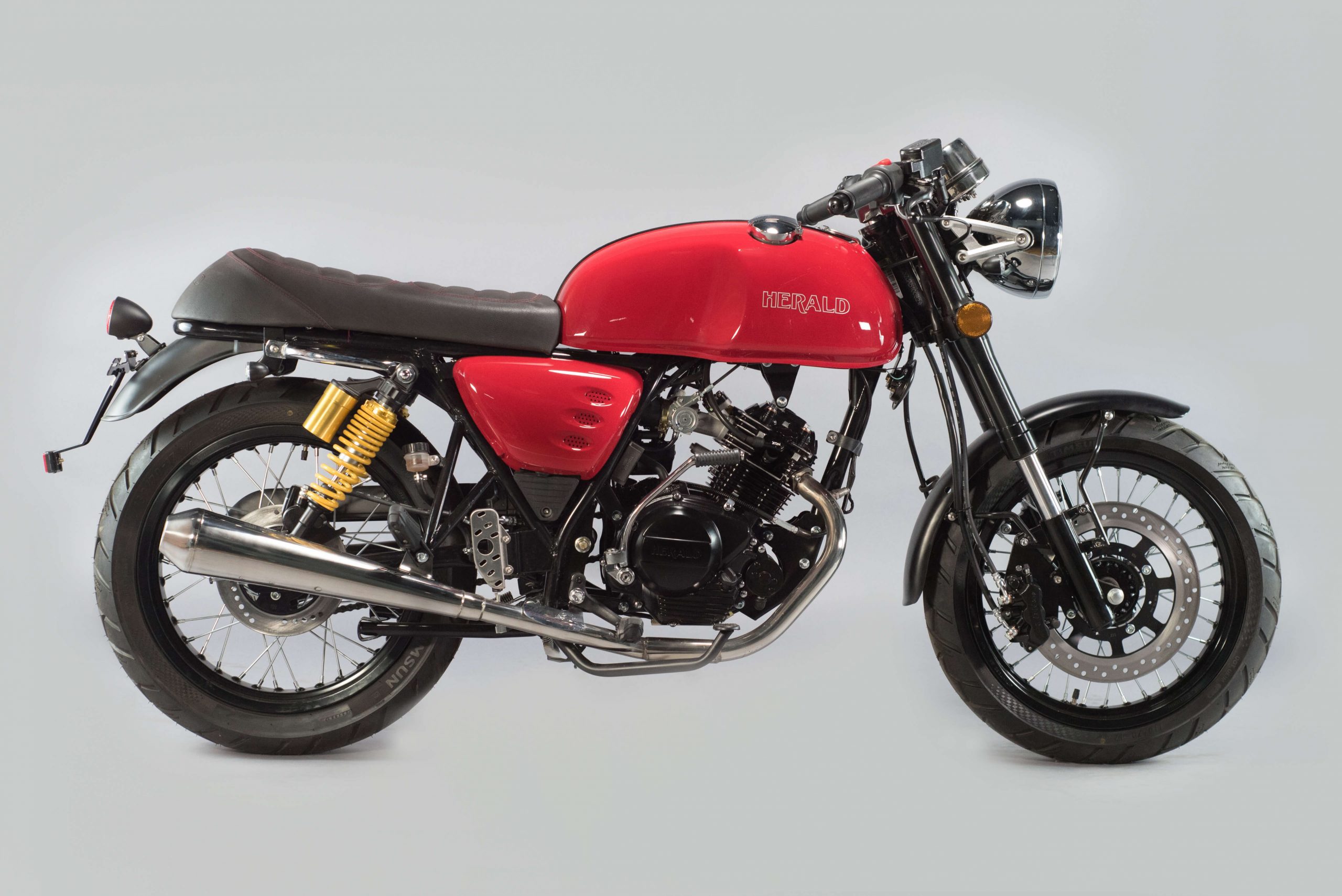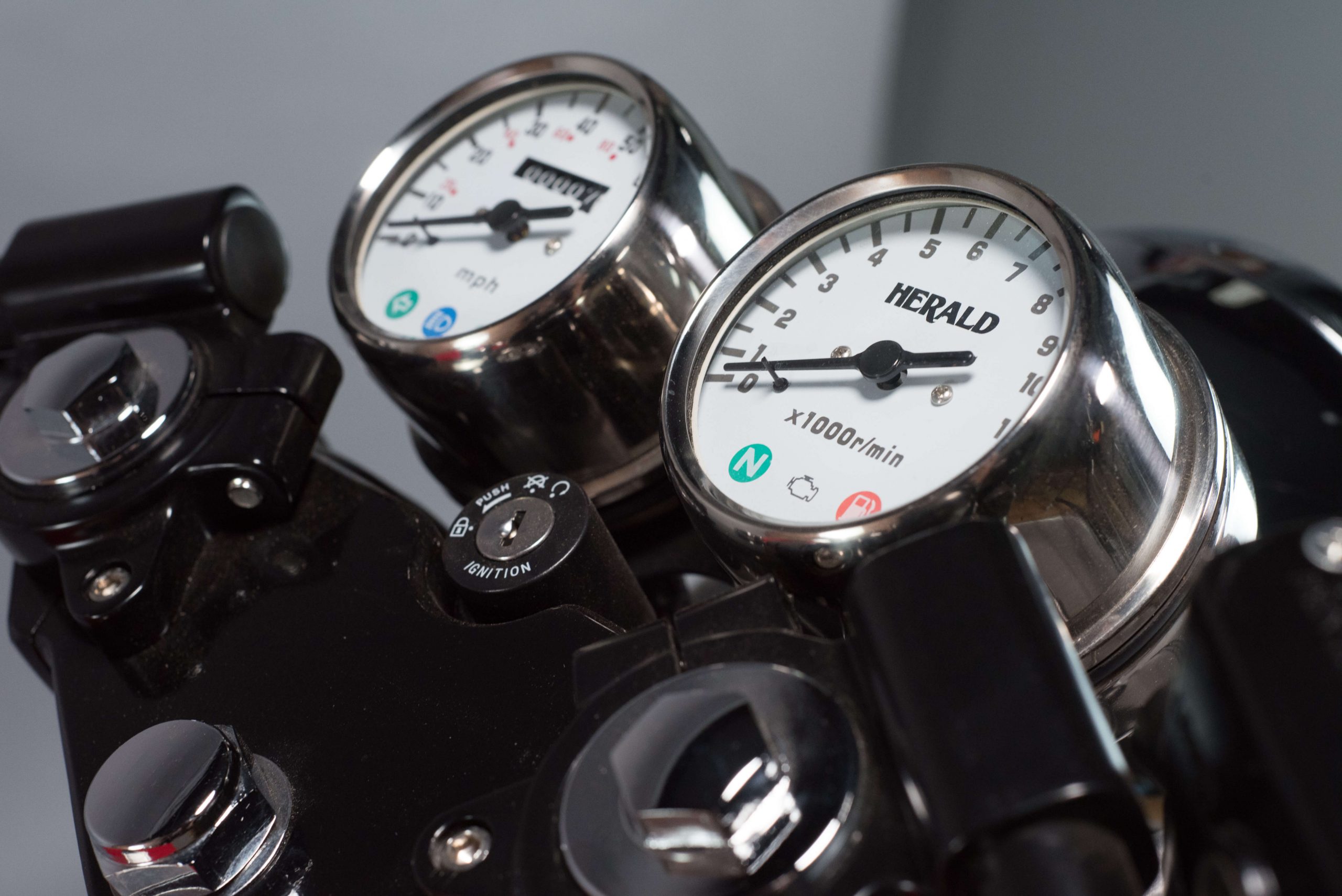 Benelli 752S
Benelli is one of the great names in Italian motorcycling – but it was taken over by Chinese owners Quinjiang in 2005 and its bike range is now fully designed and produced in the far East.
As a result, the litre-class triple engine has been dropped, and the firm began concentrating on smaller-capacity machinery instead.
In recent years though, Benelli has started making bigger bike again – and this slick 752 super-naked roadster is the latest example.
Built around a new parallel twin engine with a 754cc capacity, the 752S puts out around 75bhp, from a high-tech fuel-injected, DOHC, eight-valve water-cooled layout. That smart-looking motor is bolted into a steel tube trellis frame, with high-spec 50mm Marzocchi USD front forks, four-piston Brembo brakes up front and adjustable rear monoshock worked by an upswept gull-arm swingarm.
The minimalist bodywork is properly stylish – you'd not be surprised to see a premium Japanese or European brand name on the tank – and the riding position is upright and poised.
Finally, the equipment levels are also impressive. There's a full-colour LCD dashboard, ABS and LED lighting. You pay for all this of course – but at £6,500, the 752 S is still decent value.
MASH 125 Dirt Track
MASH is based in France, but again, its bikes are produced in China, with a slick range of well-priced 50, 125, 250, 400 and 650cc machines on offer in the UK.
The 125 Dirt Track follows the usual Chinese budget design, with an air-cooled single-cylinder engine, simple steel tube frame, linked disc brakes with a basic suspension and tyre package.
But it adds a dollop of slick Gallic style, with a proper dirt-track racer feel. The front headlight is mounted in a race-style number-board, the tyres look like racing wets, handlebars are wide flat-tracker style, and the seat/tank/sidepanels are dead ringers for classic 1970s dirt-track racebikes.
The motor puts out nearly 12bhp, and with a super-low dry mass of just 112kg, the Dirt Track will be a lively little performer around town or on twisty back roads.
Priced around £2,700, there's a slight premium for that French styling – but we reckon that's a decent price to pay for such a smart looker.
Gallery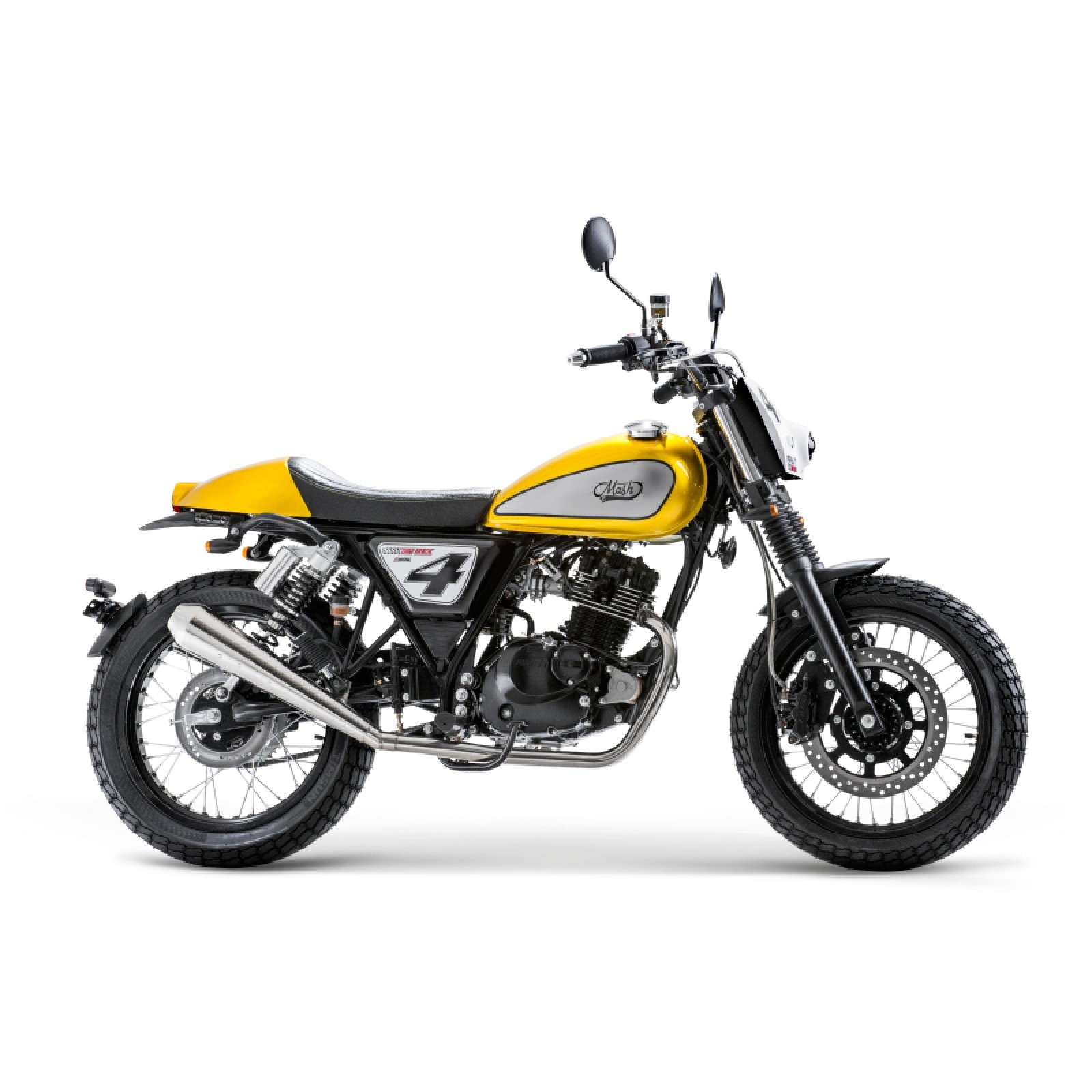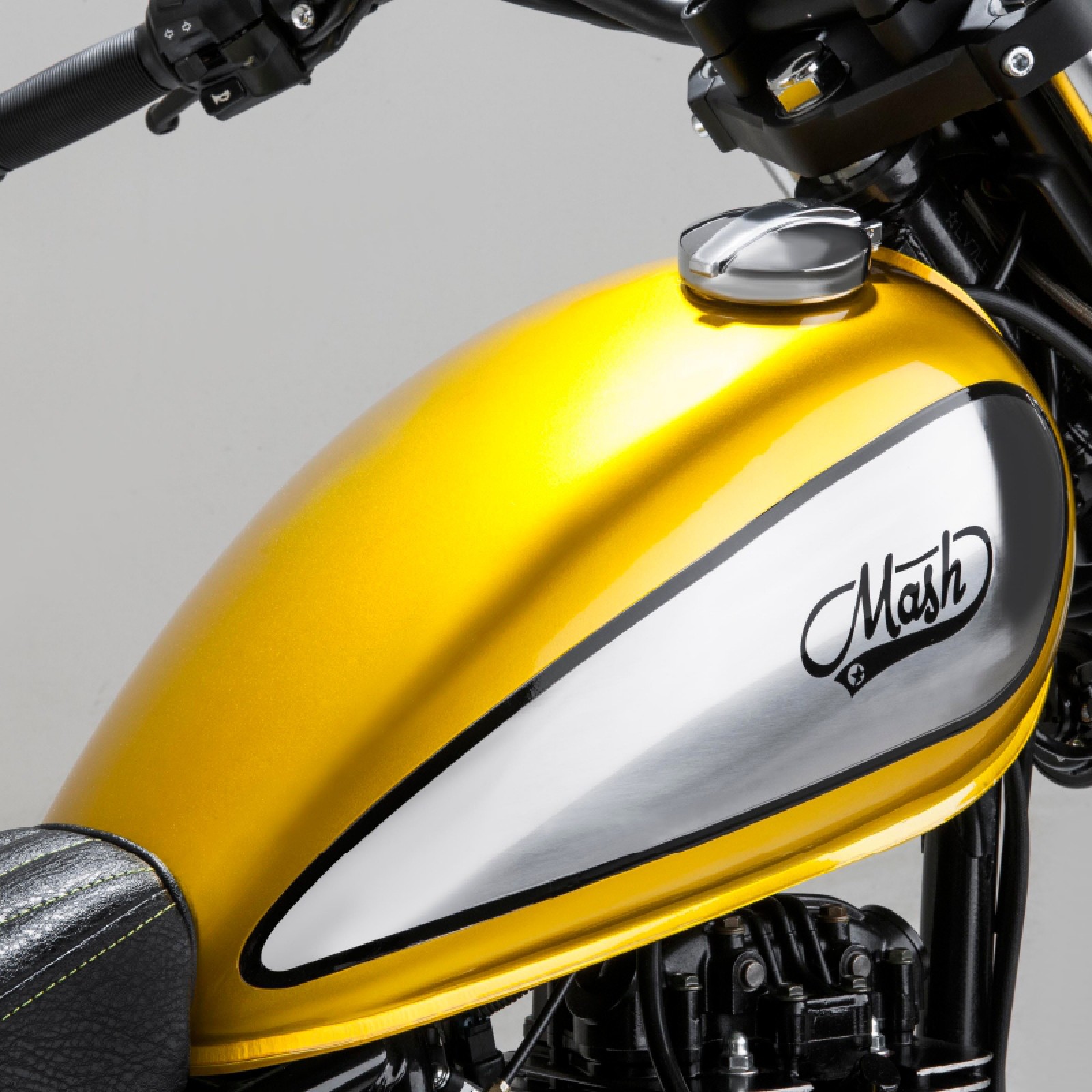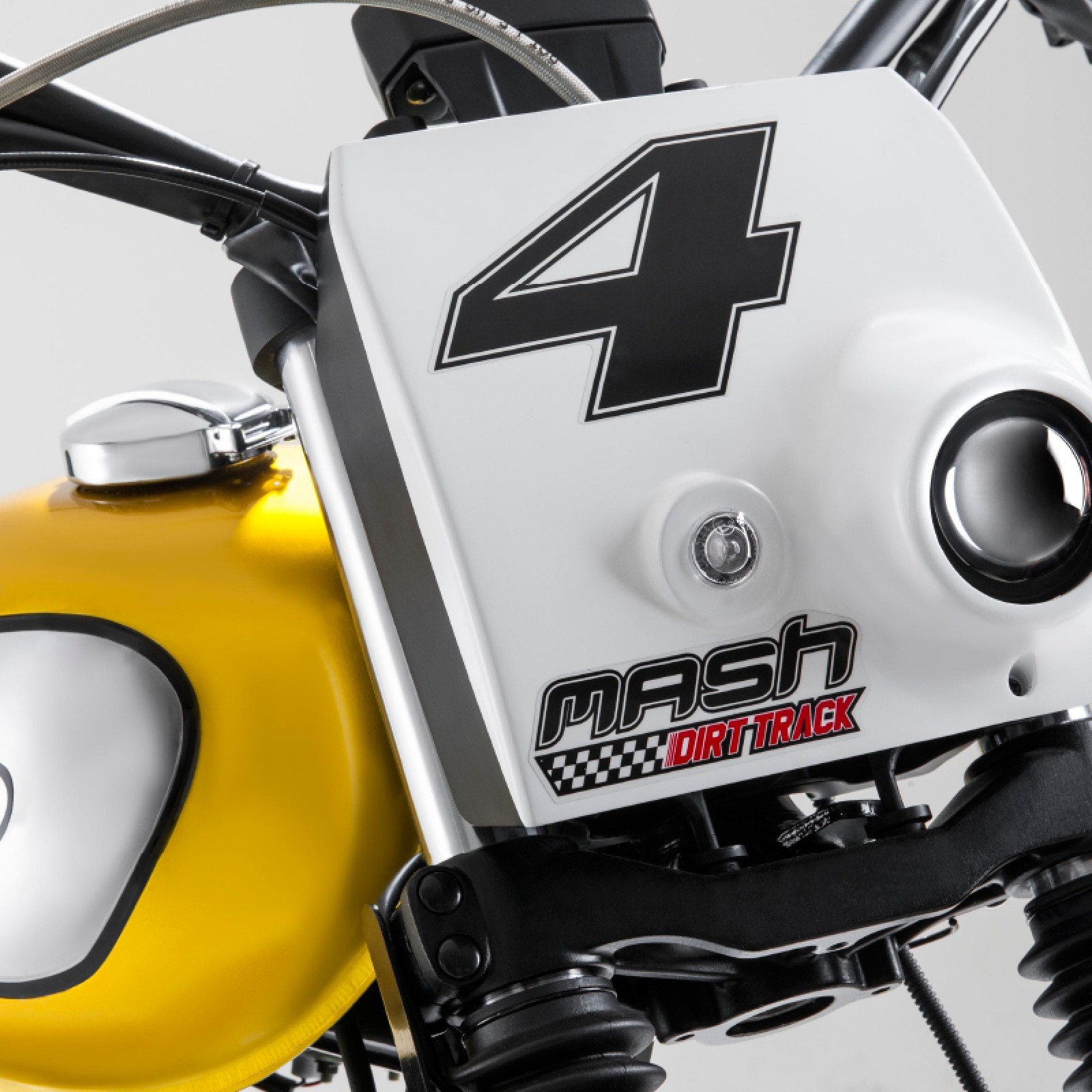 Sinnis Apache 125 SM
If you're restricted to a 125, then a dirt-style or supermoto design bike makes a lot of sense. Rather than trying to ape a full-on sports bike with just 12bhp, the lower power of a 125 is perfect for off-roading, and a supermoto works brilliantly at slower speeds around town and on twisty backroads.
So the Sinnis Apache 125 SM could be the ideal choice if you're on an A1 licence and looking for a budget urban riding option. Sinnis is one of the UK's longer-running Chinese-built brands, and has been operating from Brighton since 2006. It produces a range of 50cc and 125cc bikes and scooters with solid design and good dealer/spares backup.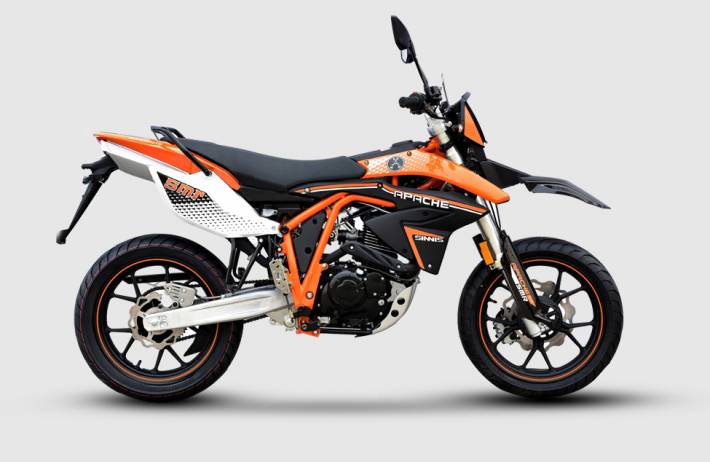 The Apache uses a typical 125cc Chinese-made engine in a supermoto-styled chassis package. The motor is a fuel-injected version of the old Suzuki GS125 lump, so has been properly tried and tested over the years. The design is super-reliable, and the fuel-injection helps deliver superb fuel economy.
It puts out around 12bhp and that, with the light 134kg weight keeps it lively around town. Seventeen-inch wheels, disc brakes and long-travel suspension helps deal with the worst of urban road conditions, while the upright riding position gives a great view of traffic around you.
Sinnis also offers an SMR version, with sharper styling, twin exhaust, LCD dash and uprated cast aluminium swinging arm for an extra £150. The standard SM is £2,400, the SMR is £2,450.
Gallery