Benelli BN302 Bike Overview
This exciting model is ideal for those bikers who are looking for a high quality bike offering small capacity thrills. This is Benelli's first Chinese-built motorcycle – but don't be mistaken in thinking this makes it cheap or unreliable in any way.
You can feel pretty confident on this bike, as the suspension is great even on wet roads – although some have commented that it can feel a bit firm on bumpy roads. This doesn't ruin your ride though, and the tyres have great grip in all conditions, making you feel very steady on the road.
You'll need to work at the 300cc parallel twin engine to get the best from it, but nevertheless it is a fun bike to ride. It has a 38bhp peak power and 20.2ftlb of torque at 10,000 and 9000rpm. The double discs on this bike are very responsive – allowing you to brake quickly with just one finger. The BN302 is heavier than its rival bikes, at around 185kg. It does have great ergonomics though, as well as a roomy seat for the rider at around 795mm in height.
The bike feels well-built overall – A good all-rounder at around £3400, which is over £1000 cheaper than a similar model, the KTM Duke 390.
The Benelli BN 302 in action…
Benelli BN302 Bike Spec
Weight (Dry)

185kg

Capacity

300 cc

Seat height

795mm

Engine

In-line twin, four stroke, DOHC
Benelli BN302 Bike Insurance
Benelli BN302 Bike Gallery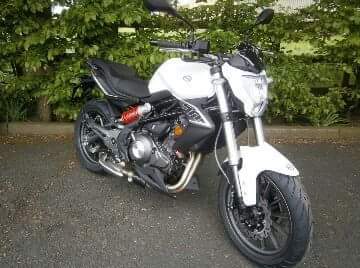 Owner Reviews
Pros
This bike is a good all rounder and won't let you down. Perfect for track days too if you like to get your knee down. Best thing about this bike is the immense power output from a small engine.
Cons
Bike could be taller. I'm 6ft 2 and sometimes I get leg cramps.
Read More
Ride Quality5 out of 5 stars
For a small 300cc engined bike this bike purrs like a box of kittens and runs smoothly. Until you rip the throttle it turns into a tiger! Plenty of thrills within!
Engine4 out of 5 stars
For a 300cc bike this little bike packs a punch, No need to even think about a bigger bike! Loves to wheelie and reaches over 100mph which is more than enough.
Running Cost5 out of 5 stars
Bike could be taller. I'm 6ft 2 and sometimes I get leg cramps.
Build Quality4 out of 5 stars
Build quality of this bike is absolutely outstanding. Can't ask for much more! Very eye catching and the frame work is crafted to perfection.
Brake5 out of 5 stars
If you hit the brakes on this bike you will stop. Amazing quality for your money.