How an A2 restricted licence works…
Passed your bike test? Yay! Well done you! Now get your chops round this awesome selection of hot A2-legal bikes. Don't forget to get a bike insurance quote with us too.
This time, we're looking at the best A2 machines which need a power restriction to comply. Some motorbikes can roll straight out of the factory forecourt to fit the bill but you may find other models that can be restricted.
Last time we took a look at the best A2-compliant bikes which produce less than 47bhp (35kW) as standard and there were some corkers there to be sure. But there's another option open to you, which is to pick up a bike which makes more than 47bhp as standard – but then have the power output restricted to the statutory level.
But what if the bike I want is over 47bhp?
That can be done in a few ways – via a mechanical restrictor on the throttle valve on older bikes, stopping it opening fully, or by mounting plates with a small opening in the inlet ports. Both these methods reduce the maximum amount of airflow into the engine, which limits the power it can produce.
On more modern bikes, with a 'ride-by-wire' or dual-valve throttle bodies, the ECU's software 'map' is replaced with a restricted version, meaning the computer will only open the throttle far enough to make 47bhp and no more. This is obviously the quicker and easier way to restrict and de-restrict the bike, but is only available on a selection of newer bikes.
There are still some limits on what you can restrict.
The bike can only have its power cut by 50 per cent from stock, so you can't get an A2-compliant BMW S1000RR, say. The original bike must make no more than around 94bhp, and there's also a power/weight restriction – so your plans to hoon about on a 47bhp/100kg 450 MX bike with lights are sadly moot…
Still struggling? Check out our dedicated guide to motorcycle licences.
Those are the rules then – and here's our top ten pick of the bunch in terms of restricted-power A2 bikes…
We really liked this little beastie when we tested the 2018 version. It's essentially the low-power Triumph Bonneville 900cc parallel twin engine, in a retro-styled scrambler chassis, with some neat little design and chassis touches.
The motor makes 64bhp as standard, so needs 17bhp lopped off to make it legit. That's not a big chunk of grunt though, and it doesn't affect the character of the Street Scrambler too much. It weighs just over 200kg, so is no lightweight, but again that helps with the A2 eligibility.
The numbers don't do the little Triumph justice though. The good stuff starts when you open the garage door: it's a handsome machine, and the dual high-mount silencers look ace, especially if you enjoy that classic 1960s scrambling vibe. The paint is classy and understated, while premium bolt-ons like the brushed stainless exhaust heat guards, headlight bracket and alloy handlebars all add a high-quality feel.
It's pretty well-equipped too. The 2019 update added a higher-spec Brembo brake caliper up front (which was one area the older bike lacked a little), and ride-by-wire engine management allows top-spec traction control to go with the switchable ABS and selectable rider power modes. Full LED lighting, slipper clutch, new cartridge front forks and standard fit immobiliser rounded off the 2019 updates, and it's now on par with the likes of Ducati's Scrambler range in terms of overall spec.
Those updates are well worth having – but the older bike is still a great ride. The lower power output (around 54bhp on the 2018 bike) isn't out of place with the character of the bike, especially since they'll both be restricted to 47bhp in A2 firm. The grunty nature of the engine more than makes up for the reduced peak power, and makes the Street Scrambler a definite contender in the A2 restricted class.
Gallery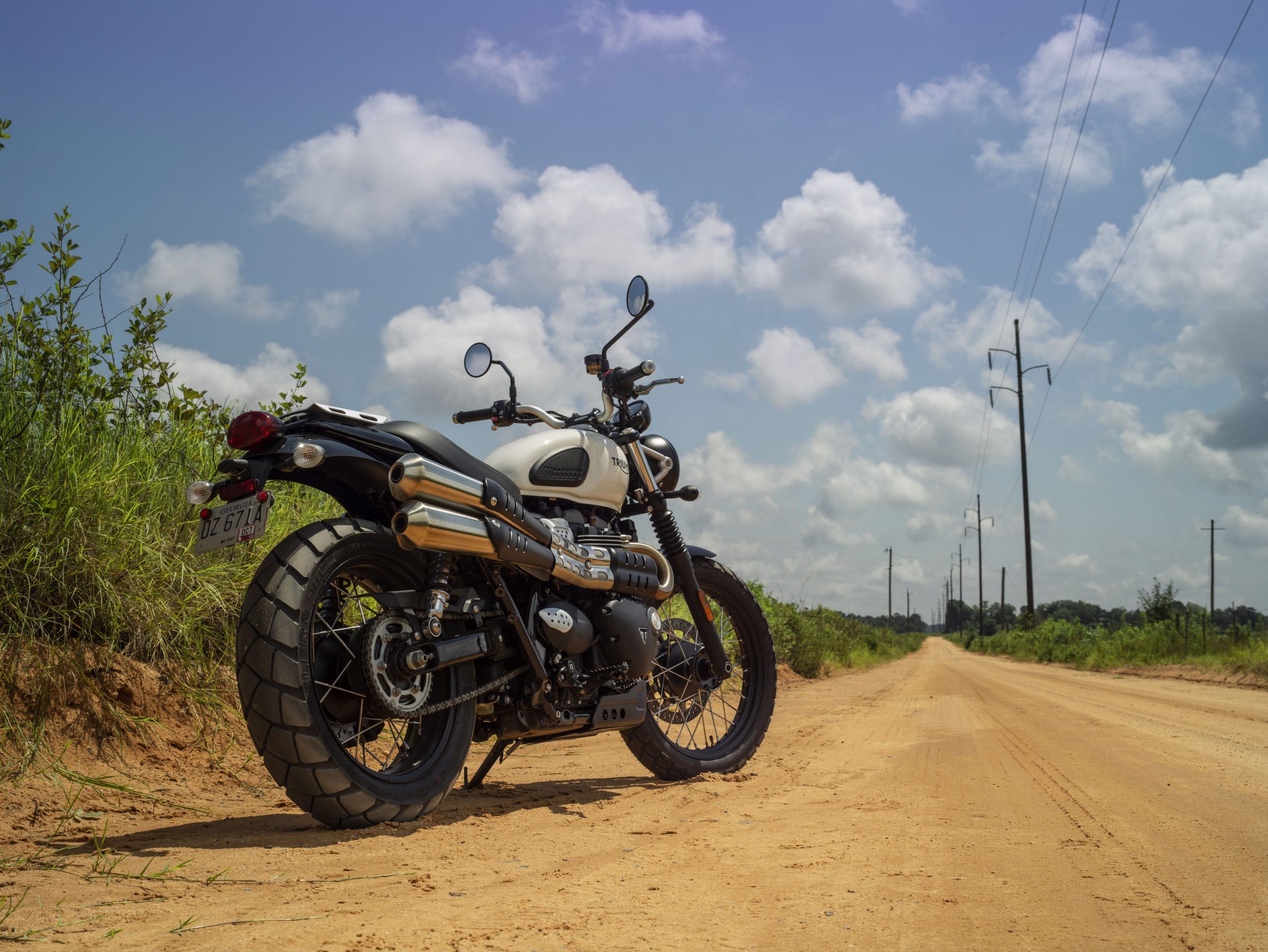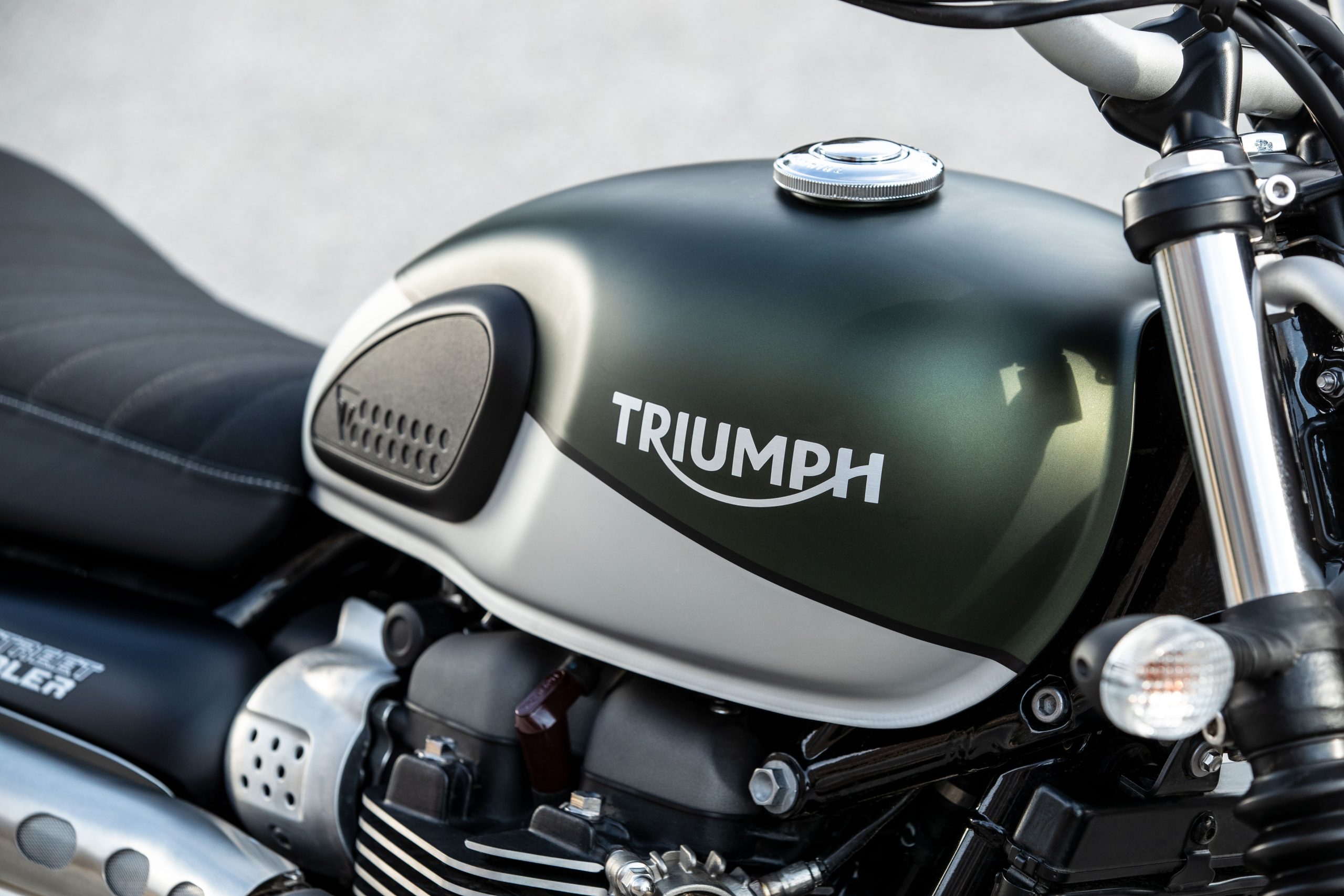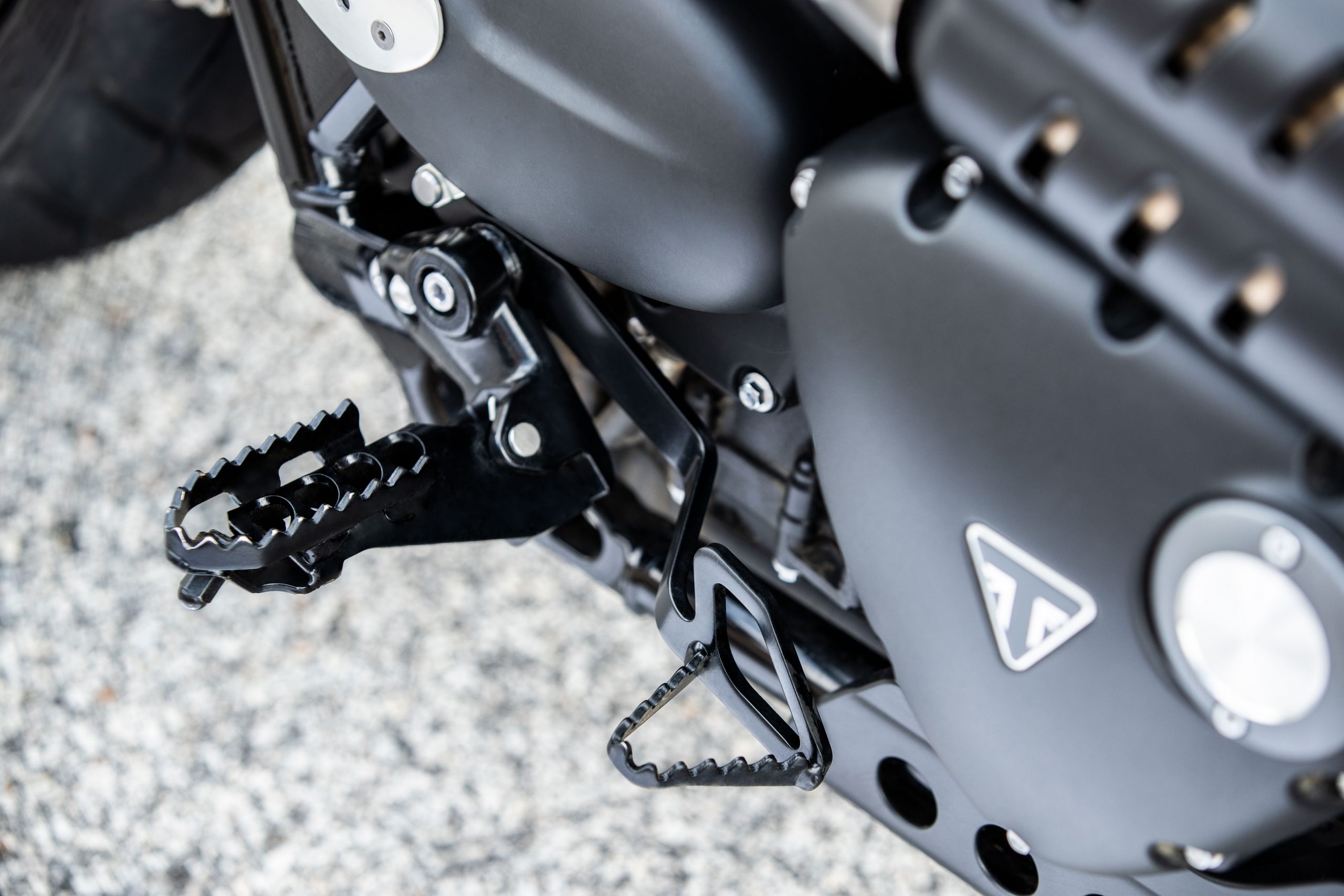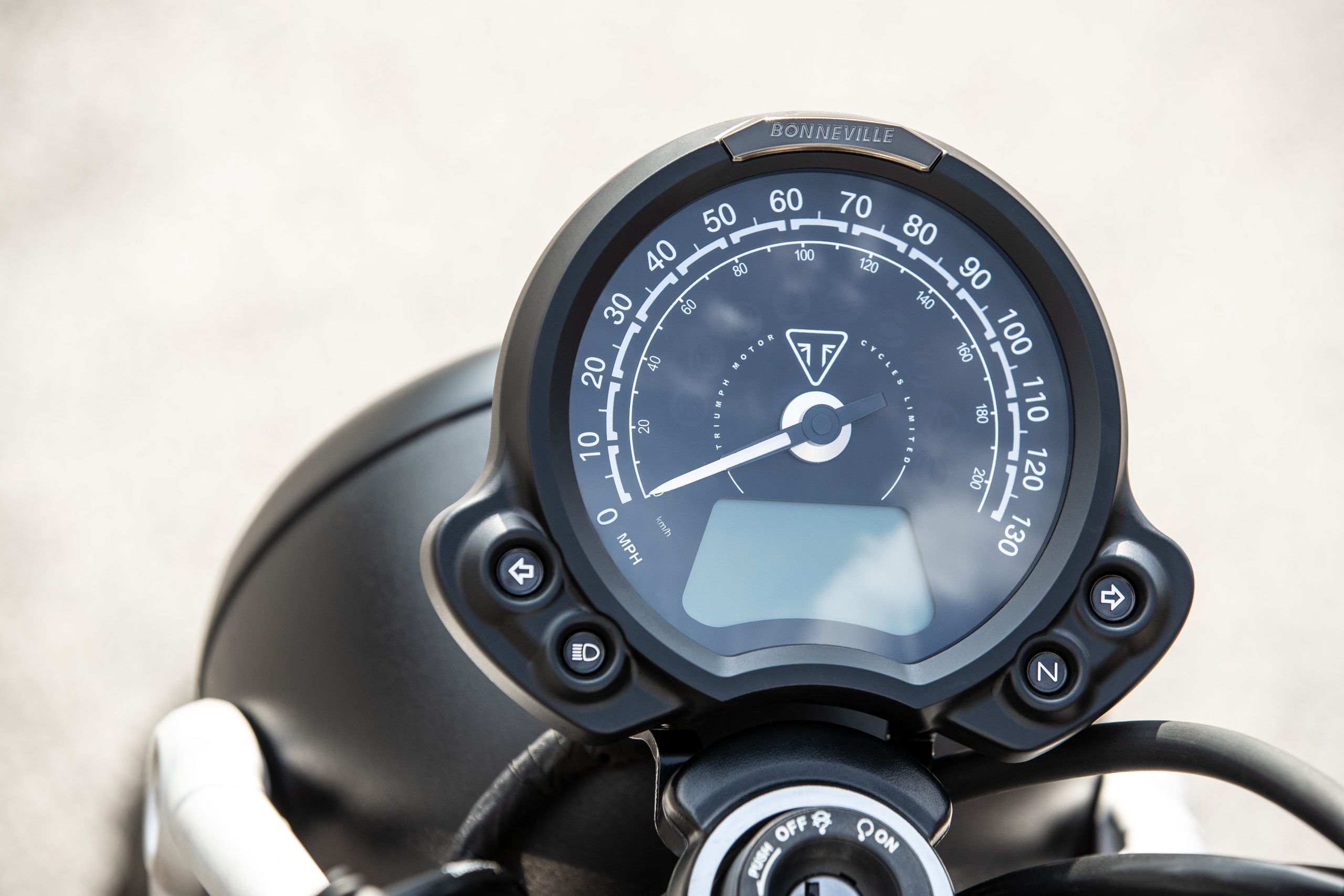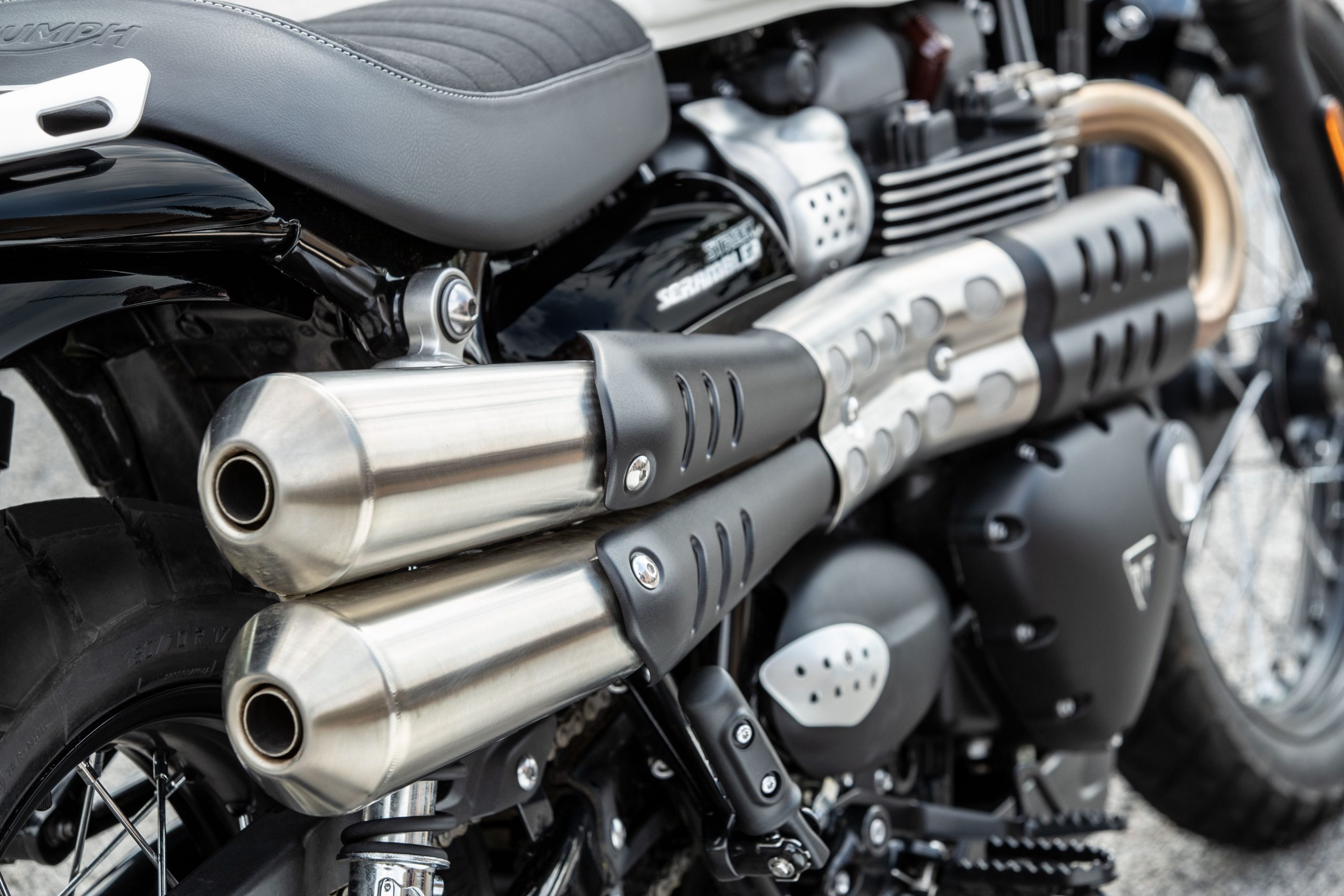 The original Triumph Street Triple was a 675cc triple, based on the Daytona 675 supersports machine, and was a proper headbanger motorcycle. Stunts and track performance came naturally to it, yet it was also a really practical daily ride, comfy on a run, and economical to buy and run.
The latest version is a 765cc triple, and shares its motor with the Moto2 race bikes we see at every MotoGP race meeting – so it's a very serious performance machine. Its 120bhp+ peak power output precludes it from meeting the A2 regs – but Triumph has cunningly made a bespoke A2 version for this class. The 'A2 S' Street Triple uses a smaller 660cc engine, with a special 47bhp tune (the standard 'S' version makes 113bhp, also from 660cc).
The three-cylinder engine layout is a brilliant mix of torque and power, and makes a smashing noise, while the chassis is lithe, sporty and composed. It's light, and has high equipment levels, including advanced ABS and traction control rider aids. Suspension is by Showa, and offers preload adjustment on the rear shock, while the brakes are Nissin up front and Brembo at the back.
Even in A2 form, the Street Triple makes a great all-rounder. It's amazing in town, where the light weight and nimble chassis lets you cut through the worst city traffic. But once you get out into the country and onto some twisty back roads, that same handling package is supremely satisfying. Add a small flyscreen and some soft luggage, and you'll have a great little middle-distance commuter too.
Gallery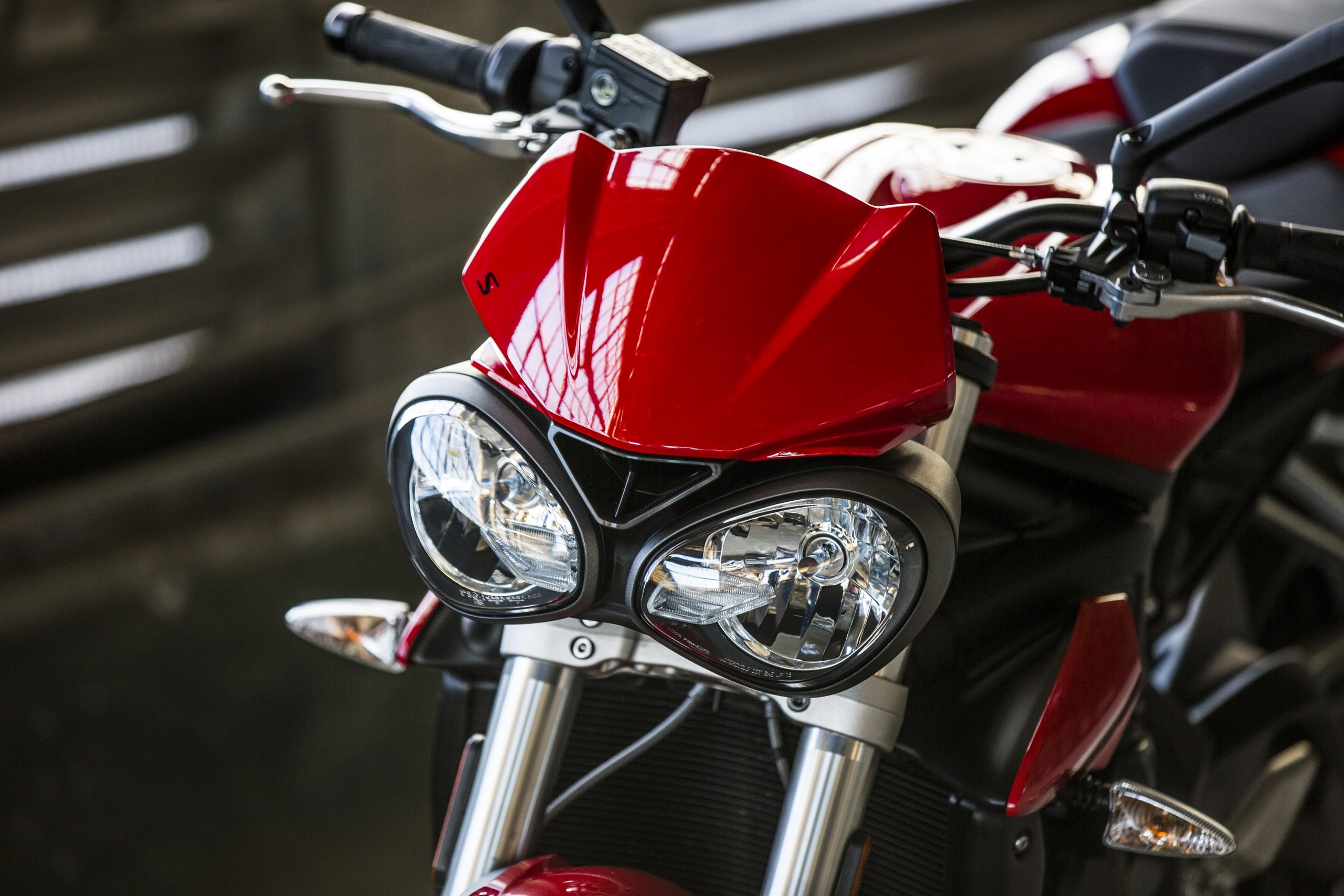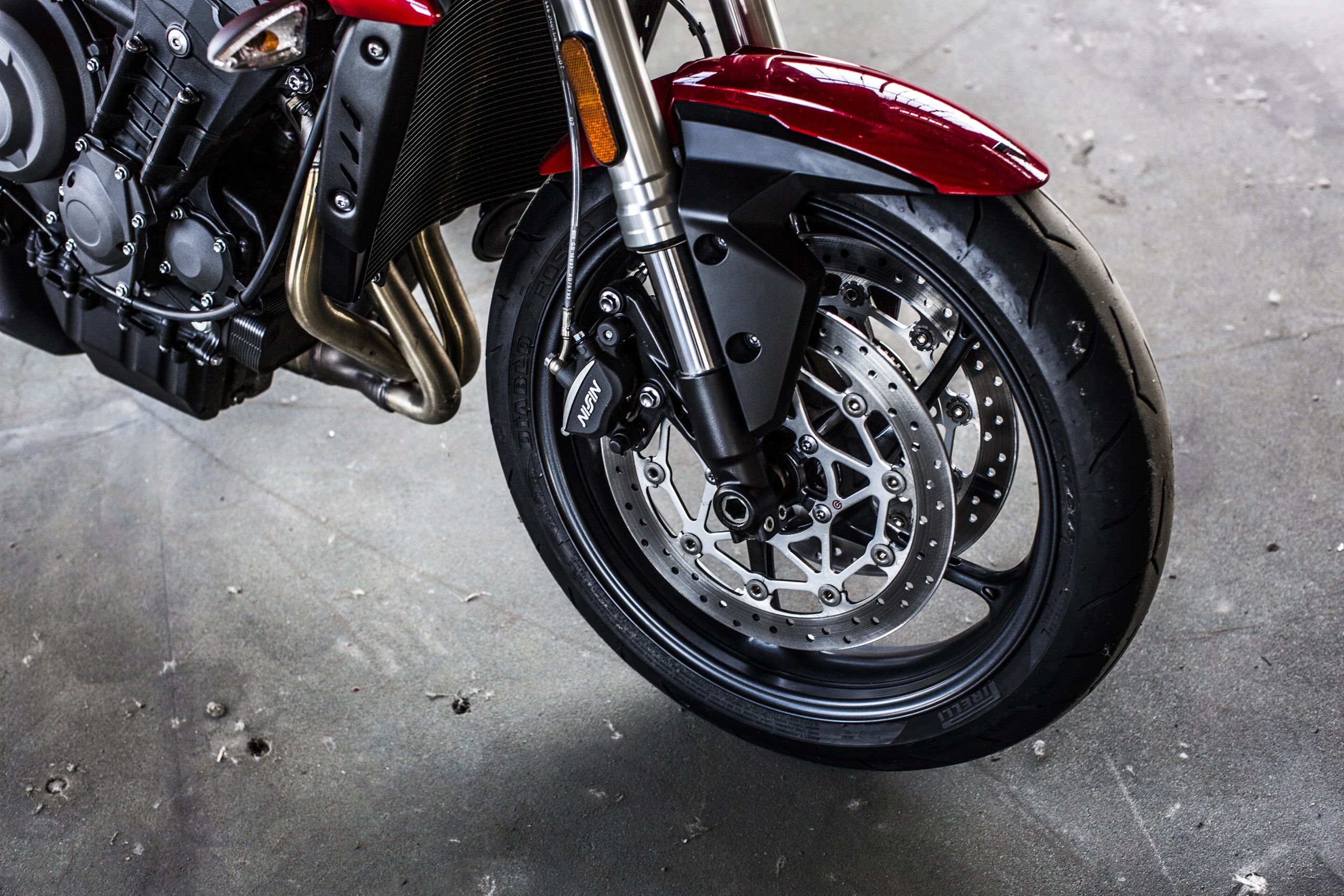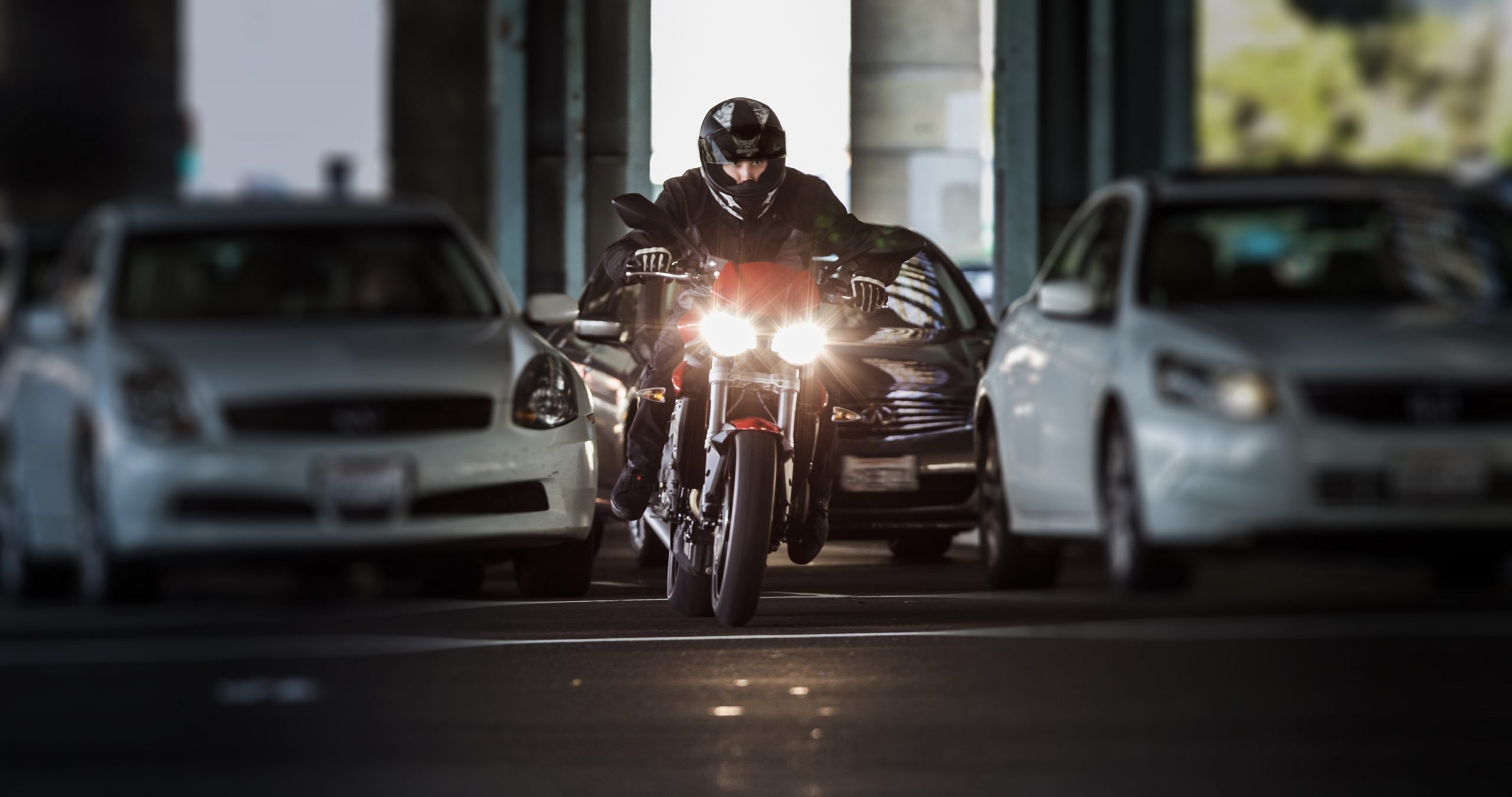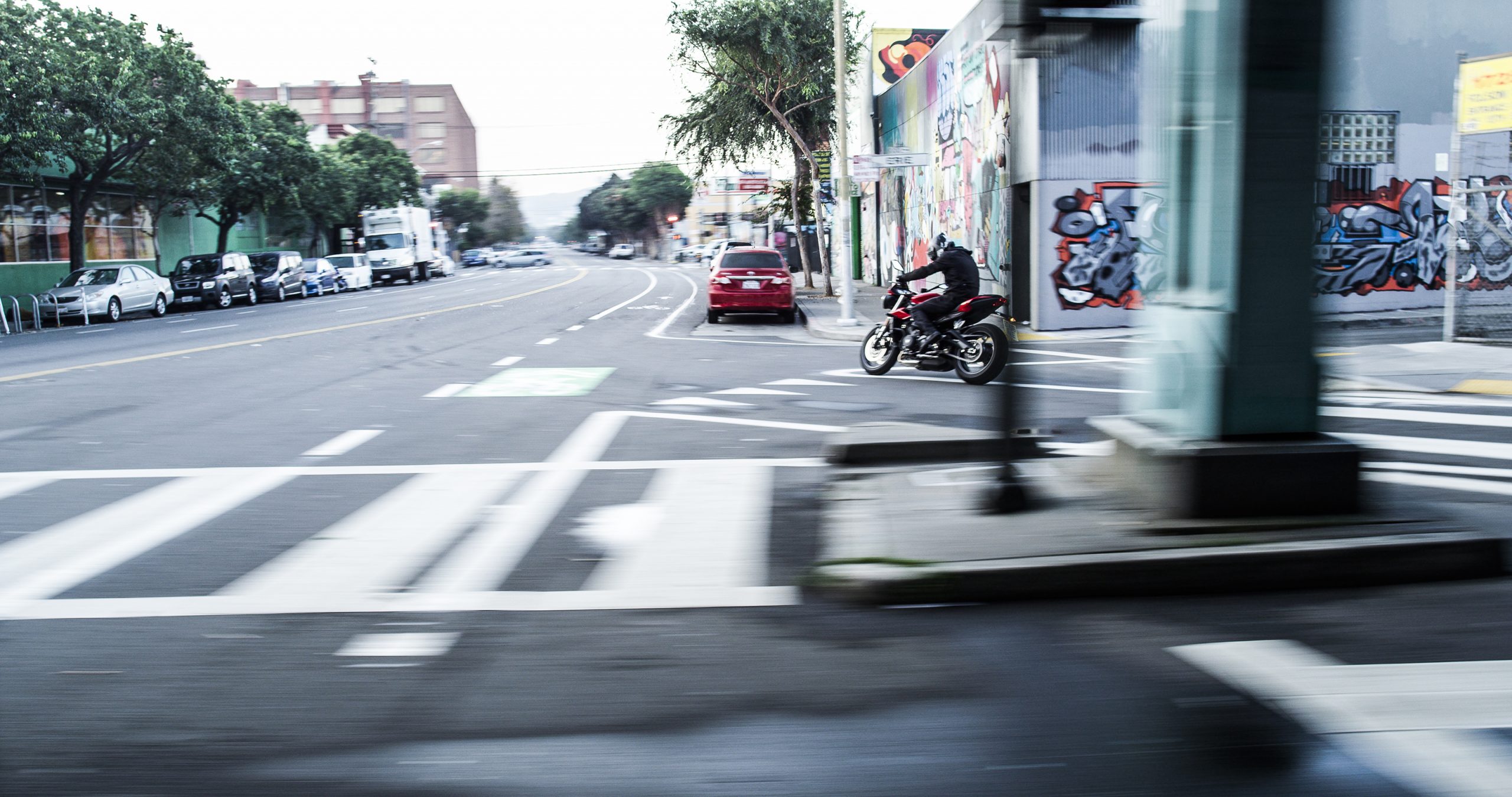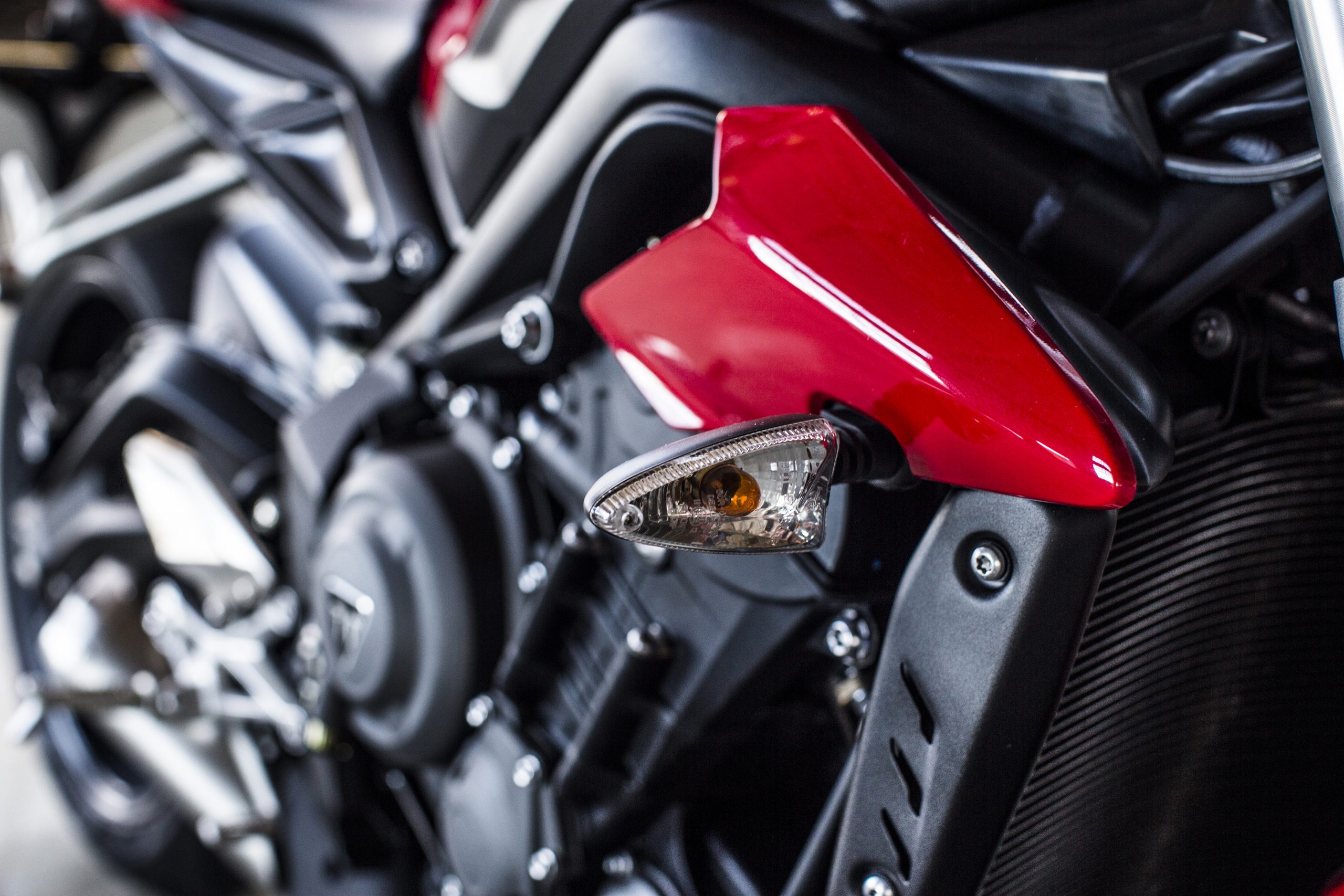 Ducati's always been great at marketing, and we reckon the launch of its 'Scrambler' sub-brand in 2015 will be the subject of many a business studies student's thesis in future. Re-packaging an older engine from the Monster range into a basic chassis, then making it super-fashionable is a great trick. But it wouldn't have worked if the resulting bike wasn't a corker…
The old desmo two-valve engine from the Monster 796 was detuned for more low-down grunt and bolted into a steel tube frame, with decent-quality suspension and brakes. The design tips its hat to the original Ducati Scrambler of the 1960s, but is definitely a bike of the late 2010s, with LED lighting, smart ABS and traction systems and neat clocks. Ducati's also built the Scrambler in various forms: from the more off-road Desert Sled to the urban Café Racer and flat-track style Full Throttle – check out our exclusive review. There's also a bigger 86bhp 1100cc version, plus a small 400 variant, dubbed the Sixty2.
Riding the Scrambler is pure, simple fun. It's not massively overpowered, making around 75bhp in 803cc form, but is light, agile, and easy to boss. With an A2 power restricting kit, it makes a great first big bike – good looking and great around town. The downside? Well, it looks a bit pricey at first glance, but if you factor in the improved resale value of a brand like Ducati's, the total cost of ownership isn't as high as it might appear…
Gallery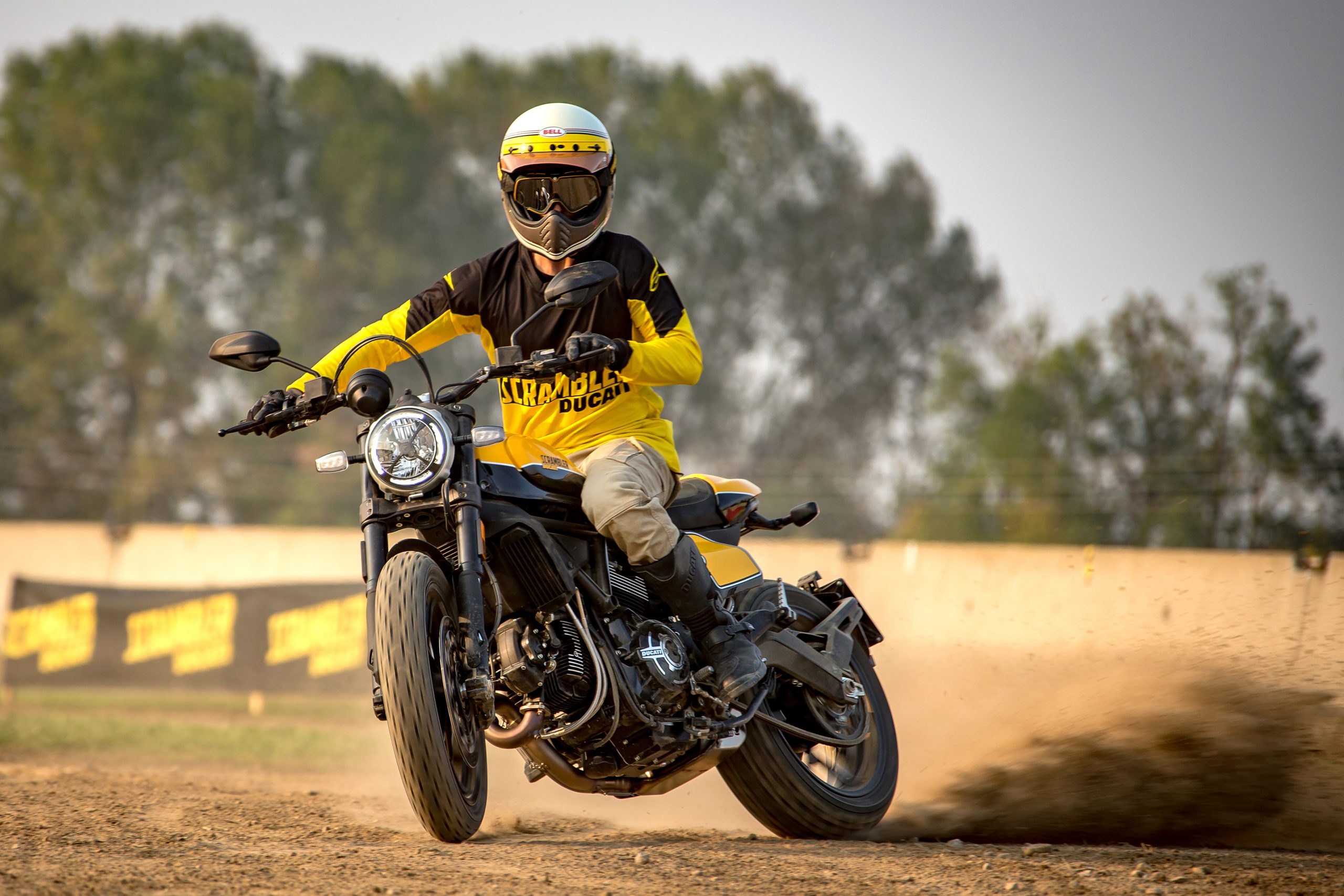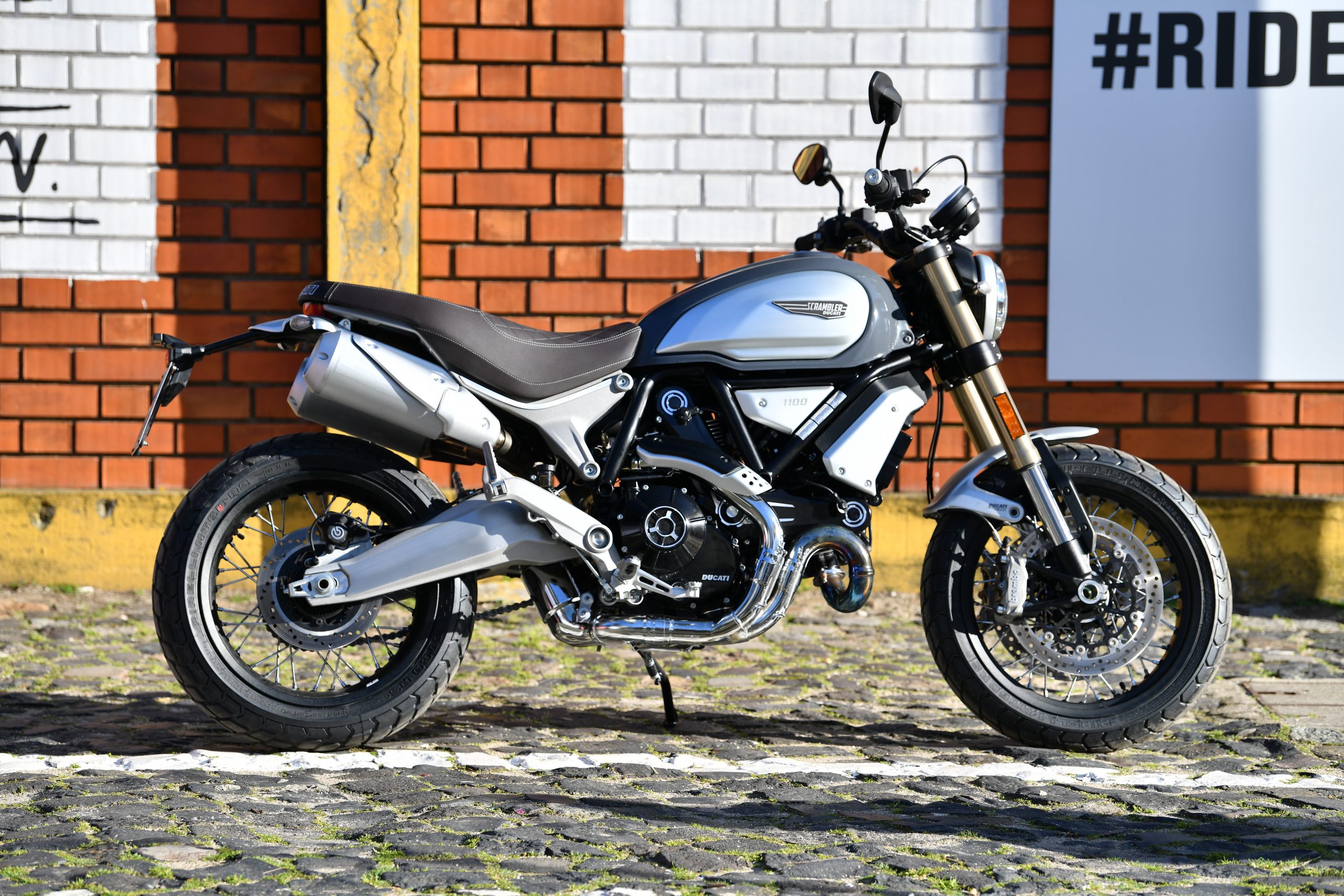 Yamaha Tracer 700 Tenere/MT-07 
Yamaha really upped its game in terms of smaller engines a few years back, with the MT-09 and MT-07 ranges. The MT-09 used an all-new 850cc triple engine which has been a revelation, and also features in the Tracer adventure tourer, XSR900 retro and even the Niken three-wheeler.
But it's the smaller MT-07 twin we're looking at here. The 689cc parallel twin motor was a hit from the off, combining good economy and slick low-speed running with a corking top end. It makes around 74bhp, so needs restricted for A2 use, but the low weight of around 180kg means it stays lively enough with the 47bhp limit.
There are plenty of options with this engine now – the original MT-07 naked roadster, the XSR700 retro version,  the Tracer 700 middleweight adventure tourer, and the latest – the Tenere 700, a more offroad-biased machine.
The MT and XSR are great novice machines, easy to ride, good looking, well-made, and they also have loads of potential as your skills grow. Even advanced riders enjoy the little Yamahas' abilities, and you'll not be held back by them at all.
Ditto the Tracer, which adds longer travel suspension and a wind-cheating fairing to the mix, making an excellent middleweight tourer. The Tenere is a proper offroader, and provides an even more capable enduro-spec option. A great range of options then, all powered by an excellent middleweight motor.
Gallery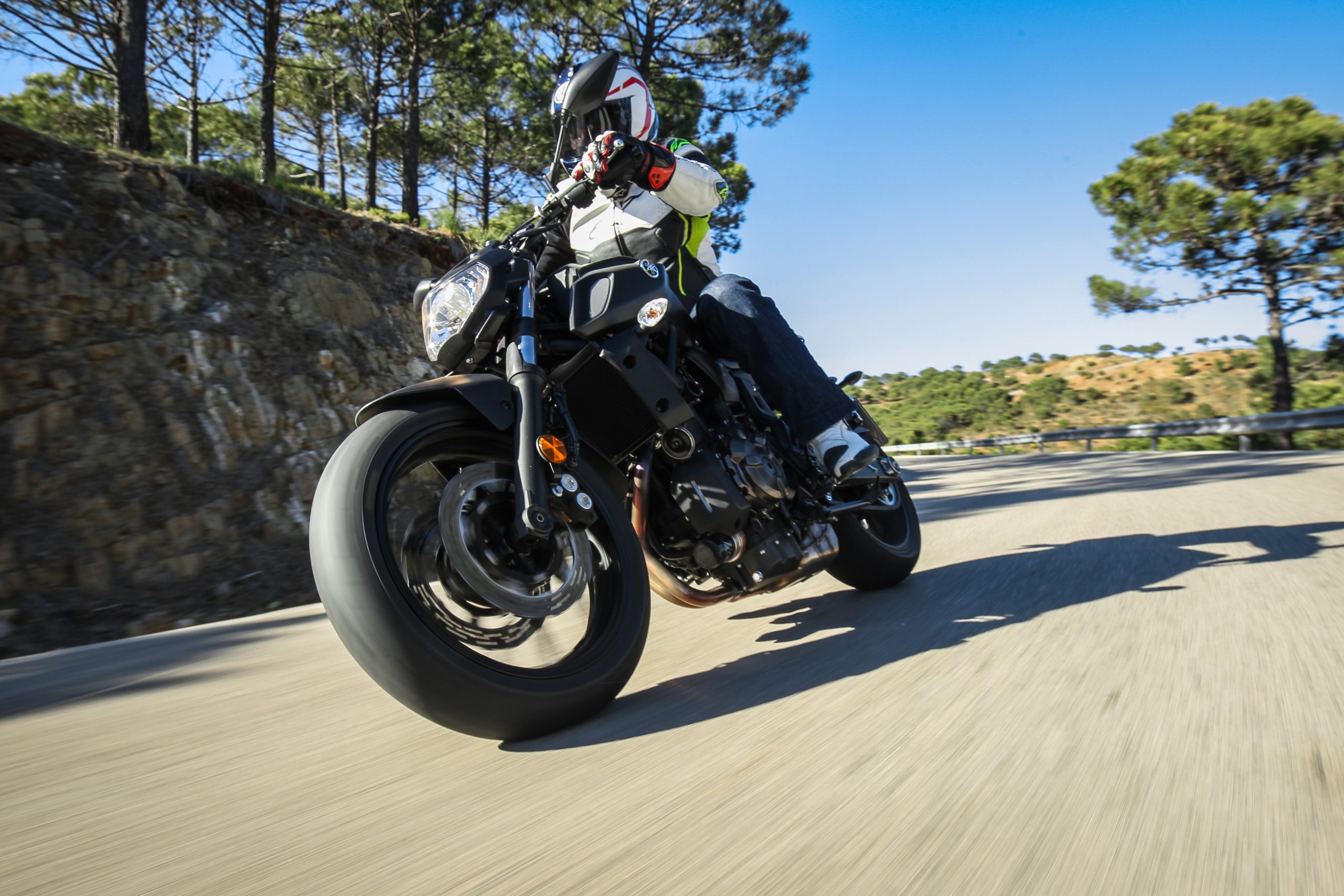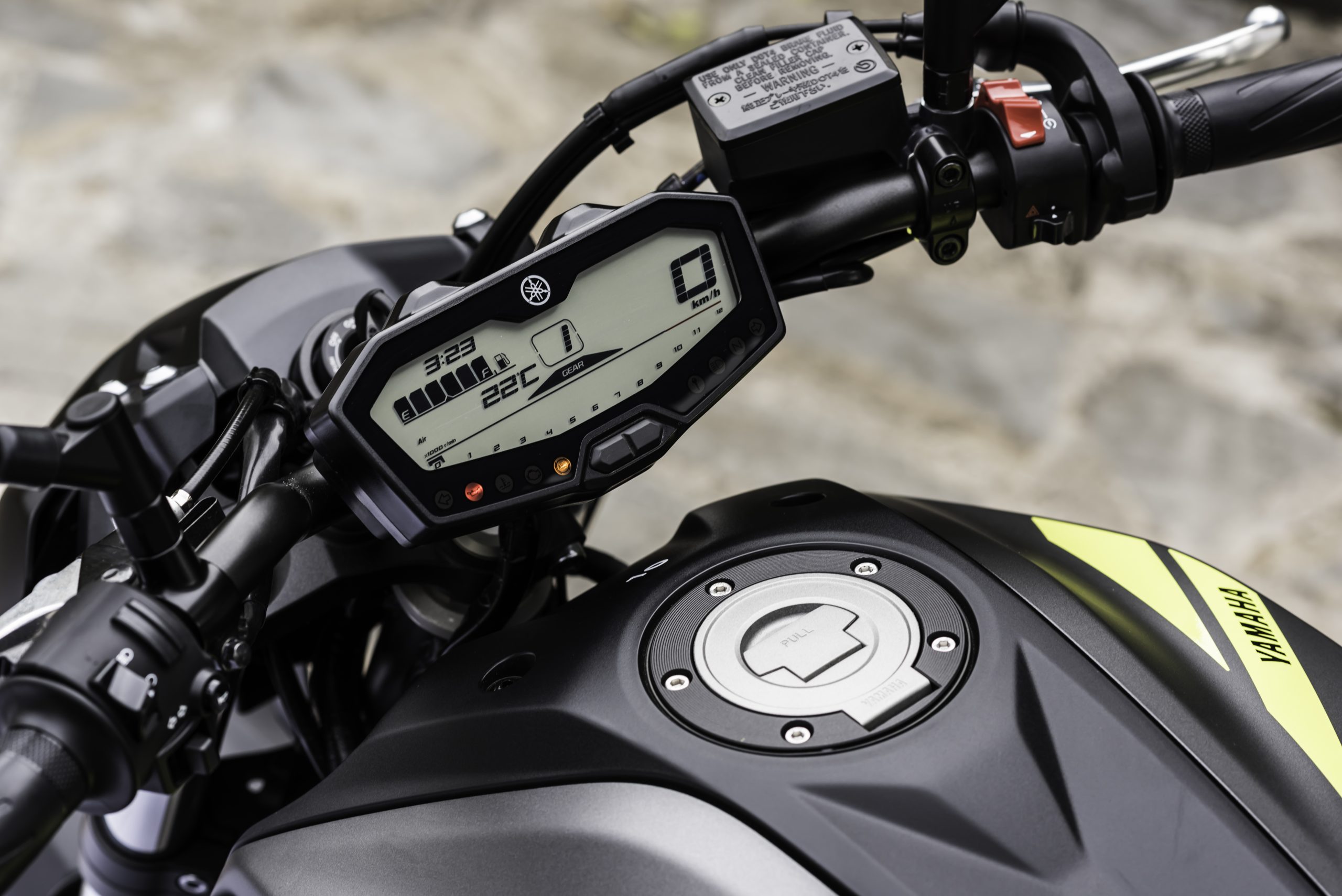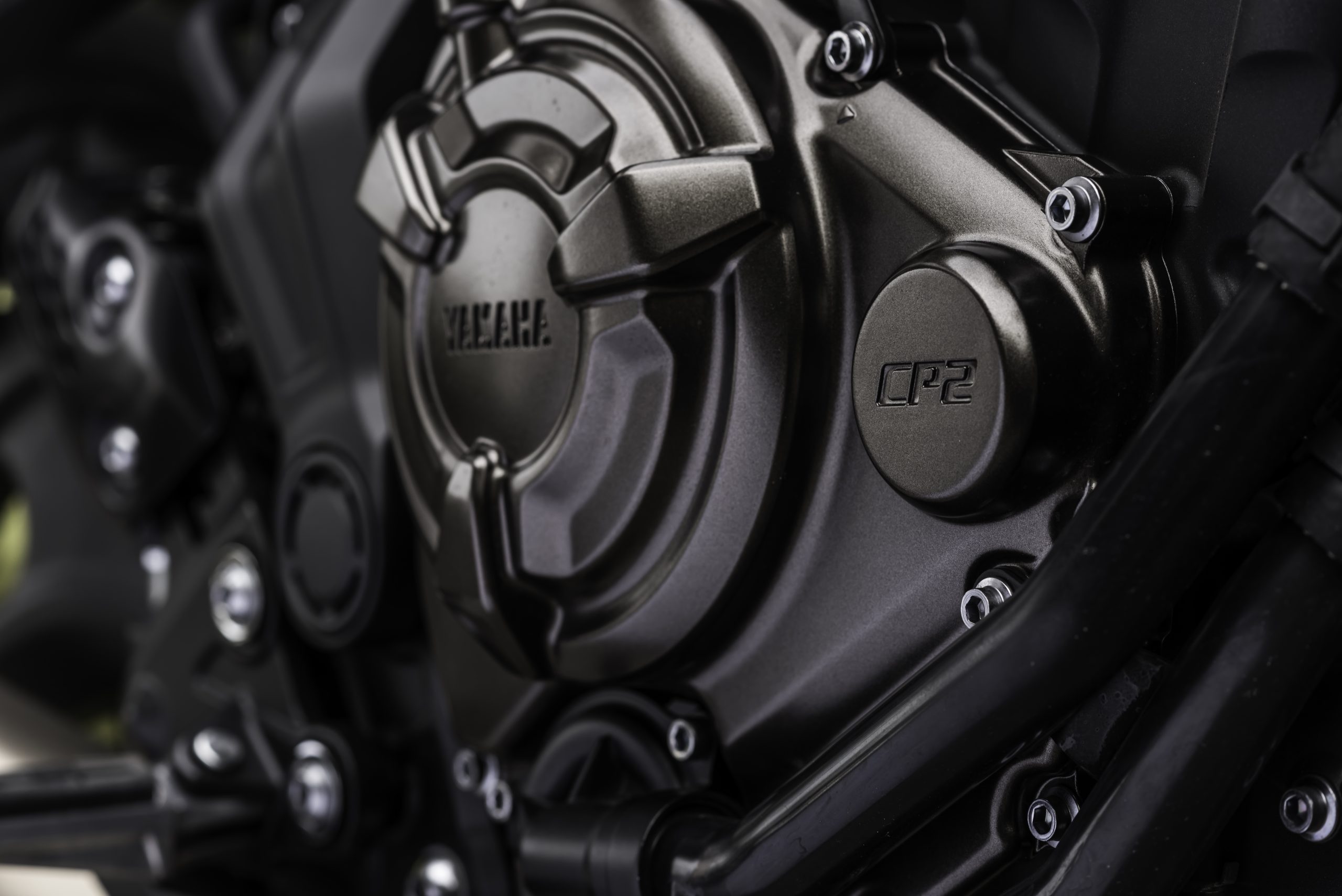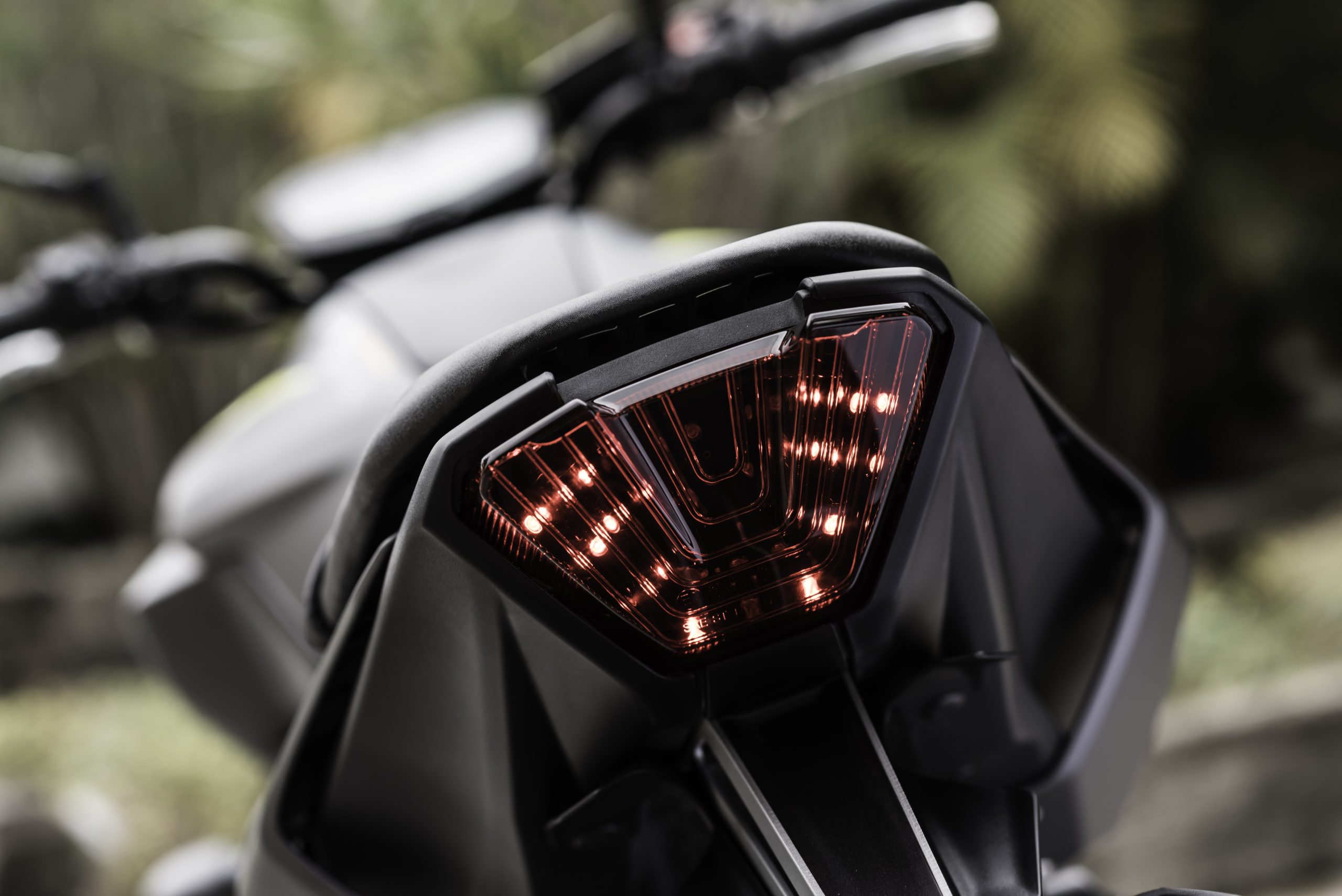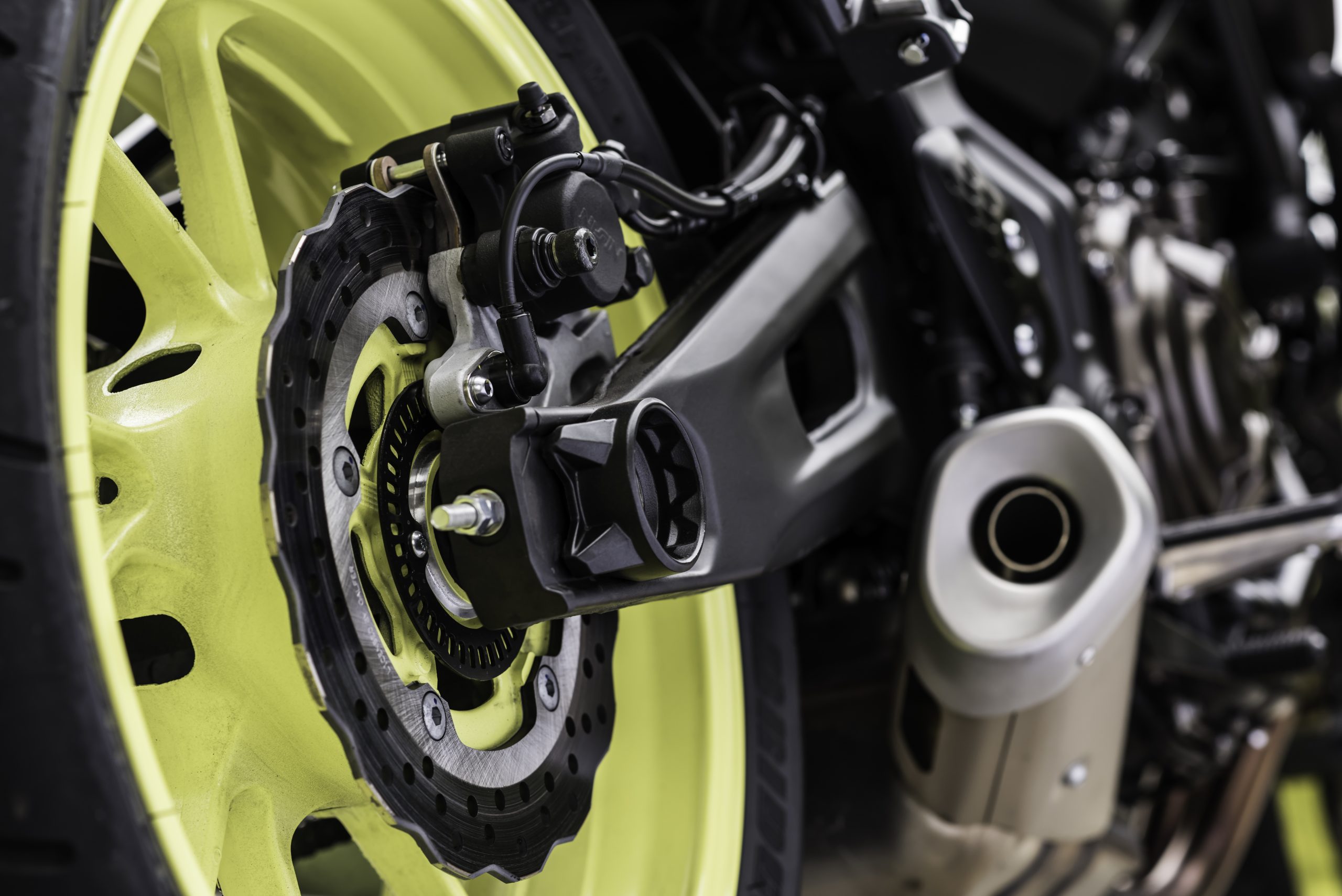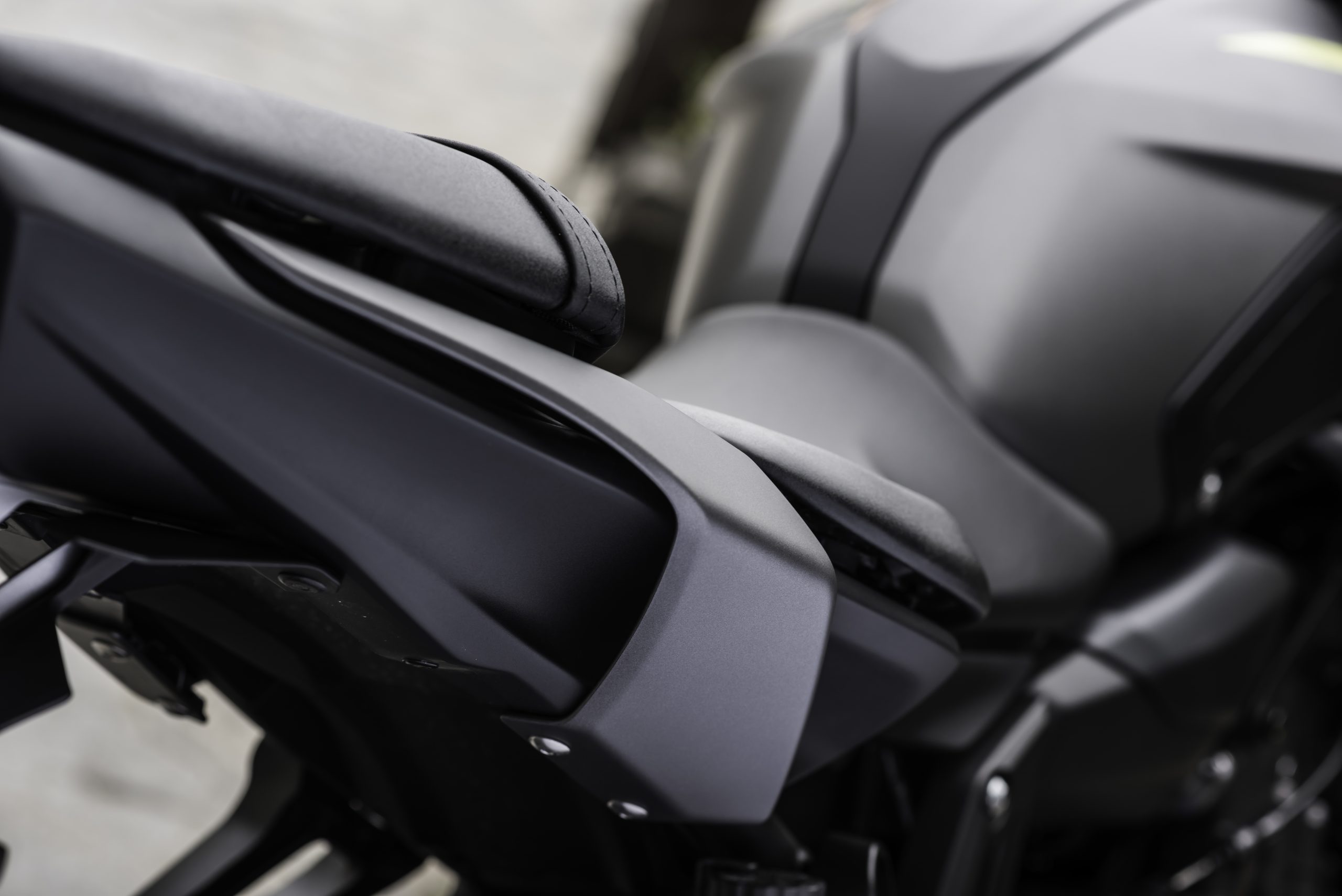 Proof that the A2 licence doesn't have to restrict your bike choice at all – even a proper Harley-Davidson custom cruiser is an option. Harleys have never been about peak power and low weight of course, so the 883 qualifies easily on that front. The stock 883 makes around 52bhp and weighs 256kg wet in base 'Iron' form, so an A2 47bhp power restriction doesn't alter the basic performance too much.
There are a few variants, from the stripped-down Iron to the Superlow, but they all share the same basic layout – a 45° air-cooled V-twin engine, with pushrod valves, fuel injection and five-speed gearbox, bolted into a simple steel tube frame. Un-adjustable suspension and single disc brakes front and rear aren't aimed at high-performance riding, but are spot-on for relaxed cruising.
Because that's what a Harley-Davidson is for, after all. It looks great, with loads of shiny chrome and a low-slung seat height. There's an official accessories catalogue the size of two phone books, and with some careful mods, you can get the classic H-D 'potato…potato' exhaust note too.
Gallery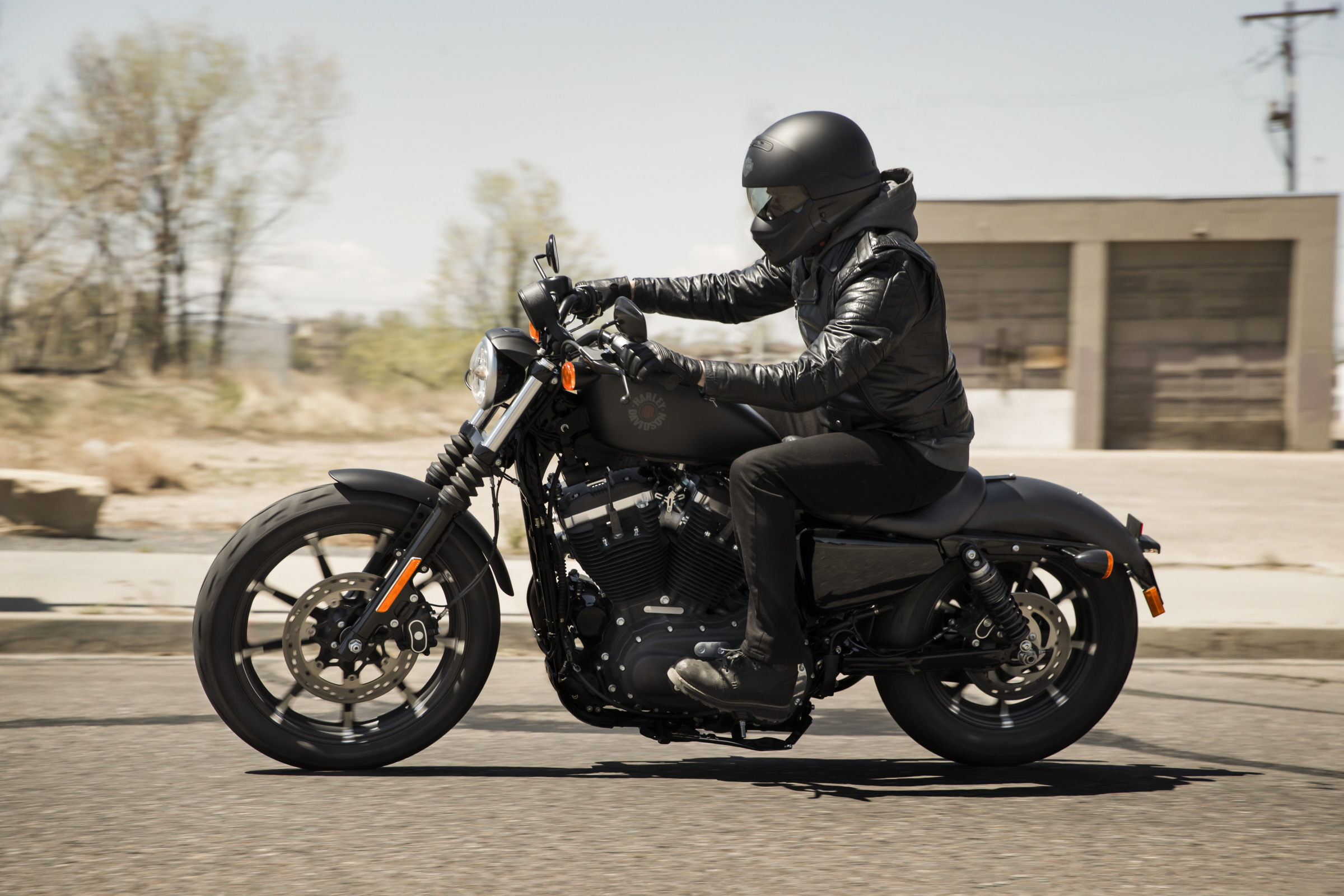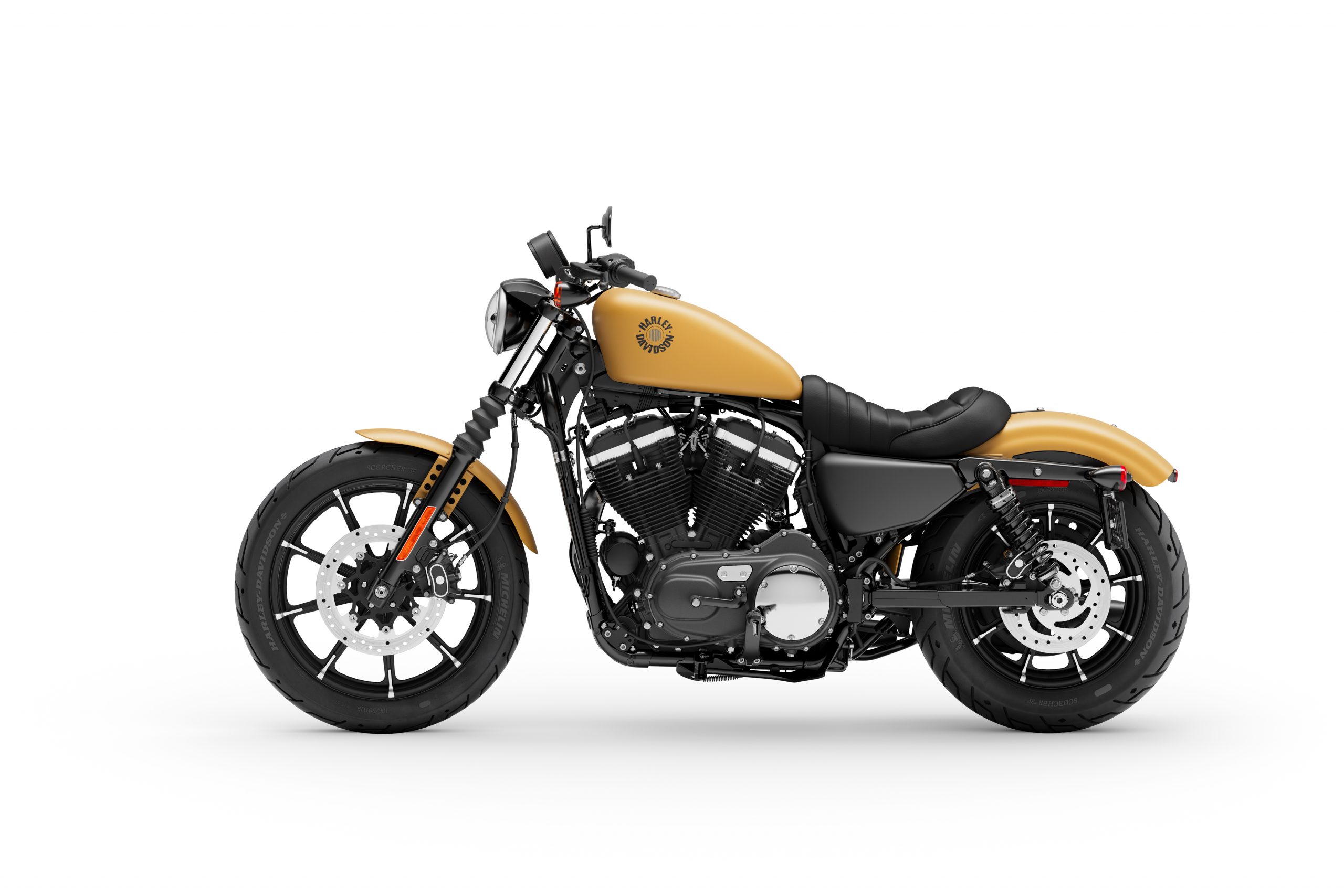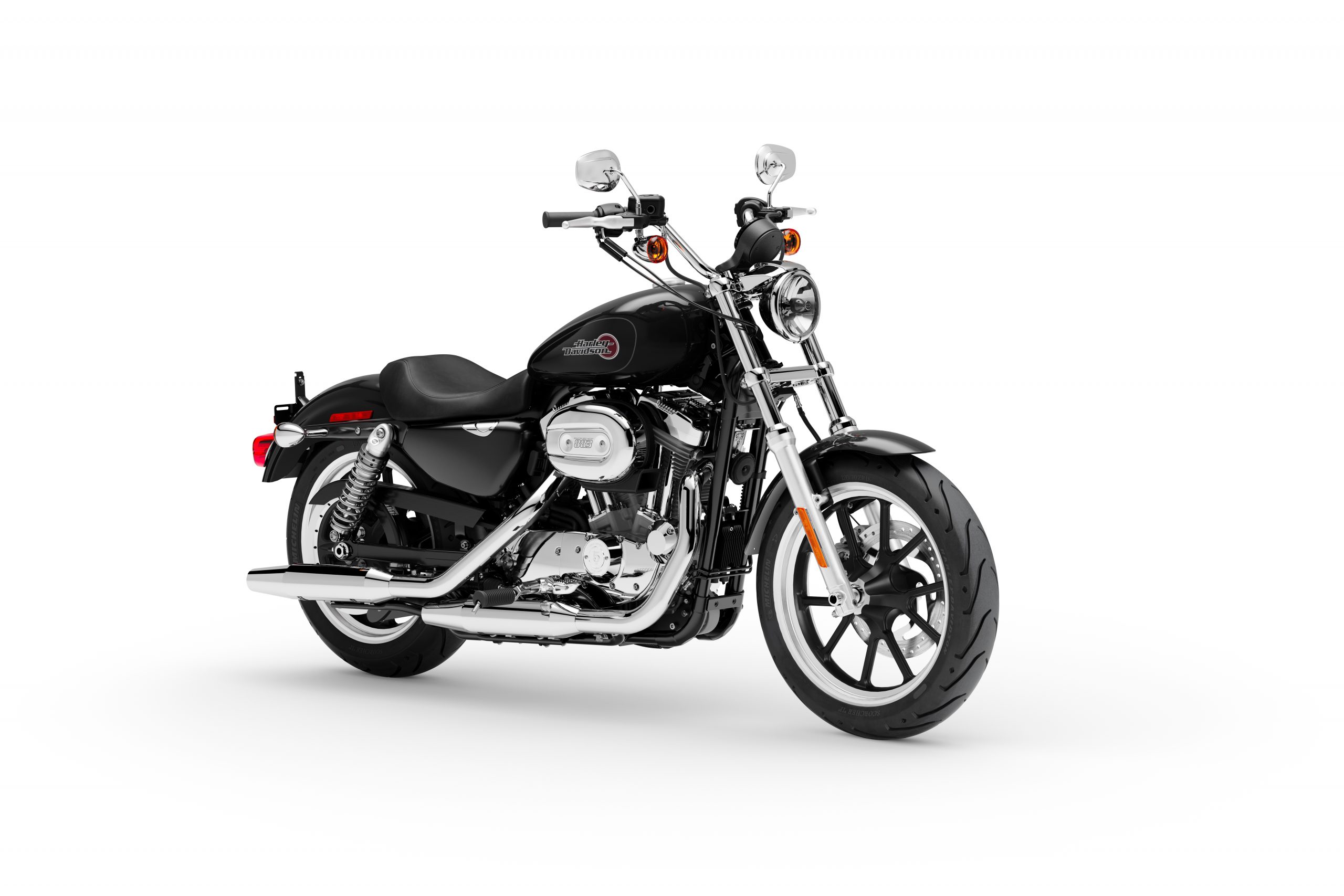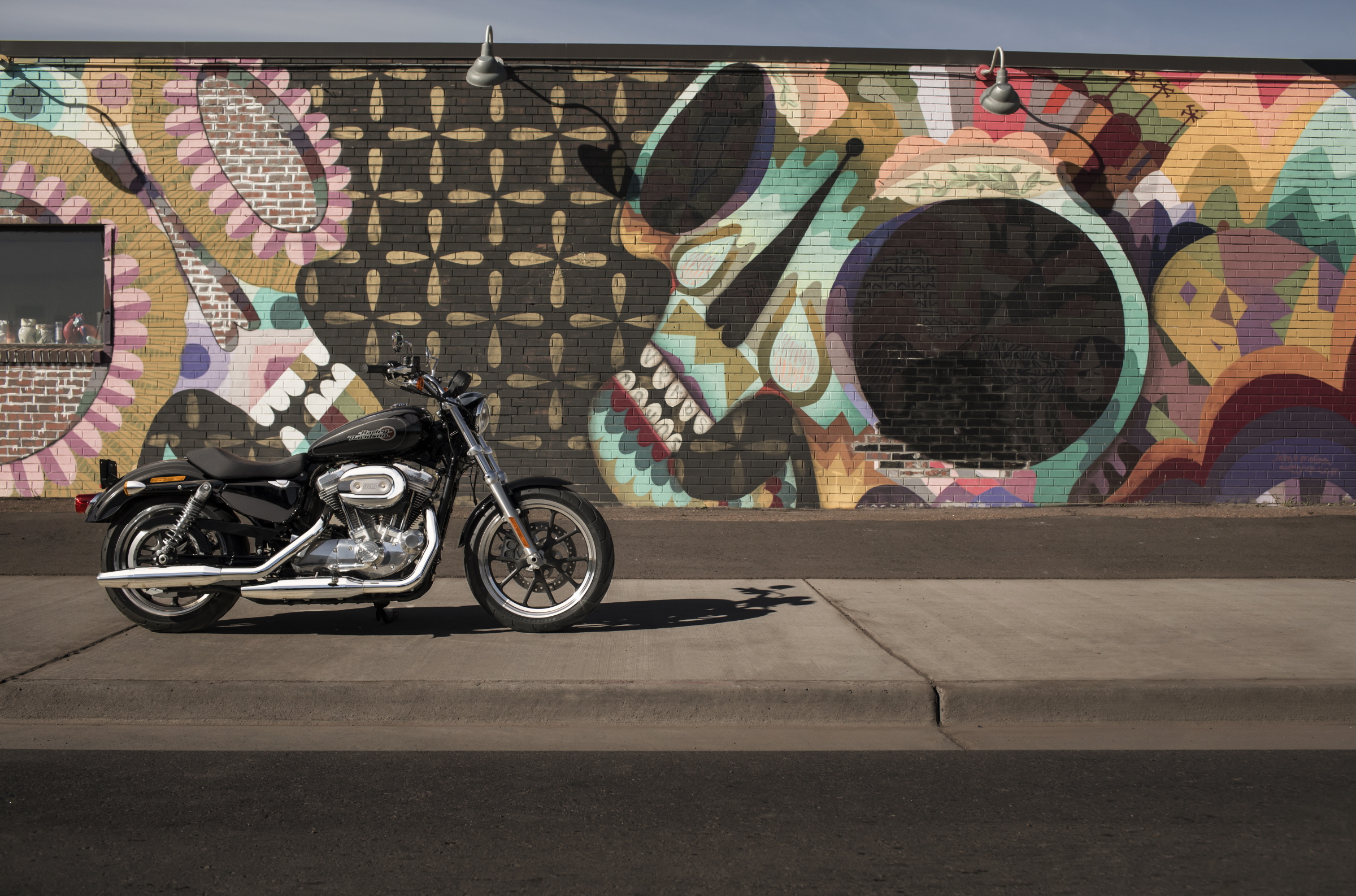 BMW's middleweight GS option will be a popular choice for many riders – but does it work in A2 form? BMW currently offers the F750 GS and the F850 GS, but only the 750 can be restricted to an A2 bike, since the 850 version makes more than 94bhp as stock.
Despite the '750' and '850' monikers, both use the same 853cc parallel twin engine with DOHC, eight-valves, ride-by-wire fuel injection and all the usual modern bells and whistles. The 750 has a lower state of tune though, putting out 77bhp, in a 224kg chassis, with a more road-biased feel than the 850. The suspension has less travel than the more committed GS models, but you still get a 19" front wheel, which improves the offroad potential. The seat is low at 815mm for an ADV machine, and there are also official lowering options, right down to 770mm, so it's ideal for those stumpier in the leg dept.
The official accessory catalogue and options list is enormous, and is one of the great advantages of a BMW. Luggage, electronic aids, styling mods and practical add-ons all help make das mittel-GS a great option for touring, adventures, commuting and even Sunday backroad blasts. Again, the initial purchase price (from around £8k) might seem a little on the high side, but you'll get a chunk of that back in resale value compared with some other brands.
Gallery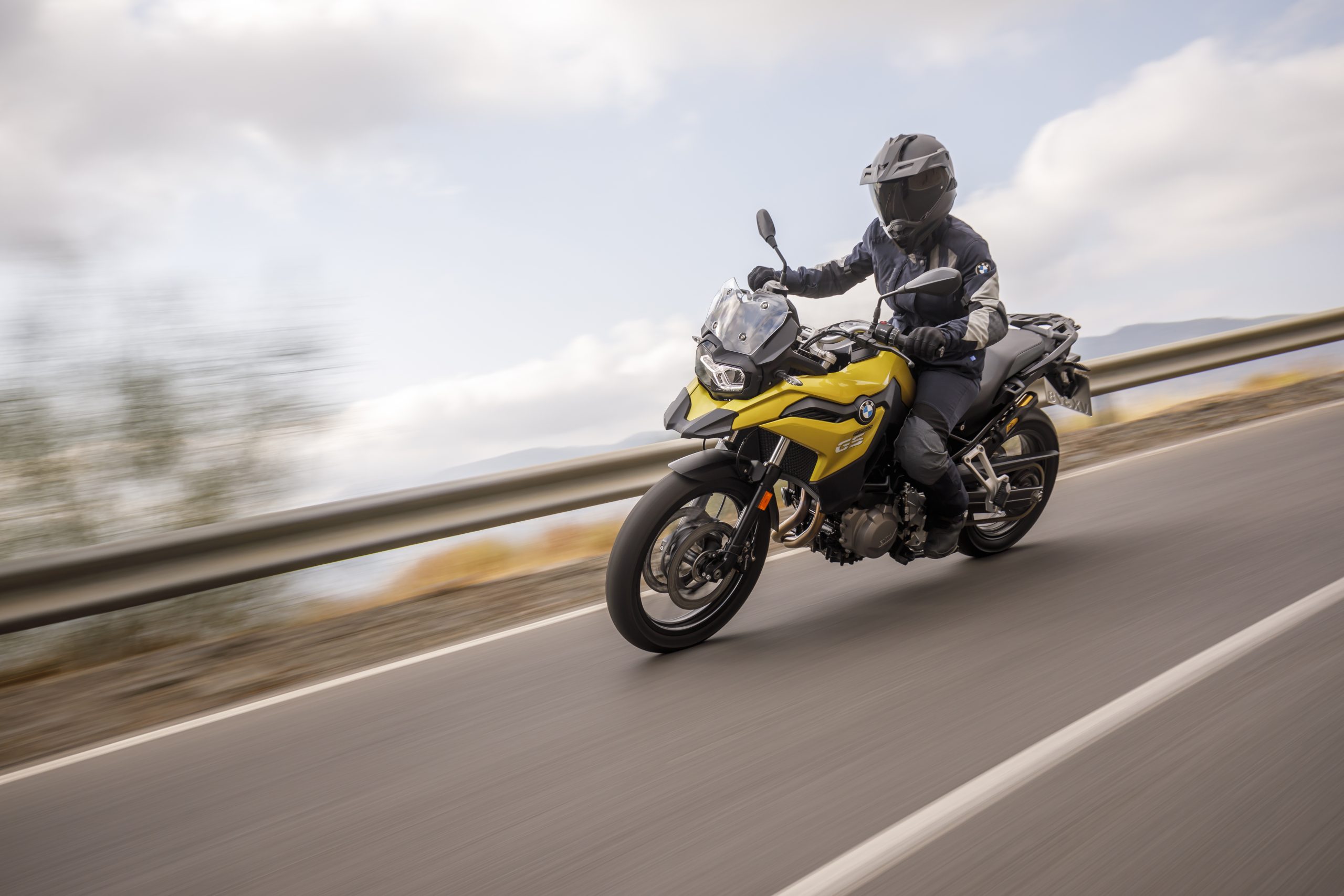 A bit of an unsung hero this one. On the face of it, putting the engine and frame of the venerable ER-6/Ninja 650 range into a soft adventure tourer might not seem the most inspired of choices. But it's actually one of the most sorted little machines around.
Okay, the spec sheet doesn't knock your socks off, with the parallel-twin 649cc motor producing just 68 claimed horsepower. Add on the 217kg kerb weight of the GT version, and you might think you're getting short-changed. But that's not at all the case. The motor is a solid little design, economical and reliable, and while it will lose some puff in 47bhp restricted form, its low-down grunt will still impress. The simple chassis recipe is capable and agile, and it's very much a fun bike to ride.
In Kawasaki UK's Grand Tourer GT spec, it's equipped with great Givi hard luggage, LED spotlights and a power socket, all of which help make it a formidable mini-tourer. Stay away from any hardcore dirt though: even Kawasaki doesn't claim the Versys 650 has any serious off-road skillz…
Much of this also applies to the Ninja 650 and Z650 options – so you can have a similar engine and chassis package in sporty or naked roadster forms.
Gallery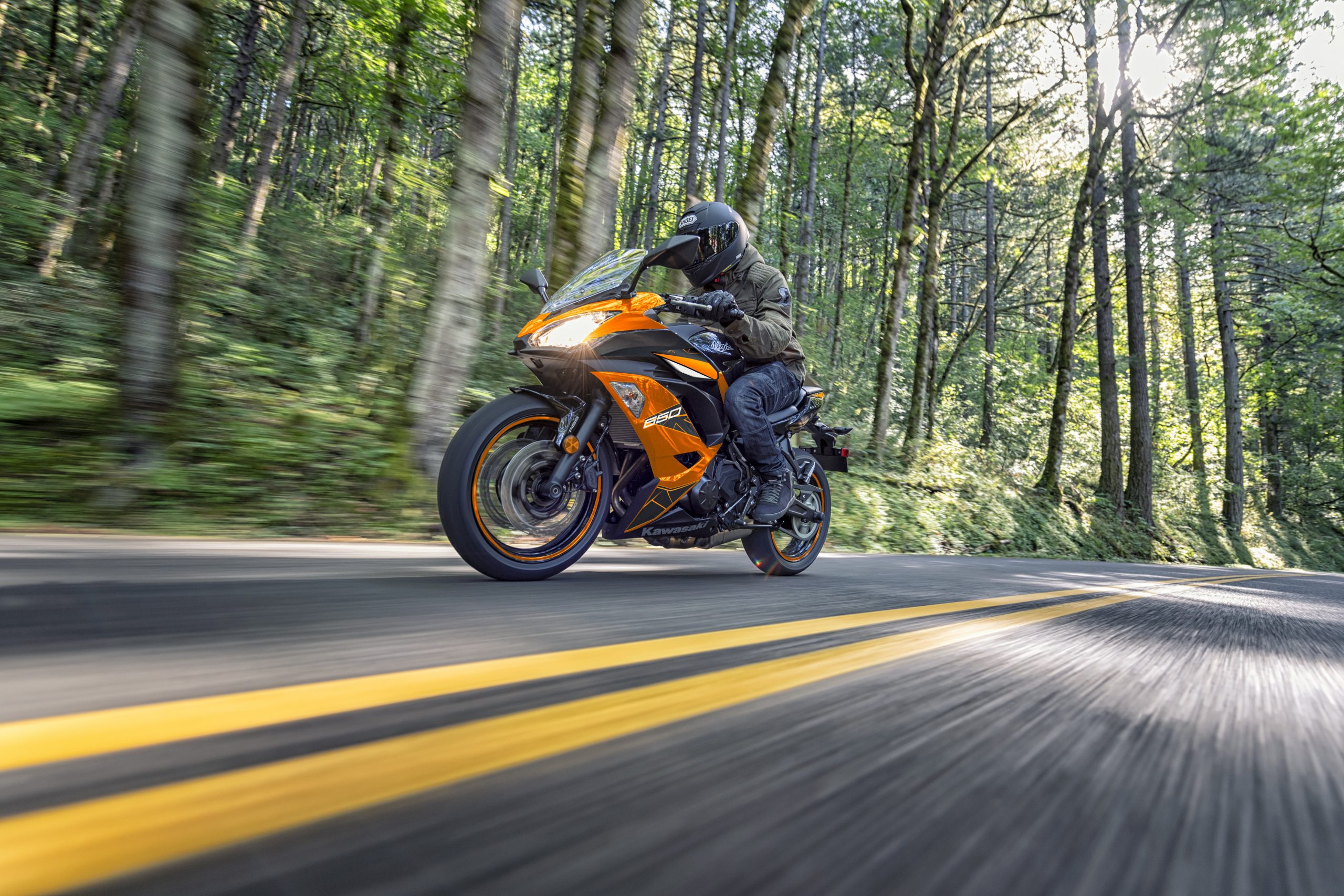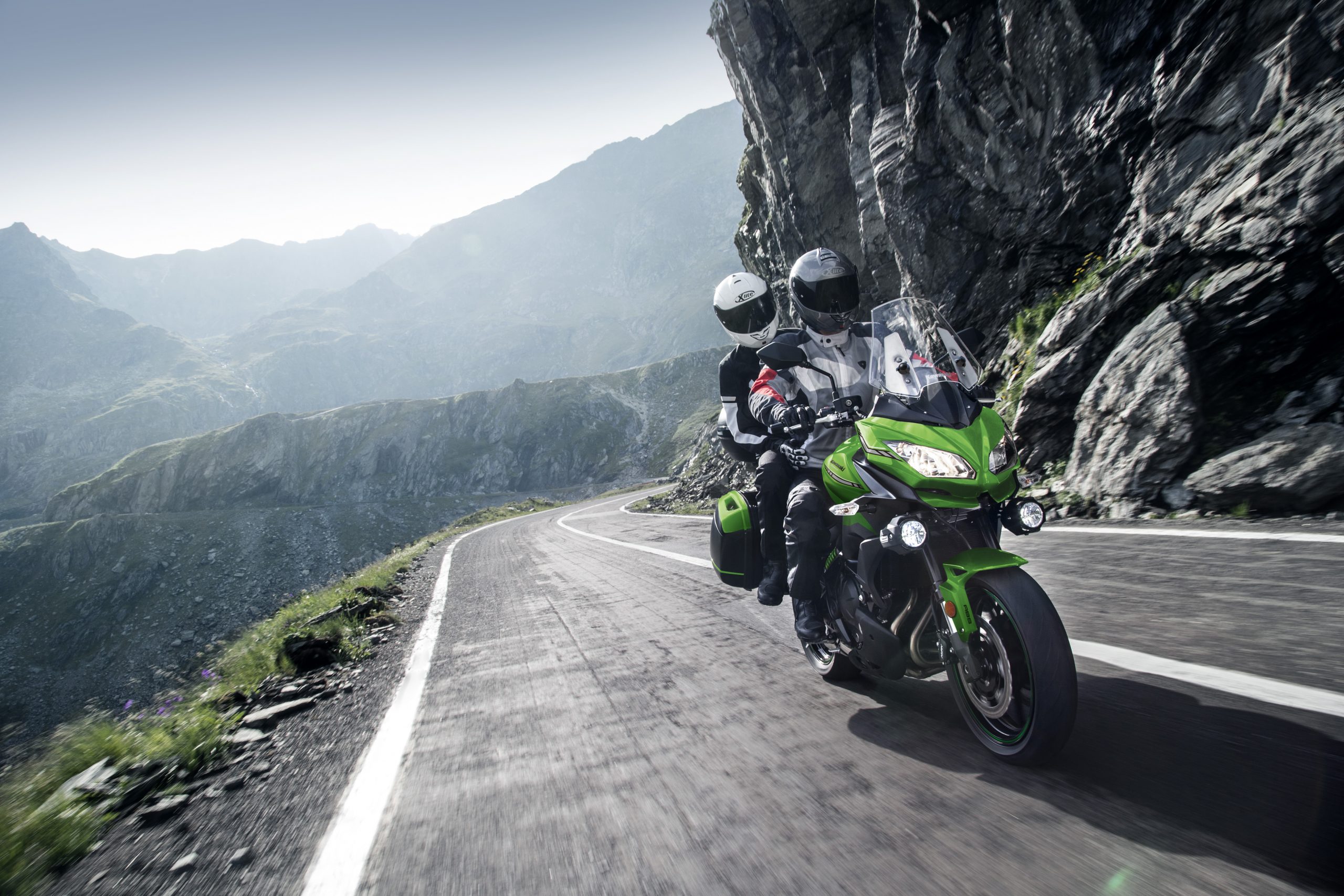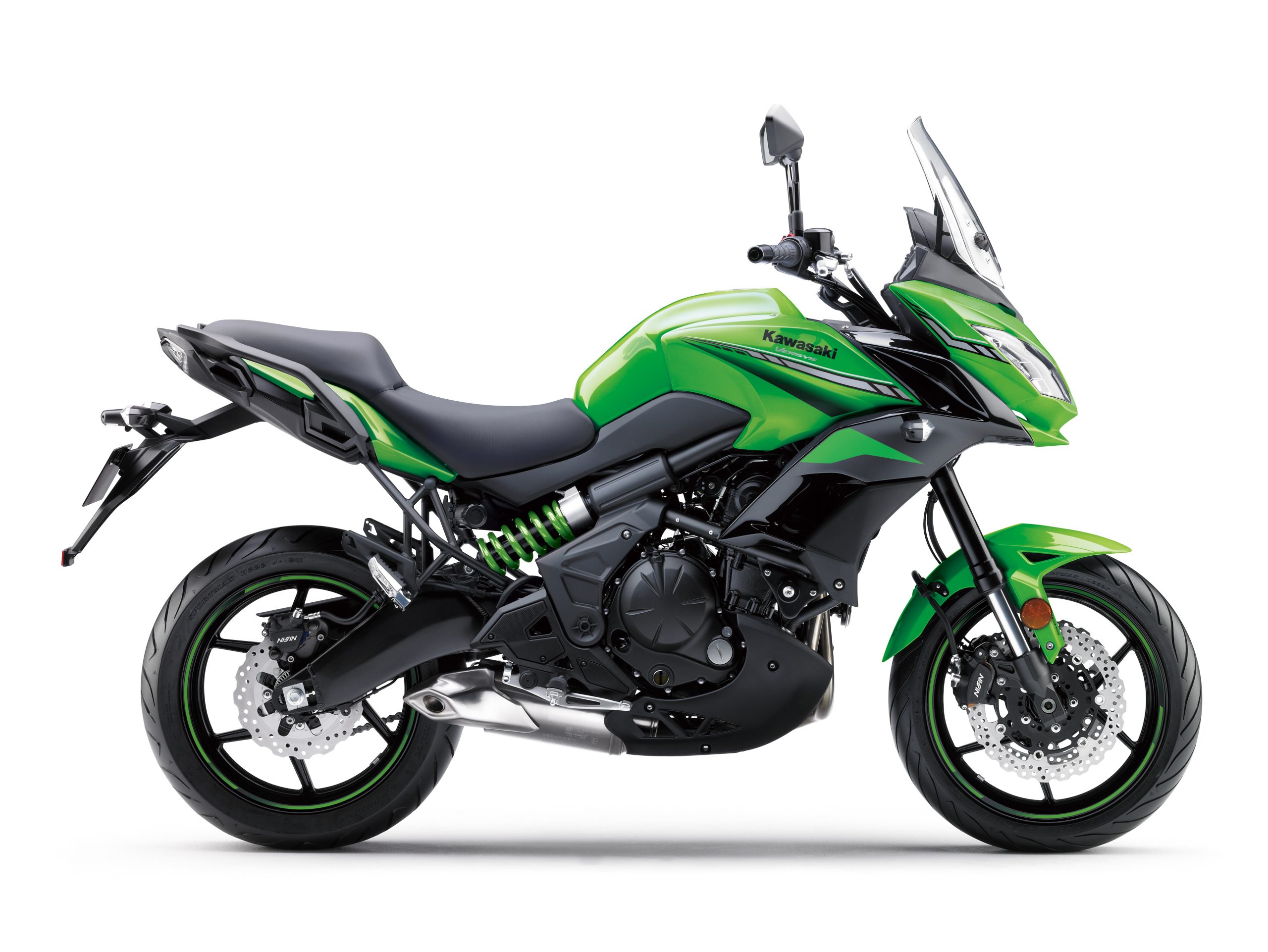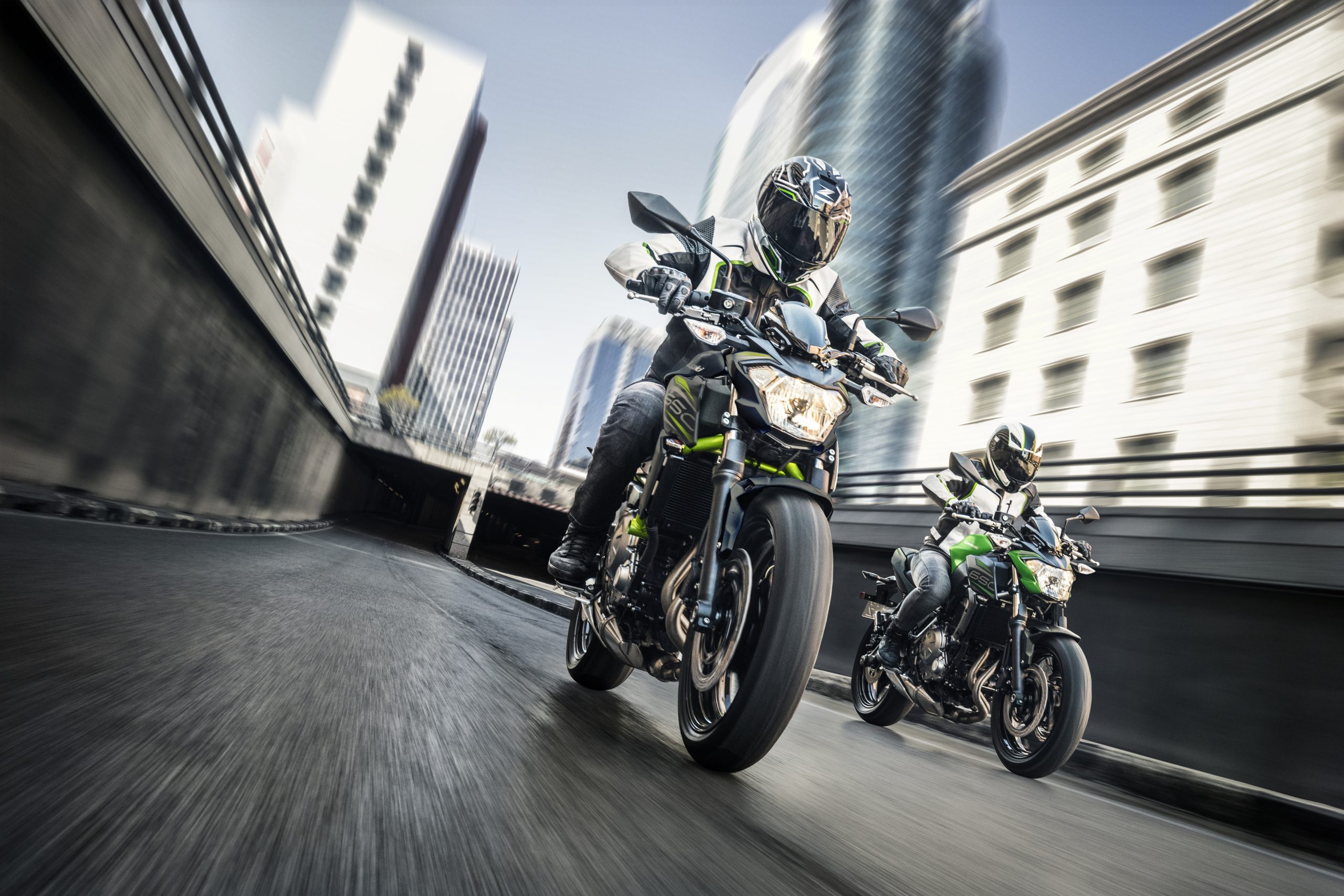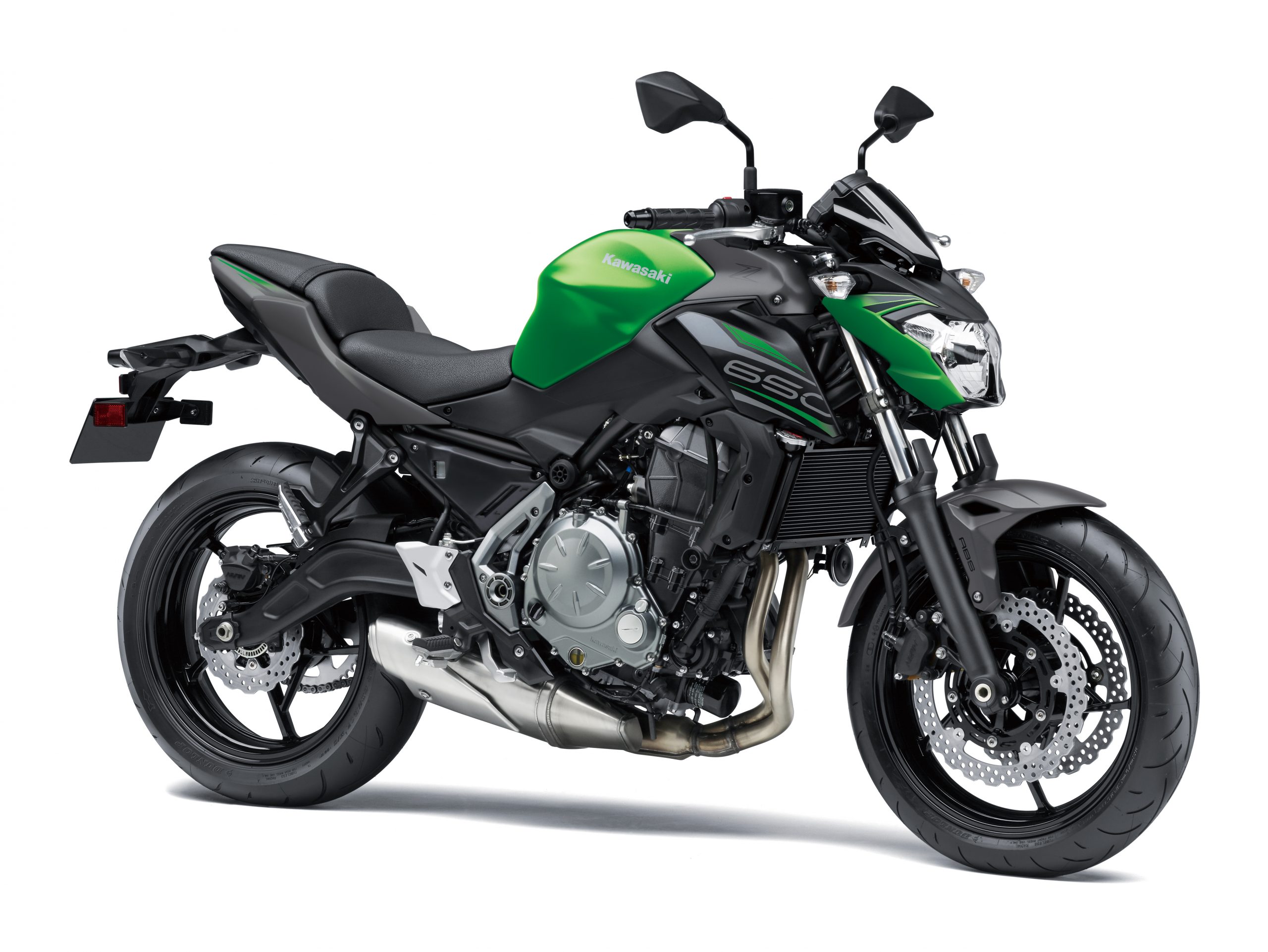 Suzuki's been making the SV650 for more than 20 years now, and this latest version sticks very much to the firm's tried-and-tested recipe. It has a strong little 90°V-twin engine that puts out around 75bhp, mounted in a cast aluminium trellis frame with vanilla running gear and slightly retro café-racer styling. That makes for a lightweight (198kg), narrow, sporty little machine, that's good fun to throw around, and works great around town.
It's got the cojones for backroad blasting too, and can turn its hand to longer distances – but the teeny flyscreen won't give much in the way of wind or weather protection if you venture onto motorways. Brakes and suspension do the job, but won't blow your socks off in terms of performance.
Restricted to an A2-compliant 47bhp, the V-twin powerplant will still give decent low-down urge, and the smaller dimensions of the SV will also pay dividends. It's fairly cheap too, at just over £6,500. Fancy something more off-road styled? The firm's V-Strom 650 uses the same engine and chassis basics, with a bigger tank/fairing setup and longer-travel suspension.
Gallery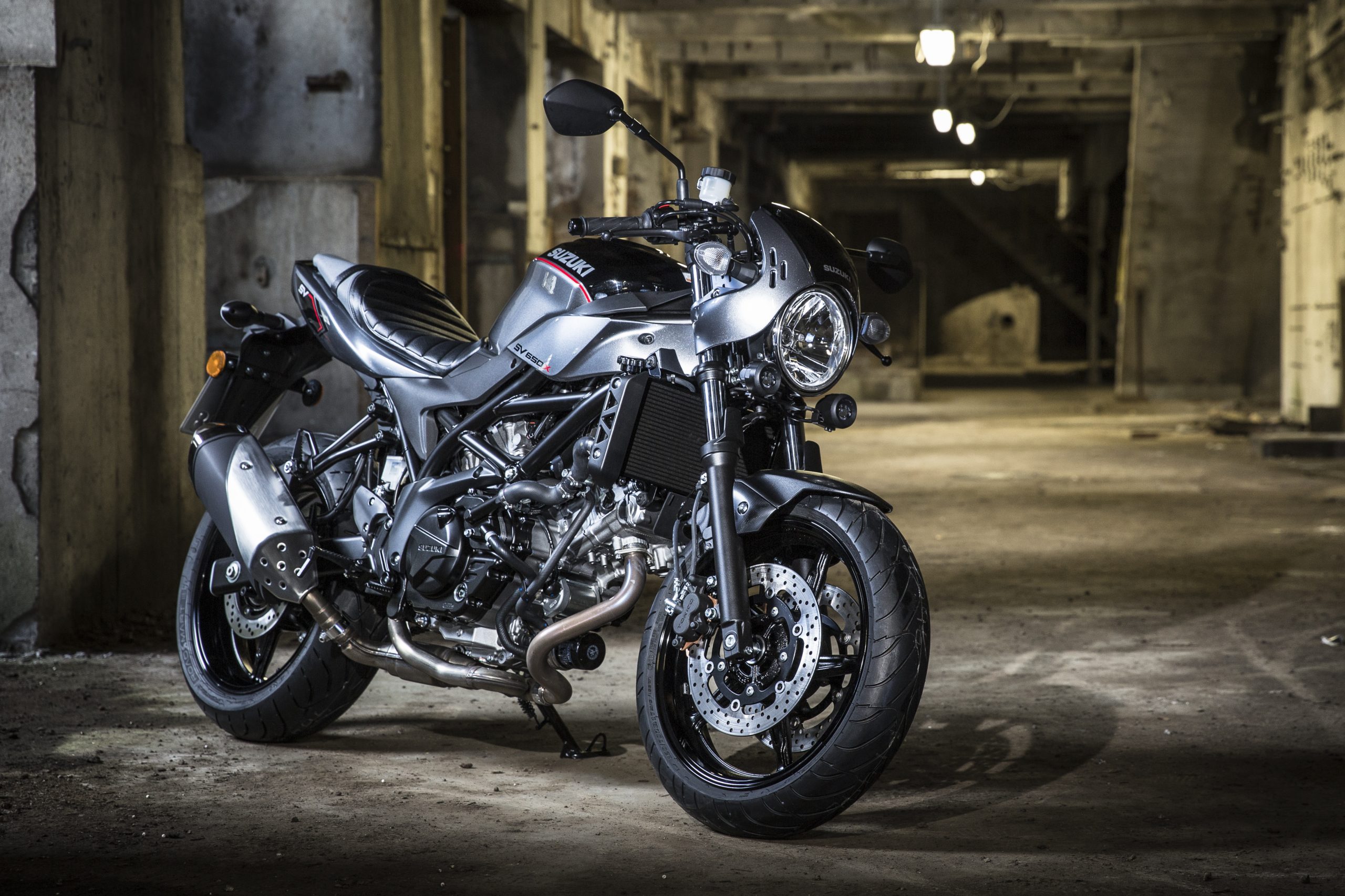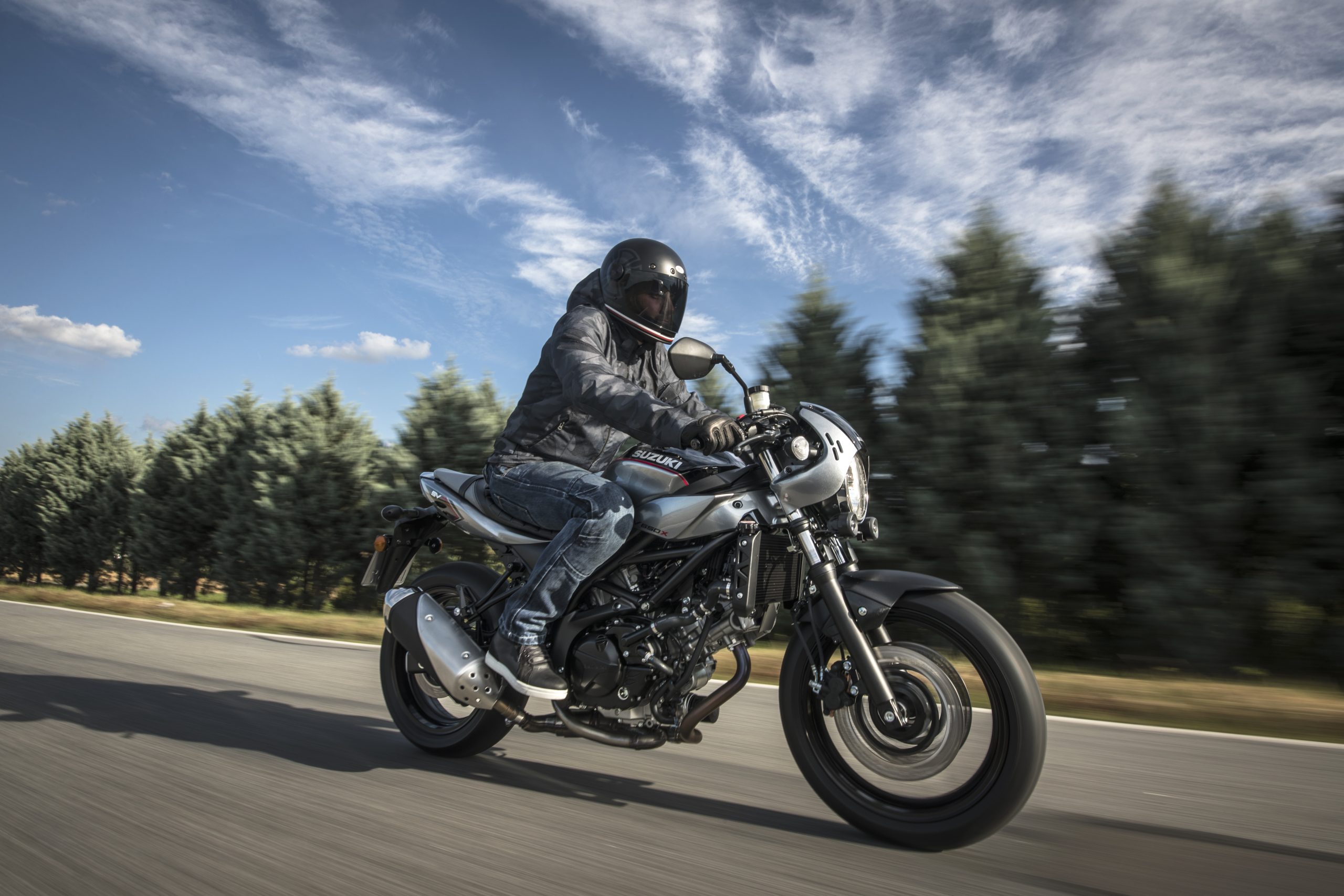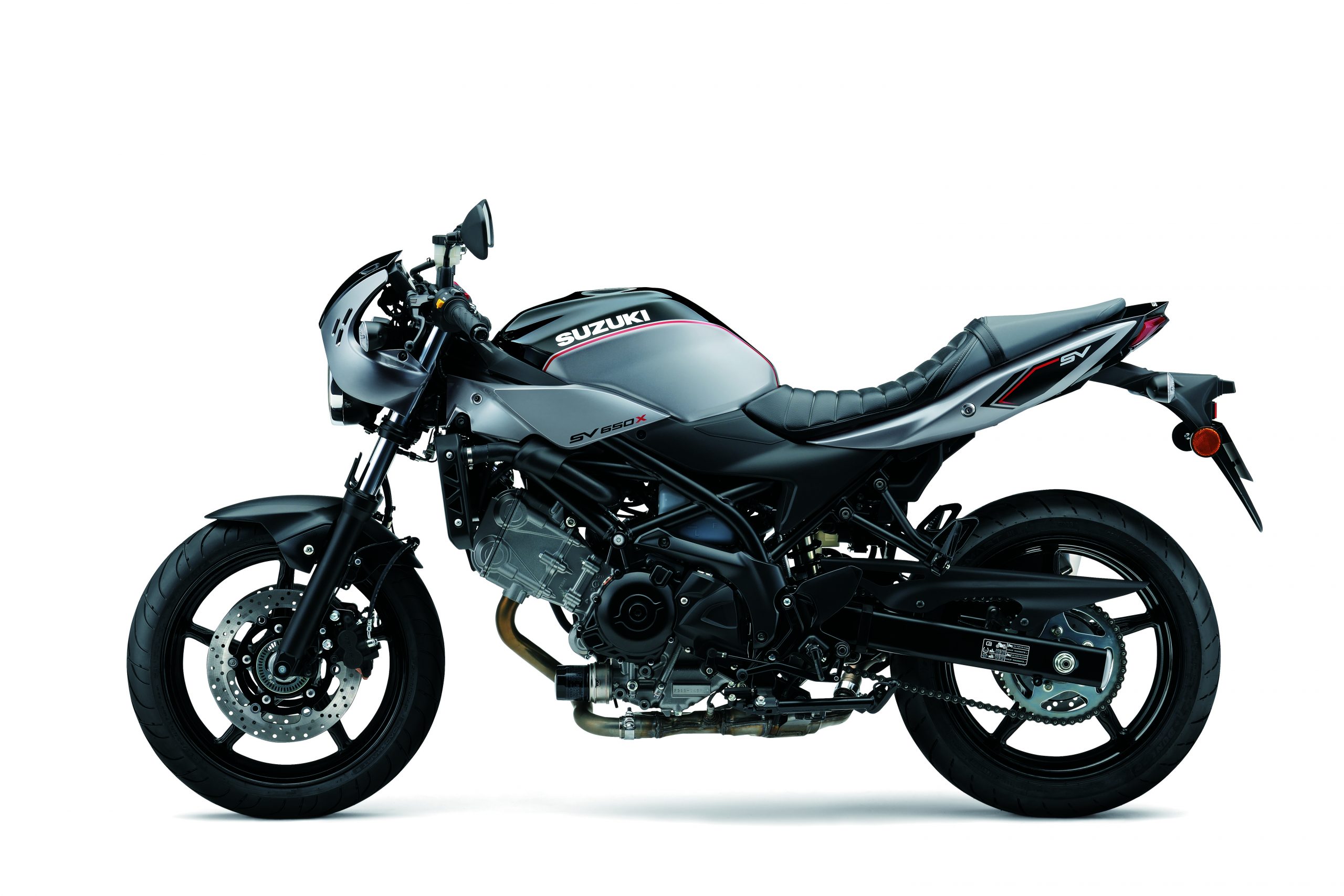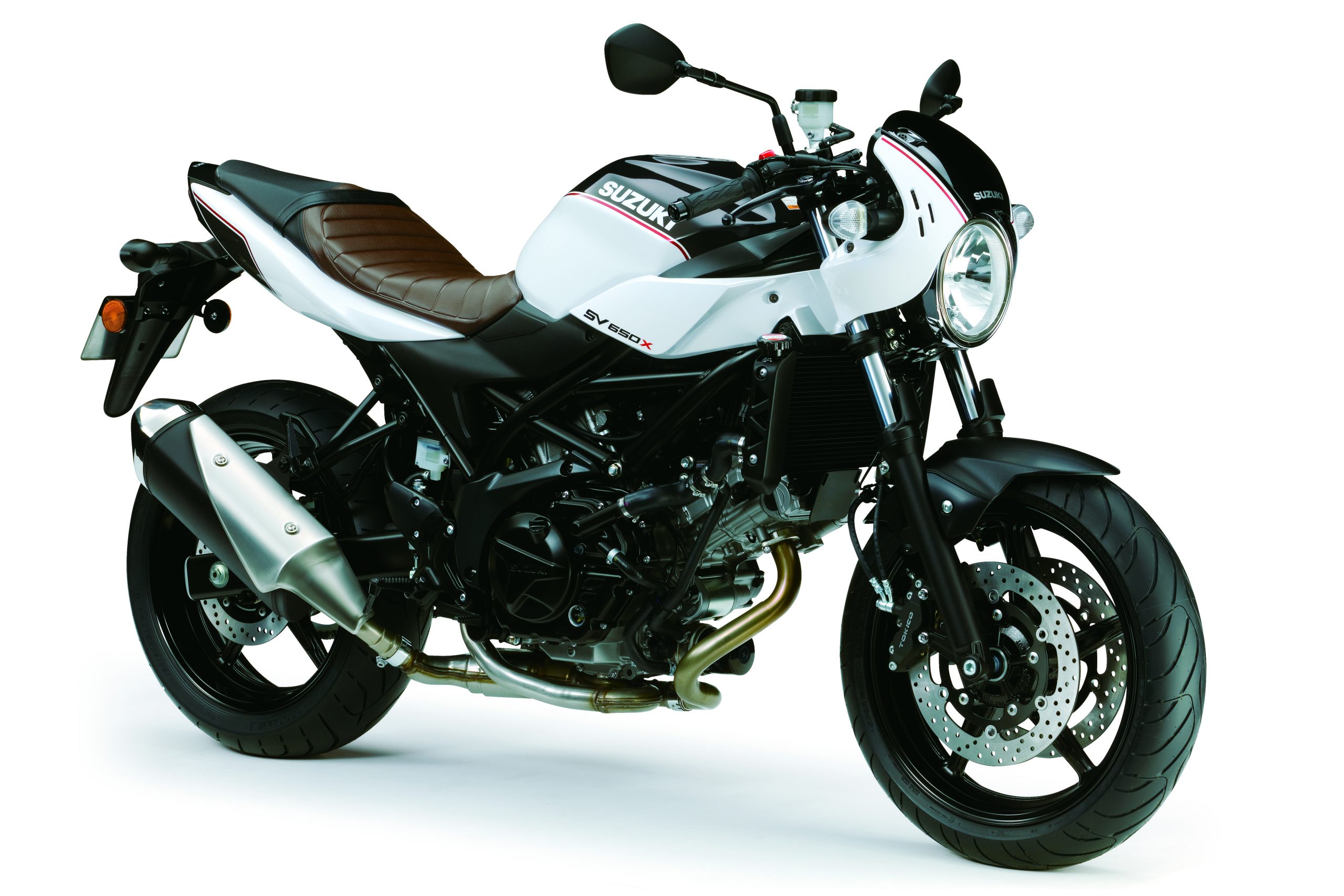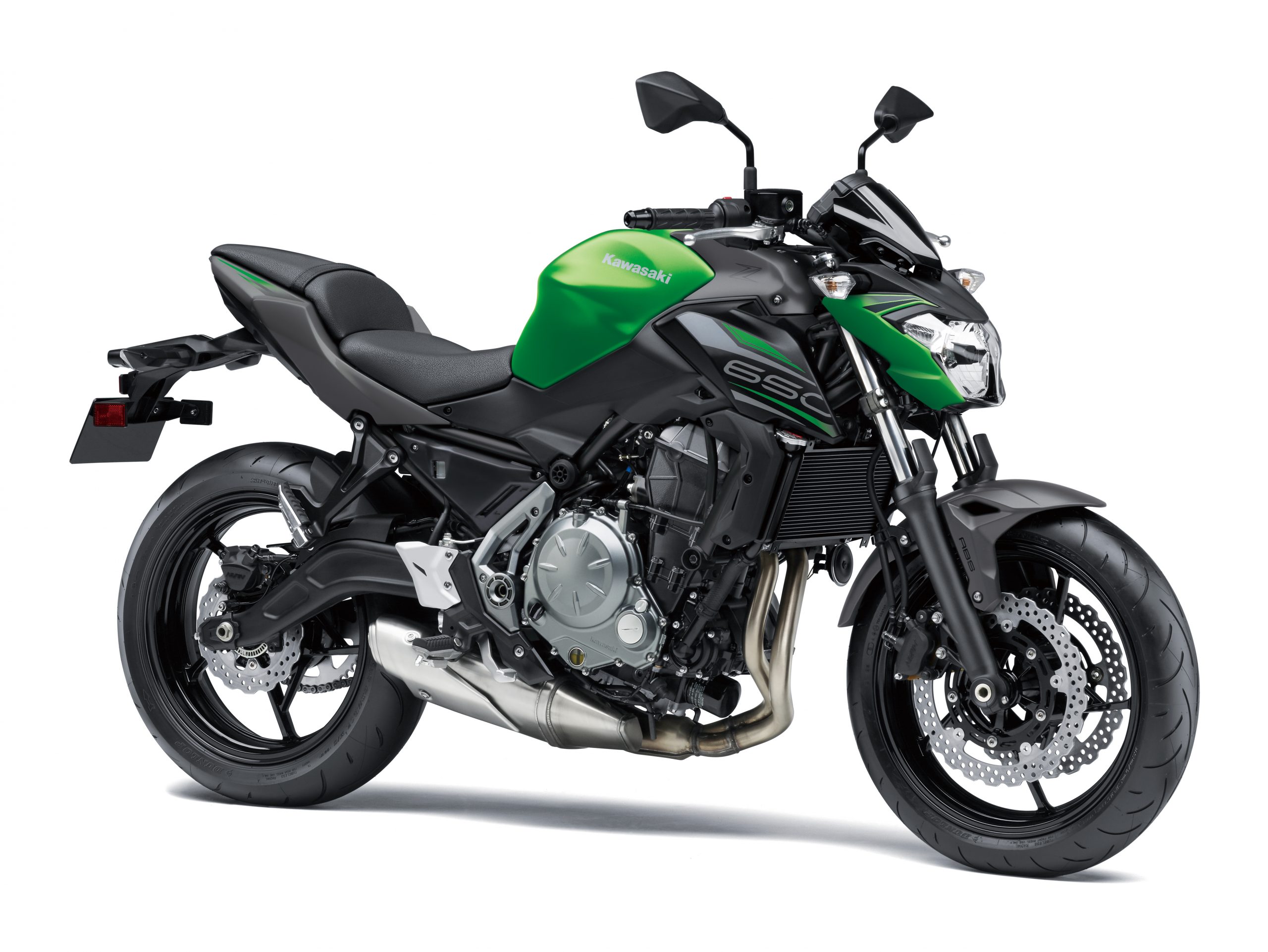 The 16v DOHC four-cylinder engine in this sporty Honda has its roots in the legendary CBR600RR motor – also used in Moto2 up till last year – so it's no surprise that it makes the maximum 94bhp allowed for an A2-legal machine. It's the only four-cylinder A2 machine we've covered here too – so it is in a class of its own already!
That engine provides strong torque and power in unrestricted form, so the 47bhp restriction will be a shame – but it does mean keeping the CBR and having it de-restricted once you have a full licence is even more attractive.
The chassis is on the sporty side too, with the full fairing echoing the style of Honda's Fireblade superbike. You get Showa USD forks with radial brake calipers, and a Showa rear shock, plus wide 180-section rubber on the rear. Kerb weight is down on the previous version to 207kg, which is a little porky, but the price you pay for an inline-four engine rather than a skinny single or twin.
It's priced well at just over £7,500, and you also get the usual Honda benefits – a huge dealer network and widespread spares availability.
Gallery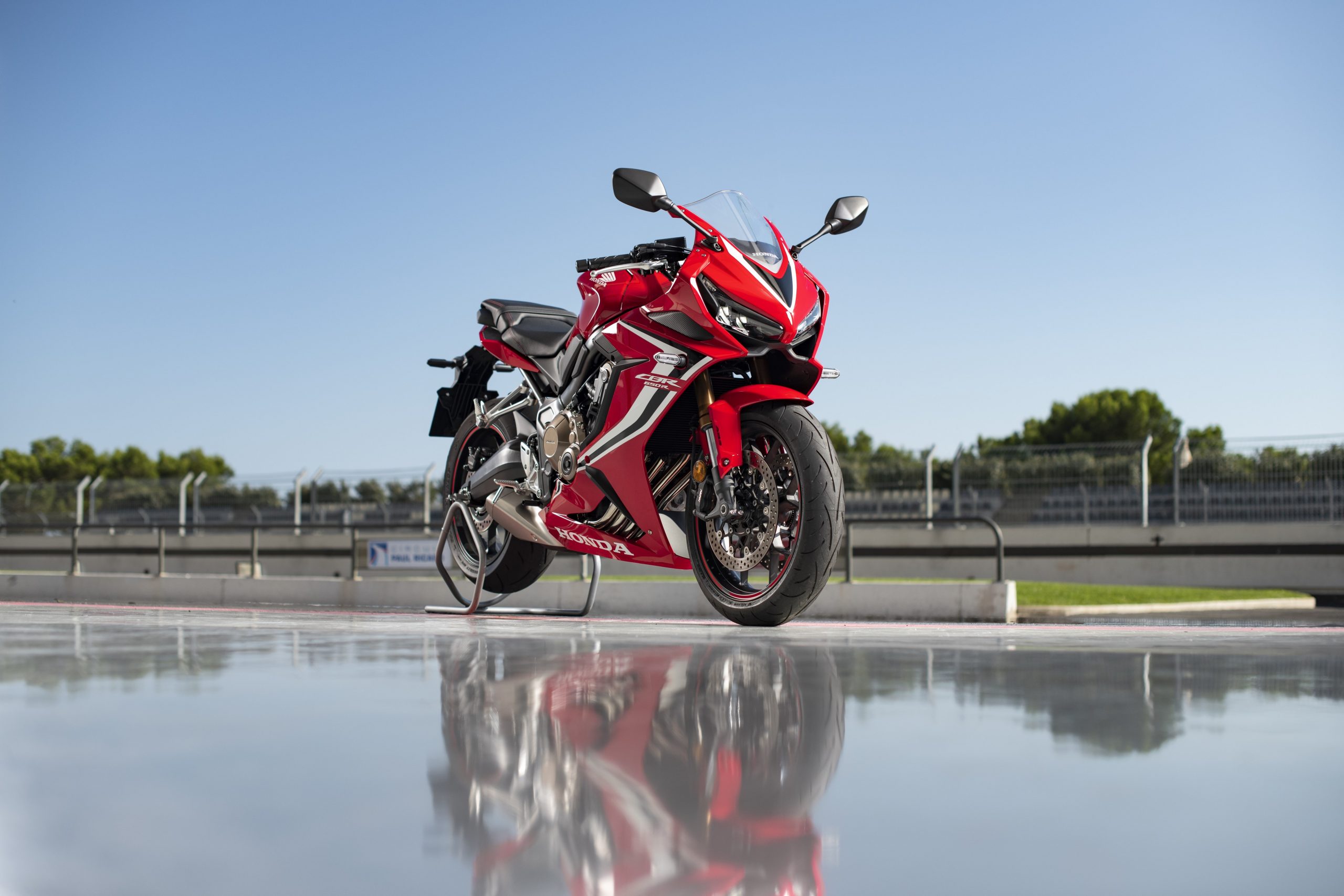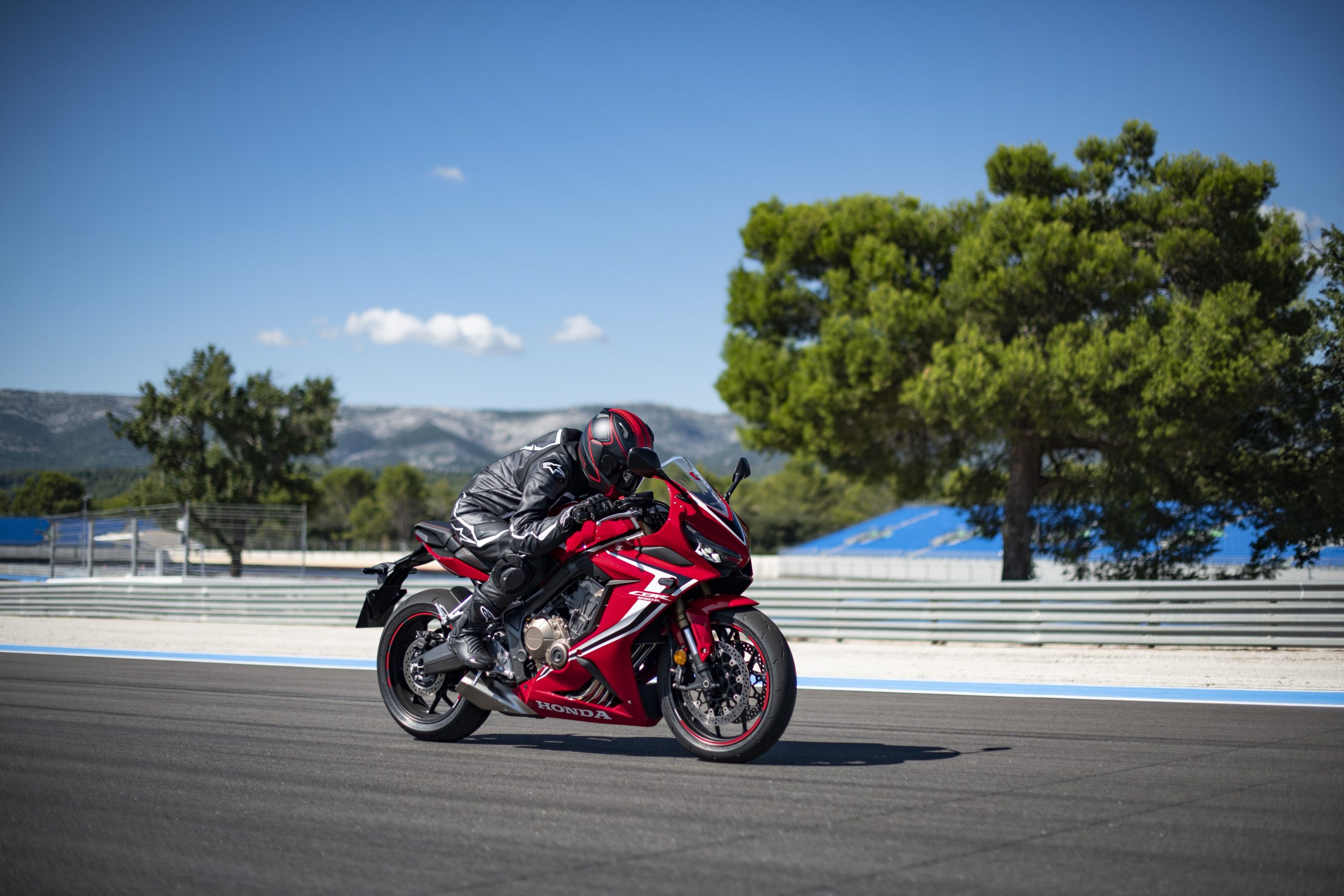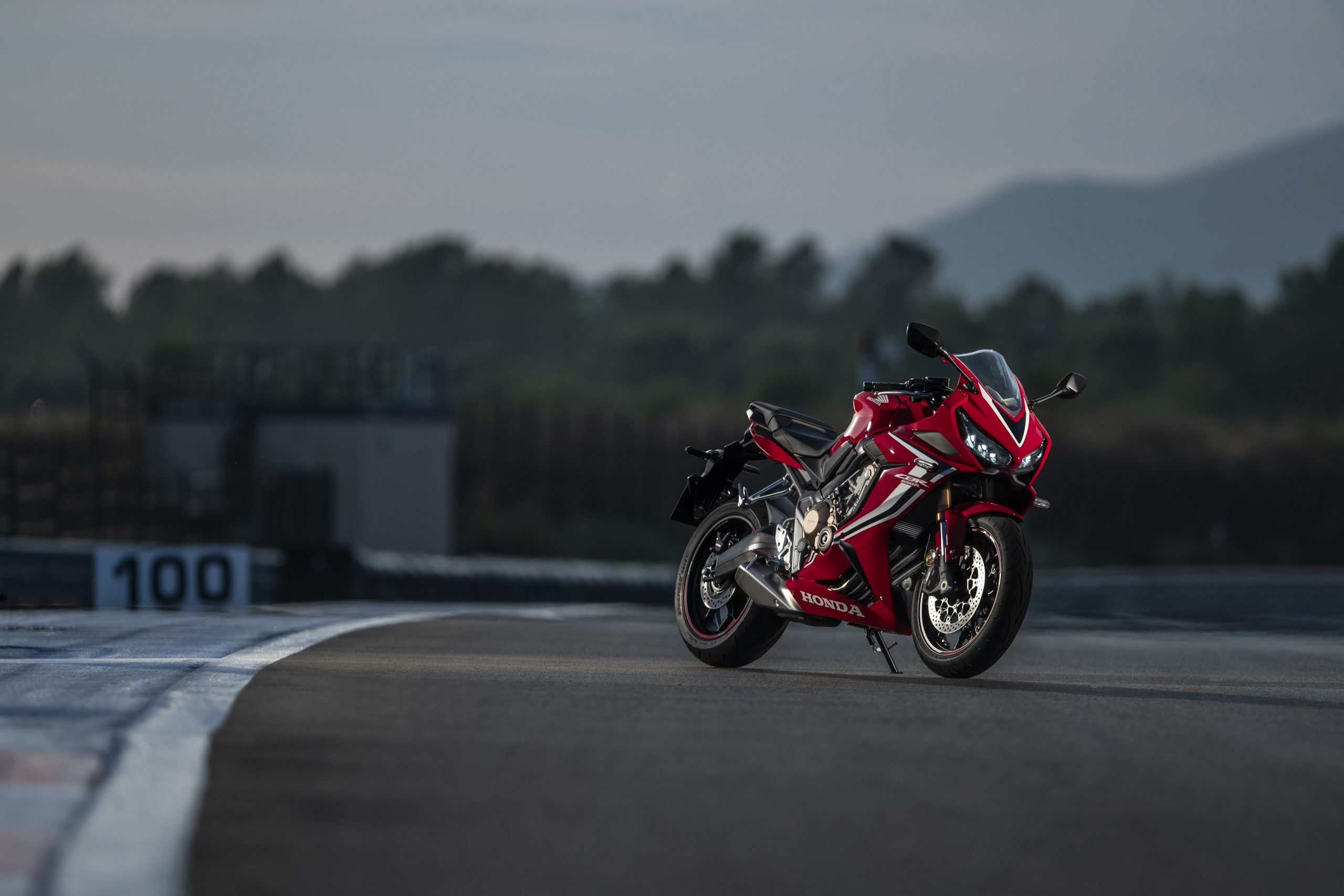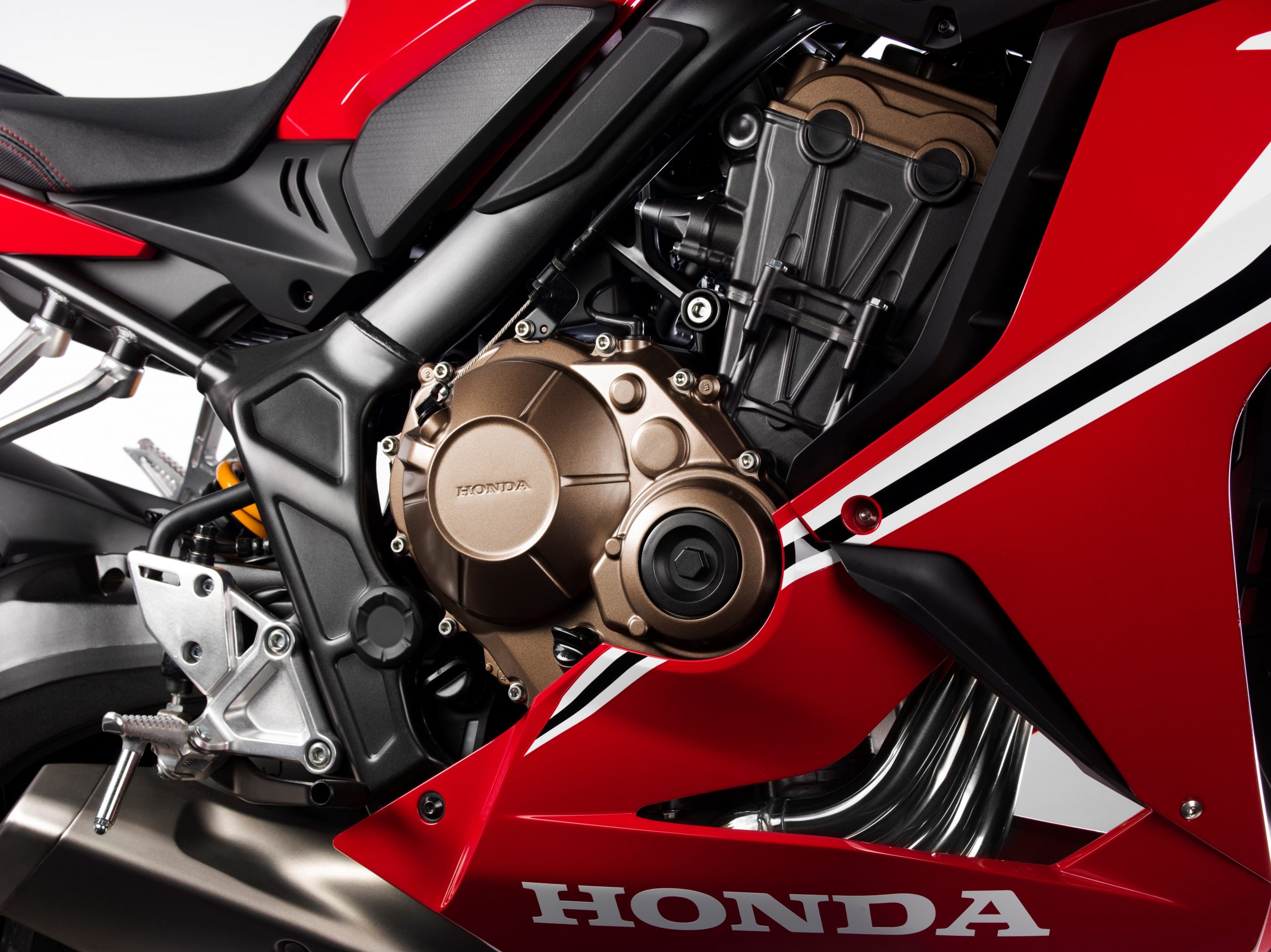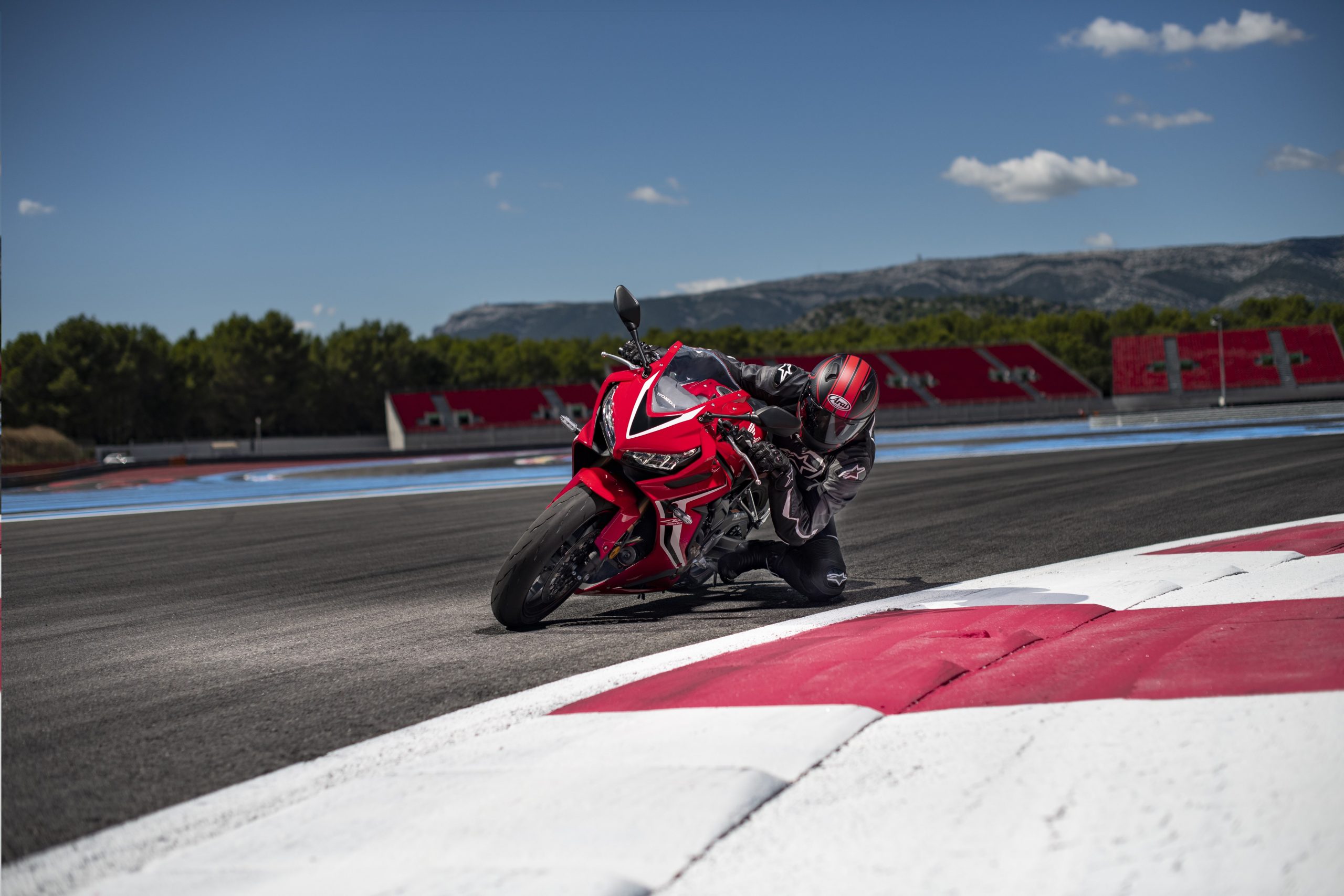 If your primary demand from a bike is fun, then this little piece of Austrian nonsense should be very high up on your wish list. KTM's Duke range of naked roadsters has always been a byword for high-octane japes, and even in 47bhp restricted A2 form, this 690 version will be a hoot to ride.
The heart is a very high performance single-cylinder engine, which makes over 70bhp as standard, which is an awesome output figure for a single. Indeed, in slightly-tweaked form in the Husqvarna Svartpilen 701 it's the most powerful production single ever, making 75bhp at 8,500rpm. Erk.
So the engine is a corker – strong and smooth for a single, with loads of low-down urge. You'll lose some of that in A2 form obviously, but the essential nature of the power delivery remains satisfying. It's also super-light, at less than 150kg dry.
KTM owns premium suspension firm WP, so the suspension setup on the Duke is excellent, with adjustable USD forks and rear monoshock. You also get fab brakes from Brembo – a four-piston radial-type front caliper that gives great power and feel, with advanced ABS for super-safe stopping.
It's probably best kept away from motorways and long journeys – the lack of fairing means there's little in the way of wind or weather protection, and while the single-cylinder motor is strong, smooth and reliable, it will feel frantic at continual three-figure speeds on a German Autobahn, for example. Round town though, it's hard to beat the 690 Duke buzz…
Gallery