Top Bikes for New Riders
Are you new to biking and deciding which motorcycle to buy? Perhaps you're thinking of getting into it and want to know which bike you would be best to buy if you do? We've compiled a list of bikes you could consider using if you're new to riding.
Suzuki's SV650 has been described as the 'perfect all-rounder' with the middleweight v-twin displaying versatility, affordability and practicality.
One of the most desirable features of the SV650 is the ultra light handling and secure suspension and brakes; you'll instantly feel comfortable going all the way from touring to your weekend ride out.
It's not the biggest bike on the market, not always suitable for those taller riders, but you've got to give credit to Suzuki for this.
"SV650 was and still is my first bike. 4 years, never missed a beat, fun and forgiving. At the end of the day it's all down to personal choice."  Vincenzo Mauriello
Recommended as one of the best bikes for new riders, Honda's CB125F is a great motorbike for commuting.
Honda have crafted a great machine that allows you to build up your confidence with its 125cc engine and steel frame with new telescopic fork up front and rear shocks, you'll be comfortable from your first ride. Although it's one of the cheaper new bikes on the market, its equipment may be basic but that's all you need.
"If you're starting out on a 125 and have some spare cash about, I'd suggest a Honda CBF125. If you have quite a bit of money and you're a tall person like me then I'd highly suggest a Yamaha MT125 as the height of the bike and lightness makes it a comfortable bike to ride I've owned one for nearly a year now and I'm not regretting my choice buying one."  Jamie Goldie Gardner
A great first bike if you're looking for something light and nimble. Yamaha's MT125 allows you to build up your confidence on their newest 125 model with a great adjustable seat height, excellent handling and a quality design.
Yamaha have proved that 125 bikes don't have to boring when it comes to design, the MT125 is the full package. Although it might not be the cheapest first bike you can get on the market, it's well worth the money. Only weighing in at 138kg, you can build up speed nicely if you're looking to get away from the city and on a longer ride plus with the improved rear monoshock you've got an extra barrier of protection.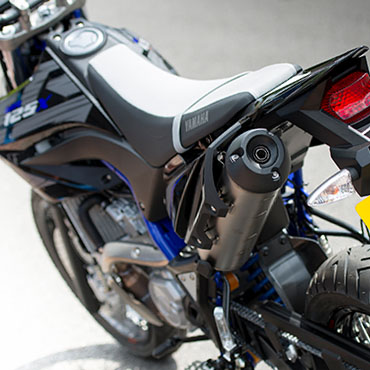 Classed as a middleweight machine, Kawasaki's ER-6F is a favoured first motorcycle by many bikers because it's sturdy, reliable and a whole lot of fun.
Although it might not be the most attractive of bikes to some, ER-6F is a nimble machine that is efficient for commuting to taking on your first big ride out. Smooth gearbox transitions and great suspension allow you to build up your confidence no end.
"Kawasaki ER6-F was my first big bike, stylish, great handling and really cheap to run… loved it." Pete Anderson
The XJ600 Diversion by Yamaha is often noted as a great first bike due to being practical, reliable and cheap to run – everything a newbie needs!
The seat height sits at a low 770mm with a 599cc engine, it might not be the nicest looking machine but it's always going to be there. A great bike for running around town to touring the great British roads.
"I've got an XJ600 Diversion for my first bike, brilliant on fuel and really cheap on insurance." Carl Pitson
Our Beginners Guide to Motorcycling has everything you need from passing your CBT to getting your full unrestricted license.   Welcome to the world of two-wheels!
Your first set of wheels…
If you're new to the biking scene then don't worry, we've got some great advice on what bikes to try, how to safe and be savvy on the roads.
Confidence is key
Potholes, roundabouts, split lanes, dual carriage ways and motorways are just a few of the obstacles on British roads, and with many of them not in a good condition it's no surprise that some riders will opt for sunny Sunday ride over a weekday commute. It's always highly recommended to take advanced motorcycle training courses throughout your riding life to make sure you're up-to-speed with staying safe.
Advanced training 
There are plenty of options when it comes to advanced motorcycle training, you may often find free courses in your local area run by the police or other emergency services. Biker Down training courses allow groups of bikers to learn about first aid and care in an accident scenario. A vital skill to motorcyclists to have as they are normally the first point of call for a fellow biker.
There are numerous other courses included Institute of Advanced Motorists (IAM) and Bikesafe. You can find out more about advanced training here.
Be safe and savvy
It's important to feel safe on your bike but it's also important to feel comfortable in what you're wearing. Take the time to research into protective gear and helmets as these are important lifesavers when you're out riding.  Although it is only compulsory to wear a helmet in the UK, it is strongly advised that wearing full body Armour, gloves and boots will go along way in protecting you.
For an extra safety level, or even to see what your riding skill is really like, you can download numerous apps that feature emergency service call out buttons if the app detects there has been an accident. Apps such as … also allow family members to track your ride via GPS and you can share routes on social media too.
Some handy advice to remember if you're ever involved in a motorbike accident…