Adventure bikes. Built for exploring, on a range of terrains. And since actor chums Ewan McGregor and Charley Boorman circumnavigated the world, went up and down it, and did a whole load of other tomfoolery for the telly, adventure bikes such as the benchmark BMW R1200GS have enjoyed a huge surge in popularity.
Sure, many of those buying their first adventure machine would have envisaged a few months in the saddle emulating Ewan and Charley, travelling the world, riding full-bore down dusty tracks, haggling for fuel, buying exotic food from bazaars, cooking over campfires, getting stuck in monsoon swamps, catching malaria… Well, alright, maybe not the last bit, but you catch our drift.
And while we know that adventure bikes also make for great tourers, with a commanding riding position, soft suspension and often the provision for taking a ton of luggage, few riders seem too keen on taking them off-road.
Understandable, perhaps, especially as most cost well in excess of £10,000 and some riders would be reluctant to increase the potential risk of damage.
Though for us, those riders are missing out on a whole world of riding, and a whole load of fun. So we've decided to show you how easy it is to get a little adventurous, without straying too far from the beaten track.
What is the difference between green laning and off road riding?
Green laning is exactly what it sounds like, riding on green lanes. Those routes that haven't been tarmacked or finished, a lane / route  that has greenery around it and often coming through underneath. There are plenty of places in the UK to legally green lane.
Off road riding , is when you leave the road! This can even include leaving the green lanes too and going totally off any sort of surface resembling a road. Again, there are loads of opportunities to do this legally in the UK.
We kitted up and hopped on a KTM 790 Adventure to discover the joys of local byways that cut through hills and forests to offer a taste of adventure with no need for a passport, tent… or even a thespian pal to add a little drama.
With a network of unmade roads all over the UK, and the dry summer months baking the byways and making them rideable, even on the more road biased dual-sport tyres that most adventure bikes come with, there's no excuse not to.
All you need is some decent riding kit (sturdy adventure boots are a good idea), Ordnance Survey Landranger and Pathfinder maps, a fully charged mobile phone (for stunning 'bike love' photos as much as for in an emergency) and whatever snacks and drinks you fancy for when you reach that idyllic spot.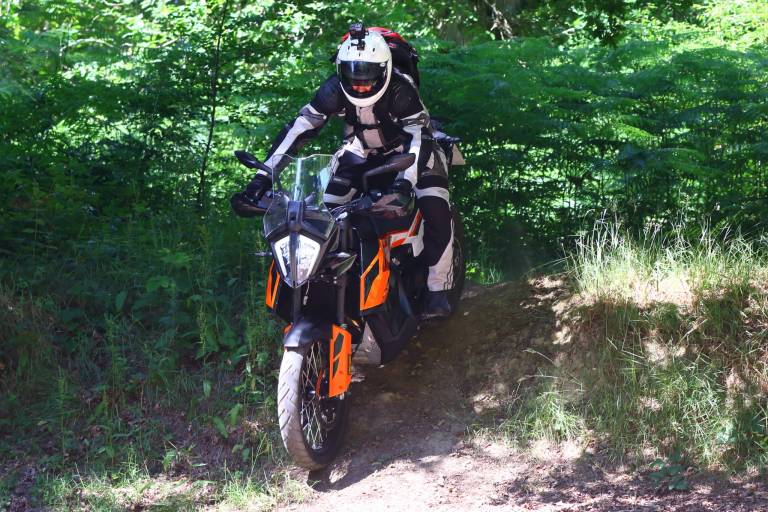 All the while we were out amongst nature, with not a building or a soul in sight, we were never much further than 20 miles from central London. Long trails of varying difficulty linking roads and villages make this part of the world surprisingly accessible for off-road enthusiasts.
The same can be said for most corners of the UK, with some of the best riding to be found in South Wales, Yorkshire, Cumbria and Wiltshire with many more counties all offering a generous network of byways similar to those we enjoyed in Surrey.
If you've never tried it before you'll be amazed at how capable modern adventure bikes are, and at just how much legal off-road riding there is to be had if you know where to look.
NOTE: It's important to check with your local authorities and council to confirm the rules and regulations around green laning and off-road riding in your local area before setting out on your next adventure.
Learn to ride off-road
If you're still a little unsure about taking your own adventure bike off-road, why not ride someone else's?
There's a good choice of off-road training places in the UK, and while many are pure off-road schools and as such use enduro competition bikes, there are some that use dual-purpose adventure bikes for their training days.
We've marked these with an (Adv) and enduro with (End).
Whatever you choose, you're sure of a fantastic day (or two) on two wheels with some top instructors who'll help you to get the best out of your course and give you the confidence to embark on that once-in-a-lifetime two-wheeled adventure.
BMW Off-Road Skills • South Wales • www.offroadskills.com • (Adv)
Triumph Adventure Riding Experience • South Wales • www.triumphmotorcycles.co.uk/adventure-experience • (Adv)
Yamaha Off-Road Experience • Mid Wales • www.yamaha-offroad-experience.co.uk • (End & Adv)
Adventure Bike Training • East Anglia • www.adventurebiketraining.co.uk (Adv)
Black Desert Training • South Wales • www.blackdeserttraining.com (End)
Ady Smith KTM off-road school • various UK locations • www.adysmith.co.uk (End)