Yamaha FZS1000 Fazer Bike Overview
In many ways, this is the ancestor of all today's high-powered superbike-engined hypernaked machines. Released in 2001, the FZS1000 Fazer built on the success of Yamaha's smaller FZS600 Fazer, with a similar theme in 1000cc format.
The result was a cracking machine. The engine is a lightly-detuned version of the R1 superbike motor, and it's a real joy to ride. The carburettors give perfect fuelling all through the rev range, while the power delivery is perfectly designed for an upright, semi-naked roadster. It's got stacks of urge right off idle, together with a screaming top end. Even today, it's still a corking setup.
Yamaha did good work with the chassis too. The frame is a cheaper steel tube affair compared with the R1's aluminium twin spar design, but apart from a little extra mass, it's not a concern.
Right-way-up front forks are adjustable, as is the rear monoshock, and the R1-derived brakes are excellent. The Sumitomo blue spot calipers give great power and feel, and like the engine, stand up well to scrutiny even today.
It's turned out to be a reliable beast too – although the quality of material used could have been better. There are no widespread mechanical issues to deal with, only the effects of corrosion in the long term, more so in towns and cities near the coastline. Areas to watch out for include the EXUP exhaust valve and the areas around the frame welds, while the engine finish can become tatty if corrosion gets under the paint. Also make a point to check the carburettor balance, headlights and the throttle position sensor which can fail (look for the tacho needle moving between 6,000 and 9,000rpm repeatedly.)
Yamaha FZS1000 Fazer Bike Spec
Top speed

160mph

Weight

208kg

Average fuel consumption

41mpg

Seat height

820mm

Capacity

998cc

Engine

Liquid cooled, four stroke, DOHC, 5v
Yamaha FZS1000 Fazer Bike Insurance
Yamaha FZS1000 Fazer Bike Gallery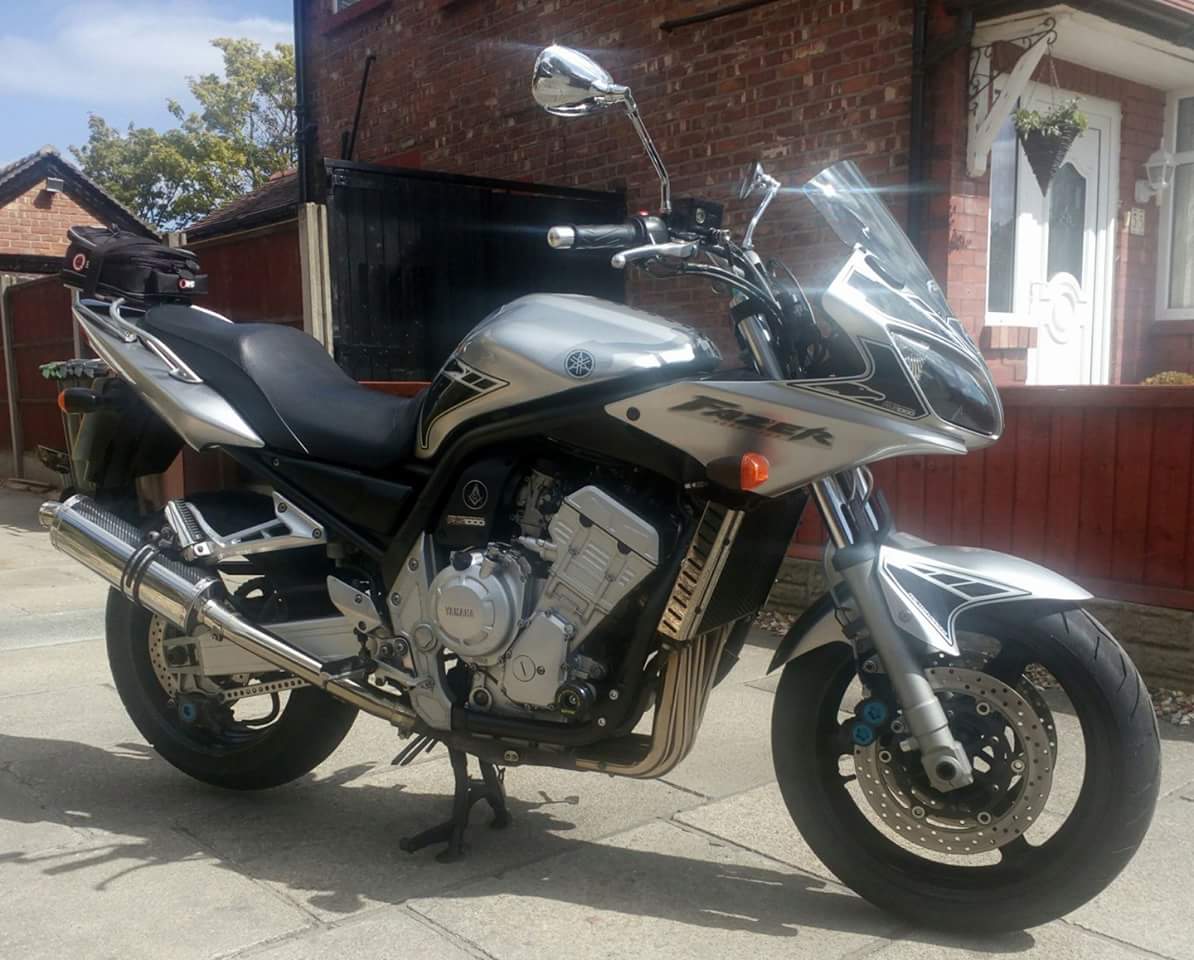 Owner Reviews
Read More
Comfort4 out of 5 stars
I'm bigger these days but it's worth the sacrifice of being a little bit cramped riding.
Build Quality5 out of 5 stars
yeah its broken down and yeah sometimes it has its problems but in every good relationship you battle through and just be there for her. Love and care it'll see you through..
Brake5 out of 5 stars
stops quick.i don't go fast what's the point these days.
Ride Quality5 out of 5 stars
She's heavier than new bikes but I'm heavier than young blokes matches me perfectly.
Engine5 out of 5 stars
Powerful? Its not about power she makes me feel 18 again.every time I ride her its priceless.
Running Cost5 out of 5 stars
doesn't matter. benefits out way the cost
Pros
Economical and powerful what more do you need. Without doubt the best smiles per miles you'll ever own.
Cons
Better quality paint and components to keep corrosion at bay
Read More
Ride Quality4 out of 5 stars
Engine5 out of 5 stars
Running Cost4 out of 5 stars
Better quality paint and components to keep corrosion at bay
Build Quality2 out of 5 stars
Engine power is very poor. Corrosion is a problem if you don't clean the bike regularly
Brake5 out of 5 stars
Read More
Ride Quality3 out of 5 stars
Engine5 out of 5 stars
Running Cost4 out of 5 stars
Suspension
Build Quality4 out of 5 stars
Brake4 out of 5 stars
Pros
Fantastic bike. A lot of machine for the money lighter than most sports tourers and certainly agile can understand why folks do big miles on them. Performance power comfort handling fuel economy condition
Cons
Ex up valve sticks had it serviced when bought and still throws the fault now and then especially through the dark winter months
Read More
Ride Quality5 out of 5 stars
Light for a big bike although some may find it a bit tall but suits me. Very forgiving in the bends
Engine5 out of 5 stars
Quick enough and more than powerful enough for me
Running Cost5 out of 5 stars
Ex up valve sticks had it serviced when bought and still throws the fault now and then especially through the dark winter months
Build Quality5 out of 5 stars
Brake5 out of 5 stars
Old blue Yamaha 4 spot calipers although not as good as today's radial ABS brakes are still adequate for the job
Pros
It can do it all. It can tour scratch and commute and put a huge grin on your face
Read More
Ride Quality5 out of 5 stars
Needs better rear shock
Engine5 out of 5 stars
Superb based on R1 what more would you need
Running Cost5 out of 5 stars
Mainly tyres
Build Quality5 out of 5 stars
Typical Yamaha
Brake5 out of 5 stars
R1 what else is there to say