Think scooters are just for dull commuters?
Think again!
The latest in maxi-scooters have as much power, performance and technology as many much fancier 'proper' motorbikes.
With powerful middleweight engines, advanced chassis setups, high-tech rider aids and colour dashboards, a modern maxi-scoot will make short work of those commutes of course – but they're also well suited to tougher work, like two-up touring.
Good underseat storage, excellent weather protection, auto transmissions and large comfy seats makes for a tempting option when you want to cover a load of miles in ease. Plus, if you plump for one of the larger-capacity options, you can even catch out some sportsbikes away from the lights.
The super-scoot's combination of automatic transmissions, longer wheelbases and stable, low-down weight distribution means something like a Suzuki Burgman 650 can nip off sharpish when the lights go green, while a superbike rider is still juggling their 180bhp throttle and razor-sharp clutch action…
We've picked out our favourite new maxi-scooters on the market – as well as the odd used option – while sticking to 400cc+ models.
There are some decent 300cc scooters, but we reckon a true super-scoot needs at least a 400-class motor. Get one of these and you'll be set for easy, comfy, practical rides – and a lot of fun too.
Get Scooter Insurance for your Maxi Scooter from us today!
Suzuki Burgman 650
Boasting a twin-cylinder engine making around 55bhp, with a CVT auto transmission that includes manual and sports modes, the big Burgman really is one of the top performers in the maxi-class.
It's been around since 2002, and over the years has gained a load of luxury-tech: ABS, electric folding mirrors and adjustable screen, heated grips and seat, immobiliser, and more. Fuel consumption is excellent on the latest models too, with a claimed 59mpg.
The best part of the Burgman though is the generous size. It has a fully-protective fairing, and enormous underseat capacity, and with an optional top box on the back, it will carry more kit than a fashionable sports car.
Pillion accommodation is immense too, with a wide, comfy seat, grab rails and loads of space (the pillion gets a heated seat too on current models – wild!)
The downside is the weight – 277kg – but the Suzuki hides that well. And at a smidge over £9k brand new, it's a decent price for the very capable mix of performance and practicality.
Gallery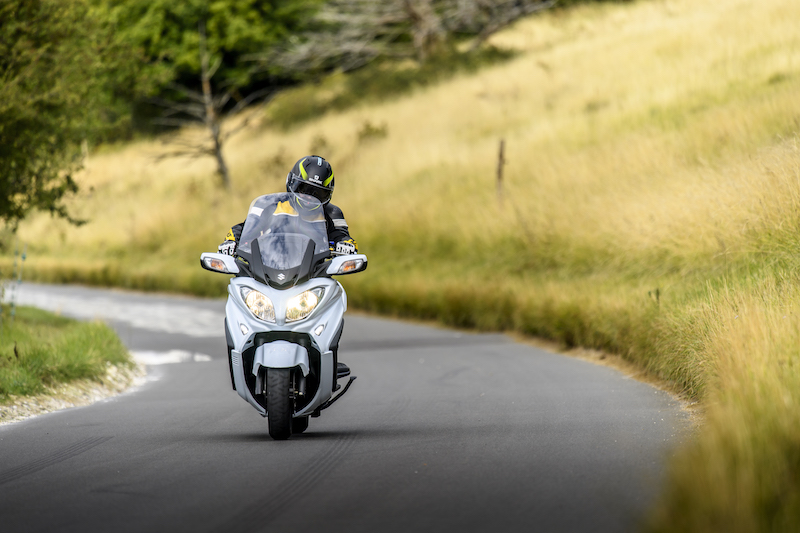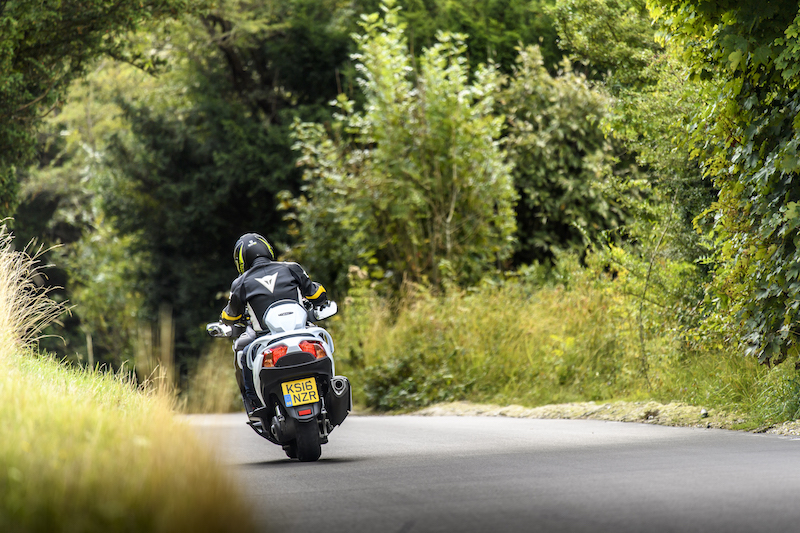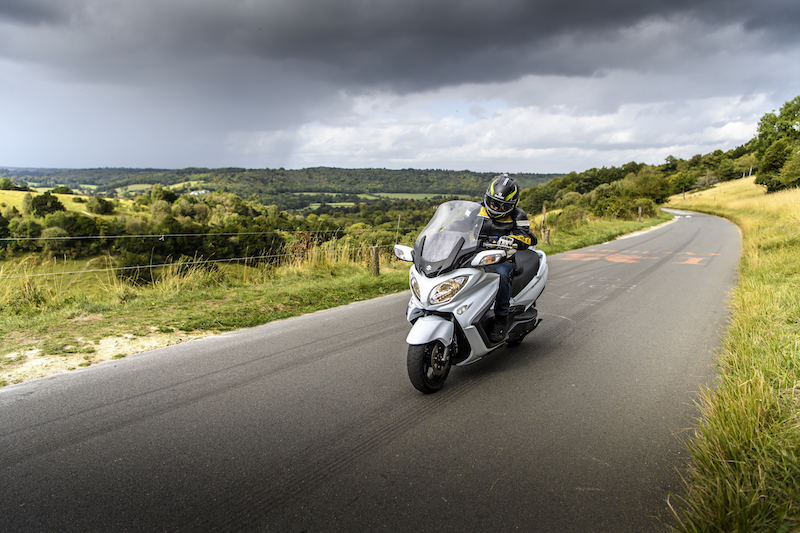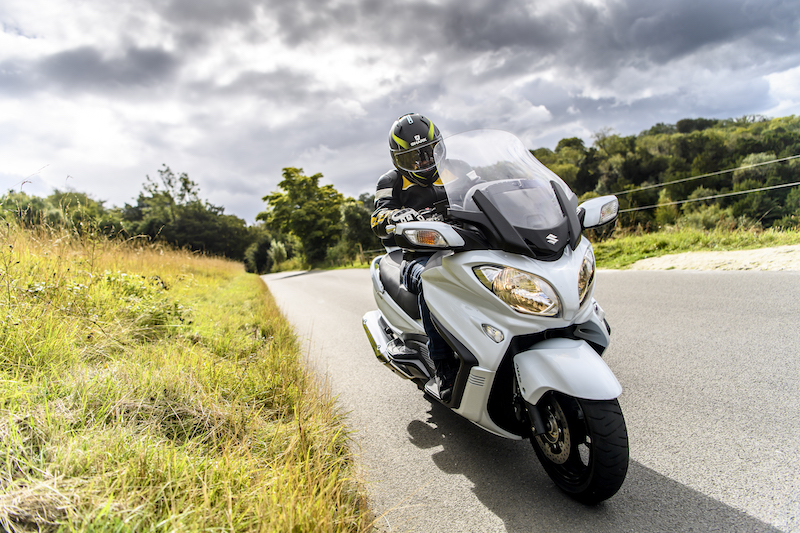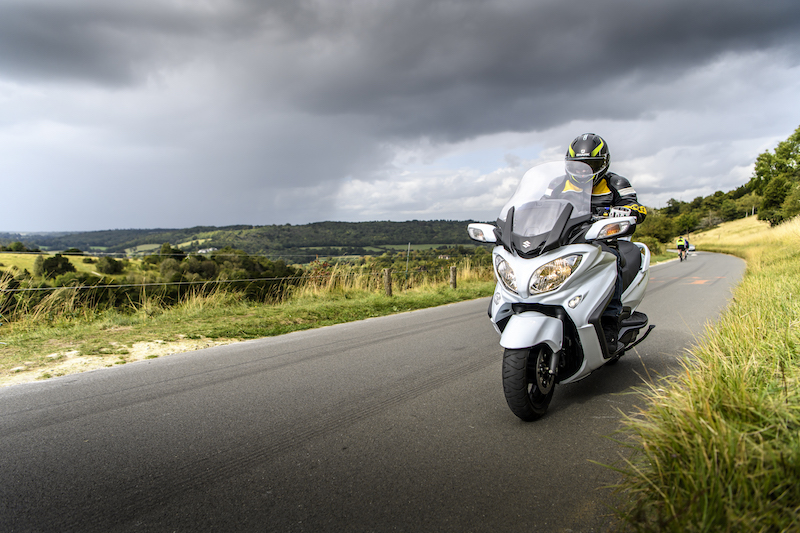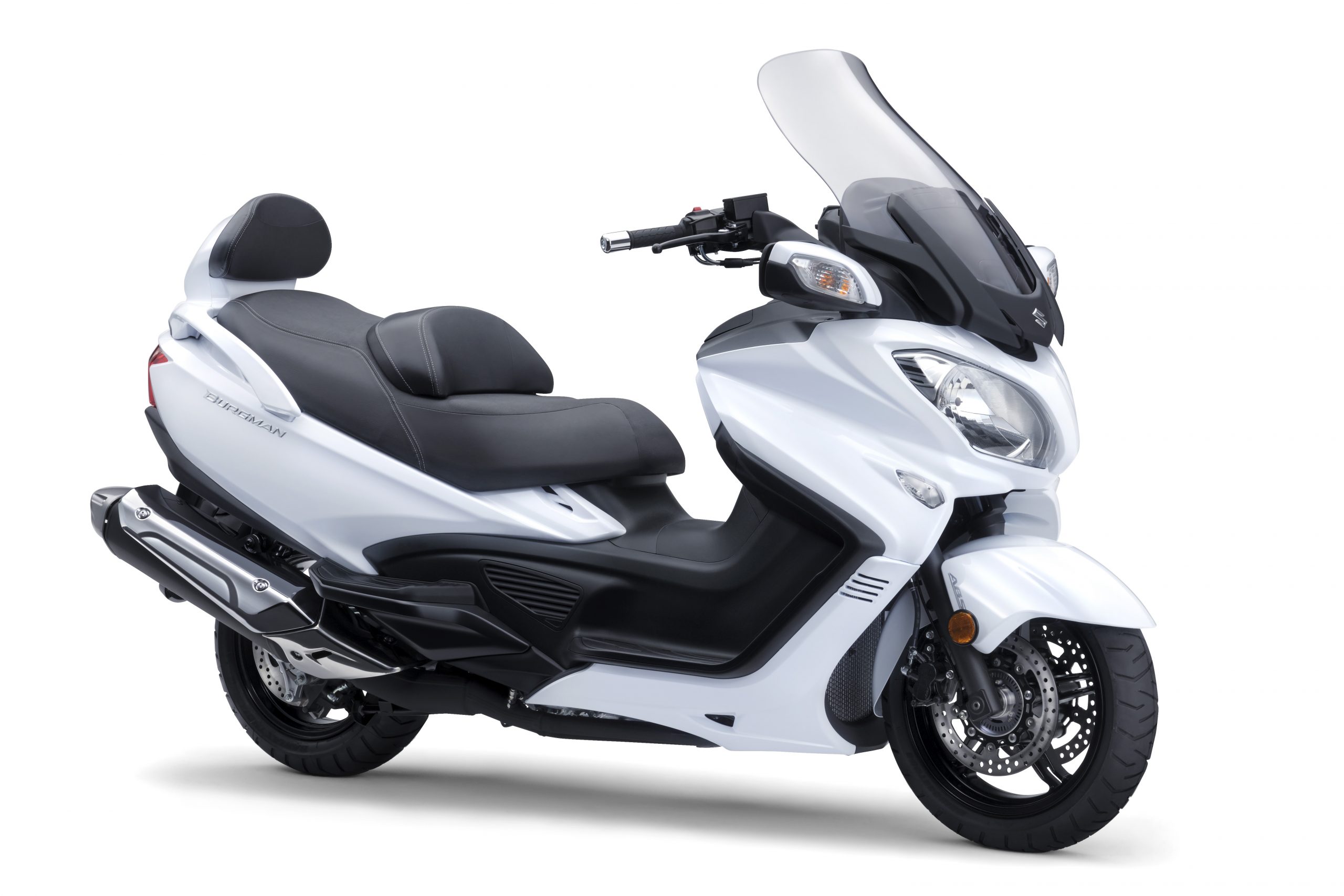 Honda Integra 750
A 750cc scooter? You'll get your money's worth in astonished faces amongst your mates, if nothing else.
Because, yes, the Integra is the biggest-capacity scoot currently available. It's a little bit of a cheat actually – this is more of a 'scooter style' motorbike than a full-fledged step-thru design, being based on the NC750 bike range.
But with a super-efficient Honda DCT (dual clutch transmission) autobox and fully-enclosed bodywork, it's close enough for us.
Non-scooter features include the conventional chain drive, which will need lubing and adjusting, but there are bike-style benefits too.
Full-size 17-inch wheels give better grip and more stable handling than the 15- and 14-inch rims on most scooters, while the brakes use a large, superbike-spec 320mm disc up front.
The Integra's NC750 motor is famously 'half a Jazz car engine', but it makes its 55bhp in a progressive enough fashion – and is very fuel efficient. It's never going to set your hair on fire, but is a great powerplant for this type of machine.
The dash is fully LCD, with high-tech displays, there are three Sport modes for even sharper performance and there's preload-adjustability on the suspension.
Add in LED headlights, and you have a spec that many premium motorbikes would love. Finally – it's solid value, at just £8,399. Very much worth a look we reckon – as is the older Integra NC700 version, now even better value second hand.
Gallery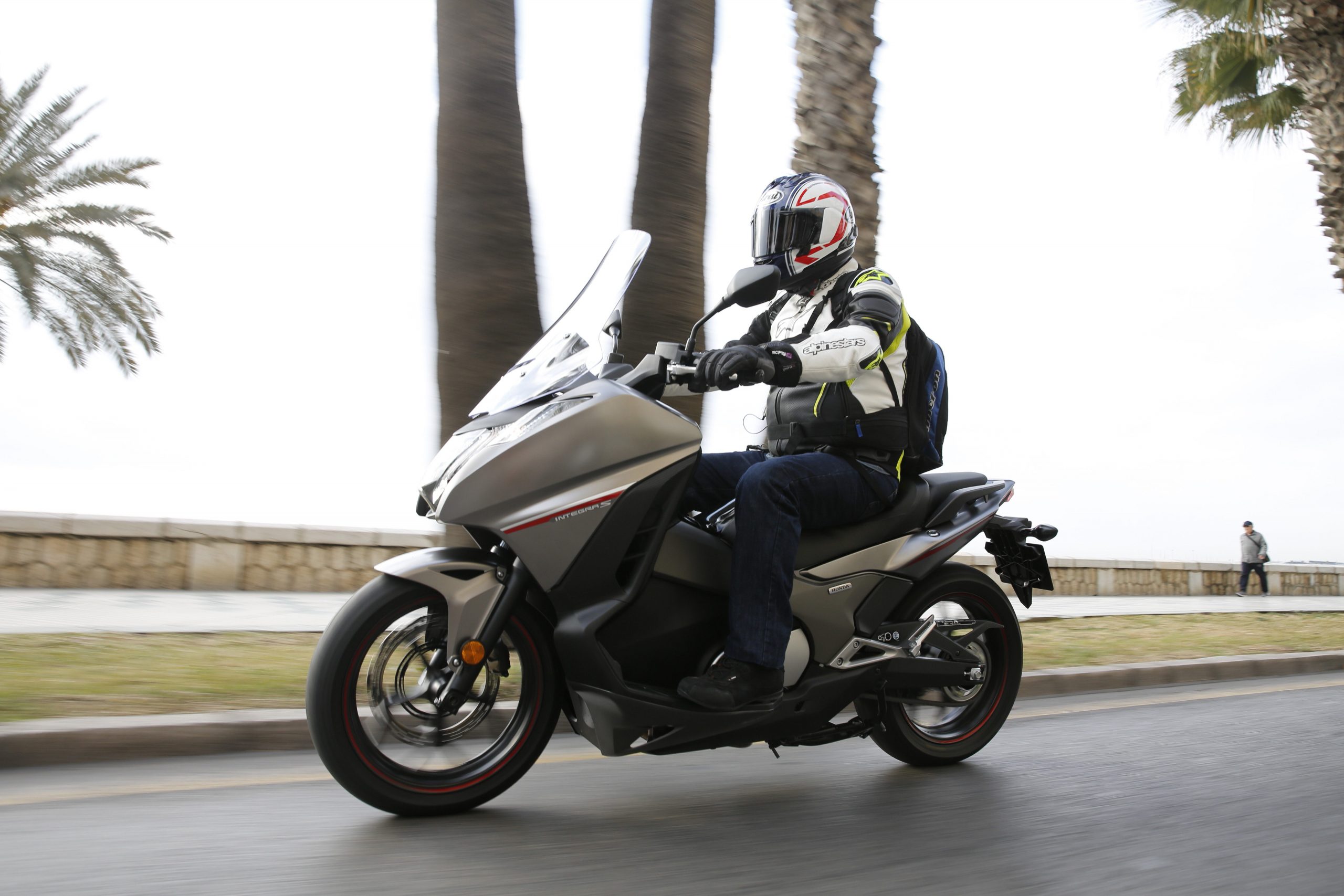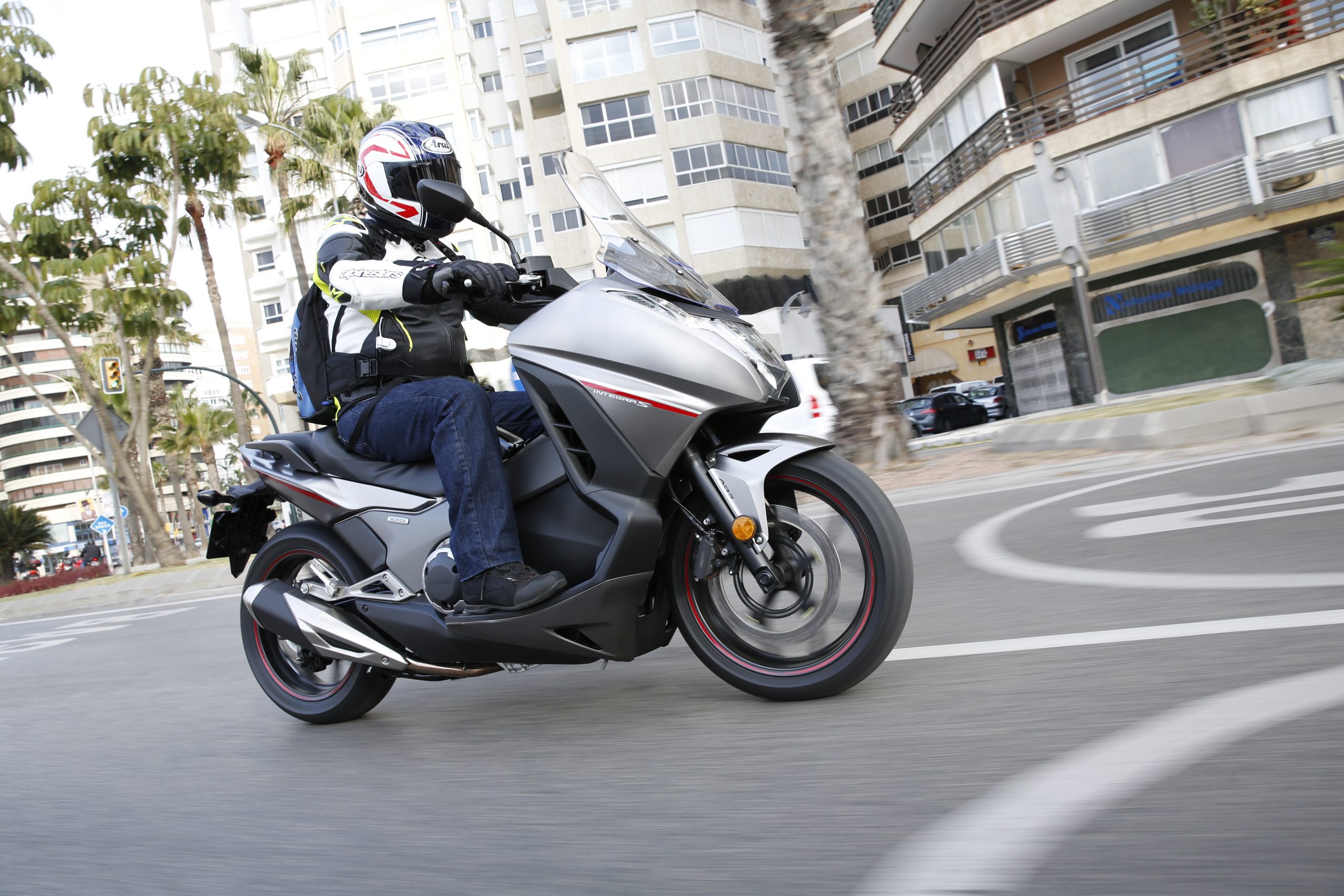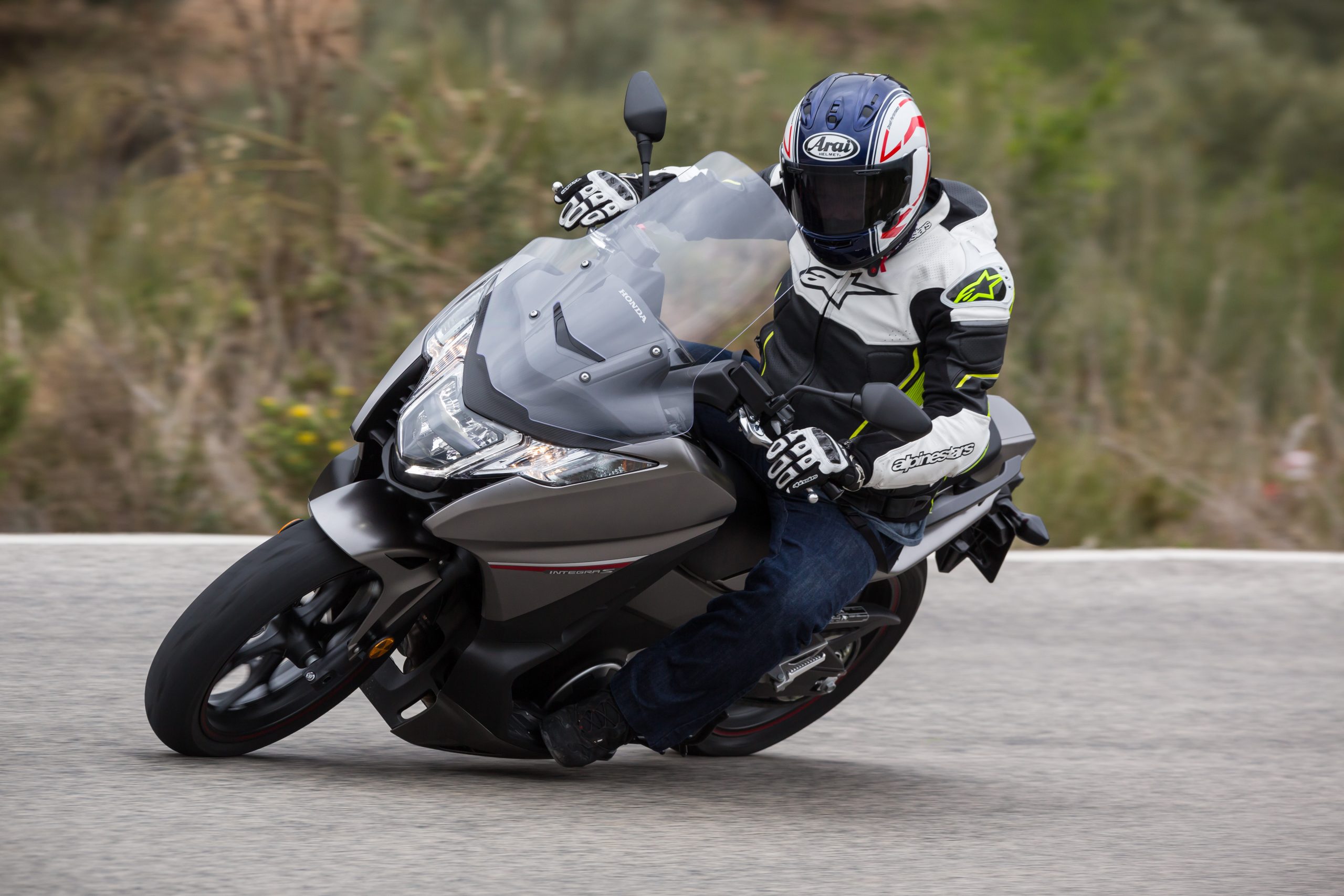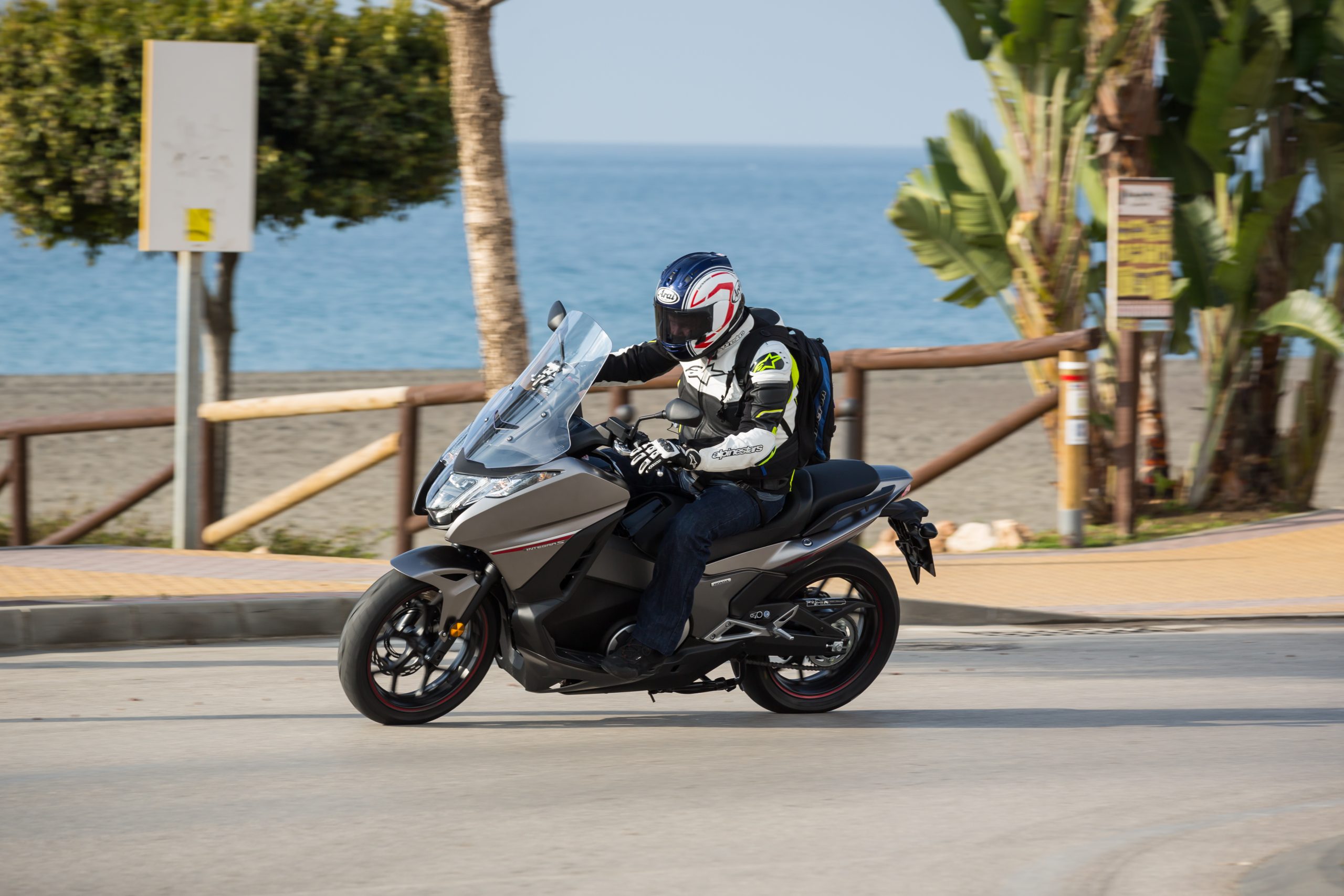 Yamaha TMAX
The TMax is a legendary machine, and probably the one which first convinced folk that a scooter can be a fun performance tool.
It's got a 530cc parallel twin engine that makes 45bhp, bolted into a sharp-handling sports chassis.
That engine isn't the most powerful maxi-scoot motor around, but with lower all-up weight than the likes of the Burgman 650, it's still a nimble beastie. The automatic transmission helps too, with an 'S' mode available when you're in a sporty mood.
The aluminium frame is more motorcycle-like, with less of a 'step-through' dip in front of the rider's seat.
That gives a stiffer chassis and better handling, but with slightly smaller 'footboard' areas, and less weather protection than a more conventional scoot.
Underseat storage on the TMAX is also less capacious than some of the competition, and if you want to carry a load of kit, then a top box is pretty much essential.
Yamaha's given the latest versions of the TMAX a heap of technology, including cruise control, heated seat and grips, electrically-adjustable windscreen and a traction control system.
It's also got a unique centre-stand lock, tracker and immobiliser functions – essential with its premium price (£11,600) and the fact it's very attractive to thieves.
Gallery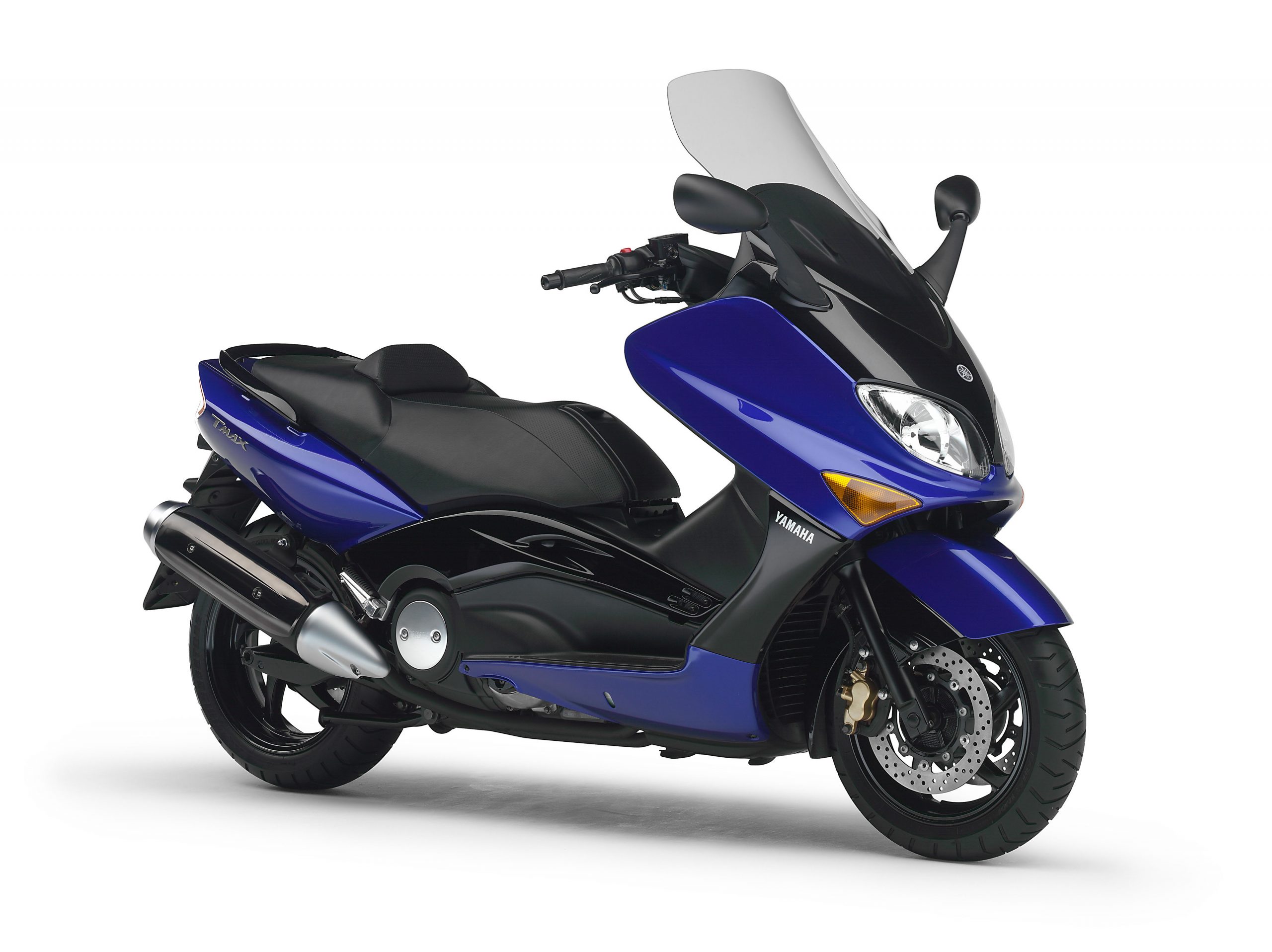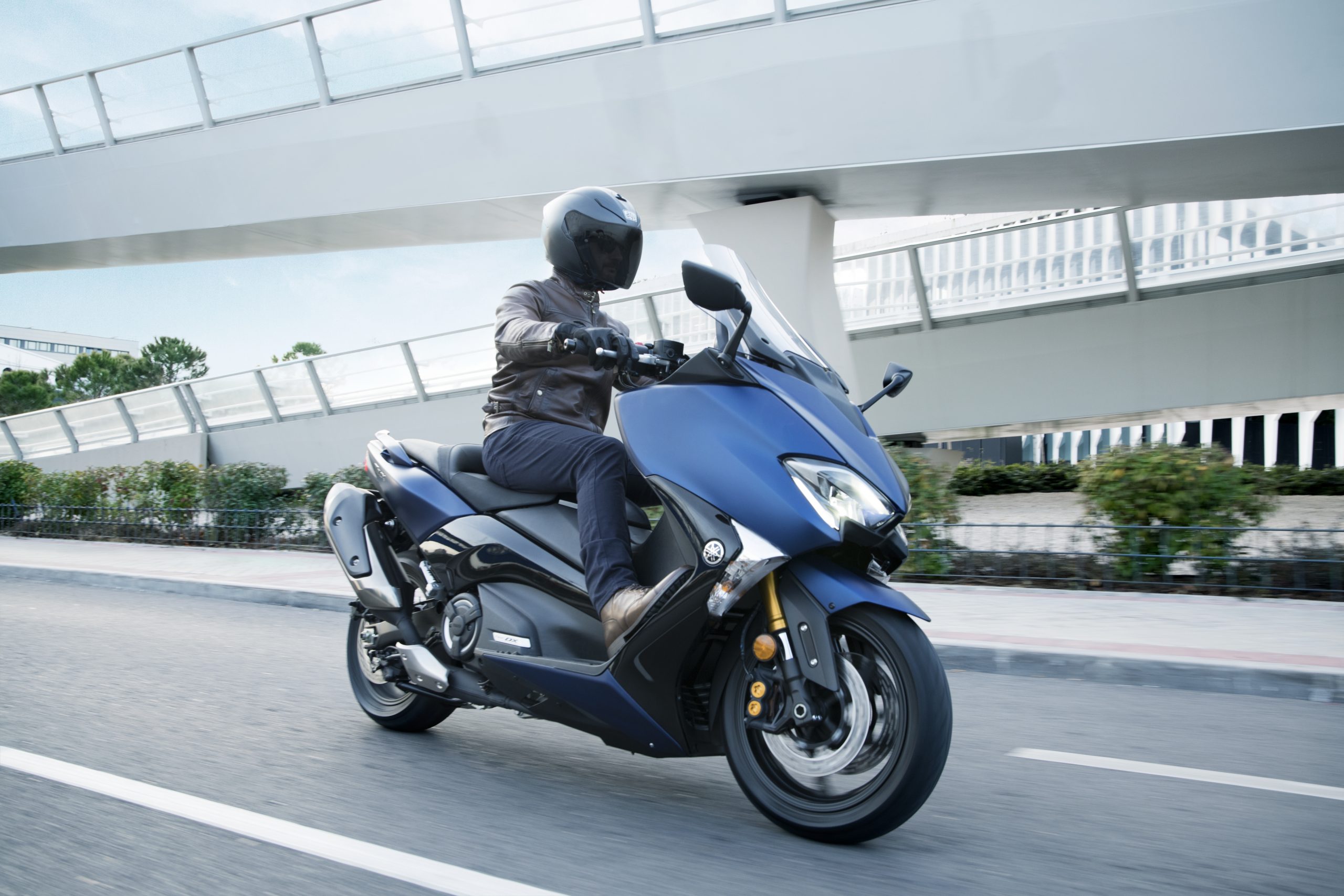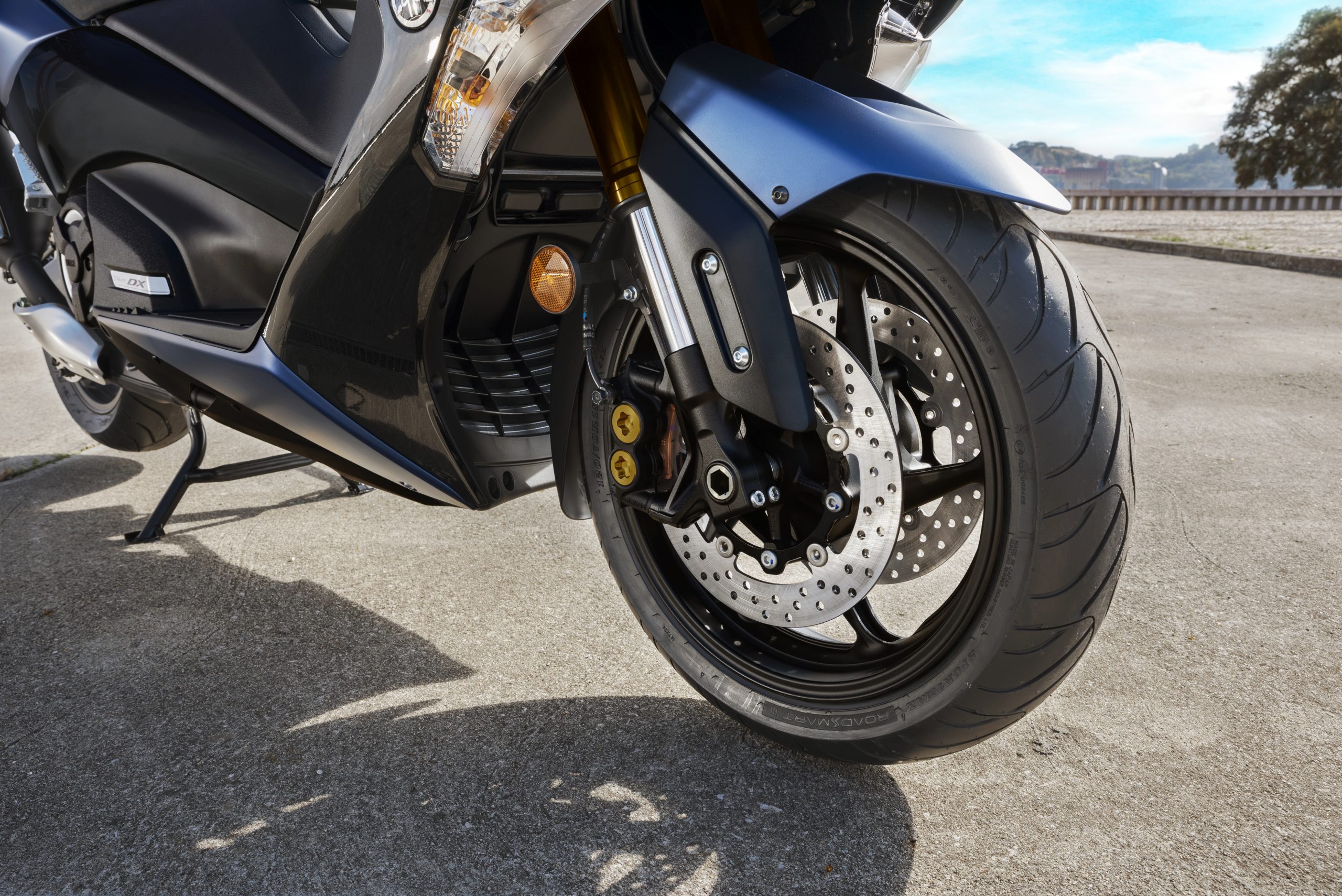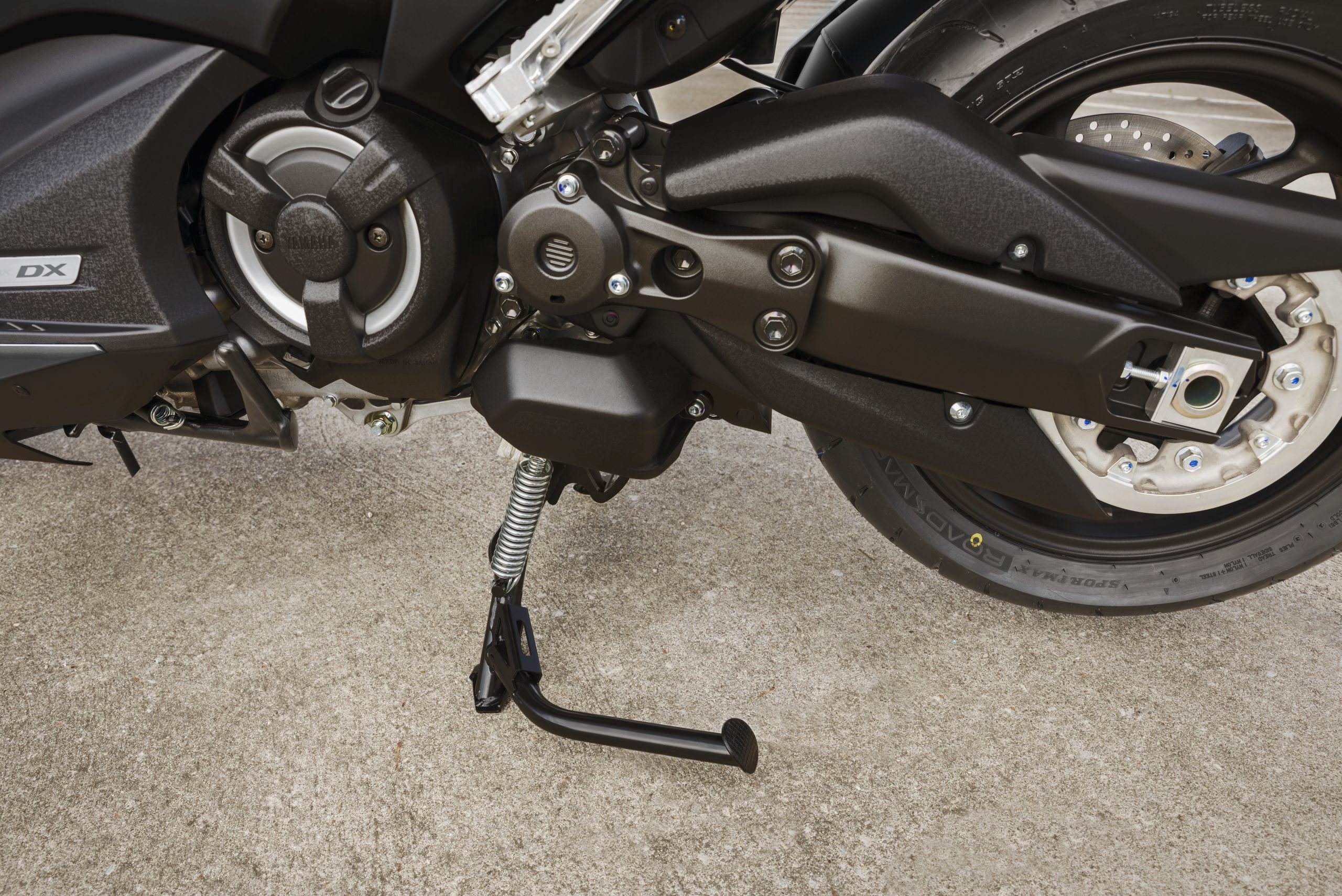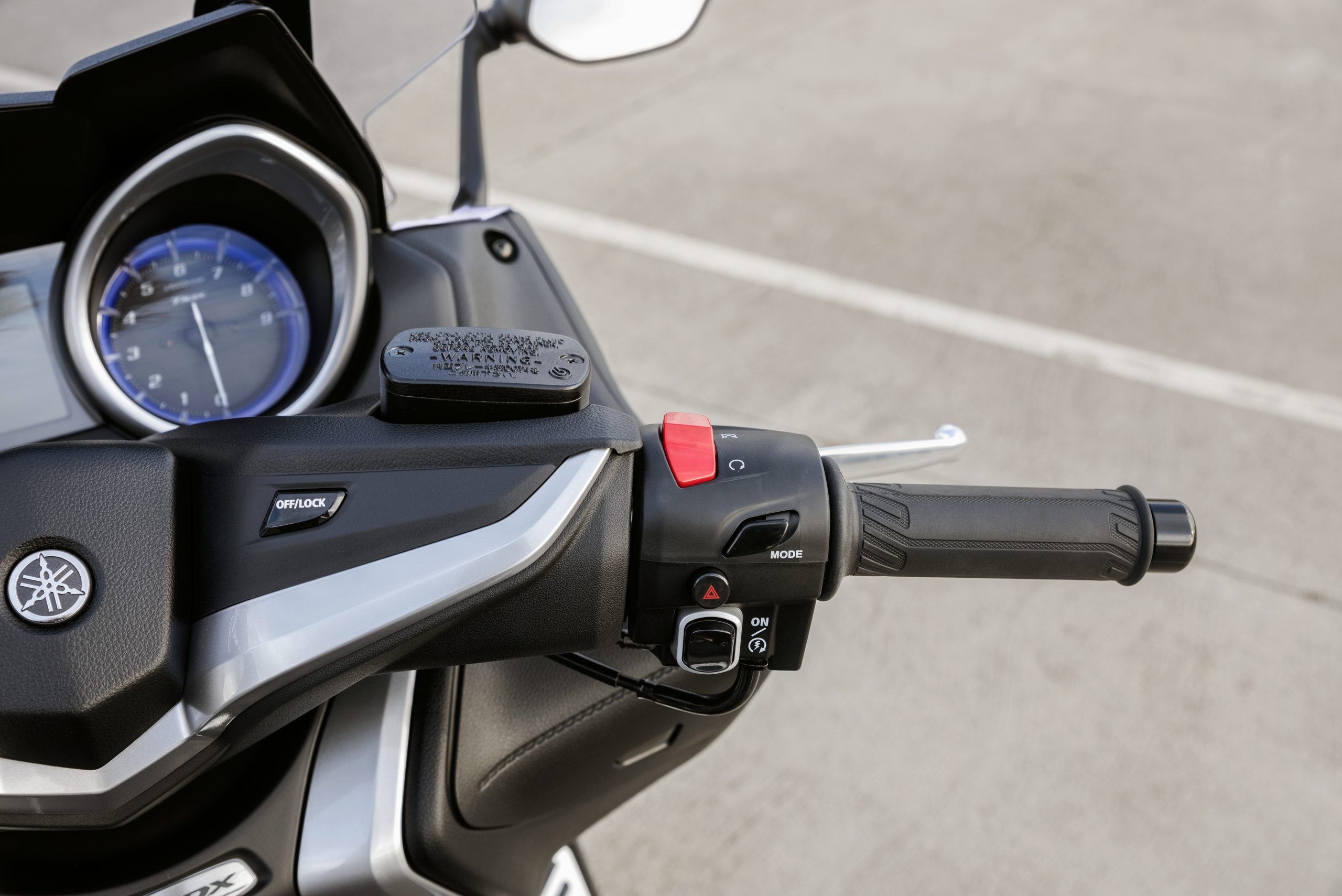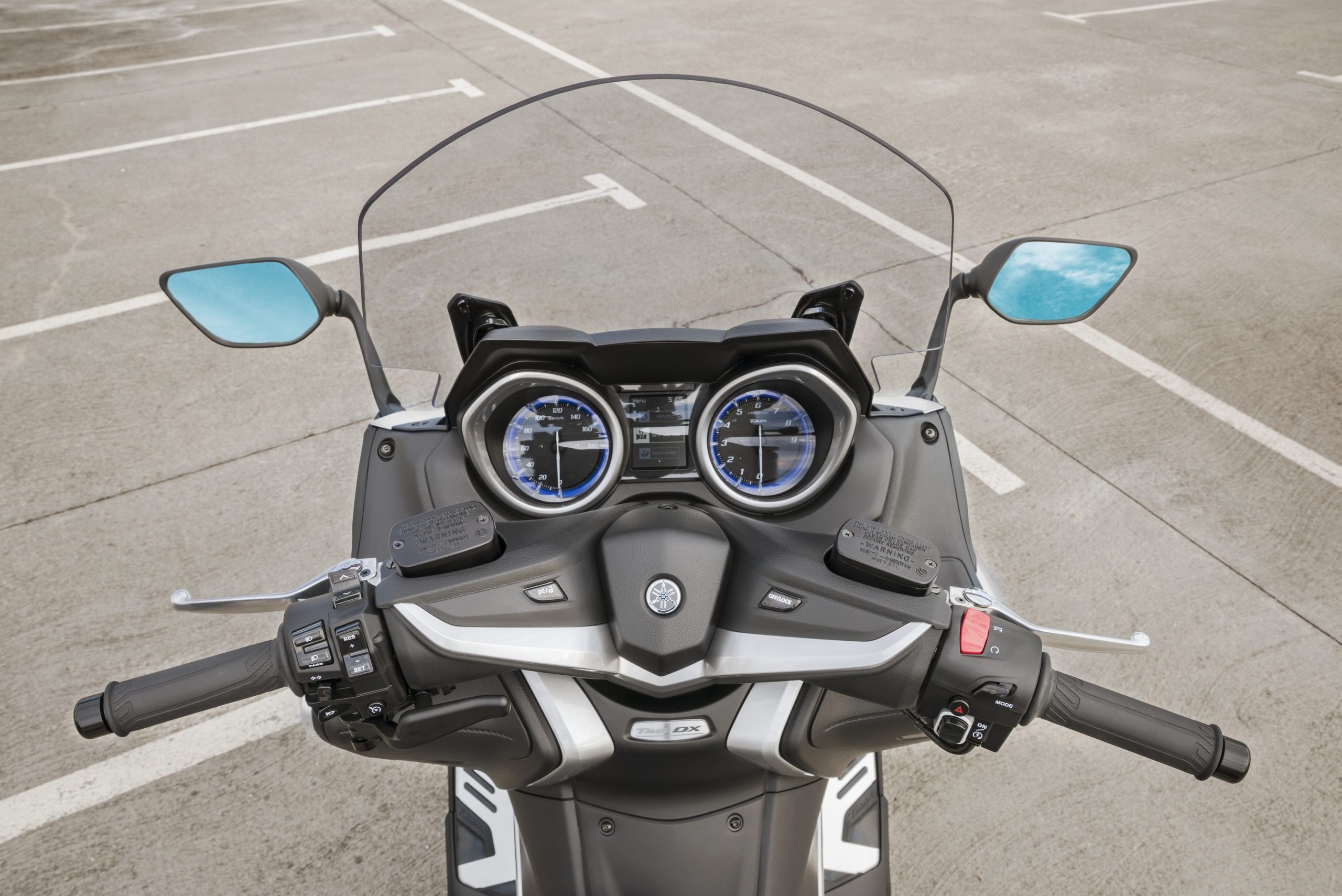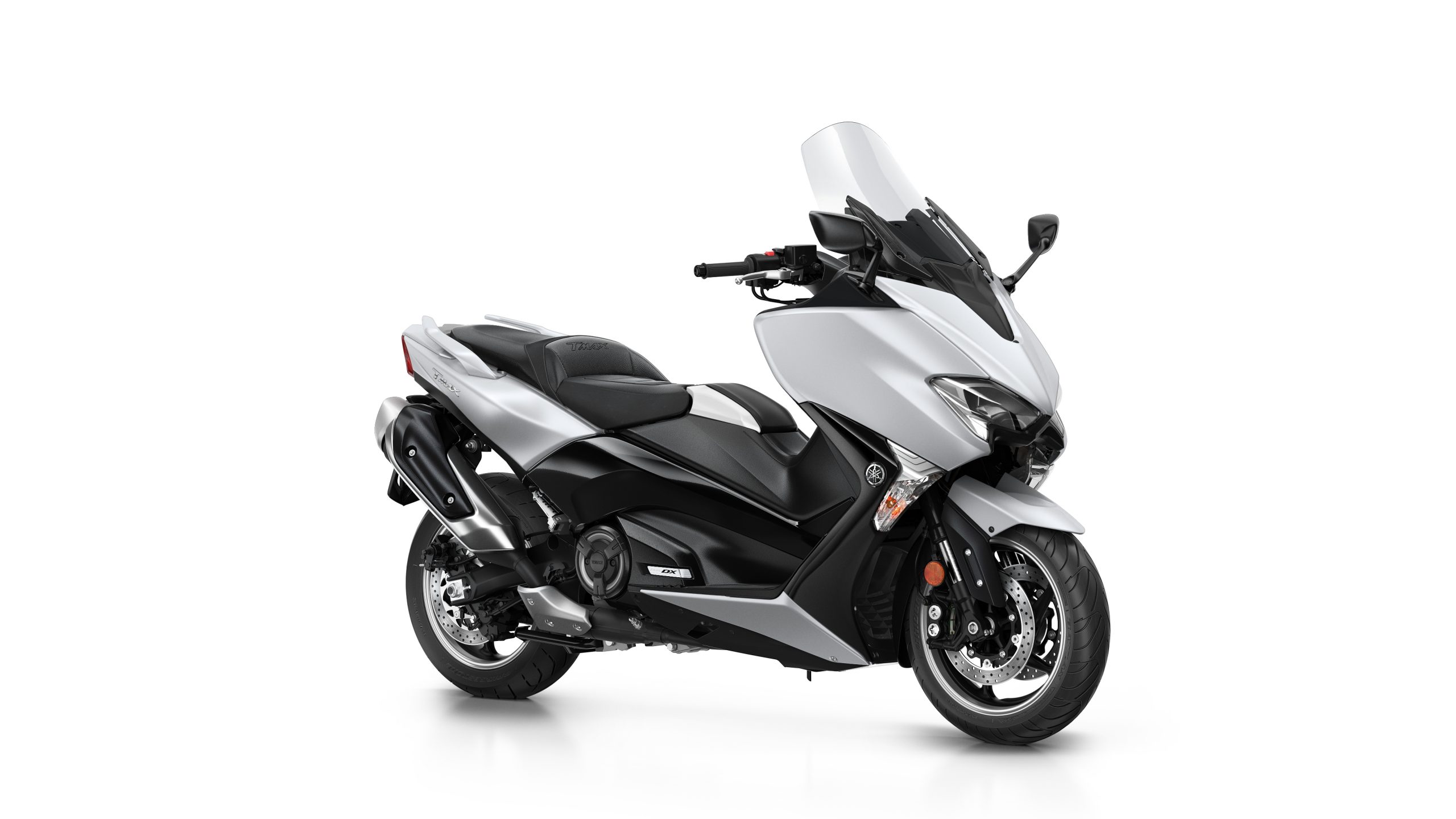 Kymco AK550
Think Kymco is a brand for smaller machines only? Well, the AK550 will definitely make you reconsider that view.
It boasts a full-bore parallel twin engine, putting out 53bhp, mounted in a slick aluminium-framed chassis laden with premium components.
Upside-down front forks wear Brembo four-piston radial calipers which wouldn't look out of place on a trick sports bike. It's fairly light too, at 226kg, giving a fun, agile feel to the handling.
The bodywork is slicker than the bigger maxi-scooters, with an adjustable windscreen, and there is less protection from the elements than on bigger machines.
Similarly, the underseat storage is smaller than some of the competition, with space for one full face helmet plus an open-face lid.
The AK has high equipment levels. The colour LCD dash makes the traditional competition look a bit backward with their basic LCD/analogue cockpits, and there's advanced connectivity too.
Link your smartphone to the AK with Bluetooth, and you can get navigation instructions, message functions and even datalogging functions on there.
Kymco even offers firmware updates to the bike's ECU which can be carried out by the owner through their own phone. Impressive stuff. The paint finishes are attractive, using premium, satin-effect finishes, and build quality is impressive.
The AK550 is also well-priced, at a sniff under £9,000. If you're looking for a sharp, nimble ride with strong performance and don't need so much luggage space, it's well worth a look.
Gallery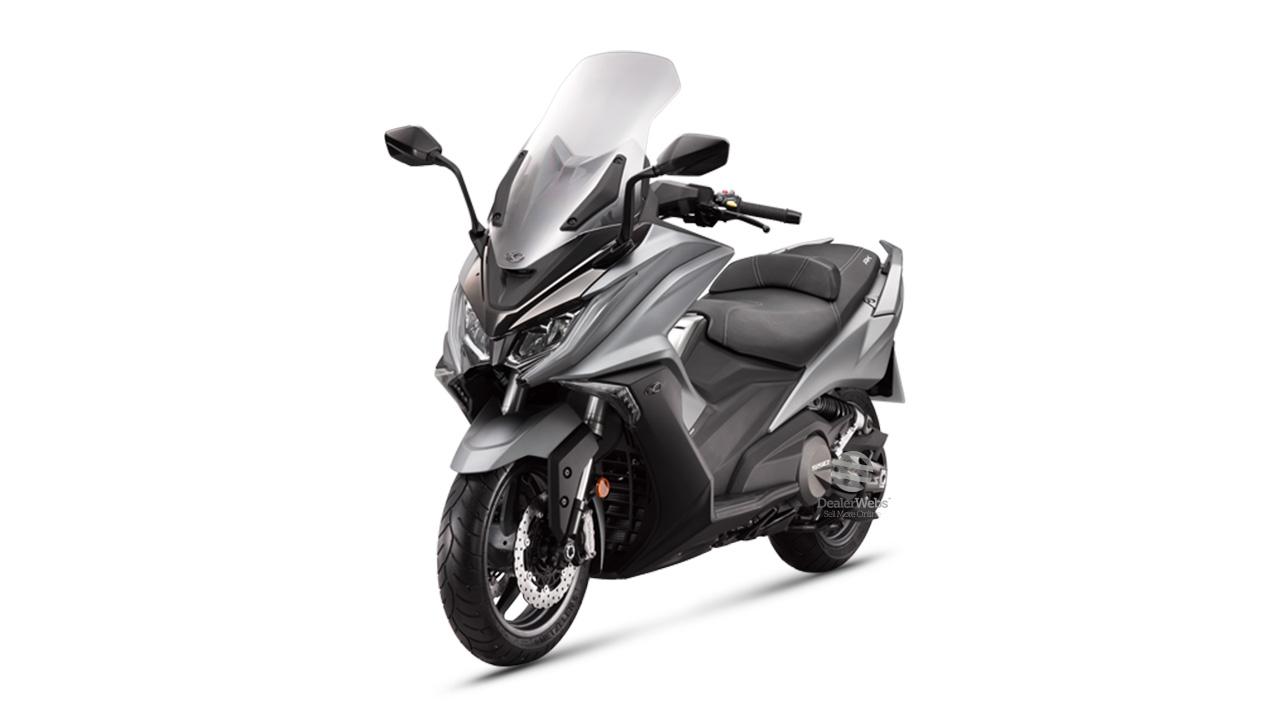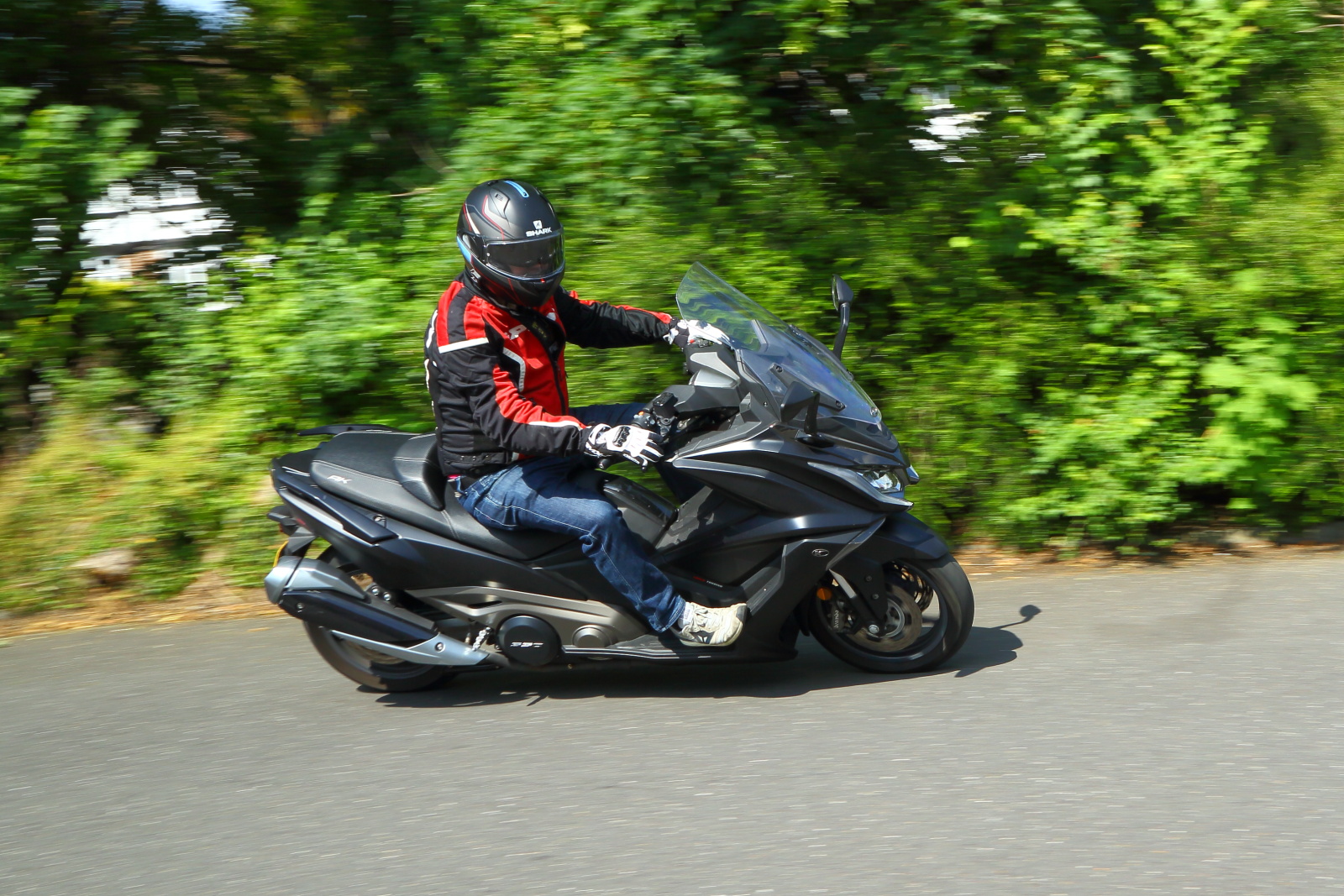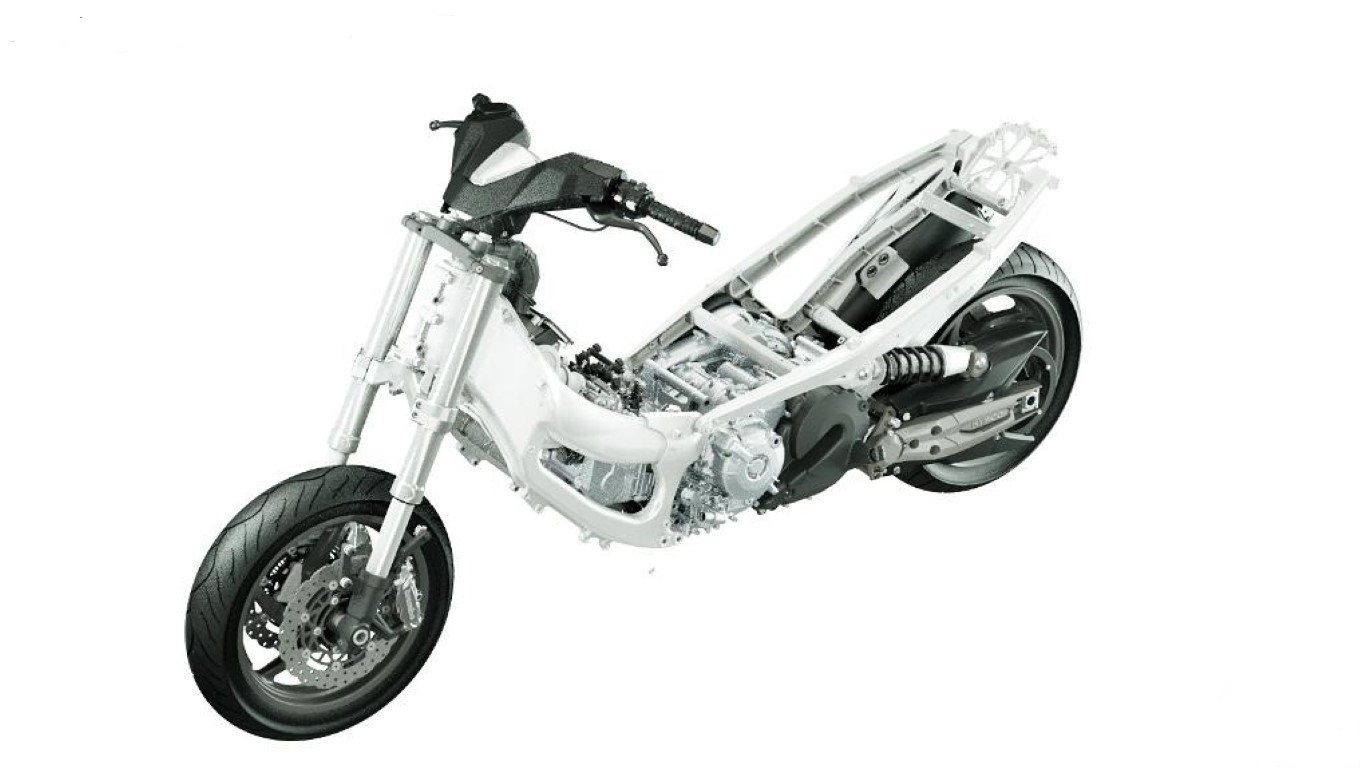 Peugeot Satelis 400
Peugeot's been making bikes for more than 120 years – its first motorcycle appeared in 1898, amazingly.
It's not built 'proper' motorbikes in a long time (though the brand has made an appearance in MotoGP Moto3 racing of late), but its scooter range is well worth a look.
The Satelis is the firm's largest scoot, with a single-cylinder engine that makes a decent 37bhp, in a conventional scooter-style chassis.
It's got sharp styling, and a luxurious spec list, but is more of a high performance urban commuter than a long distance tourer – the windscreen is quite low, and the bodywork is sporty and sleek.
The dash is fully digital, and there are useful extras like heated grips and a central locking setup for the auto-opening boot space (which takes two full-face helmets).
Michelin tyres give great grip round town, and the dual front disc brakes combined with ABS and a rear disc gives safe, powerful stopping in all conditions.
The Satelis 400 is a little bit chunky, weighing in at 213kg, but on the plus side, it's very well priced, at just under £5,000.
Well worth a test ride if you're looking for a single-cylinder 400-class urban super-scooter.
Gallery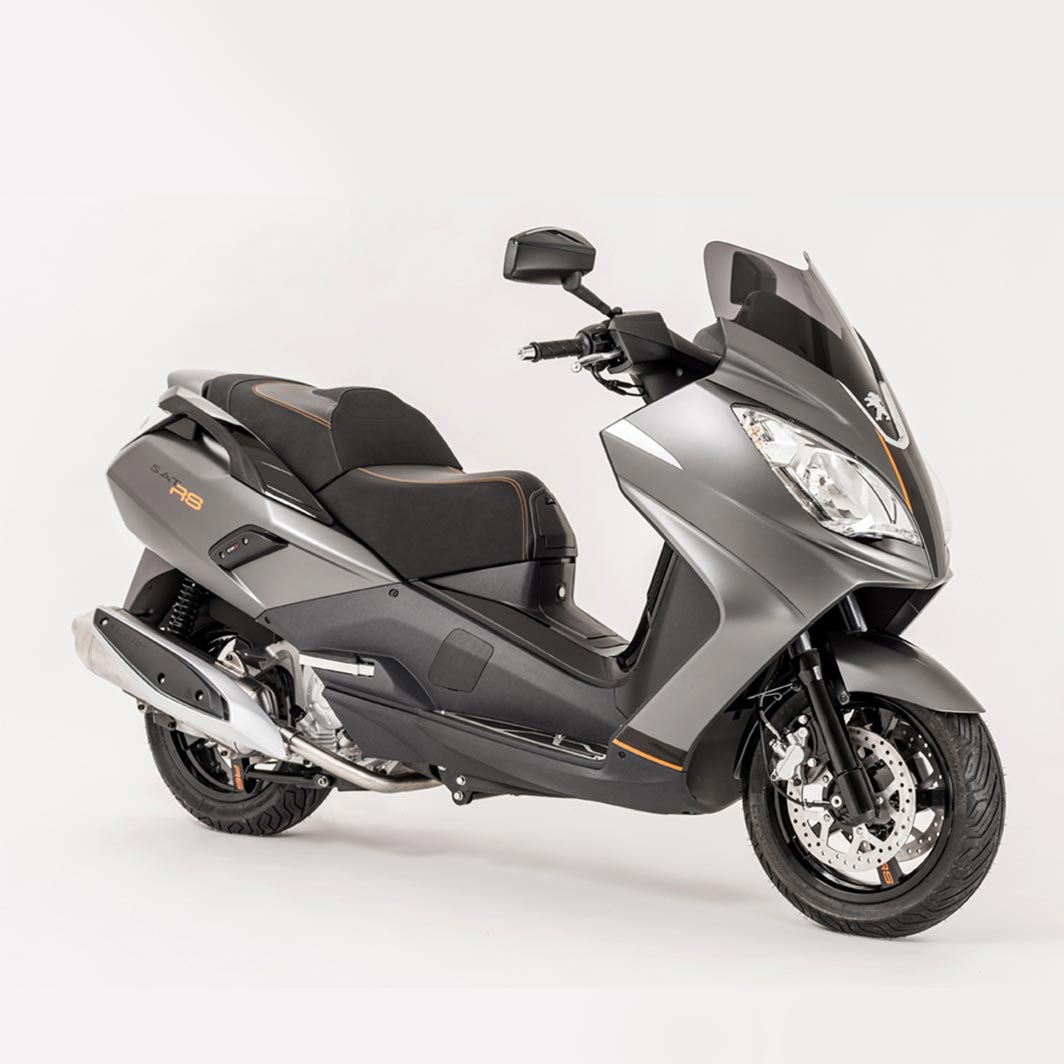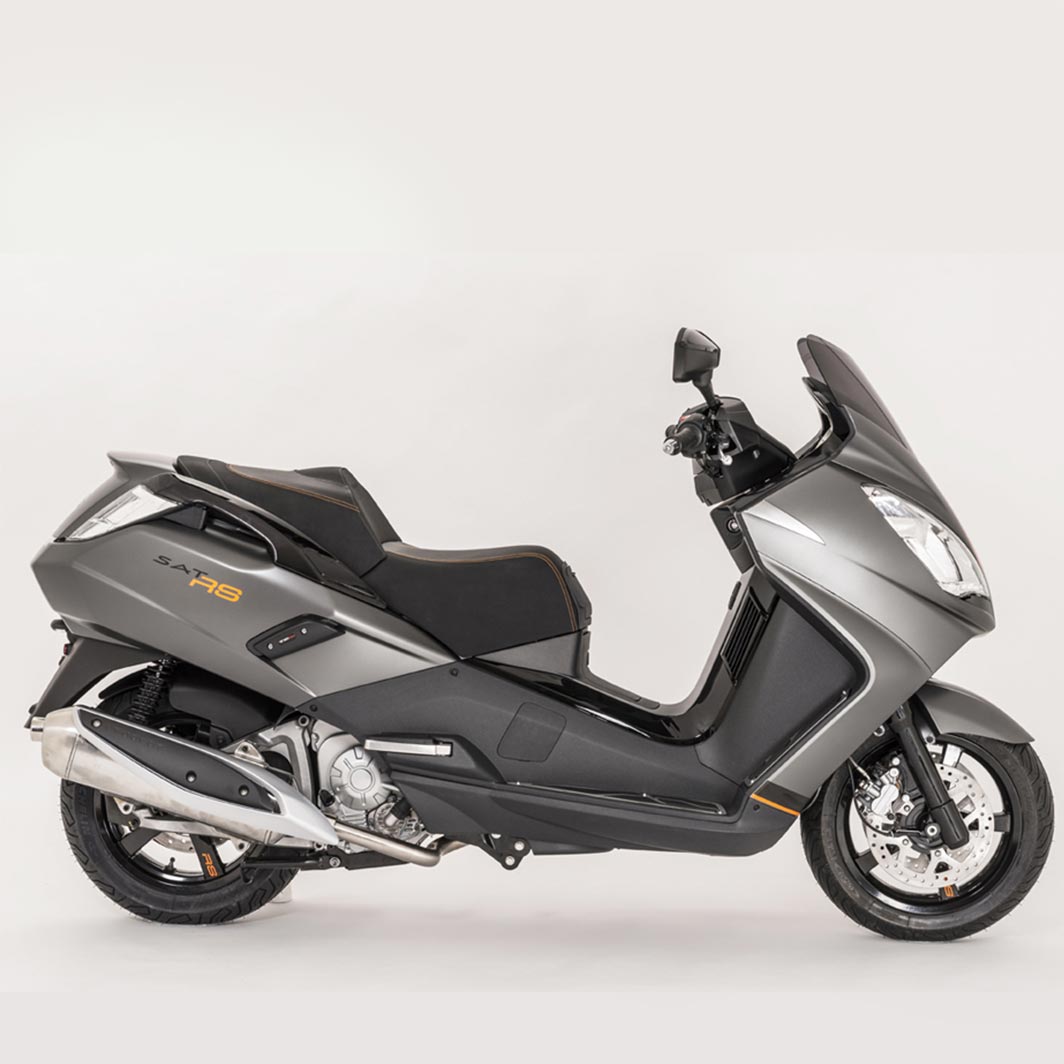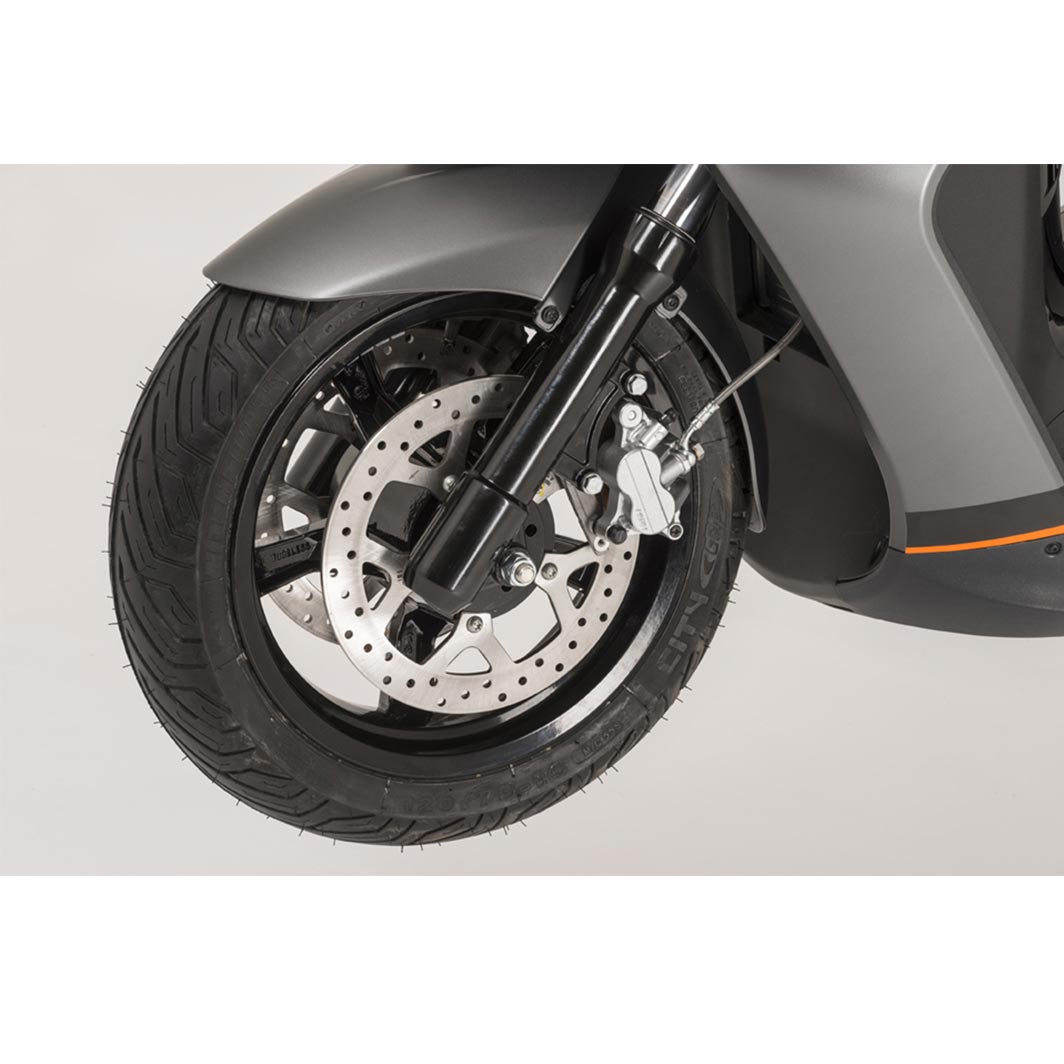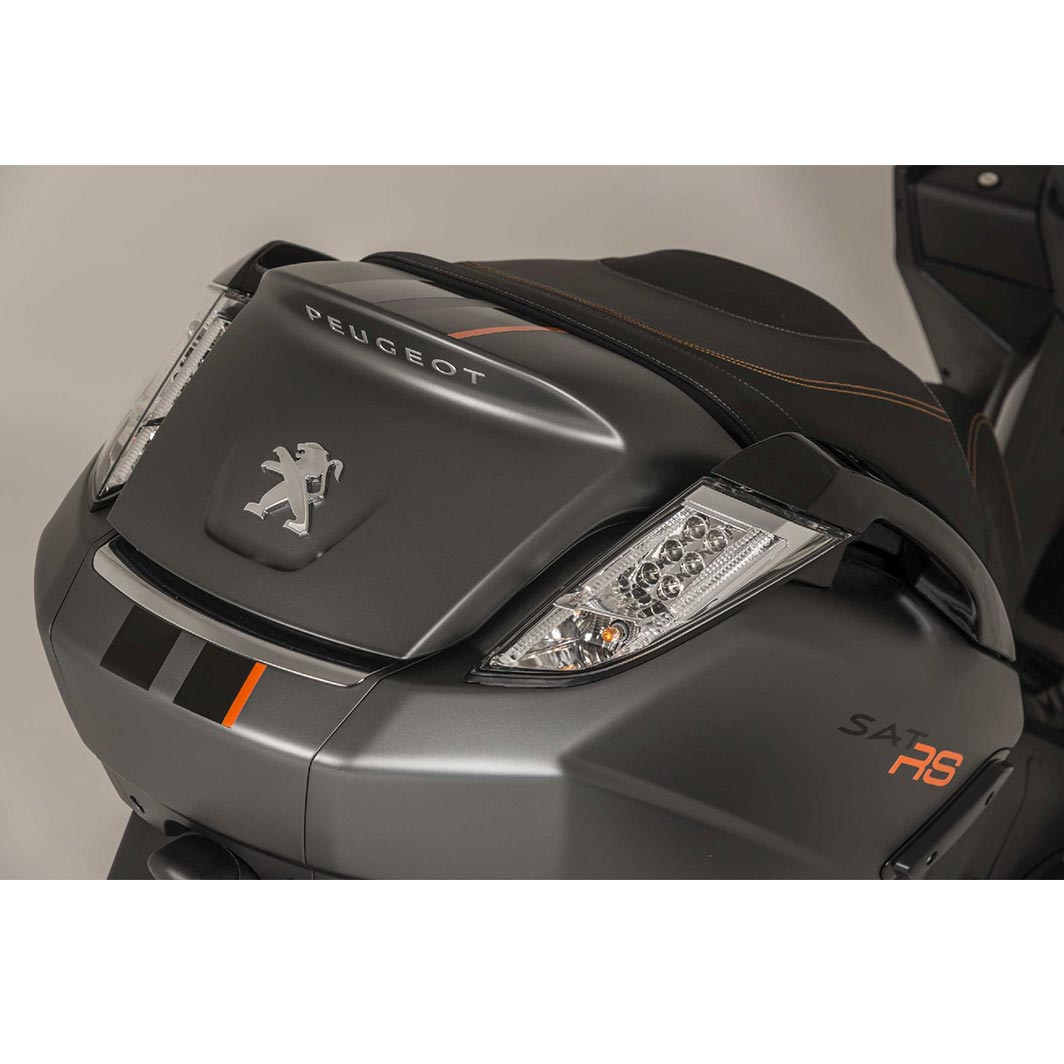 BMW C650 GT
BMW's not been making scooters for that long – but they did a great job from the start with the C650.
It's hugely well-equipped – as you'd expect from BMW – and is the most powerful of the scooters in our roundup here, making 60bhp from a 647cc twin-cylinder engine.
That modern motor is surrounded by a supremely well designed chassis, that gives sporty handling and a comfy ride.
The frame is a hybrid design, using steel tubes and aluminium sections, for lightness and super stiffness.
There are twin front brake discs, with BMW's trademark ABS and traction control systems adding even more safety nets to your ride.
A wide 160-section rear tyre gives ample grip, and the only downside on the spec sheet is the kerb weight – a hefty 261kg, fully fuelled.
The C650 is a sporty machine – but it's also super practical. BMW claims more than 61mpg in daily use, there's an electrically operated adjustable windscreen, power sockets in the glovebox, one-key opening for the storage spaces and ignition, and the underseat area is large, and illuminates automatically when opened.
An extensive dashboard has superbike-style analogue tacho with a large LCD panel, that gives a full rundown on vital trip computer functions as well as all the usual warning lights and info readouts.
BMW is well known for its massive accessories range – and the C650GT can be specced up just as you like, with luggage, heated grips and seat, chrome styling touches and integrated satnav installation.
The base C650 GT model starts at £10,290 – but you'll not be able to resist bumping that up a fair bit with some tasty add-ons we bet…
Gallery
BMW C400 X
Much of what we said about the BMW C650 GT scooter applies to this, BMW's smaller single-cylinder C400 scoot.
The Bavarian 400 scoot also comes in GT form, and this rather natty urban warrior 'X' version. The 400 X has a strong look, mixing up some go-anywhere chunky industrial design with a high quality feel and premium materials.
It's down on power and mass compared with the big 650 twin of course: but 34bhp shoving 204kg wet isn't so bad in this sector – especially with a claimed 80mpg fuel consumption figure.
The C400 X comes with ABS and traction control, which makes it stand out in the class, and stuff like full LED lighting, phone connectivity and a built in charging point in the glovebox all make a lot of sense.
It also features a cunning expandable underseat area, which gives an extra chunk of storage when you park up, to store your lid.
A section above the rear wheel folds down into the wheel travel area, providing that extra space. An interlock stops you riding off with the space extended – smart stuff.
Keyless ignition, heated grips and seat and a load of luggage options round off the C400 X offering. It's not a cheap option for a city scoot, with the base model starting at £6,200, but you do get a lot for that cash.
Gallery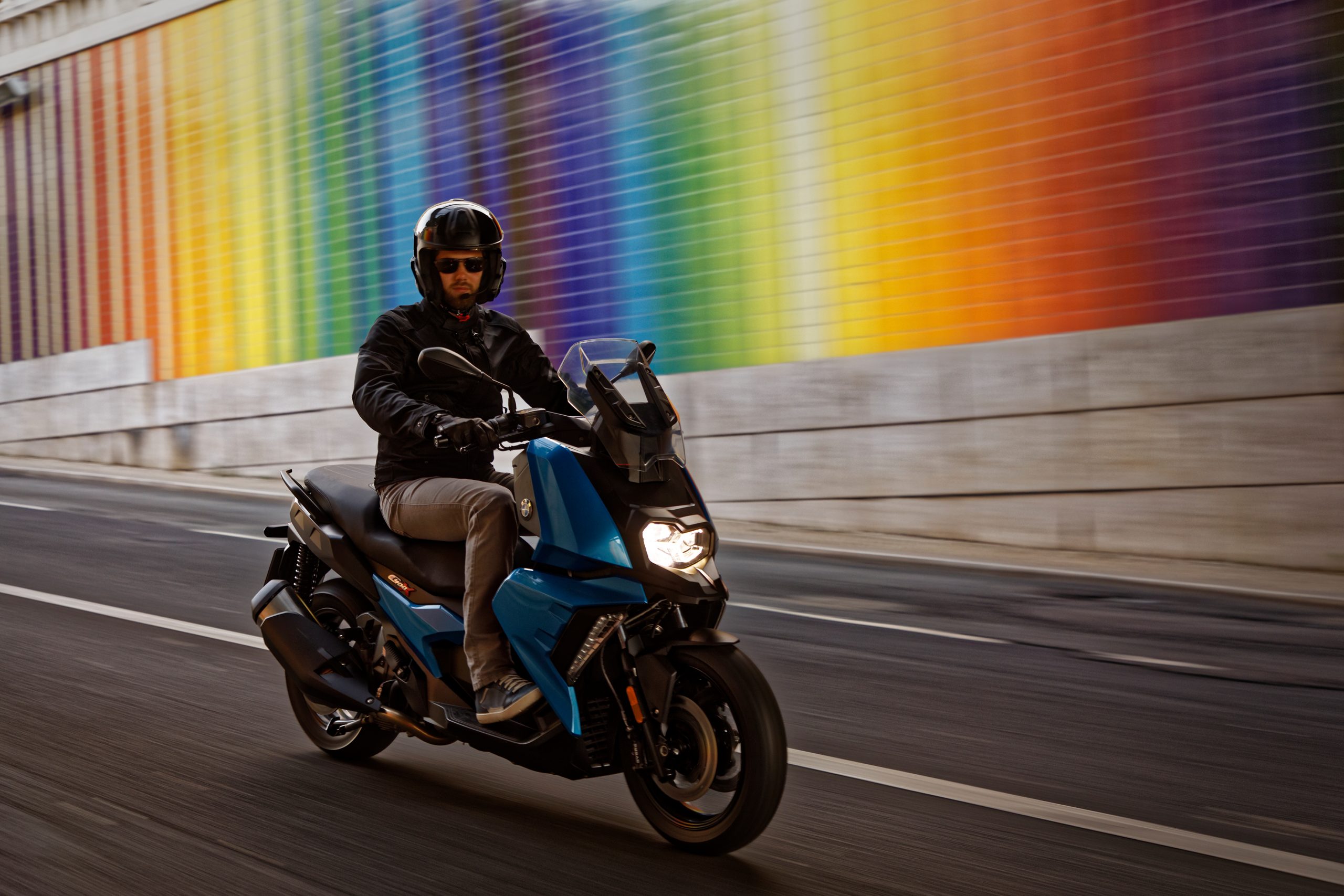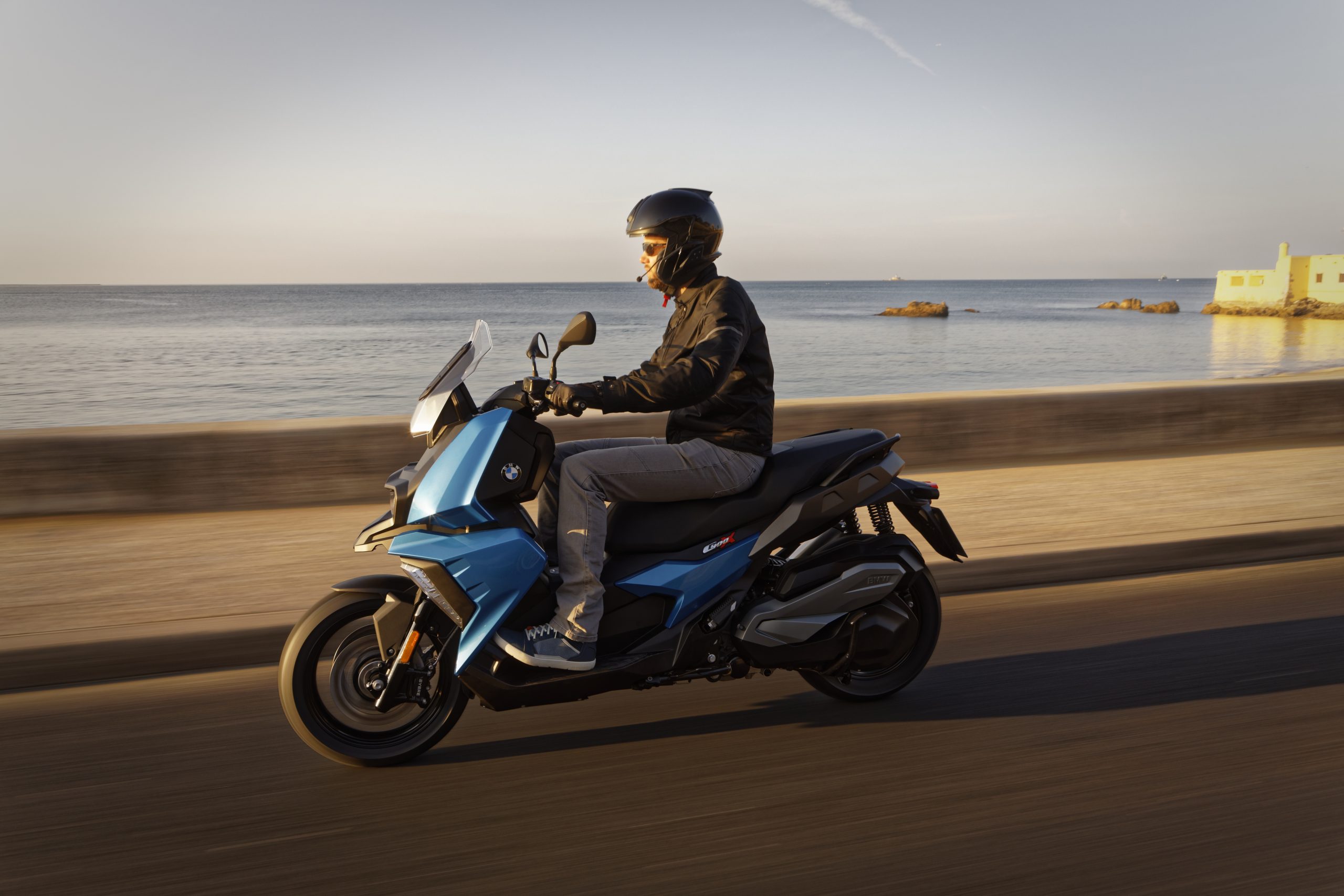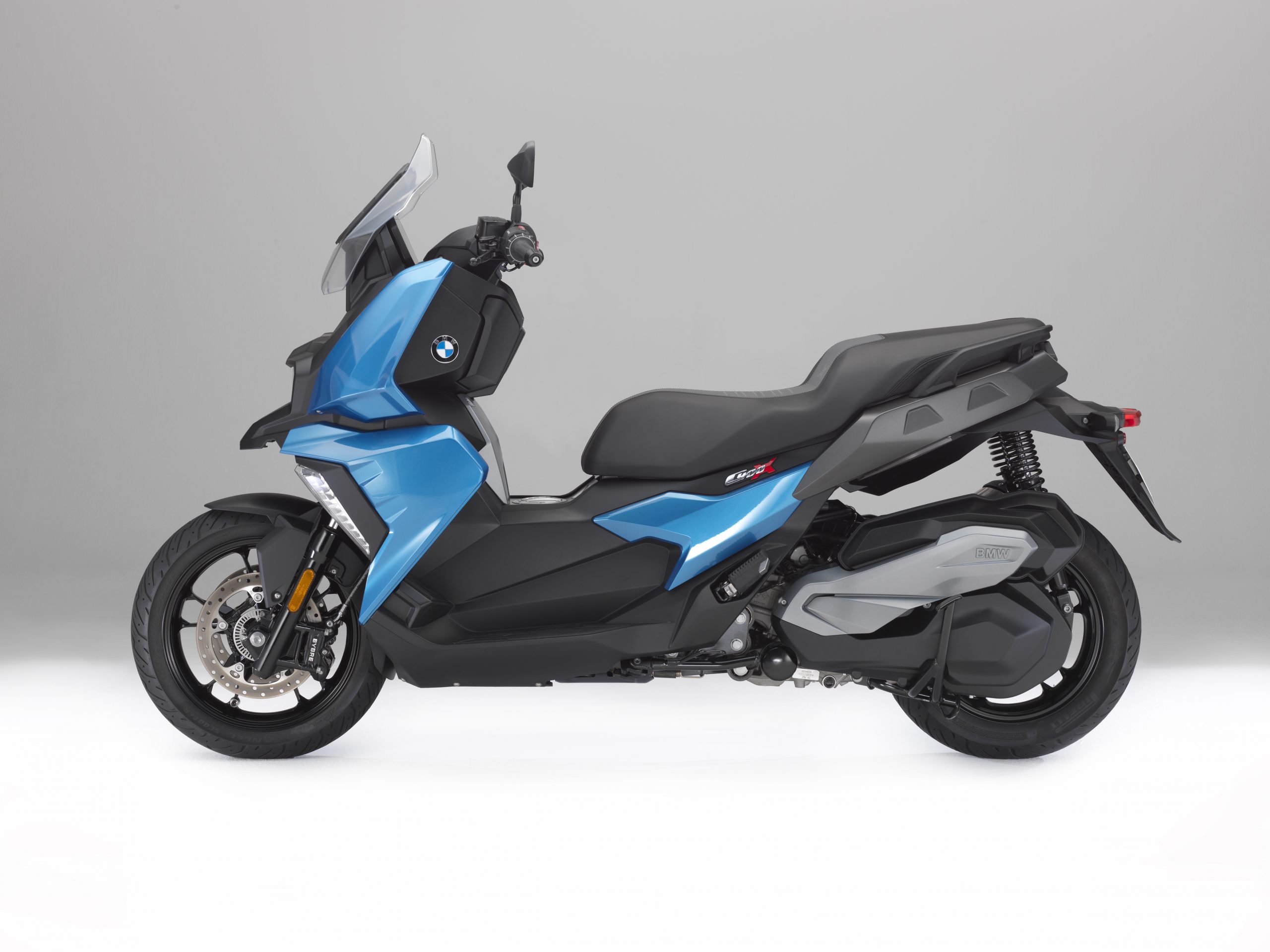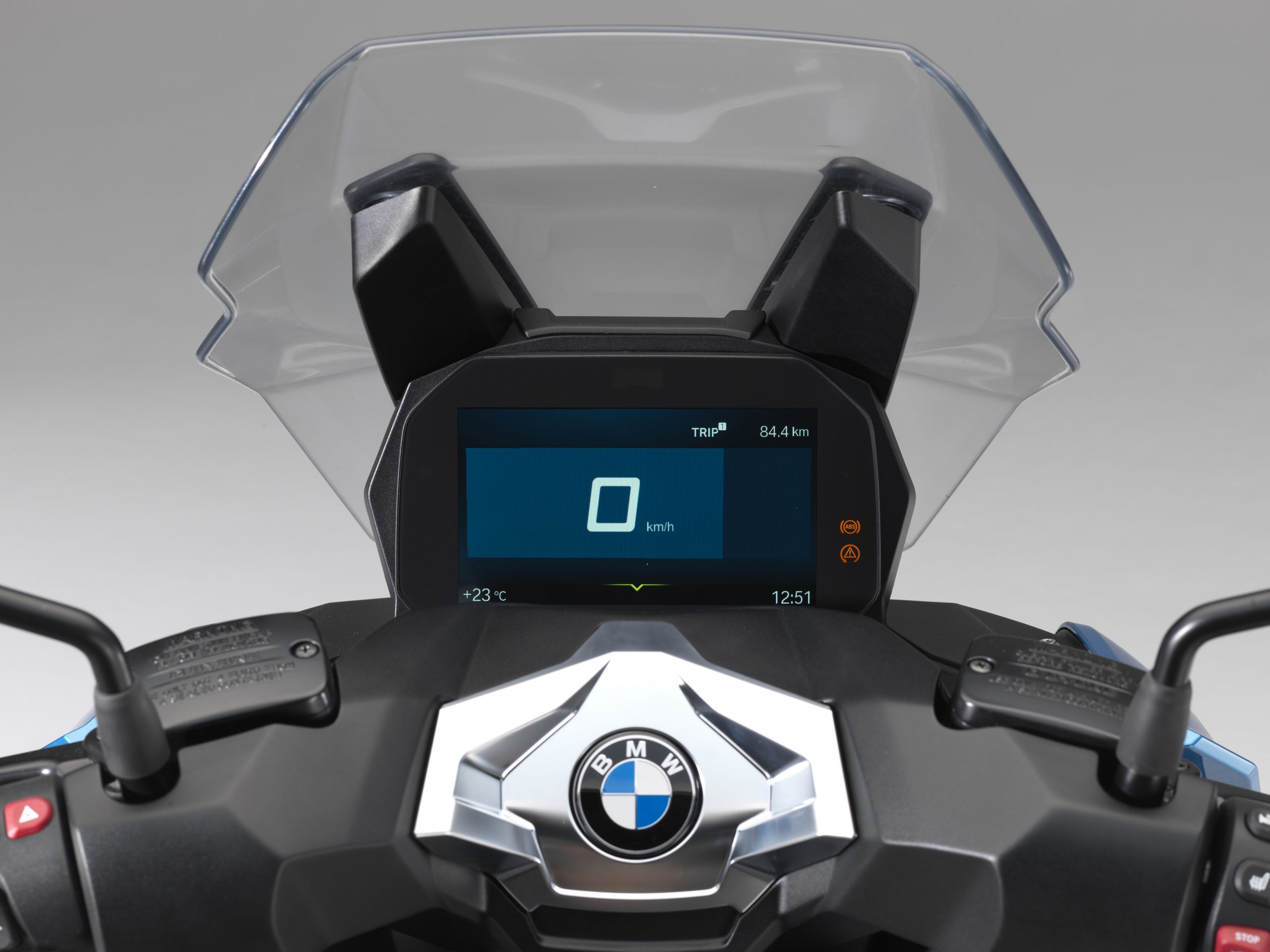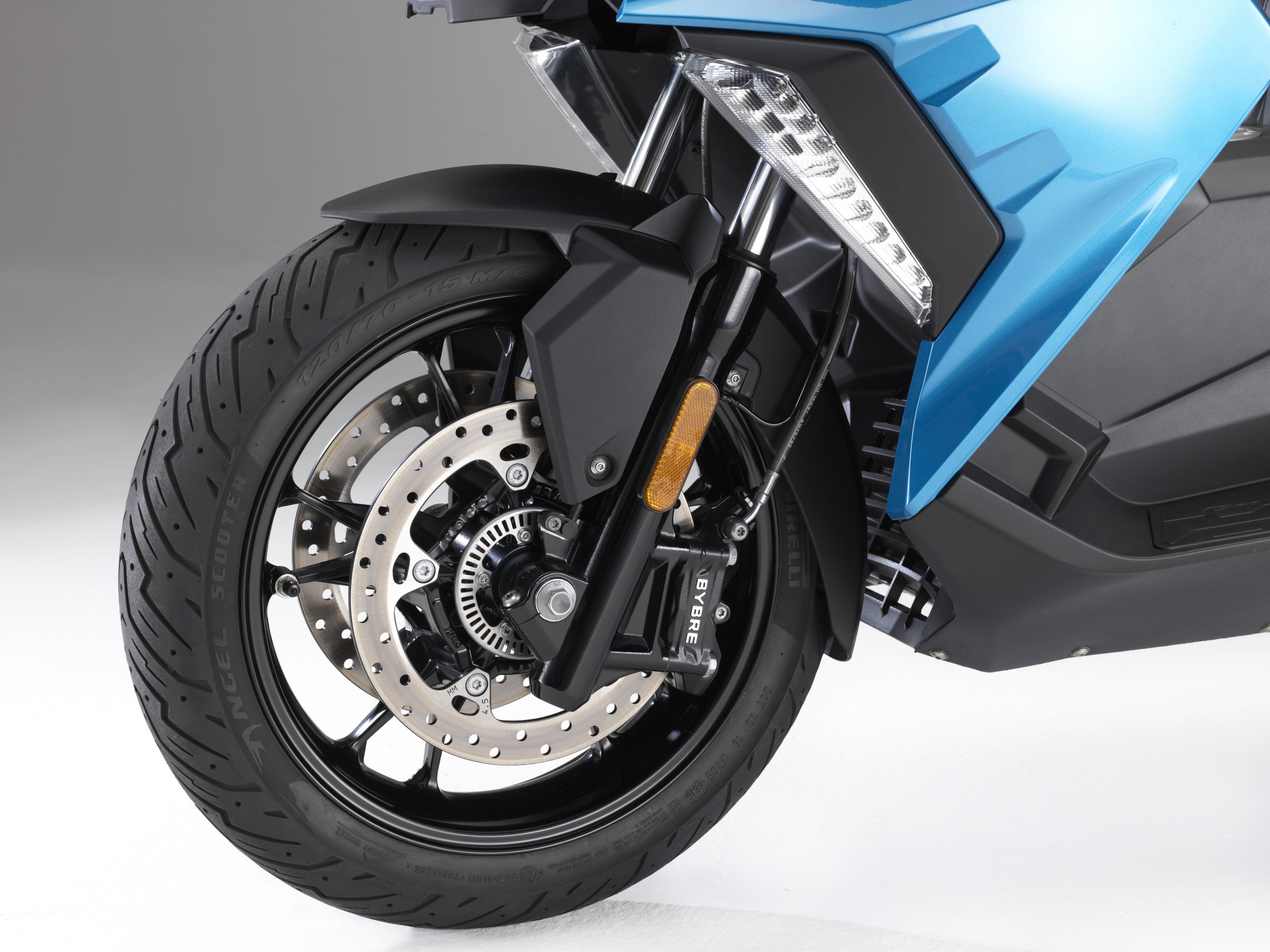 Suzuki Burgman 400
Wondering what a 'Burgman' is? It comes from the German suffix on a number of towns and cities (Hamburg, Brandenburg, Magdeburg) and has the same word root as 'borough'.
I thought it meant 'town', but it doesn't quite translate as that – it's more like 'fort or castle'. So the Suzuki Burgman range are all 'castle men', it seems…
Weird naming aside, the Burgman range is solid scootering fare, and once you come down from the 650 twin mega-scoot version, they all get a bit steadier.
The 400 uses a DOHC fuel injected single-cylinder engine, which makes around 30bhp, while returning a healthy 66mpg on a run.
It's got ample grunt for longer commutes, though anything more than 10-15 miles on a motorway as part of your daily commute might start to grate after a few months.
The chassis is an old-school step-through design, with a steel tube frame, but it does boast a cunning underslung monoshock rear suspension setup, with rising-rate linkage.
This is much more advanced than most scooters' basic twin-shock setup, and is also adjustable for preload – nice.
The front end has a pair of brake discs on the conventional forks, and gives great performance for the class, with decent feedback and control.
There's plenty of storage under the seat, the front glovebox has a built-in power socket, and the latest model also has a revised dashboard with clear simple instruments. Accessories include luggage, heated grips and a taller screen.
The Burgman 400 isn't super cheap, but you get a decent amount of capability for your £6,499 – and it's definitely worth a test ride to see if being 'castle-man' would work for you…
Gallery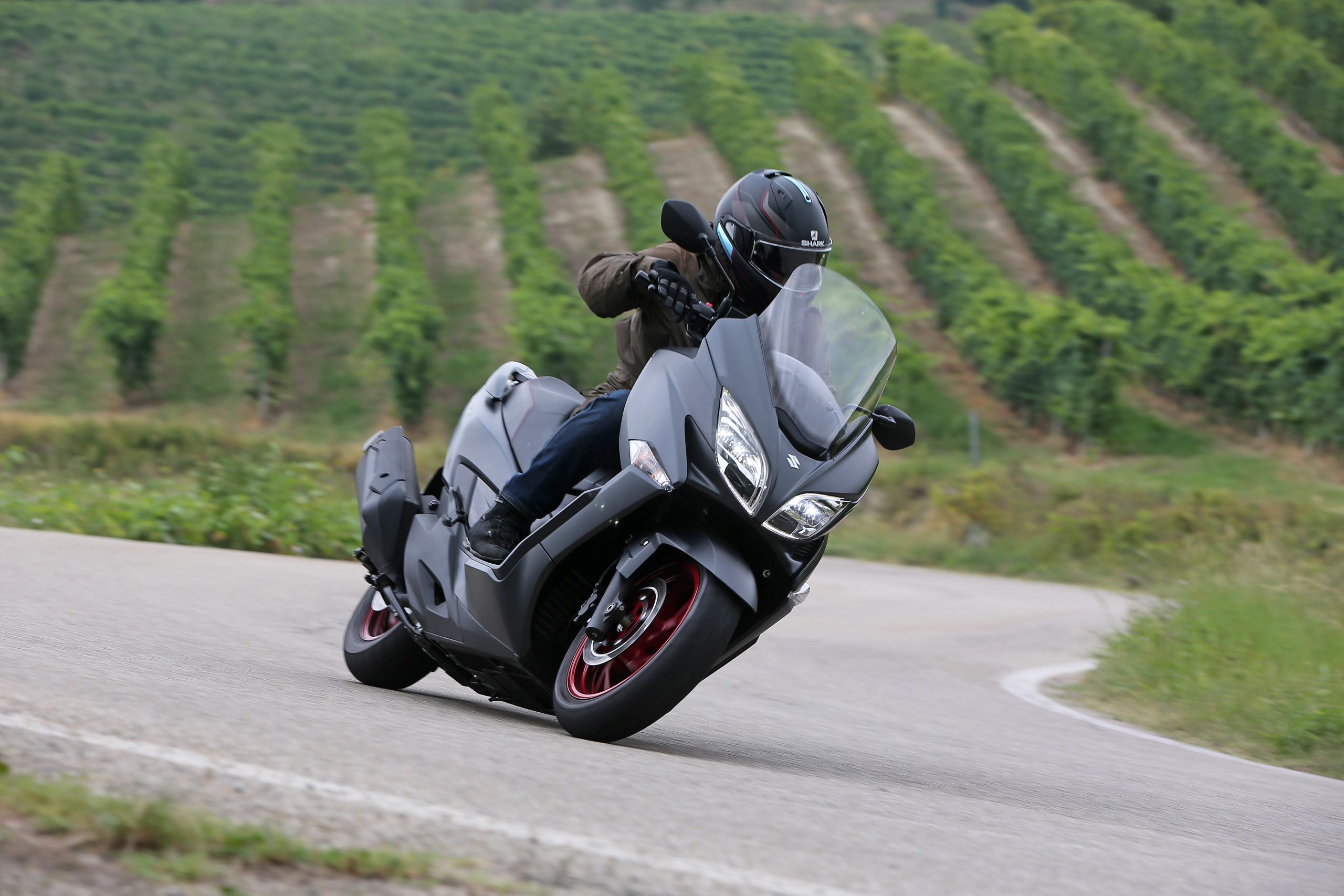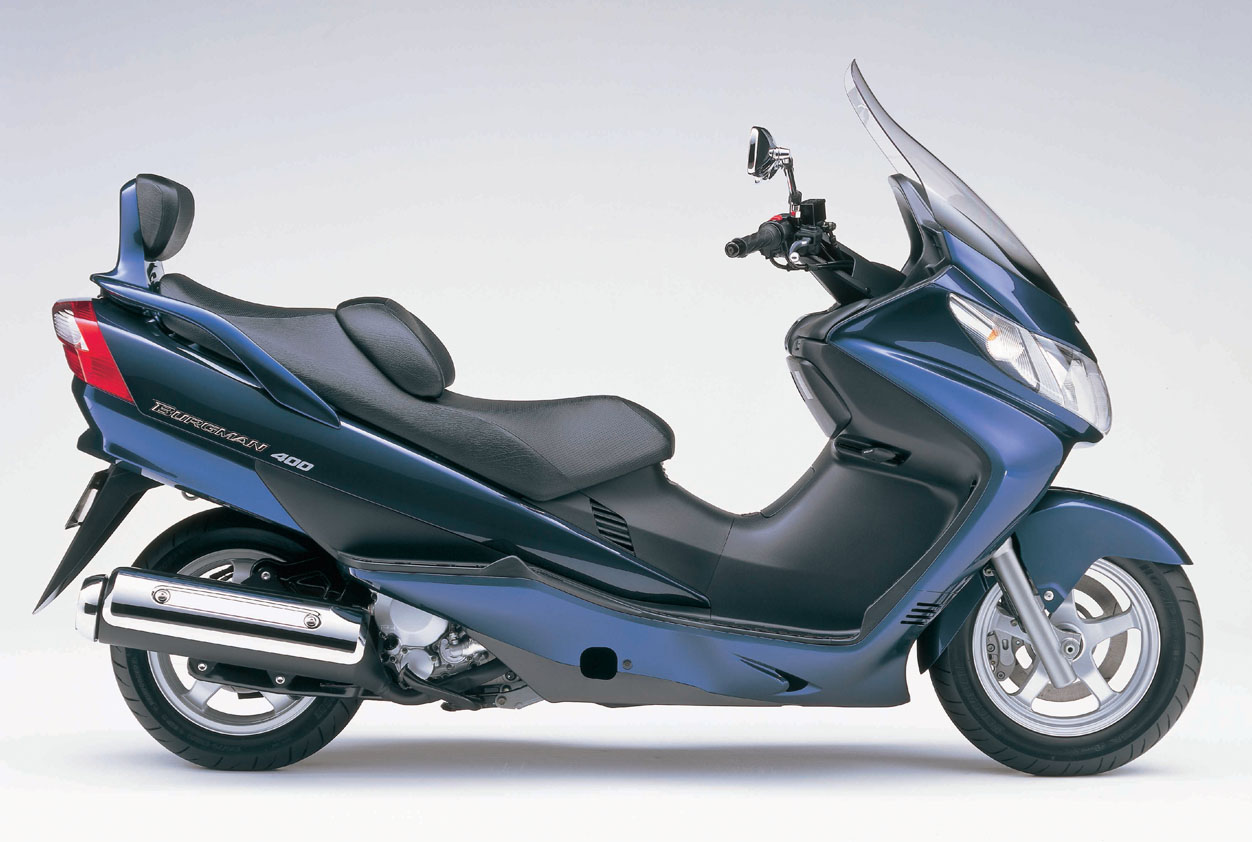 Yamaha XMAX 400
Yamaha's entry into the 400 superscoot class follows the basic pattern set by most other firms: a single-cylinder engine making 30-ish bhp (33 here) in a conventional steel tube chassis weighing a couple of hundred kilos.
It has a couple of standout features though, starting with a safety-boosting traction control system which, together with the ABS setup, provides an extra layer of rider safety in poorer conditions.
The styling is typical Yamaha scooter 'MAX' design, with angular bodywork panels, LED lighting and a premium feel.
There's a large underseat storage area, that will take two full face lids, an expansive dual seat for longer distance comfort and the TMAX-style motorcycle front end.
Twin brake discs up front gives secure stopping, and the screen and handlebars are both adjustable to get the right setup for you.
The XMAX 400 will do a middle-distance daily commute with ease, as well as the odd longer jaunt – and it's well priced too at £6,149.
Gallery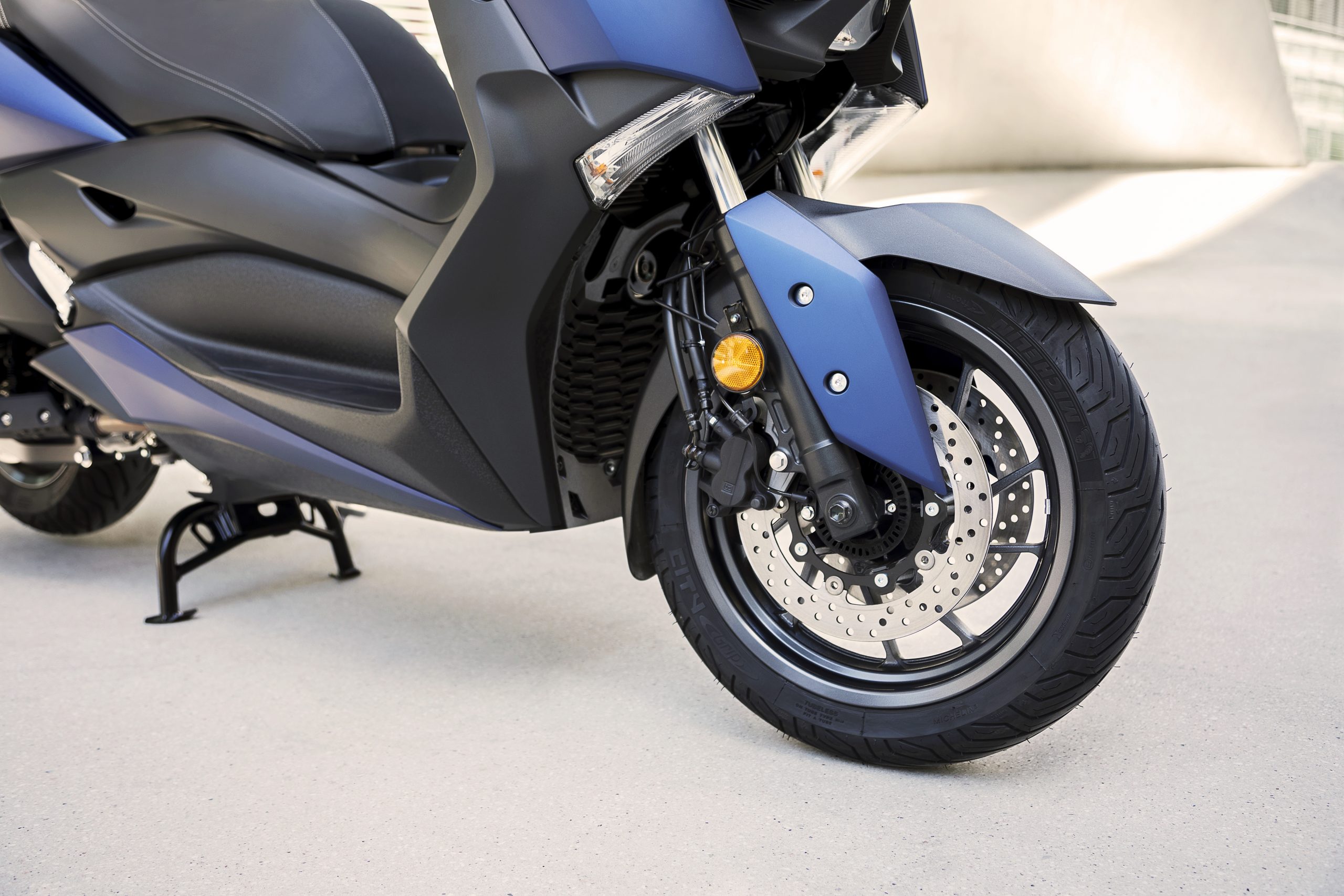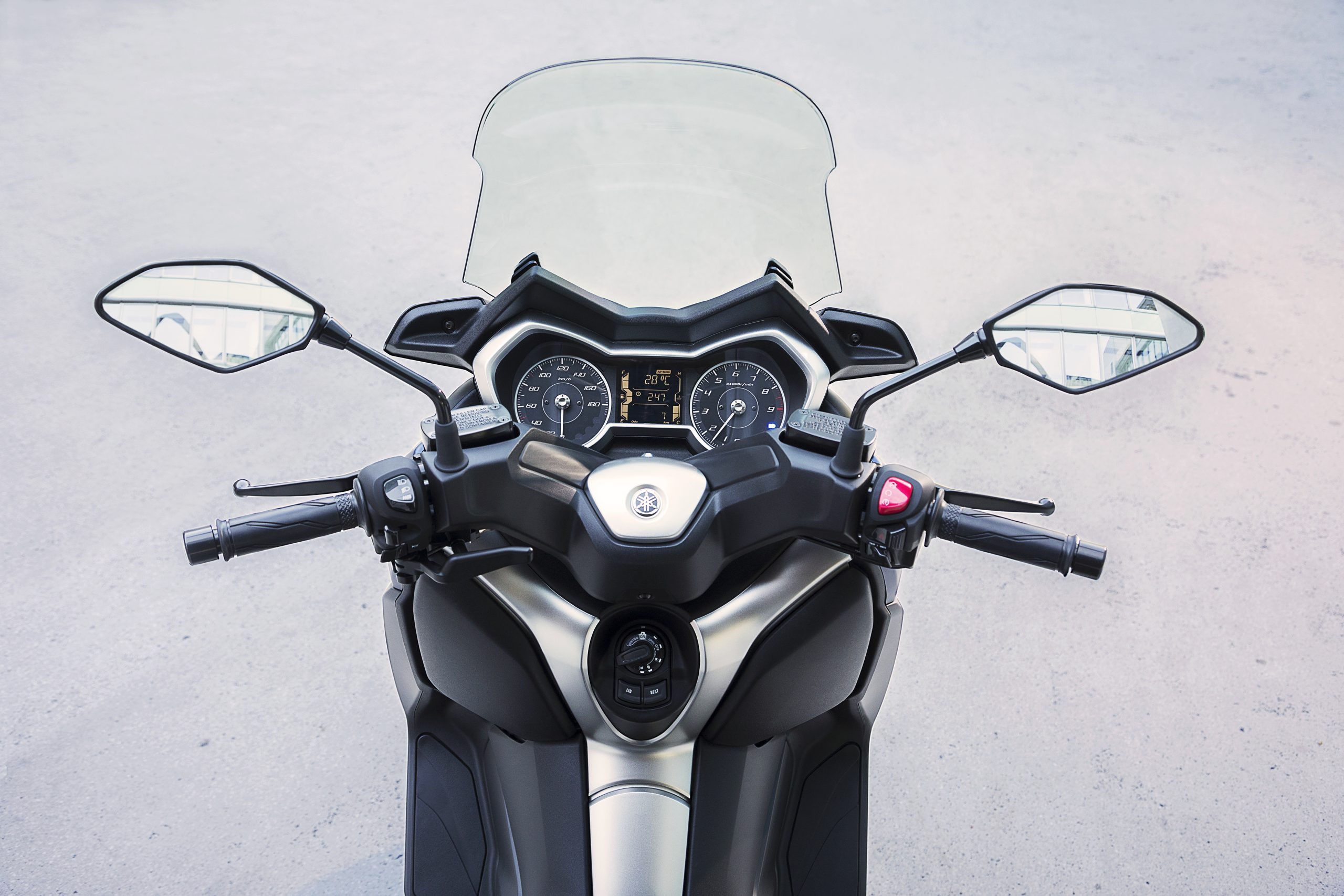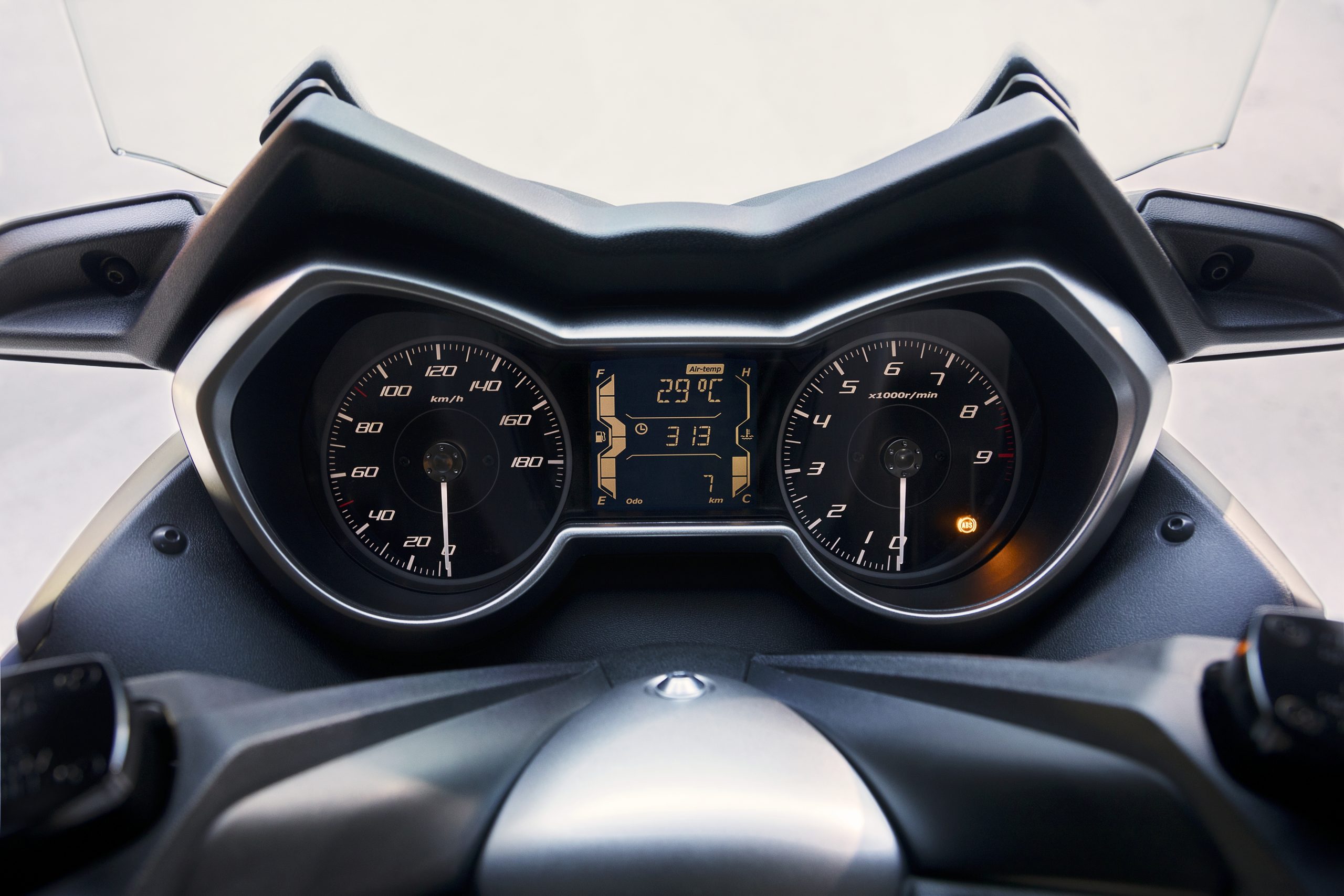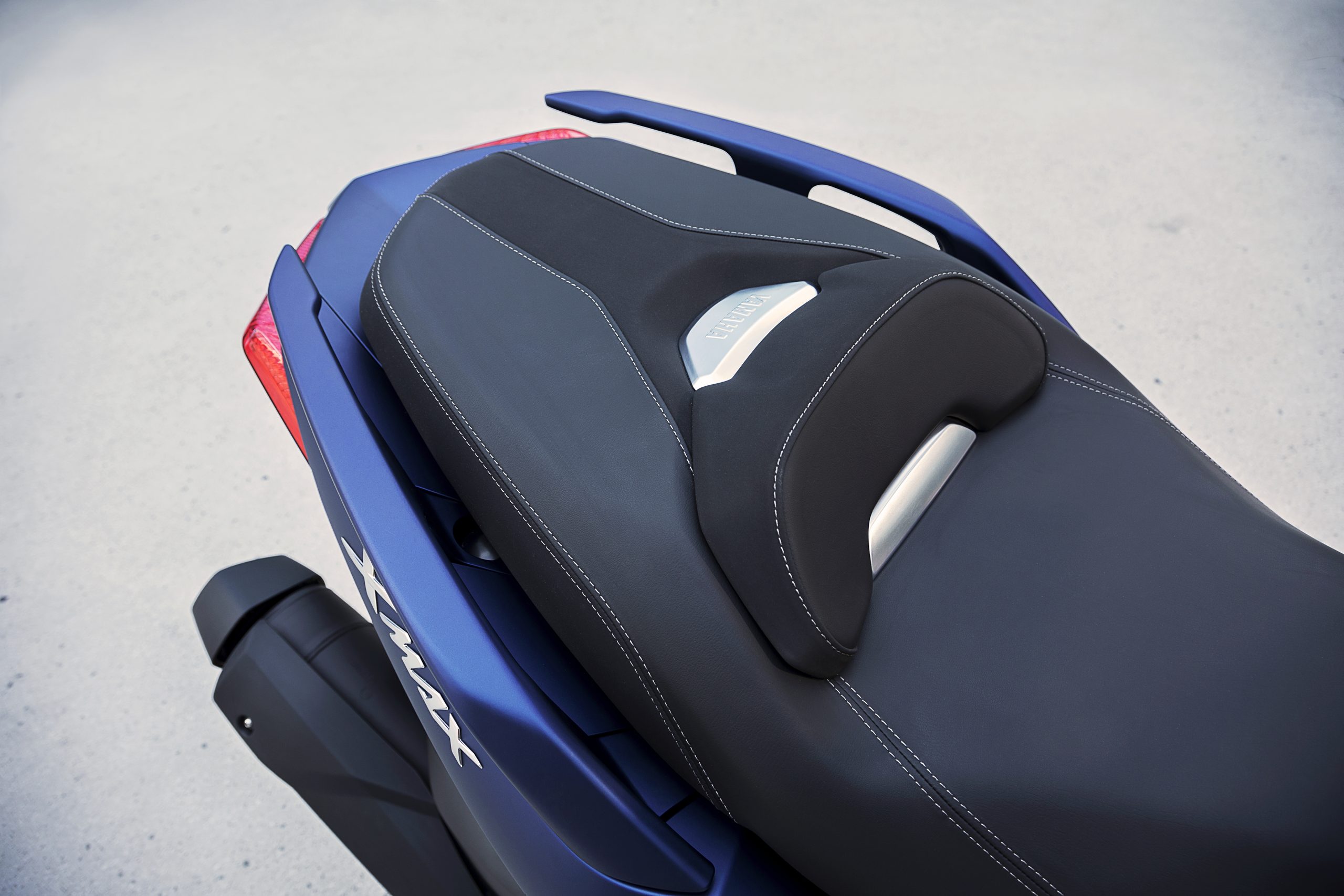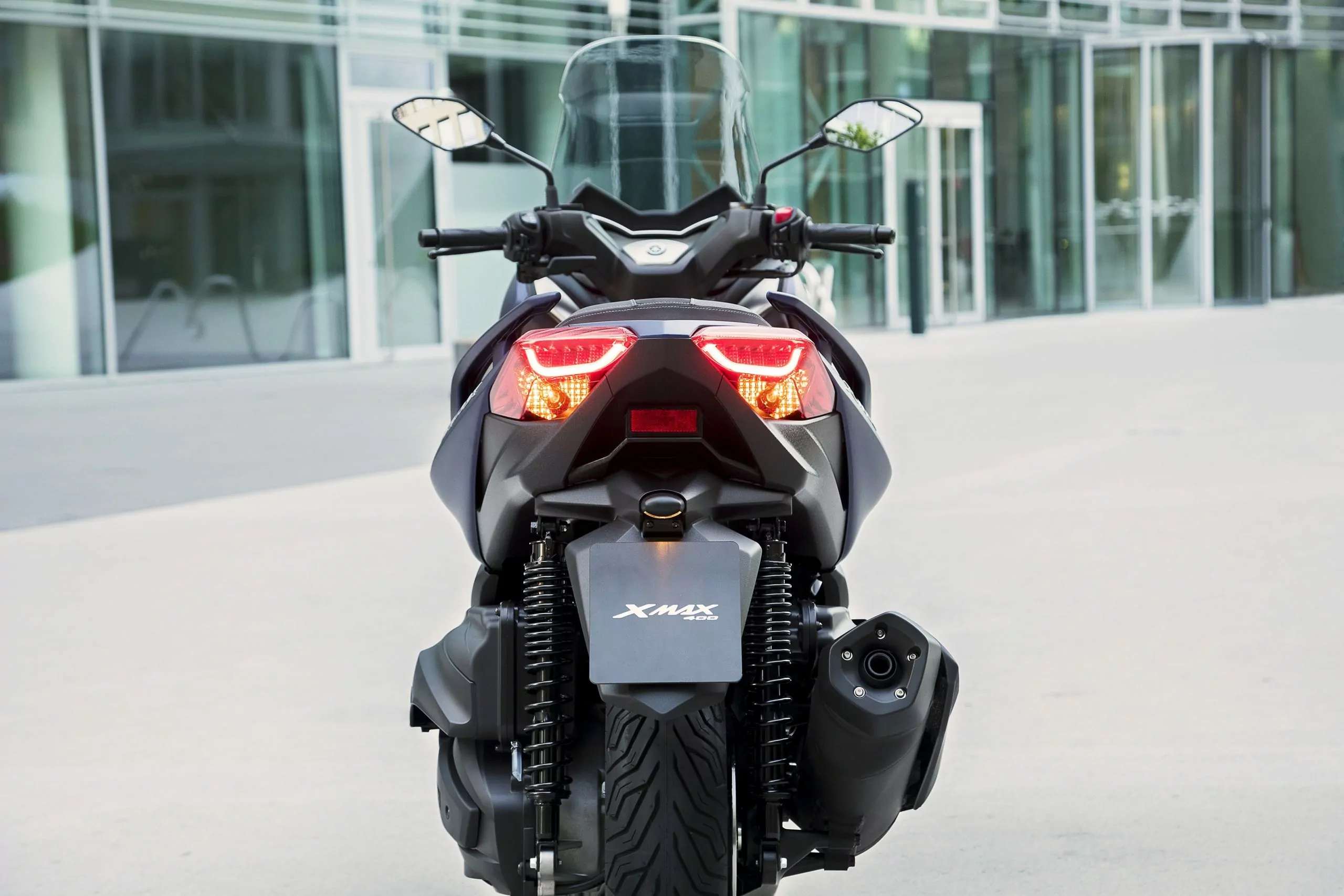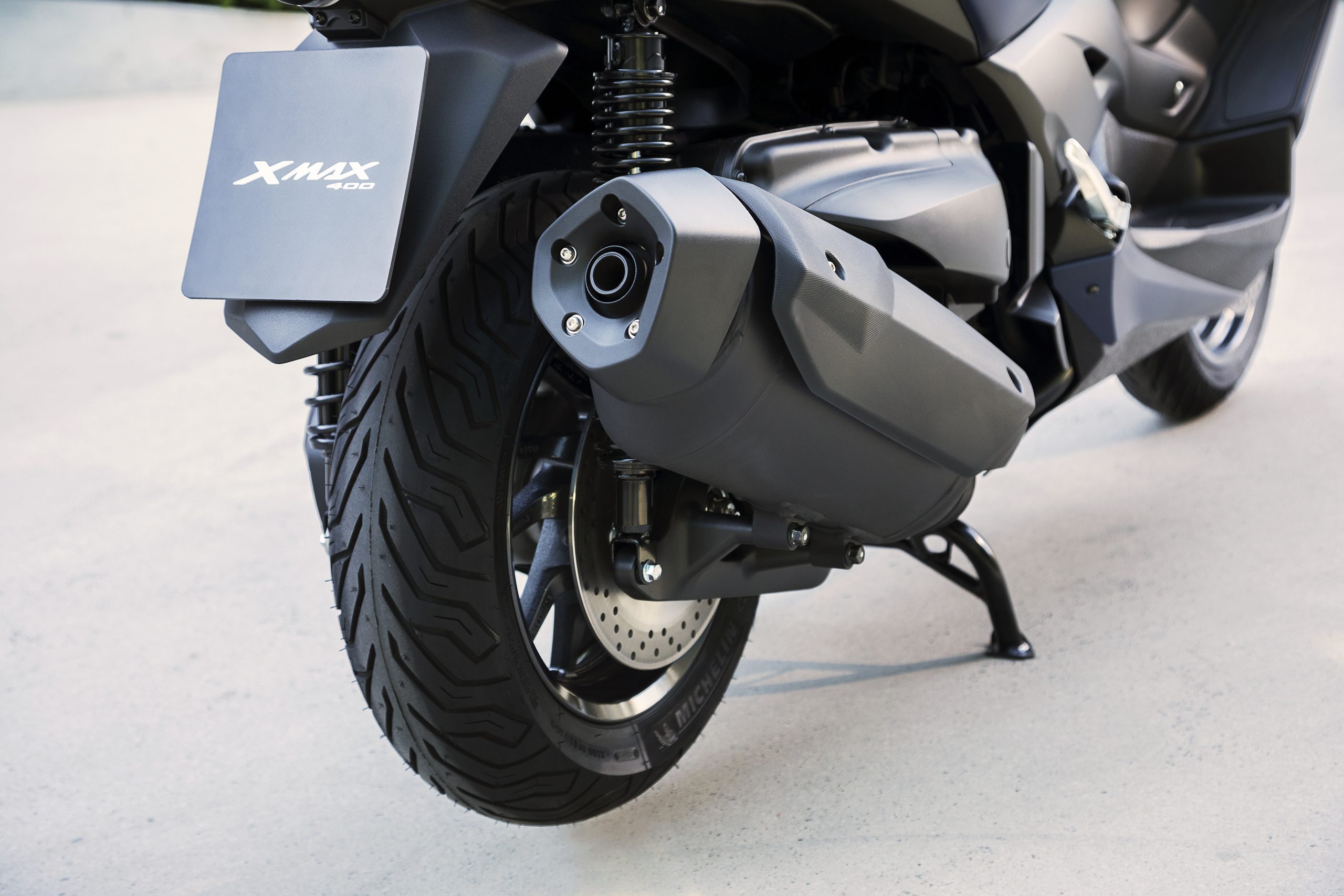 Honda Silver Wing
The Honda FJS600 Silver Wing has been discontinued for a few years now, but there are plenty still available on the second-hand market.
It was Honda's original entry into the super scooter class, and was aimed at the likes of Suzuki's Burgman 650 and the Yamaha TMAX.
The Honda was lighter and nippier than the Suzuki, but a touch more comfy than the Yamaha, so made a good middle option between those two.
A 582cc parallel twin engine makes around 50bhp, there's stacks of underseat storage, and the comparatively light weight gives good handling out of town.
Honda build quality means these beasties go on for a long time, and with care and regular servicing, it'll rack up the miles with ease.
There's also a vibrant community of owners online, so tips on ownership are easy to find. Prices range from about £1,000 for an early model in nice order through to nearer £6k for one of the last 2016 bikes from a dealer.
Gallery