BMW R1250 GS Adventure Bike Overview
It's not even twenty years old, but the GS Adventure is already an institution, marked out as one of the true greats of motorcycle design. The original R1150 GS Adventure of 2001 set out the recipe: an even more aggressive design, with added dirt ability, extended bodywork and massive fuel tank. And the various R1150, 1200 and now 1250 versions have progressively honed the design ever since, giving us this, the very latest and best heavyweight Adventure GS ever.
The base of the 1250 GSA is the excellent 1250 ShiftCam Boxer engine, which is a frankly awesome powerplant. BMW overhauled its flagship boxer engine for 2019, adding the cunning 'ShiftCam' variable valve timing setup on the intake side, and increasing the capacity by around 80cc, up to 1,254cc from 1,170cc. Other detail mods to the cooling system and a new clutch rounded off the engine mods. It now makes around 135bhp, with over 100ft lb of torque, and is a really sharp, strong unit. It's kept in check by a cutting-edge set of rider aids, with IMU-assisted traction and ABS control systems, up and down quickshifter, rider power modes and a load of other optional extras.
The 30 litre fuel tank will carry you for half a day across countries, with a 400 mile range before fill-ups, while the hardcore engine and crash bars give protection in a spill and add loads of style. Add cruise control, hard luggage, hot grips and taller windscreen, and you have an incredibly capable mile-munching mega tourer.
The optional-for-2018 colour LCD 'informatics' dash is now a stock fitment, so the clocks are right out of the top drawer. The switchgear is packed with controls for the cruise control, driving lights, ABS, dashboard menus, and BMW's clever settings dial on the left hand bar. You can quickly flip through all the options for riding modes, suspension adjustment, trip computers and more, and all the info you need is clearly displayed.
BMW R1250 GS Adventure Bike Spec
Seat height

890mm

Weight

268kg

Engine

8v boxer flat twin, DOHC, variable valves, liquid cooled

Capacity

1254cc

Top speed

135mph

Average fuel consumption

-

Price

£14,415
BMW R1250 GS Adventure Bike Insurance
BMW R1250 GS Adventure Bike Gallery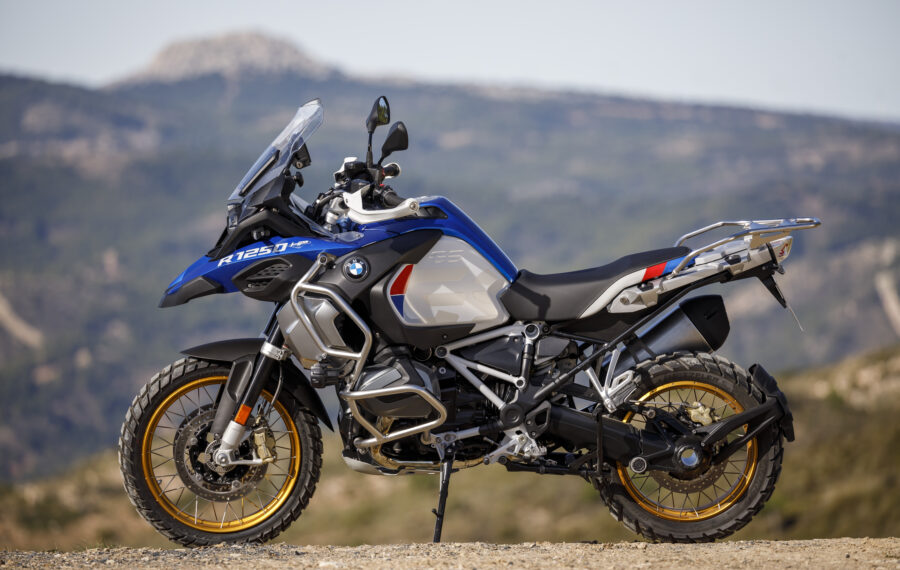 Owner Reviews
Pros
Lovely bike for long run
Read More
Comfort5 out of 5 stars
Super
Build Quality4 out of 5 stars
Super
Brake5 out of 5 stars
Good
Ride Quality5 out of 5 stars
Super
Engine5 out of 5 stars
Super
Running Cost4 out of 5 stars
Super
Pros
Comfortable, capable, go anywhere. Big, tough and roomy. Great one or two up. A proper touring bike that can scratch too. It is just great , all round fun to ride
Cons
Come on BMW sort your seats out. Ot cant be that difficult. I know loads of people who will test them for you! For free!!!
Read More
Comfort4 out of 5 stars
This bike could go around the world without a problem, it is that good. Except for the seat – that would have to change. because it's only really suitable for short journeys. I don't know what it is about BMW. I love the bikes and have had numerous models over the years, including riding them continuously for the last 15, but they just never seem to make comfortable seats. It says something when a company actually when one of their aftermarket options is actually call a Comfort Seat. Maybe fat German biker bottoms are somehow different to British ones, but I doubt it. Maybe their testers are Iron Men. Whatever, don't let the seat put you off what is probably the best all-round bike out there at the moment
Build Quality5 out of 5 stars
Appears to be built well but I guess time will be the true test. I coated the bike with ACF50 as soon as I got it to help ensure any possible corrosion is kept at bay
Brake5 out of 5 stars
Some people hate it and complain about lack of feedback but I absolutely LOVE the set up on my bike. The linked 4 pot radial caliper floating front brakes and twin pot floating caliper rear brake are a really powerful and the telelever front suspension doesn't dive under heavy braking, unlike traditional forks. So I brake hard and late without shifting too much weight into the front tyre, with the fear of losing the front end. And, if you need it, the ABS works with the bike cranked over without standing the bike back up, so you can steer!
Ride Quality5 out of 5 stars
This bike has dynamic electronically adjustable suspension that just soaks up bumps in the road, ABS and traction control, multimodes for engine mapping covering rain, road, off road and all out gung-ho. Once it's moving the feeling of size and weight just disappear, with the mass low down because of the boxer flat twin engine. Put this all together and it means I can keep up with my mates on sports bikes on most of the twisty bits until absolute horsepower is required. And I arrive feeling WAY better than them having not been riding cramped up for hours like a jockey on horseback. Sweet
Engine4 out of 5 stars
My 1250 GSA is more powerful than the 1200 GSA, my last bike, and the power delivery feels different because of the variable valve timing. It might not be sports bike powerful but it has more than enough usable beans for me. When did you last go over 125 mph…..
Running Cost3 out of 5 stars
No more expensive to run than other big bikes (if you want to know what expensive is get a Ducati!! been there, done that). I can get 50 mpg if I want to by riding very steadily, the tank range is over 300 miles and it isnt stupidly expensive to insure either.
Pros
The TFT dash is fantastic, nav, calls and music straight through the bike instead of mucking about with the separate nav system.
Cons
Initial cost is massive compared to some rivals, but is worth it in the end.
Read More
Comfort5 out of 5 stars
BMW have carried on the epic round the world all day comfort adventure bike. Two up with full luggage you can both still ride until the tank empties in the next country over.
Build Quality5 out of 5 stars
So far so good and if the older bikes are anything to go by, then there should be nothing major to worry about.
Brake5 out of 5 stars
Stopping quarter of a ton is no easy job but these brakes do just fine.
Ride Quality5 out of 5 stars
The GSA is a big beast I wont like but as soon as you get moving all the weight disappears. As soon as you're on bumpy twisty B roads prepare to embarrass even the best sports bikes with the speed these drop in and carry through bends.
Engine5 out of 5 stars
The new shift cam technology makes the great engine even better with masses of torque on demand from really low down in the rev range.
Running Cost4 out of 5 stars
Great on fuel but the initial cost, or monthly depending on how you buy it, is expensive. Build quality dealer backup and residuals make this easier to swallow though.