Honda CBR900RR Fireblade Bike Overview
In 1992, while all the other Japanese manufacturers were focused on trying to produce the best 750cc sports bike, to conform with superbike racing rules of the time, Honda launched the FireBlade.
While even the best 750s were pushing 200kg and struggling to squeeze out much more than 110bhp, the original 893cc FireBlade tipped the scales at just 185kg and put out 122bhp. Hardly earth-shattering by today's 200bhp standards, but at the time it was absolutely game changing. Race glory may have been limited to the less prestigious stock and open classes, but showroom success was indubitably world-class.
The '900cc' FireBlade (geeks note the capital B, later models used a lower case b) motor increased in capacity from 893 to 918 in 1996. Styling altered over the years from the original (and much sought after) round headlight model to the 'Foxeye' an arguably better-looking bike that made the Urban Tiger colours legendary.
Handling was also superb. Fast steering and just the right side of stable, the 16" front wheel taking the credit and the blame, depending on who you talk to, the FireBlade was agile, light and fast for its time. Right up until Yamaha launched the R1 in 1998, the FireBlade was the bike to be on. Sales slumped in 1999, and in 2000 a new, fuel-injected model was launched.
Immaculate early originals are rare, and can fetch upwards of £9,000 (yes, really!) while later 'Foxeye' 918cc machines go for anything between £2,500 for a well-used but decent example while mint, low-mileage Urban Tigers can fetch as much as £7,000.
Honda CBR900RR Fireblade Bike Spec
Top speed

164mph

Weight

185kg

Average fuel consumption

36mpg

Seat height

810mm

Capacity

893cc/918cc

Engine

Liquid cooled, four stroke, 16v, transverse four cylinder
Honda CBR900RR Fireblade Bike Insurance
Honda CBR900RR Fireblade Bike Gallery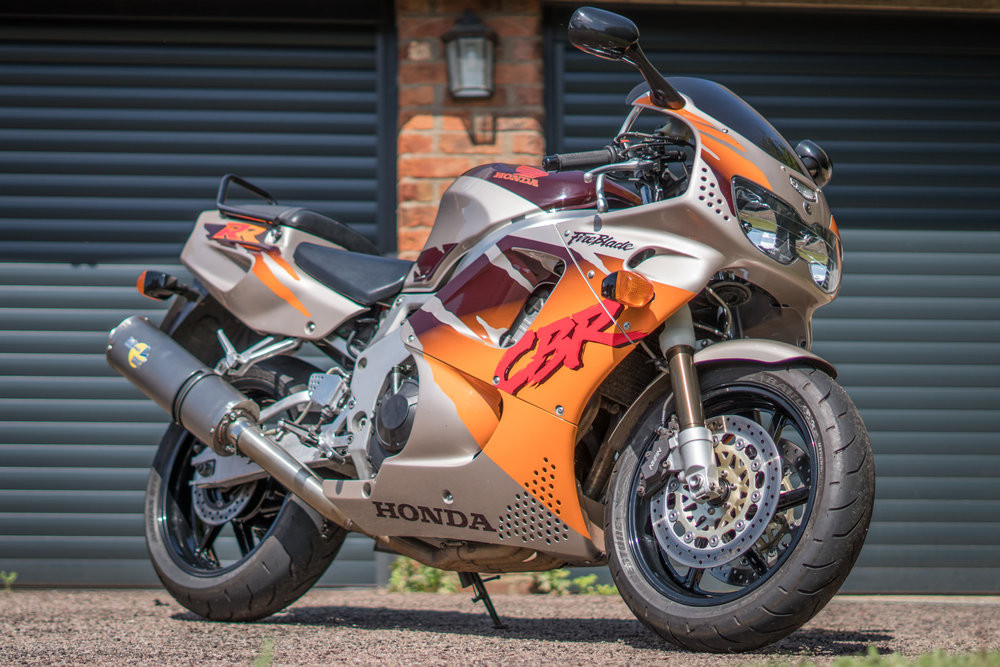 Owner Reviews
Pros
Good fun ride, heavy on the wrists and back. Not a good bike to carry passengers on, the passenger seat is uncomfortable, well so I'm told...
Cons
Nothing, it's a sports bike
Read More
Comfort3 out of 5 stars
Ok for a sports bike
Build Quality5 out of 5 stars
Honda build quality, what more to say
Brake5 out of 5 stars
Pretty good actually, for the year, always stopped me in time.
Ride Quality5 out of 5 stars
Good handling for its age
Engine5 out of 5 stars
Good roll on power for the year, about 150 bhp
Running Cost4 out of 5 stars
This is not to bad, about 30 mpg
Pros
It does everything I have asked if it so great!
Read More
Comfort4 out of 5 stars
It's old but never misses a beat. I had it 10 year now and wouldn't change it for anything.
Build Quality5 out of 5 stars
It's a Honda what else can you say!
Brake5 out of 5 stars
All new and stops on a dime it' old school and I love it, bikes these days are ott in my view.
Ride Quality5 out of 5 stars
It's 183kg wet and dose what ever I ask of it.
Engine5 out of 5 stars
It's about 130hp which is plenty for UK roads and I love it.
Running Cost4 out of 5 stars
I've had over 52 mpg on long runs and 30mpg it town smoothly gets you great mpg!
Pros
Overall grin factor and endless power.
Cons
Gets through back tyres at an alrming rate if ridden properly
Read More
Comfort4 out of 5 stars
For such a fast bike and sporty riding position it is surprisingly comfortable. If touring I will ride until I need petrol rather than having to stop for a 'comfort' break.
Build Quality5 out of 5 stars
Honda motorcycles are renowned for being some of the best built bikes on the market and this is no exception. I have had no problems with the bike so far. I have had Fireblades before and have never had a problem.
Brake5 out of 5 stars
The brakes are very good and confidence inspiring. On the road you don't really use them to their potential but on a trackday you'll find them powerful with great feel. You can brake until the back wheel comes up then let them off slightly to get the wheel down in time for the turn in point. They feel the same at the start of the weekend as they do at the end.
Ride Quality4 out of 5 stars
The ride is firm but adjustable. It is a top of the line sports bike so is very light and the hadling is excellent,
Engine5 out of 5 stars
Honda motorcycles are widely accepted to have the best engines on the market. This doesn't necessarily mean they are the most powerful ( this one has 189bhp) but the engine design, reliability, power delivery, sound and general feel create an all round excellent riding experience. In the right hands (not mine) it could win a British Superbikes race straight from the dealer with a quick stop for some slicks.
Running Cost4 out of 5 stars
It is not too expensive to run. The insurance is reasonable. Servicing and parts are the same as for any top sports bike. The design of the engine means the is little to do apart from oil changes most of the time. On the road fuel consumption is good, maybe upto 60mpg giving around 180 miles on a tank. On the track I use about 20-25 litres per day of 6x20 minute sessions. So still pretty good.
Pros
I've had this bike for years now and use all year round it is a solid good bike with both style and performance
Read More
Ride Quality4 out of 5 stars
Bit heavy but superb road handling and comfortable
Engine5 out of 5 stars
Good solid engine with raw power through carbs
Running Cost5 out of 5 stars
Rear seat
Build Quality5 out of 5 stars
Good build and very reliable
Brake4 out of 5 stars
Good brakes but does seem to eat pads nice and cheap to run if well maintained
Read More
Ride Quality4 out of 5 stars
Bit vibey but great handling
Engine5 out of 5 stars
Great power to weight ratio
Running Cost5 out of 5 stars
Cheap as chips due to age
Build Quality5 out of 5 stars
Honda nothing else to say
Brake5 out of 5 stars
Stop on a dime
Pros
Iconic bike still turns heads and very reliable
Cons
Fuel injection a bit jerky at low revs
Read More
Ride Quality4 out of 5 stars
Little hard around town but on the open road very nice
Engine4 out of 5 stars
Lots of power not on a par with modern sports bikes but good enough for me As an older rider Fuel injection not as smooth as it could be
Running Cost4 out of 5 stars
Been good lots about so parts easy to get and fit
Build Quality4 out of 5 stars
Still looks clean and fixings not rusty so good
Brake3 out of 5 stars
Could be better little bit of fade when pushed But think good enough for most riders
Pros
I still like it's looks and everything about it the way it runs and handles
Cons
Only thing is trying to get tyre deals because of the 16 inch front wheel
Read More
Ride Quality5 out of 5 stars
Runs well good acceleration and handles well
Engine5 out of 5 stars
Still goes like stink and although newer bikes are quicker it can keep up plenty of power for me
Running Cost5 out of 5 stars
Mileage is ok but like everything depends on how you ride it
Build Quality4 out of 5 stars
Still in good condition for its age had to replace radiator and rear shock but that's all no problems
Brake4 out of 5 stars
Brakes are good and pull up well no complaints