With a career that's almost 30 years old, it's fair to say John McGuinness has achieved plenty and picking ten of his finest, or defining, career moments is no easy task. Success has accompanied him throughout but here's ten of the best from the Morecambe Missile.
1991 Superteen Championship
Having started his career club racing in 1990, McGuinness' first step into national competition came the following year when he contested the inaugural MCN Superteen Championship.
He wasn't alone in making this decision with the 1991 series seeing a whole host of riders make their mark including Jason Vincent, James Haydon, Michael Rutter, David Jefferies, Sean Emmett and John. All of them would carve out successful careers but, arguably, none more than John.
Run alongside the MCN Superbike Championship which saw the likes of Ron Haslam, John Reynolds, Carl Fogarty, Rob McElnea and Terry Rymer competing, it was the perfect platform for aspiring racers and although it was Darren Mitchell who would go on to claim the championship from Vincent and Rutter, it was a solid season for John as he claimed seventh overall in the final Championship standings.
Riding his privately-entered KR1 Kawasaki, his best results were a brace of fifths at Donington Park and sixth at Oulton Park and it was enough for him to earn the Shell Scholarship award for 1992 where he would compete in the Supersport 400cc and 600cc British Championships alongside Emmett.
1994 – First road race – 250cc North West 200
The 1992 season didn't pan out as John had hoped and whilst Rutter and Jefferies (Superbike) and Haydon and Vincent (250cc) were now front runners in their respective Championships and Emmett had moved into 500cc Grand Prix racing, John's future was very much in the balance between 1993 and 1995.
He opted to focus on the 250cc class but funds were very tight and he wasn't able to put together a full season of British Championship racing.
When he raced, he was nearly always in the points but due to his shoestring budget he wasn't able to compete with the front runners and it was the third tier UK Rider's Cup where he shone the most.
However, 1994 saw what would prove to be a landmark moment in his career as he took his first tentative steps into real road racing having made the decision to contest the North West 200 road races. Despite arriving in Ireland with the bare minimum resources, he went on to finish 17th in the first 250cc race before being forced to retire from the second but the road racing bug had bitten.
A year later he moved up the leader board into 11th, which was followed by fourth in 1996 and his maiden podium around the 'Triangle' in 1997.
1997 – First Isle of Man TT podium – Lightweight 250cc
Having become a regular at the North West 200, it was almost inevitable that John would eventually tackle the Isle of Man TT races and he did so for the first time in 1996 albeit after making a last minute decision that saw him given a start number of 71 for the Lightweight 250cc race.
After narrowly missing out on a podium at the North West 200 a month before – finishing fourth behind Woolsey Coulter, Joey Dunlop and Phelim Owens – John made a fine debut around the Mountain Course and after being moved up the order after practice week to number 18 he took 15th place in the Lightweight 250cc race.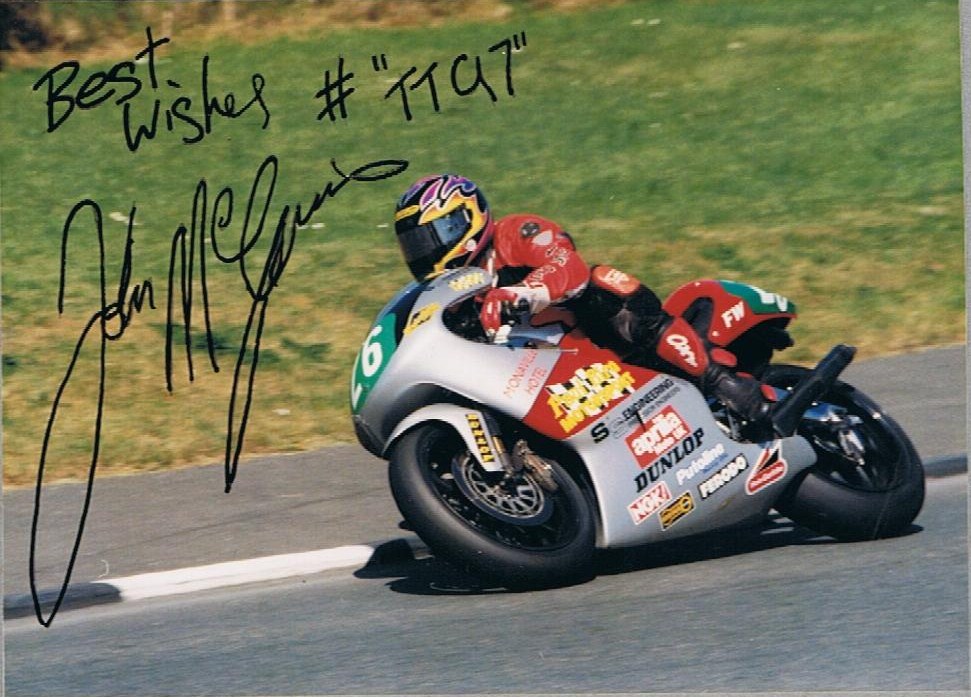 1997 Lightweight 250cc TT credit Island Photographics
Whilst everyone now recognised his road racing talents, few would have expected the following year to yield his first TT podium but that's exactly what happened with a simply superb ride in the 250cc race once more.
Continuing with Paul Bird Motorsport, John switched to an Aprilia for his 1997 campaign and he immediately became a front runner in the British Championship races so arrived on the island in good form although starting from number 26 meant he would have a lot of work to do.
Joey Dunlop would lead the race from start to finish for his 22nd TT victory but a good opening lap of 114.69mph saw John slot into fifth place, a position he maintained for the next two laps.
However, going into the fourth and final lap just four seconds covered second to fifth and with a lap of 116.83mph – the fastest of the race – he took third place behind Dunlop and Ian Lougher to stand on the TT podium for the very first time.
1999 – First Isle of Man TT win – Lightweight 250cc
Having taken another third place finish in the wet Lightweight 250cc race of 1998, where he was on board the Vimto Honda, John was again expected to be challenging for the honours at the TT in 1999, his fourth year around the 37.73-mile course.
He'd started the British Championship season with a bang on the Honda, now with a TSR chassis, with a win at Oulton Park and second place finishes at Brands Hatch and Thruxton and was now considered as a major contender for the Lightweight victory at the TT.
He lived up to that billing during practice week when he topped the leaderboard, his lap of 116.47mph some 16.4s clear of second placed Jim Moodie and that made him the firm favourite for the four lap race.
An opening lap of 117.88mph finally broke Ian Lougher's nine-year old lap record but Moodie was less than seven seconds adrift so John pressed on and his second lap speed of 118.29mph put him over twenty seconds clear of new second place man Jason Griffiths.
Only on the final lap did he ease back slightly and he took the chequered flag at the end of the four laps over half a minute ahead of Griffiths.
He'd achieved his dream of winning an Isle of Man TT race and little could he have known it would be the start of a phenomenal run of success.
His lap record remained the fastest ever 250cc lap of the Mountain Course until Bruce Anstey broke it at the 2016 Classic TT.
1999 – 250cc British Champion
After competing in the 250cc British Championship as a privateer for three years, McGuinness had got his break in 1996 when he signed with Paul Bird Motorsport and for the next three years, his results constantly improved.
Tenth overall with three podiums on a Honda was the outcome in 1996 and this was followed by fifth – and his first win – in 1997 after switching to Aprilia when he also made his first 'wild card appearance in the British Grand Prix subsequently scoring his first points with 14th in the 250cc race.
The team switched back to Honda again in 1998 when they picked up sponsorship from the Vimto soft drinks company and John improved to fourth overall after taking five podiums during the course of the season.
He also took 12th place in the 500cc Grand Prix on the team's V-Twin Honda and by 1999, he was seen as one of the favourites for the 250cc British Championship.
Indeed, whilst he only took two wins, at Oulton Park and Donington Park, he was the picture of consistency as he finished on the podium in all 12 races, ending the year a commanding 56 points clear of Jamie Robinson to be duly crowned British Champion.
2001 – First Macau GP win
After becoming a regular at the North West 200, Isle of Man TT and Scarborough, John ventured to the Far East for the first time in 1998 when he made his debut at the Macau Grand Prix. And, just like all the other pure road races, he was an instant hit, taking a brilliant third on the 500cc V-Twin Millar Honda behind the factory RC45 Honda's of Michael Rutter and Ian Simpson.
Fourth place was the outcome in 2000 – when he was racing with a barely-healed broken leg suffered in August that year at Oulton Park – but for 2001, he swapped the 500cc Honda's for one of the new 954cc Honda Fireblades.
He clicked with the bike straightaway and took pole position by the almost unheard of margin of 3.6s despite the field being packed with star names such as David Jefferies, Brian Morrison, Iain Duffus and Macau ace Roger Bennett.
When it came to the 15-lap race, there was no touching John on the Honda Britain/Paul Bird machine and he romped to victory by over five seconds as he eased off in the closing stages.
Such was his dominance, the third place rider was almost 50s adrift and as well as his first Macau GP victory, he set a new lap record.
It was another box ticked and although he hasn't added to his tally of wins at Macau, his eight podiums is only bettered by Macau legend Rutter.
2004 – First Isle of Man TT hat-trick
Coming into 2004, McGuinness had no rides lined up for the roads, except for the 400cc class, and he arrived at the North West 200 with a year-old R1 Yamaha he'd purchased himself.
However, his results there saw him pick up a last-minute deal with Yamaha UK for the TT which would see him ride their latest R1 and R6 machines in the Formula One, Senior, Supersport and Production races.
2004 Supersport 600cc TT credit Phil Wain
Last minute rides are never easy due to the lack of testing and unfamiliarity with both the bike and team but John laid that theory to rest as he won the opening Formula One race for his first big bike win on the island.
In doing so, he claimed the outright lap record for the first time with a lap of 127.68mph seeing him better the speed set by the late David Jefferies two years earlier.
The outright lap record would remain in his hands for the next ten years.
He followed the win up with second place behind Bruce Anstey in the Production 1000cc race before win number two for the week came in the Lightweight 400cc race on the RLR Honda.
He then smashed the lap record in the Supersport 600cc race to take his third win of the week and his first TT hat-trick before a fifth podium came with third in the Production 600cc race.
That just left the Senior race which he led in the early stages only to be denied a fourth win with a third lap retirement but John was back on the racing map and was now the man to beat at the TT.
2007 – First ever 130mph+ lap at the TT
For 2006, John joined HM Plant Honda and a second TT hat-trick duly followed as he won three out of the four races, again setting new lap records in the Superbike, Senior and Supersport races, the outright lap record now standing at 129.451mph.
It meant he came in to the Centennial TT of 2007 with 11 TT wins now under his belt and the favourite for honours once more although he was very mindful of the threat now posed by new kids on the block, Guy Martin and HM Plant Honda team-mate Ian Hutchinson.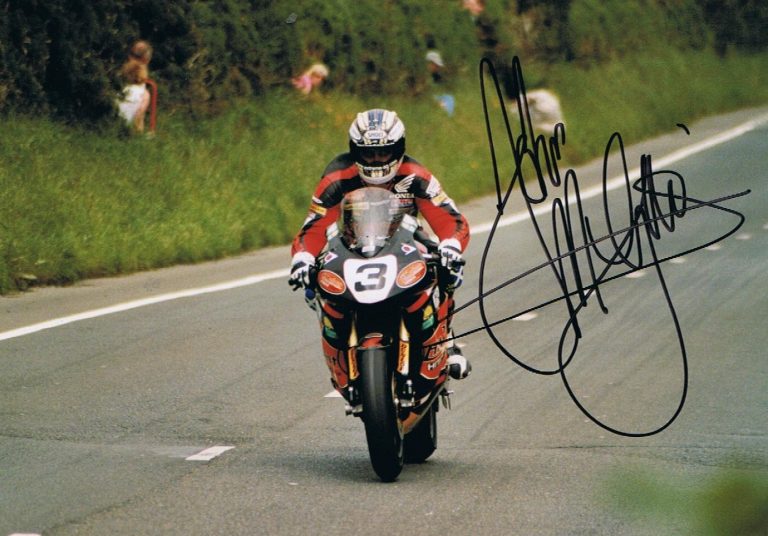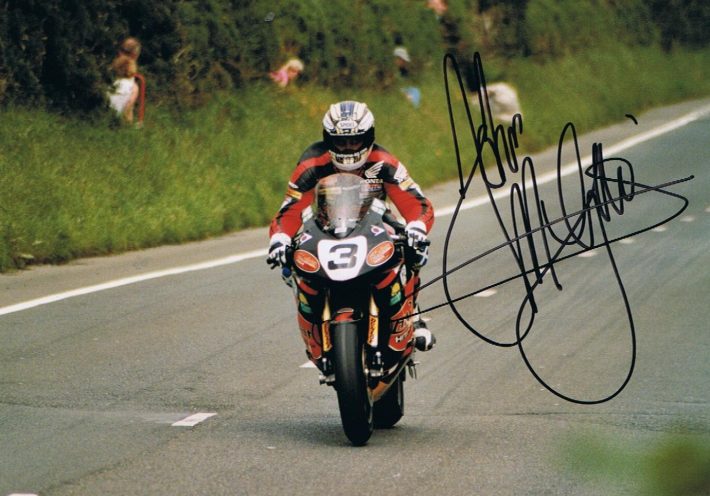 2007 Senior TT credit Phil Wain
The opening Superbike race saw John take another victory on the Honda Fireblade, 26s ahead of Martin and Hutchinson and he followed this up with second place finishes in the Superstock and Supersport 600cc encounters, the latter being won by Hutchinson.
That just left the Senior race to complete the activities of TT 2007 and an opening lap of 129.883mph saw John come tantalisingly close to the first ever 130mph+ lap of the Mountain Course.
Martin was less than 10s adrift so John upped the pace and the whole island erupted when he pitted for fuel at the end of lap two and commentator Charlie Lambert announced the speed – 130.354mph!
History had been made to fittingly mark 100 years of the Isle of Man TT races and John duly went on to take his 13th TT victory, coming home over 30s clear of Martin with Hutchinson again in third.
2009 – Senior TT, 131mph+ lap
After a year away from the TT – when John rode the Padgetts Honda Superbike, winning the Senior race in the process – Honda Britain and HM Plant were back in full force for the 2009 Isle of Man meeting and John opened proceedings for the week with a start to finish victory and a new outright lap record of 130.442mph in the Superbike race.
That made it 15 career TT wins in total and although the next three races during the week saw him finish 5th, 5th and 11th (a damp Supersport race which saw a certain Michael Dunlop take his first TT win), John was again the clear favourite for Friday's Senior TT despite the considerable threats posed by team-mate Steve Plater and fellow Honda riders Hutchinson, Martin and Gary Johnson plus Bruce Anstey (Suzuki) and Conor Cummins (Kawasaki).
Cameron Donald, a double winner in 2008, had lapped at 131.457mph in practice before crashing at Keppel Gate and suffering a dislocated shoulder, and John was keen to assert himself in the race which he more than did with an opening lap of 130.953mph.
He was still only 3.7s clear of Plater though but lap two saw him increase his outright lap record further to an impressive 131.578mph and his lead shot up to almost 15 seconds.
The rest of the pack couldn't live with his pace but on lap four, with his lead now 20s, his race ended when the chain came off exiting Parliament Square.
2015 – Senior TT win
By 2015, John was still riding for the official Honda team, now under the TT Legends banner but, after an injury ravaged 2014 campaign, he was seen by many to have been knocked off the top spot at the TT with Michael Dunlop now the man to beat after four wins at both TT2013 and TT2014.
Bruce Anstey had taken John's outright lap record off him in 2014 – the first time he hadn't held it since 2004 – and Ian Hutchinson, the record-breaking five-time winner of 2010, was also back.
Anstey won the opening Superbike race in 2015 with Hutchinson in second and John's critics had a field day when he didn't make it on to the podium and finished fourth behind James Hillier.
He was 13s adrift of the Kawasaki rider at the end of the six laps and well over a minute behind Anstey.
Seventh and eighth were taken in the two Supersport races with another eighth the result in the Superstock race so going into the Senior, the bookies had him down as a rank outsider.
Seeing the long odds was all the fuel John needed to add to the fire and he was only 1.4s behind leader Hutchinson when the race was red flagged on lap two due to Jamie Hamilton's high-speed accident at the end of the Cronk y Voddy straight.
Re-started over four laps, John had to psyche himself up once more but he did just that and an opening lap of 131.850mph gave him a 1.2s lead over Hutchinson.
The second lap was simply superb though and a speed of 132.701mph not only saw him reclaim the outright lap record, it also put him 11s clear of Hutchinson.
He went on to win the race by 14s from Hillier for his 23rd TT victory. It was, without doubt, one of his very best.