Solo Profiles
Read the exclusive profiles of those riders that have taken to the Isle of Man and left behind a legacy…
John McGuinness
From: Morecambe, England
TT Debut: 1996
Best result: 23 wins, 47 podiums
Fastest Lap: 132.701mph
Having made his debut back in 1996, winning his first race in 1999, McGuinness was the number one rider at the TT for more than a decade and with his name littered throughout the record books, he's without doubt one of the greatest TT riders ever. However, a wrist injury in 2014 all but wiped out his season and he was a shadow of his former self but he bounced back in superb style the following year.
He was quietly confident when he arrived at the TT that year but fourth in the Superbike race wasn't in the script though and there's no denying he was disappointed so he had to dig deep for the remainder of the week. He did more than that though and responded in devastating fashion where after winning the TT Zero race with another lap record, his performance in the Senior was simply devastating. He won the race, his 23rd win, leading from start to finish and reclaimed his outright lap record with a lap of 132.701mph. It was a reminder to all those that had written him off that he still has what it takes to win big bike races at the TT and without doubt.
Two more podiums followed in the Superbike and Senior races in 2016 but he was upstaged considerably by the exploits of Michael Dunlop and Ian Hutchinson, and the Morecambe Missile's career almost came to an end the year later after a nasty accident at the North West 200 left him seriously injured.
It led him to being out of the sport for 18 months but although he returned to action on the Mountain Course in 2019, he was a long way off his best. He only managed to complete one racing lap for Norton and lowly finishes in the Supersport race showed just how much the accident and injuries had taken their toll. However, he lapped at more than 121mph on the Mugen to finish in second place at the TT Zero race to claim his 47th TT podium.
Michael Dunlop
From: Ballymoney, Northern Ireland
TT Debut: 2007
Best result: 19 wins, 29 podiums
Fastest Lap: 133.962mph
Having won his first TT in 2009, the youngest of the Dunlop clan has since gone on to establish himself as a TT great with the distinct possibility of claiming many records in the years ahead. Four wins were taken in both 2013 and 2014 and he now has the distinct honour of having won races on Yamaha, Kawasaki, Honda, BMW, Suzuki and Paton machinery, no mean feat indeed.
Still only 30, no rider has won more races or stood on the podium by that age and whilst the self-named maverick has established somewhat of a reputation for not playing the team game there's no doubt he's very much the man of the moment and a rider in constant demand. His pace around the Mountain Course is there for all to see and he has all the talent to dominate the event in the years ahead.
However, despite taking a hat-trick in 2018, he was upstaged somewhat by Peter Hickman and Dean Harrison but it mattered little when his brother William tragically lost his life in an accident at the Skerries 100 a month later. It led to him withdrawing, understandably, from the public eye and it wasn't until the North West 200 in May 2019 that he returned to racing and both there and the TT, he was far from his ebullient best. Nevertheless, TT win number 19 came in the Lightweight race and should be back on top form sooner rather than later.
James Hillier
From: Dorset, England
TT Debut: 2008
Best result: 1 win, 14 podiums
Fastest Lap: 132.414mph
Having won the Newcomers Trophy in 2008, Hillier has since become a remarkable mark of consistency at the TT finishing 56 out of his 60 races and establishing himself as a regular podium finisher. Indeed, 44 of his last 48 races have seen him finish inside the top ten and he now has an impressive haul of 14 podiums to his name.
He has he ideal style and temperament for the Mountain Course but whilst he still yearns for a big bike win, he won't rider over his limit to achieve that. This can be seen in the fact only Michael Dunlop has put in more racing laps at more than 130mph than the now 34-year-old although the majority of his have come in the 130-132mph bracket.
It's somewhere surprising that Hillier only has one TT win to his name, the 2013 Lightweight, but whether it's finishing second or third, he's normally only a few second adrift of the top step and can consider himself a little unlucky not to have won more.
Hillier has plenty still left in the tank though and makes no bones of the fact the TT is his main event of the year and the one where he wants to succeed the most with the Supersport class giving him his most success in recent years. He's finished in the top four in each of the eight 600cc races held since 2016, taking five podiums, but he's a major force in the other classes too. A fixture at Kawasaki and with the same team for a decade now, that stability has seen him reap the rewards, something that is sure to happen again in the years ahead.
Bruce Anstey
From: Wellington, New Zealand
TT Debut: 1996
Best result: 13 wins, 37 podiums
Fastest Lap: 132.298mph
Throughout his career, Anstey has astounded everyone with his uncanny knack for simply turning up to a race meeting and being on the pace immediately – despite not having ridden in months! The quiet Kiwi was a National Champion  by the time he made his TT debut in the 1996 250cc race but, having impressed on the two-strokes, recording his first podium in the 2000 250cc race and first win two years later, he made the switch to four-strokes and has finished on the rostrum at least once every year he's raced since.
Anstey enjoyed seven consecutive years with TAS Suzuki before joining his current team, Padgetts Honda, for the 2011 season and his TT record now reads a mightily impressive 13 wins and 37 podiums. Like McGuinness, Anstey was there or thereabouts in every race and, having finally claimed a Superbike win in 2015, the former outright lap record holder then added two more wins in the TT Zero class in 2016 and 2017 to follow those already achieved in the 250cc, Supersport, Superstock and Production classes.
However, in 2018, Anstey announced that he would not be competing for the foreseeable future due to receiving ongoing treatment for cancer but he was back on the island for the year's Classic TT where he took part in a Parade Lap onboard a Honda RC213V-S.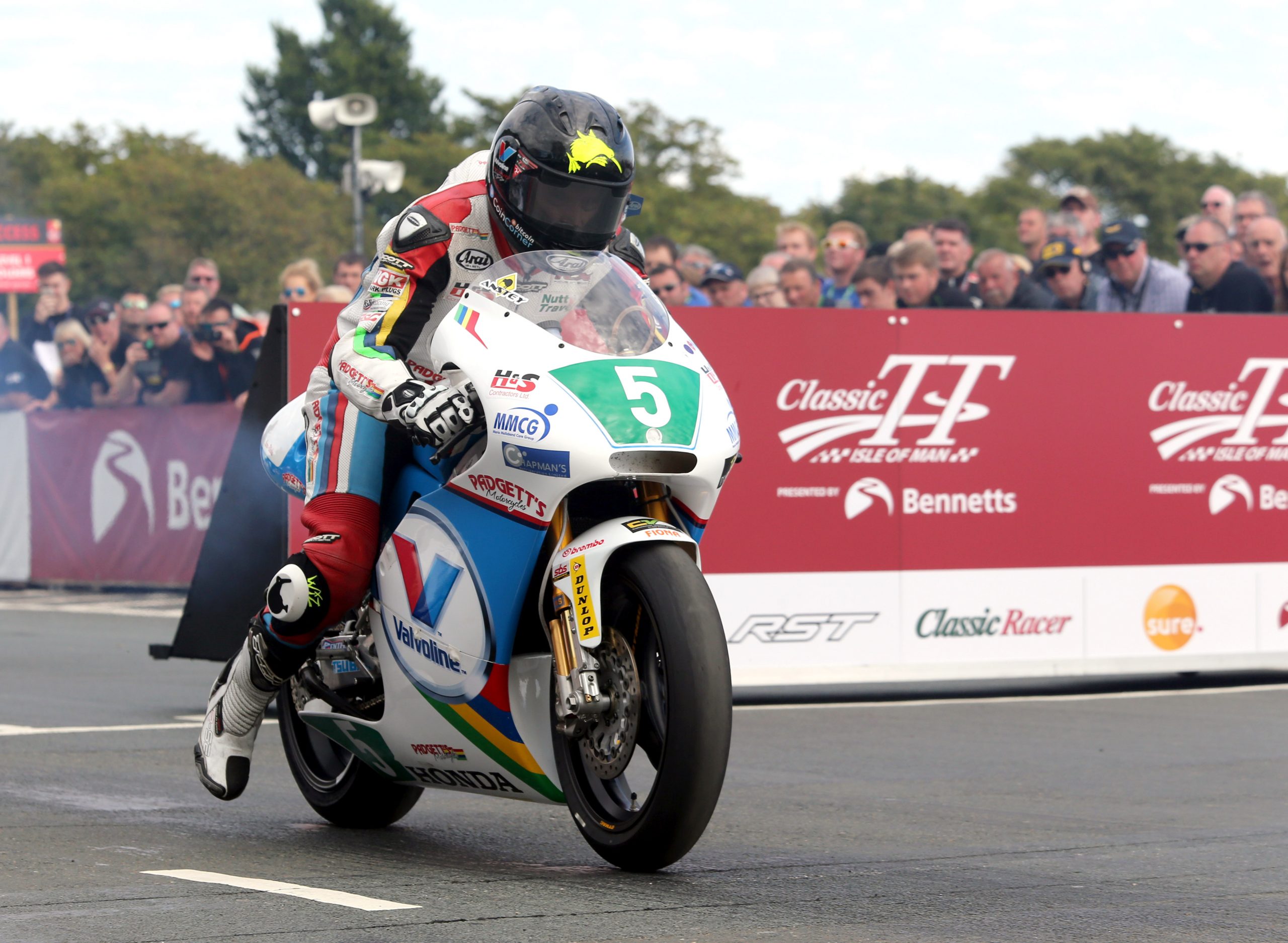 Conor Cummins
From: Ramsey, Isle of Man
TT Debut: 2006
Best result: 10 podiums
Fastest Lap: 132.610mph
Having made his mark at the TT from 2008 onwards, Cummins was all set to add a TT win to his CV until he had his well-documented crash in the 2010 Senior TT. That would have ended the career of many but the Manxman was thinking about nothing else other than getting back out on the Mountain Course and although the subsequent years didn't go to plan, signing for Honda Racing in 2014 got his career back on track.
It was the opportunity he grasped, initially, with both hands, taking podiums in the 2014 Superbike and Senior races and although he couldn't replicate those results in 2015, he still did a solid, if not spectacular job for Honda and went quicker than ever before.
However, it looked like his career had stalled somewhat but just when he was beginning to fall off the pace slightly, a move to the Padgetts team saw him revitalised and he's now riding better than ever. Podiums came in each of the 2018 and 2019 Superbike and Senior races, the latter seeing him set a new personal best lap, and, at this moment in time, he's very much best of the rest behind record-breaking feats being served up by Hickman, Harrison and co.
Ian Hutchinson
From: Bingley, England
TT Debut: 2004
Best result: 16 wins, 27 podiums
Fastest Lap: 133.115mph
A Newcomer Manx Grand Prix winner back in 2003, Hutchinson soon established himself as a front runner at the TT and with his first podium finished coming in 2006, he only had to wait one more year for his first win. That started a run of massive success culminating in his legendary performances at the 2010 event when he won all five solo races, the first and only rider to achieve such a feat. However, a short circuit crash at Silverstone three months later left him with horrendous leg injuries and he essentially lost the next three years of his career.
He was a shadow of his former self in 2012 whilst machinery issues held him back in 2014 but 2015 was defining moment in his career as he returned with competitive machinery going on to take a hat-trick of wins and finish on the podium in all five races he started. The following year saw him serve up a repeat performances and although he had to give second best to Michael Dunlop in the Superbike and Senior races, where they became the first riders to lap at more than 133mph, their fierce rivalry saw Hutchinson come out on top in the Superstock and Supersport races.
In 2017, he made the switch to the Tyco BMW team with wins number 15 and 16 coming in the Superbike and Superstock races and making him the fourth most successful solo rider of all time. A crash in the Senior race though left him with another broken leg and another lengthy spell on the side-lines.
He returned in both 2018 and 2019 with Honda Racing but, like McGuinness, failed to recapture his old form, with tenth place his best result, and only time will tell if he came it back on the top step of the podium.
Peter Hickman
From: Louth, England
TT Debut: 2014
Best result: 5 wins, 14 podiums
Fastest Lap: 135.452mph
Having set the fastest ever lap by a newcomer in 2014, a lot of focus and expectation was on Hickman coming into the 2015 season and it's fair to say he didn't disappoint. However, a short circuit crash at Oulton Park put his appearance  at the TT in jeopardy but come June he was lining up on Glencrutchery Road and his second year around the Mountain Course gave further indication of what lay ahead.
Opting to ride a Superstock machine in all three 1000cc races, Hickman, finished in the top eight in all of them, taking a best fifth in the Superstock. But in the Senior race, he had, arguably, an even better rider into seventh and lapped at 131.626mph in just his second year. He then went on to win at both the Ulster Grand Prix and Macau Grand Prix and was rapidly establishing himself as a major force to be reckoned with.
For 2017, he joined the Smiths Racing team, whom he's remained with ever since and that year saw him finish on the podium in all five races at the TT, also taking a hat-trick at the Ulster GP and finishing fifth in the British Superbike Championship to confirm his status as the best all-rounder from the UK.
Fifth was again the outcome in the 2018 BSB series but it was the TT that took him to amazing new heights as he not only won the Superstock and Senior races but also set a new outright lap record of 135.452mph to become the first, to date only, rider to lap the Mountain Course at more than 135mph.
Hickman has taken riding at the TT to a new level and this was particularly evident on his 135mph+ lap where he got held up by traffic on at least three occasions which probably cost him 6-8s and a 136mph lap! With his laid back, relaxed approach paying dividends, he now comes into each and every road racing event as the favourite for honours and this was borne out at TT2019 where he took a hat-trick of wins to again be the stand-out performer.
David Johnson
From: Adelaide, Australia
TT Debut: 2010
Best result: 1 podium – 3rd, 2019 Superstock
Fastest Lap: 131.595mph
Australian ace Johnson may not have stepped onto an International podium in 2015, but he made great strides forward and shone wherever he rode, no more so than at the TT. Having won the Newcomer's Trophy there back in 2010, 2015 was his fifth year competing on the Mountain Course and armed with the best ever machinery at his disposal, he made it count.
The Adelaide rider finished all five of his races on the Smiths BMW and Triumph machines inside the top 11 with a best result of sixth in the Superstock. This was down on his fourth place finish in 2014 but such was the pace, his time would have seen him on the podium then. He also improved his speeds in all classes and a best lap of 131.595mph in the Senior made him, at the time, the fastest ever Australian, no mean feat given some of the riders that have come before him.
He's changed team on a number of occasions since then but it hasn't stopped the flow of results as he gave Norton their first 130mph+ lap in 2016, giving them three seventh place finishes, and then going on to claim a brace of fourths in 2018 for Gulf BMW.
A podium at that year's Ulster Grand Prix confirmed how well he was riding and he fully deserved to be signed up by Honda Racing for the 2019 season. He instantly repaid the faith they'd shown in him as he got the better of Michael Dunlop, no less, on the final lap of the Superstock race, to take his maiden TT podium finish and you'd have been hard pressed to find a more popular result.
Michael Rutter
From: Bridgnorth, England
TT Debut: 1994
Best result: 7 wins, 17 podiums
Fastest Lap: 131.709mph
It's now 25 years since Rutter made his TT debut and although he missed the TT between 2001 and 2006, since 2010 he's racked up an impressive 27 top-eight finishes with three successive top-six finishes in the Superbike race and brace of thirds in the Lightweight amongst the highlights.
However, the third place finishes of 2015 and 2018 were upstaged by a superb win in the 2017 Lightweight race with a 120mph+ lap on the Paton and he's now established himself as the leading exponent in the TT Zero race with three straight wins coming on the Moto Cysyz machines from 2011 – 2013 and then two more being added on the Mugen in 2018 and 2019. He was the first rider to lap at more than 120mph on the Electric machines and another Lightweight podiums finish came his way in 2019.
Whilst he's yet to scale the heights of the late 1990s when he was a regular podium finishes, he's firmly established amongst the leading contenders and set his first 131mph+ lap in 2015. He's still as competitive as ever and rides at the pace he feels most comfortable with but it's that approach that continually sees him on the leaderboard with three more top seven finishes being taken in the 2019 Superbike, Superstock and Senior races, the latter seeing him ride the exotic Honda RC213V-S.
Lee Johnston
From: Maguiresbridge, Northern Ireland
TT Debut: 2012
Best result: 1 win, 5 podiums
Fastest Lap: 130.851mph
Former British Juniorstock 600cc Champion Johnston was an instant hit on the roads and focusing his attention on racing between the hedges is a move that has yielded countless success. Indeed, he's been victorious at both the North West 200 and Ulster Grand Prix and although the TT has proven to be a bit more of a challenging affair, three podiums and a total of 16 top ten finishes on the Mountain Course prior to the 2019 season means he's more than established himself as a front runner.
Winner of the TT Privateer's trophy in 2013, Johnston claiming his first podium in 2015 when he took third in the Superstock race and it's perhaps surprising that his personal best lap came here some four years ago. However, his diminutive stature can sometimes count against him in the big bike races and a heavy practice spill at Greeba Castle two years ago certainly checked his progress. He readily admits his Supersport results should have been better than what they have been as it should be the class that suits him the most around the 37.73-mile circuit but he put that right in 2019 when he took the opening Supersport race win on the Ashcourt Racing Yamaha for his maiden TT victory.
Another podium was taken in the Lightweight race, this time riding a KMR Kawasaki, and although the Ulsterman slightly lost his way in 2018 when a dream move to Honda Racing didn't pan out as he would have liked, reverting back to privateer status in 2019 paid dividends. With backing from the Ashcourt Group, it's primarily the same set-up that saw him have some his best years between 2013 and 2016 and the smile has certainly returned to his face.
Gary Johnson
From: Broughton, England
TT Debut: 2007
Best result: 2 wins, 6 podiums
Fastest Lap: 130.945mph
One of the star newcomers at the 2007 TT Centennial meeting, Johnson now has two TT wins under his belt, both coming in the Supersport class, but he's constantly knocking on the door of the rostrum in the 1000cc classes too.
Bad luck has often intervened when a race win has been within his grasp whilst his move to the JG Speedfit Kawasaki team in 2015 didn't give him the results he'd hoped for. Indeed, the next two seasons saw him fall back from the positions we'd been accustomed but he changed that with a move in 2018 to the RAF Regular & Reserve Kawasaki team which brought some stability and consistency back to his racing.
Joining Lee Hardy's team was just what he needed and although the 2018 TT saw him retire from both the Superbike and Superstock  races, he was in the top eight in his three other races and sixth and a 130mph lap in the Senior was a good way to end his campaign.
His 2019 campaign was shaping up to be one his more successful in recent years after a good pre-season but leg injuries sustained in a short circuit crash severely hampered his effort. Nevertheless, he still finished in all but one of his races inside the top ten and, when fully fit, he should be back challenging for the podium positions in 2020, particularly in the Supersport class.
Dean Harrison
From: Bradford, England
TT Debut: 2011
Best result: 3 win, 16 podiums
Fastest Lap: 134.918mph
Still only 30, Harrison is one of the new breed of road racers who has got to grips with the TT Mountain Course in double quick time and, after making his debut in 2011, his first podium came two years later when he finished second in the Lightweight race for the RC Express Racing team. He went one better the following year to take his maiden TT victory, a year which also saw him take a good second to Michael Dunlop in the Superstock race.
The Bradford rider's move to Mar-Traing Racing and the all-new R1 Yamaha was fraught to say the least and his 2015 TT experience wasn't a happy one. The two-year deal was dissolved mid-way through and he joined the ambitious Silicone Engineering team in 2016 where he's flourished, firmly establishing himself as one of the best road racers of his generation. Those four years have seen him add 13 more TT podiums to his collection with a second victory coming in the second Supersport race of 2018.
That year's TT saw Harrison raise the bar around the Mountain Course and his performances turned heads as he recorded the fastest ever lap, 133.462mph, during practice week. That was just a warm-up for race week though and he shattered the outright lap record from a standing start in the Superbike race, opening up a 17s lead after just two laps.
He was unluckily forced to retire on the fourth lap but ended his week with a titanic battle with Peter Hickman in a sensational Senior encounter. It was clear he was quickest on the bottom part of the course but it was over the Mountain where he lost time, and the race, ultimately by just 2.1s. It was a similar story in 2019 when Hickman got the better of him in four of the five races and it looked like he's be the bridesmaid again when his rival opened up a near twenty second lead in the Senior. On this occasion, fortune smiled on Harrison and he took full advantage of Hickman's misfortune on the fifth lap to win the Senior TT for his third win.
Along with Hickman, he's taken the TT to new heights, one that only those two are seemingly able to scale, and he's sure to be adding more TT wins to his haul in the forthcoming years.
Jamie Coward
From: Hebden Bridge, England
TT debut: 2013
Best result: 1 podium (2nd, 2019 Lightweight)
Fastest lap: 130.317mph
Coward has road racing in his genes with father Paul having been a formidable competitor in the Classic road racing scene where he scored a number of fine results, particularly at the Manx Grand Prix. Only 20 when he first tackled the ManxGP in 2010, Jamie never had the best of luck in those early years but since moving up to the TT in 2013, he's gone from strength to strength and is now a top ten contender in each and every race.
Indeed, recent years have seen him become a consistent top ten finisher as he's got right in amongst the factory teams and riders. Coward has relished competing as a privateer, finishing as a runner-up in the TT Privateers Trophy in both 2016 and 2017, but he's always ridden for some well run, highly professional teams whilst 2018 saw him enjoy a strong season with the Penz13.come team.
After two years on BMW, Coward changed tact in 2019 as he switched to the Yamaha R1 which hasn't always shone on the roads. However, riding for the PRez Racing team, the Yorkshire rider had a superb TT with fifth place in the Supersport arguably his best result although he finishes all four of his other races for the team inside the top ten. The Senior saw him break the 130mph barrier for the first time to become the fastest Yamaha rider around the Mountain Course but his best ride came on the KTS Racing Kawasaki in the lightweight race. Second place was the outcome as he went head to head with Michael Dunlop for the entire race distance, only losing out on the victory by 1.3s but, if he continues in the same way in the immediate years ahead, more top results will be heading his way.
Davey Todd
From: Saltburn by Sea, England
TT debut: 2018
Best result: Fifth (2019 Senior)
Fastest lap: 131.491mph
A former race winner in the National Superstock 600cc Championship, Todd's first race on the roads came in the middle of 2017 and he was undoubtedly the revelation of 2018, particularly the TT where he shocked many not only with his results but also by becoming the second fastest newcomer ever, his best lap of 128.379mph only bettered by Peter Hickman's mark from 2014. Riding for John Burrows' highly professional privateer team, Todd won not only the Newcomers Trophy but also the Privateers Trophy and RST Star of Tomorrow award as he ended the week with two, stunning top ten finishes.
Undoubtedly the brightest to have emerged in the sport since Dean Harrison, Todd ran as high as seventh place in the Superstock race before finishing tenth but, after taking a brace of 12th place finishes in the two Supersport encounters, he saved the best until last with a brilliant ninth place and aforementioned 128mph+ lap in the Senior. Very much the name of everybody's lips after the event, Todd went on to enjoy an excellent debut at the Southern 100 as well as racking up countless podiums in the Irish National road races.
All eyes were on him at the 2019 TT and expectations, from the outside at least, were high but although the second year on the Mountain Course can be much tougher than the first, Todd put together a superb week of racing that saw him better his speeds – in all classes – from the previous year.
His week ended with a brilliant sixth place and 131mph+ lap in the Senior and he's without doubt the hottest road racing prospect to have emerged in recent years. He's sure to be on the shopping list of all the factory teams for 2020.
Now you've read their profiles, check out their lap records and stats from the Isle of Man TT.
Words by Phil Wain.