After passing module 1 on the second attempt, it was time to take the final step towards to gaining my full motorcycle licence with mod 2…
I have more appreciation now for those that have gone through this process, as it is quite time consuming and not an unsubstantial cost to take your CBT, theory test, mod 1 and mod 2, but it's all worth it in the end.
Erith test centre was local-ish and had the earliest available date for me after mod 1, due to it being summer time; the wait was fairly hefty at six weeks.
The time flew by and my mod 2 training day arrived, I treated myself to some summer gloves, which was a good decision as on my training day it was about 27 degrees, they left enough bare skin visible between my gloves and jacket to create a nice red sunburn-wristband too.
Getting the right bike to use
I had previously done my mod 1 on a Honda CBF 600 and despite it being a little too small for me (I'm 6'4"), it wasn't bad at all.
This time, they had their Gladius bikes out.
I jumped on and did a small lap around the motorcycle training centre, instantly, it didn't feel right.
This bike was far too small for me and felt like I'd knee myself in the face going over a speed bump.
I went back and requested the CBF again, gave her a little run around and it all was good.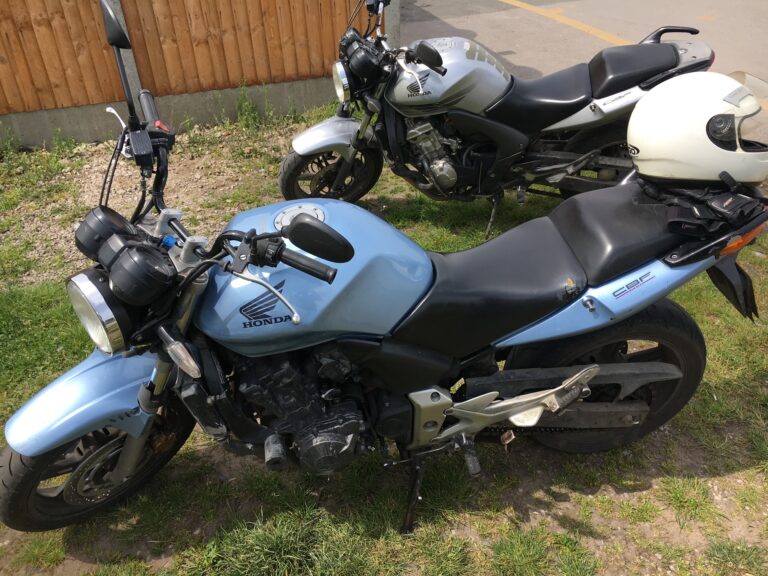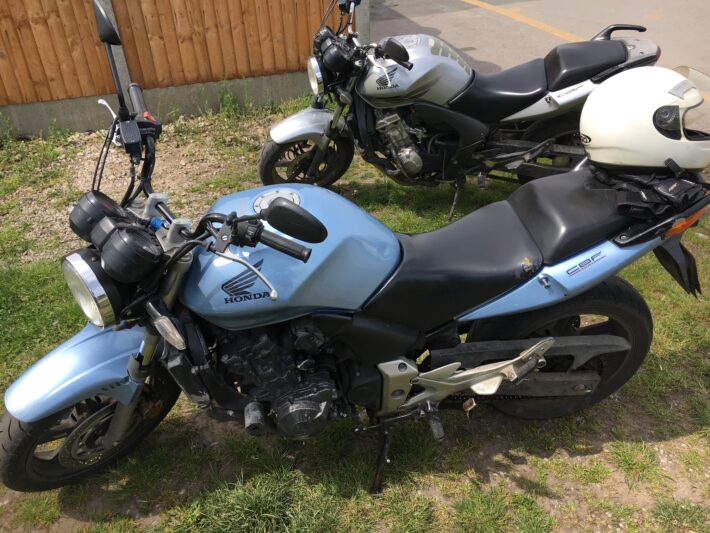 Off to Erith test centre and a short stop at the 'horse roundabout'
Off we set from Romford, a quick trip over the Dartford crossing and into Erith.
Before we even entered the test centre, we stopped in view of the 'horse roundabout', there are a few things about this that trip students up, so we were given a brief overview of where people go wrong.
Mainly one part where it splits into four lanes, a left, then three more for straight on and right, but the road markings are not that visible until you're on them.
Prime day and white vans
With an Amazon distribution centre on the same road as the test centre, the number of white vans around was ridiculous… it was the day after prime day!
Watching the vans enter the left lane (of the three right hand lanes) and then make their way around the roundabout for a right exit was interesting, especially as some of them entered the white chevrons to the left of three lanes, almost like a fifth lane, then turn right was even more of sight to behold!
We were told to avoid the middle lane of the right hand lanes.
Roundabout briefing over, we popped round the corner to the test centre, more white vans parked all the way down the side of the road, just to give all of those on test an early and late challenge, setting off and arriving back!
We hit the road and practiced all the various elements from roundabouts, one ways streets, funny quirks of the potential test routes and more.
Mod 2 questions
Another stop off and we went through all of the questions that we could potentially be asked during our module 2 test.
Having done some research beforehand I was pretty clued up on these, but a recap and real life examples on the CBF 600 I was doing my test on was absolutely necessary!
What questions are you asked in the module 2 motorbike test?
Right first off, pillion questions…
What advice would you give a pillion? Wear approved helmet that fits and fastens properly. Wear suitable clothing. Get on and off when told by the rider. Sit astride facing forwards. Keep feet on footrests. Hold onto pillion rail. No hand signals.
What would you adjust for a pillion? Tyre pressure. Suspension. Mirrors. Headlight. Footrests.
How will a pillion affect the bike? Steering feels lighters. Harder to control. Acceleration is slower. Braking takes longer. Observations are harder.
When's the bike more / less stable? High speed / low speed.
Importance of correct tyre pressure? Better grip.
Legal requirements of pillion? Helmet that fits. Feet reach footrests. Bike must have pillion seat. Rider must have full licence. No age restriction (needs to reach footrests).
Now onto safety questions…
How do you check the oil level? Usually sight glass between min and max lines, sometimes dipstick.
How does the horn work? Press button (sometimes you need the ignition on!)
Brake fluid reservoir? By the front brake, high / low markings again.
How would you check the lights and reflectors are clean and working? Turn on lights, check they're clean and they work!
Brake lights working? Operate brake, place hand over light and press front (right hand) and back (right foot).
How would you check the condition of the bike? Check chain wear, correct tension, rear wheel alignment. Chain lubricated too.
Steering checks? Move the handlebars left and right, check for snagging, cables catching, all moves as it should.
Tyres? Check they're inflated using gauge and referring to owner's manual. Tread should be a minimum of 1mm, ¾ of the breadth, 100% around. No bumps, tears, damage.
Brakes working? Wheel bike back and forth, pressing front brake. Back brake, press and check all works, no unusual sponginess.
Rear fog light? Operate switch, ignition if necessary.
Dipped to full headlight? Operate switch.
Engine cut out? Big red button!
Think that just about covers it as succinctly as humanly possible. Make sure you go through these with your instructor and with your test bike.
Hot.
Questions covered, got to grips with the area and went through a few key points and the day was done.
It had been absolutely baking and we were pretty hot and exhausted, new gloves were rubbing a bit on my thumb too (be prepared for that with any new gear you buy for this, new stuff can rub!)
I was happy to get back over the QE II Bridge and out of my jacket, gloves and boots. I was feeling pretty prepared for the test tomorrow, a lot more confident than I felt for mod 1.
Forgetting to turn motorcycle indicators off in mod 2 test
That evening my one concern was how often I noticed myself leaving my indicator on.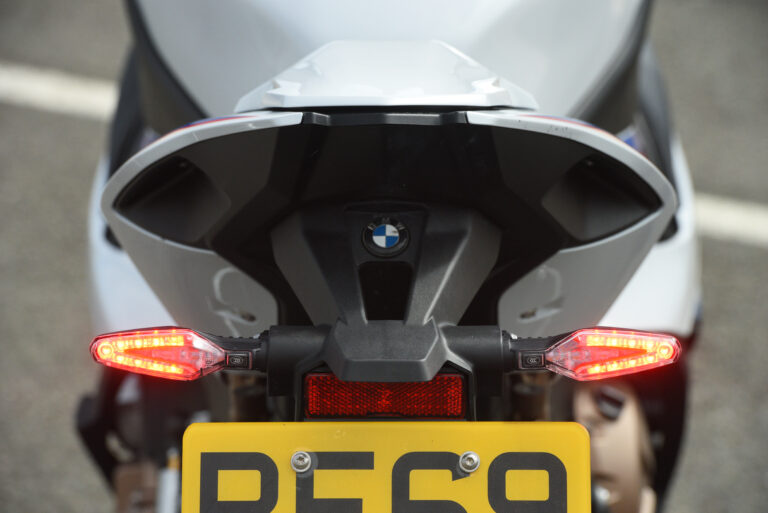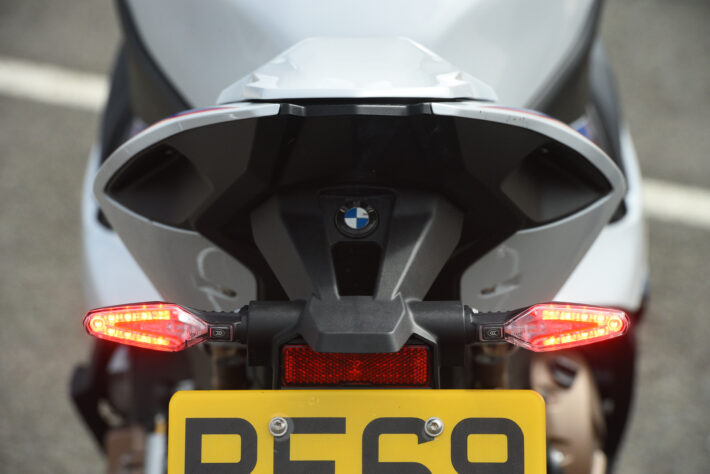 A pretty dangerous mistake, especially if a car is waiting to turn out of a junction in front of you and you're signalling to turn off before it!
I went on a Google search for people who experienced the same frustration / problem and there was plenty.
There were riders who had failed mod 2 once or more for the same issue, and even those who found themselves doing it after passing.
There was a lot of talk about self-cancelling indicators, indicators that made a noise etc but these ideas were rubbished by most people who, to summarise were saying just make sure you do it as it's vital!
There were loads of different nuggets of advice on the subject:
Speak to yourself – say "indicator on" when you put it on and then "indicator off" when you turn it off
Press the indicator off button constantly throughout your ride
Gamification – think of your indicator as a boost or reload button, press it often
Cancel your indicator every time you move up into second gear
Press your indicator button out of every corner
I thought I'll try all of these and see which one fits…
Day of the mod 2 test
I headed to the training school for 9am.
There was a ton of road works nearby causing all sorts of problems, including drivers on one of the adjoining roads not ever being able to get through the lights at green and blocking oncoming lanes to try and get by, not to mention people clearly going through on red, the queue backing up from the next set of traffic lights and blocking the single lane opposite the works that everyone needed to get through.
Need to be able to filter…
My test was at 10:55am, so we left around 9.45am.
The day was warm but slightly cloudy, nothing like the scorcher previously.
As we headed over the Dartford crossing again, it started to rain, gently to begin with but by the time we arrived, parked up and got inside, it started to bucket it down.
Riders arriving after us came in completely soaked, having not opted for waterproofs on the way due to the dramatic change in weather; there were a lot of people in very wet jeans.
Indicator problem solved
Moistness aside, I had found that my indicator problem was solved. Without actively pursuing any of the above techniques, I think I'd just read so much about the issue that I'd drilled it into myself to just cancel the indicators.
Delayed test and turquoise waterproof sail trousers
Due to the torrential downpour, they delayed my test.
The examiner came out with a pair of turquoise waterproof trousers for me to put on over my jeans, they were like sails and paired with my yellow jacket borrowed from the training school (last summer one available), my yellow-turquoise combo was not a good look.
Ego left well behind… MC Hammer sprang to mind.
But as the examiner had suggested it and not wanting to look like someone who cares about how they look over their comfort / safety, I went with it, much to the amusement of others.
I was rocking the turquoise waterproofs as I walked out and of course, the rain stopped. Now not only were they awful but totally unnecessary… onwards and upwards.
Mod 2 begins
I passed the eyesight test by reading a number plate… straightforward.
Went onto the questions… Got the one about tyre inflation, followed by showing how to use the horn, it was done nice and quick.
Radio in, helmet on and fastened, jacket done up, high vis done up, gloves on. On to the bike and off we go.
Turning left out of the test centre was one of the things I didn't do in training day on the previous day, so it was a new route, we'd only turned right during practice.
The road was pretty industrial, with lots of massive lorries parked up, loads of learner cars coming through and since the monsoon that had subsided just moments before we left, the roads were full of massive puddles filling the left hand lane at regular intervals, often reaching the right hand lane they were that large.
Too much caution?
I decided to pursue with caution, too much caution for the examiner who told me: "just because it's been raining heavily, don't take too much care". I took this as warning and increased my speed to normal levels.
As we went on, I was a little unsure of speed limits at some times, as Erith has a lot 20mph zones.
I was constantly looking for speed limit signs but they never came when I needed them. We did a stop and move out, nice and simple.
Then a stop behind a car and a move out, messed this up a bit and at the de-brief I was told it was overly cautious, but that's what I was going for, it certainly wasn't dangerous, which I would've failed for.
Independent ride
The independent ride came up and I was told to follow signs for Erith, which I did.
Then the instruction changed to Thamesmead, the route was pretty simple and took me on the dual carriageway.
The speed limit changed from 30mph to 50mph which I stuck by quite happily, no overtaking was necessary and all went well.
We came of the dual carriage way and I was back to the 'horse roundabout' (it has a big horse sculpture in the middle if you're ever in Erith), I knew I was almost back.
A slight delay from more white vans clogging up the road of the test centre and I was done.
Parked up, disrobed my MC Hammer fancy dress safety attire and went for the de-brief.
A quick chat before the examiner finally divulged that I had passed!
Four minors. I was happy with that.
As I sat waiting for the chap who was taking his test at the same time as me, one guy came back and had failed his mod 2 for being in the wrong lane at the horse roundabout! Felt lucky to have prepared so well for that one with my instructor!
The guy I'd been training with came back with an impressive single minor, having previously been telling everyone how he wanted no minors (including the guy who just failed).
We rode home pretty chuffed with ourselves, saving a bit of time with some filtering on the A282 leading up to the Dartford crossing tunnel.
Through the tunnel on the way back, not hugely pleasant on a bike, especially considering I always wind my window up in the car when going through to minimise fume inhalation.
Result
Full motorcycle licence done.
Now, which bike? Nothing too powerful without more experience and bike NCD (solid insurance tip there for new riders)… nothing particular sporty or touring, suitable for someone lanky,  I quite like naked styling too.
Scrambler? Street Triple? Duke 790? CB650? MT-07? Tiger 800? V-Strom? Versys 650? F800 or 850 GS? Africa Twin? Do quite like choppers too!
The world of motorcycles is my lobster… check out our bike reviews by real owners to find the best bike for you!