With the two year deadline on my CBT running out, it was now or never to take my full motorcycle licence.
Having completed my theory, the next step was module one, or as it's often referred to, mod 1.
Having not really been on a bike much since the CBT, heading to mod 1 with a day's training felt like a pretty big ask, but I was up for the challenge.
I arrived to the off-road training centre for 8:30am and had a little play with the bike, a fairly ancient and battered Honda CBF600.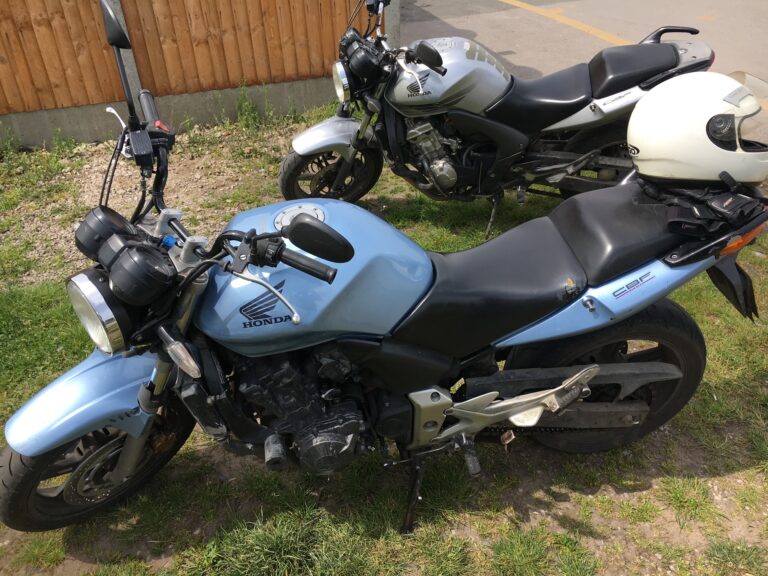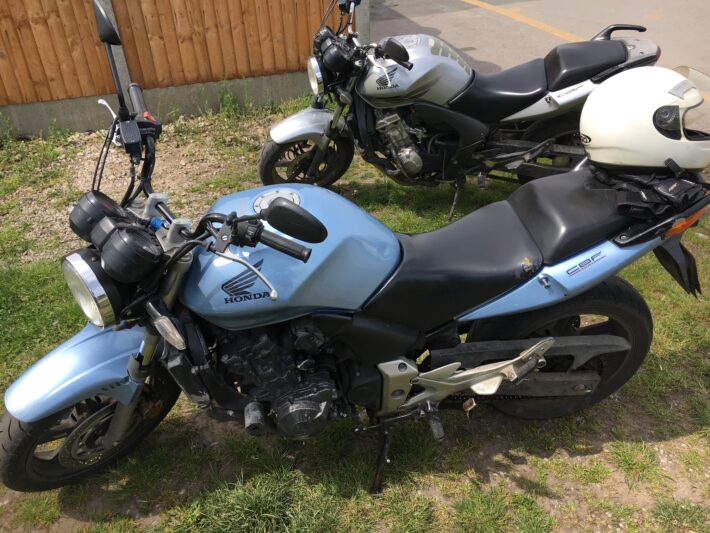 I was feeling a little like the Honda I was using… rusty.
It all came back pretty quickly though, bit like riding a bike!
Mod 1 is made up of eight exercises, all nice and simple on paper, but get into the test centre and suddenly they become slightly daunting.
The importance thing to remember is that you are on your test from the moment you get on your bike with the examiner, so you have to keep those observations up (look over left shoulder and right shoulder) at all times, otherwise you'll clock up some minor faults before you even start.
Module 1 is made up of the following exercises:
Manual handling of the bike
Slalom and figure of eight
Slow control ride
U-turn
Riding the circuit
Controlled stop
Emergency stop
Avoidance
But remember, entering and leaving the test centre are still part of your test, so don't let your guard down at these points!
Probably not the best person to take advice from; as you know from the title of this page that things didn't quite go according to plan…
Holding your nerve
Upon the morning of my test I was feeling pretty confident, I'd started off in training a bit rusty, but after a day on the bike I knew I could do all of the manoeuvres properly, it was now just if case of holding my nerve on the day.
A 9:15am test meant an early start, as the test centre was a good hour's drive from the training centre.
The ride up there felt pretty good and I didn't make any mistakes. Arrived at the test centre and now the nerves were starting to kick in.
Watching the previous test before me and my confidence was starting to wane.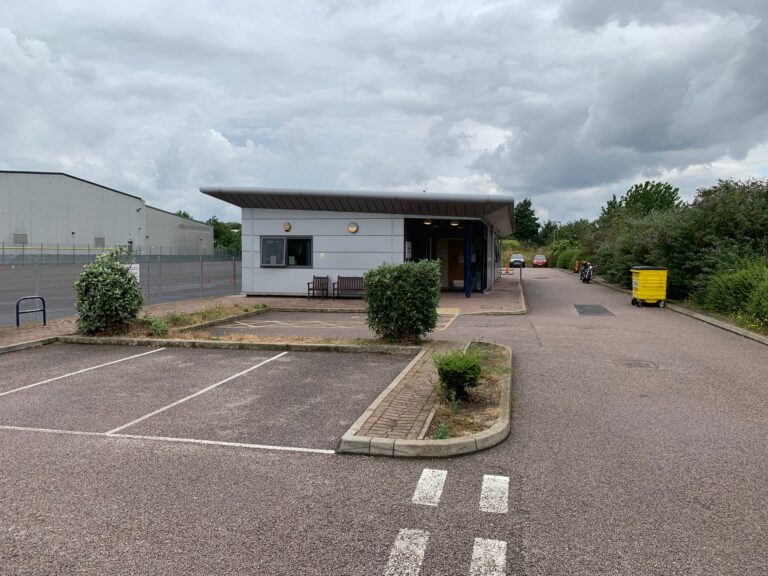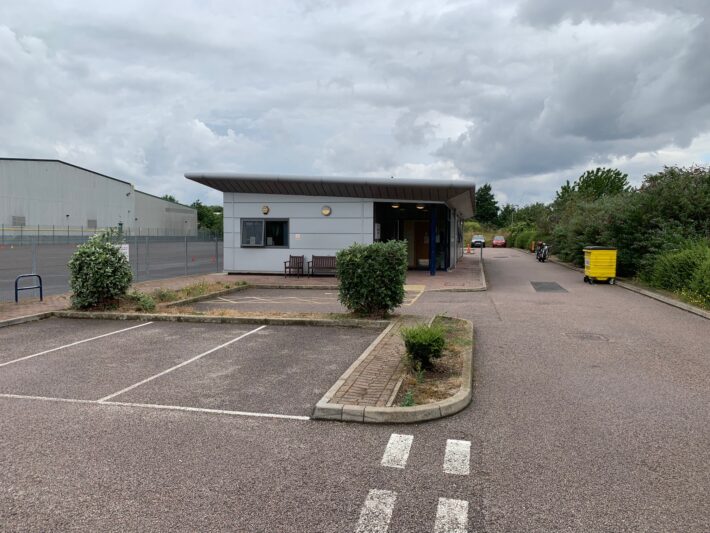 The course now looked unfamiliar and as everyone stood in the window watching and commenting on the progress of the current student, it was now clear that not only were you under pressure, you also had an audience.
The examiner comes out and checks your paperwork; you need to have the following with you for mod 1:
CBT (passed within two years)
Theory test certificate (within two years)
Driving licence photo card (if you don't have a photo card, you need your passport too)
And so it begins…
As you arrive at your bike, put on your helmet (don't forget the chin strap) and gloves, and head into the gates. I started her up and made a jittery start, not good for the nerves.
Don't forget your shoulder checks at this point, you are on test!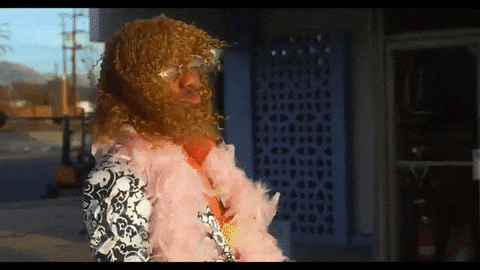 Inside the gates and stop.
Asked to head in to the parking bay, nice and easy. Shoulder checks and off, into the bay, into neutral, engine off, bike onto stand.
Get off your bike.
Now it's time for manual handling…
Move your bike off its stand, wheel it backwards out of the bay, do your observations, straighten her up, observations again, now steer backwards into the bay by the side of the one you've just moved out of.
Little bit like hard work, but simple enough.
Make sure you look all the time, keep the bike straight, don't drop it and you're in.
Into the slalom and figure of eight
So, during training, this wasn't one of my stronger points to begin with, but after a while practising I got the knack and felt that I'd nailed it.
But when I started in my test, it went out of the window.
Slalom part was fine, my first figure of eight was good… then into my second figure of eight, think I pulled in the clutch a little too much or too much back brake (I'm not sure) but I was doing it far too slowly.
My foot came down and bosh…
Second manoeuvre of the test and I'd failed.
I knew it.
Gutted.
All was lost but I carried on for the experience and practice.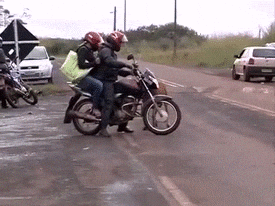 Slow control next, but the pressure was off and things felt much easier without the nerves
Slow control completed fine, which is the ride along at a walking pace. They don't actually walk with you, but can see your speed easy enough.
U-turn was a little tricky for me in training at first, but I nailed it during test.
Next up, riding the circuit.
Pretty simple, pick up a decent speed, go around the bend made out of cones, through the next cones and stop with your front wheel in the middle of the four blue cones.
Again, I completed this without a problem.
Emergency stop
Ride the circuit again, pick up a speed of 50km per hour (32mph) through the cones once you're out of the bend, then when the examiner puts up his hand, you stop as quickly but as safely as you can.
I picked up a minor here, as I could've stopped earlier, no biggy, I would've still passed if I hadn't done the figure of eight so bloody slowly!
Final manoeuvre: Avoidance
I had knocked the blue cone a couple of times with my foot during training but got over that and was doing it pretty well.
I went through the speed trap first time at 41kpm, that's too slow, needs to be 50kpm, you can get away with 47kpm I believe and just pick up a minor.
I was asked if I wanted another go, I said yes, I may have failed but I might as well get my money's worth.
You do get another stab if you go too slowly the first time.
Second go, went through the speed trap at 49kpm, (just a minor as it should be 50kpm).
My right foot hit a blue cone.
Major fault number two.
At least it sealed the deal and I couldn't beat myself up about the figure of eight slowness!
I was asked to make my way back to the gate. I knew I failed almost immediately with the figure of eight, but added a second major fault for good luck.
Met my trainer outside the gate for the debrief, didn't really add much, two major faults. Bottled it.
It was now back to the training centre, I really enjoyed the ride back, aside from the fact I felt like a failure.
Quite a painful experience, I passed my driving test first time, my CBT, theory not really failed any test before thinking about it.
This hurt. Got back to the training centre and rebooked another attempt. Must hold my nerve, basically not absolutely bottle it again.
A quick summary: FAIL.
Update: Passed mod 1 on my second attempt!!