Triumph Scrambler Bike Overview
The Triumph Scrambler looks great and also feels like a good all-round/everyday bike. You can use this bike for racing or commuting and you'll feel comfortable in it.
It's a comfortable bike to ride, and the engine although only up by 2bhp at 63bhp, has a great midrange.  You'll find the peak torque around 6ftlb, which is good for rideability, and cruising on this bike feels refined.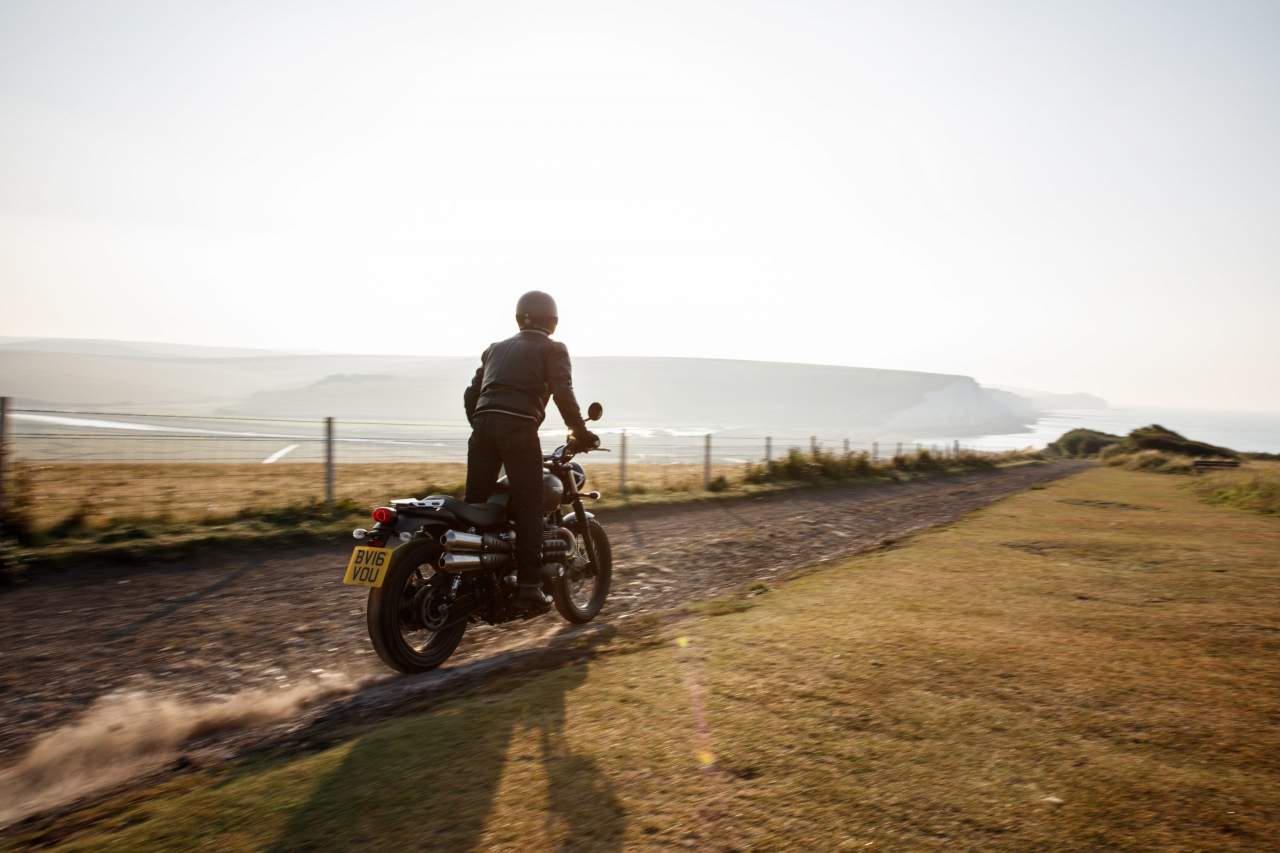 The bike itself is also reliable and feels like a proven, well-built model. The Triumph name speaks for itself. You shouldn't have any problems with the longevity of this bike. Spares, if you need them, are easy to get and fit.
There are a lot of nice touches to this bike. If you're after a second hand model, used values hold up well and are always in demand. You will find many of them well looked after, which is reassuring.
Triumph Scrambler Bike Spec
Top speed

105mph

Weight

230kg

Seat height

825mm

Capacity

865cc

Engine

Air cooled, four stroke, parallel twin
Triumph Scrambler Bike Insurance
Owner Reviews
Pros
Looks, styling, noise.
Read More
Comfort5 out of 5 stars
I rode it to Biarritz and back and it was great.
Build Quality3 out of 5 stars
Tank scratches easily.
Brake3 out of 5 stars
If more power would be good, more stopping power would be excellent.
Ride Quality5 out of 5 stars
Smooth, a little soft on occasion.
Engine3 out of 5 stars
A little more power wouldn't go amiss.
Running Cost4 out of 5 stars
Cheap as chips.
Pros
riding position is spot on and comfy/easy to use/light to chuck around/64mpg/lots of torque/build quality is really high/looks cool and brings a smile to my face. great bike, not for speed freaks but a great bike with a big smile factor.
Cons
should come with a centre stand as standard as I had to pay £200 extra for a factory one
Read More
Ride Quality4 out of 5 stars
Engine4 out of 5 stars
Running Cost5 out of 5 stars
should come with a centre stand as standard as I had to pay £200 extra for a factory one
Build Quality5 out of 5 stars
Brake4 out of 5 stars