The autumnal British weather gave this year's British Superbike Championship Showdown contenders plenty of headaches at Oulton Park last weekend with part of the form table turned upside down and whilst some riders shone, others floundered leaving them plenty of work to do in the final two rounds.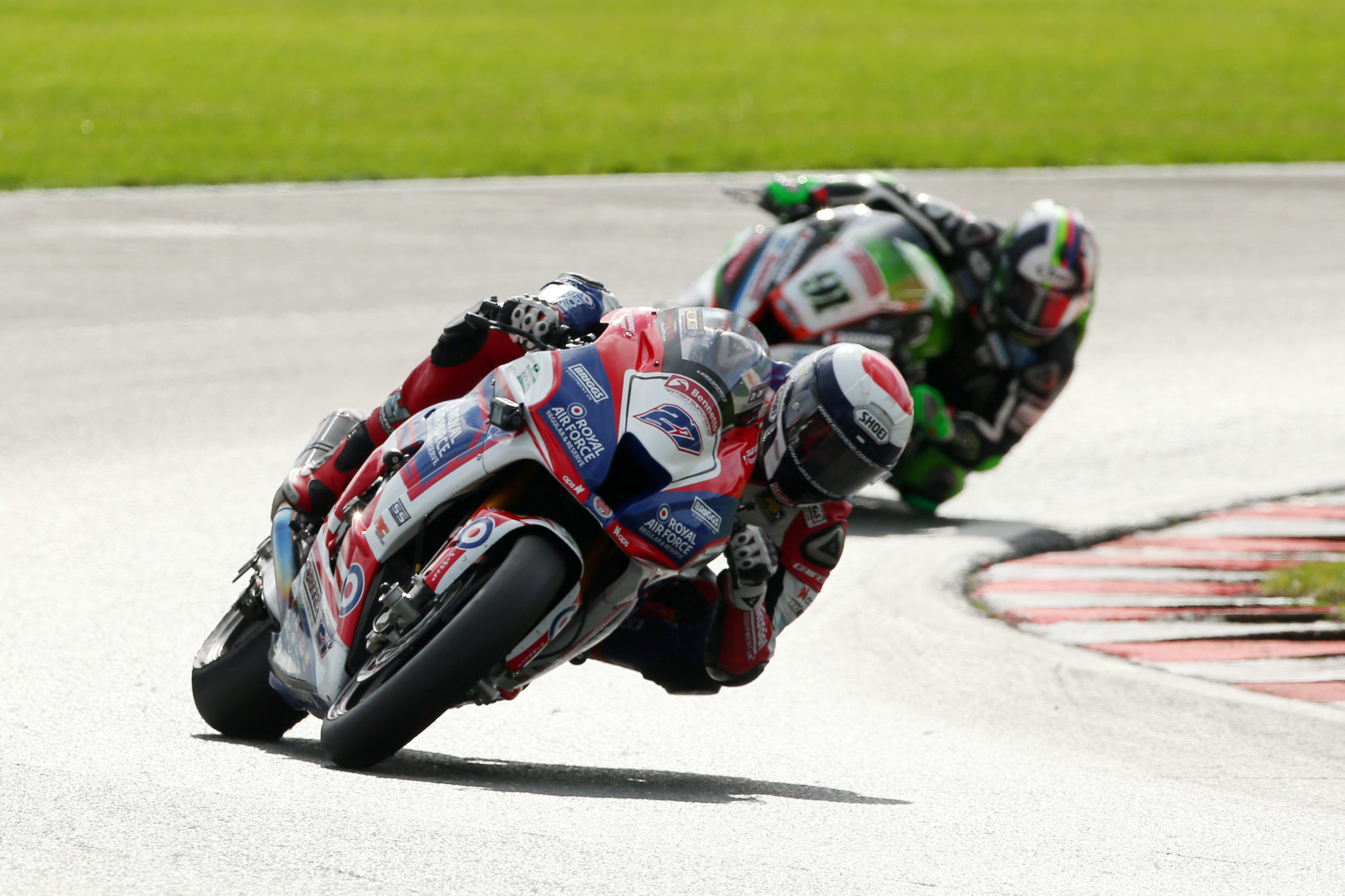 Two-horse race?
If the results are anything to go by, the 2018 title is now a two-horse race as season-long leader Leon Haslam and Jake Dixon were the only two riders in the Showdown to make it to onto the podium, both riders putting on dazzling displays for different reasons.
Dixon served up a masterclass of riding on the RAF Regular & Reserve Kawasaki in both the wet and dry to come away with a double victory after dominating both races and with Haslam 'only' managing second and third, he reduced the gap from 45 points to 31. And with 125 still to play for, that gap can definitely come down further.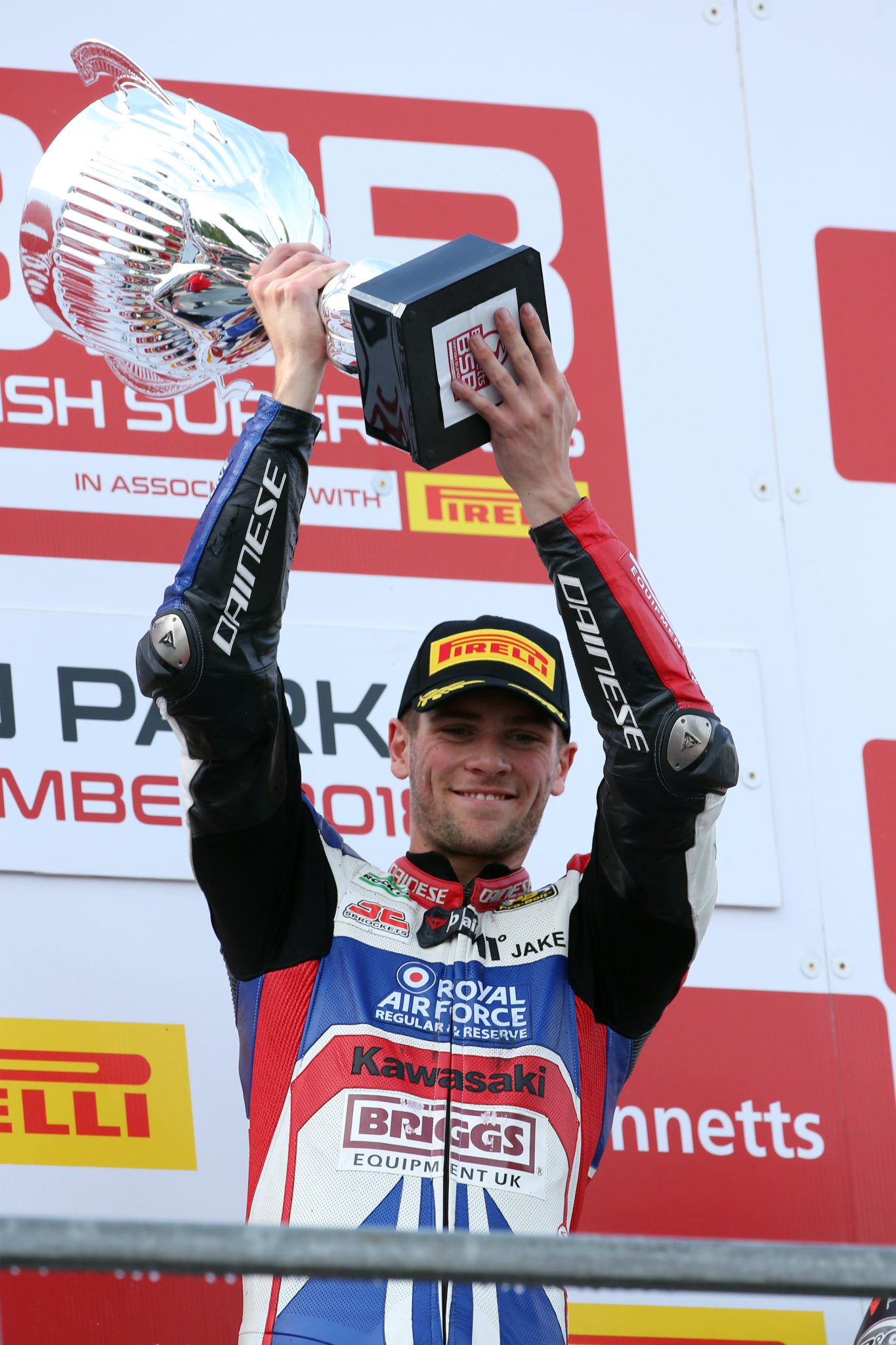 Haslam though performed miracles of his own with third in the opening wet race a stunning effort given he had to start from the back row of the grid after problems in qualifying. Coming from the back row in the dry is one thing but to do it heavy rain and with plumes of spray to contend with is another so it was certainly the determined ride of a champion.
Haslam is now 74 points clear of third place with Dixon 43 points ahead so the statistics suggest one of these two will be crowned 2018 BSB Champion.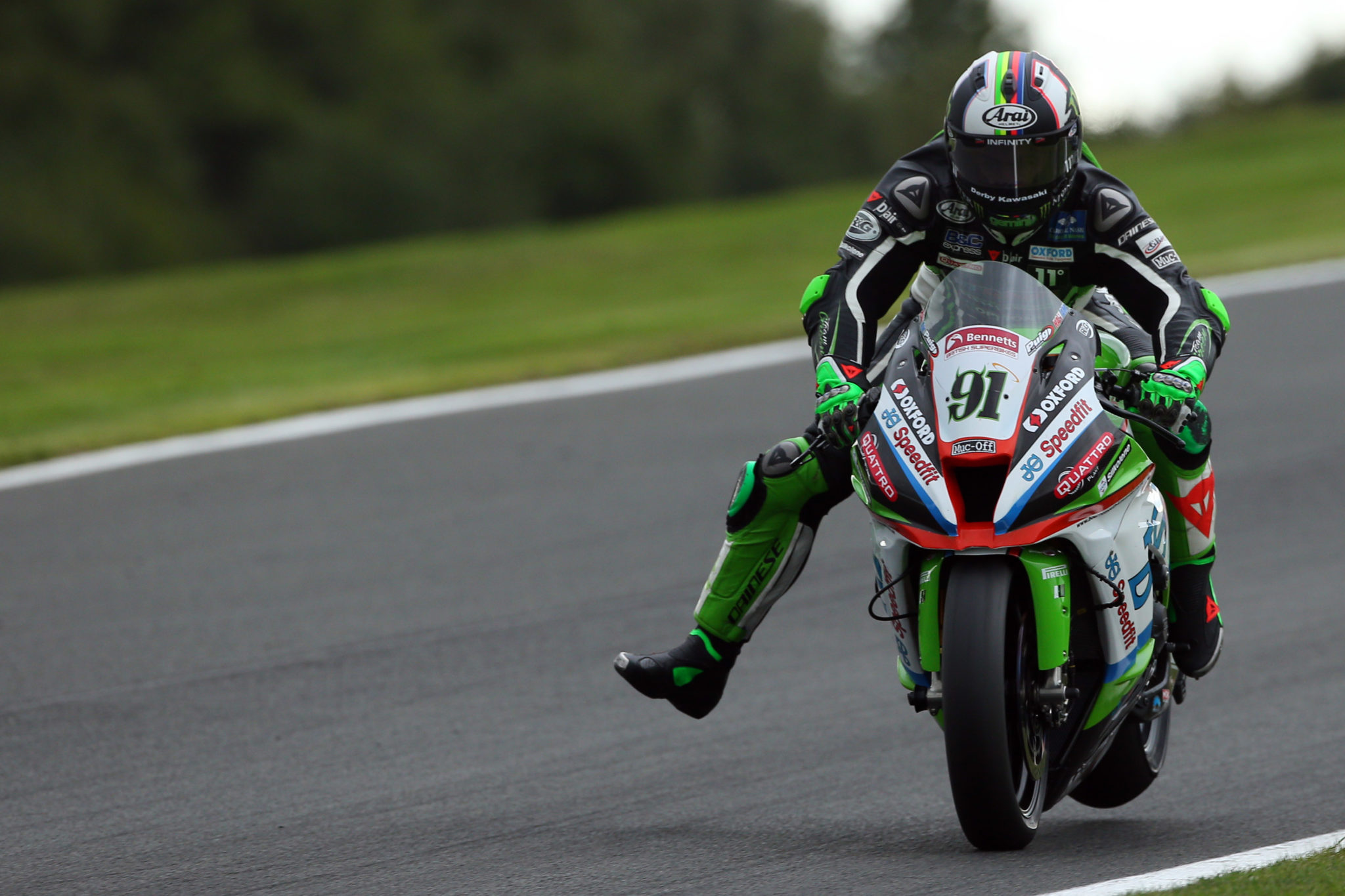 Showdown contenders lose ground
For the other four Showdown runners, it was very much a meeting to forget with fifth place for Josh Brookes in race two the next best result they could muster between them.
The Australian crashed out of the first race on his McAMS Yamaha to lose ground in the title race with Bradley Ray suffering a similar fate on his Buildbase Suzuki in race two. Glenn Irwin (Be Wiser Ducati) stalled on the line just ahead of the opening encounter whilst Peter Hickman could only manage a brace of eighths on his Smiths Racing BMW.
Just ten points cover the quartet now but, sadly, that's third to sixth place and with the aforementioned gap to Haslam and Dixon having increased considerably they could already be out of the running.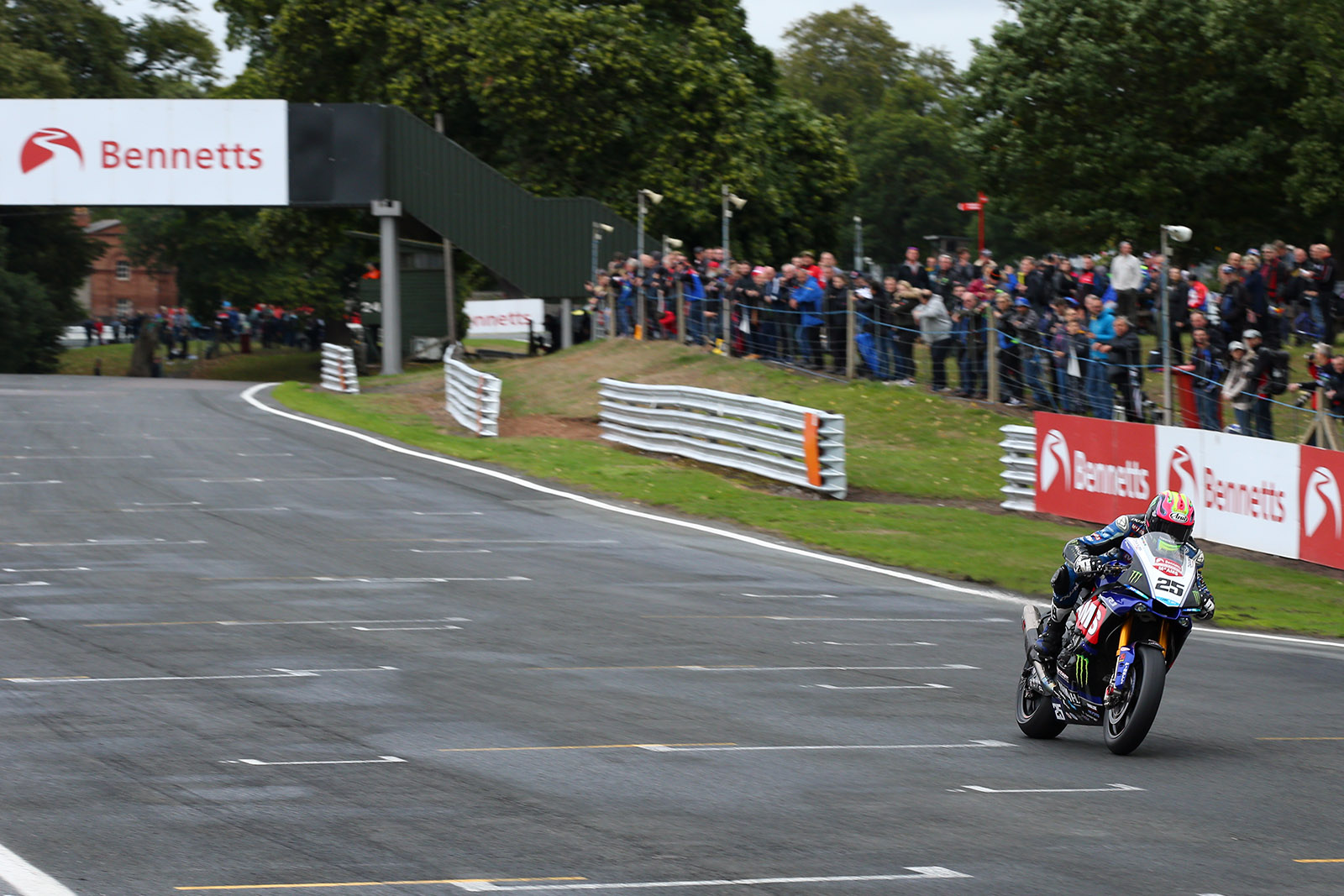 Bridewell finds form
The last few seasons have been particularly tough for Tommy Bridewell so it's easy to forget he was a Championship contender in both 2014 and 2015, making the Showdown in each of those years with a best finish of third overall in 2014 when he rode for Milwaukee Yamaha.
Since 2016 though, he's slipped down the pecking order and after a lacklustre season in 2017 things went from bad to worse earlier this year when he was unceremoniously, and controversially, dumped by the Movuno Halsall Racing team after just three rounds.
He was quickly snapped up by the Moto Rapido Ducati team and after strong showings at recent rounds, Oulton saw him back to his best – in both the wet and dry – as he claimed second and third place finishes, his first podiums since 2016.
The Wiltshire rider has always thrived in a one-man team and he's found an environment he's happy and comfortable in so it will be interesting to see if he can maintain his form to the end of the season and continue to be a Showdown spoiler.
Rider's Cup hots up
Whilst the main focus of the season is understandably on the feature BSB Championship, for those riders not to have made the Showdown their consolation prize to fight for is the BSB Rider's Cup, awarded to the rider who finishes the season in seventh place overall. It may go under the radar a little bit but the race for it this year is most certainly hotting up with just ten points covering five riders.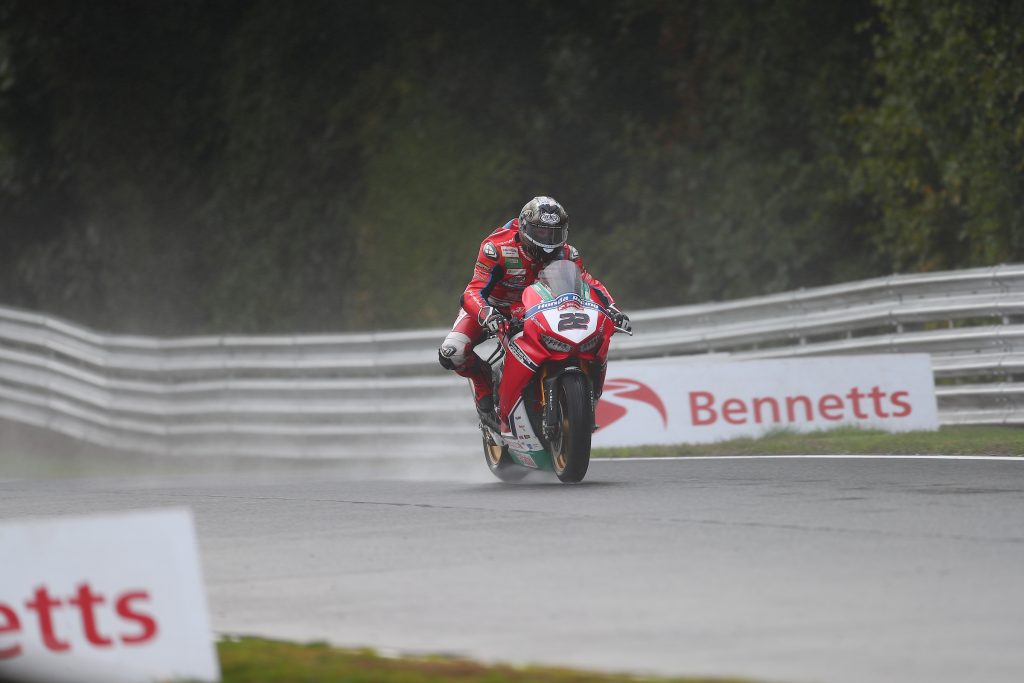 Honda Racing's Jason O'Halloran currently occupies seventh on 138 points but a second race crash at Oulton allowed Tarran Mackenzie – who again excelled on the second McAMS Yamaha – to close to within seven points whilst Danny Buchan is only a point further back of him. And to make it even more interesting, Christian Iddon, currently recovering from a broken collarbone, is a point behind Buchan and Bridewell a point behind him!
With fortunes continuing to ebb and flow between the five riders, this one should go down to the wire with, potentially, the outcome not determined until the final race at Brands Hatch next month.
Having started watching motorcycle races all over the world form childhood, Phil Wain has been a freelance motorcycle journalist for 15 years and is features writer for a number of publications including BikeSport News and Classic Racer, having also been a regular contributor to MCN and MCN Sport. He is PR officer for a number of teams and riders at both the British Superbike Championship and International road races, including Smiths Triumph, Quattro Plant Kawasaki, John McGuinness, Ryan Farquhar and Keith Amor. He is also heavily involved with the Isle of Man TT Races, writing official press releases and race reports as well as providing ITV4 with statistical information.