Today, just the thought of riding my motorbike makes my pulse quicken and my heart race and that's more than 30 years after taking my first motorbike ride. Well I call it a motorbike but in actual fact it wasn't really a motorbike as such.
There I was blasting up and down my best friends driveway, which luckily for us turned out to be a one mile long tarmac private road to the farm his father worked on. Wearing nothing but jeans, t-shirt and trainers; I'd thrash the living daylight out of his mighty Honda C90. We used to take it in turn to race to the far end and back, timing each outer with a stopwatch and we loved every second of it. One thing was 100% certain right there and then, I knew I was born to be a 'biker'.
But just where do the 'bikers' of today start? A quick search on the Internet brings up an absolute myriad of information often resulting in 'information overload'. What bike to buy, which helmet, what safety clothing, where do you get training, which licence, what insurance, which clubs or forums to join the choices are endless. So over the coming weeks I'd like to break this vast amount of information, down into 'user friendly' Blogs of information which I hope will go some way to helping guide you through what's entailed in riding a motorbike in the UK.
"So do you knowing your Harley's from your Honda's?"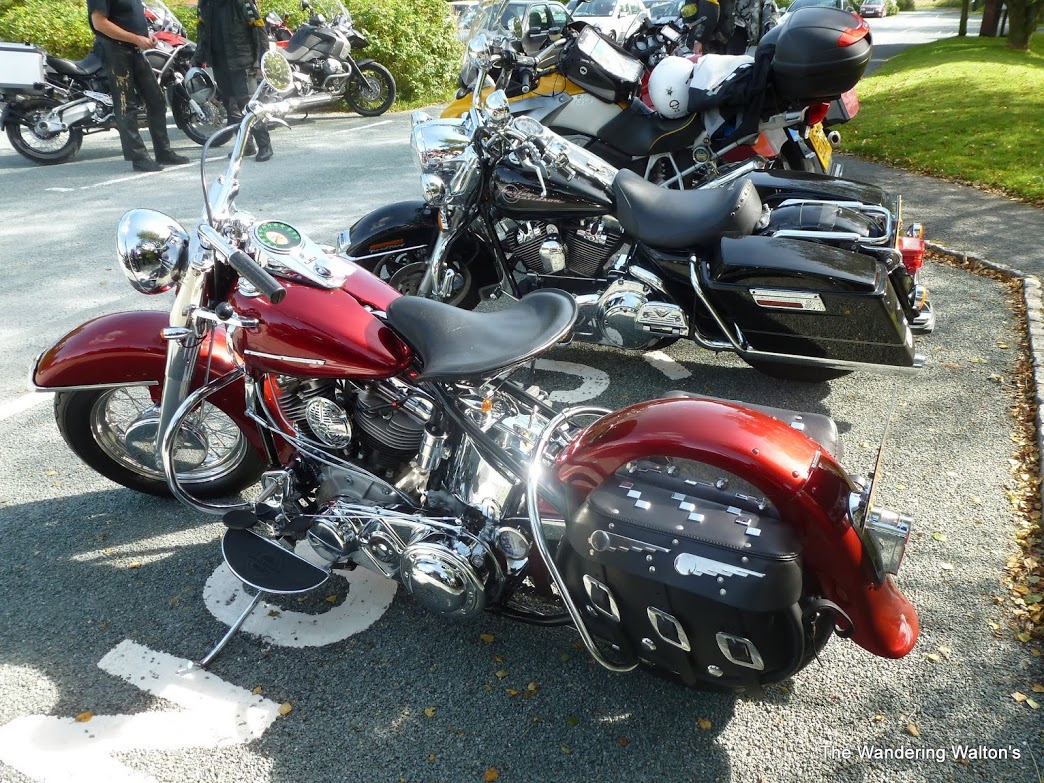 Choosing the right bike for the job can be an absolute minefield. Every show you attend, every bike shop you venture into will be like entering an 'Aladdin's Cave' of dream bikes. With such a wide selection of motorbikes on the market today just having an inkling of what motorbike you feel suits your personality and needs will save you a world of heartache.
There are Sports Bikes, Bobber, Chopper, Moto-X, Cruiser, Adventure, Flat-track, Cafe-Racer, Commuters, Vintage, Retro, the list goes on and on but remember there is nothing worse than making the wrong choice of bike. Remember, your first bike will stick with you forever be it good, bad or indifferent. That first motorbike will be the one that opens a whole new world of freedom, adventure, excitement and heartache! Well you don't expect biking to be all good do you? It rains in Britain, a lot and if you're not ready for it a fun day in the sun can very quickly turn into a soggy ride in the rain.
Getting that instant 'grin factor' has always stood me in good stead but unfortunately not all impulse buys can turn out to be the right decision. Having worked as a motorbike salesman for a little while one thing always struck me about people in general, their love of bikes always stemmed from something they had seen. Be it the guy next door pulling onto the drive with his nice chrome covered Harley Davidson or something as simple as watching the MotoGP on TV. At that very instant the 'Biking Bug had bit' and you know what, it's a beautiful feeling.
It is always worth making list of things to consider when looking for your first motorbike
1)      Budget – Set a figure that you are able to comfortable afford and stick to it. I can guarantee that this will be the hardest part of buying your first pride and joy. Motorbikes are no longer the cheap option as they where when I started riding. We bought bikes as cars were unobtainable for a 17 year old fresh out of school. Nowadays prices range wildly with some 125 learner bikes costing upwards of £3,000. Just be aware of this before you step foot outside your front door.
2)      Bike Style – Do your homework 'BEFORE' you go shopping. Salesmen make sales they do not decide what bike best suits you and you requirements. As helpful as I was when selling bikes I was always aware that it was not for me it was for the customer to decide. Yes I would advise on what I thought may be appropriate but I've often seen noses curl at the end when I've lead the customer away from the CBR600 and showed the a 125 trials bike because they were 6 foot plus tall. Look at your friend's bikes, go to bike meets which can be found everywhere. Take a look but please ask the owner if you want to site astride some ones bike. Don't break the golden rule "Do not site on another riders bike!"
3)     Bike Insurance – Once you've decided what bike you would like to buy get a quote 'BEFORE' putting down a deposit. There is nothing worse than having your bike buying bubble popped by the insurance quote. It's never going to be an enjoyable purchase but it is a legal requirement.
4)      Time – Take your time, remember this is your first bike so enjoy everything about it, that includes the purchase process. Look around, organise a test ride (as long as you have the appropriate licence). Visit different showrooms and dealers, get a feel for the place and the sales person. People buy from people they trust, Fact! Take the pressure off with one simple sentence, "I'm just looking" that way the sales person knows what your doing and if they have anything about them they will offer advice once asked.
5)      Walk Away – If you find the bike of your dreams and its just what you want, what does another night without it matter. It will still be there tomorrow and if it's not then that was fate telling you it was not the right choice. Sleep on it, do some price comparisons, check the insurance, take a couple of photos on your phone including the registration number and let it sink in just what you're about to do.
This list is not exhaustive by any stretch of the imagination you can tag on, HPI Check for piece of mind. More homework about the bike, take a look at the manufactures site, owner forums, get as much information as possible about the bike then go back and do the deal! Lastly smile, you have just become one of the closest knit societies on the road. You can now 'Keeping Britain Biking".
Next week it's 'The Three Amigo's'. A candid look at the legal requirements you need before you even role you pride and joy out of the garage and onto the public highway. MOT, Road Tax & Insurance if you don't have them then you're breaking the law. I do know the first three years of a new bike are MOT free but who buys a brand new bike to learn on? I bought myself on a superb Suzuki 125 Stinger for £200 in 1980, Oh! do I wish I had kept it as they are now selling for £3500 and that's if you can find one.
Any experienced bikers out there got advice for a rookie looking for a bike?
Raymondo.
The Wandering Walton.