Where did Flat Track Racing originate from?
Flat Track racing originated back in the United States, the only kind of motorcycling sport that did! Big American manufacturers such as Indian and Harley-Davidson really honed into the sport creating their machines to partake in events; the craze eventually caught on across the globe with British and Japanese manufacturers jumping on the bandwagon too.  It's had lots of different names including short track racing and dirt track racing, among others!
American Flat Track began in 1954, organised by the American Motorcyclists Association (AMA) and has remained a massive part of American tradition. The series is made up of four different races: mile, half-mile, short-track and TT dirt track races. The rules remained largely unchanged over the years, although there have been class changes.
UK-based Dirt Track Riders Association organise lots of events up and down the country including the Flat Track Nationals, these have become increasingly popular again, especially since the rise in custom machines. The organisation has been running since 2005 with numbers of attendance growing rapidly each year – this is now the largest event outside of the USA.
Flat Track vs Speedway
Your common motorcycle novice wouldn't have a clue what the difference is between speedway and flat track racing – they both take place in an oval circuit with short laps on crazy looking bikes but we can confirm there's a MASSIVE difference! Let's walk you through…
What is Speedway?
Speedway has been part of the motorcycling culture since the early 19th century where it was called 'Short Track Racing' by our American counterparts. In 1924 Speedway meetings were held in the UK, at the Newcastle Showground, and by 1925 for the official ground opening of the new Newcastle Speedway there was over 40,000 people in attendance.
The race usually consists of six riders completing four anti-clockwise laps of oval-shaped gravel, mud circuit. For a bike to qualify for speedway then it must not have any brakes, only one gear and a minimum weight of 78kg.
The team with the most points at the end will be declared the winners. There are number of team in the UK for Speedway including Peterborough Panthers, King's Lynn Stars and Poole Pirates, as well as the GB team as well that has included famous riders such as Tai Woffiden, Robert Lambert and Craig Cook.
What is Flat Track Racing?
First things first, the bikes are completely different – flat trackers are a lot heavier, and they have a rear brake and gears!
Flat track bikes average around 130kg, so almost double the weight of a speedway machine, but still racing round at 120mph into tight corners and short straights. Not only that, these bikes have their own sort of whacky style with no-two being the same.
There are usually two classes for flat track: singles and twins. The 450cc smaller bikes are often dirt bikes with modifications. The 750cc twin division is the one for the highly modified machines.
Other types of track racing:
The list of track racing is endless but there are still a few firm favourites happening all over the world. Take a look at the list below…
Ice Racing
Ice Racing is basically Speedway on ice. Bikes race round an oval shaped track covered in ice, however their bikes are kitted out for this including full rubber and studded tyres. Each bike must have 90 spikes on the front tyre and 200 spikes on the rear tyre – riders use their handlebars when racing round corners as there are no spikes on the outer edges of the tyres.
Grasstrack
Again, similar to speedway but on a fully grassed circuit (normally a field); bikes have two gears, no brakes but rear suspension with a large length than your regular speedway/flat tracker.
Due to the nature of this style of racing, it's common to see higher speeds because the circuits are usually a lot bigger and longer.
Long Track 
Similar again to Speedway and Flat Tracking, but the competition is taken over a bigger scale covering up to 800-1000m with higher speeds than the others. The bikes are fairly similar but larger in style with a two-speed gear box.
You'll mostly see Long Track in Germany, and other European countries including France, Czech Republic and Norway, where there are regular meet ups and competitions.
The Rules of Flat Track Racing
Each sport has its own set of rules, etiquette and style so let's dive in and see how flat track racing really works…
The bike:
From Indian to Harley to Husqvarna and KTM – there's a whole world out there for flat track bikes, and it's really up to you. Lots of people opt for buying a cheap bike then go crazy with the modifications, because let's be honest – it's going to take a battering! You'll be handlebar to handlebar with your competitors as you storm round tight corners and into flat straight whilst pushing and pulling yourself and the bike to win.
It's all down to personal style but lots of people opt for moving their footpegs to allow a better flow when taking on the corner, as well as wide handlebar to help gain the best control especially when going from corners into straights. You'll be hitting speeds of over 120mph so you'll need to be in total control of your bike.
All you need to remember is that the bike can only have a rear brake and is allowed to be geared.
Laps:
Qualifiers/heat laps are made up of 12 riders with six to eight laps with the final race hosting 12 to 15 laps. This can vary from different organisations and events!
Points:
So for every qualification/heat you take part in, there are points up for grabs as well as the semi-final and final race stage. Finishing up in 1st place will give you between 15-20 points (depending on the independent race rules) then number will decrease with the person finishing in 12th gaining just 1 to 4 points. Anyone who doesn't finish in the top 12 will not gain any points, so it's important to remember that each time there's points to be won and the person with the most points wins!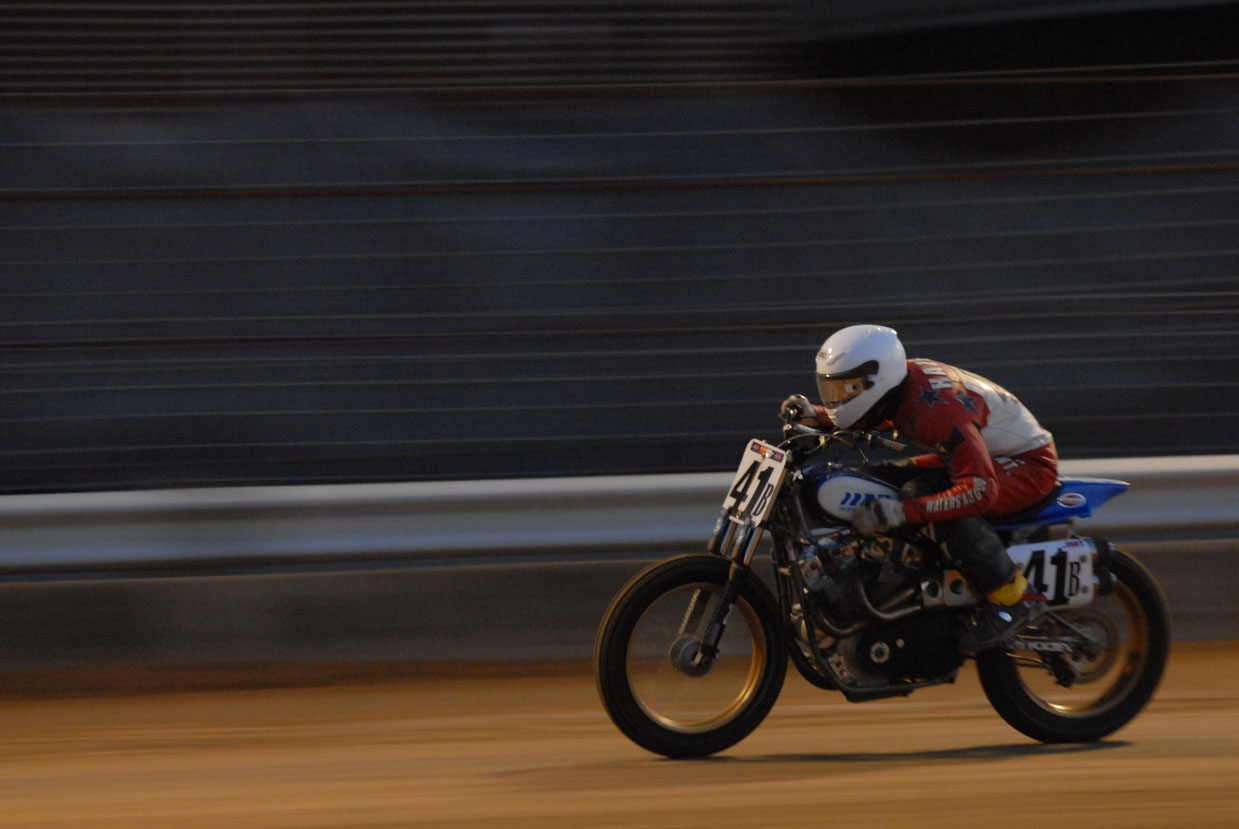 Track etiquette
The dirt:
Each track you go to will be different, although the shape will be the same, the dirt on all will be complete different. Some tracks will have compact mud and others might be extremely loose, this will really test your skills and also can throw up a few issues for riders. You need to plan to get a few cuts and bruises, as well as being thrown from the beast occasionally.
Start line:
The start line will usually be three lines of four competitors, in order of their placing during qualifying. Depending on the levels of racers taking part (novices to professionals) can vary the starting line-up. If you're racing in part of a championship it's based on which rider currently holds the most points/wins.
Flags:
The rules of flat track racing are pretty simple – go round the circuit anti-clockwise until the chequered flag is shown. You'll need to watch out for other flags including yellow, which is for hazard on track and red to show that the race needs to immediately stop. Other than that, you're pretty much racing yourself silly!
Kit: Just like any motorsport, you'll need to make sure you're wearing the appropriate gear. Helmets are a must – full faced or a motocross styled helmet with goggles is recommended, there's going to be lots of debris flying around the track.
Good quality boots are a must, suitable for motorcycling – you'll be using your feet and legs a lot to help manoeuvre yourself from the straights into the corners as well as decent motorcycling approved gloves (usually for off-road) with trousers and a jacket too.
You might not think you'll need all this protection but you'll be in a tight spot between other riders with many potential hazards so it's good to try and limit as many injuries as possible.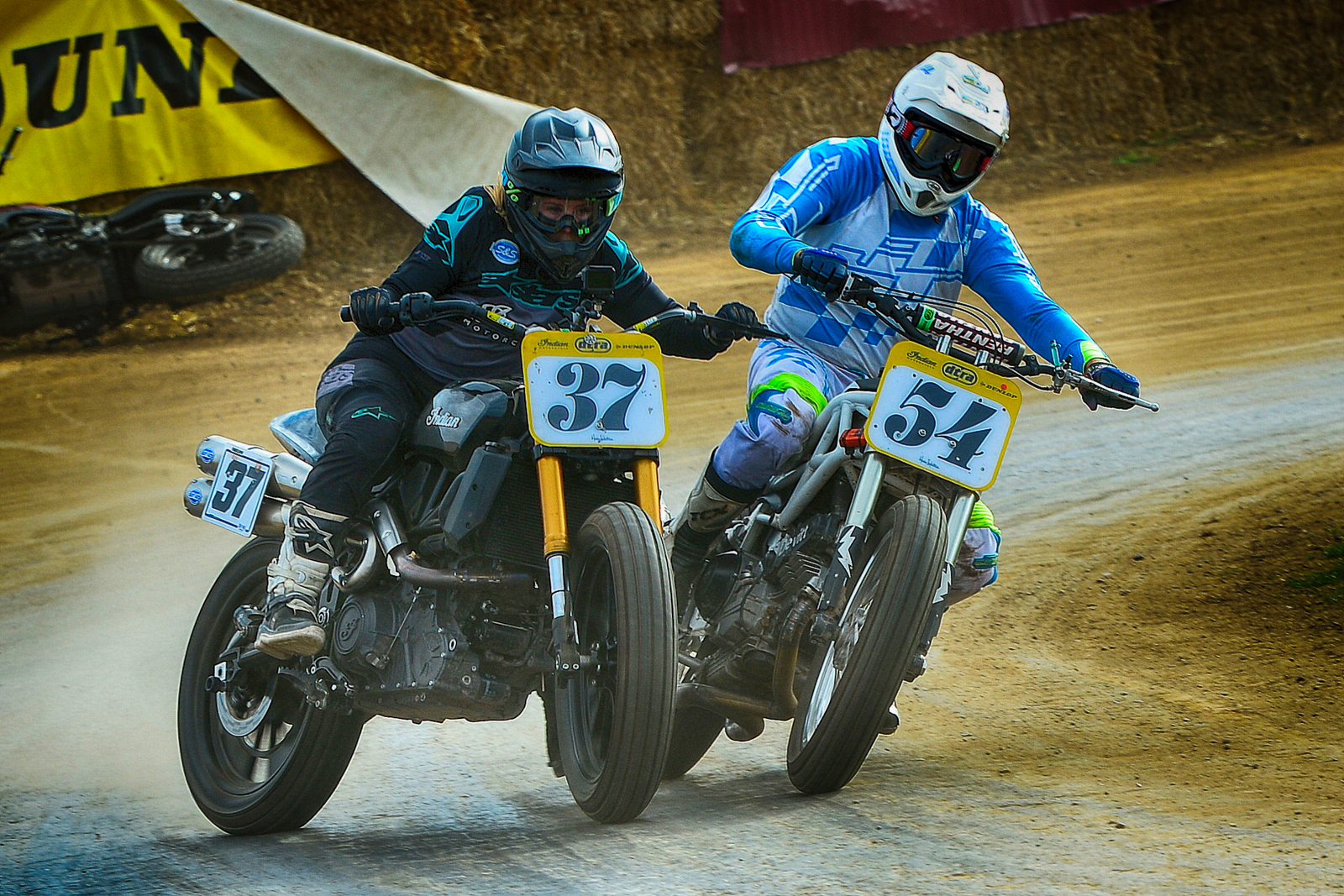 How to get involved in Flat Tracking
With most flat tracking taking place on Speedway tracks, it's pretty easy to get yourself involved – all you need to do is find a local track and that you will lead to a club!
There's more and more events cropping up over the UK and they're always welcoming novice riders to come and give it a go. You'll need to sign up before you head down there so you're guaranteed a chance at getting out on the track.
Ride & Skid It offer speedway and flat track experience days to complete beginners all the way to experienced bikers who want to give something new a try. You'll have four hours of fun riding a Honda CRF 125 on track learning everything from the track rules to powersliding like a pro!
The sessions are run by Aidan Collins, who is five time British flat track champion and he will teach you the basic of body positioning, importance of riding lines and learning to ride with just a rear brake!
Other schools include Flat Track School, based in Lincolnshire, who offers lots of practice and training days at different levels and abilities. There's also Days On The Dirt which focuses on getting more women into motosport, especially speedway and flat tracking.
Best bikes for Flat Tracking
Harley-Davidson and Indian have been involved in flat track racing since its birth so it's natural to assume they know a thing or two about what bike to have. They're continuously improving and developing their range of bikes for flat tracking so it's always good to have a nose at what they've done.
As long as you stick to the rules of flat track and the bike complies with the technical specifications, then you'll be just fine. You'll need to pick a bike you're comfortable on, but not afraid to get a few bumps and scratches along the way. With the custom scene at an all-time high, it's the perfect opportunity for you to dabble in a bit of home-grown DIY to make your flat track bike exactly how you want it.
British manufacturers including Triumph, BSA and Norton have turned their hand at Flat Tracking over the years, especially back in the 1960's but it wasn't long enough all the manufacturers including the likes of Kawasaki and Honda decided to join the club.
Sidecar Speedway
Sidecar racing is already dangerous enough on track and road, especially when the passenger is quite literally hanging on, but alas it's been adapted for dirt track styled racing too. We all know bikers love the thrill and this is certainly one way of achieving that with 'Sidecar Speedway'. As you can imagine it's very similar to other sidecar racing, both the rider and the passenger is working together to cut the best corners at the highest speeds as well as keeping grip on a tricky circuit.
Famous Flat Track Circuits and Racers
Lots of famous motorcycle racers started their days racing Flat Track or Speedway; it helped them to create a platform and a skillset that they could take to the track. Kenny Roberts, Freddie Spencer to Valentino Rossi and Marc Marquez – they've all dabbled in the sport at some point and some do still!
Harley Davidson Flat Track Team:
Here in the UK, there are numerous flat track circuits around the country including:
Norfolk Arena, Kings Lynn
East of England Showground, Peterborough
Greenfield Dirt Track, Lincolnshire
Ammaford, Wales
Flat Tracking Events in the UK
The biggest flat track event in the UK (and Europe) is the Flat Track Nationals which take place throughout the summer months. The event is organised by the Dirt Track Riders Association and supported by Indian Motorcycles.
The championship allows all levels of competitors from the amateurs to the professionals. For 2019, the Nationals will also host the Hooligan Championship as well – something not to be missed!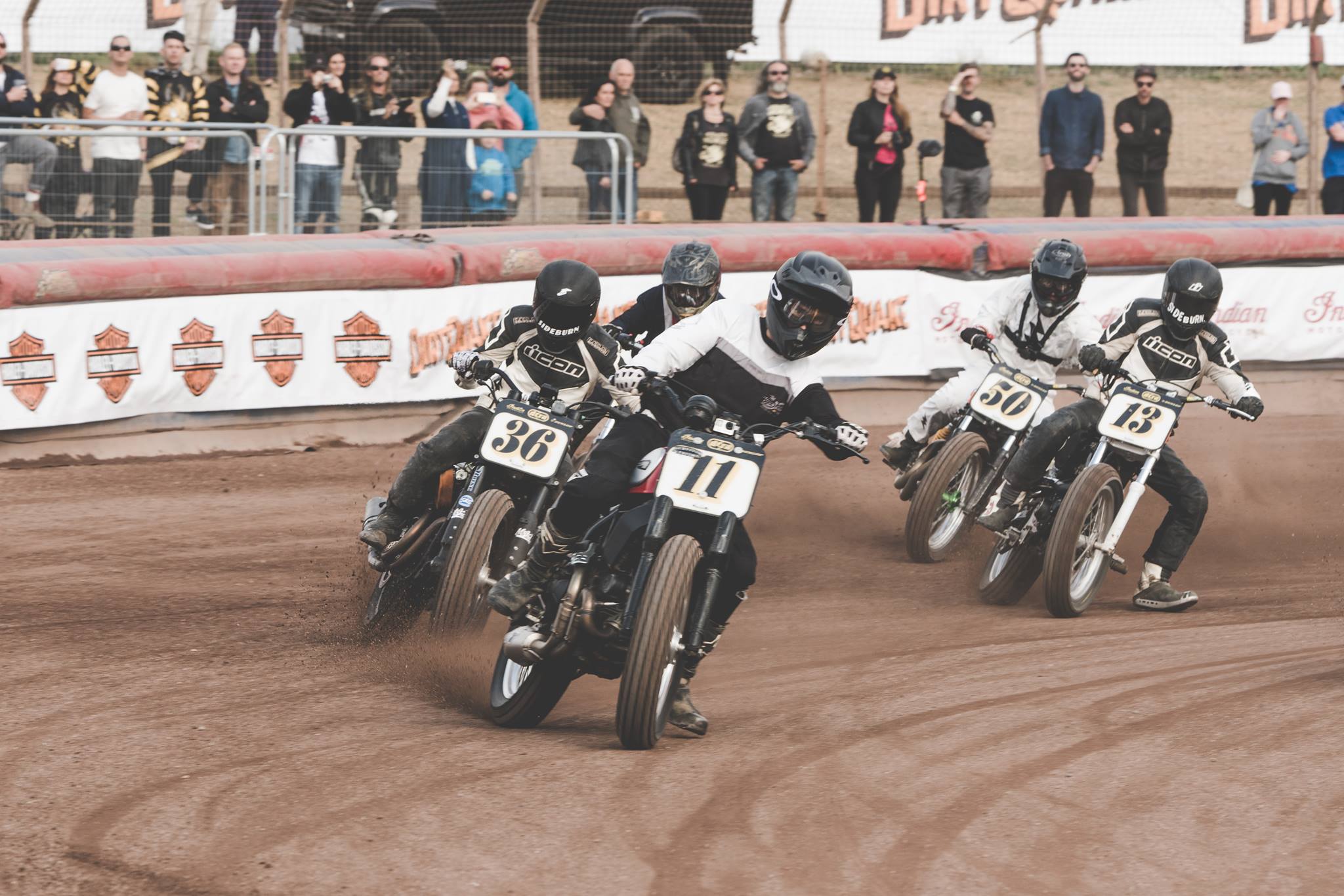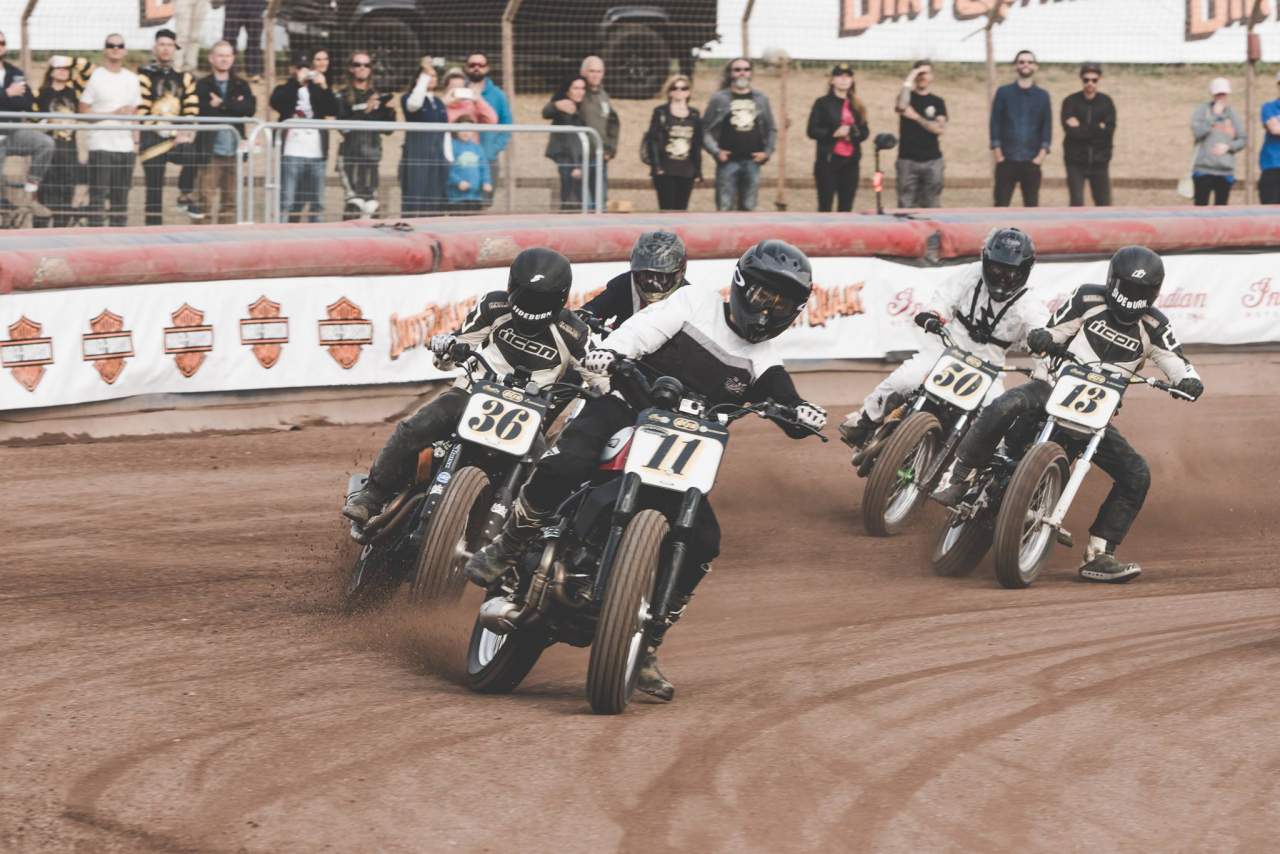 DirtQuake
DirtQuake has become a popular event for bikers all over the country to get involved in, even if it's just to give flat tracking a go for a one-off race. There are lots of different classes including:
Chopper
Inappropriate Road Bike (IRB)
Street Tracker
DTRA Hooligan
Womens
Scooter
DirtQuake brings riders from all over the country together for one day of absolute madness – that's what it's all about. Carl Fogarty and Guy Martin have tried their hand at DirtQuake over the years, not ending too well for Foggy (who fell during the race, breaking his shoulder blade and ribs, as well as puncturing his lung… We did tell you this is a dangerous sport!