Looking for places to discuss your bike with like-minded motorcycle enthusiasts? Then check out our list of the best motorcycle forums, we've tried to keep it UK based, but you'll find our friends from the US featured occasionally too.
The Motorcycle Forum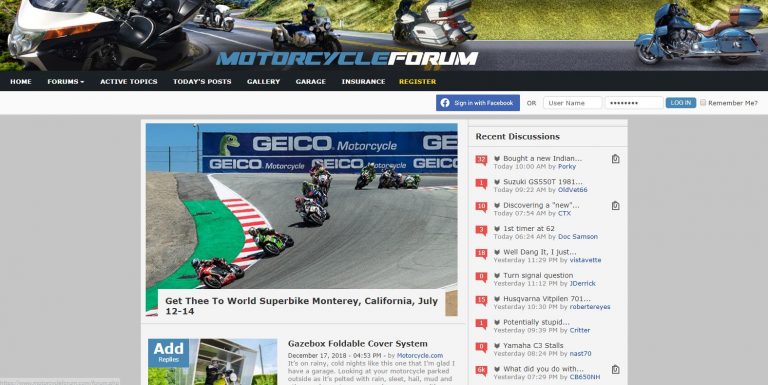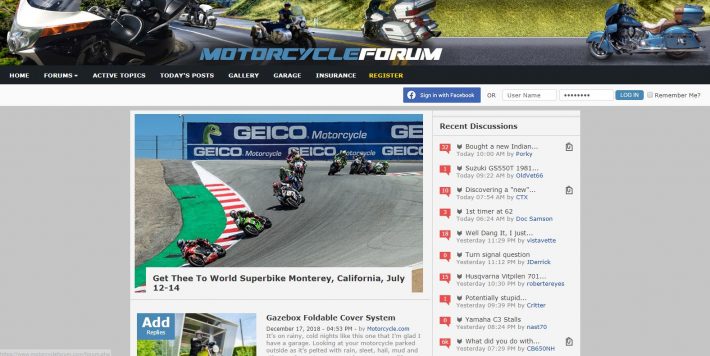 The The Motorcycle Forum has over 90k members, 754,560 posts and 61,569 threads, the most users online at one time was 18,667 on 24th May 2016. As the name suggests, this forum covers all bases in terms of topics and discussions, with 270,931 posts on the 'General Motorcycle Discussion' alone.
The 'Riding Companions Wanted' thread is a great place to meet like minded riders in your local area. Simply post your location, when and where you wish to ride and see if anyone is around. This forum has a large audience with many riders based in the US, although it's worth a try as this is a global forum and you never know who's round the corner.
The handy 'Recent Discussions' bar on the right hand side of the page makes sure you are kept in the loop of the most recent conversations and topics. There is not just reading to be done on Motorcycle Forum, with the 'VIDEO VAULT', where bikers post their favourite videos. This way, instead of going on YouTube and seeing the automated video suggestions, you can see suggestions from likeminded bikers and discuss them.
Bike Chat Forums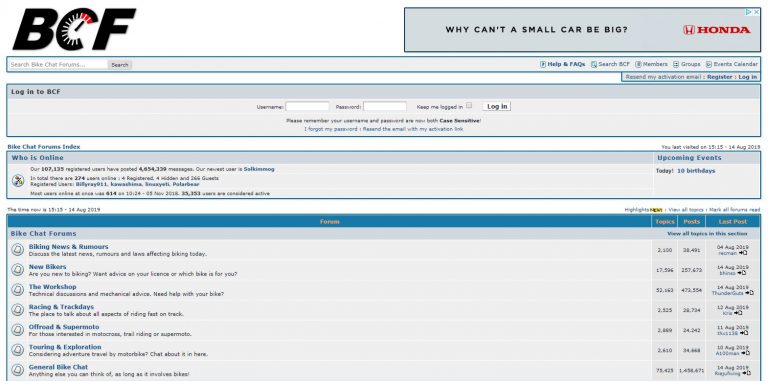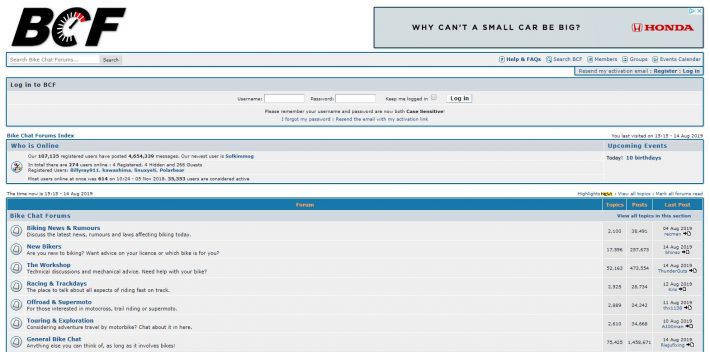 As of August 2019, Bike Chat Forums, also know as BCF, has over 109,000 registered users, with more than 35,000 considered active, that have posted a total of 4,653,440+ messages. The admin accounts that oversee the forum are known as Korn, G, Kickstart and Bendy, they helped establish the forum in 2002, and in 2004 Stinkwheel joined the team.
If you click on 'View all topics', you will see there are 5,300 pages of topics (as of August 2019) and new topics being added in masses every day. Topics vary massively, with riders asking for advice on winter tyres, specific bike models, starting biking and even where members rode that day. Although the name may suggest otherwise, not all topics are motorcycle related, with some bikers seen to be discussing the latest news and world affairs, such as Brexit. You do not have to scroll through the heaps of topics to find one that interests you, searching for keywords in the 'Advanced Search' section and related topics will appear.
The index page splits the most popular recent forums into sections, with sub-headings of 'Bike Chat Forums', 'The Gallery', 'Exchange & Mart', 'Outings & Excursions' and 'Offtopic Chat', which makes it easier to find relevant and topical forums.
The Motorbike Forum
As of August 2019, The Motorbike Forum has a over 5,000 members, 53,000+ topics and 862,000+ posts. Though the number of members may sound low, there is usually an average amount of 3,000 guests a day on the site.
The index page has sub-headings of 'Welcome', 'Motorbike Related', 'Non Motorbike Related', 'Exchange', 'Events and Rideouts' and 'Shop', all of which with forums containing everything from a 'Newbies' section to a 'Scotland Rideouts and Meets' section.
You can filter topics by 'Active', 'Unanswered', 'Unread', 'New' and 'Your posts', meaning it is easy to track replies and help ensure everyone's topics get a reply and discussion started.
The 'Events and Rideouts' section is very helpful if you are looking to meet fellow bikers and get out and about with the group. Meeting like minded forum members is the best way to get involved and really bring the forum to life. You can pick your area of the country, such as 'London & South East' and in their the topics will be about all different ride outs and meets happening a cross the year, around your local area. These could be an individual looking for a riding buddy, or a big group meet and ride, it's a great way to grow your biking network!
The Rev Counter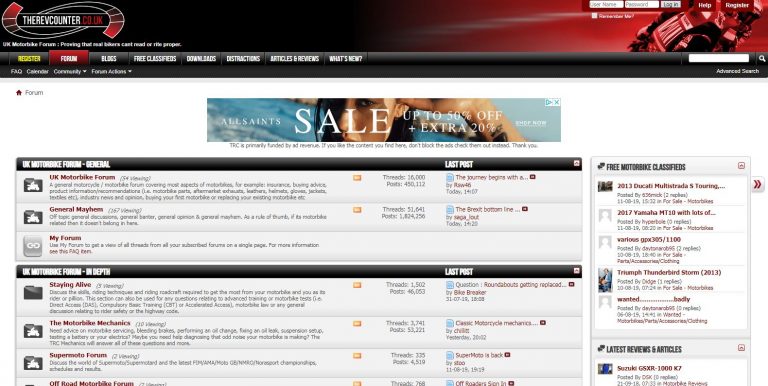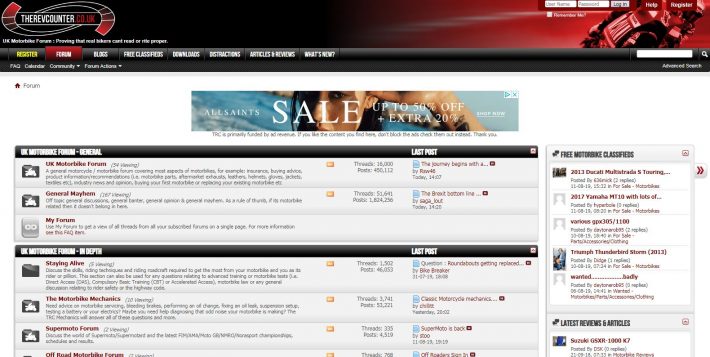 As of August 2019, The Rev Counter has over 11,000 members, 103,034 threads and 2,694,111 posts, as well as over 100 blogs. This busy forum has plenty going on, it is operated by Dragon Tree and it's representatives from their offices in England.  The most users online at one time was 11,774 on 25th January 2016. The sub-headings on the index page are rather different on The Rev Counter in comparison to other forums, 'General', 'In Depth', 'Out & About', 'Racing' and 'Off Topic & Miscellaneous' being these categories.
This is a great forum to head to if discussing the racing scene is your cup of tea. The 'Motorbike Racing' section covers everything from the World Superbike Championship and British Superbike Championship to the North West 200 and Isle of Man TT.  This is the place to be for racing predictions, thoughts, updates and, of course, the odd sarcastic comment.
The 'UK Club Racing' category talks all things club racing, such as the Triumph Triple Challenge and BMCRC. Here you will find out the latest news about race clubs around the country, for instance Aintree Motorcycle Race Club and TRC Racers. If you are considering joining a race club or looking for one in your local area, this is a great way to get a feel for what the clubs about and find out what's going on.
Adventure Bike Rider
Adventure Bike Rider is a great online hub for riders of adventure bikes and readers of the Adventure Bike Rider website and magazine. ABR forum has a total of 17,000+ members, 48,803 topics and 645,589 posts, with the most users online at the same time being 2,353 in November 2018.
This forum is the place to be for ABR magazine readers to discuss the latest issue, giving their thoughts and opinions, as well as suggestions on how the content could be improved. This discussion is simply called 'ABR MAGAZINE' and has had 3,891 posts on 320 topics.
The 'COMPETITIONS' topic has fun, light-hearted comps and games to get involved with. One topic that caught our eye was called 'Photo bombing', whereby a biker had started the conversation off with "I placed an ABR sticker yesterday on the marker at Col de L'Iseran. Who will be first to post a photo with my sticker?" Despite 3 replies and a screenshot from Google Maps, sadly there has not been a photo posted with the sticker. Why not be the first?
The Sportbike Network
This is the online place to be if sports bikes are your thing, ran by the Motorcycle.com Group, The Sportbike Network have not published the number of members and posts on the forum, though we can see that in the 'General Sportsbikes' discussion there are over one million posts.
There are more than just general discussions going on within this forum, with specific sections to meet your needs, new rider looking for advice? There's a discussion for that. Looking to improve your sports bikes performance? There's a discussion for that. Looking for a track day? You guessed it, there's a discussion for that!
A discussion that caught our eye on The Sportbike Network has to be the 'Help Me Fix It' page. 'Help Me Fix It' has more than 10,000 threads and 72,000 posts and is the place to go when your bike has a minor fault that you want to fix yourself or add something to your motorcycle. This covers many types of repairs, from swapping your tyres to rebuilding your clutch.
There is also a discussion page for female riders to communicate with each other as well as a 'Military Forum' for those riders who are in the Military.
Total Motorcycle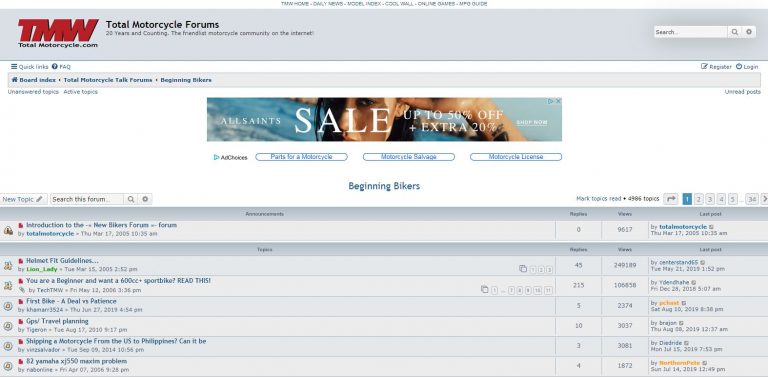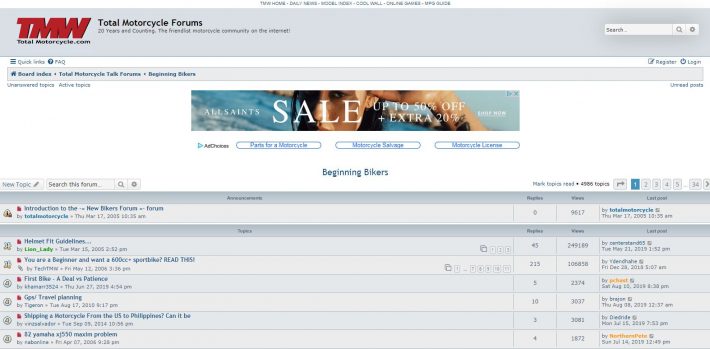 Total Motorcycle boasts a modest 18,000+ members, 45,822 topics and 332,433 posts, with the most users online at one time coming on the 9th June 2019 when 2,768 were on the forum. Total Motorcycle, also known as TMW, uses the slogan '20 Years and Counting. The friendliest motorcycle community on the internet!' and you just need to have a look around to see why they would make this claim.
A discussion telling you to introduce yourself to the TMW online community is how you are greeted and when you open this up you will see new members saying hello explaining where they are from. This forum spreads all over the globe as is shown by the discussions such as 'Konnichiwa – Hello from Japan' as well as 'Howdy from the Conejo Valley'. This friendly forum is clearly open to all bikers who wish to talk about anything, making friends all over the world, all with the same common interest, a love for bikes.
Although a global forum, you can make a pal from down the road just as easy as you can a pal in China. The 'Local – Motorcycle Rides, Events and Rallies' will be sure to keep you in the loop of goings on in the biker community near you.
Another example of the friendly nature of this group is the 'Funny Farm' topic, whereby bikers share their funny photos, stories and opinions.
Biker Match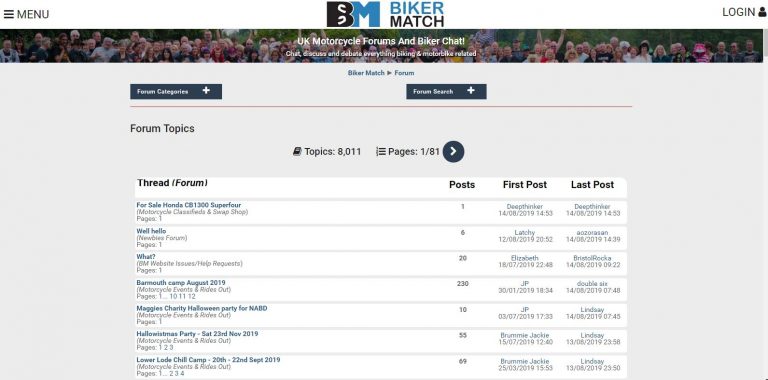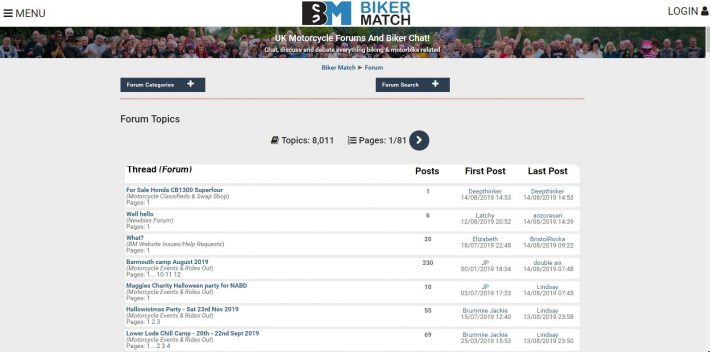 Although it sounds like a dating website for riders, Biker Match is a generic forum for riders looking to talk all things bike. Don't rule dating out however, as the Biker Match slogan suggests, this can be used as a place to date fellow bikers, 'Bringing friendly UK motorcycle enthusiasts together since 2006. Events, social, dating, news and more.'
With over 8,000 topics, it may have less than others in this Top 10, though this UK based forum is growing year on year and is the perfect place to socialise with riders around the country. If you are a regular visitor to the Biker Match site, it's a great way to report any problems you are having, discuss latest biker trends and meet motorcyclists near you.
This social hub is the perfect place to post your location, with one post simply asking 'Anybody out for a ride in Aberdeenshire today?' Why not go out and meet new people for a ride? It is not only about meeting people for a ride-out, post you're going to a track or road race and see if anyone's up for meeting for a drink!
Brit Bike Forum
Established in 1996, it's safe to say Brit Biker has been the online social hub for classic bikers for some time. This is backed up by the fact that it has over 10,700 members, 675,134 posts and 67,443 topics, not to mention the record of 14,755 users online at the same time in May 2019. As the name suggests this is a predominantly UK-based forum and everything to do with classic bikes is discussed.
The most visited topic is the 'Post a picture of your BSA here', which has had an incredible 9,041,593. Remarkably, this discussion was started in January 2007, and is still being posted on today. The original post asked for photos of BSA's as well as a bit of information about the bike. Since then, this topic has really taken off, with 80 pages of posts and people talking about their classic bikes.
A nice touch on the Brit Bike website is the 'Calendar', which display every members birthday, why not get your name on the calendar and become a member today?
BEST MOTORBIKE MANUFACTURER FORUMS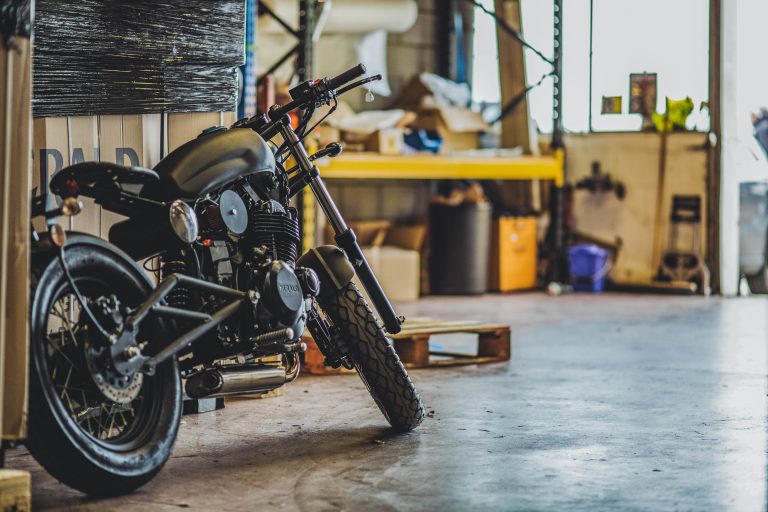 There are plenty of other forums out there that are more niche, mainly related to specific motorcycle manufacturers. Below we have listed the most popular forums for the most popular manufacturers, all figures are as of August 2019:
APRILIA
Aprilia Forum –  Members: 114,240, Threads: 312,953, Posts: 4,211,502
Aprilia RSV – Members: 11,305, Threads: 23,127, Posts: 200,796
Aprilia Talk
RSVR – Members: 5,934, Threads: 19,790, Posts: 199,451
BMW
BM Bikes – Members: 1,829, Topics: 19,660, Posts: 175,755
BMW Luxury Touring
BMW Sport Touring
UKGSER – Members: 22,236, Threads: 309,183 Posts: 4,387,333
Vintage BMW – Members: 9,347, Topics: 7,535, Posts: 44,853
DUCATI
Ducati.ms – The Ultimate Ducati Portal
Ducati.org – Members: 50,891, Threads: 71,558, Posts: 883,839
Ducati Forum – Members: 16,039, Discussions: 64,141, Messages: 1,379,581
Ducati Sporting Club – Members: 7,330, Threads: 94,042, Posts: 636,023
Scrambler Forums
HARLEY-DAVIDSON
Harley-Davidson Forums
Harley-Davidson Riders Club Great Britain  – Members: 1,661, Threads: 69,909, Posts: 689,098
Harley Riders Forum
HDBitchin – Members: 2,686, Topics: 5,297, Posts: 65,153
HD Forums – Members: 380,406, Threads: 1,243,834, Posts: 18,330,417
V-Twin Forum – Members: 129,148, Threads: 238,716, Posts: 2,581,566
HONDA
CBR Forum – Members: 69,121, Threads: 148,121, Posts: 1,289,773
Honda-Forums – Members: 1,523, Threads: 26,390, Posts: 283,413
Honda-SOHC – Members: 1,956, Threads: 11,215, Posts: 113,446
Honda-Tech – Members: 672,068, Threads: 3,180,162, Posts: 48,873,793
Honda Shadow – Members: 56,900, Posts: 1,500,000
Honda Twins – Members: 24,893, Threads: 58,883, Posts: 492,323
KAWASAKI
Kawasaki Forum – Threads: 45,216, Posts: 542,607, Members: 30,782
Club Kawasaki
Kawasaki Motorcycle
KawiForums
Kawasaki World
SUZUKI
Gixerboyz – Members: 18,998, Topics: 43,320, Posts: 363,808
Suzuki Forum – Members: 13,419, Threads: 4,864, Posts: 9,216
Suzuki 800 – Members: 3,360, Messages: 147,238
GSXROC – Members: 2,634, Threads: 2,666, Posts: 4,909
Old Skool Suzuki – Members: 2,927
Suzuki Bandit Forum – Members: 4,146, Topics: 62,863, Posts: 773,212
Gixxer
TRIUMPH
Triumph Rat
Triumph Talk – Members: 4,796, Threads: 20,497, Messages: 183,696
New Bonneville Triumph Riders – Members: 6,055, Threads: 8,551, Messages: 116,752
Triumph 675
YAMAHA
Yamaha Star Stryker – Members: 10,921, Threads: 13,356, Posts: 211,819
Yamaha Club – Members: 48,113
Yamaha Forum
Yamaha-Forum.net
R3-Forums
BEST MOTORCYCLE FORUMS BY BIKE TYPE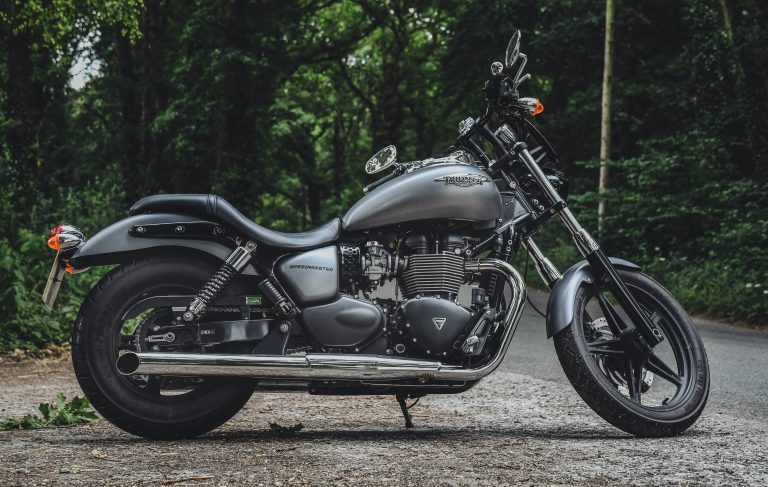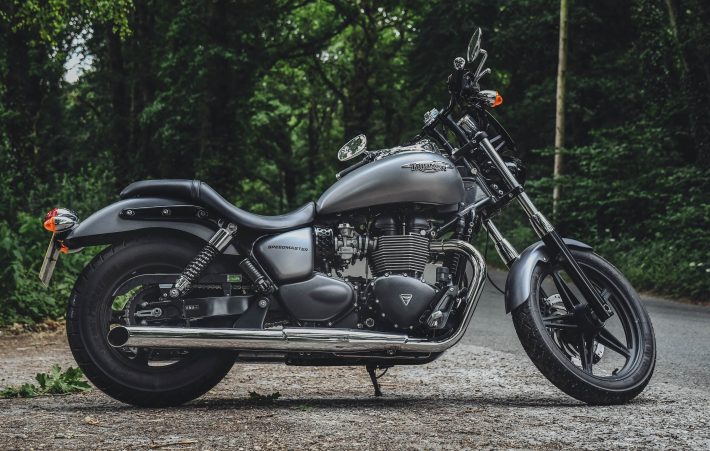 There are more motorcycle forums out there than simply manufacturers, for example bike type. By this we mean sports bikes, classics, custom, etc. Some of these snuck their way into our top 10 motorcycle forums, though there's plenty more to check out!
ADVENTURE BIKES
Adventure Bike Rider
Horizions Unlimited
XL Adv
CLASSIC BIKES
Brit Bike – Members: 10,765
Classic Motorcycle Forum – Members: 5,351, Topics: 5,533, Posts: 27,086
The Forum for Classic Bikes – Members: 11,025, Topics: 2,538, Posts: 12,235
Vintage Motorcycle Forum
CUSTOM BIKES
Chop Cult – Threads: 49,663, Posts: 802,569
Custom Fighters
SCOOTERS
Maxi-Muppets
Motor Scooter Guide Forums – Posts: 20,327, Topics: 3,296, Members: 2,560
Scooterotica – Members: 5,136, Topics: 18,239, Posts: 189,277
Scooter Shack – Members: 11,747, Discussions: 35,765, Messages: 347,522
SPORTS BIKES
BCSportbikes – Members 20,286, Threads: 131,060, Posts: 1,672,063
Cycle Forums
E Sportbike
Sport Bike World
The Sportbike Network
BEST MOTORBIKE FACEBOOK GROUPS & PAGES YOU CAN JOIN, FOLLOW AND LIKE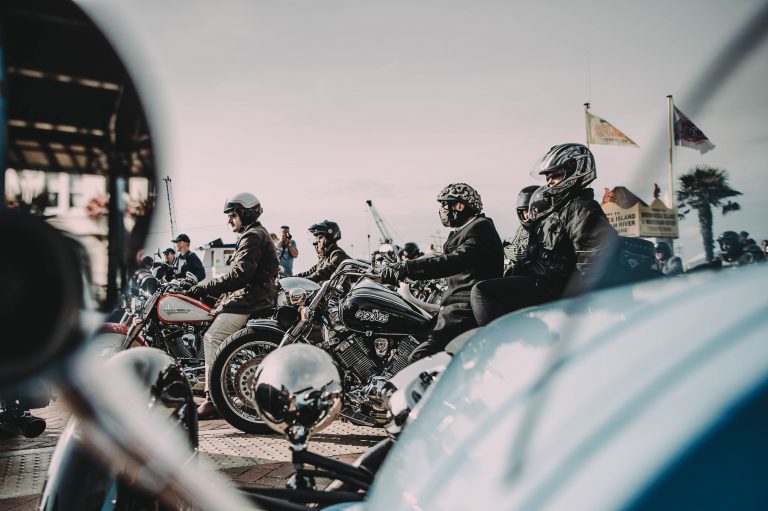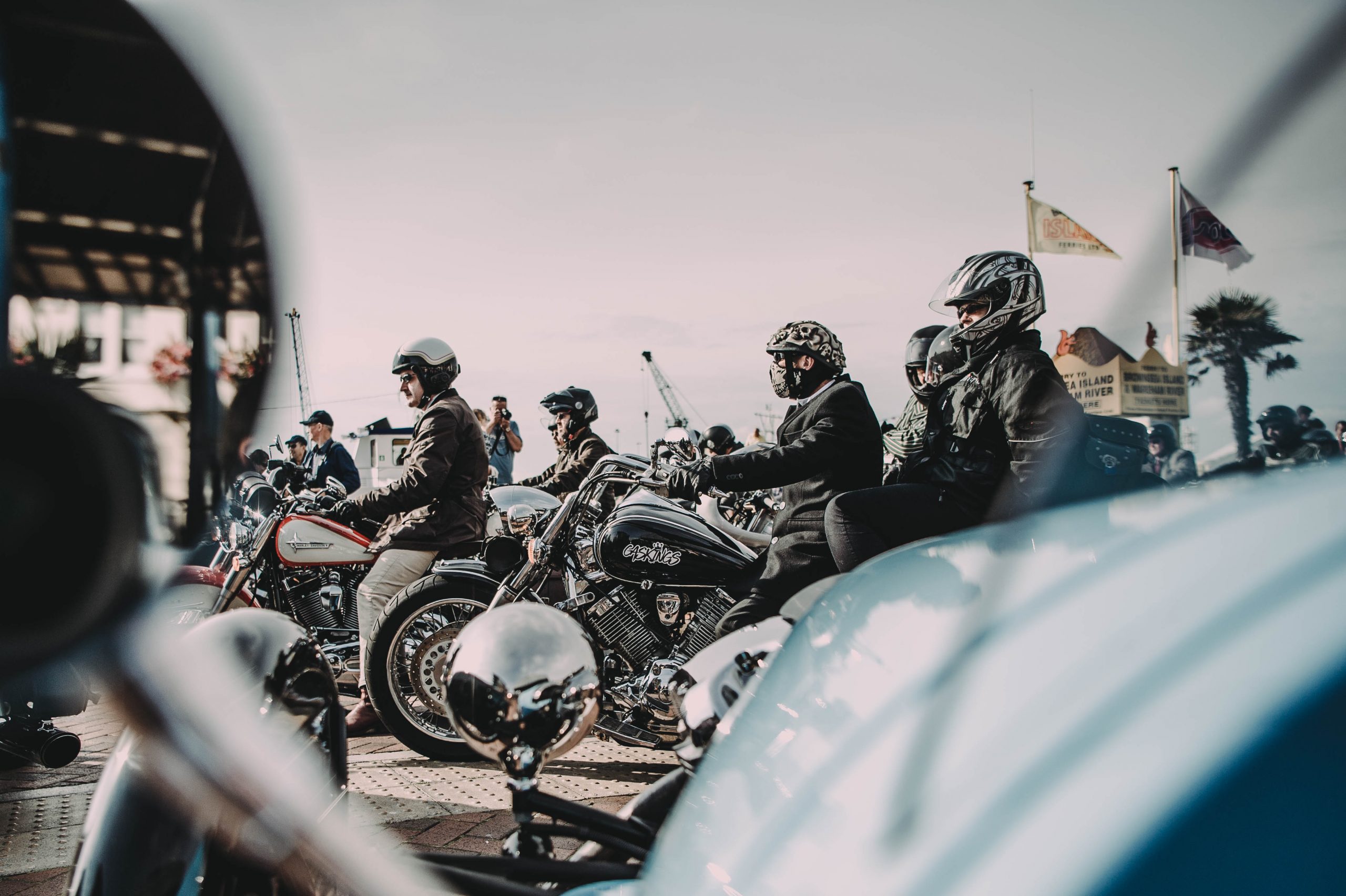 Most people have a Facebook account these days, so instead of findings lots of different website forums to register for, you can join loads of different groups talking about motorcycles, all from within the comfort of your existing Facebook account. Here's our list of some of the best and the amount of existing 'Likers' they have as of August 2019…
BikeEXIF – 498k likes
Bikers Social – 147k likes
Bike Shed Motorcycle Club – 640k likes
Classic Motorcycle Community – 192k likes
Keep Britain Biking – 111k likes
MCN – 894k likes
Motorcycle Life – 654k likes
Motorcycle Racer Magazine – 108k likes
The UK Motorcycle Theft Protest Community – 36k likes
VisorDown – 269k likes
OTHER NOTABLE PLACES TO CHAT TO RIDERS ABOUT YOUR MOTORBIKE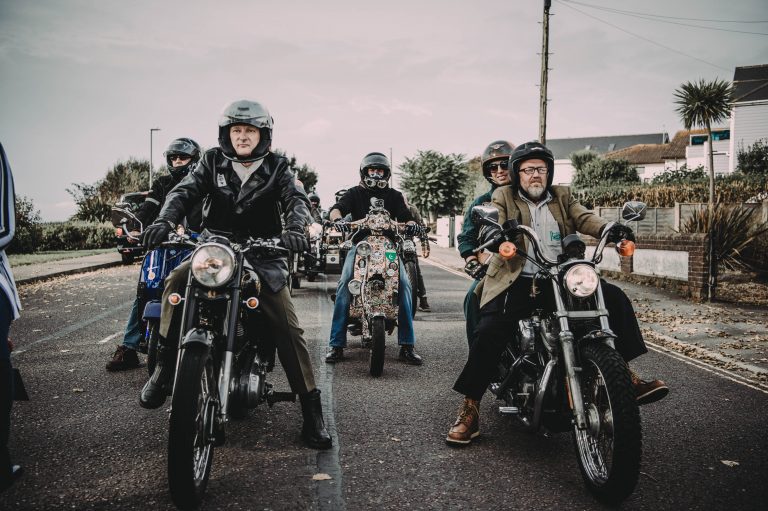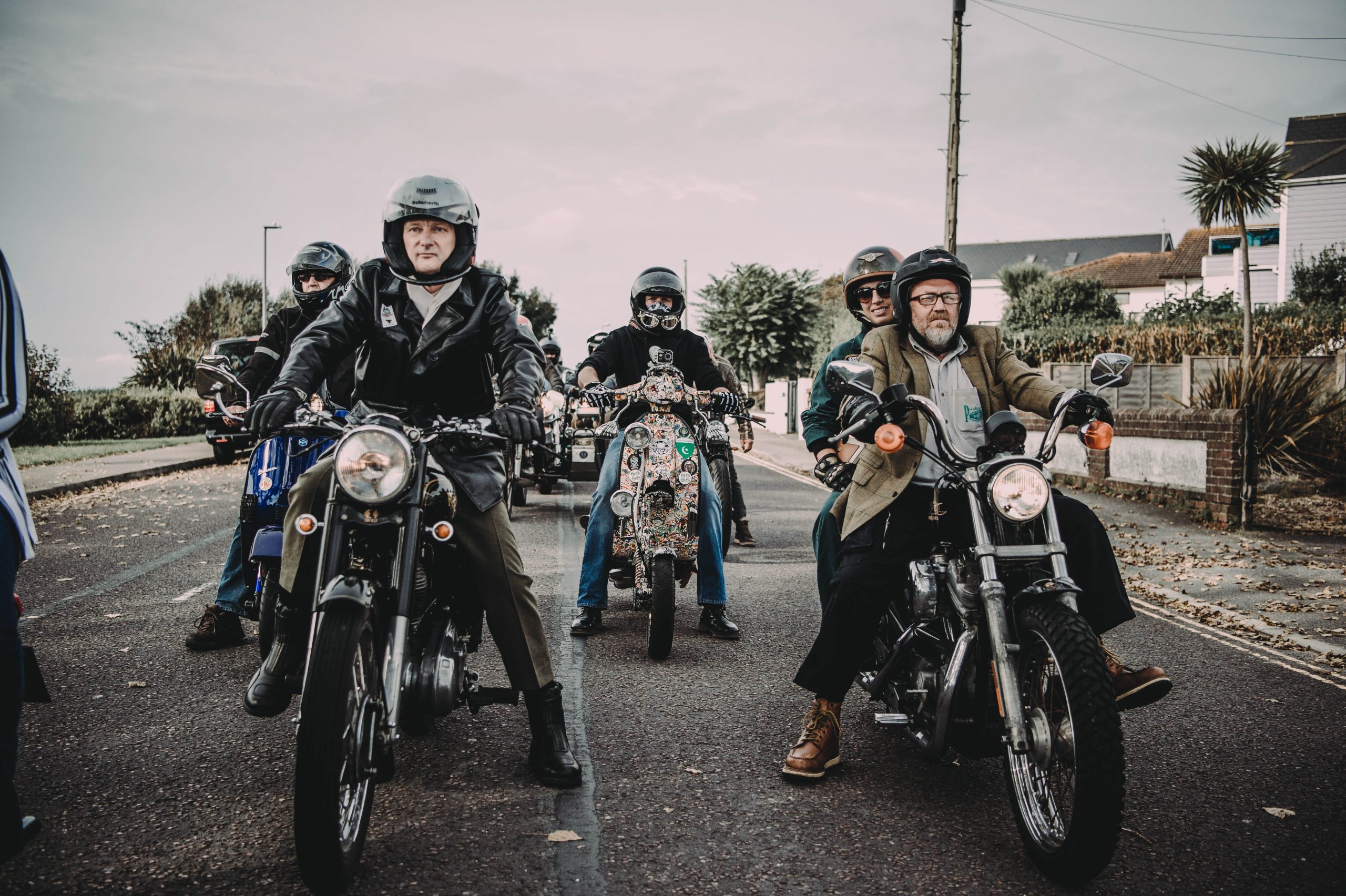 Do not for one second think we have listed every single place to chat with bikers online. Social media website such as Twitter and Instagram give you the option to search keywords, why not type in the search bar a general 'motorcycle' search or even narrow it down to a particular bike model or location? Many of the pages mentioned above are also active on Twitter and Instagram including our very own Keep Britain Biking, check them out!
There is pretty much a forum for every topic regarding motorcycles, if it's light hearted biker banter you're looking for checkout Pistonheads, or something a bit more serious such as the finances involved in biking try arching the MoneySavingExpert forums.
Head to leading forum website Reddit and search for any motorcycle related topics and nine times out of ten there will be a discussion (or more) regarding your chosen subject. This could cover anything from motorcycle maintenance to races such as the BSB and Isle of Man TT.
Have we missed a good forum? Let us know in the comments below!