Name: Shaun Anderson
Date of Birth:  August 7th, 1984
Place of Birth: Northern Ireland
Nationality: Northern Irish
Races competed: TT, UGP; Tandragee, Cookstown, Armoy, Mid-Antrim, Bush, Skerries, Horice, Terlicko, Frohburg, Buno, Rijeka, Pannoniaring
Website: www.kraemer-motorcycles.com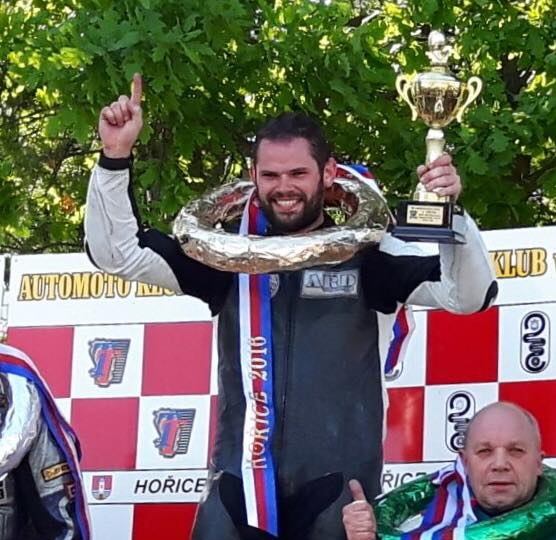 Getting into biking:
"I grew up around racing; my father was a mechanic for a road racer, so most of my weekends were spent at races. Then I started to mechanic for a few friends that started racing, and I thought I could do better, so there was only one way to find out. I did my first track day in September 2007 on my Honda Hornet 600 and then started racing in 2008."
Racing Icon:
"I think anyone in road racing looks to Joey as he is the greatest in my eyes. I was a big Gary Dynes fan growing up and later Ryan Farquhar and Darren Lindsey, as they were the last of a generation of racers that could win on the small bikes and then jump on big bikes and do the same. But of all the modern guys I have to say Cameron Donald always impressed me, he came to Ireland won races and broke lap records and went to the TT and beat the best in his third try; that is something to idolise."
First bike:
"Yamaha PW50. My father bought it in boxes from a guy and he built it from scratch. I was riding it before I had my stabilisers off my bicycle at the age of 3 years. First road bike was a Zip 50 SP at the age of 16 and my first race bike was a 2003 R6, that was an awesome bike to start racing on, cheap fun and reliable, not the fastest, but I think you need to start on something you have to ride hard to sharpen your skills."
Favourite course/track:
"The Isle of Man Mountain course is the ultimate challenge for any rider, and that is why I rate it as the top track. Tandragee is one of the best tracks in the world and is truly a small TT, the fact that it is my local track to where I grew up helps. I have had some of my best races at Tandragee, and the track is fast and flowing, which just ticks all the boxes for me."
Career Highlights (pre-2018):
"Either my podium finish at the Manx GP or my Ulster Championships, I have three of them, winning is the highest high, but a championship win in a competitive championship is something special, as it is very hard work. People who have won them know what it takes. The winning days mean more, but the bad days are when you have to dig deeper than you should to scrap points – that's what makes the difference at the end of the year. My first championship I won by a single point at the last race of the year."
2018 season:
The 2018 Isle of Man TT saw Anderson achieve an impressive 13th place in the Superbike race on the ARD Suzuki GSX-R1000, with an average race speed of 125.153mph. It was here where he recorded his best speed around the Mountain Course to date with an impressive lap of 128.672mph and the result saw him win his first silver replica.
As well as this, Shaun took 16th in the Superstock encounter with a fastest lap of 127.331mph seeing him win a bronze replica, and 6th in the TT Zero race on the 2014 Brammo Empulse R. He was out of luck in the Senior race, retiring early on, but overall it had been a good week on the island for Shaun.
Onto the Ulster Grand Prix, and Shaun opened his account for the week with a good second place finish in the first Lightweight race whilst riding the Cleaver Browne Racing Honda. He was forced to retire from the Superbike and Superstock races and although the weather rapidly worsened, one of Shaun's finest moments in his career came when he won the second Lightweight race to take his first International road race win.
2019 season:
Anderson put in a number of impressive performances at the 2019 Isle of Man TT with consistent results throughout the races he competed in. His highest finish came in the headline Senior TT in which he took 12th place on the NW Racing BMW S1000RR with a time of 01:49:48.261, just missing out on a silver replica.
16th in both the Superstock and Lightweight races were also up there with highlights of his TT campaign. To cap a good week Shaun also secured 7th in the TT Zero race and 20th in the Superbike category thus finishing all five of his races and winning four more bronze replicas in the process.
At the Ulster Grand Prix, Shaun was back in action on the NW Racing BMW and started race week with a strong 16th place in the opening Superbike race where he posted a new personal best lap of the 7.4-mile Dundrod circuit at 127.543mph.
Unfortunately, he was forced to retire from the second Superbike and Superstock races but did take a good fourth place finish in the Lightweight race where he was again on board Cleaver Browne's 250 Honda.
Career Achievements – at a glance:
Best TT finish of 6th, 2018 TT Zero
Finished 7th in the 2019 TT Zero race
Also finished 12th in the 2019 Senior, 13th in the 2018 Superbike, 14th in the 2016 Senior and 16th in the 2018 & 2019 Superstock races
Fastest TT lap of 128.672mph – currently the 33rd fastest rider in the history of the event
Has now competed in 32 TT races with 17 finishes
Has won one silver and 14 bronze replicas at the TT with 12 top twenty finishes
1st and 2nd, 2018 Ulster Grand Prix Lightweight races
Fourth, 2019 Ulster Grand Prix Lightweight race