Kawasaki's new H2R is reputedly capable of doing over 220mph. Is the race to build the world's fastest bike back on?
There was a time when motorcycle manufacturers fought each other keenly for the right to claim they built the fastest production bike in the world. Whether it was Kawasaki with its 155mph GPz900 in the 1980s, Honda with its 186mph CBR1100XX Super Blackbird in the mid-'90s, or Suzuki and its 194mph GSX-1300R Hayabusa in 1999. But those days seemingly came to an end with the 'gentlemen's agreement' between the factories in 2000, that saw all future bikes restricted to 186mph, no matter how much faster they were capable of going.
And then came the launch of Kawasaki's super-charged H2 and H2R earlier this year. Although the Japanese firm hasn't released an official top speed figure, the H2R is reputedly capable of doing 221mph. That astonishing figure (it's faster than the top speed ever recorded by any of the priceless, prototype MotoGP bikes) begs two questions: what happened to the gentlemen's agreement, and do we really need bikes that are capable of such outrageous top speeds?
Kawasaki has often been the builder of the world's fastest production bike, from the 130mph Z1 in the early 1970s to the 155mph GPz900R in the 1980s, and the 170mph ZZR-1100 in the '90s. But when it launched the ZX-12R in 2000, it was restricted to a top speed of 186mph in honour of the gentlemen's agreement. That agreement came about following the launch of Suzuki's GSX-1300R Hayabusa in 1999. The 'Busa was a street-legal motorcycle that was capable of 194mph and this figure sent shock waves through the corridors of power.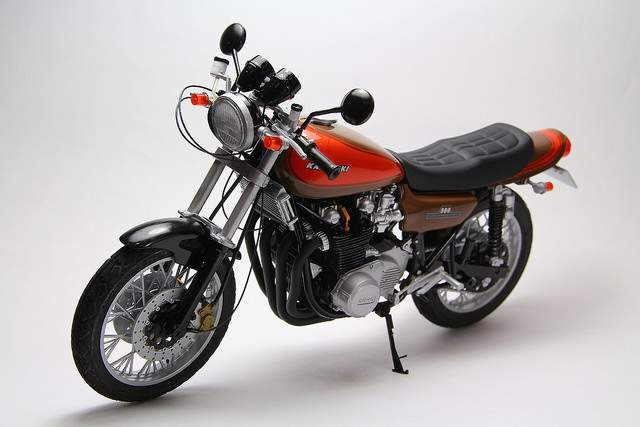 Something had to be done. There were rumblings about banning the import of such bikes and fears that the government, or, worse still, Eurocrats, would step in with heavy-handed laws restricting horsepower. The options became clear – either the manufacturers could choose to self-regulate and do something to curb the ever-increasing speed of high performance motorcycles, or the powers that be would step in and do it for them. Most of the major manufacturers chose the first option and signed up to the gentlemen's agreement to restrict future hyper-bikes to 300kph/186mph.
After more than a century of chasing speed, it seemed that the race to build the fastest production bike in the world was over and that we would never again get to marvel at motorcycles that pushed the boundaries and moved the game ever forward. We'd been rumbled. The game was up.
Or was it?
Interestingly enough, while Honda went public with its adherence to the gentleman's agreement, Kawasaki and Suzuki did not, even though they had clearly agreed to the deal (as evidenced by Kawasaki's restricted ZX-12R). A shrewd observer might believe that gives Kawasaki and Suzuki some room to manoeuvre should they ever wish to build a 'world's fastest bike' again. But it doesn't apply to the H2R because it's a track-only machine. And because it's a track-only machine and not designed for road use, the gentleman's agreement does not apply. Race tracks are private property, not the Queen's Highway, and everyone on them is regulated and monitored so they can ride as fast as they like. Problem solved.
But what of the street-legal H2 version? How does Kawasaki get around that? Well, it's electronically limited to 300kph/186mph, just like all other super-fast road-going bikes from the Japanese manufacturers in the last 15 years. What sort of top speed it might be capable of if it was derestricted is anyone's guess but with 200bhp on tap (210bhp with ram air) and a supercharger, it's a safe bet that it could easily top 186mph and there are bound to be some owners who can't resist the temptation to find out. But that's where the gentleman's agreement is quite clever, because if anyone does tamper with restricted bikes, then the manufacturer cannot be held responsible.
If reports that the track-only H2R had clocked up 221mph during tests are true, then it could easily claim the title of fastest bike in the world – a title that Kawasaki has often held in the past and one that it seems keen to retain. Given that the fastest ever top speed recorded in MotoGP is 217.20mph (Andrea Iannone on the Ducati at Mugello in 2014), that would mean that a road bike, available to any member of the public with a cool £41,000 to spare, would capable of blowing any MotoGP bike into the weeds.
And depending on your outlook, that's either an amazing fact or a worrying one. Because the skill to control a motorcycle at 220mph cannot simply be bought – it has to be learned, and not everyone is capable of learning it. But then, given that even the longest straights on most race tracks are well under one kilometre in length, the chances of anyone actually achieving 221mph on a normal circuit are slim. Those kind of speeds are usually only achieved on oval test tracks.
But the actual top speed of the H2R is purely academic. What's really important about the bike is that it has got everyone excited about motorcycling again. Kawasaki played a blinder with the H2. Their rivals may have sniggered initially at the pointlessness of it all but they soon changed changed their tune when the Kawasaki stands at every major bike show over the winter – including Britain's NEC – were totally swamped with people craning to get a look at the other-wordly H2 and H2R. And while they were there, drooling over a bike they can never hope to own, they also checked out Kawasaki's more humble, and realistic, offerings. And if that leads to increased sales for Kawasaki, then how long until its rivals start building even faster bikes in an attempt to steal the H2's thunder? The race to build the fastest bike in the world could well and truly be back on.
The H2 has been a PR coup, no question, but it's also much more than that. Over the last seven years or so, as the world became increasingly bogged down in the financial crisis, motorcycle manufacturers released no end of practical, sensible, budget-priced, but ultimately dull, motorcycles. To such an extent that we almost forgot what it was that we liked about motorcycles in the first place – speed and excitement! Surely those are the two key ingredients that tempt people towards two wheels rather than four in the first place? After all, if it's practicality and comfort you want, buy a Ford Fiesta. Motorcycling isn't for you.
Stuart Barker is a freelance motorcycle journalist and author. A former MCN reporter and features writer, he is now editor of the Official Isle of Man TT and Classic TT programmes and has contributed to most major UK motorcycling titles including MCN, Bike, Ride, Superbike, Two Wheels Only, Fast Bikes, Classic Bike and Classic Racer. His books include biographies of Barry Sheene, Steve Hislop, Niall Mackenzie, David Jefferies and Evel Knievel as well as a centennial history of the TT races.