The late 1990s was a great era for big twin motorbikes. The Italians were ruling the roost – Ducati's 916 range was in its pomp, winning every WSB title going, and Aprilia had just brought out its RSV Mille.
Both used 1,000cc V-twin motors, and in the Ducati's case, it was kicking the crap out of the 750cc inline-fours which the big four Japanese firms were campaigning in superbike racing.
But then two of the firms – Honda and Suzuki – started making their own. Suzuki was first out of the blocks with the TL1000S, Honda joined in with the Firestorm, and the racier TL1000R and VTR1000 SP-1 versions soon followed.
The Suzuki TL1000R had zero race success (although its engine won a WSBK race in a Bimota chassis ridden by Anthony Gobert), but the Honda did, eventually win a superbike title, before the switch to 1000cc fours in 2003.
So – nice history lesson Al. But what's the relevance here? Well, that TL1000 engine – more than 23 years old now – is bolted into the bike I've just picked up today from the Suzuki GB headquarters in Milton Keynes.
The firm's kept updating the basic layout, popping in a 2mm overbore to take it up to 1,037cc from the TL's 996cc, and revamping it to match the various EU emissions regs down the years.
It spent a bit of time powering the SV1000 roadster through the 2000s, was seen in the aforementioned Bimota SB-8R, Cagiva's Raptor 1000 and even a weird Kawasaki-badged V-Strom – the KLV1000.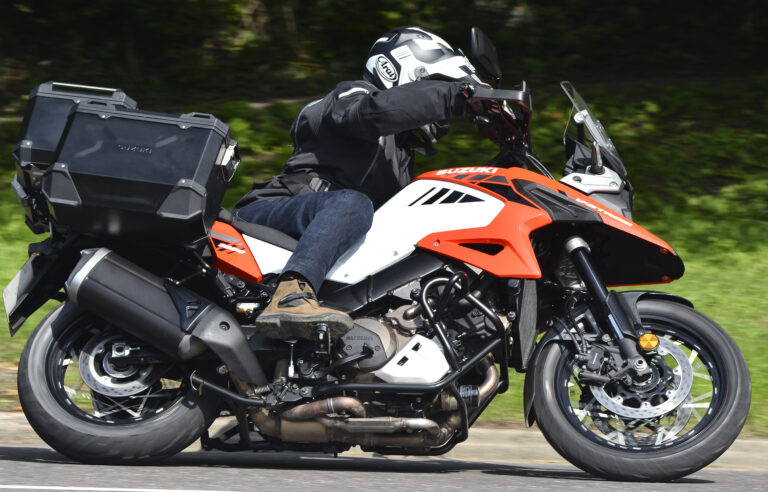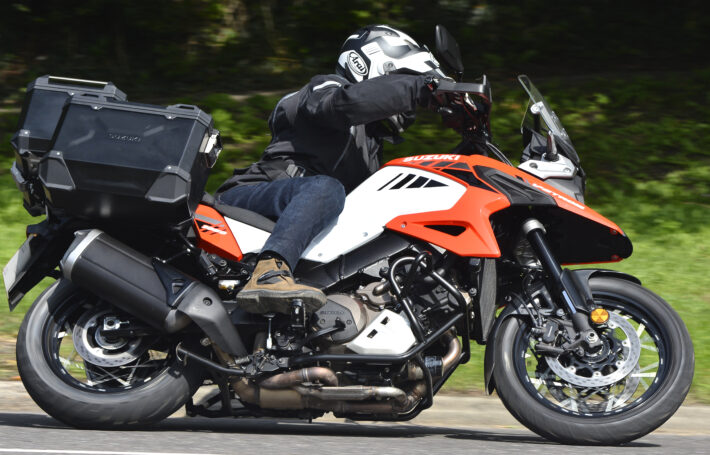 But here it is, helping Suzuki get into the fashionable big adventure class, and providing decent power and torque levels. The big V-Strom has been around in various forms since 2002, with a gap from 2008-2014, and its smaller 650cc sibling has been a cracking middleweight option in the class too. Now, it's fair to say that a big twin motor is an excellent choice for this sector – Ducati's Multistrada, KTM's Super Adventure and the BMW R1250 GS are all brilliant machines. Can this veteran powerplant do a similar job then?
The first few miles are very encouraging. I jump on to the sensibly-sized seat, twist the key and the neat monochrome dashboard leaps into life. The V-twin motor bursts into thrumming life, and we're into first then away. Bars are a good height and width for me, the adjustable screen is spot-on in its current highest position, and the full hard luggage fitment behind me gives the V-Strom a really capable feel. With the handy USB socket powering my iPhone  and the cruise control already activated, ready to cope with the M1's average speed cameras, I feel like I could settle in here for quite a while if needed.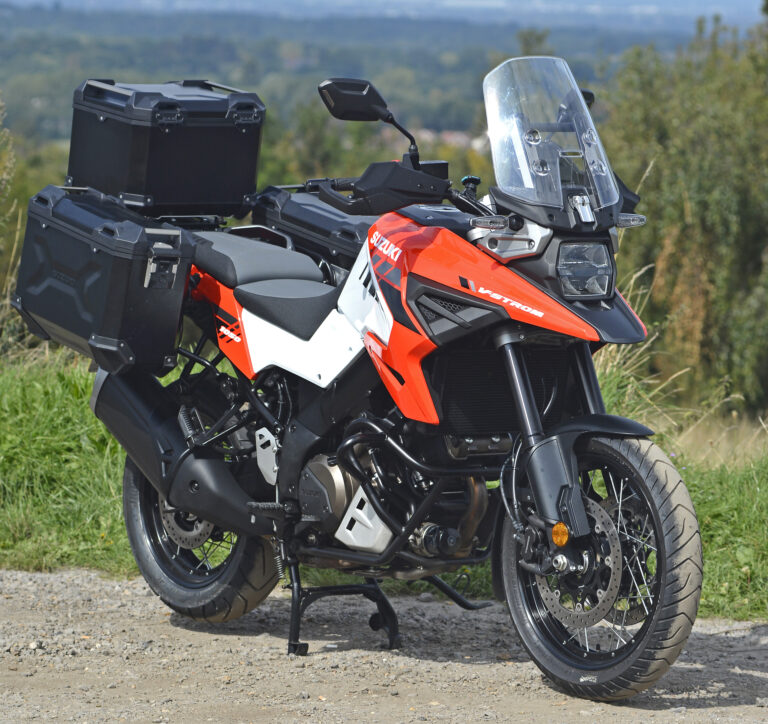 Milton Keynes's geometric progression of circular roundabouts and straight dual carriageways whizzes me along to the M1 in a trice, and there's plenty of low-down oomph from that big twin motor. The drive out of each roundabout is really impressive, the back end squatting down and firing you forward with real urgency. Those brakes are pretty strong too – the four-piston radial calipers have a sharp bite – and I've got that King of the Road feel as I head back down towards London town.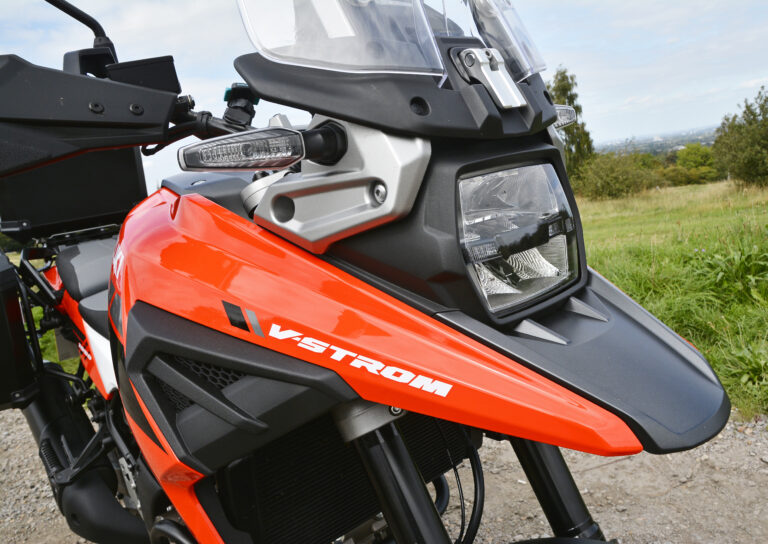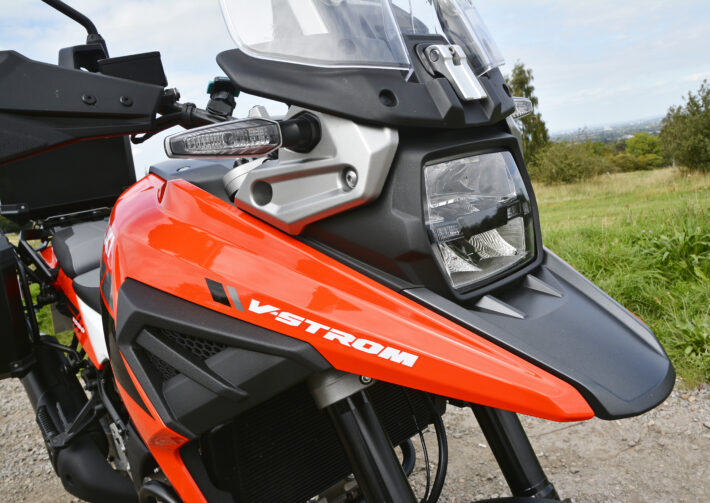 Up to ramming speed on the M1 though, and the other side of the motor emerges – a slightly wheezy top-end. Nothing horrendous of course, but just a flatness to the power delivery above around 6,000rpm. It's a wee reminder that though a 1000cc V-twin was a monster back in the late 1990s, the class has moved on a bit at the top end. If your expectations have been tuned by the Ducati 1260 Multistrada, KTM 1290 Super Adventure and BMW S1000 XR then you'll be missing the 40-50bhp top end advantage those bikes have.
I'm taking it easy today though, so I just relax, and plan a slightly longer route home via some more interesting dual carriageway and A-roads. The remaining 50 miles or so of M1 and M25 disappear in a comfy wafting blur, and then I'm off and out of motorway mode. Trickling through some traffic coming off the motorway, I'm impressed by the slow-speed composure of the big V-Strom.
With the huge aluminium panniers and top box out back, it's an imposing beastie, but it's a cinch to pootle along at walking pace, and when you wheedle your way to the front of the traffic, you can keep your feet up easily for ages and ages – always a sign of great balance. That's underlined later in the week when I do a photoshoot: feet-up road-width U-turns are a delight on the V-Strom, which you can't say about every big-bore adventure bike these days.
When you turn the wick up a bit, the chassis still does well. There's an easy, natural feel to the steering, helped by the wide bars, and those brakes continue to impress. They're really strong, with more than enough stopping power. I had one serious emergency stop situation early on, and the front end actually felt almost overwhelmed by the sheer deceleration forces invoked.
The forks dived savagely, and there was a squidgy, twisty feel as the front Bridgestone gave a wee chirrup. Of course, the ABS is always there so you're not going to have any worries, and as my V-Strom time wore on, I adapted quickly to the brake power on offer. And anyway, given the option of slightly-strong or slightly-weak brakes, I'll always choose the former…
Gallery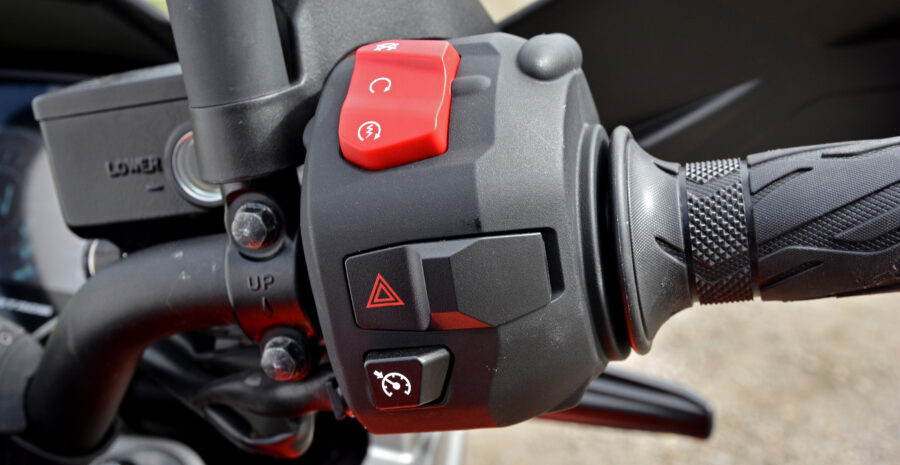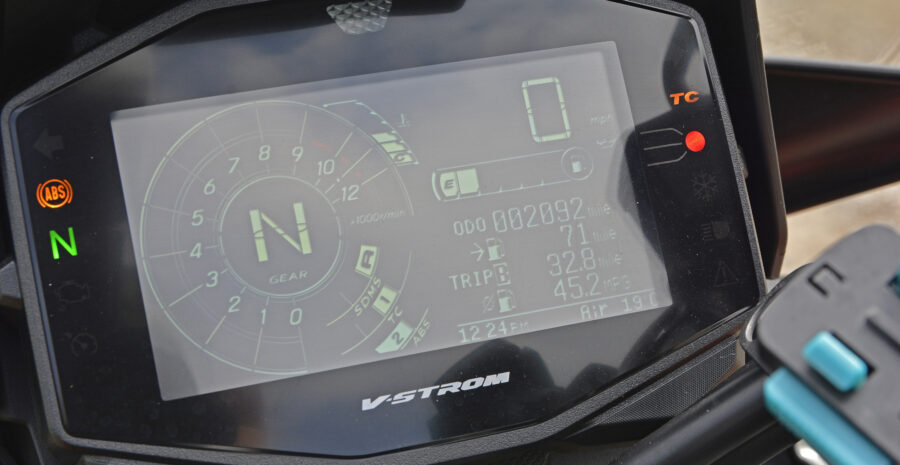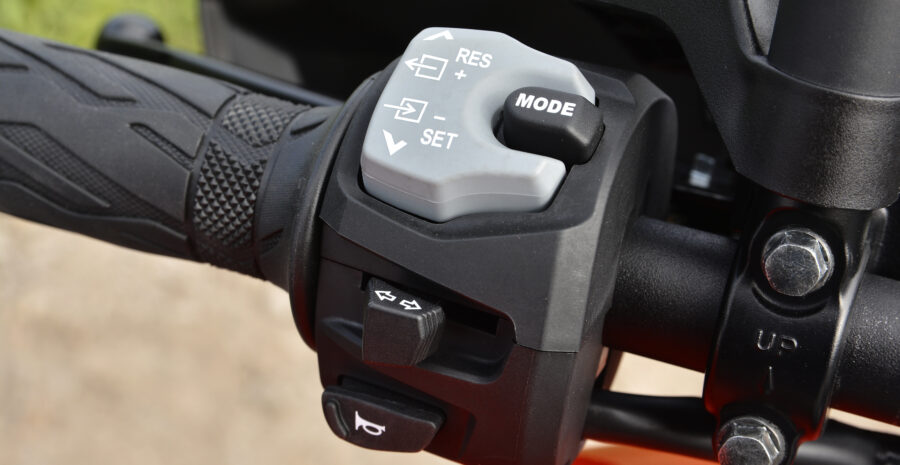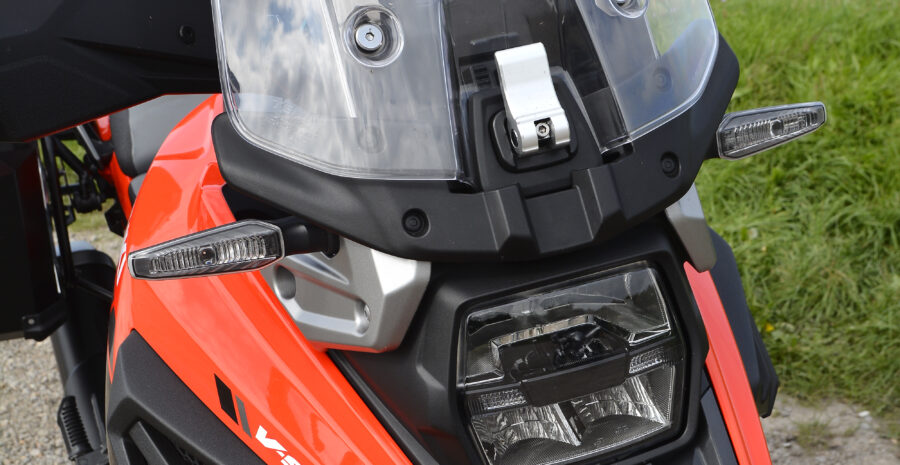 While we're having a moan, I'm missing a quickshifter because I'm a spoiled 2020 baby, and the gear shift itself is a bit vague. But it's a cruel world out there, so I suck it up and get on with the job. I'd also like the official accessory heated grips as standard, but any dealer with sense will have them ready to go on as part of the sale haggle anyway.
But that – and a slightly cluttered feel to the LCD dash – is about it for moaning today. In the couple of weeks I spent with the V-Strom I liked it a lot. The engine is fun and characterful, the handling is fuss-free and I especially liked the very manageable slow-speed feel. The suspension is a little soft when hard on the brakes for me, but that's why god made damping adjusters and saw fit to provide them on these here KYB forks. It looks great in this orange/white paint scheme, and the overall styling is a pleasing nod to the worthy ancestry of this bike – Suzuki's DR.BIG and other Paris-Dakar desert racers.
Like much of Suzuki's range, it's a little down on ultimate tech and performance compared to the fancy-pants competition. But also like much of Suzuki's range, it's a good bit cheaper too, which more than makes up for that. And makes the big V-Strom a genuinely strong option in this class.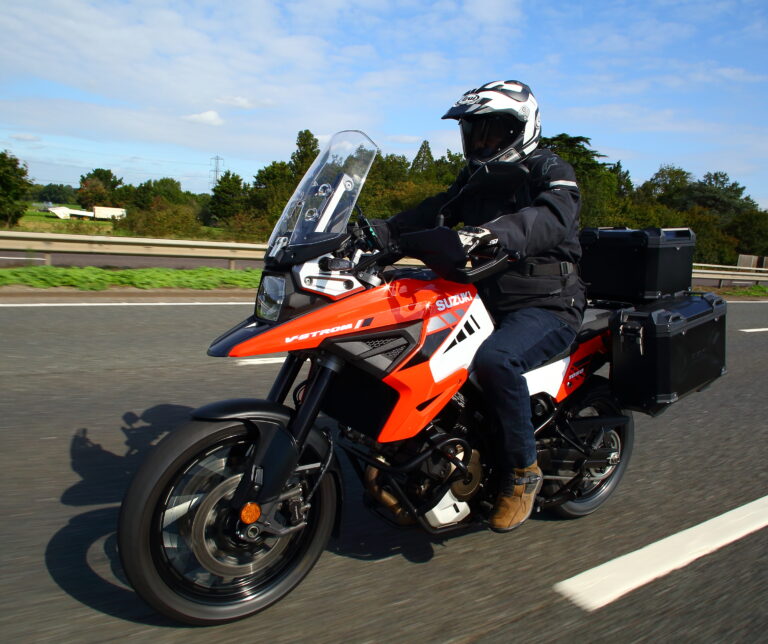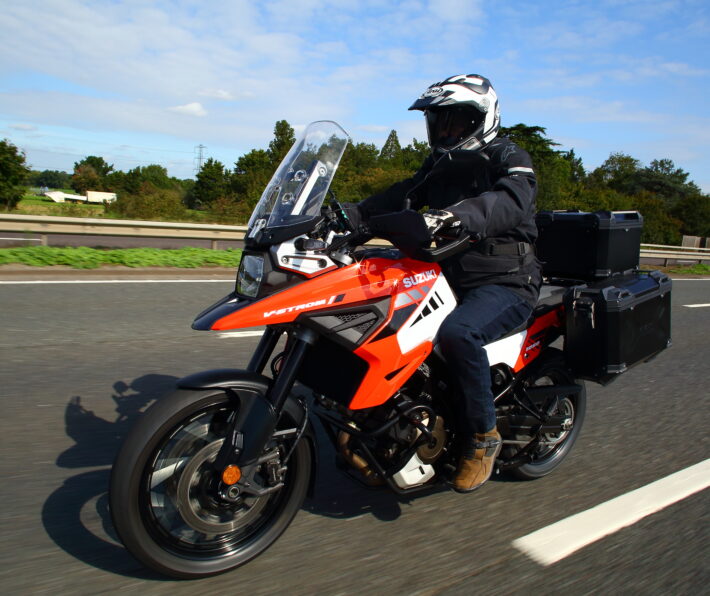 SPECS
Price: £11,299 (XT) £9,999 (base version)
Engine: 8v 90° V-twin, DOHC, liquid cooled, 1,037cc
Bore x stroke: 100x66mm
Compression ratio: 11.5:1
Max power (claimed) 105bhp@8,500rpm
Max Torque (claimed) 74ft lb@6,000rpm
Transmission: six speed gearbox, wet clutch, chain drive
Frame: cast aluminium twin spar
Front suspension: 43mm fully adjustable USD fork
Rear suspension: aluminium box-section swingarm, preload and rebound-adjustable monoshock
Brakes: dual 310mm discs, Tokico four-piston radial calipers (front), 260mm disc, single-piston caliper (rear), two-level ABS.
Wheels/tyres: wire spoked/Bridgestone A41, 110/80 19 front, 150/70 17 rear
Rake/trail: 25.30°/109mm
Wheelbase: 1,555mm
Kerb weight: 247kg
Fuel capacity: 20 litres
Rider Aids: switchable two-stage ABS, power modes, four-level traction control (including off), cruise control
TECH HIGHLIGHTS
Engine
Suzuki's getting its money's worth from the old TL1000 engine design – though to be fair there's been a lot of updates in the 23 years since we first saw the beefy V-twin lump. Originally a 996cc, it's grown to the current 1037cc capacity thanks to a 2mm overbore. The biggest headache for the designers though are emissions regs, and they've had to give it a proper seeing-to to get it from 1997 regs to the current Euro-5 rules. Twin plug heads help, and there are big old catalysts plus ride-by-wire injection too. Fuel consumption is decent if not exceptional, showing around 40-50mpg at motorway speeds. The 20 litre tank gives a solid range though.
Frame
Cast aluminium twin-spar frame helps keep weight manageable and looks fairly trick.
Suspension
Like most Suzukis now, you get decent mid-range kit here: a fully adjustable 43mm USD KYB fork, and a rebound/preload adjustable rear shock. It's a way off the electronically-controlled stuff on the (far pricier) competition but works well enough.
Brakes
Proper sportsbike stoppers up front: a pair of Tokico four-piston calipers and 310mm discs wouldn't have been out of place on a GSX-R1000 not so long ago. They're sharp and powerful, but if you give them a big handful they make the tall fork, ADV tyre and wire spoked wheel quail a little.
Fairing
Screen is manually-adjustable on the XT, though it's a bit fiddle/dangerous to do on the move (you need to stand up on the pegs and lean over the front). The standard 1050 needs tools to adjust the screen. You also get a useful USB power socket mounted in the cockpit next to the monochrome LCD dashboard.
XT model
The version we tested is the posher XT, which comes with cruise control, centre stand, engine bars, smarter cornering/linked ABS with a hill-hold function and a cunning load-dependent braking power setup. The XT also has wire spoked rims where the standard bike has cast aluminium.