European emissions regs means plenty of new metal from Honda for next year
2021 is a big year for the motorcycle industry. The latest Euro5 emissions regulations come into force in Europe, and all the big bike firms have been revamping their various models to comply. Honda's just released a huge chunk of its new metal for next year – from the SH Mode 125 scooter up to its mighty CB1000R super-naked. Here's how they look.
2021 Honda CB1000R
Honda's flagship supernaked gets beefier styling and tech updates for 2021
The current CBR1000RR Fireblade apart, Honda doesn't generally concern itself with tawdry matters like peak power output. And its CB1000R super naked has never had the biggest bhp numbers – it leaves that to the likes of BMW, KTM and Ducati with their S1000R, Super Duke and V4 Streetfighter. But the CB always been a very classy, well-put-together bit of kit that just works – and makes thousands of owners happy.
And that looks set to continue for 2021. The big H has given the CB a bit of a makeover, with a more aggressive set of bodywork, chunkier looks and a hefty 'mass-forward' restyle. It now has echoes of machines like Ducati's Diavel – no bad thing at all we reckon.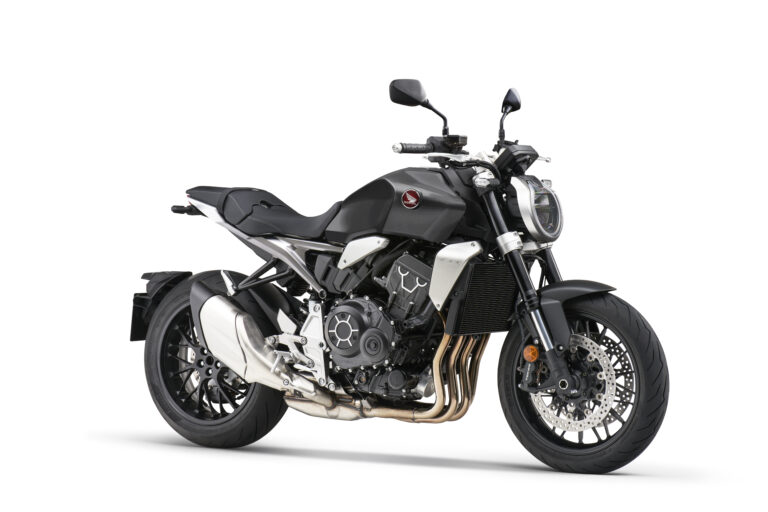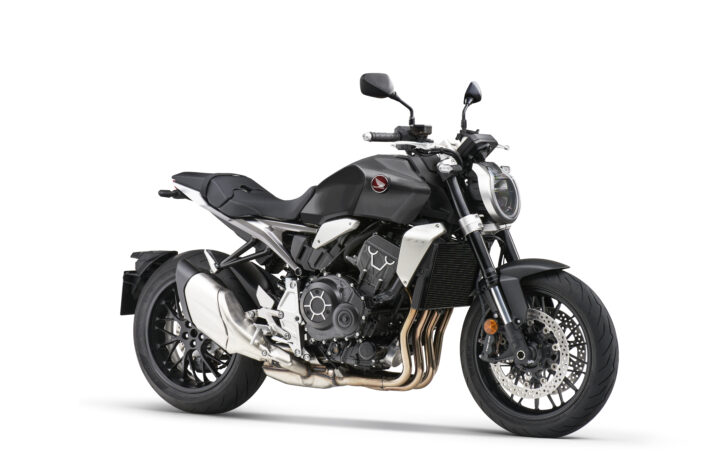 The engine has had a few mild tweaks, mostly to gain Euro5 emissions compliance – a massive theme for 2021 across the market. The CB1000R's power and torque are unchanged at 143bhp@10,500rpm and 77ft lb@8,250rpm, as is the overall wet weight of 212kg. Chassis-wise, there are new seven-spoke cast aluminium wheels, but the rest of it – including the Showa suspension and steel backbone frame – is as you were.
Equipment levels get a tickle up – there's a new 5" full colour TFT LCD dashboard, which incorporates a Bluetooth link to your smartphone, and there's a new USB charging socket under the seat. The official accessory list is impressive too, with Alcantara stitched seat, fly screen, soft luggage engine covers and loads more bolt-on loveliness available.
Honda's also offering a custom-look 'Black Edition' of the CB1000R, with black-finished chassis parts, premium graphite black paint finish, standard quickshifter and machined aluminium wheels.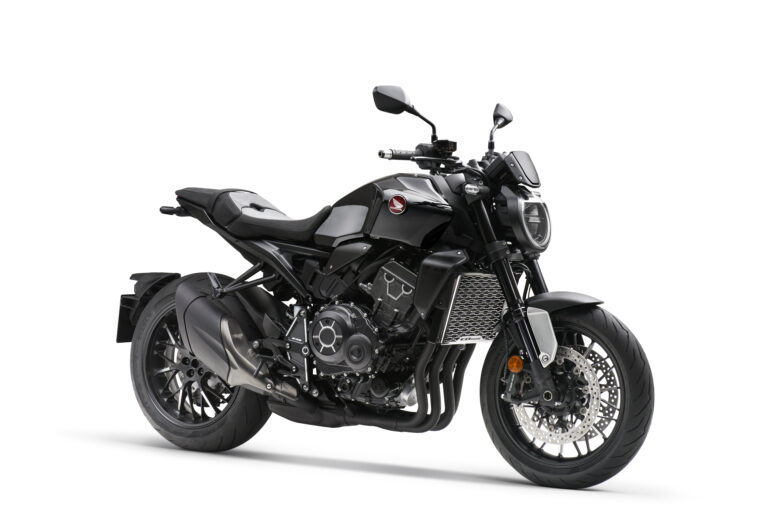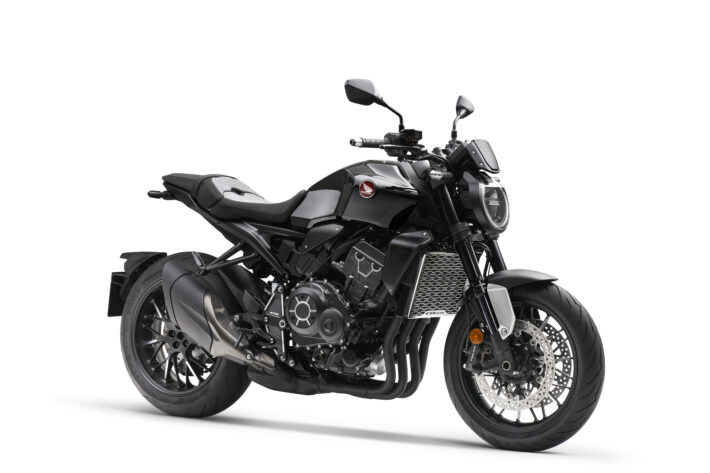 The new CB will come in red, black and silver paint schemes, but there's no word on price or availability as yet.
Gallery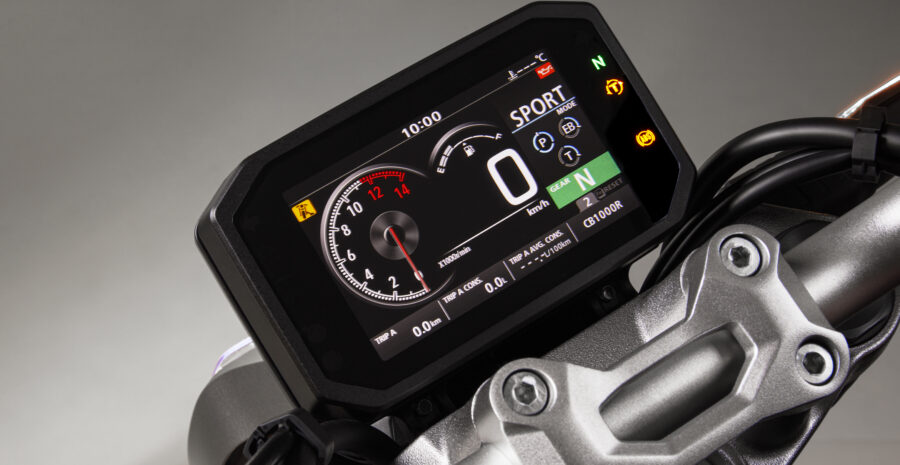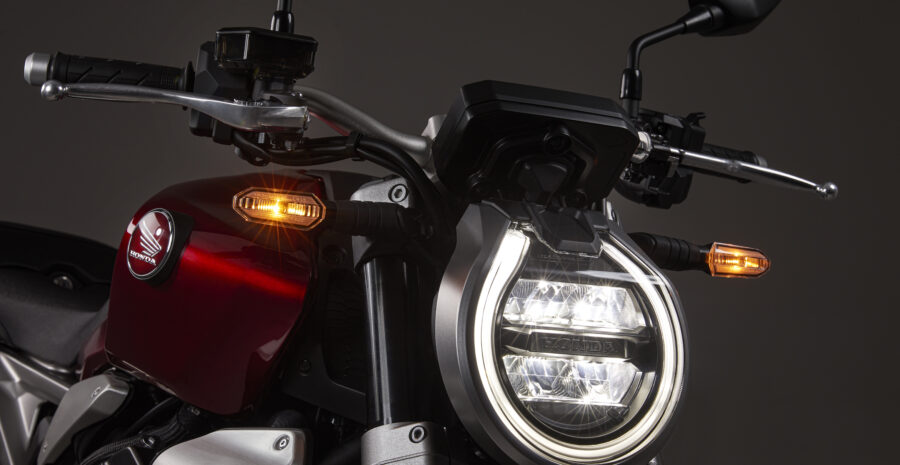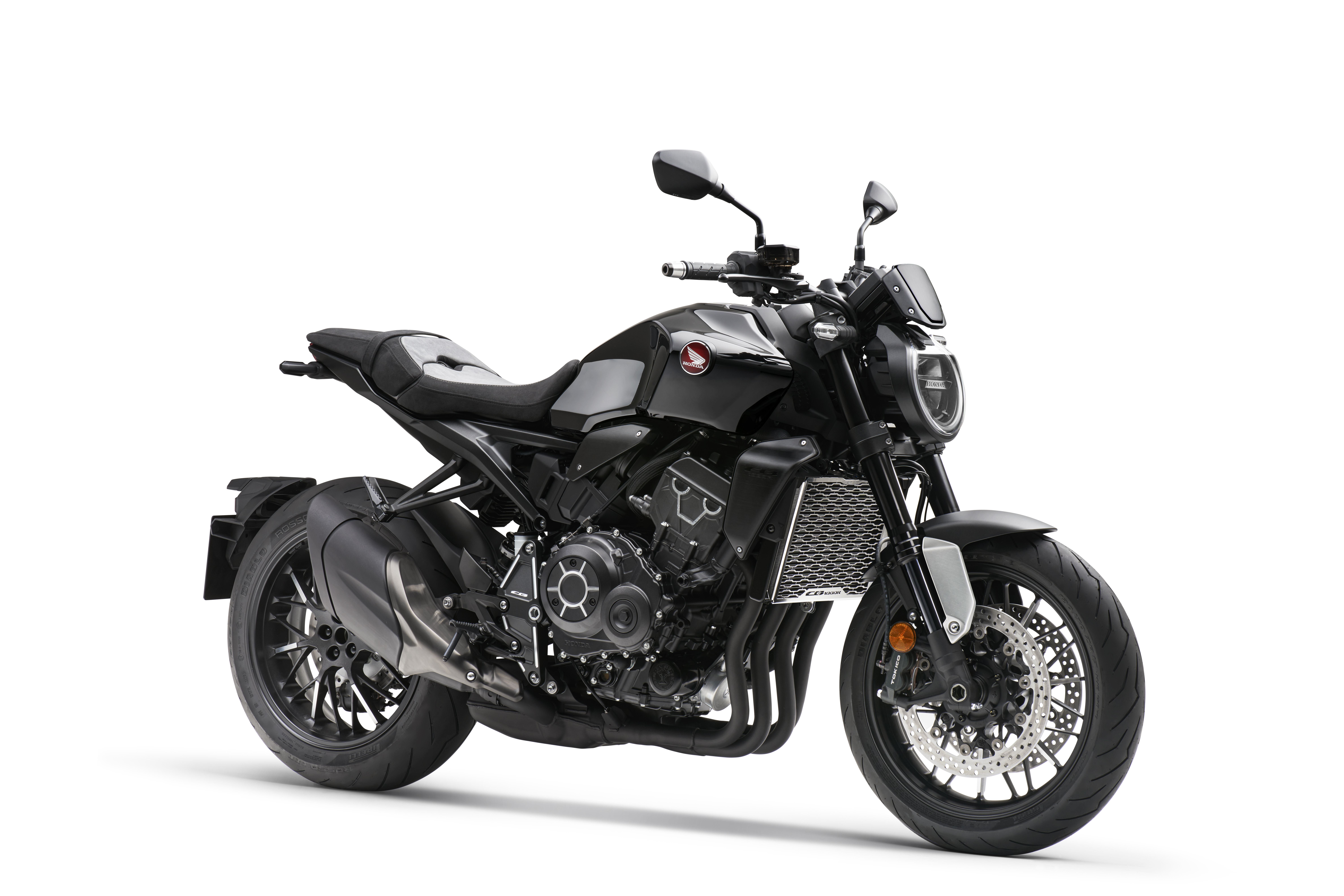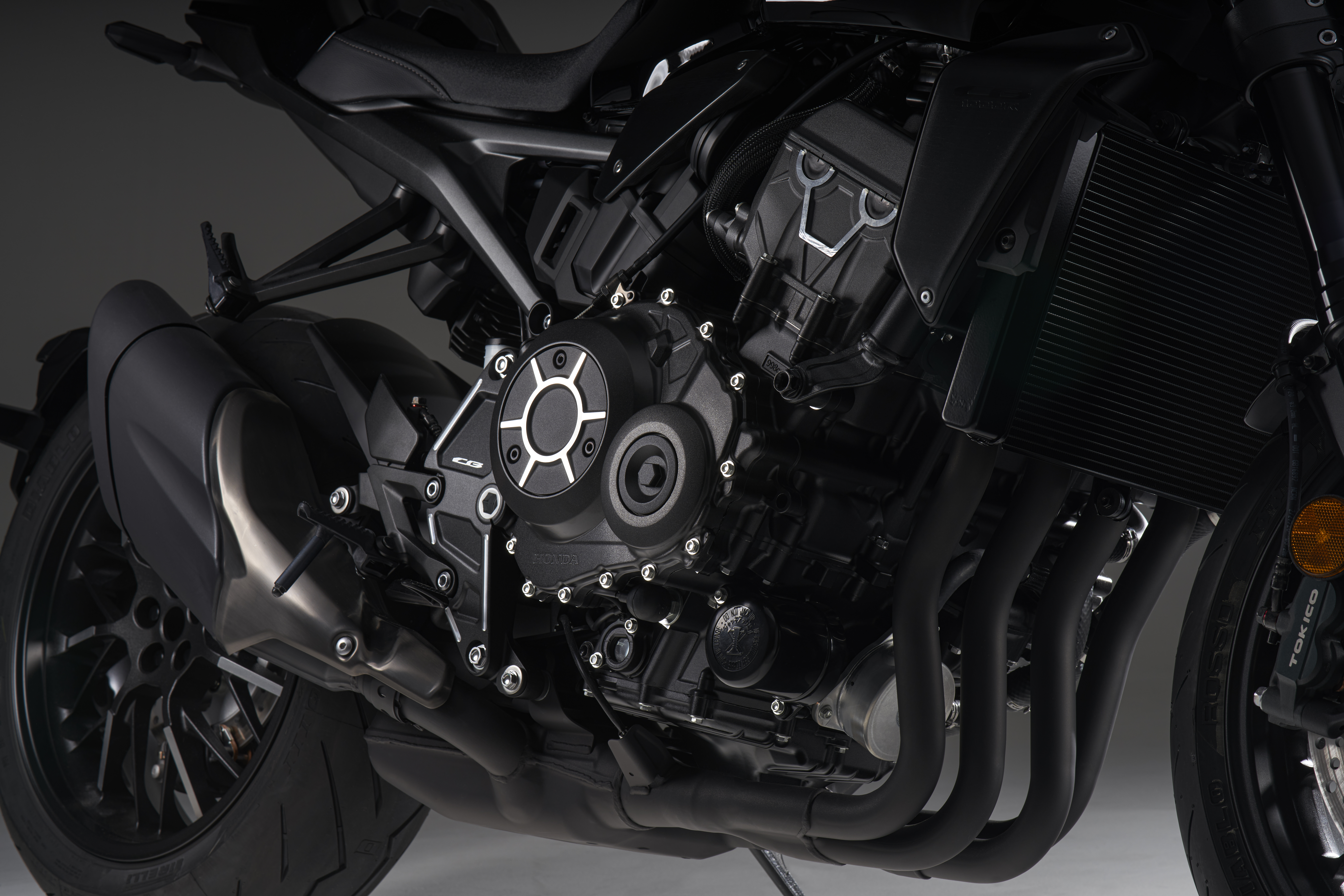 2021 Honda NC750X
Adventure-styled all-rounder gets in shape for 2021, losing 6kg and adding 4bhp
Honda's NC750 twin range might not set the world on fire, but the various types sell in their tens of thousands, providing super-useful, practical transport to commuters and tourers across Europe.
The NC750X variant offers the range's typical low running costs and ease-of-use in a mild adventure-styled package, and has been treated to a thorough update for 2021.
The eye-grabbing stat is a 6kg weight loss, now down to 214kg (224kg for the DCT version), thanks to a 1.4kg-lighter engine and a 3kg lighter chassis package, plus other detail mods.
The Euro5-emissions compliant motor also boasts an extra 4bhp, and now features a ride-by-wire throttle system, as well as new gear ratios.
The first three gears are lower, for better acceleration, while the higher three gears are taller, for better fuel economy and easier cruising.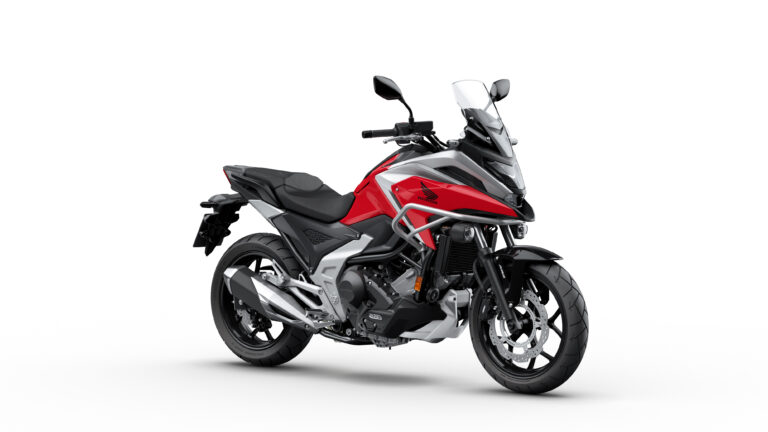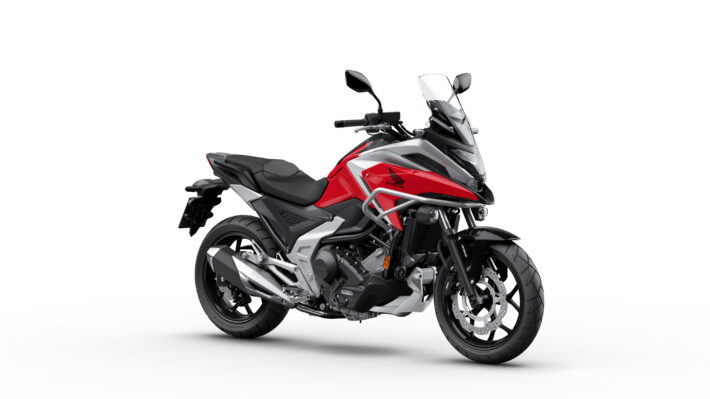 Honda's updated the styling, with more aggressive bodywork, new LED lighting all round and a more protective windscreen. Practicality is also boosted with a larger storage space under the dummy fuel tank area, a new colour LCD dashboard and an optional USB-C charging socket space.
The chassis looks much the same as before, but the lighter frame is all-new, the seat is 30mm lower at 800mm and details like a repositioned battery and new airbox help save weight and add to the storage space.
In addition, the forks and shock have slightly reduced travel, which helps with that lowered seat. Brakes, wheels and tyres are unchanged, with a single disc and twin-piston caliper up front, cast alloy rims and 120/70 17 and 160/70 17 rear tyre sizes.
The 2021 NC750X comes in red, black, white and blue colour options. More on price and availability as we get it…
Gallery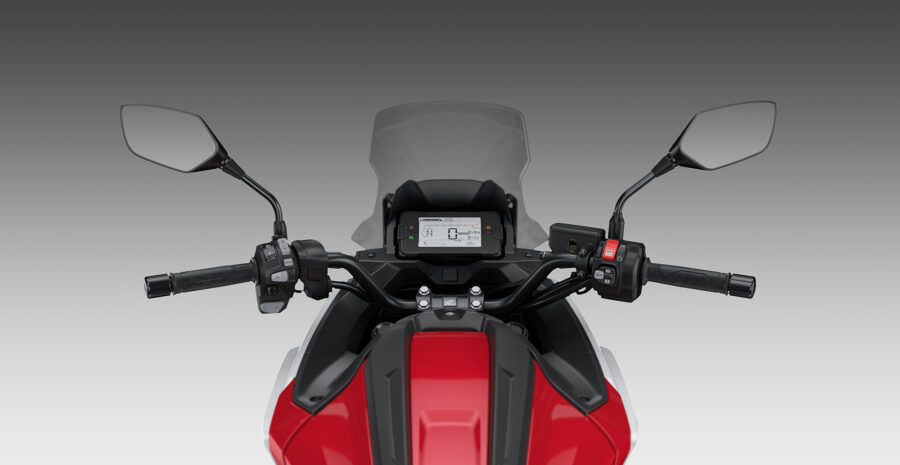 2021 Honda X-ADV
Wacky adventure-scoot gets an extra 4bhp, new bodywork and revised auto-gearbox for 2021
Honda's X-ADV adventure scooter was a bit of a left-field option when it first appeared in 2016, but it's clearly been a success for the big H – and it's getting a fairly comprehensive update for 2021.
Starting with the engine, the 750 parallel twin gets a 600rpm higher redline, and makes 4bhp more power, while meeting tough new Euro5 emissions regs. Honda's also added a ride-by-wire throttle, and fettled the gear ratios in the gearbox.
It now comes with lower ratios in gears 1-3 and higher ratios in the remaining three gears, and Honda claims this gives sharper acceleration, plus more relaxed cruising and better fuel economy. The engine is also 1.4kg lighter overall.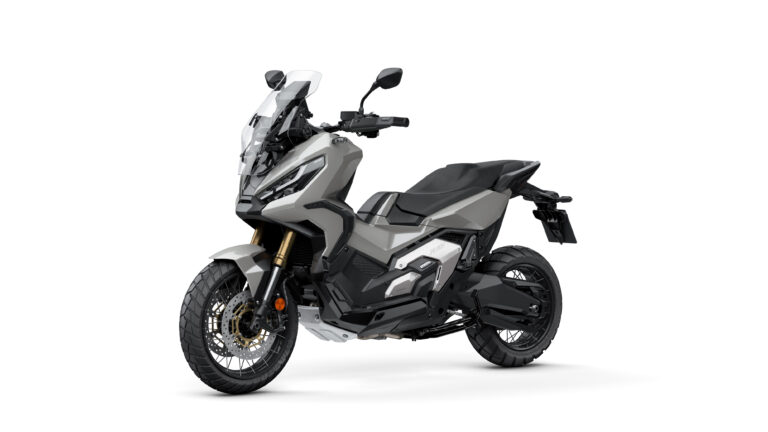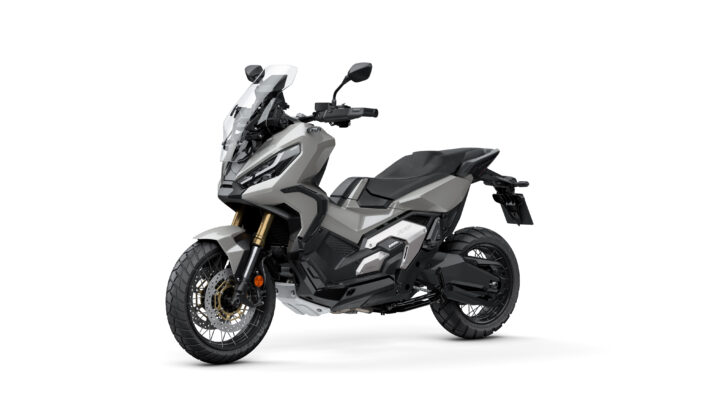 The chassis has also been tweaked, saving another 1kg in mass, and the bodywork has a sleeker more aggressive look, plus a more protective windscreen.
The old bike had a rather tall seat, and Honda's tried to improve that with shaved contours on the sides, while adding more underseat storage space. You also get an extra glove box and a USB charging socket.
Finally, there's a new colour LCD dash with Honda's new smartphone Voice Control System incorporated, plus some smart new LED twin headlights.
The new X-ADV comes in red, black, silver and grey colour options, but there's no word on price or availability as yet.
Gallery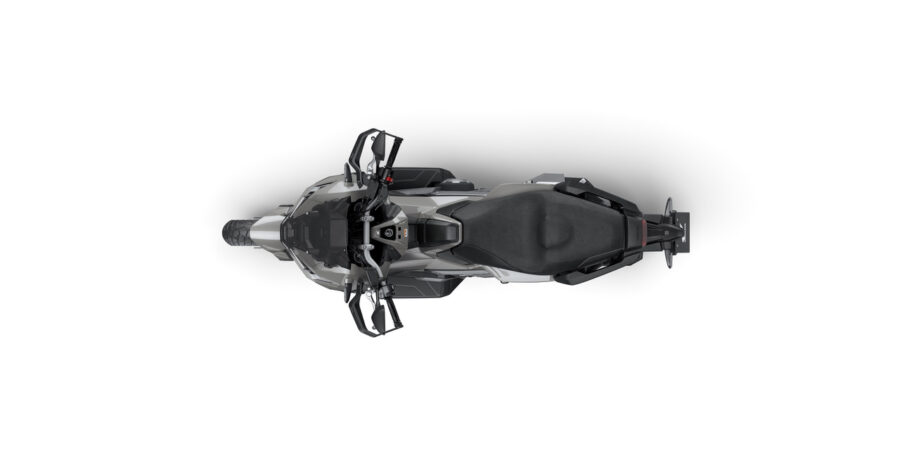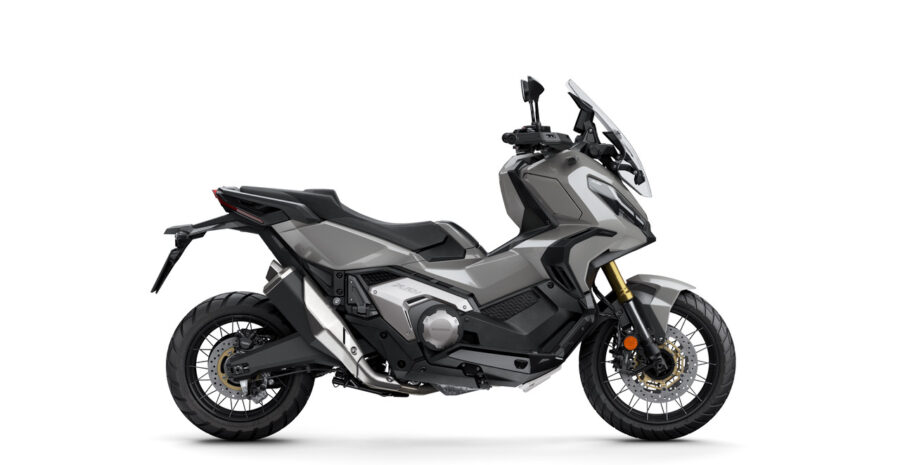 2021 Honda SH350i
Middleweight scooter gets extra capacity and more power, plus styling and tech updates
Honda's SH300i was a bit of a gentleman bruiser in the middleweight commuter sector – its 25bhp, 279cc single-cylinder engine used technology from the firm's 250 motocross engines, giving strong performance in a rather unassuming package.
Large 16-inch wheels and compact dimensions gave it a real edge in the class, and the extra grunt meant it could easily take on motorway legs of a middle-distance commute.
And now for 2021, Honda's given the SH even more go, in the shape of a 50cc capacity boost, that takes power up to 29bhp, while also complying with Euro5 emissions regs.
A revised steel tube underbone frame is 1kg lighter (though overall kerb weight is up by 5kg), and all-new bodywork incorporates updated LED lighting and a new LCD dashboard.
The underseat storage area holds a full-face helmet, and now features a USB type-C socket for smartphone charging and other accessories. Add in the Smart Key keyless ignition, central-locking luggage, new LCD dash and a 200+ mile fuel tank range and you have a super-capable middle-distance commuting tool.
2021 Honda CB125R
Classy learner-legal machine looks unchanged, but has all-new engine and suspension
Honda's CB125R naked roadster was launched in 2017, with slick modern-retro styling, high quality finish and a big-bike feel that belied its restricted learner-legal engine performance.
And now for 2021, it's had a thorough revamp – but keeps the styling almost completely the same as before. The big news is in the engine and chassis departments, with an all-new powerplant and some advanced suspension technology.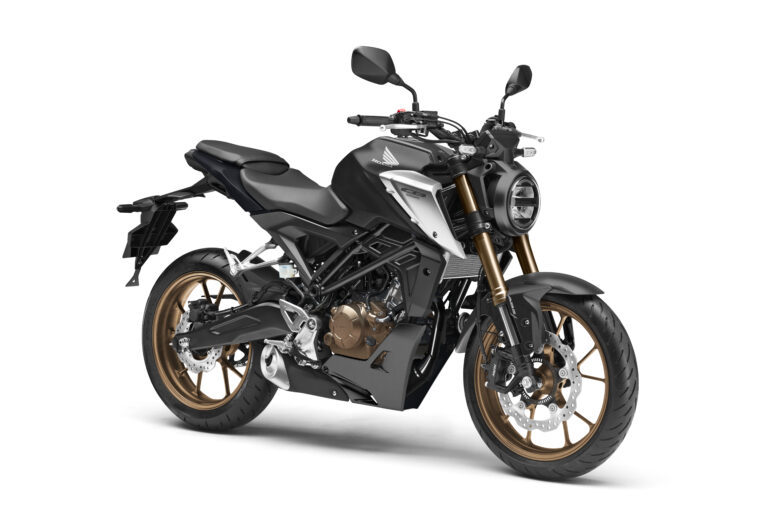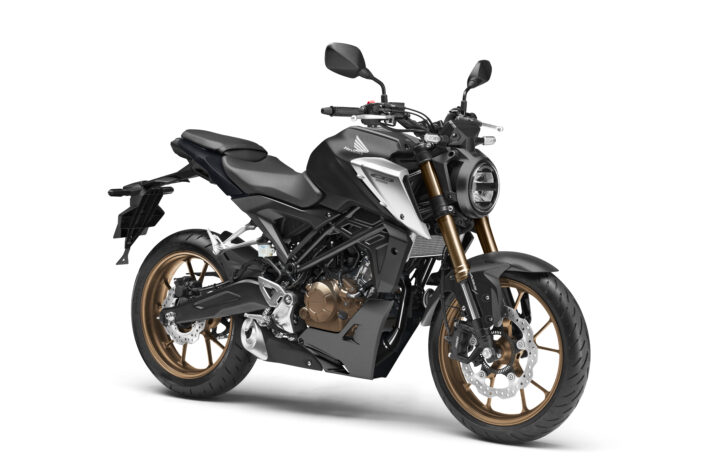 The 2017 bike had a relatively old motor, with a SOHC, two-valve head borrowed from the venerable CBR125R.
Now though, we get a proper Euro5-compliant DOHC four-valve design with a slightly longer-stroke layout and increased compression. The old motor had a 58 x 47.2mm bore and stroke, with an 11:1 compression ratio, and the new bike has a 57.3mm x 48.4mm architecture with 11.3:1 compression.
Power and torque are also up by more than 10 per cent – now 14.75bhp@10,000rpm and 8.5ft lb@8,000rpm instead of 13bhp and 7.3 ft lbs. PGM-FI fuel injection, liquid-cooling and new intake and exhaust systems complete the picture of a thoroughly modern motor.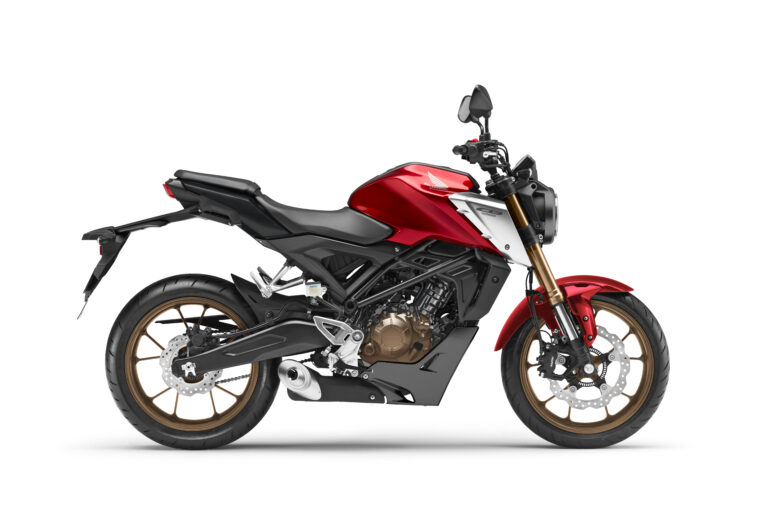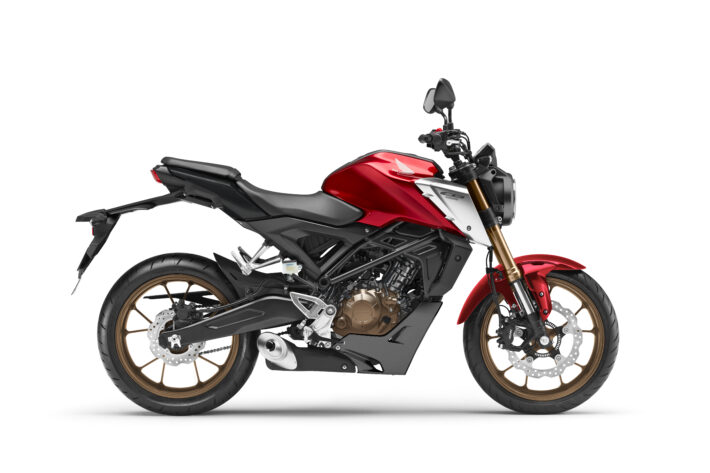 On the chassis front, the frame stays the same – a fabricated steel lattice design, with monoshock steel swingarm. But the front suspension takes a big step forward – the CB125 now uses Showa's Separate Function Big Piston  (SF-BPF) USD forks. The 41mm units have damping in one leg and the spring in the other, for lighter weight and better performance.
What made the CB125R such a good learner bike was its high-quality big-bike feel, and the new engine and top-end forks should make that even more true for 2021.
We'll be aiming to test that theory out as soon as possible…
PCX and SH Mode 125 scooters
Honda revamps hugely popular 125 scooter range with new Euro5 engines and tech upgrades.
You can barely move in any of the big European cities without seeing flocks of Honda's mass-selling 125cc scooters – including the PCX and SH. Whether it's urban commuters, traffic wardens or food delivery riders, Honda's leaner-legal machines seem to provide the perfect mix of cost, reliability, quality and service backup.
So the 2021 upgrades on these models is actually a pretty big story. Honda's had to update the bikes to meet tougher Euro5 emissions regulations, and it's taken the opportunity for a wider update on both bikes, with slicker bodywork, extra convenience technology and even better fuel economy.
The big update is the engine, with Honda's new eSP+ enhanced Smart Power Plus unit in place. This is a four-valve water-cooled single cylinder design, making 11.3bhp on the SH and 12.3bhp on the PCX, with super-efficient fuel injection and more than 140mpg claimed fuel consumption.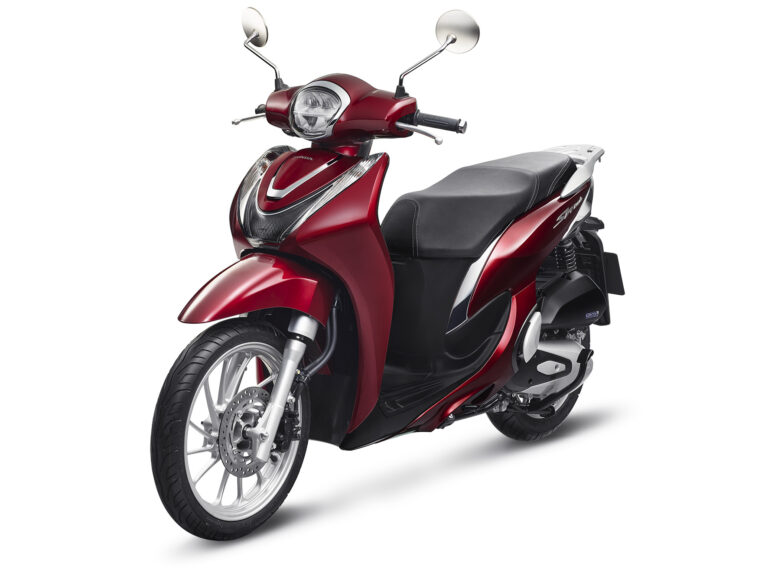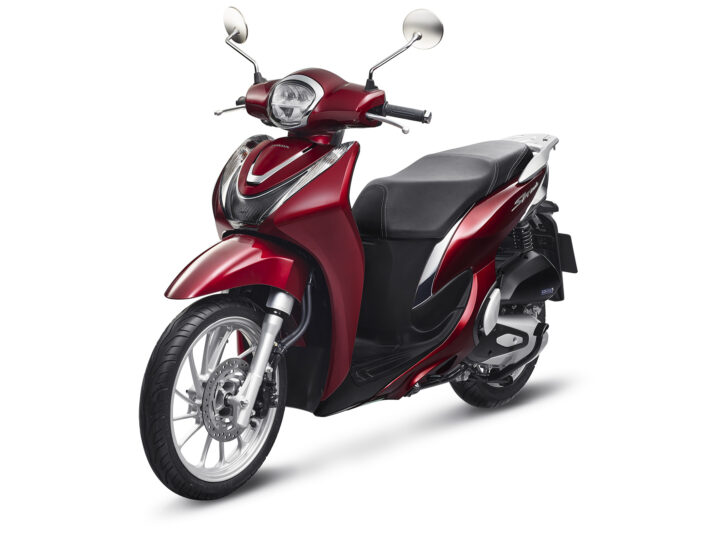 Honda's added safety-boosting traction control too on the PCX, to aid riding on slippery cobbles, and both bikes have idle-stop technology, further cutting fuel consumption and emissions when sat at red lights in town.
The PCX gets larger wheels and tyres for more grip, while both bikes have redesigned frames and revised suspension settings. USB sockets and larger underseat storage spaces.
Expect to see hundreds of them whizzing about your streets next year…