New and improved Honda CBR1000RR-R SP Fireblade
Launched to a fanfare of acclaim in 1992, Honda's legendary Fireblade has since ridden something of a tumultuous road.
Distinct highs and lows with racing successes that have included World Superbike race wins, British Superbike championships and numerous TT victories, the Fireblade has long been the jewel in Honda's production racing crown.
Glory at the infamous, and often deadly, Mountain Course has long been considered by Honda's top brass as the pinnacle of road bike engineering achievement.
However, these successes have been interspersed with underachievement and, in the case of the 2017 model, nothing short of a PR disaster with high-profile crashes involving John McGuinness and Guy Martin — the former due to 'an unexpected throttle blip caused by the ECU' in practice at the NW200 ending in a badly broken leg for the multiple TT winner, the latter when a false neutral resulted in a crash at the TT from which the Lincolnshire man was lucky to escape shaken but relatively uninjured.
Despite reassurances from Honda, sales slumped, the Fireblade's reputation for reliability and rideability left in tatters.
Something had to change.
That something turned out to be everything, and the 2020 Honda CBR1000RR-R SP Fireblade is a completely new bike from the tyres up.
I've been lucky enough to ride every version of the Fireblade.
Without exception — including the more maligned models — it's always been the kind of bike that anyone can jump on and ride, with a fairly conservative riding position, neutral handling and smooth power.
These qualities always added up to a great road bike, so even when the Fireblade wasn't bossing races, it was winning magazine road tests and scoring well in the showroom sales charts.
The new Honda CBR1000RR-R SP Fireblade is unashamedly track-focused. High footrests and low handlebars come as standard: gone is the road-biased compromise.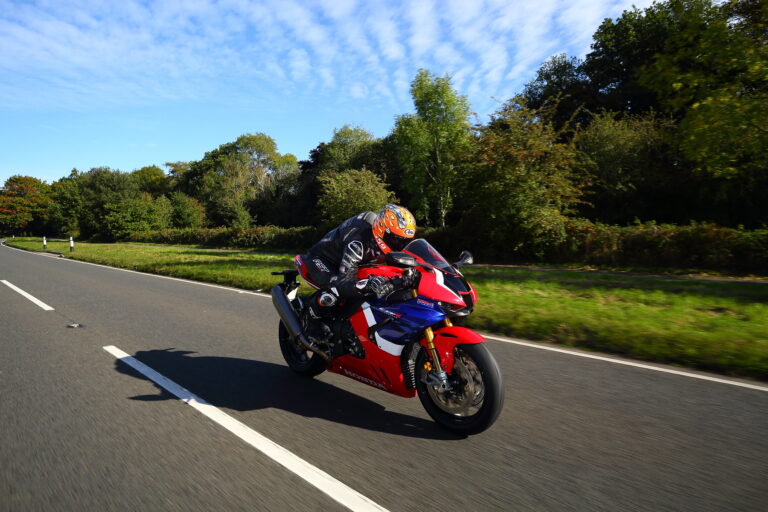 The short stroke, over-square inline four-cylinder motor is insanely powerful but peaky; it demands a focused and committed rider to keep it in its sweet spot, anything less feels pointless.
The intake roar is also most un-Honda, I'd liken it more to a snarly Kawasaki, raw and savage.
This switch in the Fireblade's character from refined sportsman to fierce competitor becomes even more apparent on the road.
A bit of clutch slip to get that tall first gear rolling and the race bike on the road cliché comes alive, every molecule of my self-control fighting the urge to keep the throttle pinned and the quickshifter busy.
The motor is high revving and quite peaky for a litre-class machine.


Peak torque arrives at 12,500rpm with max power at 14,500rpm, so it was vitally important that Honda addressed its transmission problems. With a new engine comes a new gearbox and, after a couple of hundred road miles, I can't fault it.
Shifts both up and down are clean, seemingly regardless of engine RPM and load. Even at cruising speeds both quickshifter and downshift blipper work perfectly. Spirited multiple downshifts through this snickety-slick gearbox are rewarded with proper race bike pops and bangs through that raucous intake and out of the beautifully crafted Akrapovič exhaust.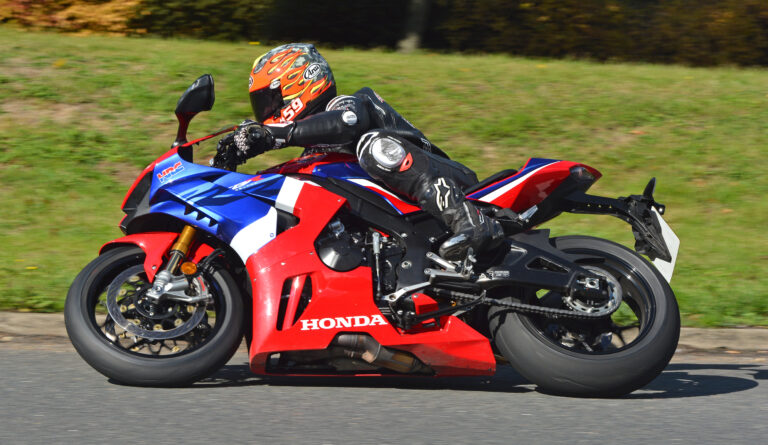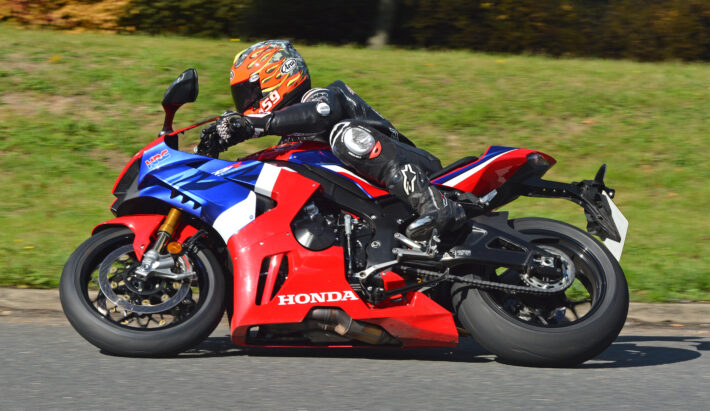 It would seem Honda's Achilles heel has undergone surgery, and this is without question the best Honda gearbox my left foot has ever had the pleasure of poking.
As much as the engine and gearbox impress me, the chassis balance is really something else. It's been a while since I last jumped on an unfamiliar bike and instantly felt confident.
A good front end feeling is absolutely key to going fast — even on barely-warm Supercorsas it felt as though the 'blade would give me a warning a good fortnight-or-so before it lost any grip. It's ridiculously easy to ride dangerously fast in perfect safety.
It is brilliantly nonsensical.
This combination of a motor that epitomises controlled aggression, electronics that meter out careful counselling and a chassis that can cope with being bullied by a shade over 200bhp will flatter pretty much any rider.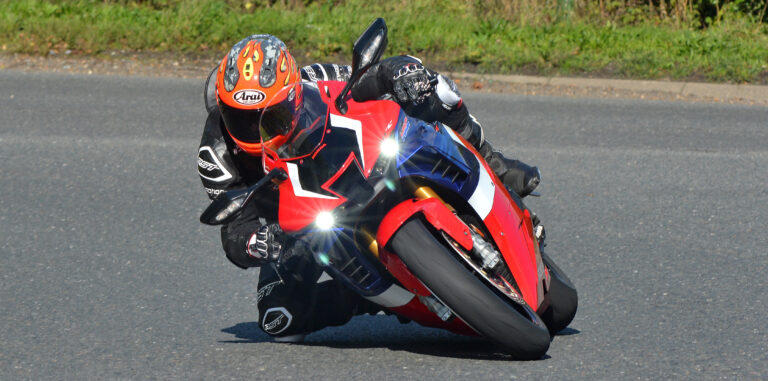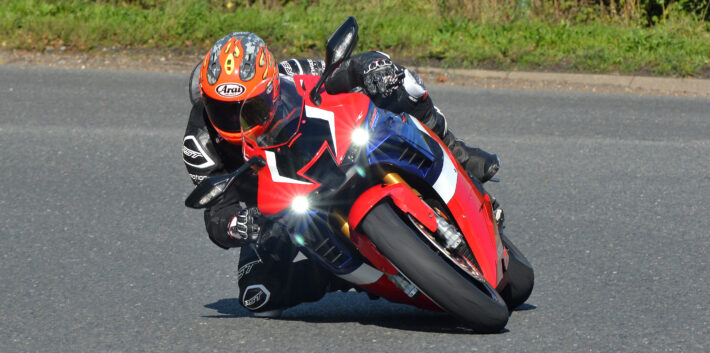 On some of the rougher roads I regularly use to test stability — a repair-scarred, bumpy stretch of tarmac — even on corner exit with a deliberately clumsy right hand, the Fireblade remains composed and unflustered, even on the least restrictive settings, with the power cranked up and the rider aids wound down.
While we're on the subject of rider aids, after the PR disaster of 2017, the electronics had to be improved massively. Snatchy injection and throttle glitches are quite simply inexcusable in 2020 and pretty much every other manufacturer has its fuel injection absolutely dialled.
Happily, the new CBR1000RR-R SP is nothing short of exceptional. Wherever you are in the rev-range, and under any engine load, the bike pulls cleanly with no hesitations or stutters. In the sweet-spot it's absolute magic, with a throttle to rear tyre connection as good as any motorcycle I've ever ridden.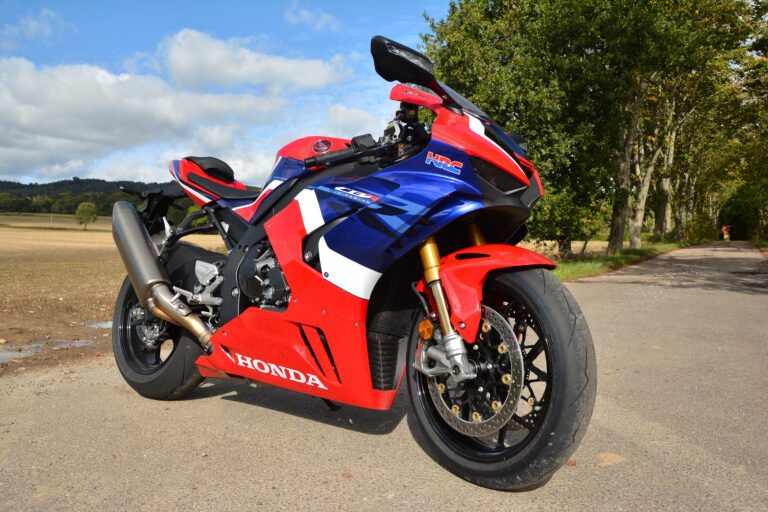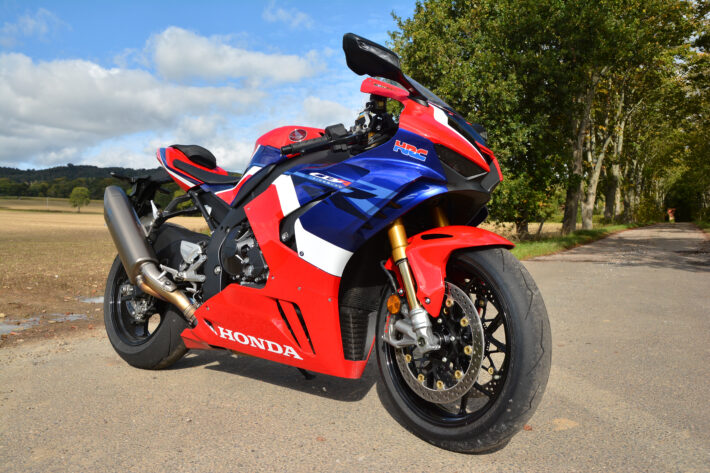 It's testimony to how well this bike delivers its double ton of horses that, even on a two-up Sunday lunch blast with my girlfriend Cate folded up onto the tiny rear pillion perch (she's small and an ex-gymnast, else I would never have suggested it), I felt no need to switch modes to soften the power, even when the heavens opened.
Left in 'all the power, the least amount of help' mode, the CBR1000RR-R SP is as aggressive or as docile as your right hand dictates. Of course, if you want to fiddle with the power delivery, traction control, anti-wheelie, etc. then it's super-easy to navigate the various menus and sub-menus to find a character that suits you.
I like all the power, all the time, even when I don't need it. I'm 46. I might grow up one day. But I hope not.
The excellent Öhlins semi-active suspension is just as easy to fiddle with without getting yourself lost in notepads and stressed out counting clicks and turns — while purists and racers will always prefer the simplicity and light weight of traditional C-spanner, speed-brace and screwdriver adjustments, there's a lot to be said for the ability to change the set-up without even getting off the bike.
Plus you can't lose a notepad when it's a 6.5in TFT screen that's bolted to your bike.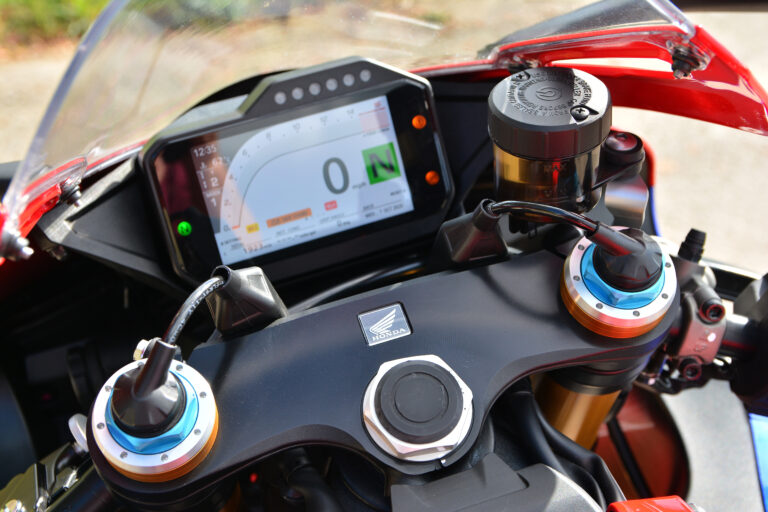 There's little doubt that this bike marks the resurgence of the Fireblade.
Sure, it's lost its all-round appeal and is no longer the well-mannered choice of litre bike for the road.
But by Honda's own admission — spelling it out more than clearly in their online brochure — little thought has been given to the road rider, this bike is designed to excel on the racetrack.
And while the combination of booked-to-capacity track days, the great British weather and a limited test period meant we couldn't get any track time, we're confident that the 2020 Honda CBR1000RR-R SP has all the right ingredients to make it a winner.
If you're after the sharpest 'blade yet, then without question, this is it.
Options and colours
Available as two models, the RR-R and the RR-R SP that we tested, other than the price difference (£19,999 for the base model, £23,499 for the SP) the main upgrades are Öhlins semi-active suspension front and rear, Brembo Stylema monobloc brakes and a quickshifter/downshift blipper.
The base model has manually adjustable Showa suspension and Nissin brakes, both of which are high quality and likely to be way more capable than anyone outside of the BSB paddock.
Quickshifter and downshift blipper can be specced as an option.
Two colours are available, the glorious HRC colours as tested, or a stealthy black version.
Honda CBR1000RR-R SP Fireblade: Technical specification
Price: £19,999 (RR-R), £23,499 (RR-R SP)
Engine: DOHC 16v, inline-four, l/c, 999.9cc
Bore x stroke: 81×48.5mm
Max power (claimed) 214bhp@14,500rpm
Max torque (claimed) 113Nm@12,500rpm
Transmission: six-speed gearbox, wet slipper assist clutch, chain drive
Frame: cast aluminium twin-beam
Front suspension: 43mm USD Showa fork, fully adjustable (semi-active Öhlins NPX S-EC on the SP tested)
Rear suspension: Pro-link swinging arm with Showa monoshock (Öhlins TTX36 S-EC shock on the SP tested)
Brakes: twin 320mm discs, four-piston Nissin radial calipers (Brembo on SP tested) (front), 220mm disc, single-piston caliper (Brembo twin-piston on SP tested) (rear), cornering ABS.
Wheels/tyres: cast aluminium Pirelli Supercorsa SP, 120/70 17 front, 200/55 17 rear
Trail: 101.4mm
Wheelbase: 1,455mm
Kerb weight : 201kg
Fuel capacity: 16.1 litres
Words by Rob Hoyles and Image credit John Goodman
What do you think of the new improvements to the Honda CBR1000RR-R SP Fireblade?