Honda brings 'Grom' name to the UK, adds fifth gear and fresh styling to uber-cool mini-bike.
Unlike cars, most bikes are known by a jumble of letters and numbers, instead of 'proper' names.
Partly that's down to bikers being more expert than car buyers – you wouldn't expect a typical shopping car buyer to hanker after a 'Ford FSRC1400D T' rather than a Ford Focus 1.4…
But bikes do occasionally get names – sometimes disastrous (Suzuki, we're looking at your Marauder), sometimes super-cool, like Honda's FireBlade.
Bizarrely though, the big H didn't use the FireBlade name in the US and other world markets.
They got the CBR900RR instead, not a bad name, but much less evocative for sure. The firm reversed the situation in 1996 with its awesome Gold Wing-based custom.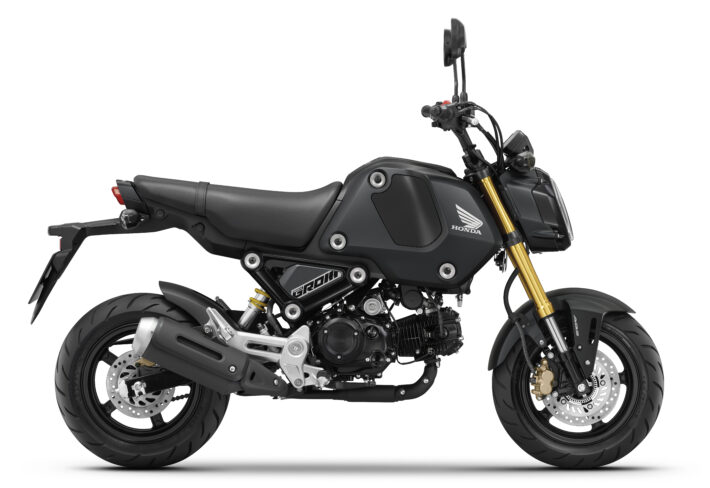 It was dubbed the 'F6C' in the UK, but known as the Valkyrie in the US – a much more appropriate title for the 1,520cc six-cylinder beast.
Honda did it again with the MSX125 mini bike – we got the dull name while it was called the 'Grom' in the US and Japan. (Type Grom into Google Translate btw, and you get 'Thunder' in Russian, Ukrainian and a load of Slavic languages, apparently.)
But people soon started to call the MSX125 a 'Grom', preferring that cool moniker to the 'part-number' MSX125 name. And now Honda has joined in, with a 2021 MSX125 Grom for the UK and the rest of Europe.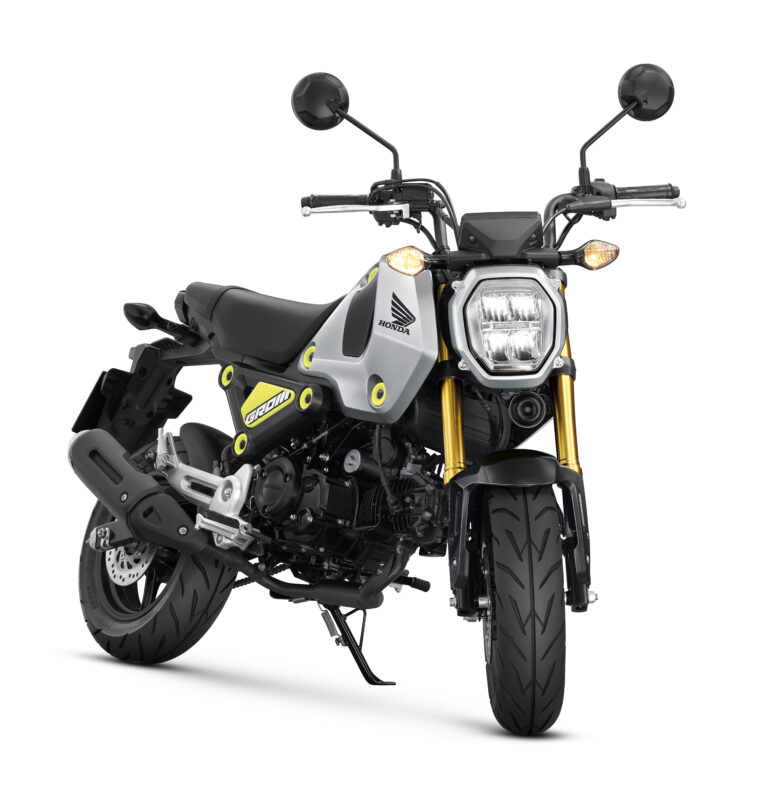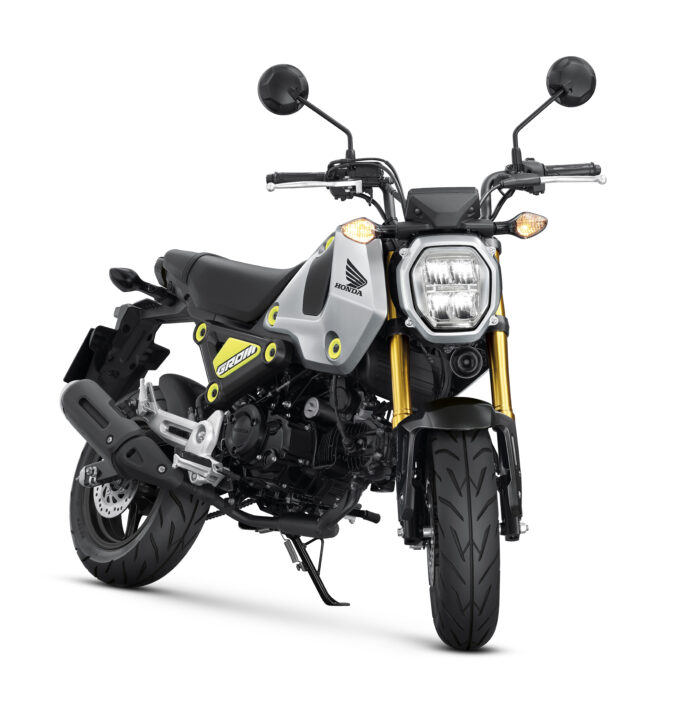 The changes go much deeper than the cooler, globalised name though.
A new engine has a 2.4mm smaller bore and 5.2mm longer stroke, now 50×63.1mm rather than 52.4×57.9mm, and compression is up from 9.3:1 to 10:1 – while the transmission gets an extra fifth gear.
The motor remains air-cooled for simplicity and low mass, while updated PGM-FI fuel injection helps it meet Euro5 emissions regulations.
Power remains the same, around 10bhp, and fuel consumption is a stonkingly low 65.7km/l – 153mpg (imperial) in old money.
Bigger changes appear elsewhere.
The bodywork has an all-new look, with bright acid colours, and easily-removed panels. Honda says that's to allow owners to get creative with customisation, although we'd be a bit worried about parking one up in London and coming back to a (totally) naked Grom…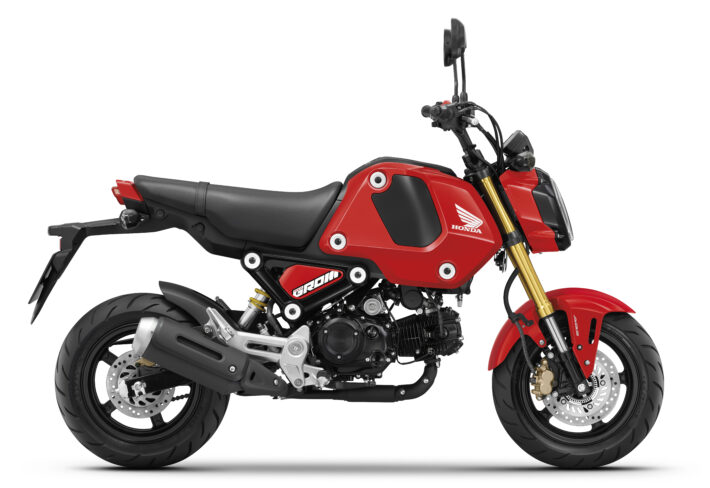 The LCD dash is updated with a new rev counter and a gear position indicator (essential with the 25 per cent increase in ratios we guess…), and the fuel capacity is up half a litre to six litres.
The chassis is mostly as you were, with the same steel backbone frame and suspension that promises 'big bike feel'. The brakes have an IMU-equipped ABS system that's a cut above the norm in the class and adds extra stability and safety on the brakes.
Finally, UK bikes get a yellow shock spring plus gold-finished forks and brake calipers, for that extra-premium look. Nice.
There's no official word on price or availability as yet. Keep an eye on https://www.honda.co.uk/motorcycles.html for updates later in the year!
2021 Honda MSX125 Grom
Engine: 2v single, SOHC, air-cooled, 125cc
Bore x stroke: 50×63.1mm
Compression ratio: 10:1
Max power (claimed) 9.6bhp@7,250rpm
Max torque (claimed) 10.5Nm@5,500rpm
Transmission: five-speed, manual clutch, chain final drive
Frame: steel tube backbone type
Front suspension: 31mm forks
Rear suspension: box-section steel swingarm, monoshock suspension
Brakes: single 220mm disc, twin-piston sliding caliper (front), 190mm disc, single-piston caliper (rear), ABS.
Wheels/tyres: cast aluminium/IRC 120/70 12 front, 130/70 12 rear
Rake/trail: 25°/81mm
Wheelbase: 1,200mm
Kerb weight: 103kg
Fuel capacity: six litres
Colours: Force Silver Metallic, Mat Gunpowder Black Metallic, Gayety Red