KTM's rise from dirt bike specialists to recent MotoGP winners has been nothing short of spectacular.
Having filed for bankruptcy in 1991, under new ownership the revitalised Austrian motorcycle manufacturer has gone from strength to strength, with glories in almost every discipline of off-road motorcycle sport from winning enduro and motocross world championship titles to dominating the gruelling Dakar rally.
Success on tarmac has since followed, with more and more KTM road models entering the market along with sporting triumphs culminating in Moto3 world championship wins in 2012, 2013 and 2016.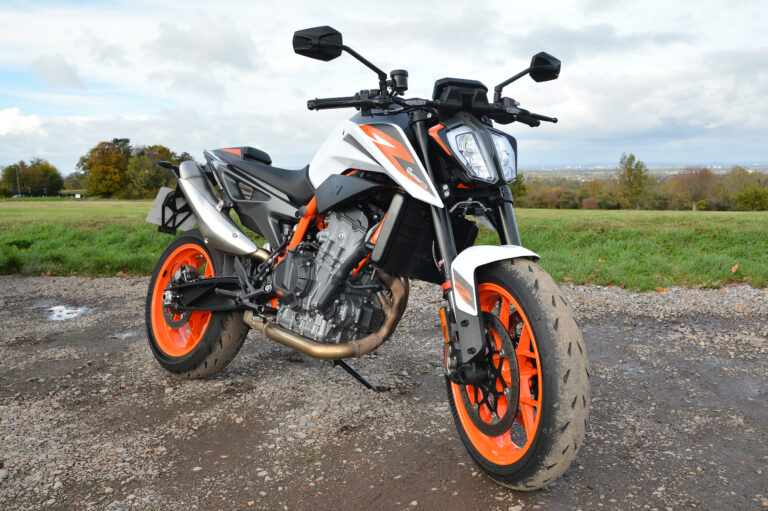 The Duke name first arrived in the '90s with single-cylinder, supermoto style models quickly earning a reputation as something of a hooligan tool. From stunters to commuters, the Duke proved a big hit with urban riders looking for a little bike with a big attitude.
Since then, the Duke has evolved from the original 1994 620 to an entire range of singles, parallel twins and V-twins, from the learner-legal 125 Duke to the range-topping, mind-bendingly fast 1290 Super Duke R.
And while it's fair to say the various Duke models have become more refined with age, regardless of capacity, they've stayed true to their roots — engaging, fun and more than a little bit naughty…
The Duke 890 R runs alongside the more basic Duke 790 in KTM's naked bike range.
While more basic in terms of performance and component spec, bizarrely the 790 has a more comprehensive electronics package as standard, with the same level of electrickery only available on the 890 R as an option.
Apparently, this is to give the rider more choice and to save costs, though it does seem a little odd that the £8,999 790 gets more rider aids as standard than the £10,399 890 R. And a pillion seat and footrests. So, other than the questionable bonus of never having to take a pillion anywhere, what exactly does that extra £1,400 get you?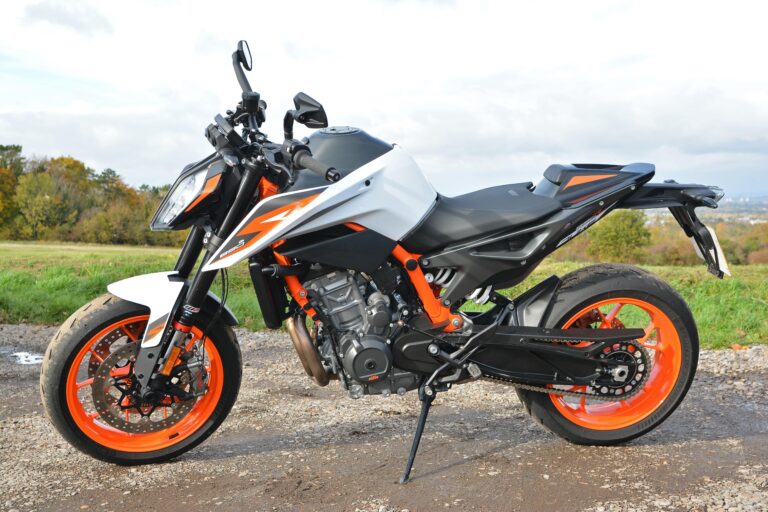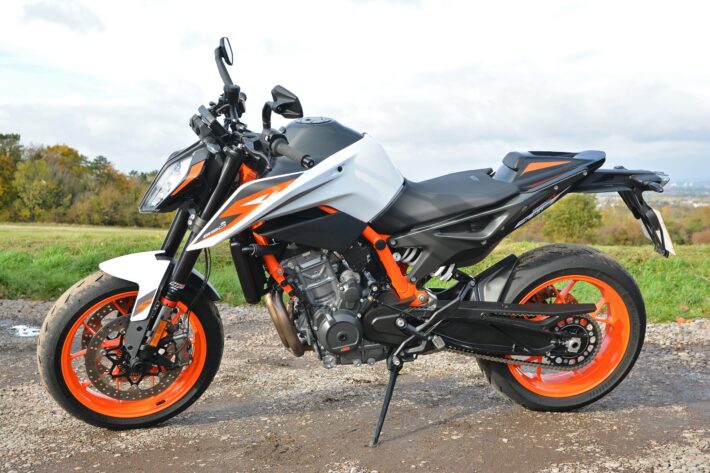 Perhaps most obviously you're getting a bigger engine. Not quite the 100cc the numbers might suggest (though since when did any European bike's model number have to conform to logic or correspond with its engine capacity?) but still a welcome 91cc that gives an extra 18bhp and 12Nm of torque. For the number nerds, that's a 12.66% increase in capacity with a return of an 8.74% performance increase.
In plainer terms it's far punchier with a lot more going on in the mid-range, all the way through to the top-end. A bit more of your fourteen-hundred quid, then, goes on keeping this newfound enthusiasm in check.
The chassis upgrades to the WP suspension and Brembo brakes have sharpened the bike KTM dubbed the 'Scalpel' to become, the, erm, 'Super Scalpel'. Some clever marketing there from the Austrians.
The quality WP 'Apex' suspension is set-up pretty firmly. Curiously, while adjustable for preload, rebound and compression at the rear, you can't alter the preload on the front forks.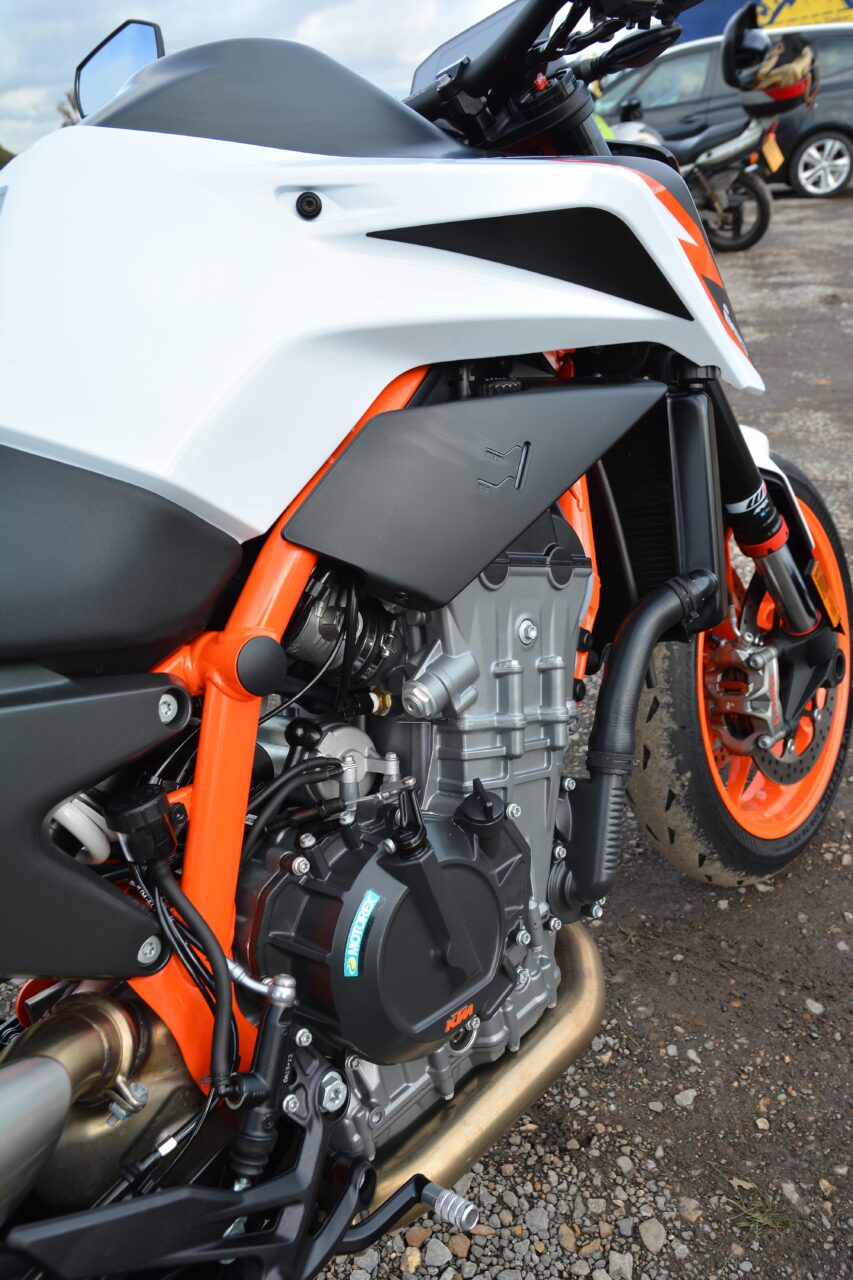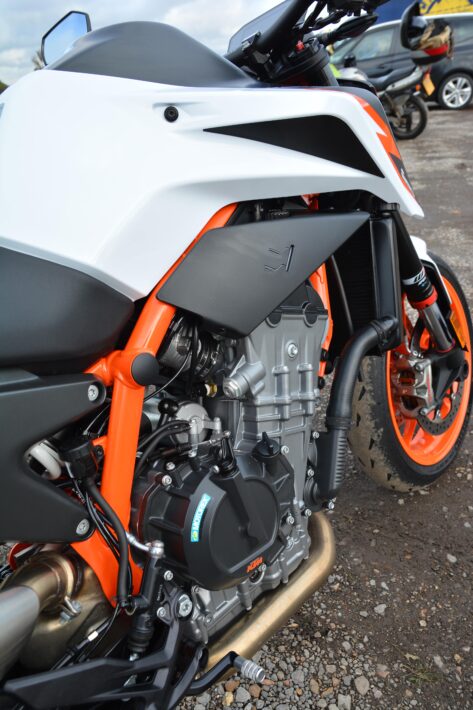 Not that we found the need to make any changes during our two-week test period, and the front end feel through the excellent Michelin Power Cup II tyre needs no improvement, it just seems a little odd to have not made provision for this basic adjustment.
Handling is definitely a Duke 890 R plus point.
The confidence to sling the bike through direction changes, and hammer the Brembo Stylema brakes late and hard into a turn, often irrespective of damp patches and bumps, makes the Duke 890 R so much more than an alternative track day toy, and as a road bike it really shines.
It's super-quick steering and can get excitable, though the steering damper keeps it in check so you're unlikely to find yourself in trouble with a 'slapper. For most riders the Duke is as flattering as it is almost impossible to behave on. Be warned, that R definitely doesn't stand for restrained or responsible…
Flicking through the various rider mode options via the bar mounted switch is really easy and the menus are very intuitive. The TFT display is simple and easy to read, even in strong sunlight, but it does feel a little bit basic for a bike with an 'R' on the end of its name.
It's certainly not in the same league as the more polished display of its bigger 1290 brothers, though I'm probably just nit-picking — it's the slightly bizarre disparity in rider aids between the 790 and the 890 R that needs explaining.
Our test bike came fully loaded with the optional Tech Pack (£655.70). This features all the extras you could need, namely the Track Pack (£305.56), Quickshifter+ (£349.28) and MSR (£127.09).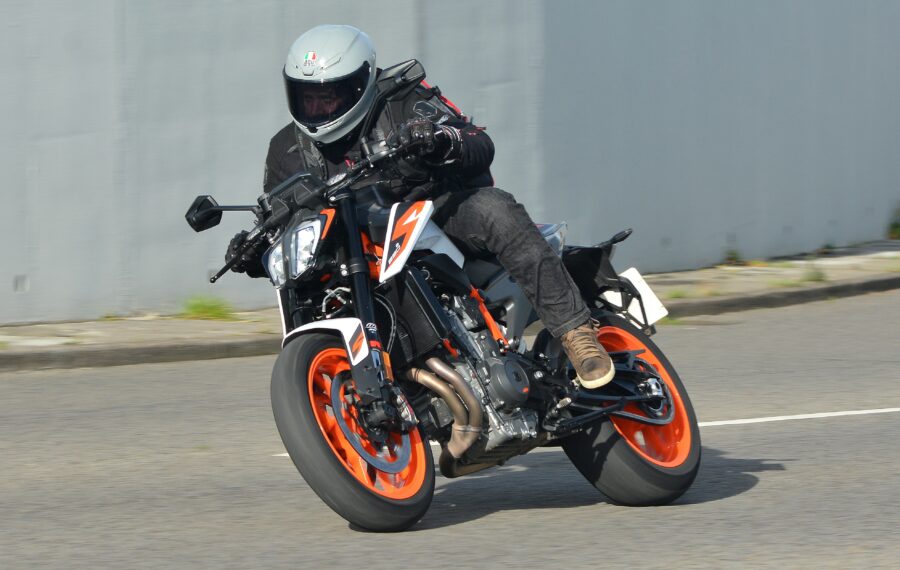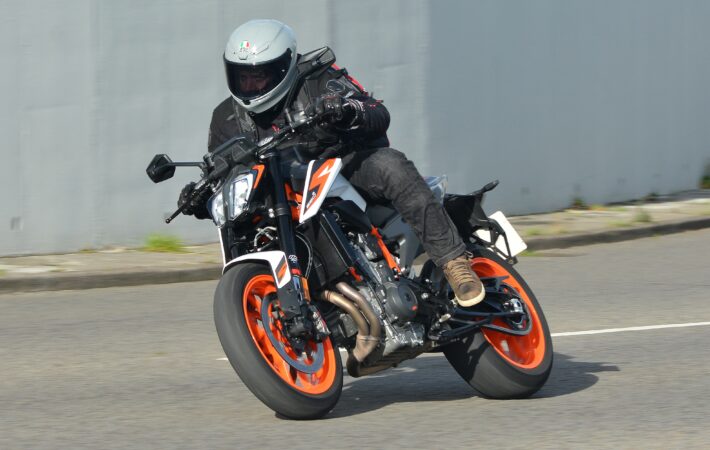 To cut through the acronyms and initialisms, put simply, the Track Pack allows more fine adjustment of the traction control (nine levels), allows adjustment of the throttle response, includes a launch control system (you'll smoke any Porsche-driving douchebag off the lights) and allows the anti-wheelie control to be turned off.
Combined with a Supermoto setting for the ABS that allows the rear wheel to lock, you don't really need too much imagination to work out why we like the Track Pack.
The Quickshifter+ means you get an up and down shifter that allows tidy clutchless shifts at any revs either way once the gearbox has been run in a bit (ours was a bit clunky initially but improved with a little use), while the MSR (Motor Slip Regulation) deals with clumsy downshifts and smooths out aggressive corner entries — working with the slipper clutch and with the cornering ABS, the bike understands lean angle and brake pressure better than most riders.
We did say it's almost impossible to behave on, didn't we?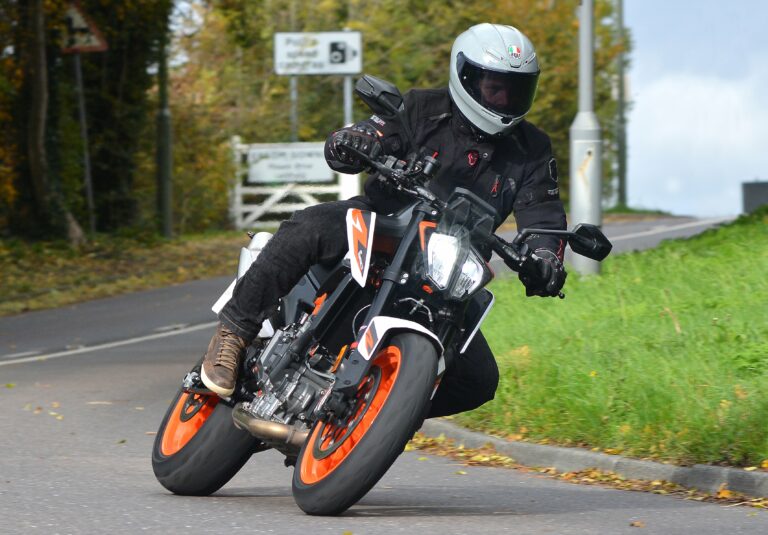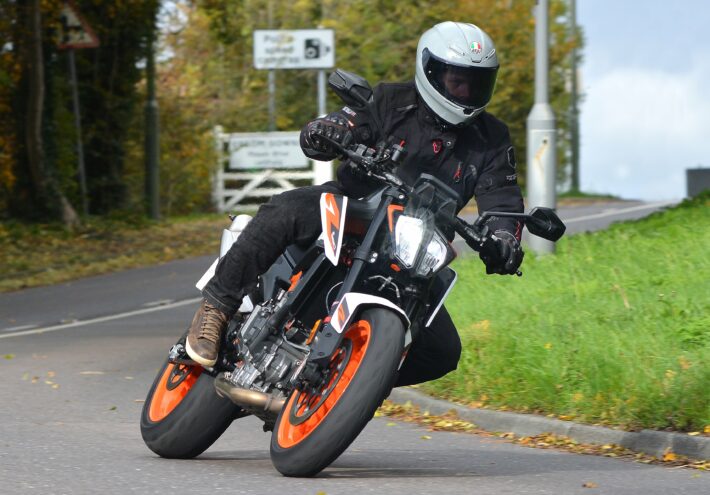 To finish off with the motor, the LC8 parallel twin is an absolute belter. Sure, there are more powerful motors out there, but few with as much character. The amount of power and torque is nigh-on perfect for a bike of the Duke 890 R's dimensions.
Track engine settings are super responsive and are really best left for the track where braking, turning and acceleration points are more fixed and the surface is generally grippy and smooth.
On the road it can make the bike hard work, and while the throttle response can be damped down a little, you'll be smoother and faster with the bike in Sport mode for frisky B-road blasts, while Road mode will make those only-just-awake commutes to work a lot less taxing.
In case you were wondering, and have access to a private road or track, we found the Duke 890 R wheelies rather nicely in Track mode with the Sport throttle response…
If you're in the market for a seriously rapid commuter, occasional tourer, a weekend toy and a track bike, then you could save yourself a lot of time and money (not to mention a fair bit of space in the garage) by booking a Duke 890 R for a test ride.
ALTERNATIVES
Triumph Street Triple RS • £10,500 • www.triumphmotorcycles.co.uk
Every bit as characterful as the KTM, the top-of-the-range Street Triple is perhaps the most obvious rival for the orange machine.
Triumph's trademark three-cylinder 765cc motor also forms the basis for the Moto2 control engine, so there's real racing pedigree in this British beauty.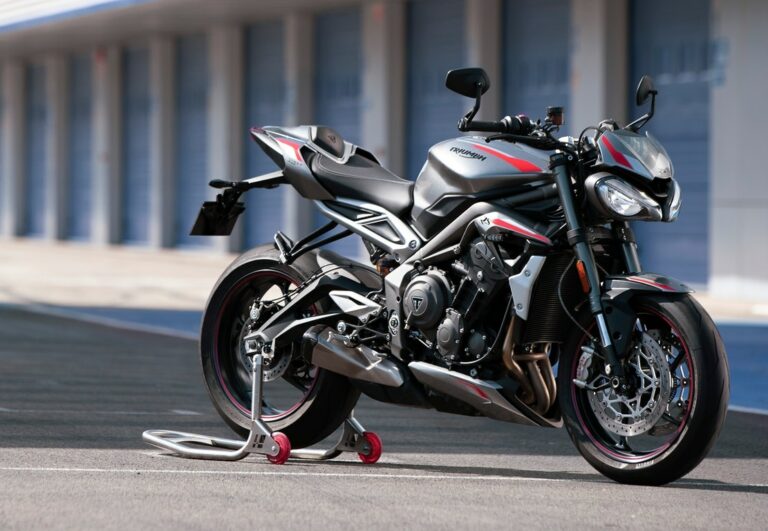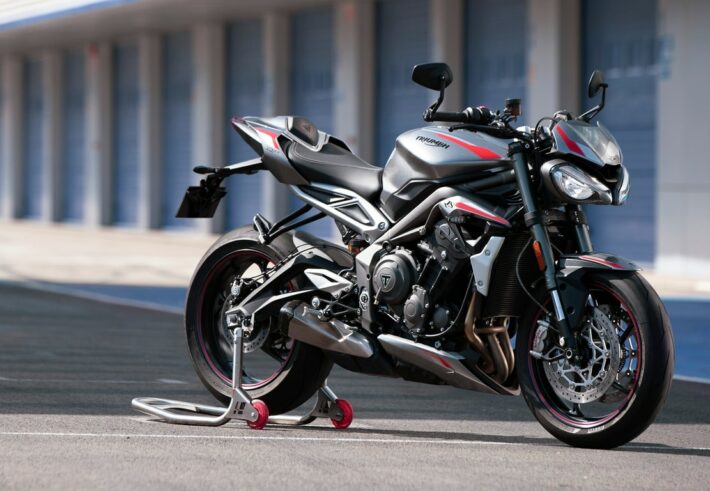 Handling is superb with quality Showa big piston (BPF) forks up front and a fully-adjustable Öhlins STX40 piggyback shock at the rear. Braking is taken care of by Brembo, so, just like its Austrian rival, it's well specced with high-end componentry.
Yamaha MT-09 SP • £TBA • www.yamaha-motor.eu
An all-new model for 2021, and with pricing still to be announced, we'd expect the three-cylinder Yamaha to be a worthy rival to the Duke 890 R, competing on both ability and price. Having shed 4kg in weight and having gained 42cc and a few more horsepower thanks to several intake and exhaust updates to meet the latest emissions laws, the revised MT-09 SP also benefits from a new chassis that should add a little more accuracy to this middleweight's punch.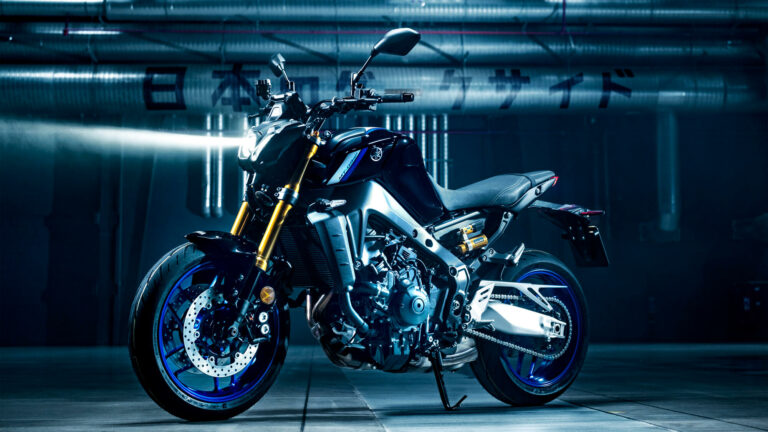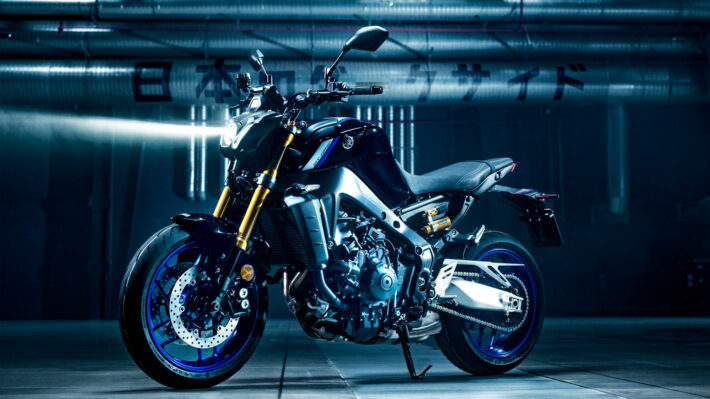 The previous model was a good bike, but not quite match for the Duke 890 R or the Street Triple RS. We're looking forward to finding out if this new version can take it to its Euro rivals.
| | |
| --- | --- |
| Engine | Parallel twin, DOHC |
| Capacity | 890cc |
| Bore x Stroke | 90.7mm x 68.8mm |
| Power | 121bhp @ 9,250rpm |
| Torque |  99 Nm (73 ft/lbs) @ 7,750 rpm |
| Top speed | 160mph (estimated) |
| Transmission | Six-speed, chain |
| | |
| Fuel capacity | 14 litres |
| Electronic rider aids | ABS, traction control, anti-wheelie, quickshifter, blipper |
| Chassis | Steel tubular trellis, extruded ally swinging arm |
| Front suspension | WP APEX 43 adjustable for compression and rebound |
| | |
| Rear suspension | WP APEX monoshock, fully adjustable inc. hydraulic preload |
| | |
| Front brakes | Twin 320mm discs, Brembo Stylema four-piston, radially-mounted calipers |
| Rear brake | 240mm disc, Brembo single-piston floating caliper |
| Front tyre | 120/70 ZR17 Michelin Power Cup 2 |
| Rear tyre | 180/55 ZR17 Michelin Power Cup 2 |
| Rake/trail | 65.7°/ 99.7 mm |
| Wheelbase | 1,482 mm ± 15 mm |
| Ground clearance | 206mm |
| Seat height | 834mm |
| Dry weight | 166kg (claimed) |
| Warranty | Unlimited miles / two years |
| | |
| Contact | www.ktm.com |