Ducati 848 Bike Overview
Created to replace the 749, the 848 was once championed by Ducati as an entry-level superbike but in some ways this statement does a disservice to a bike which can more than hold its own.  It offers a level of flexibility, handling well on either the road or track and although it lacks a little in power what you are ultimately left with is a bike which works, and works well.
A few issues which were frequently experienced with the 748 and the 749 have been remedied in the 848 including a more robust engine than the former V-twin, and some common electrical faults.  Riders have reported that occasional issues do arise with upper left radiator mounts and the misting of the dash but these are easily overcome when faced with a bike which offers as much as the 848.  Regular servicing of the bike should help deal with any possible problems as well.
Although offering more engine power than its predecessor, the 848 is surprisingly lighter.  This may have something to do with the trellis frame and simplified tube layout bringing the bike in a 1.5kg lighter than the 749.  Another new, additional feature worth noting includes the use of a wet clutch, which was not commonly seen in Ducati bikes before the arrival of the 848.
Finding a seller privately offering an 848 is a pretty rare occurrence in today's market so you are likely going to be looking at purchasing second-hand and there are some good deals to be had; making this a cost-effective option too.
Look at the Ducati 848 in all its glory… 
Ducati 848 Bike Spec
Top speed

166 mph

Weight (Dry)

168 kg

Average fuel consumption

27 mpg

Seat height

800 mm

Capacity

848cc

Engine

8v V-Twin
Ducati 848 Bike Insurance
Ducati 848 Bike Gallery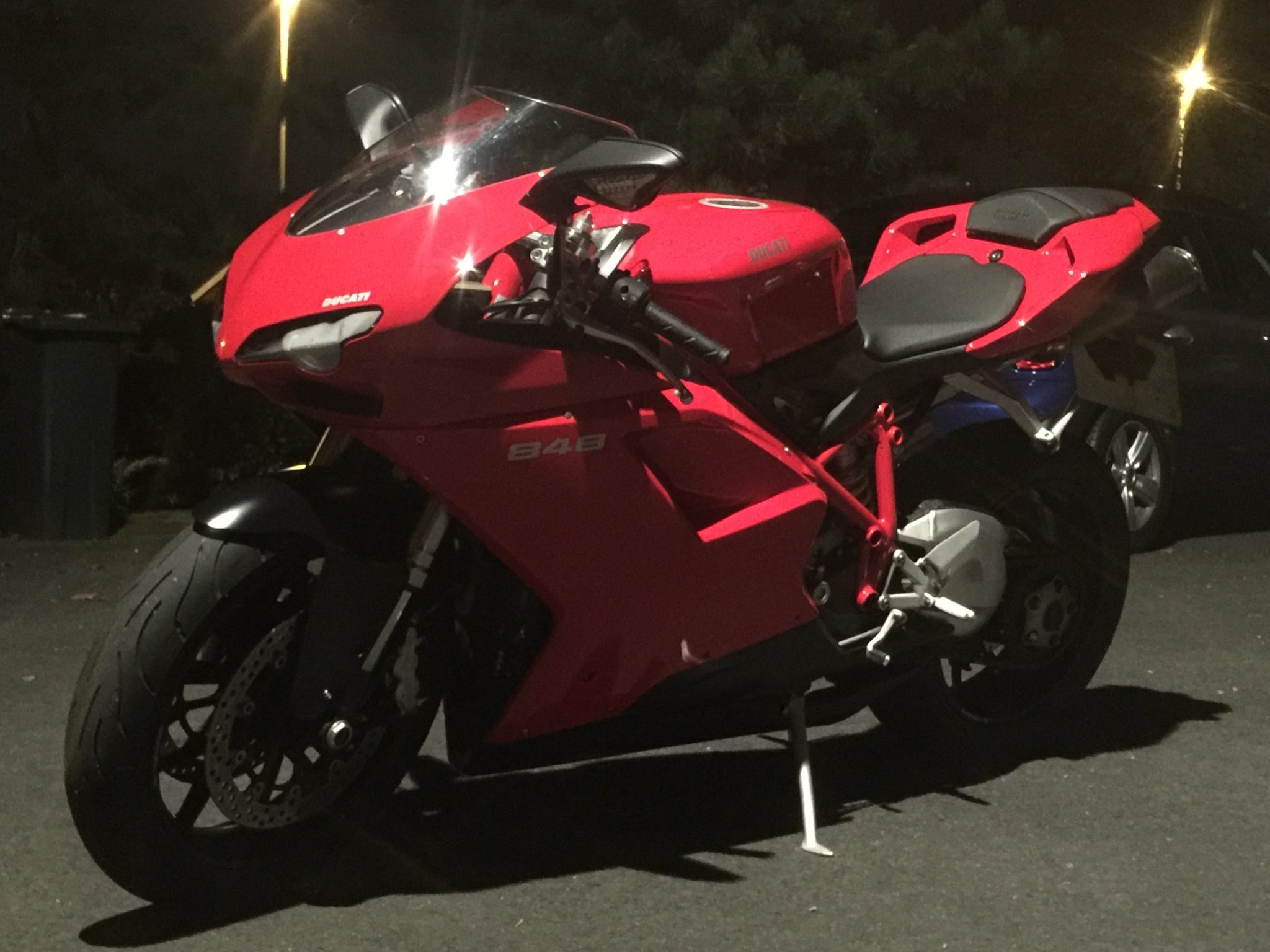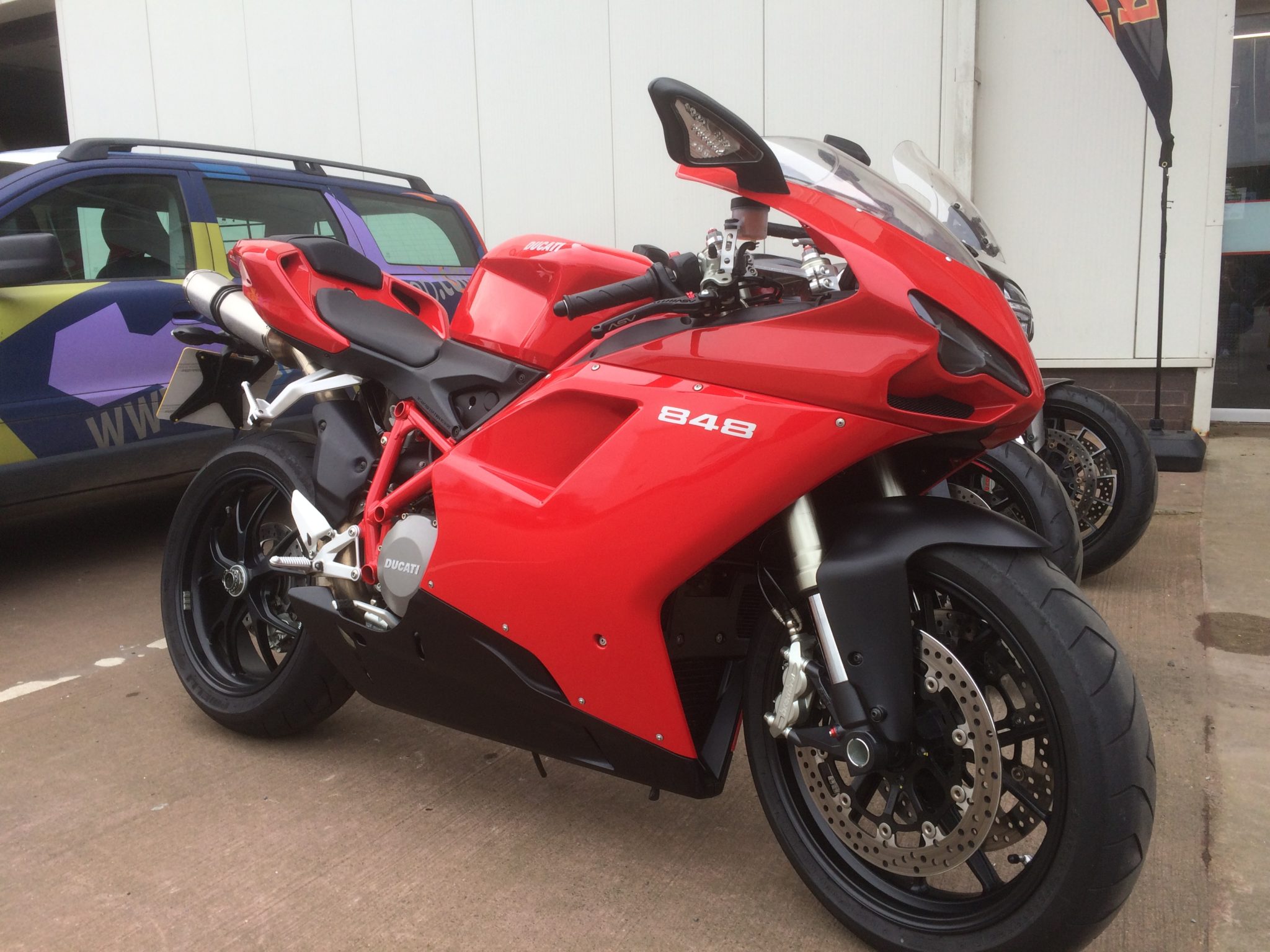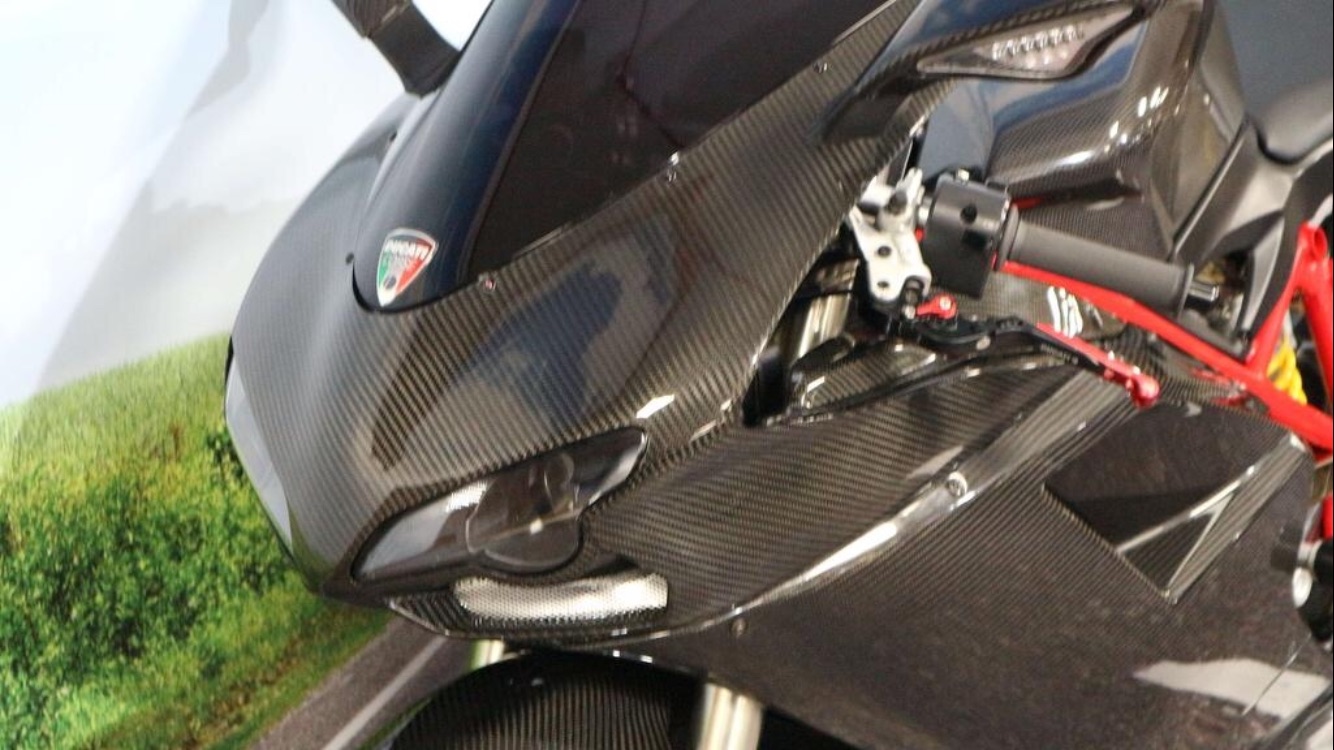 Owner Reviews
Pros
It's one of the few bikes that makes you smile every mile. What a head turner. Looks. Style. Noise. Dealer Experience. Noise. Noise.
Read More
Ride Quality5 out of 5 stars
Amazing. Lightweight and takes corners like you cannot believe!
Engine5 out of 5 stars
More than enough
Running Cost4 out of 5 stars
Jerky accelerator.
Build Quality5 out of 5 stars
Perfect. No problems whatsoever.
Brake5 out of 5 stars
Wonderful
Pros
I've waited since I was a teenager to own a Ducati, and has been so worth the wait (I bought it this year for my 50th, a year early!) It's my forever bike, mint 08 plate with 4500 miles on clock. A credit to former owner.
Cons
Slightly wider mirrors and slightly larger tank.
Read More
Ride Quality5 out of 5 stars
Light for size, very flickable and that rev range. Mmmmmm! I must state thought that mirrors are as much as tits on fish!
Engine5 out of 5 stars
As much power as I will ever need, and then some!
Running Cost5 out of 5 stars
Build Quality5 out of 5 stars
Absolutely faultless
Brake5 out of 5 stars
Never had to really trust the brakes but always very reassuring
Pros
The ride is superb is great looking and timeless by design
Cons
The windscreen really is crying out for a huge double bubble, the standard looks pretty but it's difficult to get under even if your small but then I always have loved the look and feel of the TT type screens
Read More
Ride Quality4 out of 5 stars
It's very light but then I have a full carbon body and tank on mine. It's a little bit of a deliberate process to get smoothly into 1st but no more than most other bikes I've ridden and in terms of adjustment I have to say I've never ridden a bike that felt so different after turning the settings a click. Setting the bike up for me on the road was fairly painless and now it probably the best handling bike I've ever owned- shame it's too pretty to have the heart to thrash really!
Engine4 out of 5 stars
Obviously plenary of torc and the power delivery is smooth and substantial, I've mostly ridden 4 stroke historically and the lack of screaming from the power plant took some getting used to but saying that when I felt like I was plodding along on the way home I did get a shock when I noticed how fast I was taking some of the bends compared to my GSXR, in short it feels effortless and sort of civilised
Running Cost3 out of 5 stars
It's a Ducati and it's beautiful so not really relevant, if I wanted a cheap to run bike I would buy something a little more 'not Italian'
Build Quality4 out of 5 stars
The details are great, everywhere you look there's great design and this isn't just apparent on the outside, once the fairing is peeled away the precision engineering is a delight to see. Shame it's so difficult to start at times but you have to love the quirks as once you hear that v twin bellow into life everything is forgiven
Brake5 out of 5 stars
The Brenna brakes are awsome and to be honest a let out a big 'yeehaa' in my helmet when I fully tested them for the first time