Ducati 1098 Bike Overview
For a decade, sportsbike fans drooled over the exquisite shape of the 916 that became the 996 and finally the 998 before it was replaced by the 999 in 2003.
Its replacement didn't have quite the same impact when it came to aesthetics, and while fast and capable enough to win World Superbike championships with the likes of Neil Hodgson, James Toseland and Troy Bayliss, it wasn't the showroom success Ducati had hoped for. Pierre Terblanche's design won races, Massimo Tamburini's won both races and adulation.
Giandrea Fabbro's vision for the 1098 combined elements of Tamburini's winning formula. Twin underseat pipes, a return to a single-sided swinging arm and sexy, curvy proportions replaced sharp angles. Launched in 2007, the 1098 won the WSBK title a year later in 2008 with winning machine Bayliss at the controls.
As a road bike the 1098 shines too. Less cramped than the 998, more neutral than the 999, the 1098's layout erred more towards that of its Japanese rivals, meaning it was viable as an everyday sportsbike, not just a toy for hour-long sunshine blasts.
The 1099cc V-twin engine is a fine evolution of the 999's 998cc Testastretta motor. Masses of power with incredible low-down torque are tempered by an excellent traction control system that was way ahead of its rivals at the time. Models varied from the basic Biposto through the S and the ultra-exotic R with even more power, sand-cast engine casings, uprated Brembo brakes and high-end Öhlins suspension.
Handling is incredible: precise and stable with a chassis that wants to lean and lean. Front end feel is typical Ducati and big entry and corner speeds are easily achievable with an assured corner exit thanks to a tractable motor and refined traction control that fires you out of the turn and rarely out of the seat.
On the road some riders may feel that it's a little firm. Fully adjustable suspension means it can be softened to suit and it makes for a surprisingly good road bike. The mirrors are a token gesture and the pillion provision is poor, but as a piece of motorcycle art that will stir your soul, there are few bikes to beat the 1098.
Prices range from £5,500 for an early Biposto with over 20,000 miles on the clock to up to £30,000 for mint 1098R Bayliss replica — though we did find a zero miles Bayliss rep up for £35,000!
Take a look at the Ducati 1098 in action…
Ducati 1098 Bike Spec
Capacity

1099cc

Weight

173kg

Top speed

180mph

Average fuel consumption

40mpg

Seat height

840mm

Engine

8v, Desmo V-Twin
Ducati 1098 Bike Insurance
Ducati 1098 Bike Gallery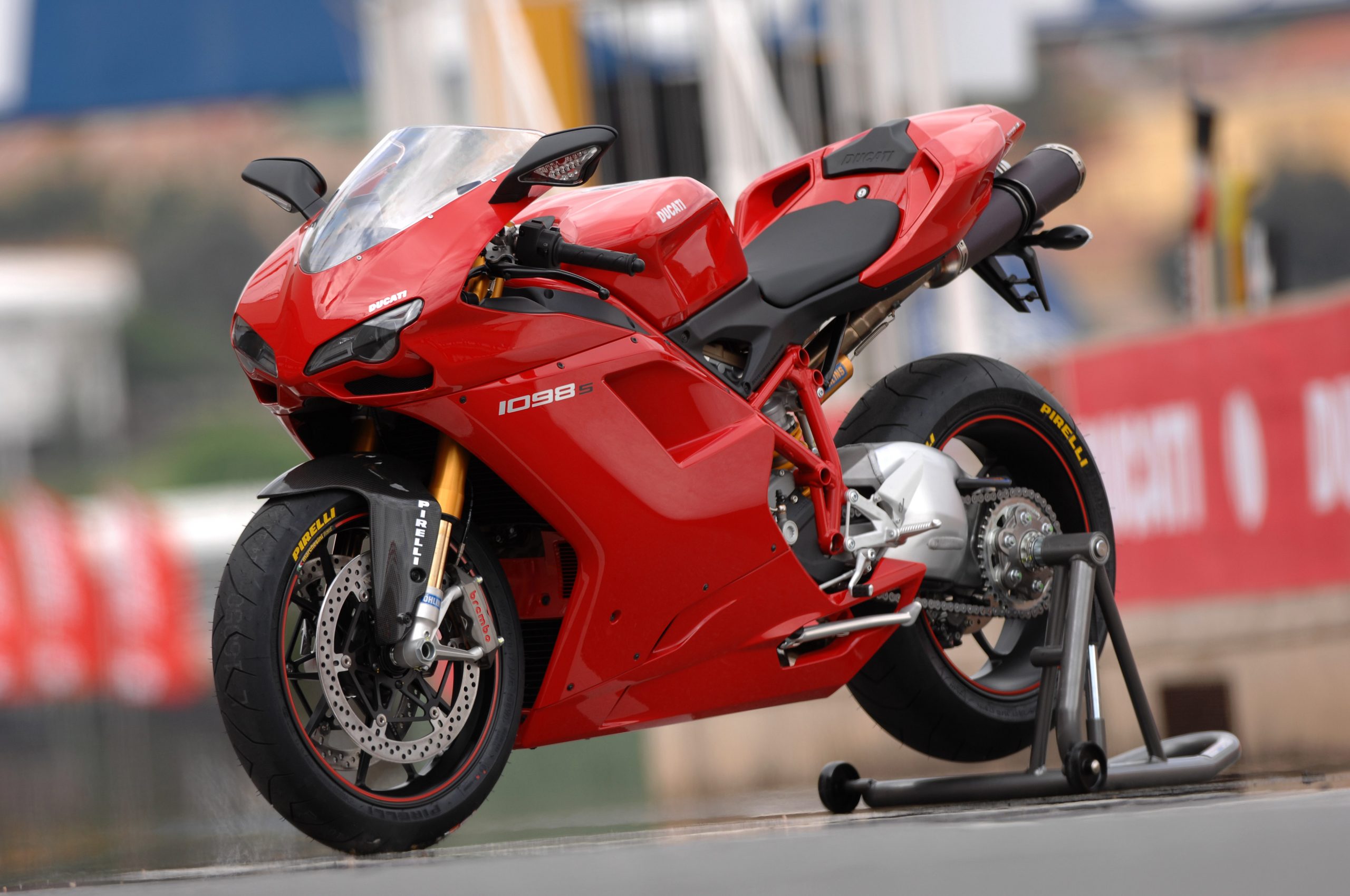 Owner Reviews
Pros
Love it, loved the 916, liked the 996 a lot which I owned, hated the 999, love the 1098. Looks, sound, grunt.
Cons
Wing mirrors are totally useless and then they drop off!
Read More
Ride Quality4 out of 5 stars
Rides pretty well I think but then the last thing I rode was a Maico 490 before buying a 996.
Engine4 out of 5 stars
Tons of low end grunt - lifts the front wheel easily - lovely for hauling my 16 stones around fast twisty roads
Running Cost2 out of 5 stars
Not the cheapest to run – Luckly I have a brilliant independent service team G-Tech – Awesome.
Build Quality4 out of 5 stars
Usual Italian build - looks amazing, electrics crap, bits fall off/shake off over time. Fairing bolts and front indicator lense come loose and drop off after a few years - speedo mists up
Brake4 out of 5 stars
Good Brembo's work well although rear brake sometimes goes a bit weird under very heaving riding,I think maybe the brake fluid boils or something
Pros
Light and powerful Alarm system after market too fussy to be good
Read More
Ride Quality4 out of 5 stars
Carbon wheels make a big difference
Engine4 out of 5 stars
Plenty for the road reduced gearing gives fantastic acceleration
Running Cost3 out of 5 stars
It's Italian!
Build Quality4 out of 5 stars
Exhaust cover had very sharp edges
Brake4 out of 5 stars
Front very good back brake pretty useless