Ducati Supersport S Bike Overview
If you're in the market for the ultimate sports performance bike then check out Ducati's new Supersport S.
The "S" version is full fitted with 48 mm Ohlins TiN-treated forks, Ohlins monoshock with intergrated gas cartridge, Ducati Quick Shift (DQS) up/down and a passenger seat cover too!
The Ducati Supersport S has received a lot of compliments on its comfort and ride style as a sports bike, which goes a long way in this day and age.
Supersport S also features the Ride-by-Wire electronic interface that selects the perfect power response depending on what riding style you've selected; sports-type (110hp), relaxed riding (110hp) or city use (75hp).
Check out the Ducati Supersport S in action…
Ducati Supersport S Bike Spec
Weight (wet)

210kg

Seat height

810mm

Capacity

937cc

Engine

Liquid cooled, 8v
Ducati Supersport S Bike Insurance
Ducati Supersport S Bike Gallery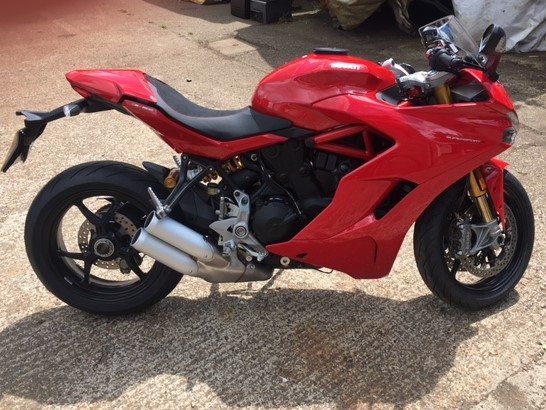 Owner Reviews
Read More
Comfort4 out of 5 stars
Hard ride
Build Quality2 out of 5 stars
Prone to bad electrical problems
Brake2 out of 5 stars
Brembo brakes
Ride Quality3 out of 5 stars
Its good
Engine4 out of 5 stars
Fast up to top end
Running Cost2 out of 5 stars
Its quite good on fuel
Pros
A very lightweight, very good looking and great to ride Sportsbike with excellent handling and equipment, especially the S version. For a sportsbike, the comfort and riding position is exceptional and makes the bike a pleasure to ride.
Cons
The rear hugger is too short and does throw water and dirt at you when riding in bad conditions.
Read More
Ride Quality5 out of 5 stars
The ride quality is fantastic, very lightweight and takes corners with ease. It has an electronic shifter and once you get used to not using the clutch it is brilliant. With being a twin it is much smoother at higher speeds.
Engine5 out of 5 stars
Being a V twin it has a great deal of torque but it revs very easily. Even though it only 113 bhp the performance is great.
Running Cost5 out of 5 stars
Fuel consumption is very good, around 50-60 miles/gallon overall riding. I cannot give any servicing costs as yet due to only having the bike 4 months.
Build Quality5 out of 5 stars
Build quality is really good, I have done around 2000 miles since buying in June this year and have had no problems at all. It comes with a 2 year warranty and European breakdown cover if ever required.
Brake5 out of 5 stars
It has Brembo brakes that are excellent and the bike feels very stable when braking