2020 Aprilia RSV4 1100 Factory takes on Italy…
After a year to forget in terms of new bike launches, our man Al gets the golden ticket for a ride on the 2020 Aprilia RSV4 1100 in Italy. What could possibly go wrong?
I don't imagine you'll need me to tell you this, but this year has been a bit of a wrong'un for most folk. And while it's pretty low down on the scale of global importance, the 2020 bike launch schedules have been just as messed up as everything else.
So we were very pleased indeed to get an email asking if we fancied a 48-hour trip to Italy for a quick spin on the new 2020 Aprilia RSV4 1100 Factory. The nice PR man didn't need to ask twice of course, and a couple of weeks later, I'm at a very weird Heathrow airport for a BA flight to Rome.
We're heading to Vallelunga, a little-known race track just outside The Eternal City. The venue is a bit of an obscure one – it hosted two rounds of WSBK in 2007 and 2008, but hasn't been on the radar much since then. So I'm keen to check it out.
The 2020 RSV4 Aprilia RSV4 1100 Factory, though, is very much on my radar. I had one of my best riding days (ever!) last year on the 2019 RSV4 launch at Mugello. The Noale firm had taken its excellent 999cc RSV4 superbike, given it a big-bore motor based on the Tuono 1100 lump, tuned it up to give a stonking 217bhp, plus superb handling, slick styling and proper cutting-edge electronic tech.
It was a revelation round Mugello, and cemented its position alongside the Ducati Panigale V4S in the 'Galacticos' division of the superbike sector for me.
2019 vs 2020 Aprilia
One thing it was missing though was electronic semi-active suspension. The 2019 bike came with high-end Öhlins conventionally-adjusted kit – NIX forks and TTX shock – and was the business for track use. But in the spec-sheet stakes, that marked it down a little against the likes of Yamaha's R1M, Honda's Fireblade SP and the aforementioned Panigale.
All of those high-ticket premium models used the Öhlins semi-active Smart EC2.0 system, which uses a goal-oriented adjustment interface, and gives an extra dimension to the suspension, certainly for road use.
Indeed, Aprilia itself had used the Smart EC2.0 setup on the 2019 Tuono 1100, so the firm knew how it worked – but its engineers said they wouldn't fit it to the RSV4 until it could improve the lap times. And now, for 2020, they firm says it's developed the electronic suspension system so it can do just that, so we get the posh digital damping kit on the Aprilia RSV4 1100 Factory at last.
A wet start 
It's literal damping which is dominating matters as we arrive at Vallelunga though. It's properly chucking it down with rain – genuine Glasgow-spec precipitation, with a forecast that verges on the biblical for the rest of the day. There's a brace of Aprilia RSV4 Factory 1100s stood on stands, tyre warmers futilely cooking the Super Corsa track rubber inside, and the very nice Aprilia factory techs are pottering around, polishing fairings, checking tyre temps, topping up fuel tanks. Curses.
Luckily, the very nice Aprilia PR man is on the phone, tracking down some wet tyres at a local dealer. By mid-morning, the rain is still horrendous, but we've got a set of Dunlop full race wets spooned onto one of the RSV4's rims, and they're now getting the tyre warmer treatment too. Around 45 minutes at Gas Mark 4 and we're in a much better position to grab a spin on the new bike round here. Just before lunchtime, there's finally a bit of a break in the weather, and I get kitted up, jump on the compact superbike, and head down pit lane.
World Superbikes 
It's by no means dry – but the puddles have started to drain away, and there are no rivers running down pit lane any more. I'm only pottering round for a few laps to see how the track goes though – and Vallelunga is definitely a bit of a curate's egg. The rumours say that WSBK only came here in 2007-8 because it was handy for Max Biaggi's Roman pied-à-terre, and I can see straight away why the riders weren't too keen on it.
The first part of the track is pretty decent – you go along pit lane, out onto a wide, open kinked straight, and down a couple of fast sweeping bends. Then it's a lovely right-hand banked double bend up, and then down another kink to the fastest straight.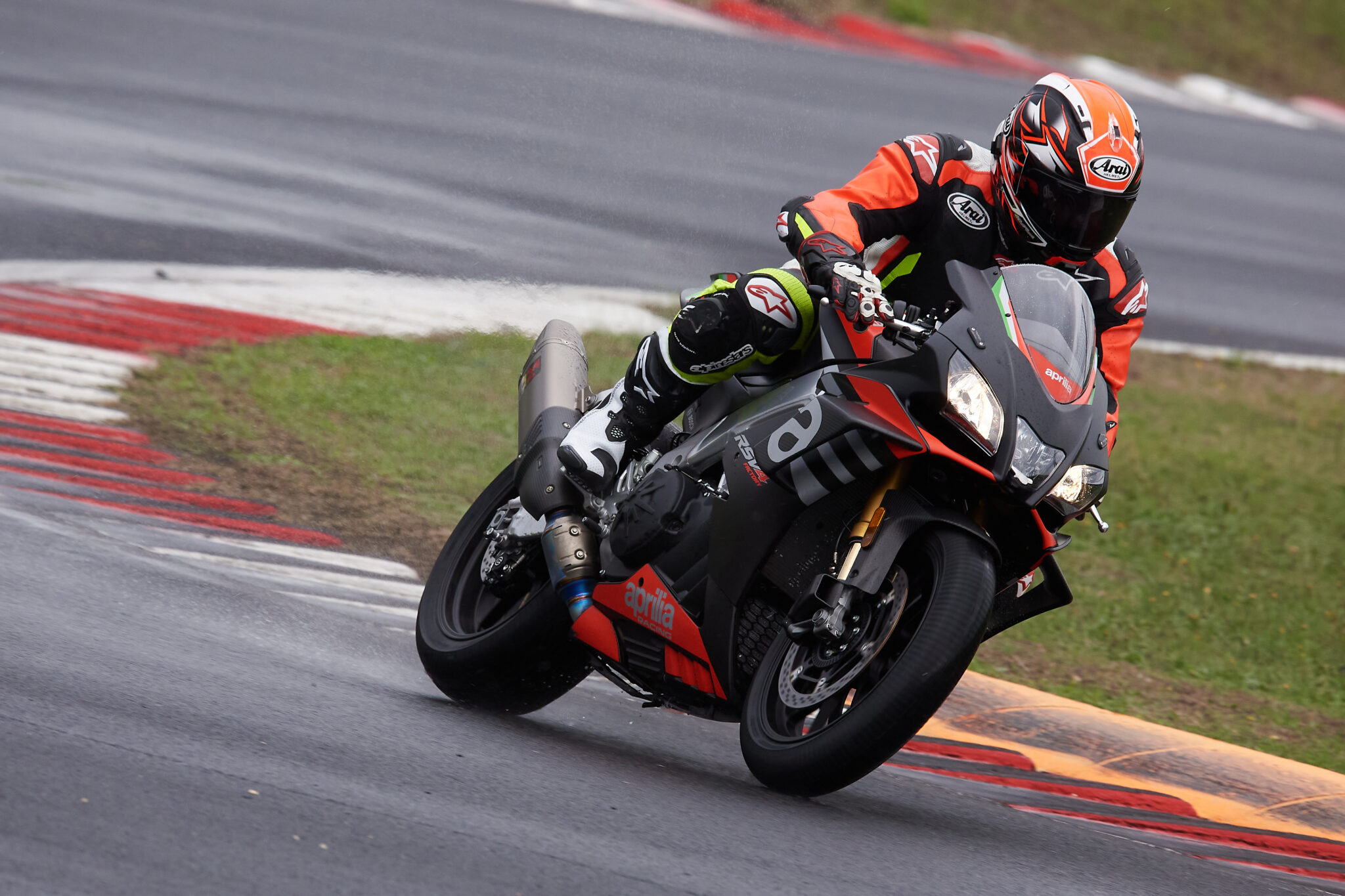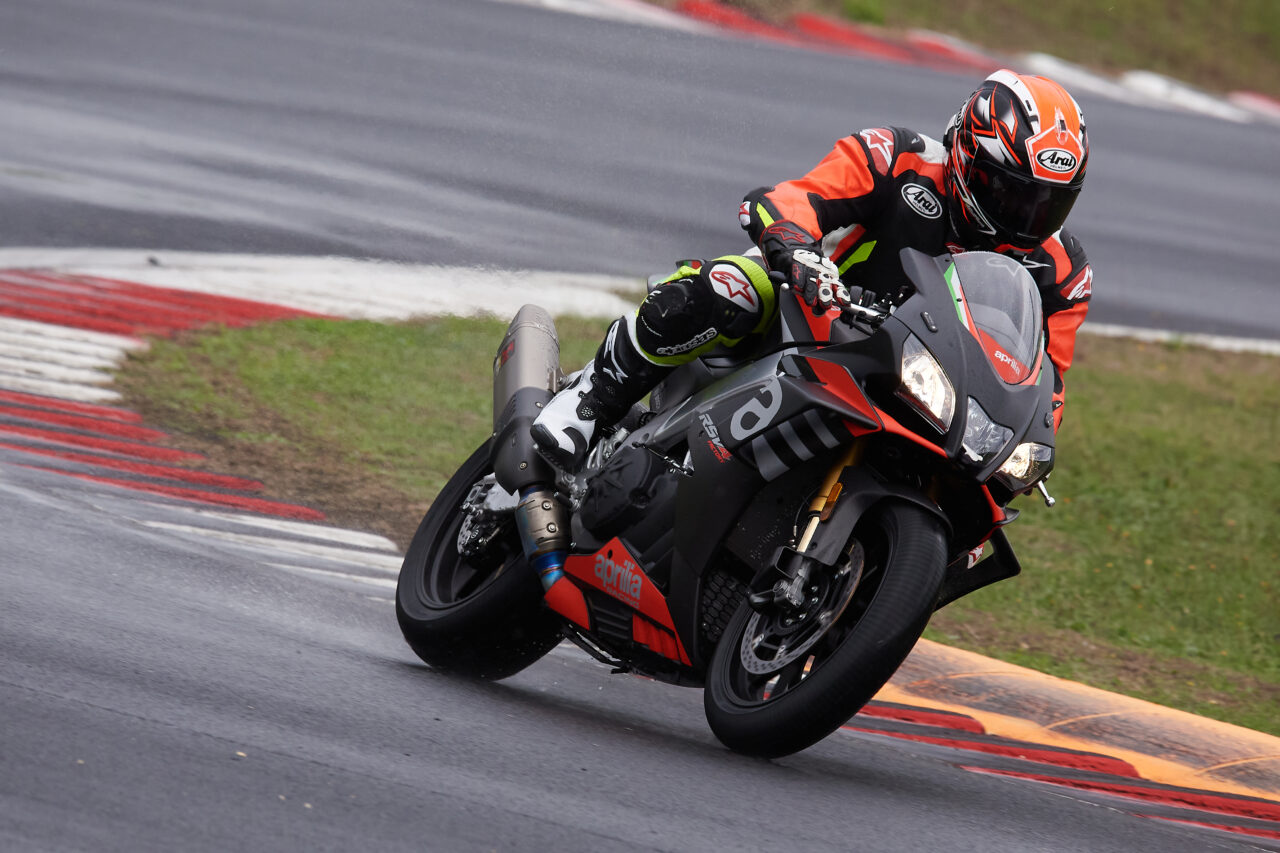 So far so impressive. But then you have a tight second-gear horseshoe-shaped bend and it seems like you've taken a wrong turn into some sort of infield kart track. There's a couple of hairpins so slow you almost have to dip the clutch in first gear to get round, with a load of polished asphalt damaged by car racers. It would be tricky in the dry, but in these soaking conditions, it's frankly horrid… Out of the cramped infield, and it all gets good again, with a short straight and a long right-hander round and onto the main front straight past pit lane.
A circuit of two halves
A circuit of two halves then, and it could have been made even trickier by the bike. A litre superbike would be top for the fast half, but you'd probably be better on a supermoto for the infield… But the Aprilia RSV4 1100 Factory is actually coping really well. I'm going properly steady, seeing which way the track goes and getting a feel for the grip levels from the asphalt with the wet tyres.
And this thoroughbred superbike is behaving itself perfectly. Where a more highly-strung machine would be a pain, with solid plank-like suspension and a peaky engine, the Aprilia is positively friendly. The bigger motor naturally has plenty of low-down urge and smooth midrange, the fuelling and throttle response are perfectly progressive, and the electronic suspension feels smooth and compliant.
Almost as soon as I'm out though, the rain returns, and the flags are out again. Back into the pit garage and the warmers go back on the Dunlops, and I run through the track in my head to cement the layout a little. Lunchtime comes and goes, as does the rain, but I get back in the saddle, and head out for the afternoon sessions.
Gallery
Now, I sort-of know where the track goes, and get to push a little harder. I learned back in 2019 that the new 1100 motor is a belter, with both stonking low-down power and tremendous top-end. We're not tapping into so much of the top-end at the moment, but with the safety net of Aprilia's excellent traction and ABS setup, it's a joy to hammer on the power as soon as you're upright, and start braking harder and harder in a straight line. The Dunlop wets need to be worked to keep heat in them of course, and it's a real tightrope to push hard enough to stop the tyres cooling down too much – while also riding to the wet conditions.
Final session
The final session is the best, of course. The rain has stopped, there's a definite dry line appearing, and the track is almost totally empty (nearly all of the other riders at this Aprilia-organised track day packed up and went home ages ago). I'm still holding my breath round the narrow, nadgery infield section, but the first, fast section of the track is a joy on the Aprilia RSV4 1100 Factory.
A bike as fast as this just about takes your breath away when you get over 10,000rpm in fourth and fifth gear, and the relentless acceleration is addictive. The Öhlins suspension – the whole point of the 2020 update – reacts to the change of pace, and what was a soft, comfy chassis in the standing water earlier is now lithe, taut, sharp.
Those Brembo Stylema monobloc calipers finally get a chance to warm up and show their full powers, and the violence when you go from full gas down the straight to full brakes into the hairpins makes me giggle a little nervously into my Arai. Mad, crazy, dangerous power and speed, on a still-damp racetrack – it's an adrenaline-packed experience.
The session is nearly over – and suddenly the adrenaline goes into overdrive. I'm trying hard round turn seven, leaning the RSV4 more and more…then the back end suddenly flicks round, and I gracelessly low-side into the gravel trap.
Ending with a bang…
Bah. It's not a super-fast crash, maybe 50-60mph, and I come off totally unscathed – my Alpinestars airbag suit doesn't even go off. The poor Aprilia doesn't do as well though, digging into the gravel and flipping over, smacking up both sides. Booh. I take the recovery trailer of shame back to the pits, my day over, and make my apologies to the Aprilia staff.
The Dunlop wets and the Aprilia rider aids were all doing great work up to that point, but the drying track had teased me into trying just that little extra bit too hard, and I paid the price.
Changed out of my leathers, I have a last look at the other, undamaged, Aprilia RSV4 1100 Factory, still sat on the paddock stands with slicks on. Aprilia's given it new graphics for this year, and with the striking aerodynamic wings, top-end Öhlins supension and those Brembo calipers, it looks every bit as good as it goes.
Top spec, the full kit
Last year, that mechanical suspension was the only entry on the spec sheet where it gave up anything to the opposition. Now, it's right back up at the top of the sector, with the 1100cc motor, adjustable frame, top-spec chassis kit and a brilliant electronics package.
Thinking of cheering your 2020 up by spending your holiday fund, a self-employed Bounceback Loan, or a refunded annual train season ticket on a top-end superbike? Then the Aprilia RSV4 1100 Factory must be top of your list for a test ride – now more than ever before.
2020 Aprilia RSV4 1100 Factory Tech Highlights
Engine
Aprilia uses a 65° 16v DOHC V-four lump in the RSV4 rather than the more common 90° layout used by Ducati in its Panigale V4. The advantage is that you get a more compact unit – the cylinder banks aren't squashed closer together, meaning a shorter motor front-to-back.
Noale's engineers bumped capacity up from 999cc to 1,077cc last year, matching the firm's Tuono 1100 supernaked with the same 81mm bore/52.3mm stroke and 48mm throttle bodies. However, the superbike has one more injector per cylinder (total of eight), and the compression ratio is raised to 13.6:1. Those changes mean more power at higher revs – peak power is 217bhp@13,200rpm, 42 more ponies, produced 2,200rpm higher than the Tuono.
Frame
No change here – still a fully-adjustable cast aluminium unit, with scope to vary the steering geometry, swingarm pivot point, and engine mount position. Few riders will be using that feature – but it is a very cool thing to have on your superbike chassis…
Suspension
This is the major change for 2020, and it's put the RSV4 back at the top of the superbike charts. The firm said it wouldn't fit the semi-active Öhlins kit until it could guarantee improved lap times – and now it does. Öhlins' Smart EC2.0 setup is the same setup as seen on the Yamaha R1M, Ducati V4S and the Honda Fireblade SP and is easily controlled via the RSV4's colour LCD dashboard. There are three semi-active 'A' programs, including a 'slick' mode and three manual 'M' modes available to click through on the fly.
Brakes
Not much to moan about here: Brembo Stylema monobloc calipers with 330mm discs up front, and high end Bosch cornering ABS. We firmly recommend the uber-cool optional £257 carbon air cooling ducts too.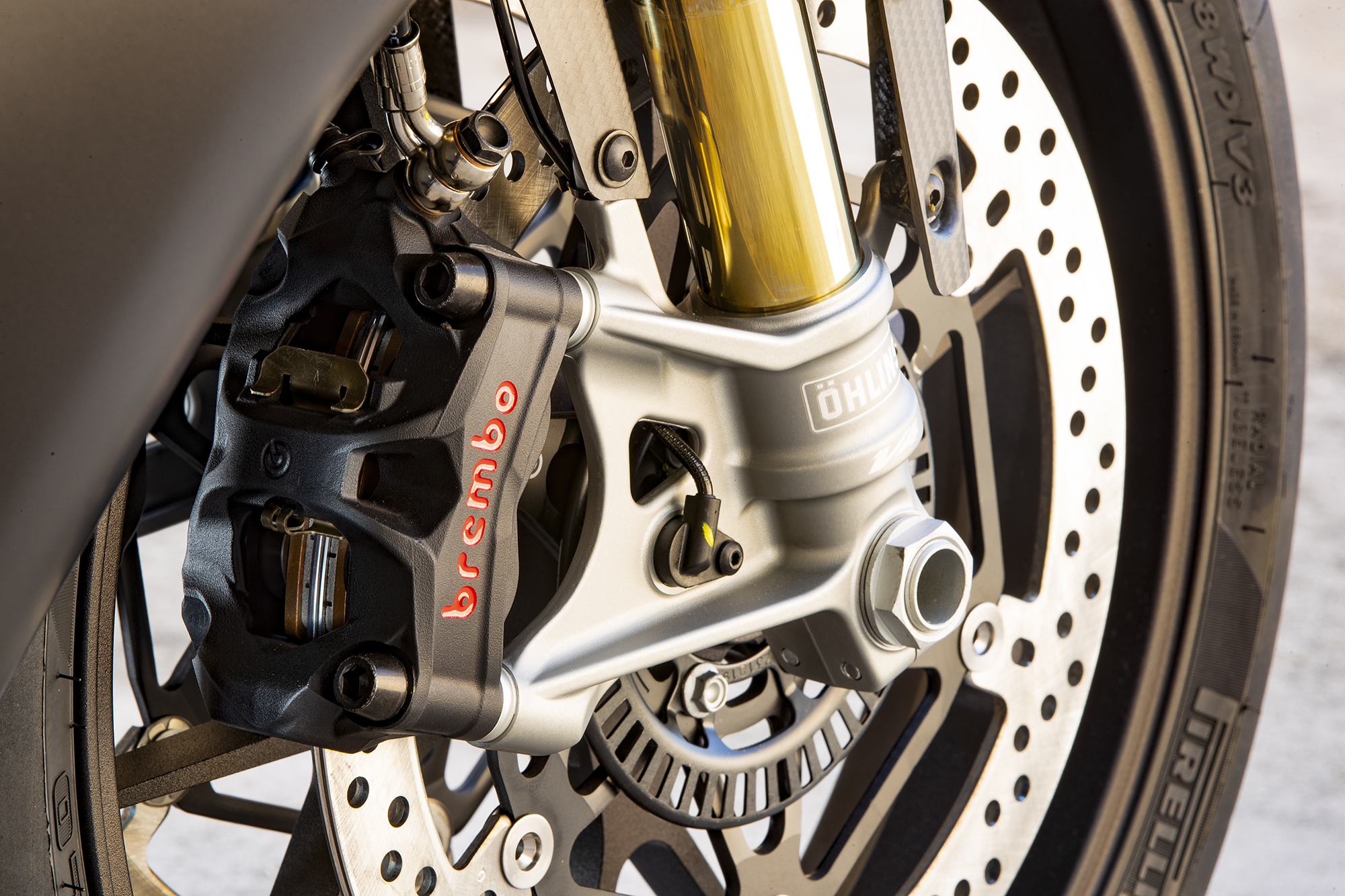 Electronics
Aprilia was the first firm to take electronic rider aids really seriously, and that early adoption has paid off – its APRC setup is a cracking setup with loads of features and is a breeze to use. There aren't any big updates for 2020 other than the suspension control for 2020, but the traction, ABS, engine braking, power delivery and wheelie control can all be fiddled with easily via the clever mini-joystick on the switchgear, and there are three power modes – road, track and race. It's a tweaker's delight.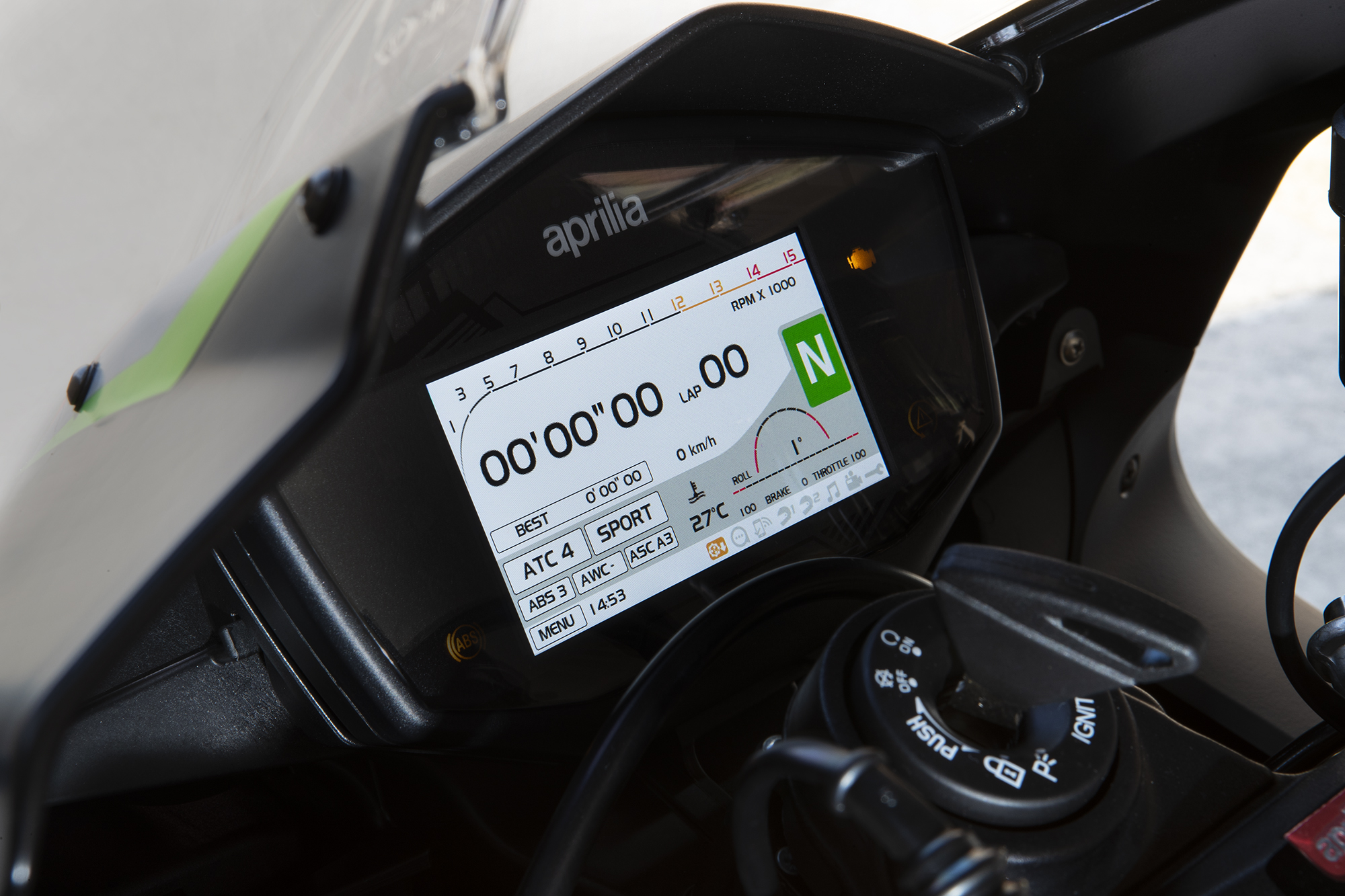 Aero management
Carbon front fairing wings add 8kg more downforce at 300kph, to boost stability at speed and under braking.
Price: £22,399
Engine: DOHC 16v, 65° V-four, l/c, 1,078cc
Bore x stroke: 81×52.3mm
Compression ratio: 13.6:1
Carburation: four 48mm Marelli throttle bodies, eight injectors, ride-by-wire
Max power (claimed) 217hp@13,200rpm
Max torque (claimed) 89ft lb@11,000rpm
Transmission: six speed cassette gearbox, wet slipper clutch, chain drive
Frame: composite aluminium twin-beam. Swingarm pivot point, steering head/rake and engine mounts all adjustable
Front suspension: 43mm USD Öhlins fork, Smart EC2.0 semi-active control
Rear suspension: aluminium braced swingarm, Öhlins monoshock with Smart EC2.0 semi-active control
Brakes: twin 330mm discs, four-piston Brembo Stylema radial calipers (front), 220mm disc, twin-piston caliper (rear), cornering ABS.
Wheels/tyres: machined forged aluminium)/Pirelli Supercorsa SC1, 120/70 17 front, 200/55 17 rear
Rake/trail: 24.5°/103.8mm
Wheelbase: 1,439mm
Kerb weight: 199kg
Fuel capacity: 18.5 litres
Equipment: APRC (Aprilia Performance Ride Control) IMU-based traction control and cornering ABS, with wheelie control, launch control etc, all individually adjustable, plus three pre-set riding modes. Cruise control, TFT colour dash, up/down quickshifter, pitlane speed limiter.
What do you think of the 2020 Aprilia RSV4 1100 Factory? Leave your thoughts in the comments below…