The motorcycling racing season is fully up and running now, both internationally and domestically, and in just a few weeks' time, we'll see the first real road race of the season take place over the weekend of April 11/12. But not in Northern Ireland as one might expect, but a jewel in the heart of Yorkshire – Oliver's Mount.
Perched high above the hillside overlooking the picturesque seaside town of Scarborough, Oliver's Mount is the only public road race in England and at 2.43-miles, and approximately 10 feet wide, the tree lined venue isn't for the feint hearted. Speeds of up to 160mph can be reached along the back straight – which is anything but straight – whilst the bottom straight is equally challenging with a series of jumps to test the very best. With the first meeting having taken place in 1946, it's survived the test of time and continues to attract crowds in their thousands whilst September's Gold Cup always plays host to road racing legends like John McGuinness, Bruce Anstey, Michael and William Dunlop and, of course, Guy Martin.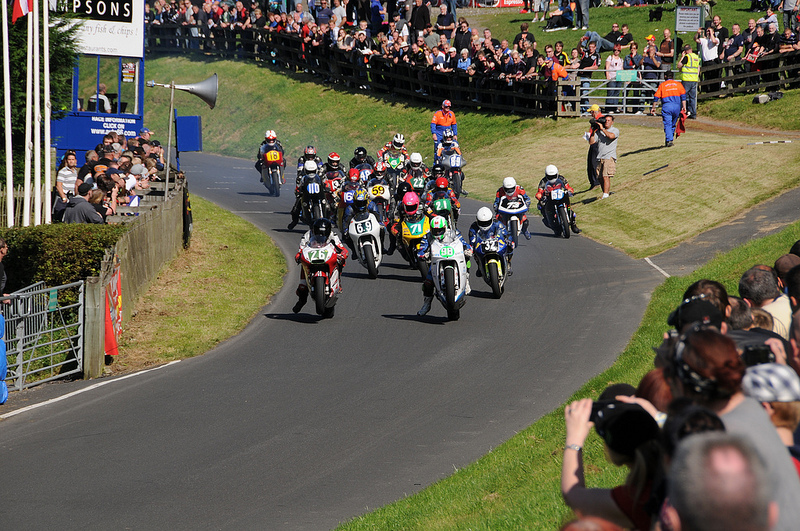 This year's opening meeting, the Spring Cup, traditionally sees the first outing of the year for the charismatic and hugely popular Martin and this year will be no exception. Indeed, the meeting carries even more significance as it will be his first race outing on the Tyco BMW after four years of campaigning Suzuki machinery and all eyes will be upon him to see exactly how he fares.
Whilst Oliver's Mount may not necessarily be a true indication of how the season will pan out at the International road races – the Isle of Man TT, the North West 200 and Ulster Grand Prix – it will nevertheless give Martin and his team a platform to build upon and with its twists, bumps and undulating terrain, it will certainly be a worthwhile exercise and one the public will relish seeing.
With Michael Dunlop having dominated last year's TT races for the German manufacturer, as well as taking a brace of victories at the North West 200, there's no doubt Philip Neill's team have switched from Suzuki to BMW in the hope that there'll be returning to the top step at the TT.
You have to go as far back as 2008 in the record books to see their last big bike victory at the TT whilst Martin is still chasing his maiden win and with development of the Suzuki not having progressed like that of its rivals, the move is one there'll hope pays dividends immediately.
However, it doesn't always work out like that and most people will admit Dunlop's ability, determination and sheer bloody mindedness to literally wrestle and wring the neck of a Superbike certainly played its part in him hitting the heights he did. Both Martin and the team know they won't be able to just turn up and win whilst debate continues to rage on that the now 33-year old will never win a TT whilst being so heavily involved in projects and work elsewhere.
Back in 2007, Martin was seen as the man most likely to topple McGuinness as the King of the Mountain but whilst 15 podiums have now been racked up – the most by any rider without actually winning one – the likes of Dunlop, Ian Hutchinson, and Gary Johnson have all overhauled him and racked up the victories. And with the pack having closed up massively, whereby any of 12 riders could win this year, it's harder than ever to win a TT now.
Seemingly stuck on the mid to high 130mph mark, Martin knows he'll need to improve upon that this time around if he's to get the better of Dunlop, McGuinness, Anstey and co and it could well come down to how quickly he gels with the BMW. The early signs are positive and whilst he's known to be a bit of a perfectionist when it comes to bike set-up and feel, if he arrives on the Island in June with the bike fully dialled in to his liking  it could well be the final ingredient he needs to get on the top step of the podium.
His best chance of success may actually come in the Supersport class where he'll be on the British Championship winning Smiths Racing Triumph but, if a victory does come in his way in any of the classes, not only will it be popular, it will be one everyone will agree is long overdue.
Having started watching motorcycle races all over the world form childhood, Phil Wain has been a freelance motorcycle journalist for 15 years and is features writer for a number of publications including BikeSport News and Classic Racer, having also been a regular contributor to MCN and MCN Sport. He is PR officer for a number of teams and riders at both the British Superbike Championship and International road races, including Smiths Triumph, Quattro Plant Kawasaki, John McGuinness, Ryan Farquhar and Keith Amor. He is also heavily involved with the Isle of Man TT Races, writing official press releases and race reports as well as providing ITV4 with statistical information.