Thousands of fans flocked to the Isle of Man again this year to witness one of the greatest motorsports events, the TT Races.  Held on the island over a two week period, fans were able to watch racing legends and local competitors battle it out on the 37 ¾ mile mountain course.
TT races consist of five major classes: Superbike, Senior, Superstock, Supersport and Lightweight.
Tragically, two lives were lost during the 2014 TT festival.  34-year-old Karl Harris was killed during the Superstock race while 65-year-old Bob Price died in a crash during the Supersport race.  In total, the TT Races have now claimed 241 lives over its 106 year history.  It is truly one of the most dangerous races in the world.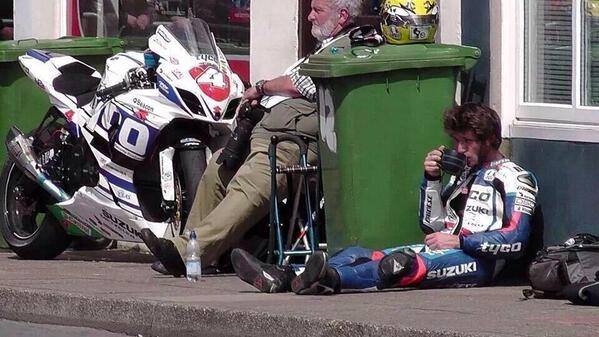 Competitors race at high speeds of up to 200mph during some parts of the course, with the overall average speed being around 130mph.  Completing the race requires six laps around the mountain course which are normally public roads; it equates to covering 226.5 miles in less than two hours.  Refuelling and changing wheels are the only reasons for stopping, since the TT is a time trial event. Riders are set off individually in ten second intervals, each racing against the clock as opposed to the riders in front of him.
With so much emphasis on speed, only skilled riders can navigate the difficult course successfully and safely.  Anyone who participates in the event is recognised for his bravery, but only the winners of the event are hailed as true heroes.  This year, the heroic status belonged to Michael Dunlop, who finished first in four out of five major classes – Senior, Superbike, Superstock and Supersport.  His victory in the Senior TT was most remarkable – his brother William had crashed out spectacularly during the same race and Michael had to ride past William's crash site, not knowing what injuries his brother may have sustained.
Michael was able to remain composed however, and finished ahead of local rider Connor Cummins and famous TV personality Guy Martin.
After the race, Michael admitted that during the final lap, the safety of his brother William was on his mind more so than securing TT victory.  Fortunately, William came away from the incident with only a broken leg.
In an event filled with so much drama, William was quick to downplay his injury.  "It's just the small bone in my leg I've broken and I'm a little battered and bruised but I hope to be ready to ride in four weeks," he said.
Dean Harrison was the other winner, claiming victory in the Lightweight TT.  His triumph completed a happy week for his family, as his Dad had also come first in the Sidecar Race One.  They are the first father and son to win TT races in the same year.  Dean Harrison led from start to finish, holding off last year's winner James Hillier who finished second.
The 2015 race will be 30th May – 12th June.