Wessons Cafe
After 18 years in service, Wessons Cafe is now closed.
If you are travelling through Horam in Heathfield in East Sussex, then one of the best and most popular cafes to visit in the area is the famous Wessons Cafe. It is located on the High Street and has been in business since 2000. It is run by the Wesson family and has a warm family atmosphere, complemented by some excellent food. If offers a spacious dining area which can seat up to 120 and is a favourite with bikers, cyclists and other visitors to the area.
In fact it has grown tremendously in popularity over the last decade and takes pride in attempting to retain classic British Cafe culture by infusing a classic touch in the ambience, menu and memorabilia on display. The interiors of the cafe are tastefully decorated in a biker theme and exhibit a number of biking relics on its walls. The atmosphere is cordial and the staff is warm and friendly, which makes it a great place to dine at; and you're always guaranteed a great chat with Steve, the owner of Wessons.
Wessons has the proud distinction of being the first and perhaps the only Ogri cafe in the Sussex area. Visitors who are fans of Paul Sample and his works will be delighted to find original strips and art works adorn the walls of the cafe. In fact Paul Sample has personally illustrated Ogri characters on parts of the interior of the cafe.
Wessons strongly supports charity events and fundraisers of all types. If you do plan to host any such event then Wessons Cafe is the place. Great food, great atmosphere and ample parking what more could you ask for!
Important Wessons Cafe information:
Telephone: 01435 813999
Opening times: 7am – 4pm Monday – Friday, Saturday and Sundays 9am – 4pm
Location: Horam High Street, Heathfield, East Sussex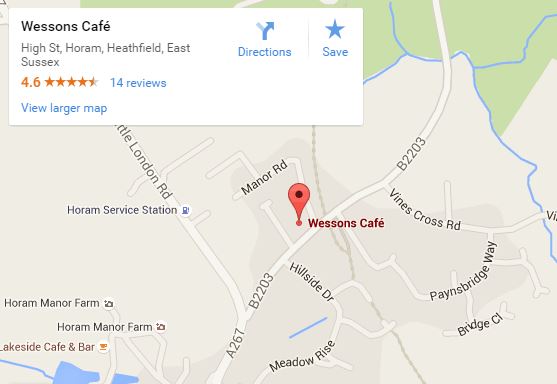 Wessons Cafe in action
A day in the life of Wessons cafe….
Wessons Gallery
Gallery