Oakdene Cafe
Another extremely popular cafe with bikers is the Oakdene Cafe, which has become one of the most famous biker cafes in the Kent area.  Its current owners Janet Jevons and her son Stephen purchased the place in 1982. It is located on the A20 near Wrotham, Kent and is close to the world famous Brands Hatch motor racing circuit. It offers excellent home cooked, traditional English food that is tasty and wholesome at a very reasonable price. Visitors can also shop for some interesting Oakdene Cafe memorabilia at its shop.
The Oakdene Cafe offers comfortable seating for over 140 guests and is a favourite haunt of bikers, who gather here in very large numbers on Wednesday Evenings and Sunday Mornings. In fact the place has been patronised by bikers, who use the cafe as a convenient stopover for over four decades. Being very conveniently located just 4 miles away from the famous Brands Hatch motor racing circuit you will find bikers and visitors often stop en-route to have a breakfast at the cafe.
The Brands Hatch racing circuit hosts some of the most well-known racing events every year, which include the World and British Superbike Championship. Bike enthusiasts visit Oakdene Cafe from all over the UK where they showcase their pride and joy. The cafe is well equipped in terms of space to accommodate the hordes of bikers, especially on bikers' nights on Wednesdays. Along with the lively atmosphere, the food is freshly cooked using the best of local produce. With a spacious parking area it has become a biking destination in itself. So whether you are a passionate biker or just a passer through the area, a stopover at Oakdene Cafe is highly recommended.
Important Oakdene Cafe information:
Telephone: 01732 884873
Opening times: Monday, Tuesday and Thursday 6am – 8pm, Wednesday 6am – 10pm, Friday – Sunday 6am – 6pm.
Location: A20 at Wrotham, Kent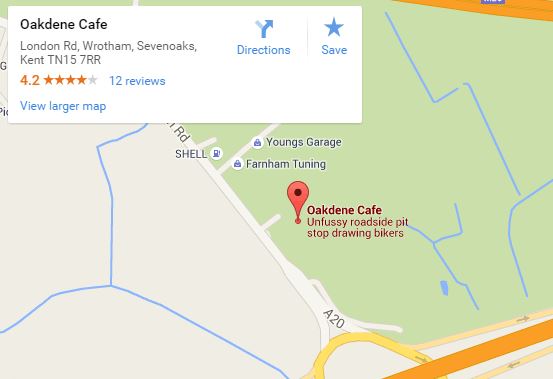 Oakdene Cafe in action…
The Mods vs Rockers taking a ride out to the Oakdene Cafe!