Annual Biker Charity Events 
There's plenty of choice when it comes to motorcycling events, especially when it involves raising money for charity. Below you'll find the annual motorcycle charity events from across the UK for 2019, check them out and get them booked in your diary quick!  
NOTE: LOTS OF THESE EVENTS WERE UNABLE TO TAKE PLACE IN 2020 DUE TO COVID-19 RESTRICTIONS, MANY HAVE BEEN POSTPONED UNTIL 2021. 
Essex Air Ambulance Motorcycle Run
Location: Harwich, Essex
Date: First Sunday in September
There are a number of organisations in the UK, both in the north and south of the country, that provide an Air Ambulance Service. These organisations ensure their Air Ambulances are able to respond to medical emergencies that other emergency services are unable to attend safely and they are also used to transport patients to and from different points of care.
These air ambulances are mainly helicopters and are used in support of road ambulances. They are generally crewed by NHS staff that is seconded from the local ambulance services. These local Ambulance services, however, do not provide the expenses for the running costs of the helicopters which results in the need for them to be charitably funded.
Essex Air Ambulance holds an annual Motorcycle Run in September that is combined with a family festival. The event is the biggest Essex Air Ambulance fundraising event each year. Over 5000 motorcyclists join the 60 mile ride from Ford Dunton in Laindon to Harwich.
On Harwich Green, following the Motorcycle Run, there is a free family festival. This festival includes Motocross displays, live music, craft and community stands and children's activities.
All monies raised during this event are donated to Essex Air Ambulance. Without vital fundraising events and donations like this, the Air Ambulances would probably cease to exist which would result in loss of lives in situations where road ambulances are just not enough.
Check out all the action from the Essex Air Ambulance Motorcycle Run…
Ride to the Wall
Location: National Memorial Arboretum, Staffordshire
Date: First Sunday in October
The Ride to the Wall (RTTW) charity began in 2008 after a Harley Davidson Owners Group members organised a small ride to a Remembrance Day event and decided to formulate ideas for a stand-alone ride.
The result of these ideas was RTTW. This is a unique motorcycling event which gives riders an opportunity to gather together at a place of remembrance, the National Memorial Arboretum in Staffordshire. This event enables the motorcyclists taking part to pay their respects to the 16,000+ fallen service men and women that each has their names engraved on The Wall of the Armed Forces Memorial.
Completing this ride raises funds solely for the purpose of perpetuating their memory and recognises the sacrifices they have made for their country. RTTW is the only event that raises money specifically for the National Memorial Arboretum and all monies raised by the charity is donated to the National Memorial Arboretum.
The RTTW event takes place annually on the first Sunday of October and is open to all motorcyclists as long as they register pre-event or on the day. 2015 saw the 7th RTTW with over 7,100 motorcycles taking part in the ride and over 20,000 people attending the memorial.
Since the first memorial ride took place in 2008, RTTW has raised £408,500.00 for the National Memorial Arboretum. For further information on the charity, how to take part in the ride or details to donate then have a look at the RTTW website.
Here are some fantastic scenes from Ride to the Wall 2015… 
Bike4Life – Bikefest and Ride Out
Location: Shrewsbury
Date: Sunday 28th April 2019
This event is the biking event to kick-start the motorcycling season and usually occurs annually on the last weekend of April or the first weekend of May.
2018 attracted over 12,000 riders bikers to the one-day event, with a large number of them taking part in a 23 mile ride out from Meole Brace in Shrewsbury to the RAF Museum Cosford near Wolverhampton which was the destination for the festival. The ride was led by seven times World Superbike champion Carl Fogarty and ex-racer now presenter, Steve Parrish. There are more stars lined up for future rides making the event more entertaining and exciting than it already is.
All monies raised from ticket sales for Bike4Life goes directly to the Midlands Air Ambulance Charity to support the lifesaving work they do and help to keep them in service. Bike4Life is the Midland Air Ambulance's biggest fundraising event and is growing in popularity each year.
Any motorcyclist can take part in the Ride Out as long as they have a motorcycle with an engine size of 125cc or above. The ticket cost for the Ride is £10 and includes entry for the rider, motorbike, pillion and entry to the festival. Anyone who wishes to take part needs to register on the Bike4Life website in advance or they won't be able to join in on the day.
To only enter the festival, tickets are £5 per adult and children are free. The event consists of arena displays, stalls, exhibitions, live music, food, biker tutorials raising awareness of road safety and much more.
Bike4Life is a great day out for bikers, families and the local community and all in aid of a fantastic cause.
Look at all those bikers… 
Starbikers Egg Run
Location: Stoke-on-Trent
Date: Easter Weekend
The Starbikers are a group of bikers in Stoke-on-Trent that hold proud claim to be the organisers of the first Easter egg run ever held in the UK. The Starbikers are now in their 37th year and have been publicly commented that their knowledge and experience in organising their events clearly shows on the day.
The Easter egg run consists of a parade of thousands of bikers collecting Easter Eggs and donations from the public at the roadside. These eggs and donations are then handed over to the event organisers for them to pass them to local services and the local services then distribute them to local charity groups, hospitals and schools.
At the end of the Eater Egg run, bikers meet at a pre-arranged destination, Kings Hall, where there is plenty of fun and games and where everyone is invited. Other events may also take place to try and raise as much money as possible for the local charities.
Riders that take part individually are encouraged by Starbikers to ask for personal sponsorship from family, friends and work colleagues. This is to raise extra money on the day and the sponsorship money can be handed in at the merchandise stand at Kings Hall on arrival. Information on how to take part in this huge event and any others can be found on the Starbikers website.
Fantastic turn out for the Starbikers Egg Run…
The Ride of Respect and the Lee Rigby Memorial Rideout
Location: London
Date: TBC
The Ride of Respect is an annual mass ride for motorcyclists to pay tribute to our Air, Land and Sea Defence Services (Tri-Service) personnel and to the fallen and their families.
The aim of the ride is to raise funds for military charities and it is organised by a biking Grandmother, Julia Stevenson. The charities helped by the Ride of Respect event are:
UKHomes4Heros Pride & Passion
Bike Tours 4 the Wounded
Armed Forces Bikers
Army Benevolent Fund (now called The Soldier's Charity)
Donations are also made to professional services to help those who are seeking emotional assistance (PTSD etc.) together with any other help that is required.
The first ride to raise money for the charities consisted of over 15,000 motorbikes and over 22,000 riders and pillions. The second ride in 2011 was to show support to our tri-service troops, the people of Royal Wootton Bassett and also to say goodbye and thank you to RAF Lyneham.
In 2012, the ride changed to support Brize Norton due to service personnel being repatriated there but then returned to Royal Wootton Bassett in 2015.
The Ride of Respect has risen over £500,000 for military charities since it began in 2011.
The Ride of Respect has now evolved to include an annual ride to Woolwich. The Woolwich ride is for bikers to show their respect to Lee Rigby, his family and his regiment.  This ride is neither a political nor a protest ride. It is simply to honour the Drummer of the 2nd Battalion, Royal Regiment of Fusiliers who was killed in broad daylight in Woolwich.
The Lee Rigby Memorial rideout takes place on the anniversary of Lee's Death and if you wish to take part then the details can be found on the event's Facebook page or on the Ride of Respect website.
Lee Rigby's Ride of Respect 2014…
Hoggin' the Bridge
Location: Wales
Date: First weekend in October
Hoggin' the Bridge is an annual spectacle that has taken place for charity since 2000. This event involves several thousands of motorcyclists, the vast majority of which are Harley-Davidson's and is a major event in the Harley Davidson calendar.
The parade begins in Aust, behind the Severn View services. All riders make their way into South Wales by Hoggin the Severn Bridge and then following a route through local towns and villages until they reach their destination, Chepstow Racecourse.
Once at the racecourse, the bikers are welcomed by live bands, traders, stalls and food and drink outlets. Spectators will be treated to a parade of the bikes from the bridge ride going through the centre of the racecourse. This gives the bikers a chance to show off their finery.
There is also a ride-in bike show for those who by a ticket to enter. This allows the bikers to show off their machines and win a prize. There will also be an auto jumble on site.
This is a fundraising event for all the family to enjoy and create memories they will all remember and all for a good cause.  There are a number of charities the Hoggin' the Bridge donates to and some of these are Meningitis Now, South Wales Air Ambulance, N.A.B.D and RP Fighting Blind.
Go to the Hoggin' the Bridge website for more information on how to join in with this event.
Hoggin' the Bridge 2015 in action…
Ring of Red
Location: M25/M40
Date: Remembrance Sunday
On Remembrance Sunday every year, there is an event for a motorcyclist that is known as the 'Ring of Red'.
This ride was an idea proposed by Julia Stevenson, a well-known biker who also organises the Ride of respect Rideout. The aim of the Ring of Red is to form a circle of motorcycles; clockwise around the M25, all dressed in red. This is to symbolise the biggest 'poppy' in the world as the poppy is the flower of Remembrance.
There are number of meeting points, 9 to be exact, on the M25 where bikers can join the Ring of Red. There is no set on and off points, although riders taking part in the ride need to be on the M25 for at least 45 minutes between meeting points so the ring can be made. Details for the Ring of Red meeting points can be found on the website.
There are a few rules to follow for the Ring of Red ride; Ride in single file with no overtaking of the rider in front, ride at approximately 50mph to keep the timing even between meeting points, do not overtake the lead rider and keep at least 4 bike lengths away from the bike in front to allow other bikes room to join the circle.
Not every biker goes to a Remembrance Service on this day so this is another way of showing their support and respect for our Armed Forces, both current and previous.
Ring of red 2014…
Relay Riders Run for Blood Bikers
Location: Nationwide
Date: June
The Blood Bikes are known as the unseen emergency service and they are run entirely by unpaid volunteers. The aim of the blood bikes is to provide an out-of-hours, emergency transport service to the NHS, delivering blood and other urgent medical items between hospitals in and around Nottinghamshire.
The vehicles, with 'Hi-Viz' livery can get through traffic quickly and safely to reach their destination in record time. This is specifically helpful in critical situations when items are needed urgently to save a patient's life. The Blood Bikes transport blood, samples, medical notes, frozen breast milk for premature babies and much more. They do this free of charge to the NHS. This saves hospitals tens of thousands of pounds on local taxi companies or couriers.
This year the Relay Riders are riding to fundraise for the Nationwide Association of Blood Bikes. They aim to create the world's biggest motorcycle relay. The run will take two weeks to complete and covers over 6000 miles around the UK. Riders from England, Scotland and Wales will come together in unity for a great cause.
All bikers, new and old, are encouraged to join in the relay. The riders vary from 125cc to 1000cc plus and have all styles of bikes including sports bikes, touring bikes, cruisers and scooters so any one really is welcome. The Relay Riders are always looking for support riders so this event is a great opportunity to meet like-minded bikers and all in aid of a great cause.
Watch the relay in action… 
The Longest Day Down Challenge
Location: Nationwide
Date: June
The Longest Day Down challenge is a motorcycle run that takes place on the longest day of them year in June.
The challenge is to ride 909 miles from John O'Groats in Scotland to Land's End in Cornwall in 24 hours. What makes this challenge interesting is that the 40 riders taking part will travel these 909 miles on motorcycles that have been bought and made road legal for no more than £300. The route to Land's End avoids all motorways as the kind of motorcycle that costs this much is usually only held together by rust, mold and optimism.
The cost of competing in the Longest Day Down challenge id £300 per rider. This cost includes hotel accommodation at John O'Groats, BBQ, packed lunches, van and minibus support on route, food and hospitality on arrival at Land's End, commemorative t-shirt and stickers.
This challenge is all in aid of Cancer Research UK. Everyone knows family members, friends or even themselves who have been touched by cancer. Cancer Research UK is leading the way in understanding the cause of cancer, the treatment and providing support for those dealing with this horrible disease.
Fancy taking on the challenge? Check out what it's all about… 
Riders are encouraged to receive personal sponsorship to raise as much as much money as possible through the challenge to donate to Cancer Research UK. Any monies raised can be handed in on the day. There are also details on the Longest Day Down website.
Plymouth MegaRide
Location: Plymouth
Date: August
The first Plymouth MegaRide took place 21 years ago in 1995. The ride originally started with 400 bikes taking part but over the years the numbers have now increased to thousands and that doesn't include the pillions and the vast number of spectators that turn out to watch the parade on the day.
The ride starts at Lee Mill Industrial Estate and travels to Marley Head before returning to Plymouth Hoe Promenade. On the promenade, the bikers are greeted with a huge array of trade stands, catering stands, live music and even fair rides for the kids. It's a great day out for all the family, especially if the weather is good, which in August it should be.
There is a minimum donation of £3 required for each bike taking part in the ride.  This donation is to be handed in at the start of the ride at Lee Mill Industrial Estate. The total amount raised from these donations, and any money raised at the family event following the ride, will be split between the Plymouth MegaRide's chosen charities. For 2016 these chosen charities are:
Friends & families of Special Children Limited: This charity was founded in 2002 and is unique to Plymouth. It provides information, support and services for families with disabled children.
Macmillan Nurses: These nurses are a source of support for people diagnosed with cancer to help them through their treatment and beyond. The Macmillan Nurses help cancer patients take back some control of their lives from help with money worries and advice about work, to someone who will listen if they just want to talk.
Go to the website for more details on how to take part in the Plymouth MegaRide and do your bit for charity.
Plymouth Mega Ride 2015
Poppy Day Parade Service
Location: Ace Café, London
Date: Remembrance Sunday
The Ace Café is notable venue in motorcycle culture. It is a former transport café in Stonebridge, North West London which originally operated from 1938 until 1969, then reopened in 1997. The Ace Café welcomes anyone who shares the same passion for motorcycles and rock n' roll as the Ace Café club members do.
The Ace Café Club is a club any biker can join and it will keep them up to date with upcoming events and news. This club also provides fantastic opportunities to join in with charity events organised by the café group, such as the annual Ace Café Toy Run and the annual Poppy Day Parade and Service.
The Poppy Day Parade and Service in in memory of all our servicemen and women and occurs annually in November on Remembrance Sunday. A Military Vehicle meet is held at the Ace Café to celebrate this parade. The meet starts at 9 am with drinks and a bite to eat before the parade and a Remembrance service is held at 11am in accordance to tradition.
For more details of this event visit the Ace Café website.
Distinguished Gentleman's Ride
Location: Worldwide
Date: Last weekend in September
The Distinguished Gentleman's Ride was founded in 2012 in Australia. The ride was inspired by a photo of Don Draper on a classic bike wearing his finest suit. It was decided that a themed ride would be a fantastic way to combat the often negative stereotype of men on motorcycles.
The first ride brought together over 2,500 riders across 64 cities, but the most recent ride in 2015 saw this number increase to more than 61,746 smartly-dressed gentlefolk taking part in 410 cities from 79 countries.
The Distinguished Gentleman's Ride is a celebration of both the art of being 'dapper' and the style of custom classic motorcycles. Think of monocles, trimmed moustaches, silk vests, crisp shirts and tailored suits teamed with Café racers, bobbers, classics, scramblers and other undefinable two-wheeled machines and you will get the image of how this ride looks to onlookers.
There is nothing to pay to enter this ride although donations are encouraged and greatly appreciated as the Distinguished Gentleman's Ride is in aid of the Prostate Cancer Foundation to try and find a cure for the disease that kills 1300 men a day worldwide.
Check out these trendy chaps… 
If you are interested in this ride, go to the Distinguished Gentleman's Ride website for more information on how to host a ride or join an existing one and for more details on etiquette and style.
St Ives Festival of Motorcycles
Location: St Ives, Cambridge
Date: Sunday 23rd June 2019
This is a motorcycling day out at its best!  The event has now been running successful for the last few years, however after the great success in 2017, the event has been moved out of St. Ives town to accommodate the large number of bikers. The new venue, Johnson's of Old Hurst came to the rescue to allow the festival to keep on thriving.
The festival brings together motorcyclists, enthusiasts, clubs, show bikes, traders, motorcycle dealers and families in a safe and relaxed environment with plenty of food and drinks available, live music and all right in the heart of the main shopping area of St Ives.
St Ives Festival of Motorcycles is completely non-profit. All funds raised go to the two chosen charities: MAGPAS air ambulance and The Poppy Appeal.
Bikers For Action: Action on Addiction Ride Out
Location: Weymouth
Date: TBC
Action on Addiction was launched in memory of Craig Bramble, who lost his life to solvent abuse, his father John decided with the help of his friend to organise a charity ride out 3 years ago. The pair decided to raise funds for Clouds House who work closely with those who have addictions. Since then the annual ride out has blossomed with over 200 bikers attending last year, raising £3,500 for the charity.
This years ride will be on Sunday 2nd April starting at South Coast Motorcycles, Weymouth, leaving at approximately 10.30am. The coastal route will take you down West Bay for a short stop allowing bikers to refuel before heading down to Exmouth in Devon where the ride finishes.
All monies raised is for Clouds House which is supported by Action on Addiction, a donation of £5 per bike is gratefully accepted and you can also purchase t-shirts (£5) and pin badges (£3).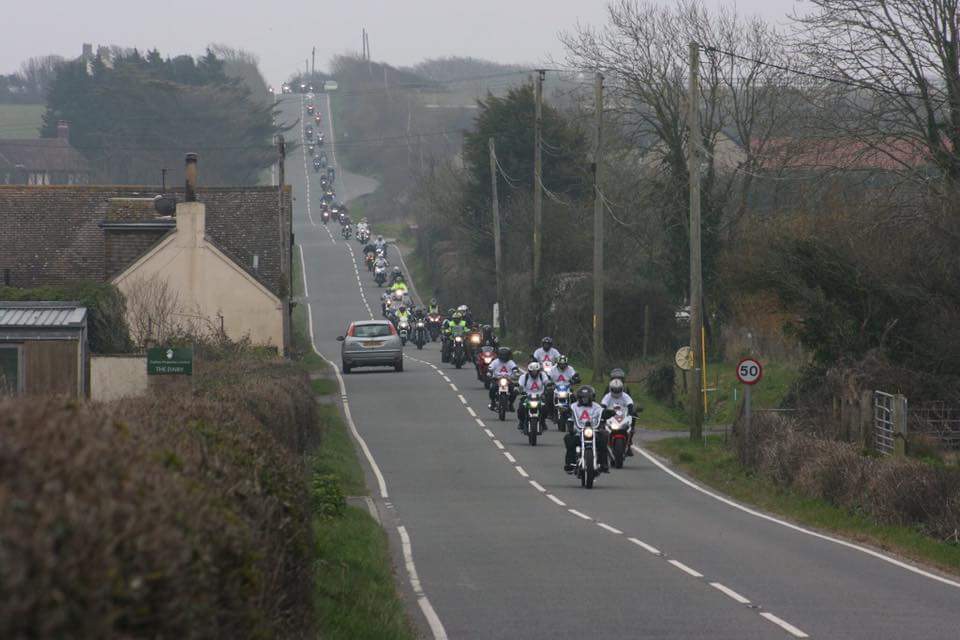 Ride of the Ruperts 
Location: Sussex
Date: Sunday 12th May 2019
If you've taken part in the Distinguished Gentlemen's Ride then you need to check out Ride of the Ruperts. The two events aren't linked but all donations made from the event will be donated to the Movember Foundation.
Taking place this May in Sussex, the event is open to all regardless of what you ride. All that is asked is that you come suitably attired and enjoy yourselves. Registration for the Ride of the Ruperts is now open with pre-registration starting with a (minimum) £10 donation.
The meeting point is the Milk Churn Cafe in Rudgwick, West Sussex at 10am then following a 50 mile route through the Sussex countryside, villages and towns. The ride ends at The Custom Cafe, Bexhill in East Sussex where you can fuel yourself up on some much needed grub and refreshments.
If dressing up in your Sunday best and hoping on your bike for a ride with friends and family is your thing then it's time to register now!
What events are you taking part in this year? Let us know and we'll add them!