Solo Charity Riders
We all know that bikers are a generous and giving community that go above and beyond to raise money for local, national and global charities. We have had the pleasure of supporting and working with some lone riders who take to the open road, pushing themselves and being put to the test to do outrageous things to raise money…
Take a look at some of the very inspiring, and brave bikers who take on challenges to raise vital funds for charity.
Arctic Rider
The Arctic Rider is an ongoing project of charity motorbike challenges that are organised and completed by fundraiser, Gordon Stuart.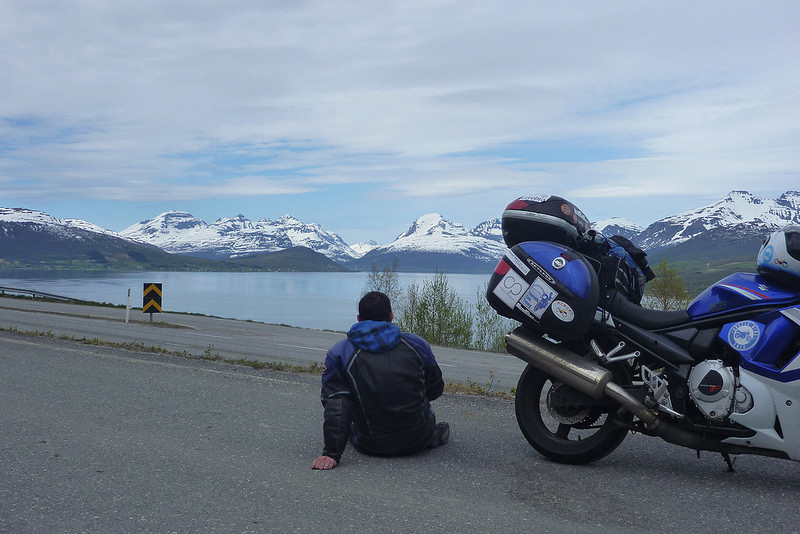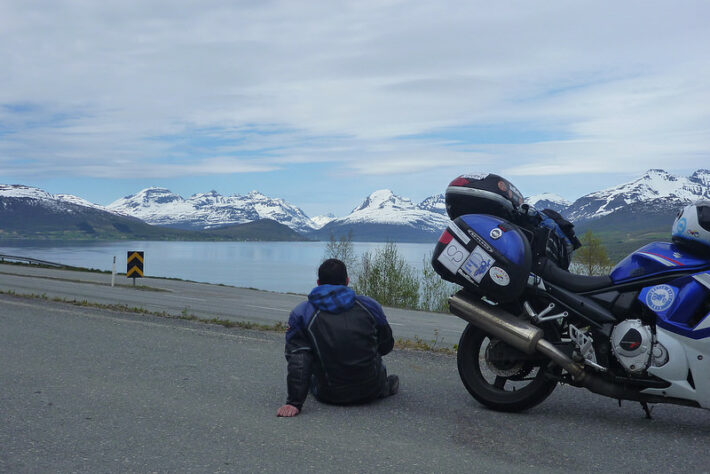 Gordon is an Ambassador for special care babies' charity 'Tiny Lives', UK brain injury charity 'Cerebra' and global youth leader forum 'One Young World'. Any money Gordon raises from sponsorship for the motorbike challenges goes directly to these charities that are close to his heart.
Gordon has completed many charity rides to date, but his biggest ride so far it the 'Arctic Ride' that he completed in 2014. Gordon made a 6000 mile, three week journey on his motorbike to the Arctic Circle and Nordkapp. He battled freezing temperatures and snow-capped mountains to raise over £5000 for Cerebra. His inspiration to keep going through these tough conditions was his disabled brother Cerebra.
See what Gordon got up to during his ride to the Arctic Circle…
In July 2016, Gordon completed the 'Iron Butt Challenge: UK end to end; Only 117 riders have officially completed this ride. This challenge is 874 miles from Land's End in Cornwall to John O'Groats in Scotland and is to be completed in 24 hours. This challenge is an ultra-long distance single day ride with a third of it on country roads. The sponsorship donations Gordon raises for this challenge will go to the Tiny Lives Trust. Gordon has already raise over £1,600 for the charity!
Here's what Gordon had to say about completing the Iron Butt:
"The Iron Butt was the hardest days riding I've ever done, and probably will ever do. It was sore, it was tiring, and it wasn't a fun ride but getting to the end, that was a different matter.
The hardest part was not having time to properly rest. Every stop was fuel, pay, write up my documents, swig of water, and back on the bike. 15 minutes tops. I ended up stopping more than expected to stay alert and safe on the roads.
Devitt provided me amazing support not only insuring my bike, but through fundraising and some motivation social media posts throughout my ride."
2018 – Iceland Challenge 
So after a two year break Gordon decided it was time to set himself an even bigger challenge, originally planning to ride the Dalton Highway in Alaska in 2018 these plans were postponed due to unforeseen circumstances. However, with a bit of hard work and determination Gordon didn't miss out on any adventures with a last minute trip to Iceland planned – this is another tick off the Arctic circle.
Watch the short video below all about Gordon's latest Icelandic adventure…
If you wish to find out more about the Arctic Riders story then have a look at his Facebook page or go to his website.
The Kilted Biker
The Kilted Biker is a former soldier, Chris Stuart from Yarm in Stockton-On-Tees. For a whole year, Chris swapped the warmth and safety of his leathers for his signature kilt in order to raise awareness and money for charity.
He completed this challenge riding 1000s of miles on UK roads on his Royal Enfield.  He received 'an epiphany' when he bought this motorcycle which led to him start 'The Kilted Rider'.
The charities he completed this challenge for were Bloodrun EVS, The Royal British Legion's Poppy Appeal and the Armed Forces Biker's Charity (AFB).
His adventures, in his kilt, included riding to the National Arboretum in the Midlands, returning with a wreath to hand in at the serviceman's pub, Din Bar, in Stockton. He also travelled to many Military sites and events in Scotland and the North East.
As part of the Bloodrun EVS charity he even battled through the snow, wind and heavy rain to deliver blood to local hospitals, despite there being Met Office warnings not to travel unless necessary.
Chris took his safety seriously despite having the lack of protection on his lower body. He took more breaks than usual and travelled with hot chocolate to try and keep him warm during the colder months.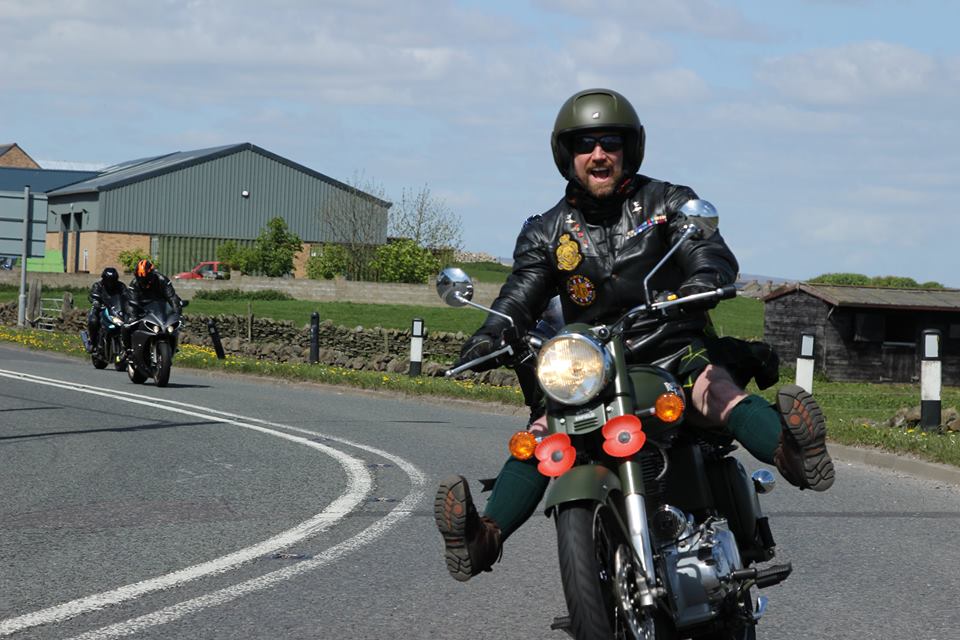 As for what he wore under his kilt, Mr Stuart described himself as 'a traditionalist', so passers-by may have seen more than they bargained for, especially on those windy days. But at least it was all for a good cause!
To donate to those charities Chris was raising awareness of, visit the charities' official websites or visit the official Facebook page.
Teapot One
Bruce Smart aka Teapot One; 70,000 miles around the world; 74 countries in 42 days to fulfil a promise that he made to his Mother back in 2008 after she lost her battle to cancer. Bruce is a man on a mission to complete his dream to ride around the world.
Taking on the almighty challenge around the world on a Superbike, Bruce began his journey on the 23rd July 2008. The route mapped out included; UK, Europe, Japan, Korea, Laos, Cambodia, Thailand, Indonesia, Malaysia then over to Australia, South America and many more before heading back towards the UK.
As part of the challenge, Bruce also visited every World Superbikes track around the world and completing a lap of each one circuit, and not forgetting to pop in and see his chosen charities and supporting partners on the way!
Teapot One supports charities such as; Born Free Foundation, St Christopher's Hospice, The British Legion, The Children's Trust and The Lymphoma Association.
You can find out more about the Teapot One journey, make sure you check out the video too!
As Seen From The Sidecar
Back in October 2017, two lifelong friends set off on a scooter and sidecar to circumnavigate the globe in aid of raising awareness on modern day slavery. The trip should take approximately 18 months, with both Matt and Reece sharing the riding, covering over 40,000 miles and 50 different countries.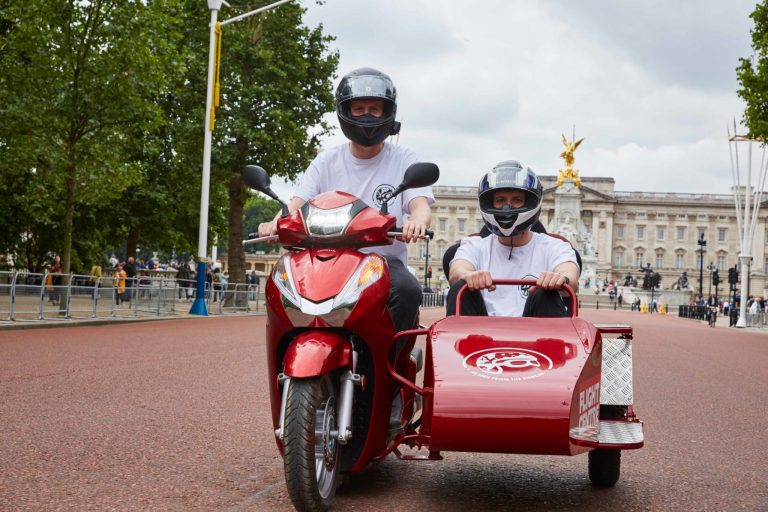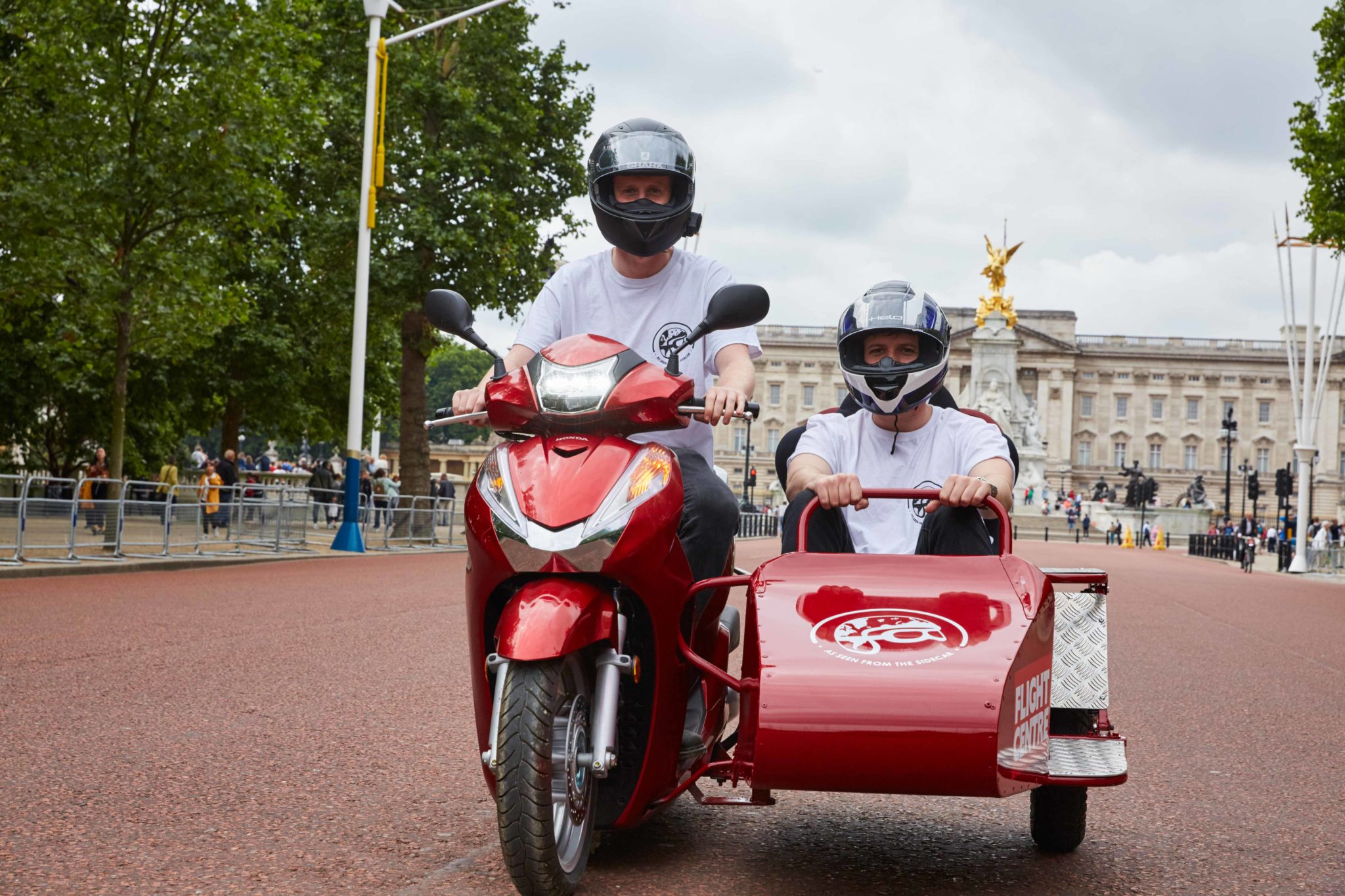 Both lads only passed their CBT's just a few months before they set off on this epic voyage, and did a test run from Lands End to John O'Groats just to really practice their new-found biking knowledge.
The aim is to raise £20,000 for charity, and they've already raised 50% of their final goal.
The As Seen From The Sidecar team post a weekly video covering their experience, countries and adventures from that week. Keep up-to-date with their journey via their Facebook page.