Imagine it's the year 2030. You live in the city and use a motorcycle to get to work but your commute won't be like the one you would have today. Your bike will almost certainly be electric, its acceleration will be limited and you won't be able to exceed any speed limit. "Intelligent" on board systems will autonomously take control of the steering if you veer out of your lane and apply your brakes if it is deemed that there is a danger. About the only thing you will be able to exercise any choice over is what brand you buy! 
Thankfully, this is a slight exaggeration but it is entirely possible that this is what the future of urban motorcycling will eventually look like. This was graphically illustrated at a recent industry conference in Brussels about the sustainability of motorcycling.
The event was well attended by leading motorcycle manufacturers, and interestingly a few car companies, plus industry and rider organisations and European Commission representatives. What made it special was that this was one of the few occasions where the whole of the European industry have openly debated the future sustainability of motorcycling as we know it.
The event was very relevant to all motorcyclists, not just commuters, because it reveals not only how the policymakers and legislators see motorcycling fitting into future society but also how industry is adapting to future challenges and opportunities.
Motorcycles are still 'dirtier' than cars
The EC categorises motorcycles as L-category vehicles alongside mopeds, motorised tricycles and quadricycles (for this article we'll refer to everything as motorcycles) and motorcycle emissions were one of the key conference themes. Even though the new motorcycles we buy are now made to the Euro 4 environmental standard, motorcycles still lag behind cars in some respects when their environmental credentials are compared. Manufacturers are therefore pushing the EC for a definitive timeline for the introduction of the next Euro 5 standard (expected in 2020) which will reduce emissions by a further 25% and help redress the balance.
Low emissions isn't enough
However, the message clearly coming through from the policymakers was that while such moves were welcome, industry should really be considering motorcycles with zero emissions, especially for urban and city environments. These are of course places with the highest concentration of inhabitants and therefore where concerns about air quality are more acute and you only have to look to London as an example of a city actively doing something about this.
According to Transport for London, transport is the biggest source of the emissions damaging to health in London and, as a result, the new Ultra Low Emission Zone will be introduced in April next year. In reality, what all this means for city motorcyclists in the future is a move to electric power because other zero emission technologies aren't sufficiently developed yet and other vehicles like cars and bicycles are already a fair way down this path.
What about petrol engines?
Electric vehicles are of course best suited to use in towns and cities where distances travelled and average speeds are typically low and where it is relatively easy to access charging points at locations where vehicles are parked. In contrast, electric is less suitable for rural transport and therefore we're not about to see the demise of petrol engines anytime soon. What may happen though is that we'll see a greater distinction between motorcycles designed for urban compared to rural/leisure use and maybe more crossover from the bicycle and small car markets.
Improving safety through intelligent systems
We all know the advantages motorcycles have over cars – they're more efficient in energy and road space use, cause less congestion, are less likely to get stuck in traffic and are more affordable. However, one of the main reasons motorcycling has struggled to be recognised as a mainstream transport option is of course rider safety. For years, we have seen intelligent driver safety aids such as driver information such as speed limit notifications through to 'lane assist' and 'adaptive cruise control' gradually being introduced into more and more cars.
Major car manufacturers are also now trialling completely autonomous (self-driving) vehicles that sense their surroundings and adapt accordingly. It's early days and there's much more development needed, especially around the sensing of nearby motorcycles, but it shows the direction car manufacturers are taking. What you may not know however, is that a group of companies, including leading motorcycle manufacturers, are also collaborating on development of a specification for integrated systems for motorcycles that have the potential to offer similar benefits to riders.
Kawasaki launched the "J" Concept back in 2013…
"Sorry mate, I didn't see you"
In essence, our safety very often relies simply on being seen. These days that means being seen by other drivers but in the future this would also mean being 'seen' by another vehicle's sensors. By making motorcycles part of vehicle-to-vehicle communication systems, advance information or warnings could be given in critical situations such as when a car is emerging from a side road.
At the conference, Honda, Yamaha and BMW all showed "Connected" prototypes and, once proven, expect to see these features being introduced on new motorcycles in the future. Taking autonomous motorcycles to the next level whereby control of steering and brakes might be introduced will be hugely complex because, unlike cars, motorcycles operate in three dimensions not two. For now though, the prospect of properly developed systems that talk to each other and warn road users about the presence of a motorcycle can only be a good thing.
'Motorcycles' with four wheels?
Another factor that affects the acceptance of motorcycling is of a more practical nature – namely that a two wheeled vehicle is less stable than one with three or four wheels and the fact that you get wet on a motorcycle when it rains! At the conference, two new concept vehicles addressing these factors were launched by Resolve, a consortium supported by many big names including KTM and Piaggio.
Resolve is exploring development of cost-effective and energy efficient ELVs (Electric L-category Vehicles) designed primarily to attract car drivers to switch to ELVs for daily urban commutes. To achieve this, key design elements will include low cost, energy efficiency, fast recharge and comfort (e.g. roofed body like the BMW C1 model launched way back in 2000). Both prototypes featured a tilting and narrow track wheel-plan although a large number of the advances will also be applicable to motorcycles.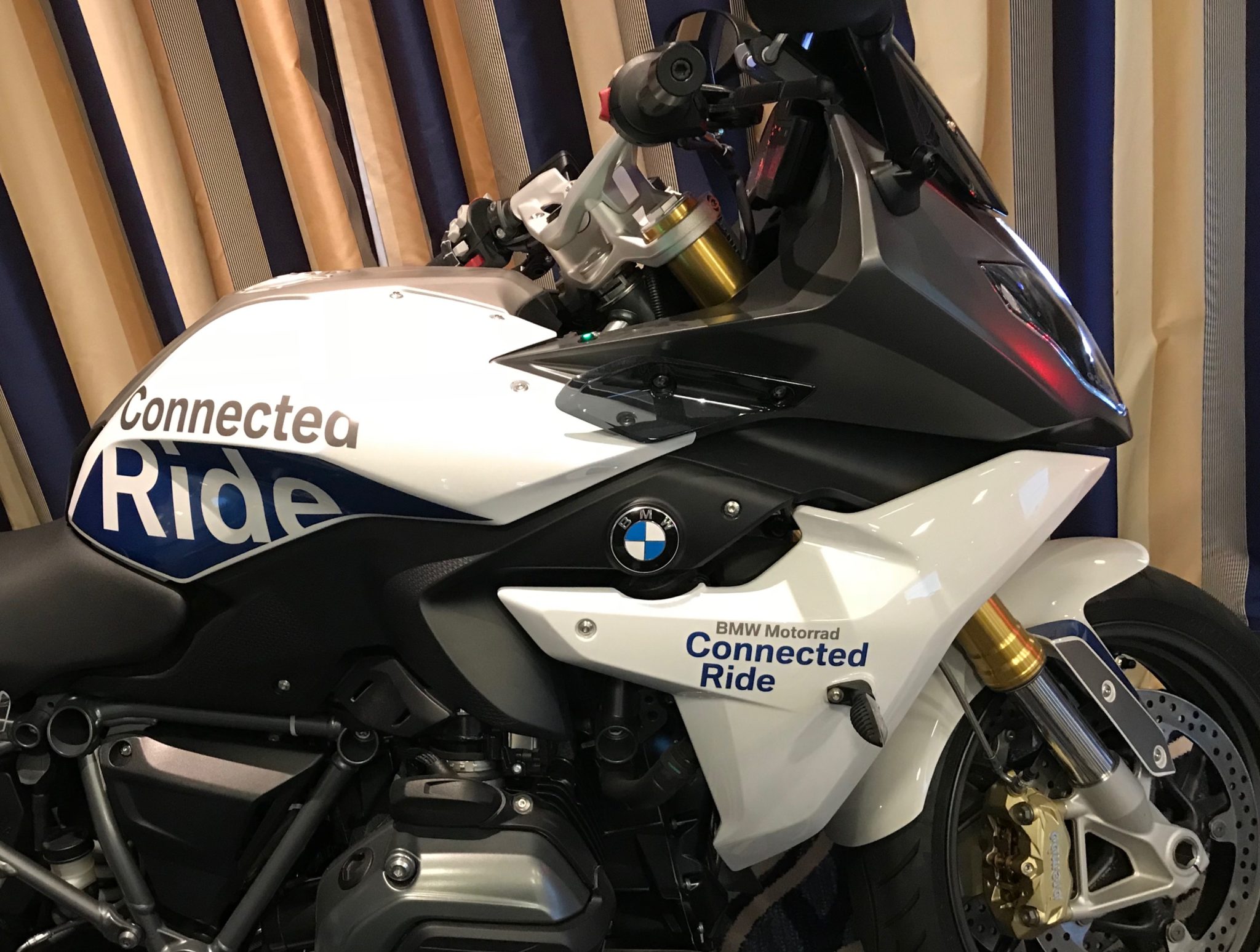 Where next for conventional motorcycles?
Motorcycling as we know it will continue 'as is' for many years yet but society and the way we travel is evolving and the changes that are coming have the potential to deliver some worthwhile safety and efficiency benefits. As motorcyclists, we are generally an independent bunch so as long as these changes don't overly compromise the freedom of choice we currently enjoy then they should be welcomed. This evolution is also an opportunity to broaden motorcycling's appeal to more and more people provided that an acceptable way is found to address their wants and needs without alienating existing motorcyclists in the process.
Share your thoughts on the future of motorcycling in our comments below…